People often think of sunny days in a desert full of succulents and cacti when they hear the name Phoenix City, also known as Valley of the Sun.
But there's much more to explore in this capital city of Arizona.
From the top-notch Heard museum donning the culture of Native American tribes to hiking up the rocky Camel mountains, there's something for everyone.
You can also get a stunning panoramic view of the city from South Mountain Park and Hole in the Rock.
And if you are a true music enthusiast, the iconic collections at the Musical Instrument Museum will blow your mind.
Go through the following list of the best things to do in Phoenix, Arizona, to find more enticing tourist attractions in the city.
Things To Do in Phoenix, Arizona
Learn Native American Culture at the Heard Museum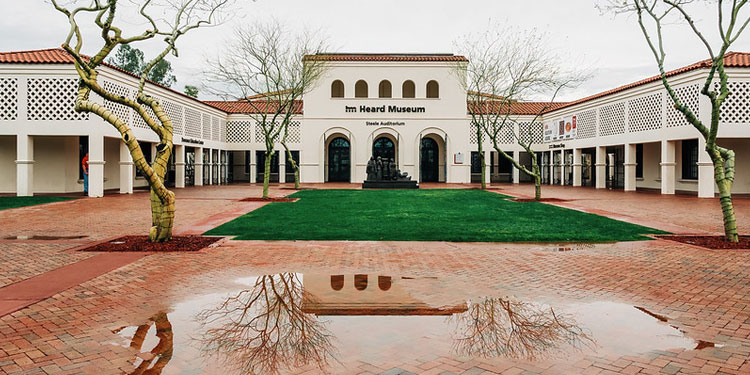 Location: 2301 N Central Avenue, Phoenix, AZ 85004
Opening hours: Tuesday - Sunday, 10:00 am - 4:00 pm (Subject to change)
Cost: $9 - $25 (10% off on advance online purchases)
Best time to visit: Weekends
Spanned over an area of 289 acres, the Heard Museum displays myriad cultures of American Indian artists and tribal communities.
You can enjoy occasional events along with rotating regular art displays in the 12 exhibition galleries and a contemporary art gallery.
Other significant museum highlights include outdoor sculpture gardens, Courtyard Cafe, and gourmet coffee at Coffee Cantina.
The museum also has provisions for free guided tours, private tours, and school tours. Check the website for specific details.
Tip: Visit on the first Friday of the month for free admission.
Note: Outside food and drink, weapons and flash photography are prohibited.
Learn Language of Soul at Musical Instrument Museum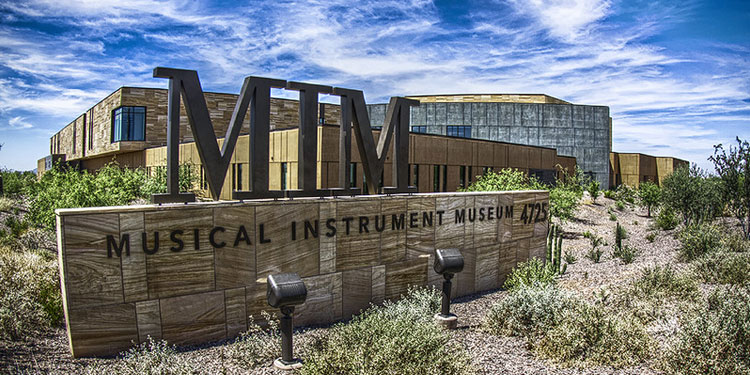 Location: 4725 East Mayo Boulevard, Phoenix, AZ 85050
Opening hours: Open daily, 9:00 am - 5:00 pm
Cost: Ranges from $10 - $27 (Separate charge applied for the musical concert)
Best time to visit: Summer afternoons
From geographical galleries of musical instruments from major world regions to dedicated artist galleries of iconic musicians, the Musical Instrument Museum has it all.
This museum's vivid collection of 7500 musical instruments from 200 countries reflects many world cultures' rich diversity and history.
And the 11.5-foot tall Octobase placed at the center of the orientation gallery is the favorite of many.
The museum offers music-based programs for all ages, a museum tour, concerts, and signature events on weekends.
Tip: Enjoy dining at the on-site Cafe Allegro with the blissful sound of music.
Note: The museum organizes 300 concerts per year. Check the website to reserve a ticket while you visit.
Awaken the Artist in You at the Phoenix Art Museum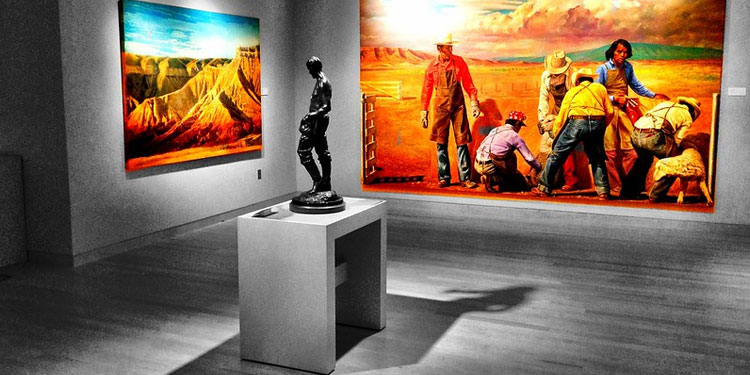 Location: 1625 North Central Avenue, Phoenix, AZ 85004
Opening hours: Wednesday- Sunday, 10:00 am - 5:00 pm (Opens till 9:00 pm on Wednesdays)
Cost: Ranges from $5 to $23 (Subject to change)
Best time to visit: Weekend afternoons
Get a chance to escalate your experience of arts and culture at one of the largest art museums in the Southwestern United States.
The 60 years old Phoenix Art Museum has an extensive collection of over 20,000 phenomenal art pieces by local and international artists.
Stop by the Gene and Cathie Lemon research library to read publications on fine art.
The museum also hosts various events, from lectures to film series and art-making events to musical performances.
Tip: Explore the on-site gift shop to buy design-inspired gifts and souvenirs.
Note: Virtual tours and mindful lessons are available on the museum's website.
Learn History at the Heritage Square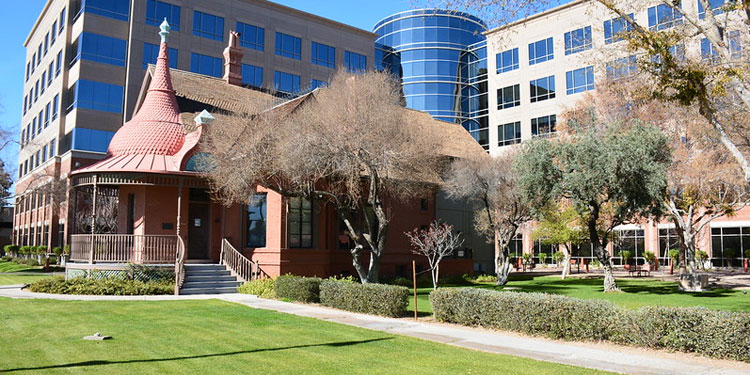 Location: 115 N Sixth Street, Phoenix, AZ 85004
Opening hours: Wednesday - Sunday, 10:00 am -4:00 pm ( Opens at 12:00 pm on Wednesdays)
Cost: Entry tickets at $8 -$15 (Discounts available)
Best time to visit: Weekdays
Phoenix's iconic landmark and science park, Heritage Square, is a fully restored Queen Anne Victorian house from 1895.
It features historical architecture and green landscapes that interprets the history of Phoenix.
You can take a private tour guided by a knowledgeable staff to explore the highlights like Rosson House, the visitor center, and the heritage gallery.
This historical architecture, rose garden, and lush grounds are perfect backdrops for personal, community, and corporate gatherings.
Tip: Schedule the private tour early to guarantee your entrance to Rosson House Museum
Note: Regular tours are limited to 8 visitors per tour.
Sunset at Dobbins Lookout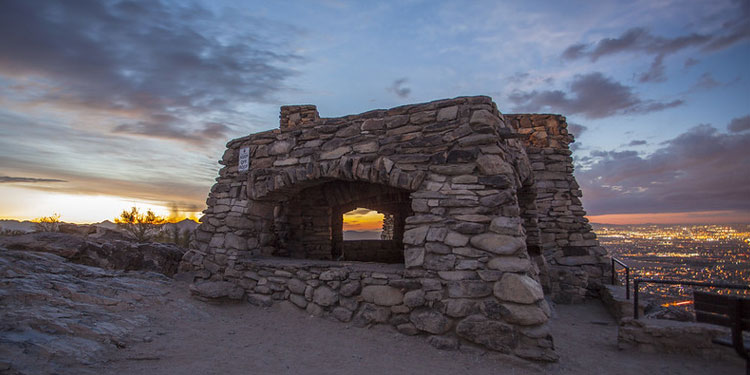 Location: North Summit Road, South Mountain Park, Phoenix, AZ 85042
Opening hours: Open daily, 5:00 am - 7:00 pm 
Cost: Free
Best time to visit: Spring evenings
Soaring at an elevation of 2330 feet, the Dobbins Lookout is the highest point in the park that offers an unobstructed panoramic view of the city.
Whether you hike up the 3.4 miles out-and-back trail or take the summit route, there's easy access to this point.
You can see beautiful sunsets as colors come alive, along with twinkling city lights, landing airplanes, and many more.
The vast valley, state farm stadium, and chase field are also visible in the distance from the top.
Note: The lookout also allows pets, but these need to be on a leash.
Flashlights Night at the Desert Botanical Garden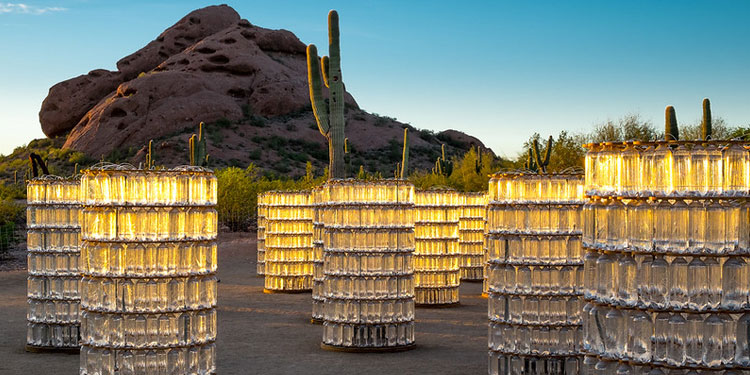 Location: 1201 N Galvin Parkway, Phoenix, AZ 85008
Opening hours: Open daily, 7:00 am - 8:00 pm from May to September
Cost: General admission from $14.95 - $29.95 9Subject to change)
Best time to visit: Late afternoons
The 55-acre-wide Desert Botanical Garden located in Papago Park is a place to soak into the tranquil energy of desert plants.
You will find the towering cactus, succulents, luscious trees, and wildflowers flourishing in the red rocks of Papago buttes inside the garden.
But the main highlight of the garden is flashlight nights that run from July 2 to September 2.
In this event, the visitors can enjoy performances, hands-on activities, and cool treats under the light of flashlights they brought after it gets dark.
The garden also occasionally hosts festive events, dazzling exhibitions, and musical events.
Tip: Advance ticket reservation is required, so book one before visiting.
Refresh at the Japanese Friendship Garden of Phoenix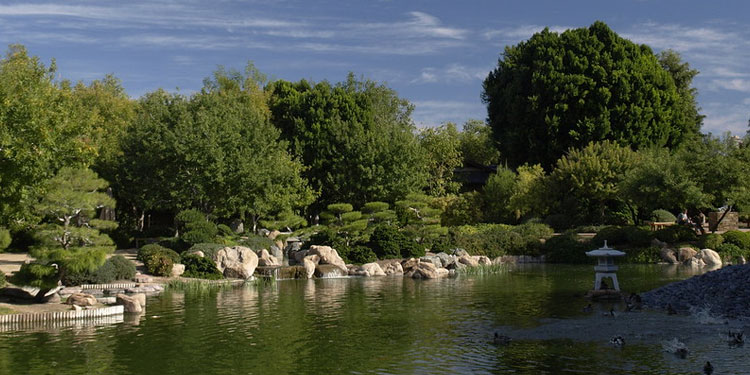 Location: 1125 N Third Avenue, Phoenix, AZ 85003
Opening hours: Wednesday- Sunday, 8:00 am - 12:00 pm (Opens 5:00 pm -7:30 pm on weekends)
Cost: Tickets from $7 -$10
Best time to visit: Spring evenings
Take a stroll in the traditional Japanese garden in downtown Phoenix's heart for a peaceful break from the bustling city.
This 3.5-acre-wide sister city project features decorative items gifted by citizens and officials of the city of Himeji.`
You will find a stroll garden, a courtyard garden, a tea garden, and a tea house inside to refresh the visitors.
The museum hosts events, exhibits, and workshops to give visitors a taste of Japan's unique culture and hospitality.
Watch Preserved Animals at Phoenix Zoo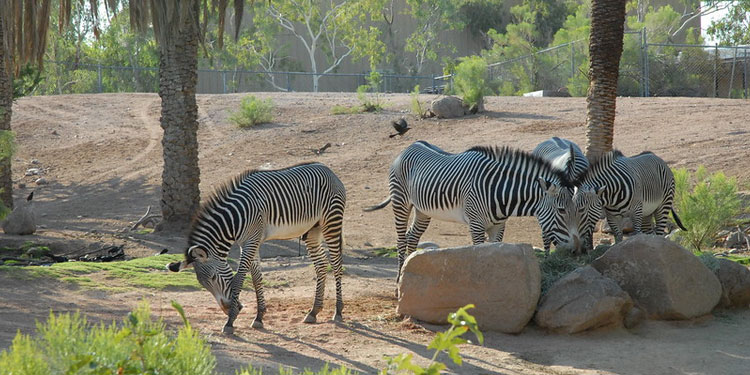 Location: 455 North Galvin Parkway, Phoenix, AZ 85008
Opening hours: Open daily, 7:00 am - 1:00 pm (Subject to Change)
Cost: General admission $29.95 - $39. 95 (Purchase online for discounts)
Best time to visit: Spring and Fall
Built in 1962 in honor of Robert Maytag, Phoenix Zoo is a conservation area dedicated to preserving animals in their natural habitats.
It is the largest non-profit zoo in the U.S., caring for 3000 animals of more than 400 species and some threatened or endangered species.
You are most likely to see African lions, orangutans, golden eagles, and jaguars, along with other animals.
Now preserved by the Arizona Zoological Society, some fascinating events are always happening at the zoo. Visit the website to find out more.
Note: The zoo is available to reserve for weddings, corporate events, and birthday parties.
Explore the South Mountain Park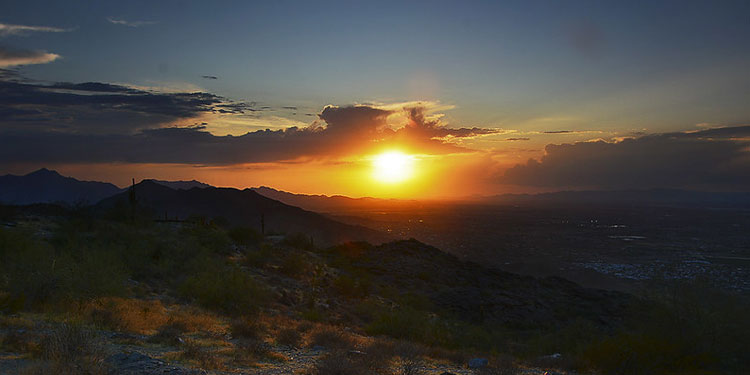 Location: 10919 South Central Avenue, Phoenix, AZ 85042
Opening hours: Open daily, 5:00 am - 7:00 pm (Subject to change)
Cost: Free access
Best time to visit: Sundays
The South Moutain Park is best suited for outdoor adventure, boasting up an elevation of 3000 feet amid the foothills of the Ma Ha Tauk, Gila, and Guadalupe ranges.
It consists of a 50-mile-long trail decked up with rocky trains, which is perfect for hiking, mountain biking, and horseback riding.
Depending on your chosen activity, there are different routes to get to the top of this municipal park. The dessert classic trail is the most preferred one among mountain bikers.
You can visit the education center inside the park to learn about the natural history of Phoenix and its native plants and animals.
Tip: Lookout for blind corners and treacherous drops-off if you are riding on this scenic roadway.
Note: Summit Road is only open for non-motorized vehicles, equestrians, and pedestrians on Silent Sundays.
Wander off at Hole in the Rock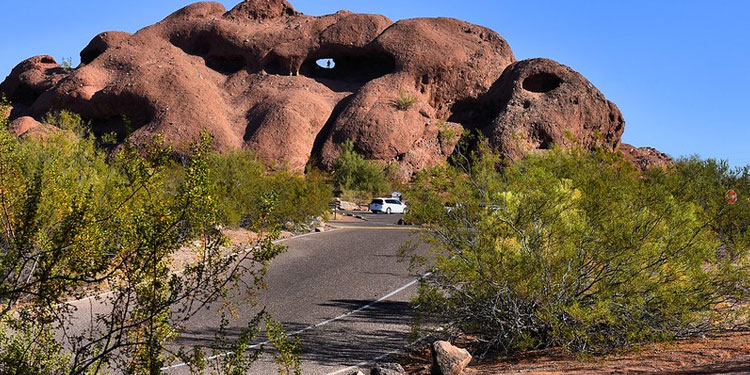 Location: 625 N Galvin Parkway, Phoenix, AZ 85008
Opening hours: Open daily, 5:00 am - 7:00 pm
Cost: Free access
Best time to visit: Spring and summer evenings
If you are looking for a short relaxing hike in Phoenix, then the natural geological formation, Hole in the Rock, is just right.
It is a 0.3-mile out-and-back trail located inside Papago Park and takes no more than 10 mins from the parking lot to ascend.
You can also enjoy a picnic with a mesmerizing view of the city's other attractions from the top of the rock.
Don't forget to visit the nearby Phoenix Zoo and Desert Botanical Garden on the way to this spot.
Tip: Bring plenty of water and snacks to eat if you are planning to stay till sunset.
Hike Up the Camelback Mountain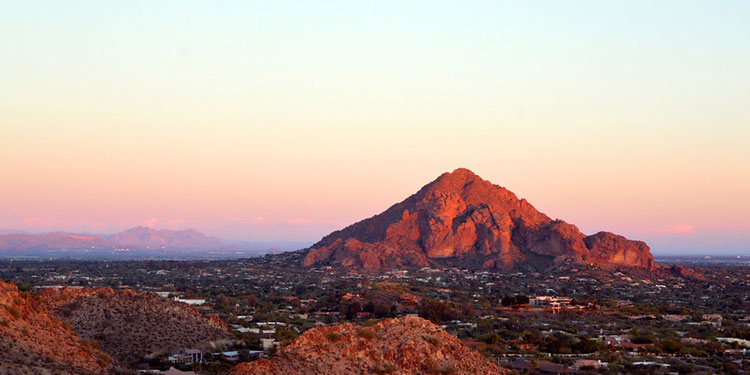 Location: Phoenix, AZ 85008
Opening hours: Open 24 hours
Cost: Free access
Best time to visit: Springs and Winters
For adventure enthusiasts, Phoenix offers the 2704 feet tall Camel Mountain, which is best suited for challenging hikes and climbs.
The mountain is named so for its shape that resembles a kneeling camel when observed carefully.
You can ascend the mountain from two different trails through the steeper Echo Canyon or, the longer Cholla route.
Whichever route you take, you will come across common flora like Creosote Bush, Saguaro Cactus, Barrel Cactus, and Ocotillo.
And if you want to learn more en route, choose the guided hike package with the local tour company.
Tip: Wear proper hiking boots and carry enough water to keep you hydrated while hiking up.
Pay a Visit to the Arizona Science Center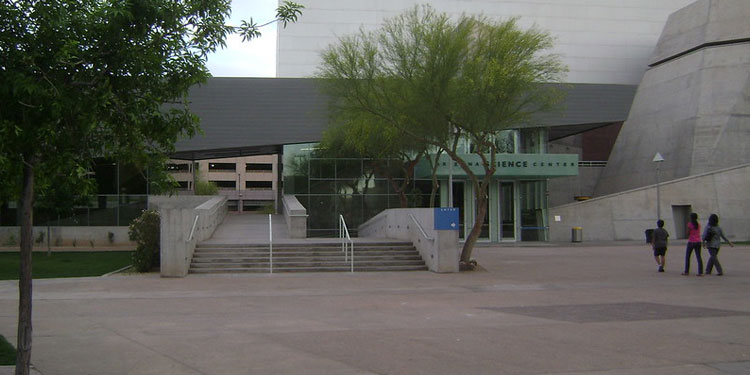 Location: 600 E Washington Street, Phoenix, AZ 85004
Opening hours: Open daily, 10:30 am - 4:00 pm (Subject to change)
Cost: General admission ranges from $15.95 - $21.95
Best time to visit: Weekday afternoons
Located in downtown Phoenix, the Arizona Science Center is an ideal destination to be on a family vacation with inquisitive kids.
You can find all sorts of science exhibitions ranging from simulated surgeries of human bodies and demonstrations of metabolic processes to scientific labs studying the sun and sustainable green energy.
The Dorrance Planetarium, Irene P. Flinn Theater, Creator Makerspace, and the Science of Guinness World Records are major attractions, along with many others.
Apart from the regular exhibits, the center also organizes field trips, innovation camps, tours, and demonstrations to keep all sorts of visitors engaged.
Tip: Check the website to learn about events and programs that interests you before booking the tickets.
Watch a Game at Chase Field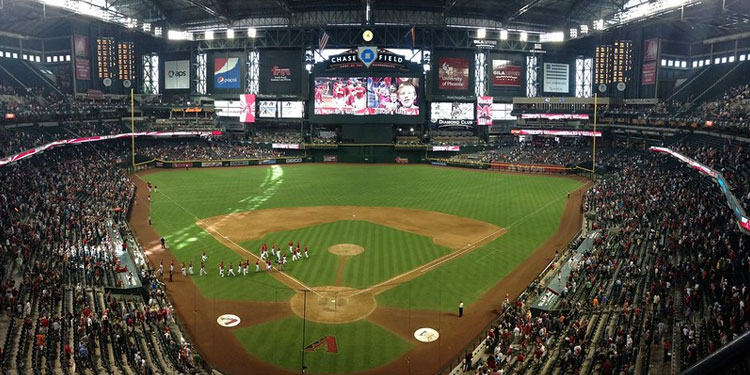 Location: 401 East Jefferson Street, Phoenix, AZ 85004
Opening hours: 9:00 am - 6:00 pm (Subject to change with games)
Cost: Average ticket rate is $22.12 (Differs with matches)
Best time to visit: March to September
Watch a feisty baseball match at the retractable roof stadium of Chase Field, located in downtown Phoenix.
Initially known as Bank One Ballpark, the field is now home to Arizona's major league baseball team, the Arizona Diamondbacks.
The multipurpose venue is an epicenter of the city's sports, hosting many other sporting events and musical concerts.
There are food vendors, restaurants, and lounges where you can enjoy the yummiest delicacies while watching your favorite team play.
Tip: Book your ticket in advance to get the desired seat during a match.
Note: You can also book private luxury suites and party suites with a private washroom for wheelchair guests.
Dine at Wrigley Mansion & Geordie's
Location: 2501 East Telawa Trail, Phoenix, AZ 85016
Opening hours: Wednesday & Thursday, 3:00 pm - 10:00 pm; Friday & Saturday, 3:00 pm - 112:00pm Anmd Sunday, 10:00 am -2:00 pm
Cost: N/A
Best time to visit: Spring evenings
Surrounded by breathtaking mountains and the bustling city, the Wrigley Mansion & Geordies is one of the finest American restaurants to dine and drink.
Be prepared to be mindblown by the culinary expertise of Chef David Brito and his culinary team.
You can also try the stellar weekend tasting menu especially prepared by the chef.
And top it off with amazing wines from the award-winning wine collection of over 14,000 bottles available in the Mansion.
You can dine in the lounge or reserve a private room for a more intimate dining experience.
Concluding The Exploration
Now that you have learned about the must-see attractions of another Arizona's desert town, plan your vacation accordingly to get the best.
And if you have been wondering how to get around the city, then don't stress out.
You will have plenty of options for public transportation, including valley metro rail, transit bus, e-scooter, and dial-a-rides.
Check the governmental websites to learn more about and book the tickets in advance.
Continue your exploration!
Note: Keep in mind that information about travel can change quickly. To make sure your trip is fun and safe, we encourage you to double-check official websites and government/travel advisory sites for the latest information on travel restrictions, entry requirements, and safety measures.