Ohio is a beautiful place for couples to plan a romantic getaway away from the hustle and bustle of life.
Surrounded by the majestic Ohio River, the Midwestern State is known for its lovely representation of art, history, and culture in many ways. 
Also called the Buckeye State, it has many unique attractions and fun adventures for all.
Whether it is a hike in the lush forest of Hocking Hills or a lovely sunset dinner on a cruise, Ohio has many things to offer the love birds!
Our list has some of the top things every couple may enjoy in the Buckeye State.
Things to Do in Ohio for Couples
Columbus Park of Roses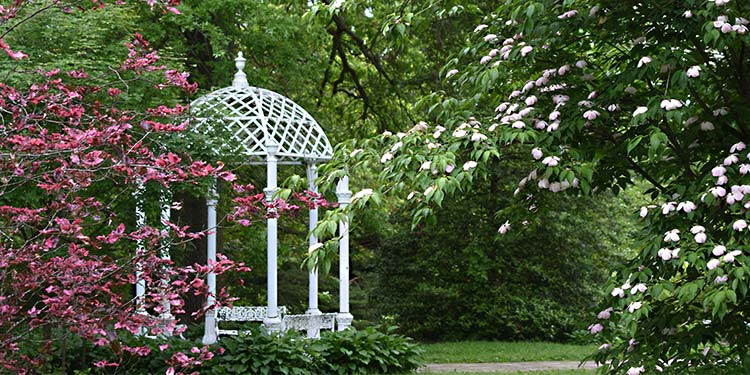 Location: 3901 N High St, Columbus
Opening hours: 7:00 am - 6:00 pm 
Entry rates: Not required 
For couples looking for a romantic outdoor space, Columbus Park of Roses is just the place; it's where the love blooms!
The 13-acre public park is situated in the capital of Ohio, which has one of the largest rose gardens in the Country.
Established in 1952, the rose garden, also called the 'Whetstone Park of Roses,' has over 12,000 rose specimens of 350 varieties.
The floral displays in the arboretum are immaculate, featuring five horticultural themes such as 'The Formal Rose Garden' and 'The Perennial Garden.'  
It can be a great place to explore plants or to plan a lovely picnic in the garden, surrounded by the flowers of love!
Cleveland Museum of Art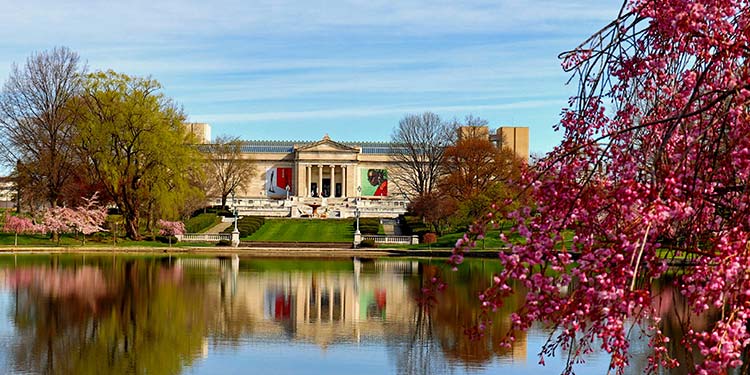 Location: 11150 East Boulevard, Cleveland
Opening hours: 10:00 am - 5:00 pm (Tues, Thurs, Sat, Sun), 10:00 am - 9:00 pm (Wed & Fri), Closed on Mondays
Entry rates: Not required 
Exploring Museums together can be an ideal date for many couples who thrive on the artistic values of life.
Cleveland Museum of Art, situated in the Wade Park District of Cleveland, is renowned for its international art collection.
Displaying over 60,000 artworks from all around the world, the Cleveland Museum of Art is one of the most visited art museums.
Its diverse collection varies from Greek, Roman, Asian, Egyptian, African, and many more!
There are 16 departments dividing different art styles, including Chinese Art, European Art, Textiles and Islamic Art, Contemporary Art, and Medieval Art.
Artworks of some of the most notable artists in history, such as Vincent van Gogh, Picasso, and Botticelli, are represented here.
It's a must-visit for all art lovers looking for a place of inspiration or just for a good experience!
Gervasi Vineyard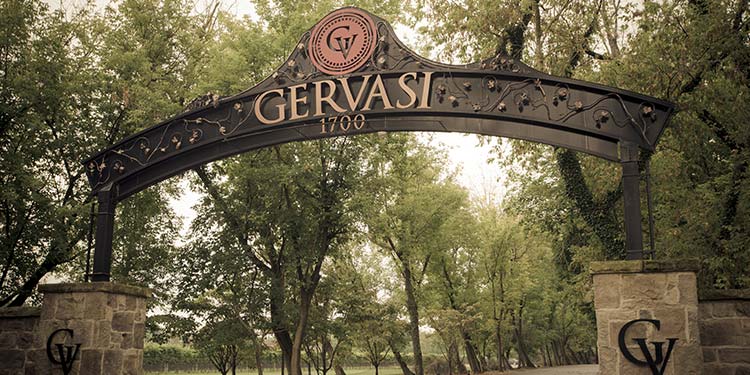 Location: 1700 55th Street NE, Canton
Contact: 330.497.1000 
If you're a couple, who likes to try out new drinks, explore some more flavors at Gervasi Vineyard!
It is a perfect place to spend a romantic evening with your partner while sipping on some delicious fresh fine wine.
Located in Canton, the gorgeous 55-acre site offers a tour of the winery to enthusiasts and plenty of dining options.
Some of the many choices of eatery include the Bistro, the Crush House, and the Still House, which provide drinks and gourmet food.
It can be a memorable experience exploring the vineyard, and prepare for a special date with your one and only!
Lorain Harbor Lighthouse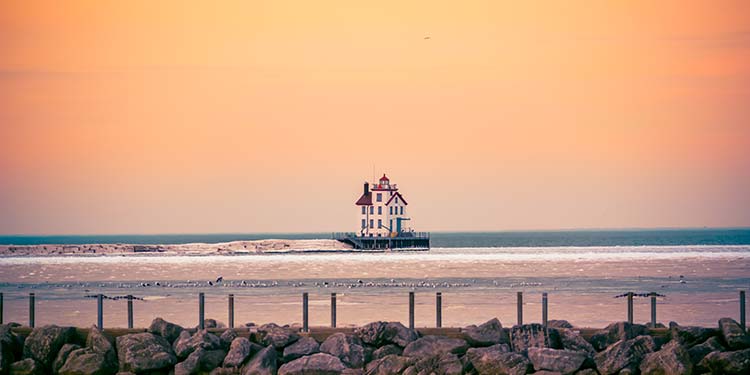 Location: 319 Black River Lane, Lorain
Opening hours: All day
Entry rates: $150 per person
Spend a romantic evening with your partner, watching the sunset from the Lorain Harbor Lighthouse.
Also called the Lorain West Breakwater Light, the lighthouse was built in 1917 on Lake Erie.
The lighthouse offers a fantastic experience of enjoying your wine and dinner while catching one of the most beautiful sights of sunset in Ohio.
You will also experience a boat ride from the Oasis Marina at Port Lorain to the lighthouse.
It's a great place to celebrate many occasions, including birthdays, anniversaries, and love and togetherness in general.
Ohio Theatre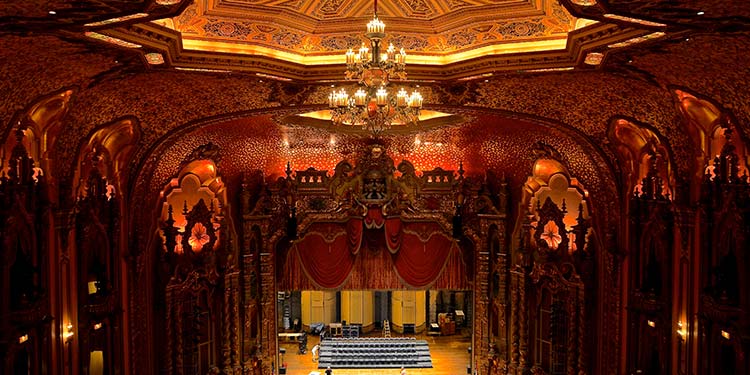 Location: 39 East State Street, Columbus
Contact: 614-469-0939
Get the tickets to watch outstanding live performances in the historic Ohio Theatre!
Also known as the 'Official Theatre of the State of Ohio' is a performing arts center in the lively streets of Downtown Columbus.
In 1977, the theatre was regarded as a National Historic Landmark; alongside being an entertainment spot, visitors can explore the history of the grand theatre.
The Spanish-Baroque architecture building seats over 2500 people and has a magnificent interior design, including a 21-foot-high chandelier.
Many genres of entertainment are performed here, from classical to modern—just something for everyone to enjoy!
Hocking Hills State Park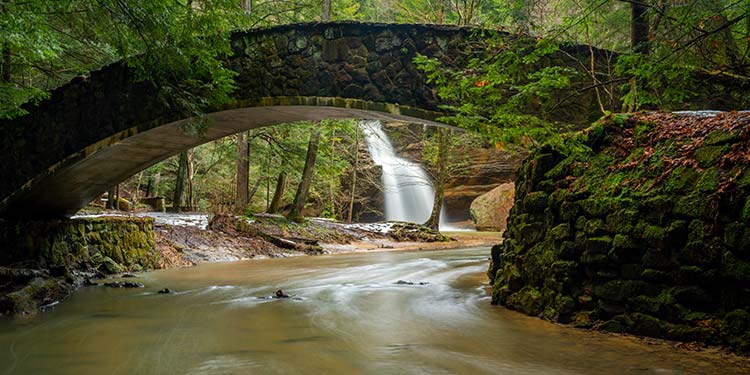 Location: 19852 State Route 664, Logan
Opening hours: 10:00 am - 5:00 pm (Every day)
Entry rates: Not required 
Looking for an adventurous hike date in Ohio? Then the Hocking Hills State Park is just the right place for you!
The state park in the Hocking Hills has over 25 miles of hiking trails that lead to seven separate hiking areas, including Ash Cave, Cedar Falls, and Cantwell Cliffs.
Many hiking trails have natural attractions such as rock formations, waterfalls, and recess caves all within the park.
You can spend a night in nature as they provide over 200 campsites in the park's campground, which is closer to all the trails in the area.
An alternate option would be a full-service resort lodge on the property, offering all the modern facilities.
The park is a popular tourist spot and is a stunning place to visit every season. Truly a perfect destination for all hikers and nature lovers!
Loveland Castle Museum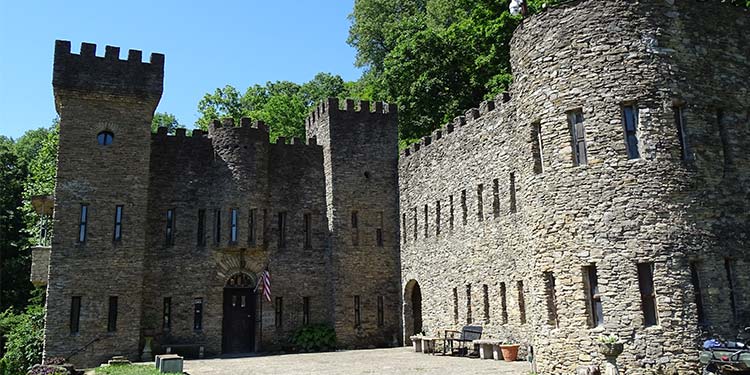 Location: 12075 Shore Dr, Loveland
Opening hours: 11:00 am - 5:00 pm (Every day)
Entry rates: $5 per person
Loveland Castle Museum, also called 'Château Laroche', meaning 'Rock Castle' in French, is a historic museum.
The Medieval-style castle built in 1927 by Harry D. Andrew is situated north of Loveland.
It is a scenic tourist attraction with many interesting artifacts, history, and entertainment, all available in a lovely environment.
Duos, you'll have a great experience learning about the core values of the castle and the love and effort that was invested in its construction.
Fun Fact: The Castle is renowned for being haunted. This means you can also enjoy the tales of ghosts in the museum.
BB Riverboats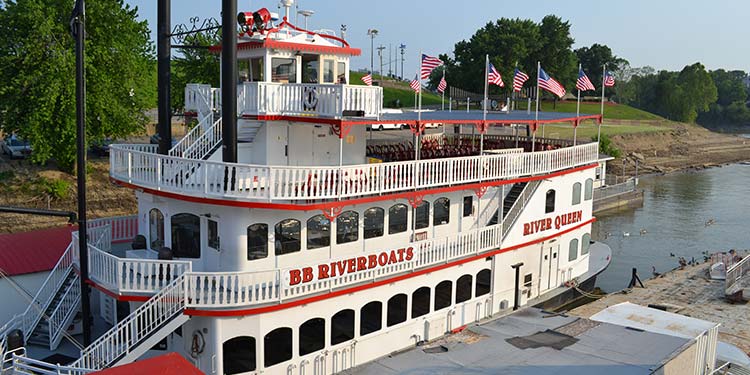 Location: 101 Riverboat Row, Newport
Opening hours: 9:00 am - 7:00 pm (Tues-Thurs & Sat), 9:00 am - 7:30 pm (Fri), 9:00 am - 6:30 pm (Sun), 9:00 am - 5:00 pm
Entry rates: Starts at $69
What other way to spend a romantic evening with your partner and explore the city than hopping on a cruise that sails on the majestic Ohio River?
BB Riverboats offers some of the best deals to make your journey in the state a memorable one.
Take your partner on a dinner date as you sail on the cruise watching the stunning sunset and Cincinnati's skyline view together.
Other than the views, you'll also enjoy their delicious food options, refreshments, and live music!
Marblehead Lighthouse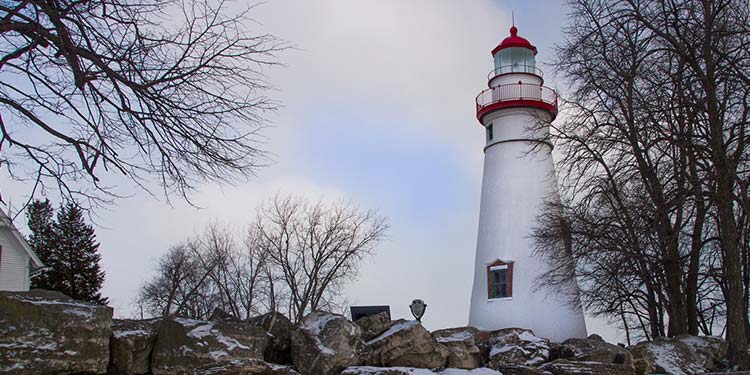 Location: 110 Lighthouse Dr, Marblehead
Opening hours: All day
Entry rates: $3
Marblehead Lighthouse is known as one of the oldest lighthouses alive in the Country.
Built with native limestone, the 5-foot-tall tower is on the tip of Marblehead Peninsula, surrounded by a 9-acre State Park.
Spend a sunny day here exploring the history and enjoying the breathtaking views of Lake Erie, Cedar Point, and many areas from the top.
You can also plan for a picnic in the calm atmosphere of Marblehead Lighthouse State Park, which offers limited picnic tables.
Once you're here, check out the old keeper's house; after the lighthouse was automated, the house was transformed into the Marblehead Lighthouse Museum.
The museum preserves many artifacts and history that can give learners great insight.
Pyramid Hill Sculpture Park & Museum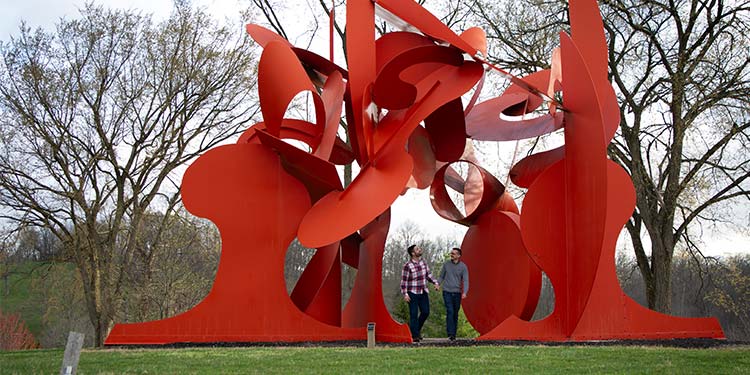 Location: 1763 Hamilton Cleves Road, Hamilton
Opening hours: 9:00 am - 5:00 pm (Mon-Thurs), 9:00 am - 8:00 pm (Fri-Sun)
Entry rates: $8 per person
Visit the eccentric attraction located in the city of Hamilton, the Pyramid Hill Sculpture Park & Museum.
The park has a unique collection of outdoor artworks of over 70 monumental sculptures throughout the natural landscape of 300 acres.
Pyramid Hill Sculpture Park can be a great place for couples to wander around and admire all the massive art pieces.
The property also has an outstanding Art Museum and a Museum Gallery displaying ancient and contemporary exhibits.
Say Hi to Ohio!
Lovers! Ohio might not be your ultimate romantic destination, but you will surely enjoy the state's warm and lively vibe! 
Plan a lovely holiday with your partner and explore the depths of Ohio and find love hidden in all the right places.
The state offers endless possibilities to make the best unforgettable memories with the love of your life!
Note:

 Keep in mind that information about travel can change quickly. To make sure your trip is fun and safe, we encourage you to double-check official websites and government/travel advisory sites for the latest information on travel restrictions, entry requirements, and safety measures.