Believed to be the Paris of the West, Cincinnati is a beautiful city made of not just history and nature but also love.
That's right! Cincy's air is filled with love for everyone looking for it.
The city's warm energy and fresh atmosphere make it a perfect destination for couples in search of a suitable vacation all year long.
You can look forward to spending a romantic evening on a cruise, exploring the night sky at the observatory, and discovering the hidden parts of the city.
From rusty nature explorations to glamorous glittery nights, do it all together with your one and only.
We ensure you will have some of the best and most unforgettable romantic dates in the city with your soulmate.
Things to Do in Cincinnati for Couples
Fountain Square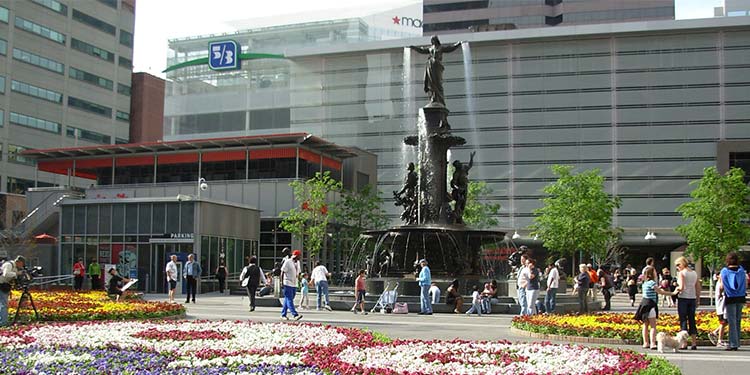 Location: 520 Vine Street, Cincinnati
Opening hours: All Day
Entry rate: Not required
Fountain Square is a lively area in Downtown Cincinnati where one can find many exciting activities for entertainment.
Create some magical memories with your partner by exploring the square surrounded by the shimmering lights in the evening.
The Tyler Davidson Fountain is the centerpiece attraction; feel a lovely and charming vibe all around it.
You can find numerous food trucks, booths, live performances, and playful activities, including bumper cars and ice skating.
This popular entertainment hub is a buzzy place with many events happenings throughout the week, which shall keep the couples engaged!
Cincinnati Museum Center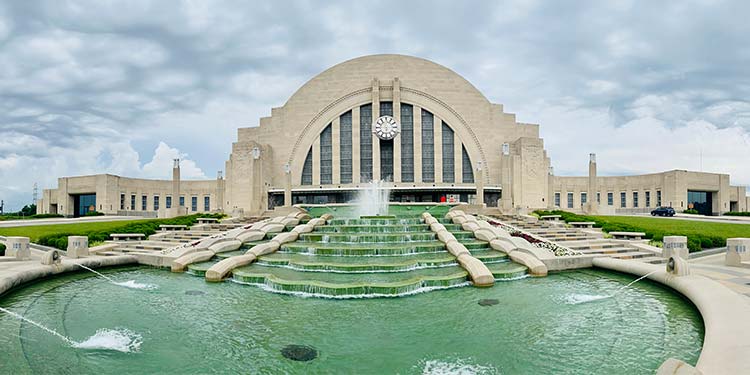 Location: 1301 Western Ave, Cincinnati
Opening hours: 10:00 am - 5:00 pm (Thurs-Mon), Closed on Wed & Tues 
Entry rate: $25 (Adults), $19.50 (Ages 3-12)
Plan a day trip to wander around the halls of Cincinnati Museum Center for an interesting date!
Packed full of history and visually pleasing art pieces, couples are sure to enjoy their time unraveling the facts together.
Opened in 1990, the gorgeous architecture of the building itself is an art to admire.
The exhibits displayed here are well-curated and divided into sections that can make one's visit very convenient.
So many interactive and educational exhibits, from the city's history to engaging and fun ones designed for the kids, are showcased.
Eden Park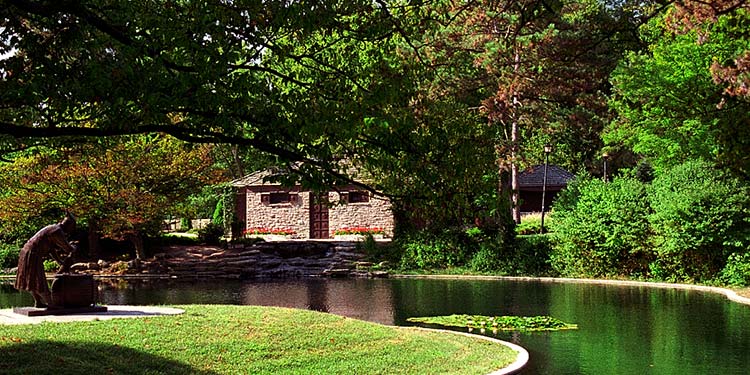 Location: 950 Eden Park Dr, Cincinnati
Opening hours: 6:00 am - 10:00 pm (Every Day)
Entry rate: Not required 
What better place to fall in love at other than being surrounded by nature?
Eden Park is a beautiful place for couples who like to take a day out in serene and calm places, whether for a little picnic or just for a stroll.
As nature has the power to connect two souls even better, the park has many spots where couples can feel happier together than ever.
Its 186-acre land features various attractions and the Twin Lakes, which is one of the most scenic on-site.
The park is also house to many famous landmarks, including Cincinnati Art Museum and Krohn Conservatory which can be a lovely visit for couples.
Cincinnati Observatory
Location: 3489 Observatory Pl.Cincinnati
Opening hours: 12:00 pm - 3:00 pm (Tues, Thurs, & Sun)
Entry rates: $10 (Adult)
Located on top of Mount Lookout, Cincinnati Observatory is a fantastic night escape for spending intimate time watching the sky.
Take a tour of the oldest professional observatory in the country.
The observatory has a lot of historical, educational, and entertaining information to pass on to visitors of all ages.
Anyone interested in history and astronomy will have a wonderful time here, and you'll be glad to know their telescope is the second biggest in the country.
So couples, if moon and star-gazing are your favorite type of date, this hidden treasure of the city is the right one for you.
BB Riverboats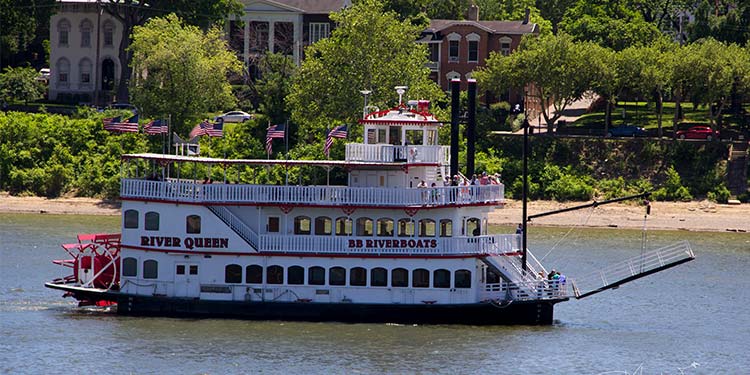 Location: 101 Riverboat Row, Newport
Opening hours: 9:00 am - 7:00 pm (Tues-Thurs & Sat), 9:00 am - 7:30 pm (Fri), 9:00 am - 6:30 pm (Sun), 9:00 am - 5:00 pm
Entry rates: Starts at $69
Romantic dinner on a cruise with a stunning view of Cincinnati!
BB Riverboats provides an enjoyable and memorable ride of a lifetime—don't miss the opportunity.
It will take you from under the Purple People Bridge between Ohio and Kentucky to the riverfronts.
Witness the best views of the sunset in the skyline of the city beside your lover with the cool breeze on your face and good music playing in the background.
They'll serve you delicious dinner and tasty drinks on board to set the vibe.
You will also get to know the history and fun facts about the city while sailing on the Majestic Ohio River.
Findlay Market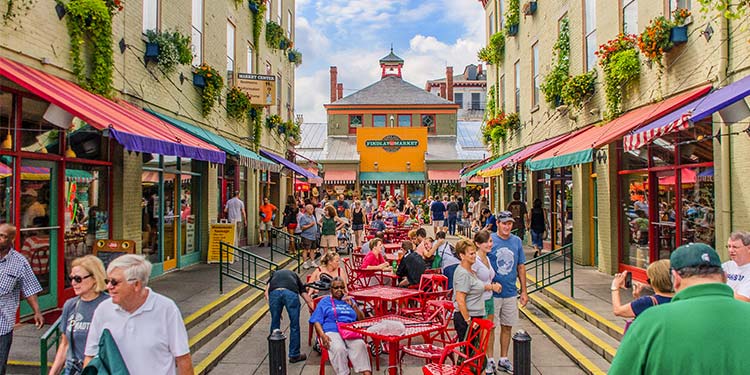 Location: 1801 Race Street, Cincinnati
Opening hours: 9:00 am - 6:00 pm (Tues-Fri), 8:00 am - 6:00 pm (Sat), 10:00 am - 4:00 pm (Sun), Closed on Mondays
Entry rate: Not required 
Visit the most happening place in the city—Findley Market is the one-of-a-kind farmer's market you don't want to miss!
Couples can spend a wonderful day exploring the artisan's locally-produced goodies and delicious food.
The market has everything from fresh fruits to tasty, cooked meals to accessories.
Catch the lively vibe of the market with all the friendly buzz and live music performances that only boost up the atmosphere.
Findley Market can be a great place to enjoy your weekends discovering new flavors and supporting the small business.
Underground City Tour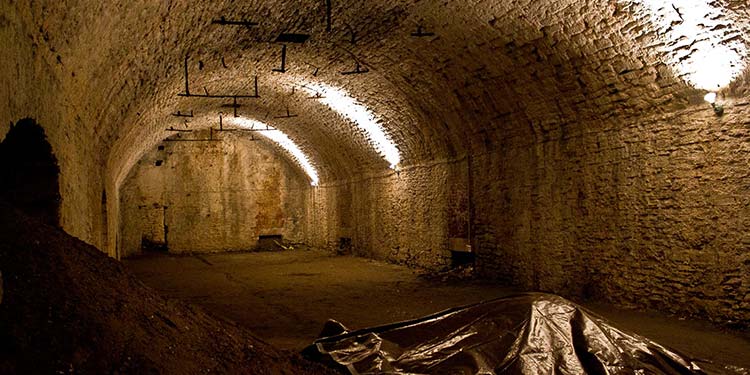 Location: 1332 Vine Street, Cincinnati
Opening hours: 9:00 am - 4:00 pm
Entry rates: $39
If you're interested to take a closer view of the city, then take the Underground City Tour!
One of the most popular tours, many visitors look forward to getting a closer look at the historical underground city of Cincinnati.
Right beneath the streets of the city are the hidden caverns that once were actively used as brewery tunnels.
It can be a great experience to learn about the history of the city.
Explore the historical gen hidden by today's modern city with your partner and enjoy this adventurous journey together!
Great American Ball Park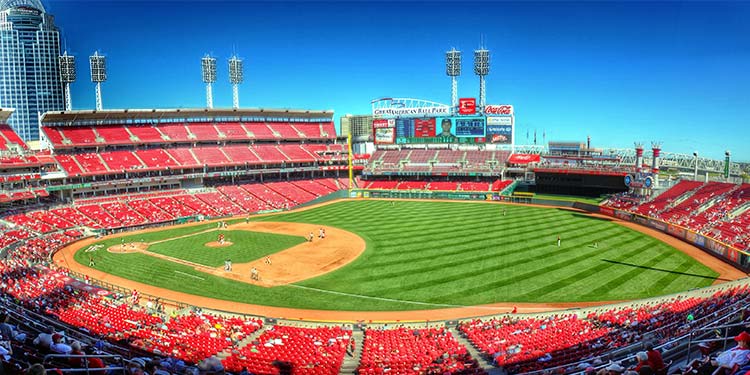 Location: 100 Joe Nuxhall Way, Cincinnati
Contact:  +1 513-381-7337
Watch the Red's baseball match with your love!
Opened in 2003, the Great American Ball Park is the home stadium of the city's baseball team Cincinnati's Reds.
Don't worry about food and beverages! You can easily grab tasty snacks and refreshing drinks inside.
The beautiful and intimate ballpark is a highly recommended must-go place for an entertaining match-day date.
It is known for holding many histories of records; experience the energetic vibe in this historical stadium for a memorable time.
Cincinnati Music Hall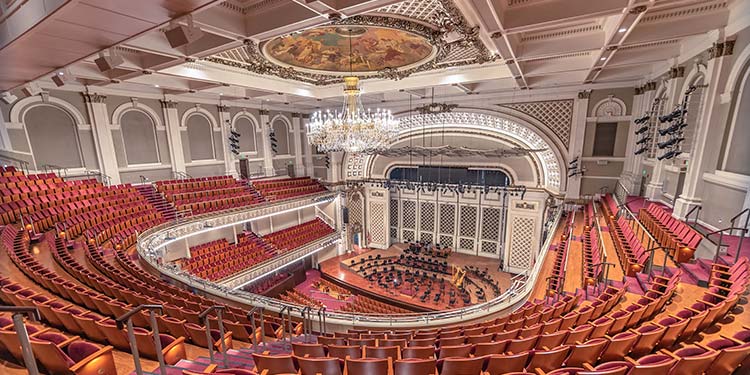 Location: 1241 Elm Street, Cincinnati 
Opening hours: 10:00 am - 5:00 pm (Mon-Fri), 10:00 am - 2:00 pm (Sat), Closed on Sundays
Entry rate: Differs on shows 
Don't miss out on the remarkable performances by the talented artists at Cincinnati Music Hall.
Couples can spend a very cozy and enchanting afternoon seated comfortably in the phenomenal hall.
It was built in 1878 and had been honoring performing arts and keeping them alive for the younger generations since.
Known for being one of the most recognizable buildings in Ohio, the Music Hall remains to awe its visitors with its impressive shows and breathtaking architecture.
Sawyer Point Park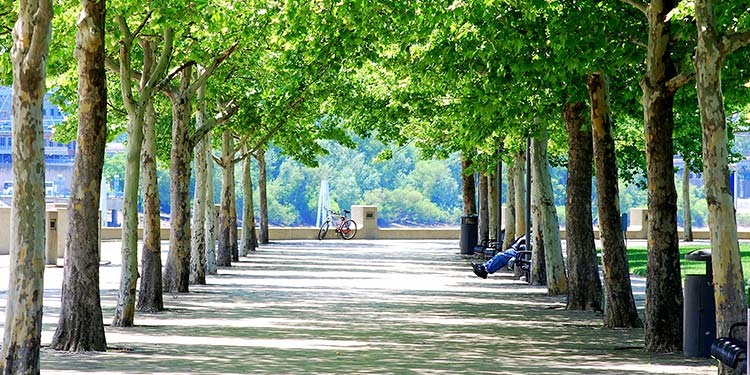 Location: 705 E Pete Rose Way, Cincinnati
Opening hours: 7:00 am - 10:00 pm (Every day)
Sawyer Point Park, located on the riverfront of Downtown, overlooking the Ohio River, is an excellent place to play and relax.
If you're in for a fun time, then hop on the ride and start rolling on Cincinnati's largest roller rink with your partner.
It will surely be a fun experience for couples to skate together, hand in hand.
You can also get into other activities, such as tennis, pickleball, and volleyball.
Get a scenic view of the city and the river from the park and watch the stunning Purple People Bridge, which connects Ohio to Kentucky.
The park is also known for hosting many major music festivals and other cultural events—don't miss them if you're around the time!
Romantic Getaway in the Queen City
Love is where your heart feels the most at home; the place and the emotion are a person when it comes to a lover.
Known for having vibrant walls all over the city—just strolling around can lead to an enjoyable Mural Tour experience for couples who admire street art.
Besides visiting places, delve into their fantastic selection of foods, beverages, and desserts that will add more flavors to this trip.
Moreover, couples traveling with kids can also hop on many fun activities in Cincinnati.
Get ready to fall in love with the city together with the love of your life!
Note: Keep in mind that information about travel can change quickly. To ensure your trip is fun and safe, we encourage you to double-check official websites and government/travel advisory sites for the latest information on travel restrictions, entry requirements, and safety measures.