Tucson, the second-largest city in Arizona state is an exciting site to explore.
The city is the first in the U.S. to receive UNESCO's designation of "City of Gastronomy." So it's a must-visit for any food enthusiasts around the globe.
Blessed with the Sonoran Desert, mountain surroundings, and magnificent Arizonian Sky, it has historical, cultural, and natural attractions to please every visitor.
You can wander off among the cactuses of Saguaro National Park, enjoy adventurous activities at Sabino Canyon or go skiing at Mount Lemon.
And visit Old Tucson, the Hollywood of the desert, to get a glimpse of old-west action.
Want to find more?
Keep reading the list of best things to do in Tucson, Arizona, to find even more fascinating spots to enjoy a fulfilling vacation.
Things To Do in Tucson, Arizona
Hike up the Saguaro National Park West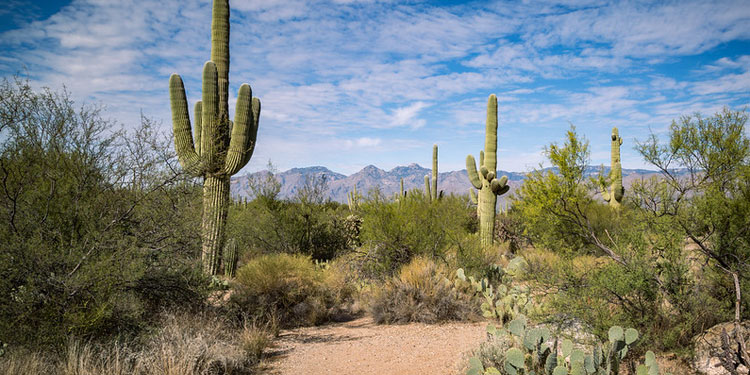 Location: 2700 N Kinney Road, Tucson, AZ 85743
Opening hours: Open 24 hours (Parking opens 9:00 am - 5:00 pm)
Cost: Entrance Fee of $15 - $25 
Best time to visit: Early mornings
Difficulty level: Hard
Named after the kind of Cactus found only in Tucson, the Saguaro National Park divides the city into two parts.
Although the park's east side is equally adventurous, the west part is more famous for its volcanic mountains fit for outdoor activities.
You can ascend the mountain through three different trails with varied difficulty levels. Take the 8 miles long Sendero Esperanza trail for 220 feet of elevation gain.
However, non-hikers can choose the 1.8 miles long Wild Dog trail.
Tip: Take a picture with a backdrop of the enormous Saguaro cactus and desert sunset.
Mountain Biking on Starr Pass Trail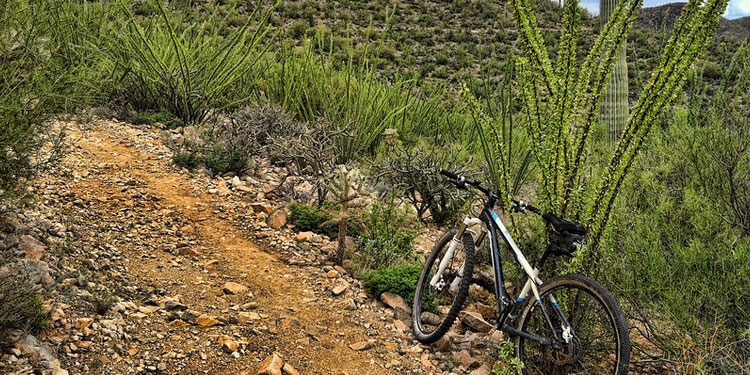 Location: Star Pass Trail, Tucson, AZ 85713
Opening hours: Open 24 hours
Cost: Free access (Bike rentals are charged)
Best time to visit: Spring and Fall mornings
Difficulty level: Moderately Challenging
Go on an adventurous mountain bike ride on the 8.5 miles loop of Starr Pass Trail located in Tucson Mountain Park.
With an elevation gain of 233 m, the biking trail takes you through the varied terrain of the Sonoran desert through Tucson mountain.
As the trail has multiple access points to choose from, begin at Genser trailhead just behind the Starr Pass Golf Resort for a rocky route.
And if you want a lengthier ride, then continue on the Yetman Trail Loop that follows through the end of this route.
Tip: Take the Rock Wren Trail to connect with the Tucson Mountain Trail system.
Wander Off in Tucson Botanical Gardens
Location: 2150 N Alvernon Way, Tucson, AZ 85712
Opening hours: Open daily, 7:30 am - 3:30 pm
Cost: Admission tickets of $8 - $15
Best time to visit: October to April
Get lost in the luscious oasis of curated gardens in 5.5 acres wide Tucson Botanical Gardens located in the heart of Tucson.
Founded in 1964, it has 17 specialty gardens, each preserving different types of foliage, especially the native desert plants.
The Cactus and Succulents garden, Herbs garden, and Barrio garden are the most significant highlights for many.
The garden also organizes special events and exhibits like butterfly magic, quilts in the garden, Sunset Sundays, and many more. Check the website to find one before visiting.
Tip: Reserve the tickets early for your own convenience.
Note: You can also book the garden for educational tours, weddings, and other private events.
Adventurous Activities in Sabino Canyon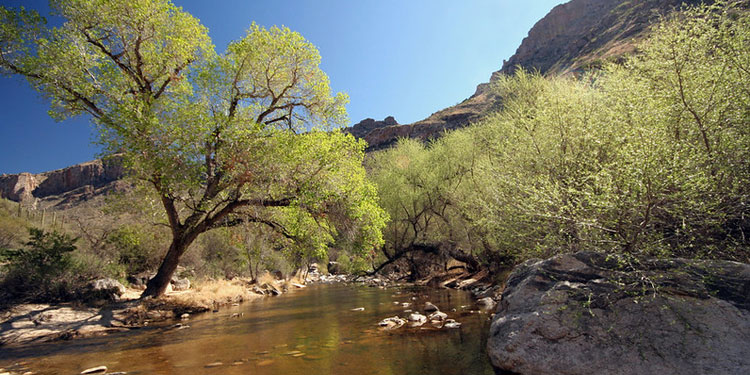 Location: 5700 N Sabino Canyon Road, Tucson, AZ 85750
Opening hours: Open 24 hours (Visitor center opens 8:00 am - 4:30 pm, daily)
Cost: Free entry (parking is $5 per vehicle)
Best time to visit: Spring evenings
Nestled in the lap of Catalina Mountains, the Sabino Canyon offers a bundle of exciting outdoor activities to the adventurous explorers out there.
You can swim in the freshwater of the canyon and hike up or go on a mountain biking trip on its steep rock cliffs full of distinctive desert vegetation.
And you can even catch sight of Gila Monster, Bobcats, and other desert animals in these areas during summers and mild winters.
There are also provisions for tram tours if you want to explore Sabino Canyon and nearby Bear Canyon without exerting yourself with a hike.
Tip: Visit the on-site visitor center for more details on the recreational activities and the canyon's history.
Note: Bicycles and mountain bikes are allowed only until 5 pm.
Count Your Blessings San Xavier del Bac Mission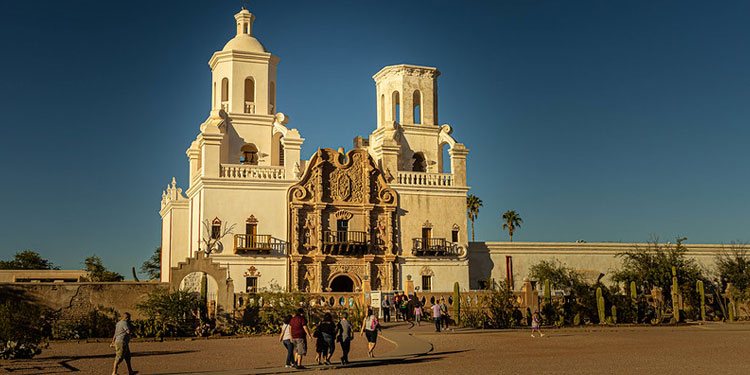 Location: 1950 W San Xavier Road, Tucson, AZ 85746
Opening hours: Open daily, 9:00 am - 4:00 pm   
Cost: Free admission
Best time to visit: Festive Season
Explore the centuries-old San Xavier del Bac Mission, located in the area of Santa Cruz River and natural springs just 10 km away from downtown Tucson.
This Spanish Catholic mission is often called the White Dove of the Desert for its white building built on sandy barren land.
Take a self-guided tour of the mission to explore the divine architecture of the chapel, the mini towers, and the nearby Grotte Hill.
You will be amazed by the intricate details of murals and sculptures carved on the face and entire interior of the church.
Undoubtedly, a pleasing sight to the eyes while counting your blessings.
Tip: Make sure to visit the on-site gift shop and museum to learn more.
Note: The church remains closed for public access during weddings, funerals, and special church functions.
Explore Arizona-Sonoran Desert Museum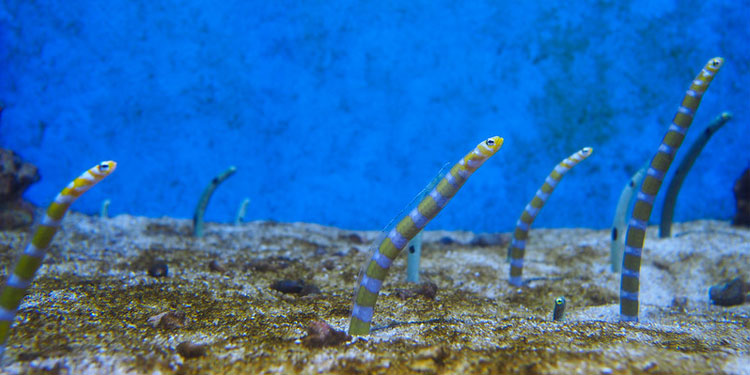 Location: 2021 N Kinney Road, Tucson, AZ 85743
Opening hours: Open daily, 7:30 am - 2:00 pm
Cost: Admission tickets of $7.95 - $29.95
Best time to visit: After Sunset
Loosen up at the 98 acres ecological exhibit featuring native plants and animals of Sonoran deserts in the Arizona-Sonoran Desert Museum.
The extensive botanical garden, a natural history museum, an AZA-accredited zoo, and two art galleries are the highlights of this unique museum.
You can enjoy the Raptor Free Flight show, Live Animal Theater program, docent tours and demos, and regular exhibits of plants and animals.
Interactive activities at Packrat Playhouse, Stingray Touch, and Warden Aquarium are pretty popular among kids.
Tip: Enjoy the yummiest cuisines at Ocotillo Cafe and Ironwood Terraces located inside the premises.
Note: Check the website to find out the exhibits on display before visiting.
See Archaeological Resources at Arizona State Museum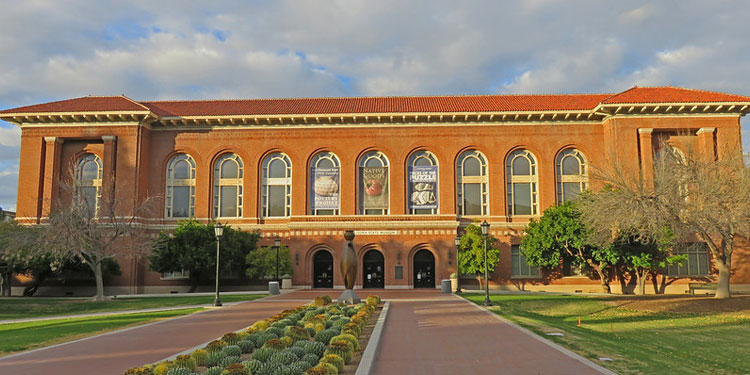 Location: 1013 E University Boulevard, Tucson, AZ 85721
Opening hours: Tuesday- Saturday, 10:00 am - 4:00 pm
Cost: Regular ticket of $8 (Discounts available)
Best time to visit: Summer
Grab the chance to learn human history with the anthropological resources preserved at one of the oldest museums in Arizona, the Arizona State Museum.
Initially founded in 1893 as a repository of archaeological resources, the museum now serves as a storehouse and exhibit of these items.
You will see a curated collection of ethnographic, archaeological, and modern objects originated by the region's Indigenous people.
It is currently located inside the premises of the University of Arizona to facilitate the students on research of the Native culture of the region.
Note:The museum hosts archaeological events occasionally. Check the website for more details.
Pay a Visit to Mini Time Machine Museum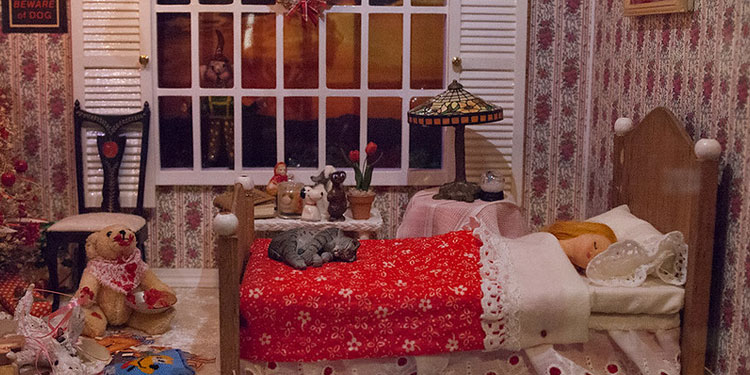 Location: 4455 Camp Lowell Drive, Tucson, AZ 85712
Opening hours: Tuesday- Sunday, 9:00 am - 5:00 pm
Cost: Admission tickets for $8 - $14
Best time to visit: Weekdays
Discover the 15,569-square-foot-wide exhibition of miniature versions of enchanting artifacts and antique collectibles of the Mini Time Machine Museum.
The imagination of the founders, Patricia and Water Arnell, gave life to this magical place dedicated to preserving and advancing the art of miniatures.
Apart from the permanent exhibit of 500 dollhouses and room boxes filled with miniature displays, the museum hosts occasional events.
And the Ball-Paylore Miniature House Project and Wee Winter Wonderland are quite popular exhibits among the kids.
Note: Check the website for events and exhibits on display to plan your visit accordingly.
Learn Aeroscience at Pima Air and Space Museum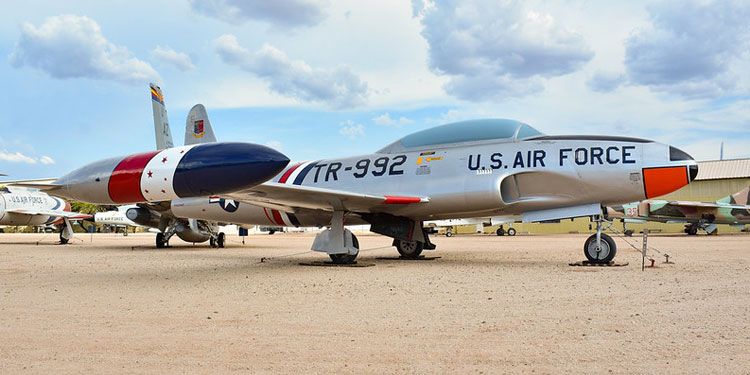 Location: 6000 E Valencia Road, Tucson, AZ 85756
Opening hours: Open daily, 9:00 am - 3:00 pm (Subject to change)
Cost: One-day admission at $13 - $19
Best time to visit: Weekdays
The Pima Air and Space Museum is a paradise for those passionate about air crafts and its evolutionary history.
It exhibits more than 400 aircraft ranging from Wright Flyer to a 787 Dreamliner in its outdoor and six indoor hangers spread over an area of 80 acres.
If you wish to enhance the experience, take private walking tours in which you can hear the highlights and history of the aircraft on display.
You can also book the venue for your private event. On special occasions, the on-site Flight Grill chefs can cater plated or buffet meals for 300 guests.
Note: Check the website for the live-stream footage of the museum or to see their collection online.
Snowboarding at Mount Lemmon Ski Valley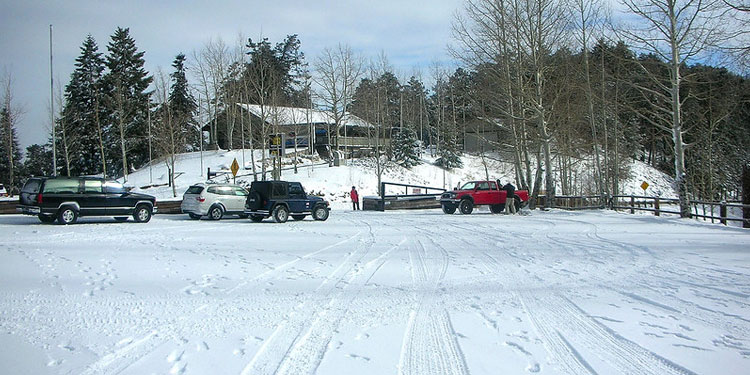 Location: 10300 E Ski Run Road, Mount Lemmon, AZ 85619
Opening hours: Thursday - Sunday, 10:30 am - 4:30 am (Opens at 9:00 am on Sundays and Mondays)
Cost: All-day skiing costs $39 - $69
Best time to visit: Winter mornings
Located on the slopes of Mount Lemmon, the Ski Valley is one of the most promising recreational ski destinations in the southwestern part of the state.
There are 18 trails to choose from for skiing and snowboarding, whether you are a beginner or an advanced player.
And if snow sports aren't your thing, then hop into the Sky Ride for a scenic view of the mountains and gorgeous snow-covered trees.
The Ski Valley has amazing breakfast and lunch options and a special kids' menu.
Tip: Remember to try the homemade fudge on the way back from your ride.
Note: Mount Lemmon is also suited for hiking and scenic drives in summer and spring.
Shopping at Trail Dust Town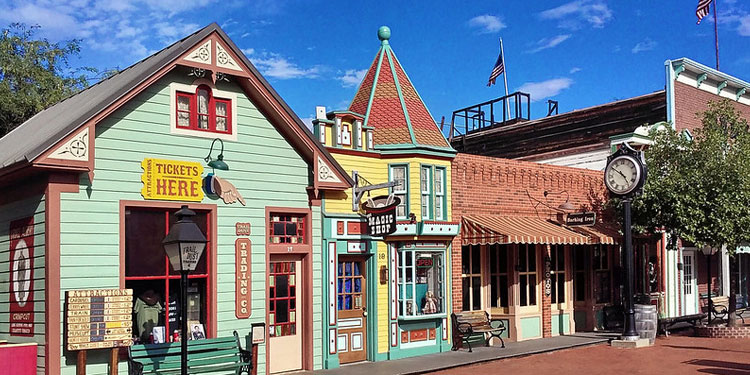 Location: 6541 E Tanque Verde Road, Tucson, AZ 85715
Opening hours: Open daily, 5:00 am - 5:00 pm
Cost: Free entry
Best time to visit: Spring evenings
Spend a laid-back evening shopping and strolling through the streets of Trail Dust Town, which has witnessed the evolution of town since 1961.
This historical outdoor shopping center in-houses everything from a Belgian chocolate depot to an artistic fabricated jewelry shop.
Besides, the magic shop and silhouette photography at Portrait Studio are quite popular among visitors.
You can also enjoy a perfect steak at the Pinnacle Peak or delicious pancakes at Millie's Pancake Haus.
Note: Check the website to find more interesting ongoing events before visiting.
Camping at Catalina State Park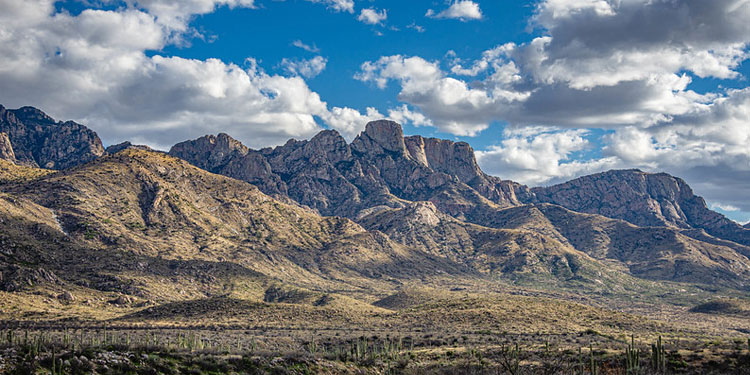 Location: 11570 N Oracle Road, Tucson, AZ 85737
Opening hours: Open daily, 5:00 am - 10:00 pm)
Cost: Entrance fee of $3 - $7 (Camping reservation at $3.20)
Best time to visit: Summer and Spring
If you have been looking for a desert hike and camping holidays, Catalina State Park is right there to serve your needs.
Expanding over an area of 5500 acres just below the Santa Catalina Mountains, this state park is home to desert plants and wildlife, including the 5000 saguaros.
You can camp at the site, enjoy a picnic nearby the streams and canyons, go for a birdwatching hike, or explore the area on horseback.
The park also hosts musical concerts and many other events and programs to entertain visitors. Check the website to find more.
Explore the Old Tucson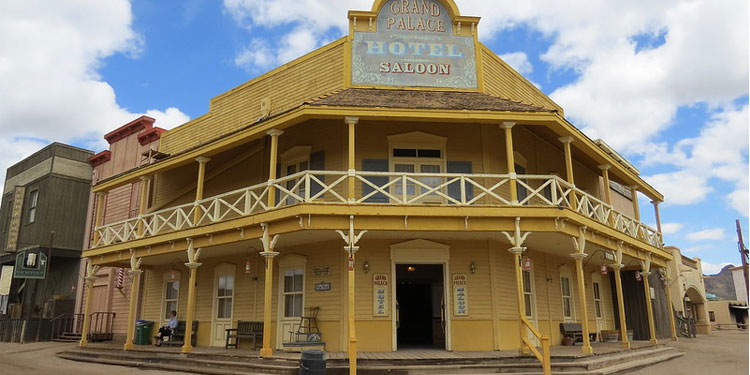 Location: 201 Kinney Road, Tucson, AZ 85735
Opening hours: Open daily, 10:00 am - 4:00 pm
Cost: Admission ticket for $17- $34
Best time to visit: Mid and late fall
With the nickname "Hollywood in the Desert," Old Tucson stands out as a historical movie studio and theme park situated in western Tucson.
Founded in 1950, the place has served as a set for Hollywood movies like Tombstone, El Doradao, Winchester 73, and many more.
You can take a 60-minute guided private tour to learn the rich history of Old Tucson and the movies shot here.
Or else book the tickets for many musical concerts, live band shows, and many events that keep happening over time. Check the website to find more.
Tip: Reserve a ticket early for historical tours as it tends to sell out soon.
Top Picks To Satiate Your Palate
Apart from the desert vegetation and adventure activities, one thing that identified Tucson best is the food.
You can find everything from contemporary American cuisine to lavish Italian, Mexican, and Mediterranean cuisine here.
Be prepared to tease your palate with Southwestern breakfast at Baja Cafe of Tucson, or visit The Grill at Hacienda del Sol for a casual American menu.
For the best Italian, stop by Renne's Tucson and Vivace Restaurant. Not just the food but the ambiance is also outstanding out there.
Wheras for the best wines, explore the collection of local south Arizona wines at Arizona Wine Collective and Sand-Reckoner Tasting Room.
Summarising the Desert Excursion
Now that you have got a closer look at the highlights of this desert town, plan your trip accordingly to make your family vacation memorable.
Whether you visit in Summer or Winter, the city has endless activities to entertain you and your loved ones.
And don't stress about getting around, as the Sun Tran bus service offer rides through the city and its outskirts while connecting five districts of Tucson.
But if you want a private ride, then there are options for rental cars, bike ride-sharing, and Uber.
Book the flights and get on board for an exciting excursion.
Don't stop exploring!
Note: Keep in mind that information about travel can change quickly. To make sure your trip is fun and safe, we encourage you to double-check official websites and government/travel advisory sites for the latest information on travel restrictions, entry requirements, and safety measures.