Who wouldn't want to spend a pleasant and romantic vacation with their lover?
North Carolina is that perfect place, with some of the dreamiest natural locations and an irresistible ambiance making it a must-visit destination for the lovebirds.
It's no surprise that so many couples arrange romantic candlelight dinners and relaxing cruises in this 'Yonder' area.
So prepare to spend the most memorable date evenings in North Carolina's charming and lovely towns like Blowing Rock and Boone.
Sounds just perfect!
All you now need to do is go through this arranged list of places and activities in North Carolina to have the best romantic experience of your life with your sweetheart.
Things to do in North Carolina for Couples
Hatteras Island: More than Just a Beach Getaway
Address: Drive along NC  Highway 12
Best time to visit: April to May and Sep- Oct
Take your partner to Hatteras Island, where the ocean water is so pristine, and the sand feels incredibly soft like muslin to your skin.
This island has multiple options to choose from to spend a romantic time with your loved one.
Hatteras Island is famous for its natural beauty, historical location, and variety of outdoor activities like fishing and watersports.
Couples can quickly create an entire day itinerary by including each popular activity on their list.
You can start your day with either beachcombing or hiking together, followed by a quick swim in the Atlantic Ocean.
At night time, sit by the beach and gaze upon the open sky for a spectacular view of the stars above and the ocean below.
McGill Rose Garden: Think of Love, Romance, and Celebrations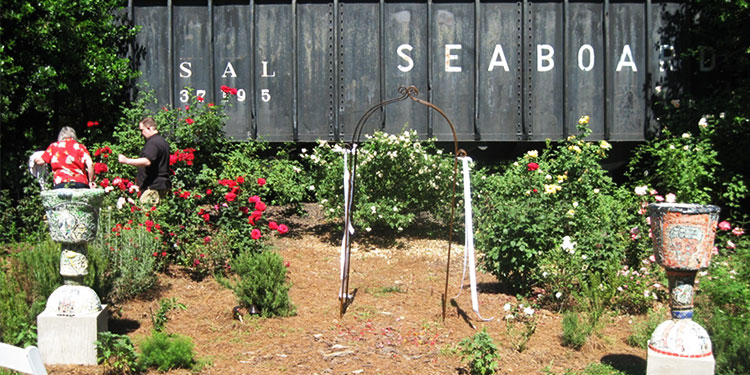 Address: 940 N Davidson St, Charlotte, NC 28206
Opening Hours: 7 am - 10 pm (Monday- Friday) 7 am 10 pm (Sunday 8 am to 8 pm) Saturday 8 am to 11 pm
Cost: Free Entry
McGill Rose Garden is definitely a romantic space as it is a popular choice of venue, especially amongst couples getting married.
A perfect setting with plenty of outdoor space and flowers blooming. No wonder why people call this garden an 'urban oasis.'
So, plan a picnic date or even just an intimate walk with your sweetheart at McGill Garden.
Now, if you plan to pop in that big question, this is the IDEAL location.
Whether you want an extravagant or a simple proposal, McGill Rose Garden's team can quickly help you plan your special moment.
Grandfather Mountain: Up above the World so High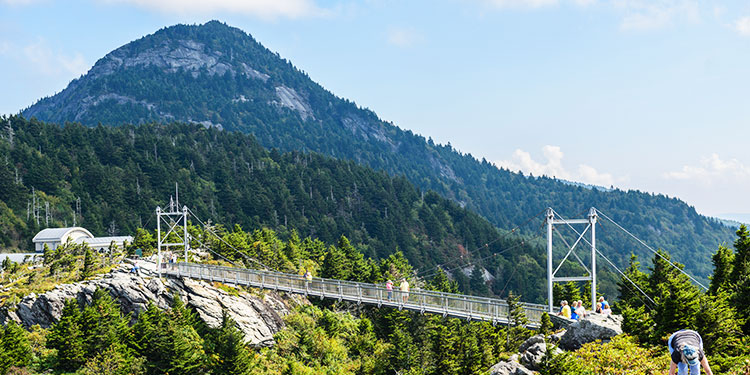 Address: 050 Blowing Rock Highway, Linville, NC 28646
Opening Hours: 9 a.m. to 6 p.m. (Last entry at 4:30 p.m., trails close at 5 p.m
Costs: Ticket price varies according to age group and seasons
Did you know? The running scene from the iconic movie ''Forest Gump'' was shot at Grandfather Mountain, which is known as the 'Forrest Gump Curve.
For couples who are adrenaline junkies, visiting Grandfather Mountain will satisfy your soul.
Get to the top of the mountain by hiking together and witness a stunning view of nature.
If you want a cozy long drive, the pathway to the mountain is filled with scenic views that will make you feel warm and close to mother nature.
Also, what could be more thrilling+romantic than walking together holding hands with your partner on a bridge that is 80 ft above the ground and surrounded by lush trees?
Don't miss out on the chance to cross The Mile High Swinging Bridge at Grandfather Mountain, where couples can get stunning shots of the open skies. It is quite a spectacle.
Lake Lure: A Dreamy Dream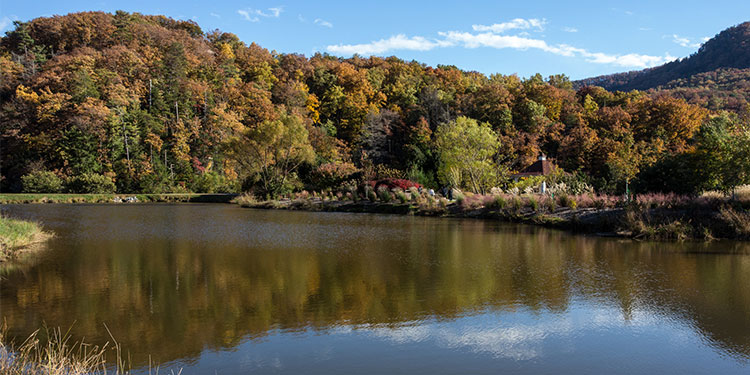 Address:  658 Memorial Highway Lake Lure, NC 28746
Best season to visit: June- August
Website: townoflakelure.com
Lake Lure will be your perfect picturesque getaway to feel relaxed and totally unwind from the hustle and bustle.
Sitting on the foothills of the Blue Ridge Mountains, this lake is so beautiful that it is regarded as a 'crown jewel of North Carolina.' For couples, this place has so much to offer.
For starters, I would definitely recommend getting on a boat ride with the love of your life in the dawn.
That feeling of being surrounded by the crystalline water of Lake Lure, swift-moving breezes, and just the two of you in each other's arms, watching the sky turning red and orange.
Definitely a fairytale moment!
Chimney Rock: Stairway to a Heavenly Scene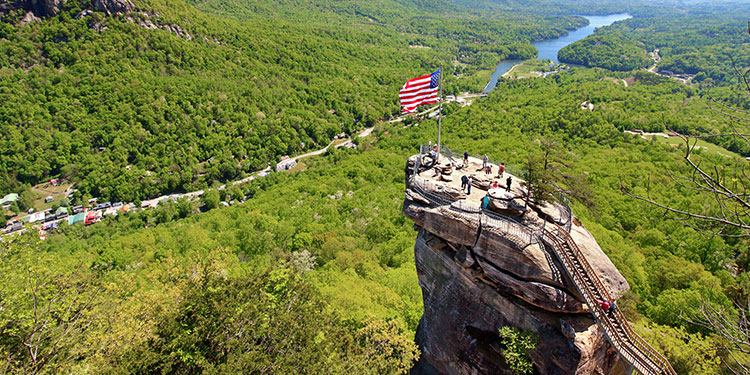 Address: 431 Main St, Chimney Rock, NC 28720 
Ticket price: adult $17, children (5-15) $8, ages four and under are free
Difficulty Level: easy
Website: chimneyrockpark.com
To all the couples who are looking to get the best experience of the mountains, you need to check out The Chimney Rock.
A huge rock made up of granite, it is a unique natural landmark of North Carolina.
Now you must think The Chimney Rock is just for a visual feel, but there's more.
Since the rock stands tall, you can climb on it and get to the top together.
Once you get there, get ready to see a stunning panoramic view of the area's natural beauty, including Lake Lure.
The only way to get to Chimney Rock is by foot. However, if you wish to try rock climbing, Chimney Rock State Park also provides that service.
Biltmore Estate: Royalty and Romance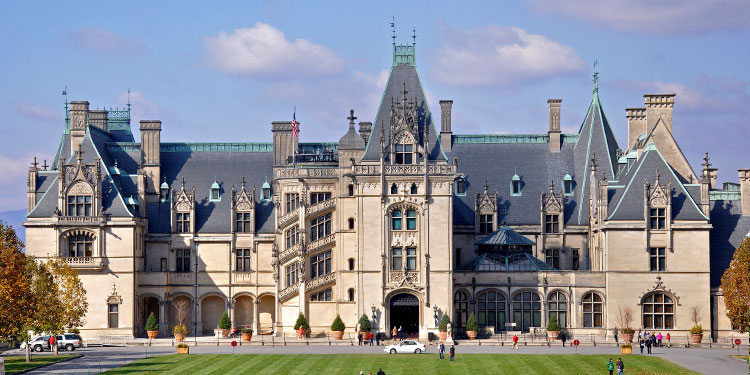 Address: One Lodge Street, Asheville, NC, 28803
Opening hours: Open Every Day. Hours Vary Daily
Website: biltmore.com
Think about a great romantic place with an incredible collection of art pieces; the first thing that usually comes to mind is a beautiful palace.
Biltmore Estate is a lavish French Renaissance-inspired property where every single thing is extra charming and grandeur, just like the French – romantic to the core.
Plan a tour with your partner at this magnificent estate, explore all the exquisite elements, and feel the dreamy artworks, architecture, and gardens.
Now if you really want to up your game and experience the eliteness, there's also an option to rent various rooms/spaces of the estate where you can organize private gatherings and even weddings.
Because who wouldn't want to get married in a palace?
Tip: Make sure to book the tours of the estate beforehand, as there's always a queue for the tours.
Mt. Mitchell State Park: Stay close to the Alp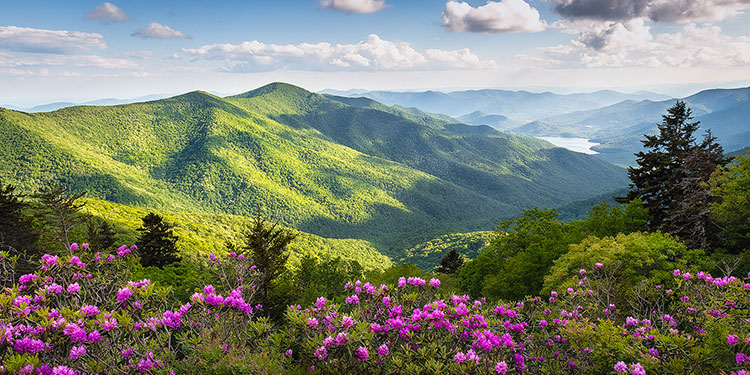 Address: 2388 N.C. 128, Burnsville, NC 28714
Opening hours: open daily from 7 am - 10 pm
Website: ncparks.gov
Mount Mitchell State Park is not one of the usual basic parks. Instead, it is known for having incredible breathtaking views and exploring the Appalachian Mountains.
Couples will have a wonderful time in the mountains doing various outdoor activities.
Of all the available options, going for a laid-back picnic or getting to the Summit Observation Deck is the best.
The cozy picnic spots at Mt Mitchell State Park are an apt setting for a nice afternoon or evening quality time with your partner.
Take your favorite snacks to munch on and enjoy each other's company under the open sky.
Another perfect romantic idea is to reach the Summit Observation Deck with your favorite person and witness nature's gorgeous view.
Tip: Don't forget to check the weather conditions while planning to visit.
Craggy Gardens: Garden as Dense as a Forest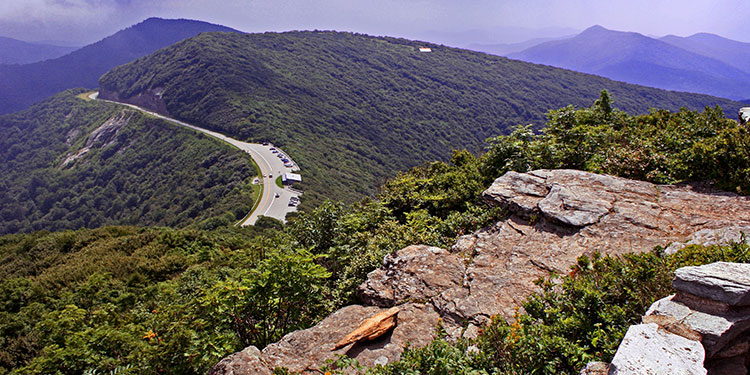 Address: 364 Blue Ridge Parkway Black Mountain, NC 28711
Opening hours: 9 am to 3 pm
North Carolina is undoubtedly filled with nature's best elements, and Craggy Garden is one of mother nature's incredible pieces of work.
You have to take your companion here for the garden's natural beauty and not forget how this place sits on a spectacular high elevation.
The highlight of Craggy Garden is the display of rhododendron flowers and epic mountain views.
The flowers blooming all around creates such a romantic setting that you will truly feel like you are in heaven.
Also, with such a stunning scenic backdrop, it is a great place to take some incredible couple photos.
Tip: It can get chilly in the evenings, so take a layer of extra clothing with you.
Dry Falls: Dont Miss to Kiss
Address: Hwy 64 between Franklin and Highlands) in the Cullasaja Gorge Opening Season: open-year round 
Costs: $3/vehicle fee, $15 annual pass (usable at Dry Falls, Whiteside Mountain, and Whitewater Falls)
There's something about the waterfall that is exceptionally romantic and makes us feel so lovey-dovey, and Dry Falls is definitely one of them.
This visual spectacle will sweep both of you off your feet with its beauty.
There is a trail where you can actually walk behind the waterfall without getting wet.
So, when you reach the Dry Falls, firmly hold your significant's hand and walk together as you behold the sight of holy water falling from above.
Blowing Rock and Boone: Exploration Adventure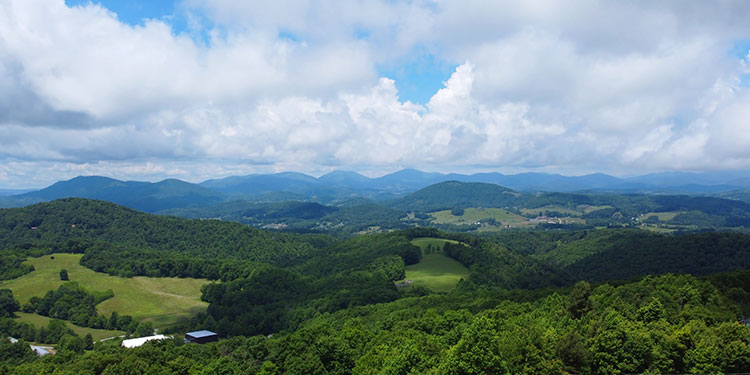 Website: blowingrock.com 
Boone: exploreboone.com
Best time to visit: spring and fall
How can you miss visiting the most charming towns of North Carolina? Blowing Rock and Boone are neighboring towns with a noticeable natural vibrant feel.
As we all know, one of the couples' best activities is simply exploring a city or settlement.
So while you're in North Carolina, how can you not wander around Blowing Rock and Boone and indulge in this region's incredible authentic food, clothing, and lifestyle?
I would definitely recommend you book a nice hotel or a lodge in these towns where you will get the best experience of this mountainous area.
The Castle on Silver Lake: Romeo and Juliet Feels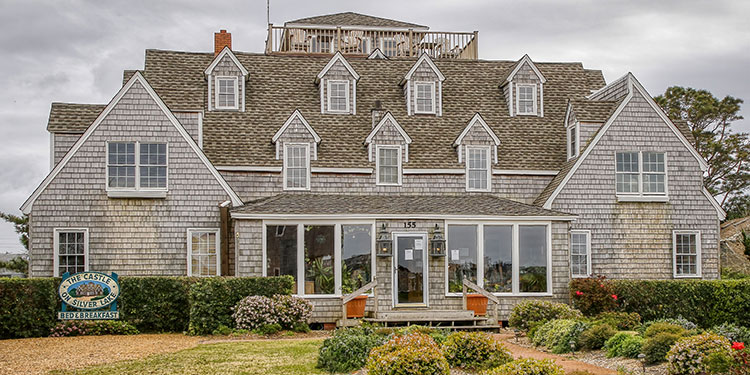 Address: 155 Silver Lake Dr, Ocracoke, NC 27960
Website: thecastlebb.com
A perfect romantic getaway, The Castle on Silver Lake is an experience you must try at least once in your lifetime.
The Inn is a historic private property with an old-school romantic charm.
You and your loved one will be staying at a castle, a bed and breakfast place near a beautiful lake.
So spend a night or two with your better half and explore the classic charm of this place, or wander around the Island's nearby attractions.
Grove Park Inn Resort and Spa: Getaway to the Magical Mountains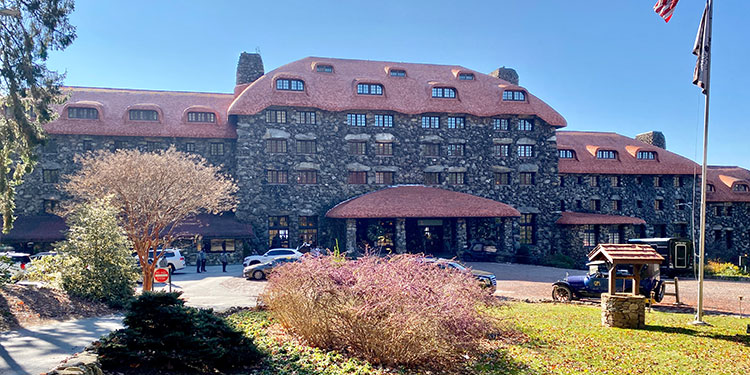 Address: 290 Macon Avenue, Asheville, North Carolina, 28804
Website: omnihotels.com/hotels/asheville-grove-park
Relaxing and unwinding together is as essential as hustling together for any couple.
Grove Park Inn Resort and Spa has one of the best couples' spa services. It is not only famous for its world-class hydrotherapy bath treatments but also for its fantastic mountain views.
You will be able to see the Blue Ridge Mountains from the resort and imagine taking a lovely massage/ spa and witnessing the breathtaking view of the lush mountain's natural beauty.
The best way to instantly lift up both of your moods is by getting into these mineral-based therapeutic pools near the spa area.
Partners Who Relax Together, Stay Together
Nothing can be more perfect and romantic than spending time with your Romeo/Juliet amongst the beautiful creations of nature.
From the gorgeous mountains to the glistening lakes being around nature's wonders are not only bliss for the mind but also tranquil to the soul.
That's why a trip to beautiful North Carolina is the best gift you can give to your special person.
So why wait?
Enjoy the best couple's trip of your life!
Note: Keep in mind that information about travel can change quickly. To ensure your trip is fun and safe, we encourage you to double-check official websites and government/travel advisory sites for the latest information on travel restrictions, entry requirements, and safety measures.