With a blend of iconic, modern, and pleasant attractions, Branson is nestled in the heart of the beautiful Ozark Mountains of Southwestern Missouri.
Also known as the " Live Entertainment Capital of the World," the city is popular for booming theatrical performances and vibrant nightlife.
But that's not all!
A number of natural attractions that are filled with adventure and historical museums will be an add-on to your dynamic family vacation.
Get lost in the lakeside beauty, explore the museums, or enjoy the bustling buzz of the downtown. It's all up to you.
And while you enjoy unique shopping and fine dining around the main streets, the kids may enjoy thrilling rides at many of its amusement parks.
More to satisfy your taste?
Check through this list of the best things to do in Branson, Mo, to make the best of your upcoming vacation.
Things to Do in Branson, Mo
Have Fun in the Silver Dollar City Theme Park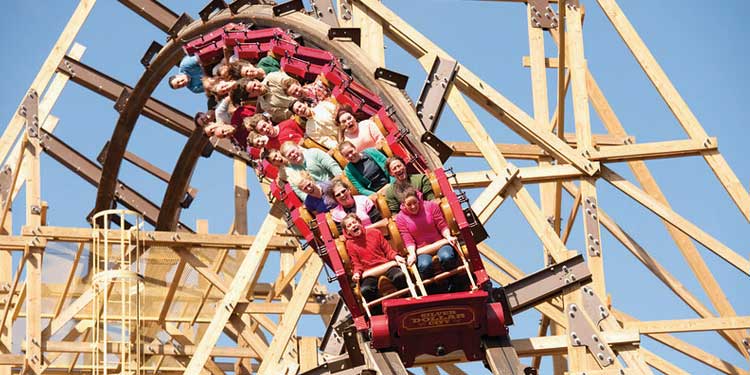 Location: 399 Silver Dollar City Parkway, Branson, MO 65616
Opening hours: Open daily, 9:30 am - 7:00 pm (Opens till 8 on weekends)
Cost:$85 per day ($10 less for kids and seniors)
Best time to visit: Mondays and Tuesdays
Begin your exploration of Branson Mo with the city's top attraction, which has also been voted the number 1 theme park in America.
This private theme park, maintained by over a hundred resident craftsmen, proudly demonstrates the art and craft heritage of the country.
You can enjoy six world-class festivals in the park, showcased from spring through summer.
There are also thematic events every season, along with regular thrilling roller coaster rides and live shows that run on a daily basis.
When exhausted from exploring the park, you can enjoy dining in a dozen family restaurants located inside the premises.
The park also has 60 unique shops with unique crafts and arts on display.
Enjoy a Theatrical Performance at Sight & Sound Theatres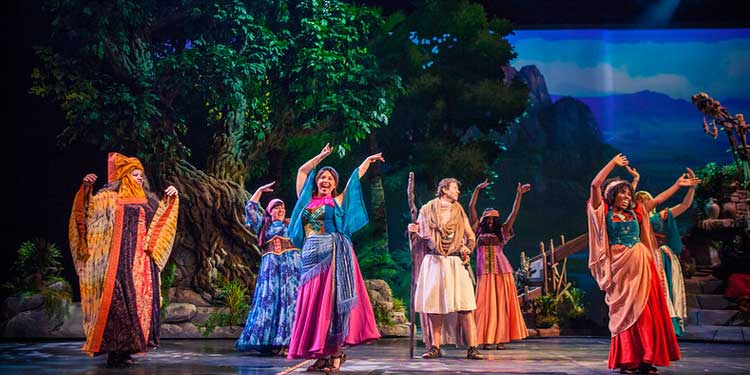 Location: 1001 Shepherd of the Hills Expy, Branson, MO 65616
Opening hours: Monday- Saturday, 8:30 am - 5:00 pm
Cost: $29 - $74 (differs with age and shows)
Best time to visit: Christmas
Average Show duration: 2 hours 20 minutes
Make a stop at one of the largest Christian Theater companies in the country for inspiring stories about god and his endeavors.
This majestic theatre with a seating capacity of 2000 people has shows that keep changing regularly.
Queen Esther, a story of the beauty and bravery of a woman from the Persian Empire, is quite a famous theatrical performance.
You will most likely find it running from March to December.
Apart from this, there's often a Christmas tale entitled "Miracle of Christmas" in November and December.
Later on, you can enjoy dining at nearby Scooter's Sports Grill after a knowledgeable and entertaining theater performance.
Tip: Book your tickets early and avoid sitting too close to the stage,
Enjoy Water Activities at White Water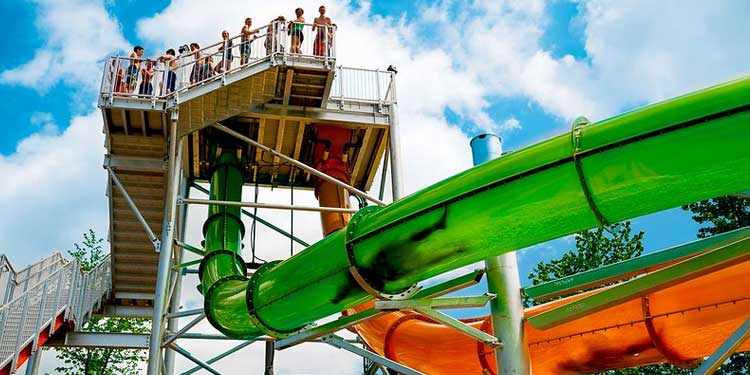 Location: 3505 W. 76 Country Boulevard, Branson, MO 65616
Opening hours: Open daily, 10:00 am - 6:00 pm
Cost: $32 - $48 for one day pass
Best time to visit: Summers
For someone who finds thrilling water rides and slides fun, there's a water park in Silver Dollar City featuring 13 acres of such water activities.
The White Water has some of the highest free-fall pool slides and plunges which are bound to take your breath away.
You can dive down the 240 feet KaPau plummet with a 70 degrees plunge or slide through the seven-story Kalani tower.
And while you enjoy waving in the Surf's Up Wave Pool, your kids can enjoy on their own in Coconut Cove, where the water is less deep and safe.
Don't forget to enjoy the Yummiest hotdogs and ice cream from the food vendors nearby.
You can also enjoy a lavish meal at nearby eateries like Hann's Island Cade, Surf's Up Snacks, and Dominos.
Go Bass Fishing at Table Rock Lake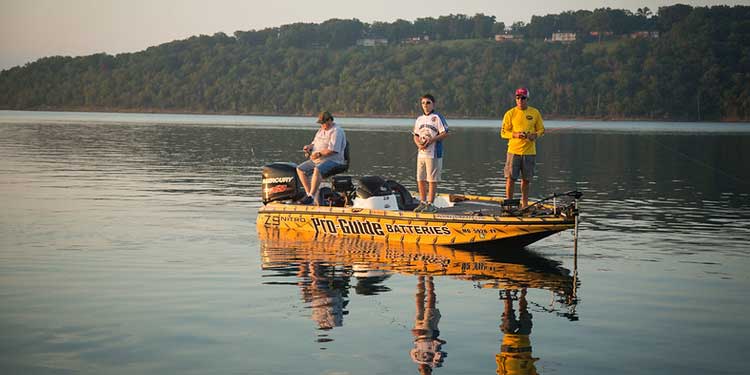 Location: Branson, MO 65616
Opening hours: Open 24 hours
Cost: Entry to the lake is free
Best time to visit:  Summers and Spring
Spend a summer catching fish in the crystal clear water of Table Rock Lake. With waters flowing down from the White, James, and King Rivers, there are different species of fish in the lake.
You will most likely find an abundance of Crappies, Large Bluegill, Spotted bass, White Bass, and Flathead Catfish.
The 800 miles of the tree-lined shore of this lake is also fit for a bundle of water sports.
Boating is the most popular to enjoy the lake and surrounding area, along with skiing, tubing, and wake surfing.
You can choose to hike or bike along the shoreline as well. Or else relax at the lakefront resorts in private cabins with a mesmerizing view of the water.
And for more lavish experiences, book a package of Showboat Branson Belle to spend a fine day with scenic table rock lake on a cruise with dining a fabulous 3-course meal and an entertaining show.
Tip: Remember to read and follow the state boating rules and follow small craft navigation rules before getting into the waters.
Stroll Around the Historic Downtown Branson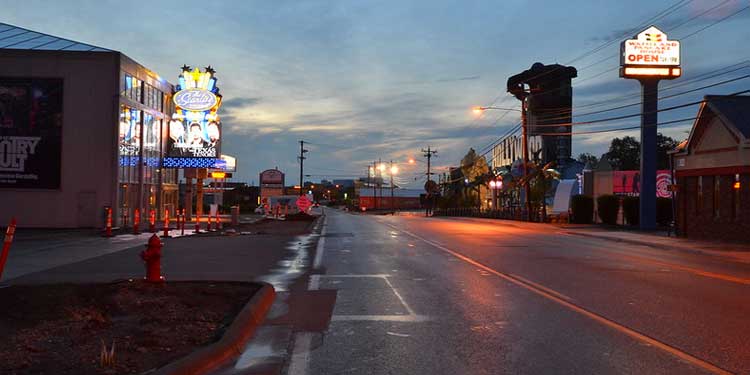 Location: Branson, MO 65616
Opening hours: Open 24 hours
Cost: Free
Best time to visit: Summer evenings
With plenty of shopping, dining, and historic attractions, the historic downtown gives you a wholesome experience of Branson.
Take the free downtown trolley or walk on foot to discover the best of the downtown. The trolley operates daily 9:00 am- 6:00 pm from March to December.
Everything from home cooking at Branson Cafe to international cuisine at Momo Sushi and Grill is in the market. And visit Dino's Cakes and Coffee for mouthwatering desserts.
Not to mention the impressive clothing stores like Fashion House International and Alex &Alaina's Treasure that have the finest collections to suit your taste.
You will also find top hotels and lodging in this area if you have been wondering about where to find one.
Some of the top picks include Branson Hotel, Hilton Branson Convention Center Hotel, and so on.
Note: Explore Centennial Museum to learn the history of this town and the entire Taney County.
Explore the Branson Titanic Museum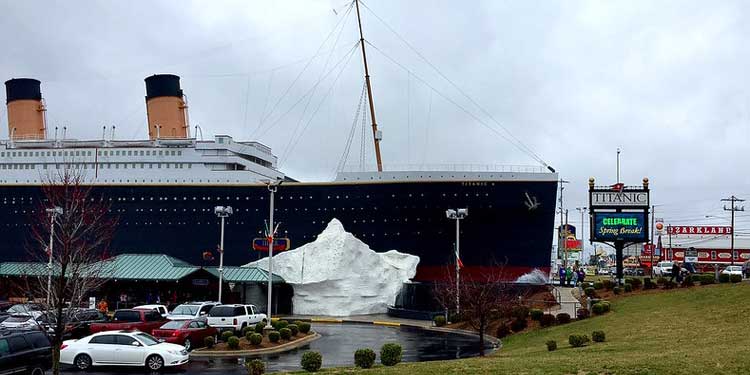 Location: 3235 W 76 Country Boulevard, Branson, MO 65616
Opening hours: Open daily, 9:00 am - 9:00 pm (Opens till 10:00 pm on Saturdays)
Cost: $15- $35 for individual (Family pass at $115)
Best time to visit: Weekdays to avoid rush
Did the grand stairs you saw in the movie Titanic keep you in awe? If so, visiting the Branson Titanic Museum is a must for you in the city.
Opened in 2006, the museum gives visitors an experience of the original ship with boarding passes in the name of the original passenger and a display of the original artifacts of the ship.
These artifacts worth 4 million dollars were collected when the owner of this ship went on a second expedition to the wrecked site in 1986.
Apart from the replica of the grand staircase and exhibits, you will also find an exclusive show displaying iconic images of children's shoes in the museum to give a glimpse of the final days of the Titanic.
You will also get to touch the growing iceberg, steer the sheep and learn the stories of the passengers and crew with an audio tour.
The museum hosts special events occasionally to honor the children and eight musicians who died on the ship.
And yeah, don't forget to click a picture on the dramatic grand stairs.
Tip: Make early reservations, as tickets are often sold out.
Honor the Soldiers at Branson Veterans Memorial Museum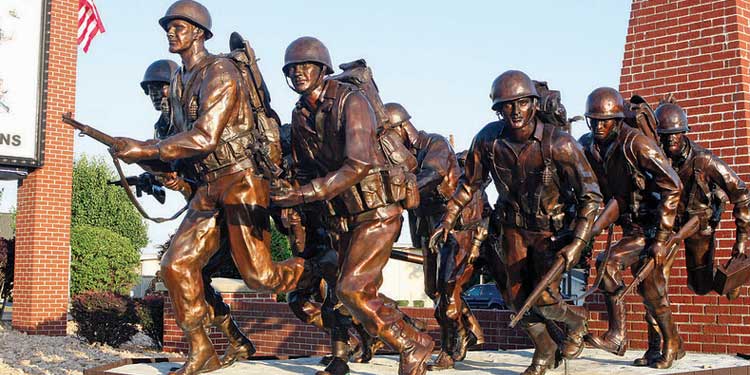 Location: 1250 West 76, Country Boulevard, Branson, MO 65616
Opening hours: 9:00 am- 5:00 pm, Monday - Saturday & 10:00 am - 5:00 pm, Sunday (Opens till 6 on weekdays from March- December) 
Cost: $5.65 - $22.50 per person (differs with age group)
Best time to visit: Regular weekdays
Pay tribute to the bravest soldiers who fought in the second world war at the Branson Veteran Memorial Museum.
It is a museum opened by "Fred Hope" to honor the country's veterans after hearing his grandfather's stories about men who fought the bloodiest battles in the war.
So you will find a mural and special exhibit depicting the heroic rescue of a wounded fellow soldier by his father, Fred Hoppe Sr.
Along with the personal touch, the museum has an exhibition of over 2000 rare military artifacts from World War I to the significant recent conflicts of the 20th century.
And in the center of the great hall, you will find a 50-statue sculpture of warriors and memos of people who died in action during world war II.
You will indeed be touched and inspired by the stories of such brave men and women who fought to preserve humanity and the world for us to live in the present day
Tip: Special discounted rates for a group of 15 or more people.
Play with Butterflies at The Butterly Palace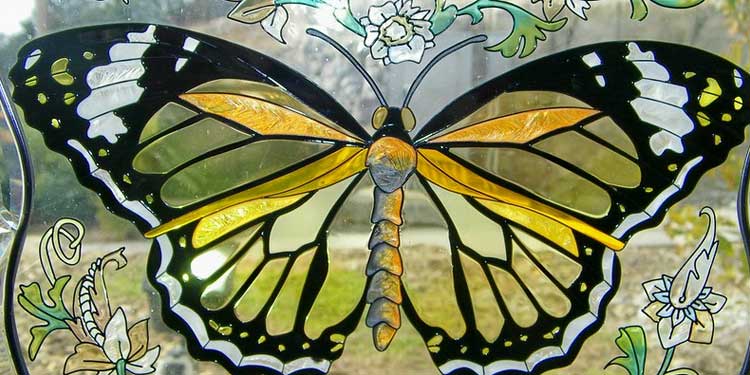 Location: 4106 West Highway 76, Branson, MO 65616
Opening hours: Open daily, 9:00 am - 5:00 pm (closed on Christmas and Thanksgiving)
Cost: Admission price ranges from $17 - $26 
Best time to visit: Early morning and evenings
If you wish to reinvent your own childhood with your kids, then the Butterfly Palace is where you should go on a family vacation.
You can take a self-guided tour to explore above 1000 species of butterflies while strolling through the rainforests of the palace nestled high upon the hills of Branson.
The kids would especially love playing with the butterflies. Take the complimentary nectar flower to hand-feed the butterflies.
Additionally, you can watch the educational butterfly videos to learn more about these species.
Other major attractions like Mirror Maze, Banyan Tree Maze, and exotic reptiles in the Critter Center are located on the premises.
Explore all of these to escalate the fun experience.
The palace also offers discounts on special events. Check for these if you are coming with a large group.
Tip: Visit before 10 am to avoid waiting time.
Explore the World's Largest Toy Museum in Branson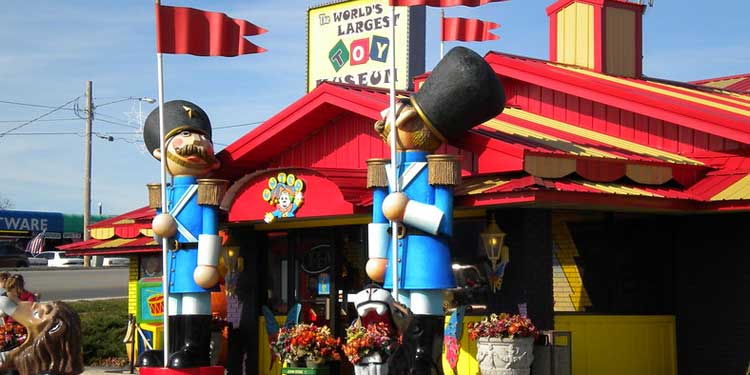 Location: 3609 West 76 Country Boulevard, Branson, MO 65616
Opening hours: Monday- Saturday, 10:00 am - 5:00 pm
Cost: Kids: $14.28 & Adults: $22.62
Best time to visit: Weekdays
Take some time and explore the world's largest toy museums in Branson with your entire family.
Not just the kids, the exhibits in the museums will take the adults to nostalgic childhood
With six different museums spread out in two buildings covering an area of 26,000 square feet, you will find a varied collection of toys here.
And as you enter the museum, two giant toy soldiers flank the doors of a building covered in graphics.
This museum's eclectic collection of toys dates back to the colonial days of the nineteenth century.
So you will find everything here, from cast iron toys to modern-day's Barbie dolls.
With just one ticket, you and your kids can tour the exhibits of tin toys, Roy Rogers, cast iron toys, superheroes, and trains in Branson.
You can also buy their toys in the stocked gift shop.
Go Hiking at the Lakeside Forest Wilderness Area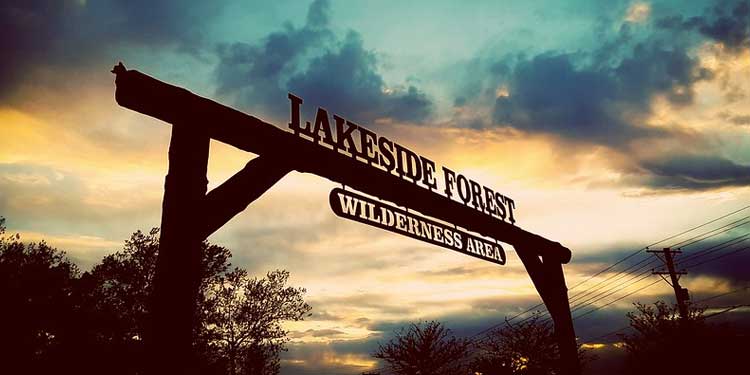 Location: 412 Owen Lane, Branson, MO 65616
Opening hours: 7:00 am- 8:00 pm, Summer & 7:00 am - 5:00 pm, Winter
Cost: Free to enter
Best time to visit: Early Mornings
Difficulty level: Easy
Escape to the wilderness of nature in the 140 acres of rugged hill and woody forests located in the heart of Branson.
The forest's 5.3 miles of hiking trails are rich in scenic waterfalls and spooky caves. You can choose to hike through either of the two different woodland trails.
And as you hike through the trail, you can see the stone steps through the trail. It will lead you to Lake Taneycomo.
A picnic area near the lake features a rock-made porch swing.
Apart from that, a 2000 feet deep hand-built stone well is another major highlight of the area.
You will also find a natural playground and pavilion near the entrance. In fact, the ornamental iron gate decorated with native stone is also a highlight at the entrance.
Furthermore, the park pavilion is available for reservations as well if you want to book it for an event or camping
Note: Alcoholic beverages and smoking is strictly prohibited in the park.
Watch a Fine Performance at Presley's Country Jubilee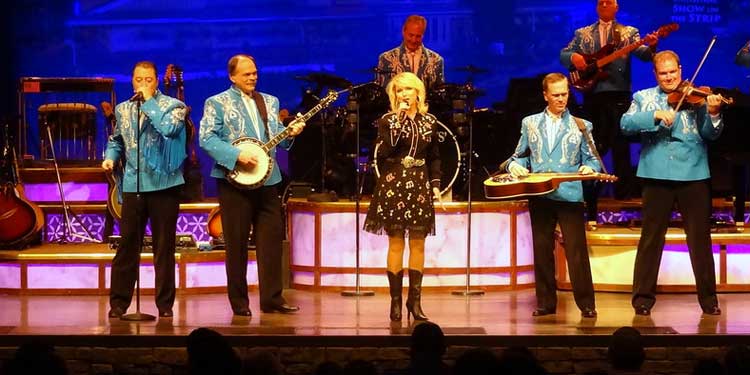 Location: 2920 W 76 Country Boulevard, Branson, MO 65616
Opening hours: Monday- Saturday, 9:00 am - 10:00 pm
Cost: Theater tickets cost $48.74 per person (subject to change)
From being Branson's first theater to the busiest one in the present day, Presley's Country Jubilee has thoroughly entertained its audiences.
Initially, the Presley family started out with a stage performance in Caverns, and since then, the legacy of country music has been carried on.
Their performance shows you a mix of country, gospel, bluegrass, and hilarious comedy.
There's a snack and drink booth in the theater if you would like some to go along with it.
The Presleys have launched a cruise recently to entertain visitors.
Whether you book tickets to their live show in the theater located in Branson or sail out on a cruise with Presley's Crusie, wholesome entertainment is ensured.
Explore the Cuisines of Branson Mo
Undoubtedly, the historical, natural, and cultural heritages will keep you engaged and entertained in the city.
But there's more to explore in the streets and downtown lanes of Branson, Mo.
You will find local as well as world-class cuisine in the city.
If eateries like Mr. G's Chicage Pizza and Pub, Hungry Hunter Restaurant, The Keeter Center-Dining, and Billy Gail's Brnason serve local American cuisine.
Then, the finest diners like Chateau Grille, Mitsu Neko Fusion Cuisine and Sushi Bar, Landrt's Seafood House, and Level 2 Steakhouse serve the world-class menu.
Gather the Best Memories of Branson
With many family-friendly attractions, Branson is an ideal spot for spending quality time with your loved ones.
From adventuring in the wilderness to relaxing lazily in the lakeside resort, you will have all sorts of activities to choose from.
And don't you stress about getting around!
You will find a downtown trolley along the major attractions offering a free ride. And car rentals aren't that costly either.
Keep exploring!
Note: Keep in mind that information about travel can change quickly. To ensure your trip is fun and safe, we encourage you to double-check official websites and government/travel advisory sites for the latest information on travel restrictions, entry requirements, and safety measures.