Get ready to be enchanted by the beauty of Panama City. With immaculate beaches spanning 27 miles along emerald green waters, one is spoilt for choice when it comes to choosing an activity to do in this beautiful respite.
If you visit with family, you can spend a wholesome day fishing. You might even spot some bottlenose dolphins passing by.
The next day go collect seashells at Shell Island. Your kids will love it.
Are you looking for a bit of thrill in life? You can go paddle boarding, jet skiing, or parasailing.
And if this doesn't satisfy your thirst for adventure, go on one of the rides at Shipwreck Island Waterpark.
And finally, if all the 'fun' gets too exhilarating for you, you can always spend a lazy day basking in the sun. They also have luxurious spas, so take a day to relax.
The sandy white beaches of Panama City await you. Now it's time to plan that long-awaited trip.
You might find it challenging to pick from all these great options. But don't worry; we're here to help. Here is a list of Panama City, Florida's best things to do.
Adventures in the Park
Panama City's not just famous for its beaches. The state parks and conservation areas are popular among nature lovers and adventure enthusiasts.
You will enjoy exploring unique fauna and flora in the pristine parks.
St. Andrews State Park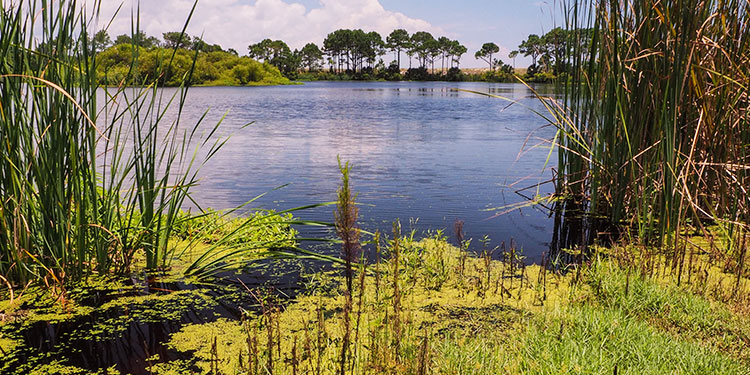 Address: 4607 State Park Lane, Panama City, FL 32408
Opening Hours: 8:00 am until sundown, 365 days a year
Cost: $8 per vehicle (two to eight people), $4 single-occupant vehicle, $2 pedestrians, bicyclists, extra passengers, passengers in vehicle with holder of Annual Individual
If you're tired of visiting the usual resort beaches, you must visit St. Andrews State Park. It is not so crowded, so it can be a perfect spot to bring family.
Sandwiched between the Gulf of Mexico and St. Andrews Bay, the park has a mile and a half of lovely beaches offering swimming, boating, and fishing activities.
You can also spot numerous migratory birds and butterflies here.
If you're looking for something upscale, you can choose the Glamping experience they offer.
You can also hike, go fishing and do geocaching on the property. Golf cart rentals are also an option.
Teach your kids to surf at the jetty the locals call the "Kiddie Pool."
Known for having gentle waves, it can be a great place to get them started on water sports.
Reviewers have praised the park's management for the well-kept campgrounds and clean toilets. The staff will even help you get to Shell Island from the garden.
We'll talk more about Shell Island below.
Shell Island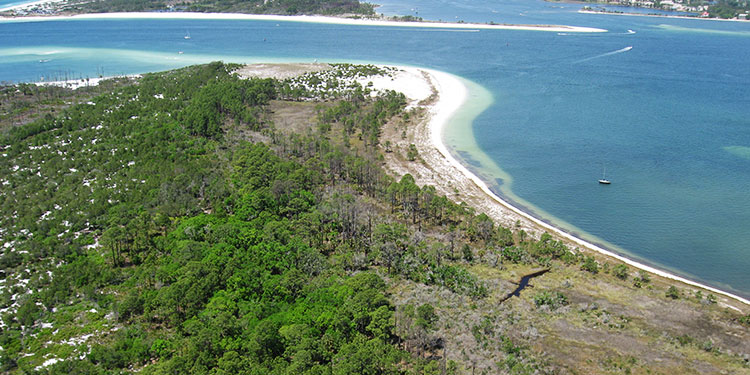 Address: Shell Island Shuttle, 5709 North Lagoon Drive, Panama City, FL 32408
Opening hours: 24 hours 
Shuttle Schedule: vary according on the season 
Cost: $24.95 for ages 13 and older, $17.95 for children ages 2-12, and infants 0 to 1 years old are free
Shell Island is a nature preserve that can only be reached by boat.
This seven-mile-long barrier island is entirely undeveloped. You'll find pristine dunes, hiking trails, and undisturbed wildlife.
It will take you back in time before Florida became a tourist hub.
You can rent a boat or take the shuttle to come here. You can even rent a jet ski if you want. Also, there are areas in the Gulf and Bay sides that you can swim in.
But rather than renting a boat or jet ski, going with an experienced crew is advised if this is the first time you have been there.
Take your time, as the weather here is unpredictable.
Packing a picnic for coming here would be best as there are no eateries.
Also, get an umbrella, beach chairs, and sun lotion.
Then, you are set for the day. And remember the fishing and snorkeling gears.
Make the best out of your trip here. Remember to take as many photos as you can.
Tip: Check the weather forecast before planning for this trip.
Camp Helen State Park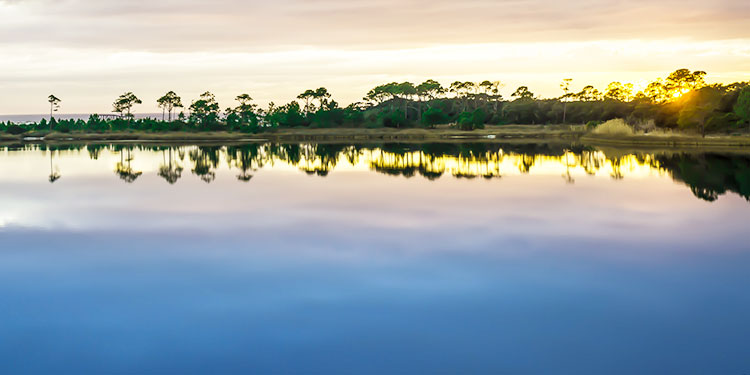 Address: 23937 Panama City Beach Parkway, Panama City Beach FL 32413
Opening hours: 8:00 am until sunset, 365 days a year
Cost: $4 per vehicle. $2 per pedestrian or bicyclist
Rich in natural and cultural heritage, Camp Helen State Park is a popular site for history buffs and outdoor enthusiasts.
The area was inhabited by humans more than 4000 years ago.
The 180-acre Park is bordered by Lake Powell (the largest coastal dune lake in Florida) and the Gulf of Mexico, making it a prime location for fishing.
Apart from fishing, other popular activities you can do here are boating, swimming, and hiking.
Remember to check out the picnic spots. There are grill stations and seating areas for you to utilize.
You must also explore the restored buildings from 1945 in this historic district.
In addition, there is a water tower, cottages, and a lodge listed on the National Register of Historic Places.
It's a calming place to spend a relaxing day. So make sure to pack your lunch and prepare for a long walk. Wear comfortable shoes. And bring lots of water.
Tip: There are no shaded areas in the trails. Take an umbrella with you. It'll protect you from the sun and the rain.
Conservation Park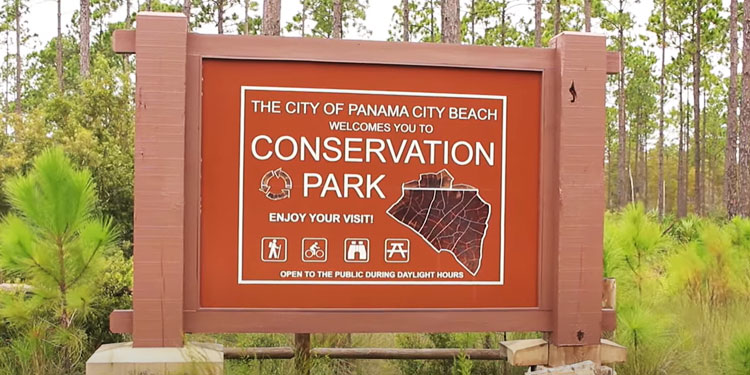 Address:  100 Conservation Park, Panama City Beach, FL 32413
Opening Hours: Dawn to Dusk, 7 days a week
Cost: No admission fee
Plan an adventurous day at the beautifully designed Conservation Park.
Spread over 2900 acres, this vast property will delight outdoor adventurists.
The first thing you need to do is to head to the pavilion and get a map for your journey. The trails are color-coded and easy to follow.
Plan a hike, or go for a long run in one of the 12 trails with varying difficulty levels.
There are 24 miles of trails and marked paths, so don't worry about getting lost.
You can even rent a bike and explore the park. It's one of the most popular activities to do here.
Areas that pass over water or marshland are made accessible by boardwalks incorporated into the trails.
Animals live in the park, so use caution as you travel around and keep your eyes peeled for wild hogs, lizards, snakes, and rabbits.
On the Water
One of the best things about visiting Panama City Beach is spending time in the water. So check out these great options to get out and enjoy the ocean's gifts.
Adventures at Sea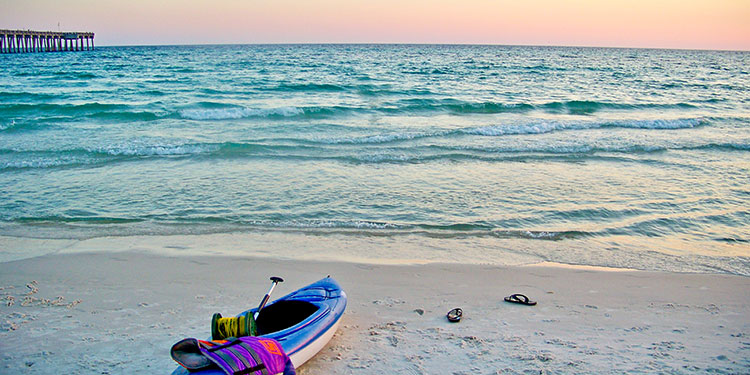 Address: 5709 North Lagoon Drive, Panama City Beach, Florida 32408
Opening Hours: Open Daily from 6:00 am- 8:00 pm
Price: Depends on the service/package
Whether you're looking to rent a boat, take a tour, or are planning to organize a bonfire for your group, Adventures at Sea has you covered.
If this sounds interesting to you, you must look into these offered experiences.
We highly recommend you take the double-decker pontoon and the wave runner tours.
The double-decker comes with slides that you can take right into the water.
Guests have praised the experienced guides for their thoughtfulness during the tours.
They're also impressed with the quality of the watercraft.
Check out the overflow parking across the street if the parking's packed when you're there.
Before renting a boat 10 HP or higher without a guide, you need to keep this in mind.
Florida law requires that you take a boater safety course and get a card with a Photo ID. You can take the test online or at the Marina.
Deep Sea Fishing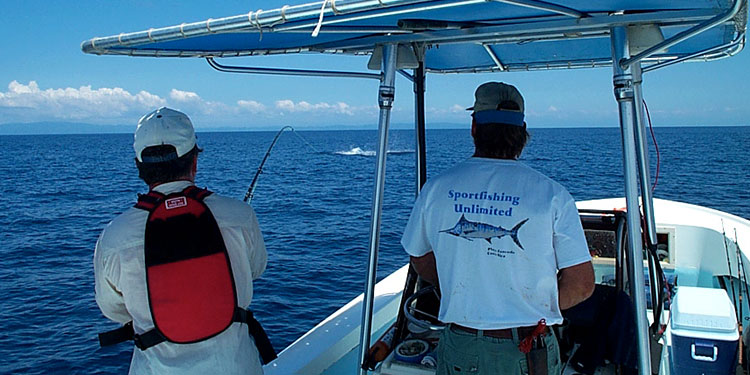 Address: 5550 North Lagoon Drive, Panama City, FL 32408
Opening Hours: 7:00am to 12:00pm
Price: Fishing Price – $85, Riders – $40
As the name suggests, Deep-Sea Fishing takes you deep into the ocean and lets you catch fishes that are hard to capture under normal circumstances.
Book a trip with Captain Anderson's Marina to get out on the sea and start casting your line.
From five-hour tours to a half-day fishing trip to nighttime deep-sea fishing, they have tours planned at different hours with varied timings.
Talk to the experienced staff if you're unsure about what tour you want to take.
Guides will be available during the trip to answer all of your questions.
In addition, you can purchase food on the vessel itself, so there is no need to pack lunch.
No need to worry about the heat during sunny afternoons too because there is air conditioning
Remember to bring sunscreen with you and prepare to take a big catch with you back home.
Sea Screamer Dolphin Cruise
Address: 3605 Thomas Drive, @Treasure Island Marina, Panama City beach, FL 32408
Opening Hours: February-December
Price: Daytime Dolphin Cruise- $17-$27, Sunset Dolphin Cruise- $22-$32
Seeing dolphin pods playing in the water is the highlight of any trip to Panama City Beach.
While many companies offer dolphin tours, visitors seem to appreciate Sea Screamer's boat and friendly and knowledgeable guides. The onboard bar is also quite popular among guests.
Designed to be two hours long, you can choose between a daytime and sunset tour. The sunset tour tickets are more expensive than the daytime tickets.
The bar is cash only, so make sure you have some on you if you want to buy a drink. You must try their Rum Punch, as guests highly recommend it.
Note: Chewing gum, spray sunscreen, and coolers of drinks are banned. They recommend making a reservation to ensure room for your party before you arrive.
Diving and Snorkeling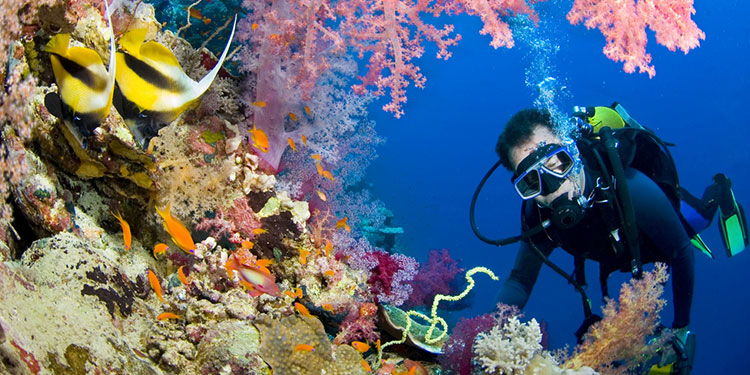 Address: 3120 Thomas Drive Panama City Beach, FL 32408
Opening hours: Open 7 Days a Week 8:00 am - 6:00 pm
Cost: Tour rates start from $99- $129
Take a trip to Diver's Den to see what's happening under the crystal waters of Panama City Beach.
Diver's Den offers certification classes to help even novices learn the basics. For example, you can get a PADI Open Water Diver Course and start online – but you must finish in the water.
Once you're certified, check out their diving trips. SCUBA equipment is available for rent at their shop.
You can also take a snorkeling trip with Diver's Den. You go to Shell Island and climb into the water, getting up close and personal with dolphins and fish.
Though you don't go as deep as you might when snorkeling, you still see a variety of underwater delights like sunken ships and artificial reefs.
Fun Experiences
Kick the dust off your heels and try out these truly unique experiences while you're in Panama City.
Shipwreck Island Waterpark
Address: 12201 Hutchison Boulevard, Panama City Beach, FL 32407
Opening Hours: Open Seven days a week from Friday, May 26 through Sunday, August.  
Cost: admission cost is $49.99 for adults, $39.99 for person beow 50 inches, $36.99 for seniors, and person below 35 inches tall are free. 
This is the place to go if you're planning to spend a quality day with the kids.
Covering an area of fifteen acres, Shipwreck Island Waterpark has been lauded by guests for being suitable for all ages.
There are different zones in the park. The splash area is specially designed for children. Kids will also enjoy taking the family rides.
Friends in groups will want to enjoy the slides and bask in the sun on the lazy river. No matter what you choose, you'll have a great time at the park.
One neat thing about Shipwreck Island is its wristband system. After putting some money into the band, you'll be able to use all their facilities.
And when it's time to leave, they refund you for the things you didn't use.
So spend your time cooling off in the water, have a bite to eat from the snack bar, or escape the sun in one of their shaded areas.
Tip: Arrive 30 mins before opening time to get through the gate fast.
Pier Park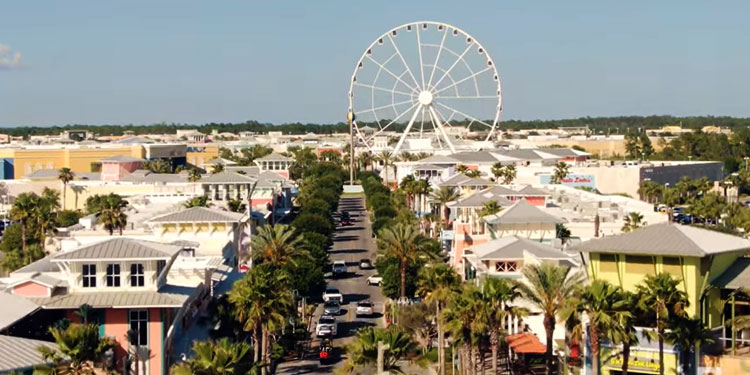 Address: 600 Pier Park Dr. Panama City Beach, Fl, 32413
Opening Hours: Monday – Saturday 10:00AM – 9:00PM | Sunday – 12:00PM – 7:00PM
Cost: Free Entry, Pier entry fee $4, Fishing fee $7.
Pier Park is a land of delights for anyone who enjoys shopping, food, and spectacular entertainment.
The area is packed with stores (over 120), restaurants, and bars. There's also a small Ferris wheel to add a magical touch to your visit here.
A nominal entrance fee will give you access to the pier. Even if you're just there to people-watch, it's worth going to.
You'll see people from everywhere as you sit and munch cotton candy in the salty sea air.
If you like fishing, you must visit the pier. Remember to bring the bait. You can also watch fishermen pulling up their catches.
Back at the park, you can go for a movie at the theater or grab a bite to eat before you continue your shopping escapade.
The stores are primarily large chains you'll recognize from other shopping centers, but a few oddities are scattered throughout.
Axe Throwing PCB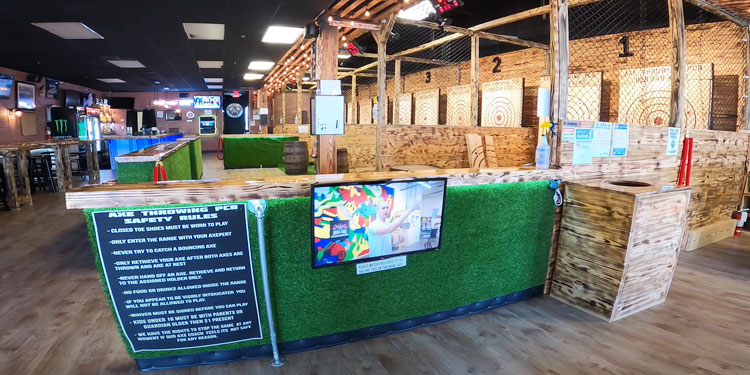 Address: 525 Richard Jackson Boulevard, Panama City Beach, Fl, 32407
Opening Hours: Open Daily from 11 am- 10 PM. Open till 12 am, Fridays and Saturdays
Cost: Starts from $30 per person
For a unique experience, you must go to Axe Throwing PCB. You can rent a lane and start practicing throwing axes at the targets.
A lot of the art of throwing is positioning, and the staff there will teach you well. They can help you get the perfect stance and set you up to hit the target.
While you can book for 30 minutes, consider booking the entire hour so that you'll have enough time to get a feel for the sport.
You can also check out their escape room and haunted house. You could spend the entire afternoon at this location indulging in these activities.
Just be sure to book online and have your reservations beforehand if things get crowded.
Rock'it Lanes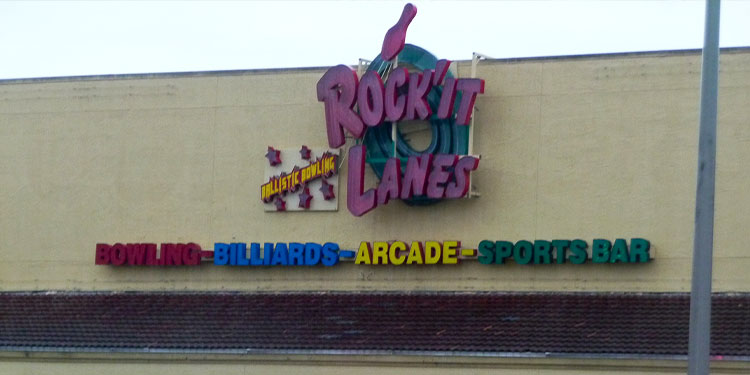 Address: 513 Richard Jackson Boulevard, Panama City Beach, Florida
Opening Hours: Monday to Saturday: 10 am– 2 am, Sunday: 11:00 am - 2:00 am
Cost: vary on arcade package
Rock'it Lanes got its name from its famous bowling alleys. But there's so much more you can do here.
This fun-filled family center also has a giant arcade, skating rink, sports bar, and eateries.
Rain or shine, you can always plan for an eventful day here. You can even enjoy the activities indoors when there's a storm outside.
There are engaging activities for groups of all ages here. You'll spend a few hours easily.
Check out the special promotions on their site before you plan your visit. They offer multiple options.
For example, you can play arcade games on Tuesdays for half the usual price. You get a card to load with money, swipe for games, and use it when redeeming your points.
If you're going to stay a while, you can save up points over time to get bigger prizes on a subsequent event.
Panama City a Pleasant Getaway
On average, 320 days of sunshine per year mean there isn't a wrong time to visit Panama City.
The vibrant location, gorgeous scenery, and plenty of unique activities make it a fantastic place to spend a week or more.
Don't put off having a dream vacation with family or friends.
Make a reservation and experience the wonders of Panama City firsthand because your adventure begins now.
Note: Keep in mind that information about travel can change quickly. To make sure your trip is fun and safe, we encourage you to double-check official websites and government/travel advisory sites for the latest information on travel restrictions, entry requirements, and safety measures.