Arizona is truly a wonder of the world where you will experience a whole new level of Native American, Southwestern culture and traditions.
Home to the diverse landscapes, there are hundreds of movies and Tv shows that have been shot on this incredible land, including Star Wars and Planet of The Apes.
From visiting the World's Largest Rose bush in Tombstone to dropping by the Smallest Museum in the world, Arizona is definitely a place to travel at least once in your lifetime.
There are just so many things one should go about in this state.
To save you time and effort, we have curated a list of the best things to do in this 'Copper State.'
Things to Do in Arizona
Camelback Mountain: Boulder's Beauty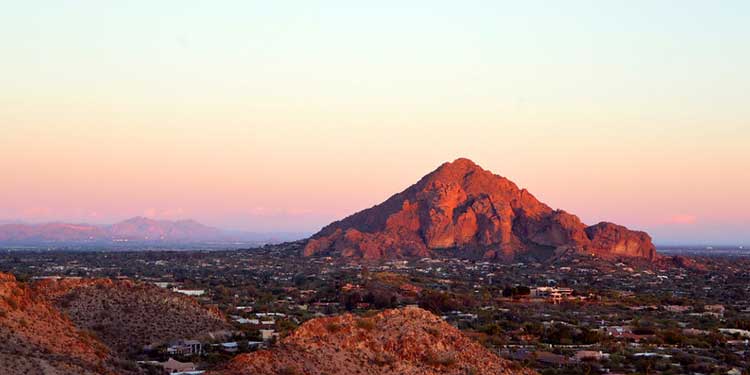 Address: 5700 N Echo Canyon, Phoenix, AZ
Best seasons to visit: Winter & Spring
Entry Fee: Not required
If you are hungry for some adventure, then you're going to love Camelback Mountain.
Standing 2,704 feet tall in the capital city of Phoenix, there are two pathways to the top: Echo Canyon, which is somewhat steep, and Cholla, comparably longer.
So the trail might be difficult for someone who doesn't hike as often, but given the fact of how scenic the pathway is, it is definitely worth it.
Once you reach the mountaintop, get ready to see some iconic panoramic views of the city.
Start with the hike either early in the morning or around sundowner because during these hours, you will be able to look at a picture-perfect sun show.
You can also rock climb in the Camel Head and Bobby Rock areas.
Tip: Carry a water bottle and wear hiking shoes.
Lake Powell: Fabricated Turquoise Aqua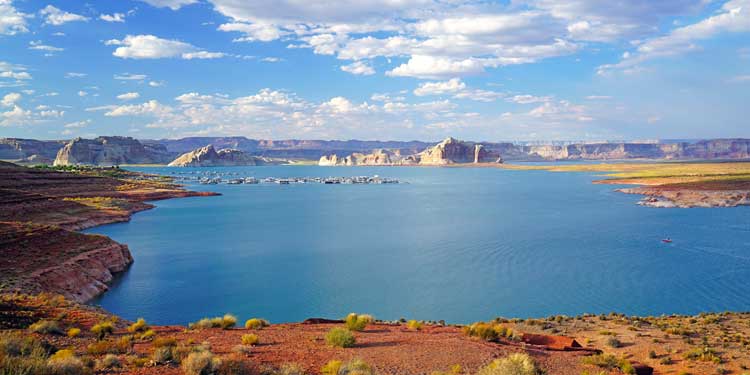 Address: 6 N. Lake Powell Blvd. Page, Arizona 86040
Entry fee: $30 per vehicle ( free for those who have America the Beautiful pass)
Best season to visit: Summer and Fall
Lake Powell is one of the largest man-made reservoirs, known for its clear waters, picturesque scenery, and marvelous sandstone cliffs.
A guided boat tour is the best way to explore this area, as you will be cruising through the exclusive red rock canyons.
Camping around this natural region is an exciting experience where you can do numerous outdoor activities like bird-watching, hiking, and fishing.
You will also get a chance to visit one of the unique natural stone arches in the world– Rainbow Bridge which is located in Arizona and stretches to the southern part of Utah.
Superstition Mountain Museum: Magic and Mysteries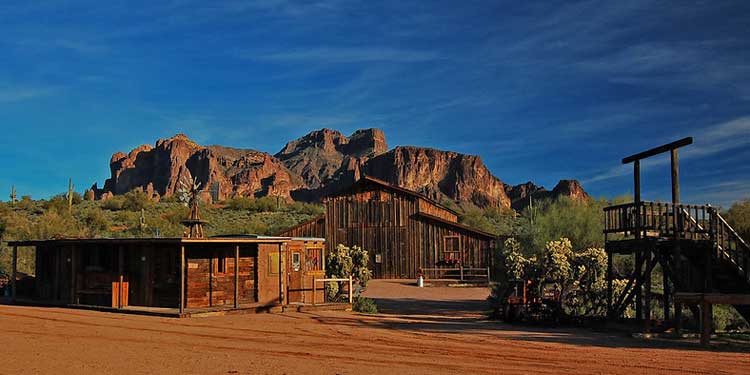 Address: 4087 East Apache Trail Apache Junction, AZ 85119-8409
Entry Fee: Not Required
Open: all year round (Visit during mild temperatures)
Superstition Mountains of Arizona have a history of being associated with mythology, illusion, and superstition.
This is how Superstition Mountain Museum got its name.
Popular movies and TV shows like Gunfight at the OK Corral and episodes of Little House on the Prairie were shot here.
You have to visit the museum to get insight into Arizona's eccentric culture and traditions. Also, there are various events, festivals, and educational programs hosted by the museum throughout the year.
And how can we forget about the famous Lost Dutchman's Gold Mine story?
It is said that a German immigrant discovered an epic gold mine in the Superstition Mountains, but its exact location is a mystery.
Also, exploring the museum and mountains, both of them can be done quite smoothly.
Tombstone: Howdy Adventures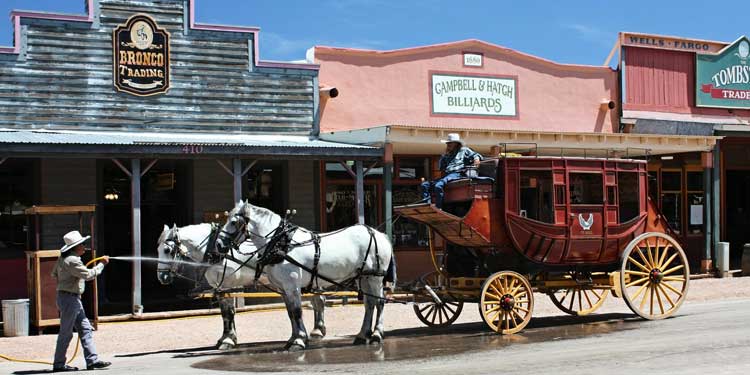 Address: Cochise County, Arizona, United States
Best season to visit: Spring and fall
Entry Fee: Not Required
Arizona's historic city Tombstone is widely famous for being the location of the Gunfight at the O.K. Corral, cowboy, and old western culture.
From visiting the historic sites and museums to attending ghost tours and Tombstone's infamous Boothill Graveyard, there's so much to experience in this fascinating town.
Helldorado Days is an annual event in October and has been going on for centuries in Arizona.
There are parades, gunfights, reenactments, and lots of other street performances.
So get ready to have a wild time at Tombstone–Town Too Tough to Die.
Route 66: And I would Roll 500 miles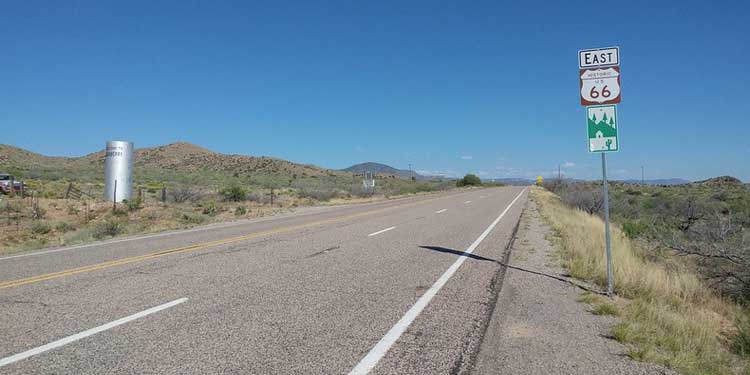 Address: U.S Highway 66
Entry fee: Not Required 
Best season to visit: Fall and Spring
Route 66 is the ultimate American southwest road journey famously known as the 'mother road' that stretches from Chicago to Santa Monica.
Whether you want a legendary solo road trip or with a company, this route will satisfy your drive-around desire.
Enjoy the scenic drives and don't miss visiting the major tourist attractions like Grand Canyon, Joshua Tree, and Petrified Forest National Park.
Also, while you're on the way, stop by the small towns and explore their main streets and local attractions while exchanging adventure stories.
Tip: The entire trip can take at least a week, so plan accordingly.
Havasupai Falls: Waterfall Like No Other in the World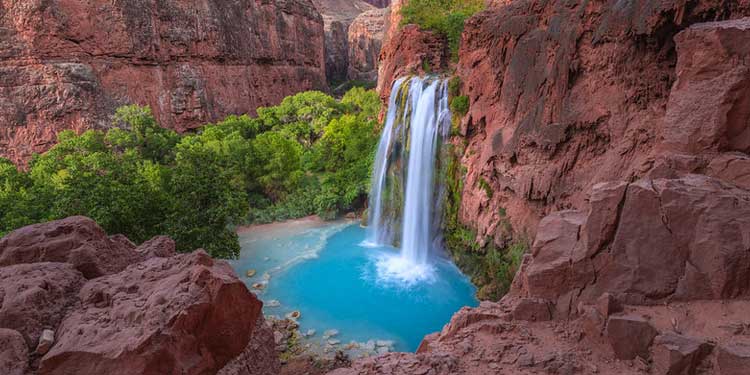 Address: Arizona 86435, United States
Entry Fee: $100- $125 per person
Best season to visit: spring and fall
Get ready to witness the most gorgeous waterfall of your life.
Havasupai Falls is a collection of waterfalls located on the Havasupai Indian Reservation in the Grand Canyon.
To see this pristine beauty, you must make reservations prior to your arrival. You can get to Havasupai Falls via helicopter or hike
Once you reach the breathtaking waterfall, first simply soak in the stunning surroundings and then get into the water by cliff jumping into the pool and peacefully swim in the turquoise blue waters.
Meteor Crater: Avatar On Earth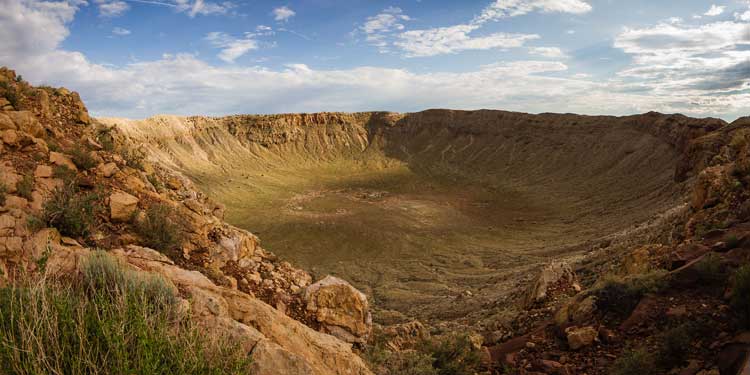 Address: Interstate 40, Exit 233, Winslow, AZ 86047
Entry Fee: Varies according to age
Opening hours: daily from 8 am- 6 pm
Meteor Crater is a natural landmark that is also an important educational and research site where people come to see the miraculous natural wonder.
If you're interested in astronomy and outer space, then you are going to be FASCINATED with this place.
There are a couple of short hiking trails that you can take to observe the geological features of this area.
Also, the guided tour at Meteor Crater is so amazing that you will get all the intricate information about the crater.
Make sure to visit the museum. You will have an awe-striking experience seeing informative presentations and exhibits on Meteor Crater.
Horseshoe Bend: I'm in love with the Shape of You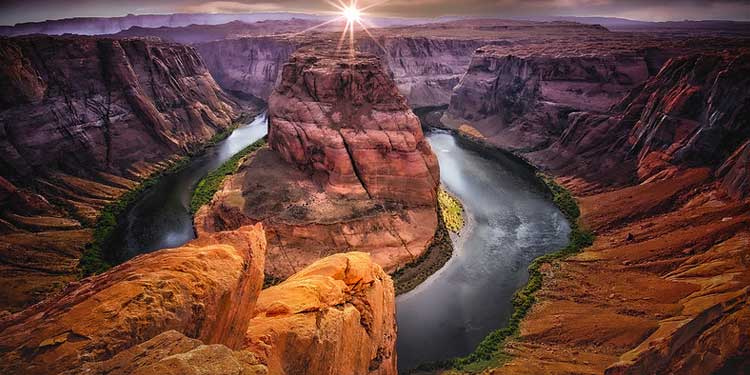 Address: U.S. 89, Page, AZ 86040
Entry Fee: Not Required 
Opening hours: open daily from sunrise to sunset
Best time to visit: Spring and fall
An iconic destination for incredible views and unique geological formations, Horseshoe Bend, is undoubtedly one of the most picturesque natural landmarks of Arizona.
You are going to love this place for many reasons– scenic viewing, photographs, hiking, and exploring. So much to do!
The first thing you should do here is simply soak in the beautiful surroundings.
Now there is a short hike that is pretty easy to reach the main viewpoint, and you can also bring food and a picnic to the journey.
Tip: Wear comfortable shoes
Kartchner Caverns State Park: Once a secret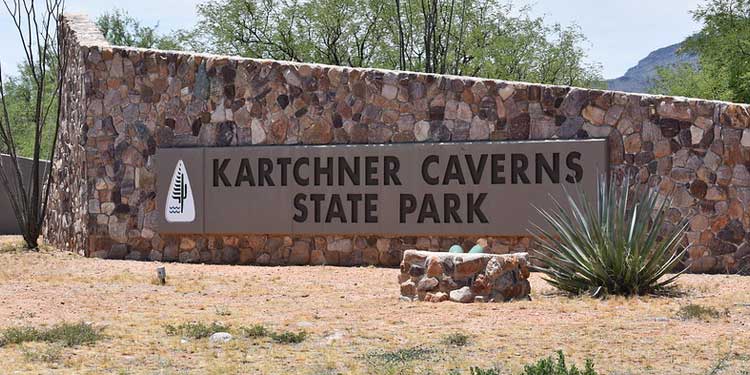 Address: 2980 S Hwy 90 Benson, AZ 85602 9 mi. South of Benson on Hwy 90
Entry Fee: Starts from $23
Best time to visit: Spring and Fall
Kartchner Caverns is a huge limestone cave known for its incredible design, and the interesting thing is that the formations are still growing, making it a 'living' cave.
You need to take the guided cave tour and get information about the cavern's history and geological structure.
Another must-do activity at Kartchner Caverns State Park is dropping by the Rotunda Throne Room, where you'll see calcite crystals, flowstones, and many fascinating rock formations.
Note: You cannot take anything inside the cave. Your belongings will be put safely into the locker.
Hall of Flame Museum of Firefighting: Appreciating Those Who Sacrifice Their Lives For Us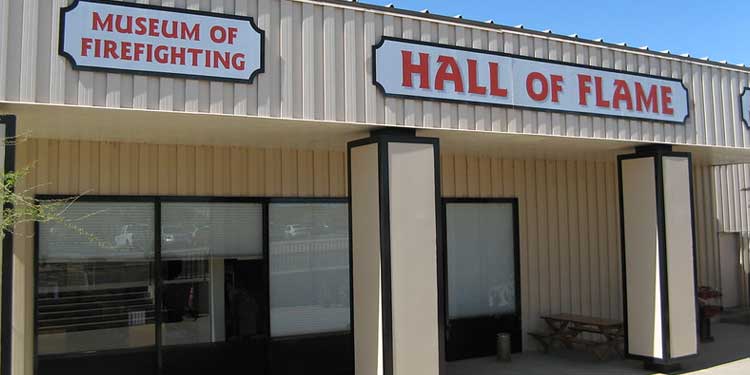 Address: 6101 E Van Buren Street, Phoenix, AZ
Entry fee: Starts from $9
Opening hours: Tuesday- Saturday (10 am - 6 pm)
The Hall of Flame Museum of Firefighting is quite a unique gallery that you have to visit.
In honor of firefighter heroes, the museum showcases everything related to firefighting – historical and rare pieces.
Wandering around the Hall of Fame is nothing short of fun, fascination, and knowledge.
You get to see some legendary fire trucks that were originally used in the 9/11 and Yarnell Hill Fire.
If you have a desire to climb and sit on an actual firetruck. Here you can do that too!
Not only that, they even let you put on some cool firefighter's jacket, gear, and helmet for those great selfies.
Monument Valley: Where God Put the West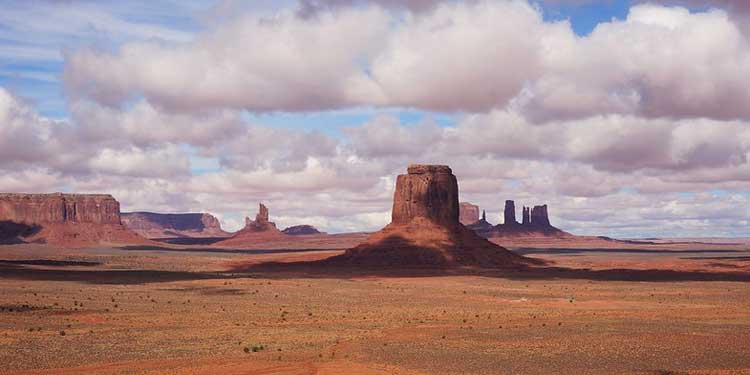 Address: Navajo Parks & Recreation Bldg. Hwy 264, Postal Loop Road, Bldg 36-A Window Rock, AZ. 86515
Entry Fee: $10 per person or $20 per vehicle (up to four people, $6 per additional person). Children 9 and younger are free.
Best Season to visit: Spring and Fall
Monument Valley is the perfect classic American West Landscape. From sunset and sunrise trips to the rocky valley, this place is best for your scenic tours.
Driving in here is surely going to be something you've never experienced before. The views are incredibly majestic and glorious.
Iconic movies like Mission Impossible 2 Forest Gump, including many others, have been shot here.
So gear up to go on the best road trip of your life.
You can start your trip at the Goulding Film and Cultural History Museum and discover this region's history, background, and culture.
Tip: You can hire a jeep or drive in your own motorbike or convertible car.
Saguaro National Forest: Cactusrified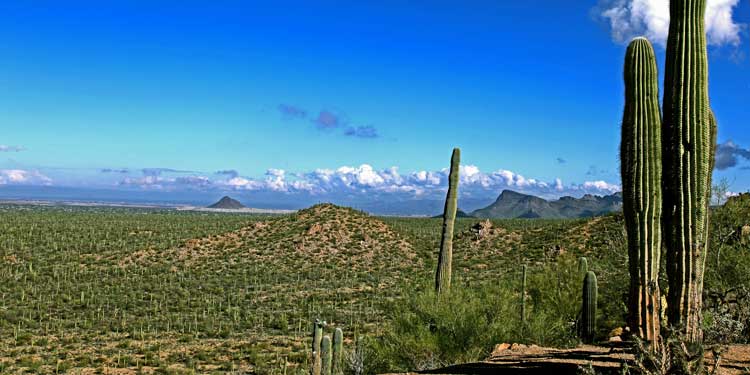 Address: 2700 N. Kinney Road, Tucson, Arizona 85743
Entry Fee: $15 - $25
Best season to visit: Spring and Fall
Situated in the Sonoran desert in Tucson city, Saguaro National Forest is spread over 92,000 acres of land and is famous for its large tree-like cactus.
Whether you want a hardcore adventure or a relaxing long drive, this cacti region is ideal for any escapade.
Be prepared to witness amazing scenic drives in the Rincon and Tucson Mountain districts.
There are plenty of hiking trails and campsites, so other fun outdoor activities to do here are definitely hiking and camping.
Go ahead and take up a bike ride to enjoy the beautiful scenes of the Saguaro National Forest.
Tip: Spend at least two days exploring the area.
Tucson City: Food Paradise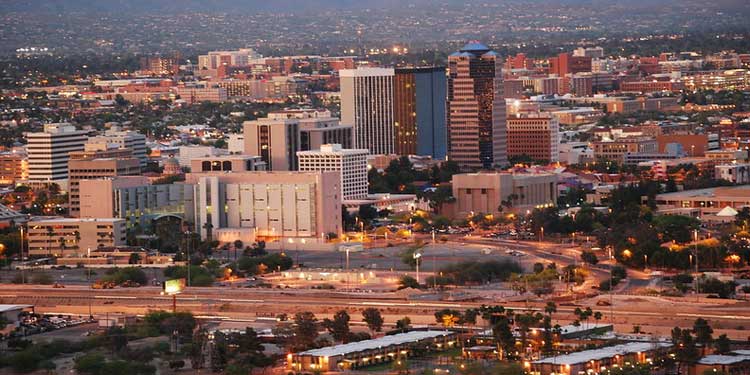 Address: 255 West, Alameda St Fl 10, Arizona, United States
Entry Fee: Not required
Best Season to visit: Fall and Spring Seasons
Tucson is the first city in the United States to get the title of 'The City of Gastronomy' by UNESCO which simply means Tucson has impeccable taste in choosing, cooking, and eating good food.
So exploring the food scene of this American Southwest city is a must. Do stop by the famous restaurant Renee's Tucson for scrumptious, healthy Italian-focused cuisine.
Since this city doesn't have many tall buildings, you will easily see the mountains while walking down the road.
So a stroll around this town is not a bad idea, but hiking at the Sabino Canyon or rock climbing at Mt. Lemmon are things you shouldn't miss.
Arizona Snowbowl Ski Resort: Snow in the Desert Land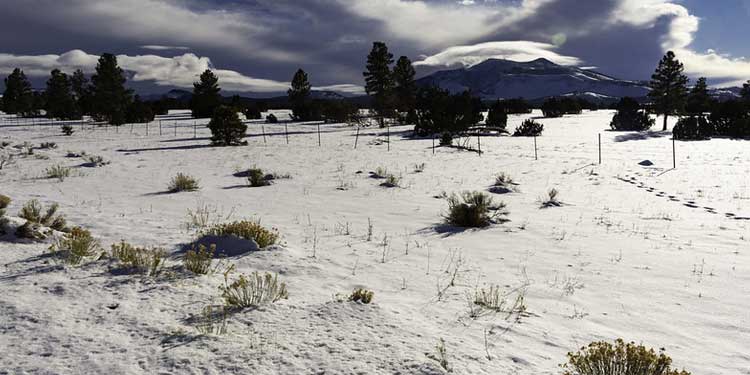 Address: 9300 N Snow Bowl Rd, Flagstaff, AZ 86001, United States
Entry Fee: Varies According to the Season 
Best time to visit: Winter (January and February)
Can you believe that one could play around in the snow in a desert-dominated state?
Arizona's mountains in the northern part receive a good amount of snowfall in the winter, making winter outdoor activities like skiing and snowboarding.
Located on Mt.Humphreys, the highest point of the state, you will find Arizona Snowbowl Ski Resort.
Including skiing services, they have other adventure activities for both summer and winter.
Tip: Book the services beforehand as there's usually a long queue for advance bookings.
Navajo Land (Hopi Salt Trail): Emerald Water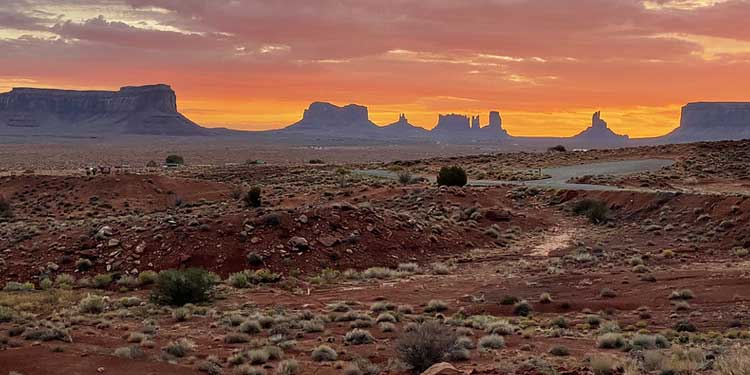 Address: Grand Canyon Village, AZ 86023, USA
Entry Fee: $12 per person (need a permit)
Best Season to Visit: Spring (march to May)
Everyone must have heard about the majestic Grand Canyon, but did you know there is a trail of almost 5.8 miles that will lead you to an insane crystal-blue river?
Hiking in the areas of the Grand Canyon–one of the wonders of the world is definitely worth the hype.
The entire walk is filled with deep, colorful, layered canyon walls.
It's better to start the hike early in the morning and experience overnight camping in this gorgeous mountainous area.
Once you get to the river, simply take your time to soak in the beauty of the water and surroundings then you can dive into the stunning little Colorado River.
Note: Hopi Salt Trail is not an easy walk. It's pretty steep, with slippery surfaces and loose rocks, and there are no proper trail markings on the way.
Ready to Stand in 4 Different States at The Same Time
Arizona is all about incredible landmarks and unique locations.
The Four Corners Landmark is the only place in the US where – Arizona, Colorado, New Mexico, and Utah meet simultaneously.
So forget about being bored while you're here. You won't even have time to consider something uninteresting or tiresome.
With stunning red rocks, mountains, National Parks, deserts, and a delicious variety of food, you are bound to have an enjoyable time in Arizona.
Good luck with the travel!
Note: Keep in mind that information about travel can change quickly. To make sure your trip is fun and safe, we encourage you to double-check official websites and government/travel advisory sites for the latest information on travel restrictions, entry requirements, and safety measure