The city of lights smiles, and memories, Las Vegas, welcomes family with open arms and plenty of dazzle and delight.
Kid-friendly attractions, like Cowabunga Bay and Mini Grand Prix, fall among the best ones in the United States.
This Desert Oasis is also quite popular for street acts —magic, music, mimes, and many more.
So at Vegas, you will spot world-class performances at the most random avenues.
Whether it's a long family holiday or a quick escape, this city knows how to turn your mundane days into barrels of fun!
To help you plan the most exciting trip with your family, here is an organized list of the best things to do in Las Vegas with Kids.
Things to Do in Las Vegas With Kids
Shark Reef Aquarium: Running To The Sea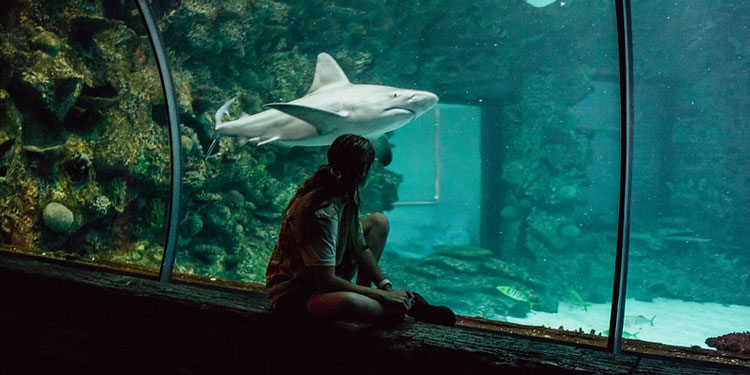 Address: 3950 S Las Vegas Blvd, Las Vegas, NV 89119
Opening hours: Everyday 10 am - 8 pm
Entry fee: Starts from $29
Shark Reef Aquarium might sound like only a shark-focused terrarium, but it's more than that.
It is a huge exhibit with over 2000 animals, including a Komodo dragon (the largest lizard in the world).
So you start exploring the area from the ground and slowly get to the bottom as you make your way.
It basically feels like you're making your way to the undersurface of the ocean.
And apart from the collection of thousands of animals, one of the cool things here is Neptune's Fury.
It is at the bottom-most level, which basically is a shipwreck room with 360 views of insane types of sharks.
Tip: Enter the VR theatre to experience almost real undersea life.
Hershey's Chocolate World: Chocolate Makes Everything Better
Address: 3790 S Las Vegas Blvd, Las Vegas, NV 89109
Opening hours: Mon toThu (9am-12 am) , Fri to Sun (9am - 1am)
Entry fee: Free
Welcome to the sweetest store in Las Vegas!
Whether your child is or not a huge chocolate fanatic, they are bound to have a great time at Hershey's Chocolate World.
Prepare to see unique and unheard flavors of Hershey's, like birthday cake, blueberry muffins, and strawberry cream.
Inside this candy heaven, you can obviously buy all the Hershey's sweets, but also bakery items like cookies and cakes freshly made from Hershey chocolates.
And dont miss taking a photo with the Statue of Liberty made out of Hershey's milk chocolate.
Vegas Indoor Skydiving: All Good Things Are Wild & Free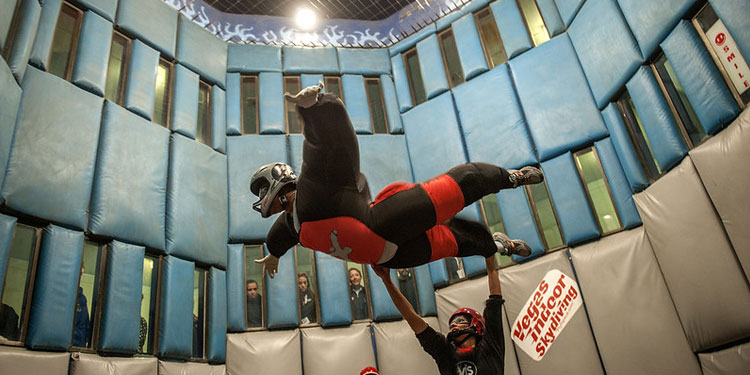 Address: 200 Convention Center Dr, Las Vegas, NV 89109
Opening hours:  Everyday 9:45 am - 7 pm
Entry fee: Starts from $99
If you're looking for a fun family indoor activity, Vegas Indoor Skydiving is the place.
Here you will get the thrill of flying on your own!
For first-time flyers, they have a 'Learn to Fly' package where you will get an hour of coaching, equipment, and flight time.
From VIP to group packages, Vegas Indoor Skydiving has some of the best deals to enjoy this wholesome experience.
Note: Children's minimum weight to fly is 18kg (40 lbs).
Red Rock Climbing Center: I'll Keep Climbing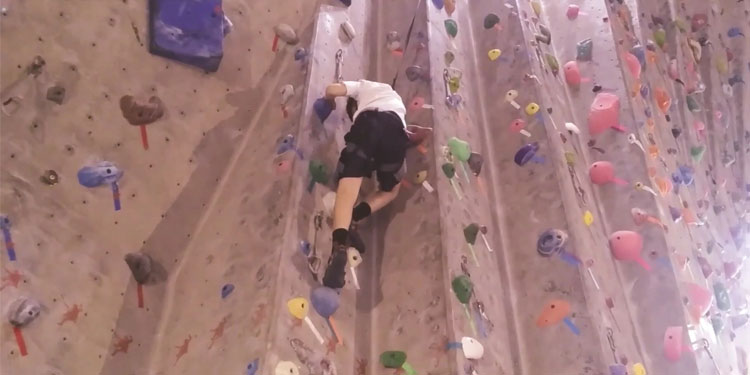 Address: 8201 W Charleston Blvd, Las Vegas, NV 89117
Opening hours: Mon to Fri (9 am- 11 pm), Sat to Sun (9 am- 9 pm)
Entry fee: Day pass $15
Climbing up, down, or across any artificial or natural rock formations is always full of adventure.
Red Rock Climbing Center is the best when it comes to rock climbing. Unlike most of the other climbing places here, you will find bouldering as well as routes.
They have courses for everyone, from kids to adults, and even professional climbers.
And if your kids want a fun and thrilling camping experience, then you can enroll them in Red Rock Climbing Center's one-month summer camp, which mostly occurs from June to August.
Tip: The climbing center also organizes special birthday parties for kids.
Fun Dungeon at Excalibur Hotel & Casino: Gaming Wizard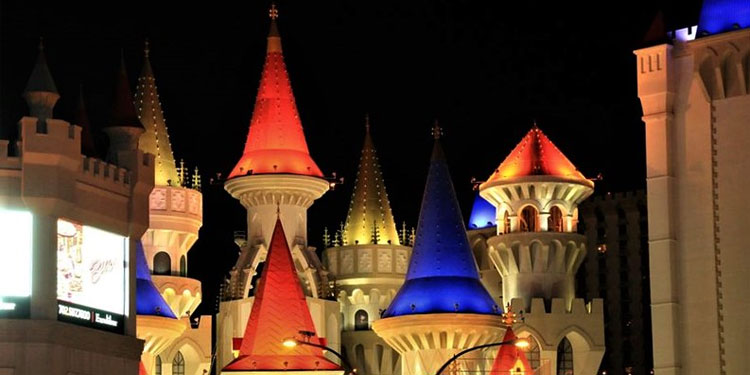 Address: Excalibur Hotel & Casino, 3850 S Las Vegas Blvd, NV 89109
Opening hours: 12 pm- 11 pm
Entry fee : Not required
Fun Dungeon at Excalibur Hotel & Casino is a place where kids can indulge in all sorts of entertaining arcades, video games, and claw machines.
Rear projection plunger shooters and air hockey booths are some of the popular ones here.
Sections like air hockey central have all sorts of quests and carnival games, and there's also a dinnertime show called 'Tournament of Kings' where you can enjoy the live-action performance.
The amount of entertainment options in this place is amazing!
Discovery Children's Museum: Where Time is Transformed Into Space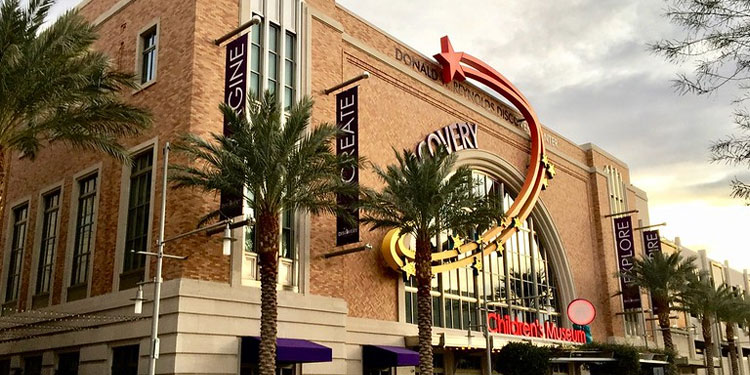 Address: 360 Promenade Pl, Las Vegas, NV 89106
Opening hours: Mon to Sat (10 am- 5 pm), Sun 12 pm- 5 pm
Entry fee: $16
A trip to the museum is always a good idea, especially for children.
Discovery Children's Museum is an incredible hands-on experience museum where little ones will not only have a good time playing around but also learn about important skills in life.
Each segment caters to a specific type of program and learning.
Starting from Toddler Town Theatre and Water World, kids get a chance to engage in fun activities and learn everything about creative arts and science.
Some include theatre, stage production, and the force of water.
The Discovery Lab is a unique and innovative space with a competent low to high-tech focus to help children in their design thinking process.
Some of the other distinctive elements are the Eco-city and Art exhibit.
Popovich Comedy Pet Theater: All The World's A Stage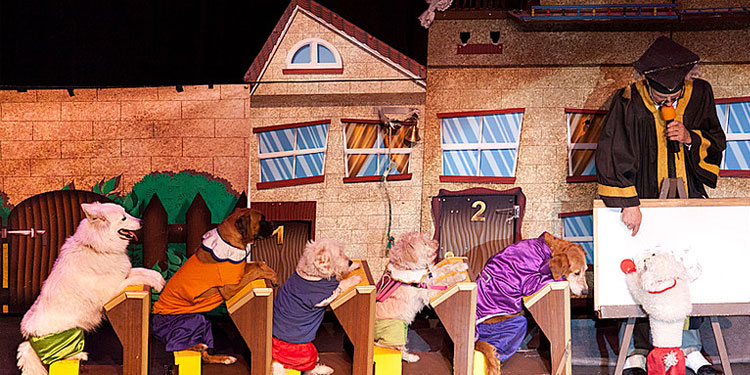 Address: 3663 Las Vegas Strip, Las Vegas, NV 89109
Opening hours: Everday 9 am- 10 pm
Entry Fee: $29.99
Popovich Comedy Pet Theater is voted as the 'Best Family Attraction In Las Vegas.'
A combination of brilliant human performers and animals, the show is a blend of classic circus acts with performances from cute furry animals!
The best part is all the animals here are rescued from shelters and treated with the utmost love and care.
So get ready to see some live action of incredible juggling and physical comedy and overall a wholesome experience at Popovich Comedy Pet Theater.
Gilcrease Orchard: Down On The Farm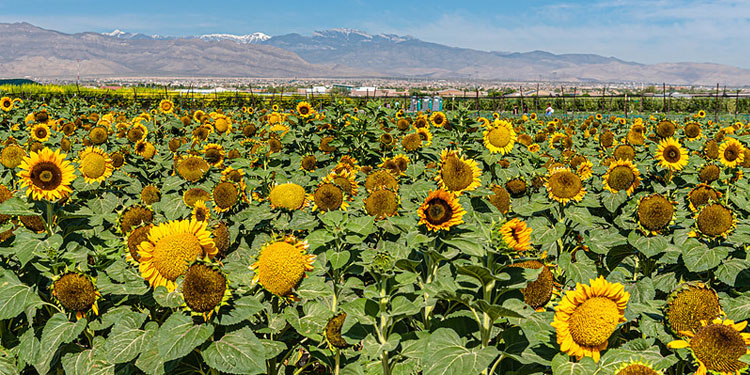 Address: 7800 N Tenaya Way, Las Vegas, NV 89131
Opening hours: Tue,Thu,Sat 7am-10am
Entry fee : Free
Gilcrease Orchard is a hidden gem of Las Vegas.
They have everything from Winery and citrus to vegetable land and pumpkin patches to entertain the little ones.
Brace yourself for a wonderful family day trip in this massive scenic area, doing fun activities or simply strolling around.
Because picking up fresh vegetables and walking around the picturesque areas with your people is gratifying.
Tip: They have the best Apple Cider donuts.
Downtown Container Park: Waves Of Good Times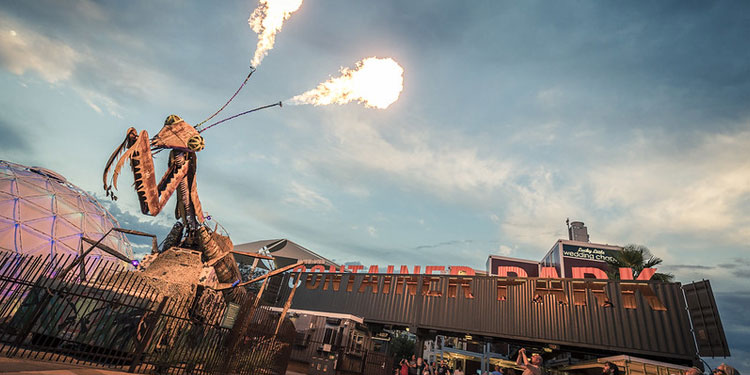 Address: 707 E Fremont St, Las Vegas, NV 89101
Opening hours: Mon- Thu (11:30 am- 11 pm), Fri to Sat (11 am- 1 am), Sun (10 am-11 pm)
Entry fee: Free
Located at the historic Fermont Street, Downtown Container Park is a wonderful outdoor entertainment and shopping complex making it one of the best family getaway spots in Las Vegas.
You will find one of the best children's parks in the city, featuring a huge playground made out of four shipping containers!
Commercial stores, art districts, and restaurants are also built in a unique style – all designed with containers.
Note: They also organize various types of live music and magic shows
Adventuredome: Always On A Ride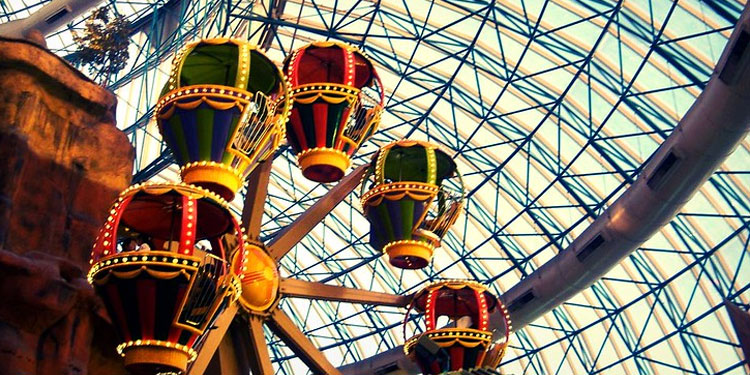 Address: 2880 S Las Vegas Blvd, Las Vegas, NV 89109
Opening hours: Everyday 10 am-12 am
Entry fee: Starts from $30
Adventuredome is the ultimate amusement park of las vegas, situated on a massive 5-acre land.
This one-of-a-kind area is built in a dome design that is made out of glass!
It features many attractions, including several roller coasters, rock climbing,4D FX Theatre, a carousel, circus swings, and so much more.
Prepare yourself to get perplexed to see so many options for the rides.
Tip: Take earmuffs for kids, as it can get loud indoors.
Mini Grand Prix: Okay, go-kart it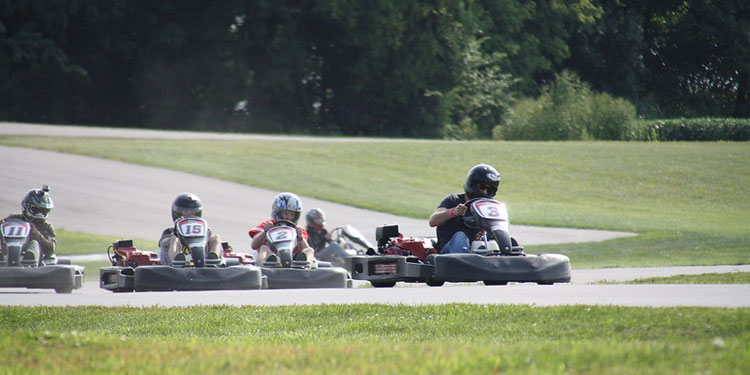 Address: 1401 N Rainbow Blvd, Las Vegas, NV 89108
Opening hours: Sun to Thu (10 am-10 pm), Fri to Sat (10 am-11 pm)
Entry fee: $20 ( without pass)
Mini Grand Prix is 'the place' for go-karts, games, arcades, rides, and slides.
Owning the biggest track in the city, it also is the only place in Las Vegas to have a 2-seat go-kart.
They have race tracks designed for kids with a safe pedal-to-the-metal mode for s safe experience.
So, ready to enjoy an enthralling family-racing experience at the entertainment capital?
Also, children have plenty of choices to entertain themselves at the gaming zone with traditional skeeball and basketball games.
Cowabunga Bay: Joy By The Water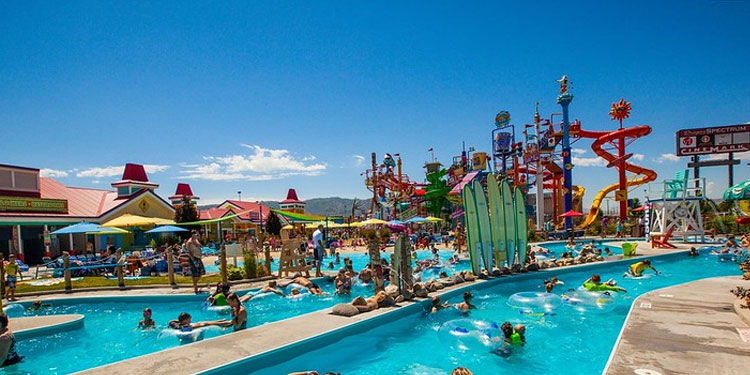 Address: 900 Galleria Dr, Henderson, NV 89011
Opening hours: Sun-Tue (11 am-9 pm), Wed-Thu & Sat (11 am-7 pm), Fri (11 am - 8 pm)
Entry fee: $19.99 & $23.99 for children under 48'' & above
Known to be the best spot for water adventure Cowabunga Bay is a must-visit for some splash and dash.
Among the fantastic pool of rides, the Surf-A-GoGo funnel slide, Rock-A-Hoola bowl slide, and Point Panic are the best ones.
You will also find two gigantic family raft rides where the entire family will sit on the floater, go through the tunnel, reaching a horizontal, sideways slide.
Try to take up every water slide, as they're all worth it!
Tip: Best time to visit Cowabunga Bay is during early spring or late summer.
A Little Bit Of Vegas Goes A Long Way
It is fair to expect the perfect family vacation in this neon city as there are plenty of exciting places for younger people and adults.
Also, do you want to visit the latest dazzling attraction in Las Vegas?
The recently opened 'Immersive Disney Animation' at Crystals is a delightful interactive experience.
Demonstrating a marvelous 50min show about some of your favorite Disney characters.
So, buckle up for infinite games and a full dose of entertainment at this desert oasis.
It's Vegas'o clock!
Note: Keep in mind that information about travel can change quickly. To make sure your trip is fun and safe, we encourage you to double-check official websites and government/travel advisory sites for the latest information on travel restrictions, entry requirements, and safety measures.