Nestled between the Pacific Ocean and the beautiful Santa Ynez Mountains, the Californian beach town of Santa Barbara is an absolute lovers' paradise.
No surprise that Hollywood stars like Drew Barrymore and Laurence Olivier held their beach wedding here.
This beautiful coastal city has much more to offer than being an ideal wedding destination.
From adventurous surfing in the ocean to relaxing waterfront spas, couples can choose the activities that suit them the best.
Whether you hike up the Inspirational Point or stroll through the Santa Barbara Harbour, every experience will be memorable for both.
And a romantic dinner on a cruise ride to the middle of the Pacific with a glorious sunset. Doesn't it sound romantic?
Make sure to go through the following list of things to do in Santa Barbara for couples to find more romantic getaways with their partner.
Things To Do in Santa Barbara for Couples
Visit the Old Mission Santa Barbara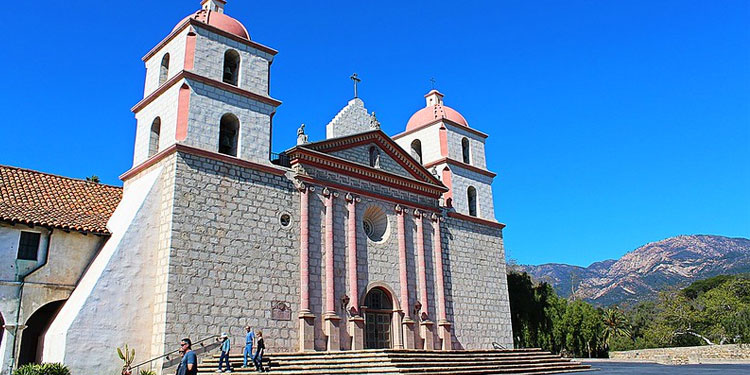 Location: 2201 Laguna Street, Santa Barbara, CA 93105
Opening hours: Open daily, 9:30 am - 5:00 pm
Cost: Self-guided tour at $8 - $25
Best time to visit: Spring evenings
Also known as the "Queen of the Missions," the Old Mission Santa Barbara is where you should begin exploring the city with your partner.
With magnificent buildings showcasing Spanish-Francission architecture, the mission stands out as a highlight of the city.
Take a guided tour to explore the museums, mausoleums, and historic gardens. And the tranquil chapel inside is just a place to count the blessings with your partner.
There's also an informative exhibit inside the museum where you can learn the tale of the city's rich cultural history.
Tip: Explore the on-site gift shop for beautiful souvenirs of the city.
Spark the Romance at Santa Barbara County Courthouse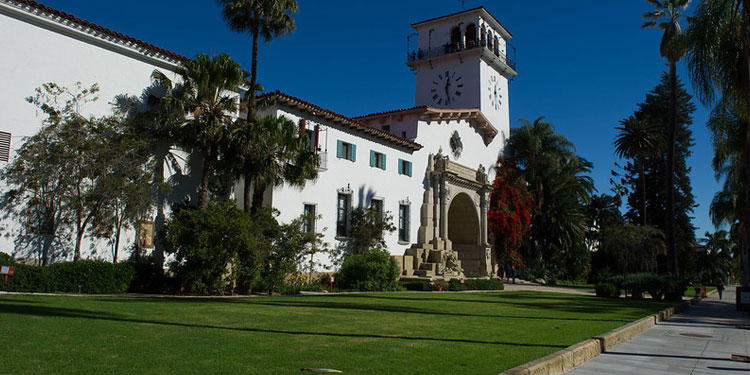 Location: 100 Anacapa Street, Santa Barbara, CA 93109
Opening hours: Monday- Friday, 10:30 am - 2:00 pm
Cost: Free entry
Best time to visit: Early Springs
If you want to tie the knot with your beloved at an aesthetically pleasing location, then Santa Baraba County Courthouse is just the place.
This government building is adorned with striking Spanish-Moorish architecture, exquisite photogenic gardens, and thematic rooms.
All of which make a perfect venue for reciting the vows.
And the jewel of this courthouse, the subliminal Mural room on the second floor, is the most sought site for weddings.
You can also climb the Seth Thomas Clock Tower to enjoy a swapping panoramic view of the city.
Note: The gardens and mural rooms can be reserved for weddings for 3 hours in two shifts. Check the website for more details.
Fishing in Stearns Wharf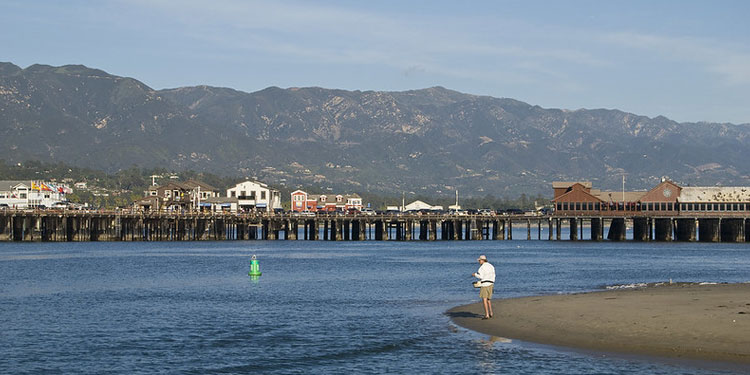 Location: 217 Stearns Wharf, Santa Barbara, CA 93101
Opening hours: Open 24 hours
Cost: Free
Best time to visit: Summer evenings
Bring your partner to fish out Mackerel, Halibut, and Rockfish out of the ocean at the Stearns Wharf, a popular spot for fishing in Santa Barbara.
Fishing is free at this waterfront, but you might need to bring your fishing bait and tackle. Or else watch the fishing boats unload their prized catch.
The Wharf offers stunning views of the Santa Barbara Coastline, Sanay Ynez Mountains, and the Channel Islands.
You can enjoy waterfront dining at any of the three restaurants and shop for souvenirs on the pier.
Tip: Wear comfy shoes as you would have to walk a lot to explore the Wharf.
Hike Up to the Inspiration Point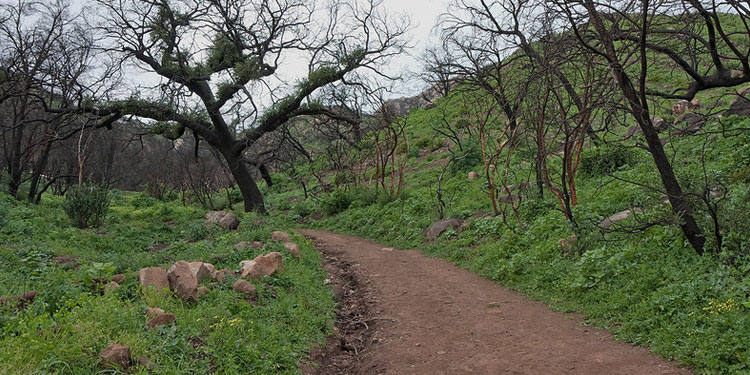 Location: Spyglass Ridge Road, Santa Barbara, CA 93105      
Opening hours: Open 24 hours
Cost: Free access
Best time to visit: Springs
Difficulty level: Moderate
Declutter your mind and build a stronger bond with your partner on a tiring hike to the Inspiration Point.
Multiple routes lead you to the top. The shortest one through the tunnel trail is just three and half-mile roundtrip.
This route of paved road and a wooden trail is splurged with breathtaking views of Santa Barbara's coastline.
And you can even see the Channel Islands out in the distance.
Or, if you want more of a moderate trail, hike through the steep 7 miles long Jesuita trail for more thrill.
Tip: Click some pictures en route with the beautiful backdrop of green trees of the nearby Los National Forest.
Wear Off the City Life at Shoreline Park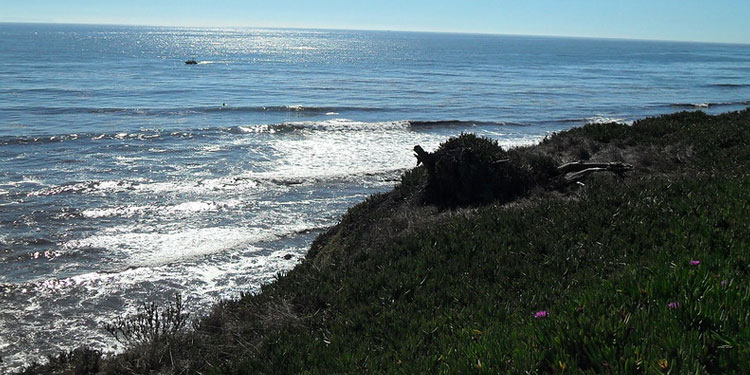 Location: 1299 Shoreline Drive, Santa Barbara, CA 93109
Opening hours: Open daily, 7:00 am - 7:00 pm
Cost: Free access
Best time to visit: Summer evenings
If you want to get rid of bustling city life, then consider a refreshing visit to the long grassy stretch of the oceanside Shoreline Park.
The 14.67 acres of this bluff park connect the state's coastal communities and give a beautiful view of the Californian coastline.
Have a romantic picnic at the park's picnic areas while enjoying the coastal breeze and the sounds of the waves.
You can try water activities like sailing, swimming, and surfing with your pets here. It is also fit for biking and riding on horseback.
Tip: Don't forget to bring binoculars for watching marine animals, especially whales.
Watch a Performance at Lobero Theater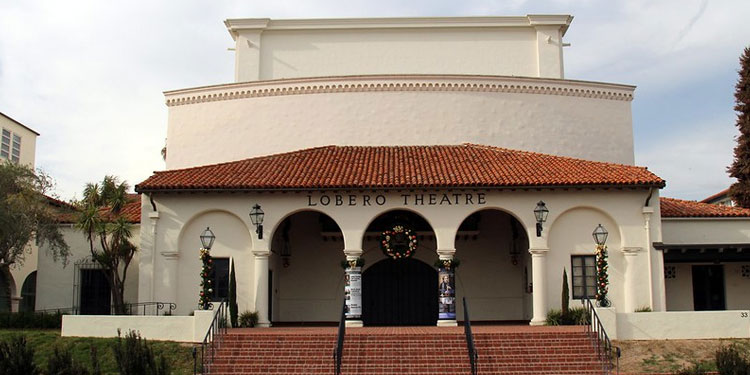 Location: 33 East Canon Perdido Street, Santa Barbara 93101
Opening hours: Monday- Friday, 10:00 am - 5:00 pm & Saturday, 12:00 -5:00 pm
Cost: Prices vary with performance
Clearly, no visit to Santa Barbara is complete without a trip to the Lobero Theater, a jewel of the city located in the heart of the historic district.
Even more, if your partner is a ballet enthusiast.
Initially founded in 1873 as Jose Lobero's Opera House, this theater is California's fourth oldest continually performing theater.
You can get a glimpse of Santa Barbar's culture through music, dance, and theatrical performances at this place.
It often hosts social events, stages performances of the world's finest artists,
Note: The theater has launched the career of many Hollywood legends.
Take the Celebration Cruise Ride to the Pacific Ocean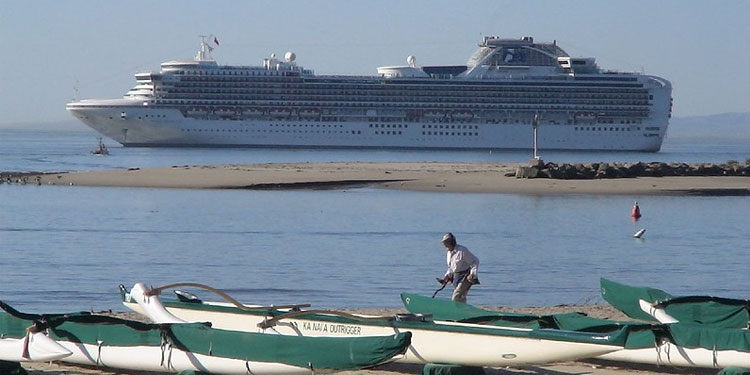 Location: 237 Stearns Wharf, Santa Barbara, CA 93101
Opening hours: Open daily, 9:00 am - 6:00 pm
Cost: Cruise ride starts at $45
Best time to visit: Spring and Fall
Grab the chance of an intimate adventure with scenic cruise rides in the waters of Santa Barbara.
You can catch sight of Sea lions, Whales, and Sea Lions in the ocean with a beautiful backdrop of Santa Barbara mountains.
From scenic sunset cruises to dinner cruises, you will get different types of public and private cruise packages to choose from.
And for a more intimate celebration, book a Lil' Toot Private Charter.
This ride will take you through local sea life and beautiful harbor sights while serving the yummiest snacks on board.
Stroll Through the Santa Barbara Harbor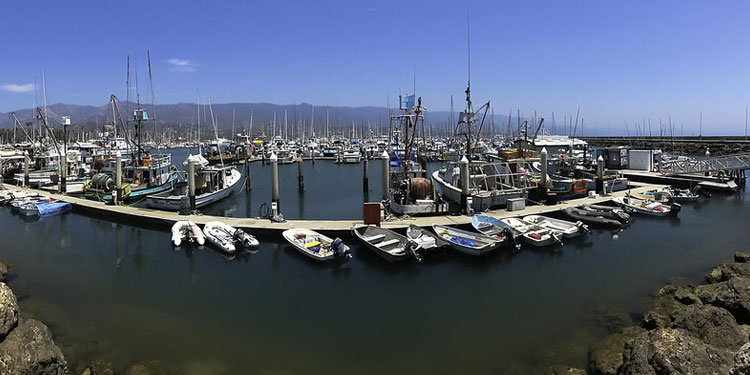 Location: 132-A Harbor Way, Santa Barbara, CA 93109
Opening hours: Open daily, 7:00 am - 6:00 pm
Cost: Free access
Best time to visit: July and August
Go on a walk with your partner on the shoreline of the Santa Barbara Harbor.
Savor the yummiest sea delicacies and drinks at many restaurants opened up in the harbor while exploring the souvenir, arts, and craft shops.
There are also a number of parades, markets, and festivals hosted throughout the year.
You can also take a whale-watching tour while cruising in the middle of the Pacific. It is most famous for the Colossal Blue Whale, the largest mammal on Earth.
Tip: Get a glimpse of the lives of diverse sailors and fishermen at the nearby Santa Barbara Maritime Museum.
Stay at the Four Seasons Resort-The Biltmore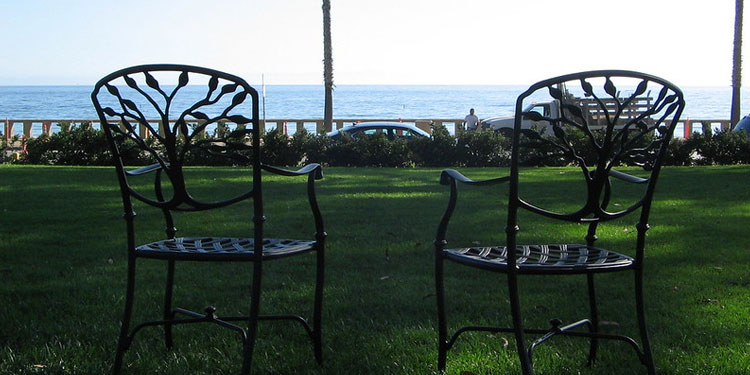 Location: 1260 Channel Drive, Santa Barbara, CA 93108
Opening hours: Open 24 hours
Cost: Room for two starts from $521 per night (Subject to change)
Best time to visit: Summer and Springs
Book a romantic getaway at the beautiful coastal property with a Spanish Mediterranean architecture building inspired by the old mission building.
Built in 1927, The Four Seasons Resort of Santa Barbara proudly boasts artisan craftsmanship on its adobe walls and wood-beamed ceilings.
Along with an outstanding ocean view, the resort has many luxury amenities, including Spas, Coral Casino Beach, Cabana Club, and many more.
The elegant archways, bubbling fountains, and magnificent bougainvillea-draped paths provide an excellent photo opportunity for the couple.
Tip: Heighten the romance with a phenomenal Sunday brunch.
Note: You can also book the resort for weddings and other parties.
Enjoy Sea Food at Santa Barbara Fish House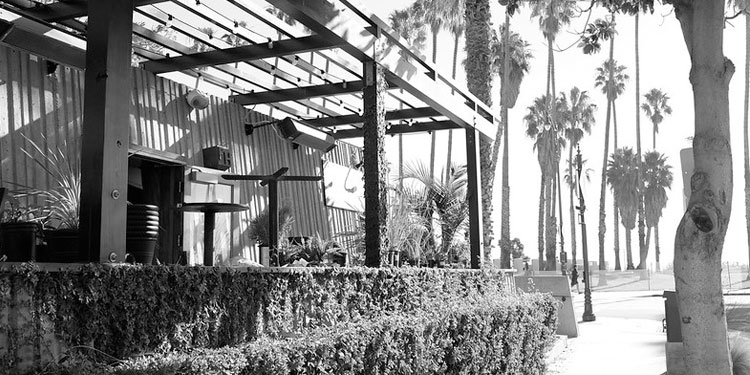 Location: 101 East Cabrillo Boulevard, Santa Barbara, CA 93101
Opening hours: Monday- Thursday, 11:30 am- 9:00 pm; Friday, 11:30 - 9:30 pm; Saturday: 10:00 am - 9:30; Sunday: 10:00 am - 9:00 pm
Best time to visit: Early mornings and evenings
Sanat Barbara Fish House is a casual restaurant serving seasonal Seafood with ocean views, an outdoor patio, and a fire pit located on the city's pristine waterfront.
It wouldn't be a lie to say that the restaurant is the best way to enjoy the city's Seafood.
You can find a unique kind of Seafood on their menu, ranging from Coconut-crusted shrimp to Lobster Macaroni and Cheese.
And the in-house margaritas!
Nothing can best complement the food than the flavored margaritas of this restaurant.
Wine Date Destinations in Santa Barbara
What better way than a wine date to spend quality time with your loved ones?
The wine county of Santa Babara exactly provides that premium private experience for couples with locally produced wines.
Some of the top picks include Grassini Family Vineyards. Jamie Slone Wines and Santa Barbara Wine Collective.
In fact, the Grassini Family Vineyard was voted Best Winery in Santa Barbara for four consecutive years from 2018- 2021.
Keep Exploring Together
Now that you've learned about the romantic possibilities in the gem city of California plan your trip accordingly.
Many travel companies in Santa Barbara offer different types of city tours ranging from trolley tours to yacht rides and winery tours.
Book one if you want a relaxing exploration of the city's highlights.
Enjoy your honeymoon!
Note: Keep in mind that information about travel can change quickly. To make sure your trip is fun and safe, we encourage you to double-check official websites and government/travel advisory sites for the latest information on travel restrictions, entry requirements, and safety measures.