With access to the Pacific Ocean, Santa Barbara has abundant pristine waterbodies and a stunning coastline.
Inviting weather, exquisite beaches, and an engaging downtown area, this coastal city of California has it all.
Best known for its wide sandy beaches, it is the perfect destination for water lovers to enjoy water sports and outdoor activities.
However, the city has more to do than just lounging on the beach towel and sun-tanning over the California sun.
You can learn about the city's history, art, and rich culture while exploring the Historic Mission Building and Natural History Museum.
Not to mention the fantastic seafood with a breathtaking Ocean view at Stearns Wharf.
Keep on reading the following list of the best things to do in Santa Barbara to plan your trip to this iconic beach city.
Things to Do in Santa Barbara
Explore the Santa Barbara Museum of Natural History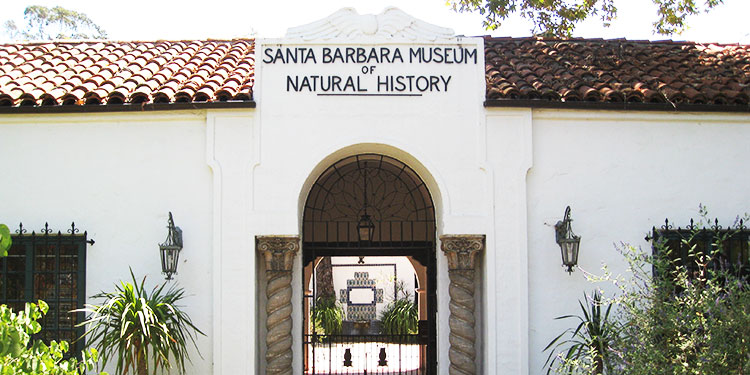 Location: 2559 Puesta del Sol, Santa Barbara, CA 93105
Opening hours: Wednesday - Monday (10:00 am- 5:00 pm)
Cost: Tickets range between $14-$19
Best time to visit: Springs and Summers
With an exhibit of 3.5 million species of mammals, birds, and marine life, the museum is a great place to start exploring the city.
The Santa Barbara Museum of Natural History also boasts state-of-art interactive exhibits for all ages.
This includes the Planetarium located on 17 acres of oak woodland and various exhibitions, from anthropology to paleontology and astronomy.
It is the best place to visit on a family vacation, even more if you are on vacation with kids, as the child-size cavern and playground can keep them busy for hours.
Note: Inside the museum, there's a biological research center for the sea floor where you can experiment with oceanographic tools and examine ocean life.
Visit Old Mission Santa Barbara 1786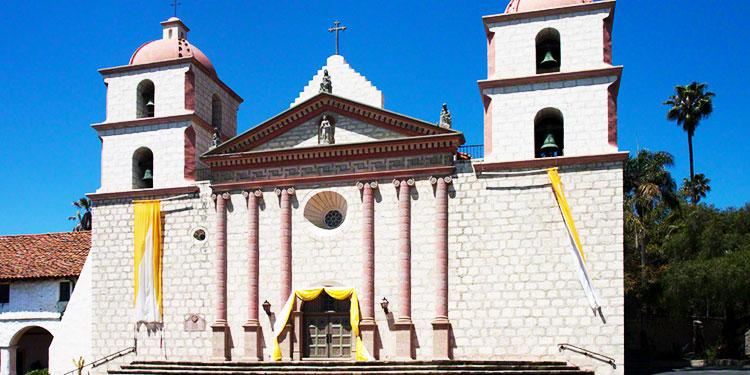 Location: 2201 Laguna Street, Santa Barbara, CA 93105
Opening hours: Open daily, 9:30 am - 5:00 pm
Cost:  Self-guided tours ranges from $8- $ 25 ($3 for entering the museum)
Best time to visit: Spring
The Old Mission Santa Barbara is also called "Queen of the Missions" for being one of the magnificent and graceful missions built in 1786.
With a self-guided tour, you can explore the Spanish building, which gave Santa Barbara its name and architectural inspiration for the buildings in the city.
Inside this mission building, you can find a solemn cemetery, a museum, a mausoleum, and historic gardens.
And an informative exhibit inside tells the tale of its construction history and Franciscan tradition's rich cultural heritage.
Tip: Explore the mission gift shop inside to buy souvenirs from the trip.
Go on Scenic Hike To La Cumbre Peak
Location: 1991 East Camino Cielo Road, Santa Barbara, CA 93105
Opening hours: Open 24 hours
Cost: Free
Best time to visit: Springs and Fall
Difficulty level: Hard
Spend a beautiful spring ascending the 4000-foot-tall hidden gem of Santa Barbara.
The La Cumbre Peak is the best spot for a top-notch view of the Santa Ynez Valley, the Channel Islands, and the city's South Coast.
As you ascend, the massive waterfall on top will refresh you washing off all your struggles of climbing up the challenging trail of 16.2 miles.
You can climb up this peak through several alternative routes, but the one through the Tunnel trail is the most preferred.
It leads to a water tower where you can park your vehicle and hike on foot.
The route is also quite famous for bird-watching and training cyclists for elevation gain.
Tip: Check out the nearby Los Padres National Forest for camping after a tiring hike.
Biking on the Inspirational Point Trailhead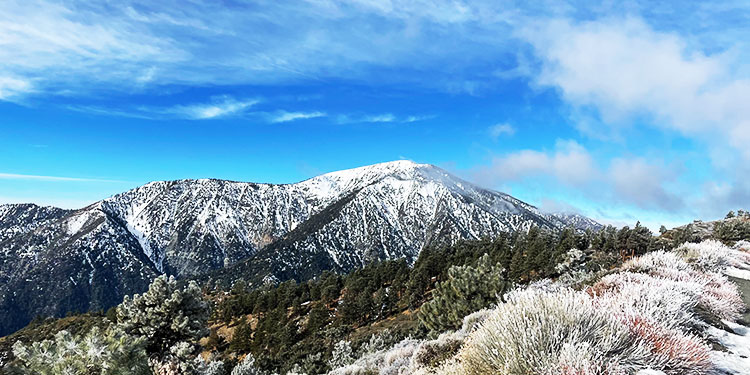 Location: Spyglass Ridge Road, Santa Barbara, CA 93105
Opening hours: Open 24 hours
Cost: Free access
Best time to visit: Springs evenings
Hidden among the foothills of Northern Santa Barbara, Inspirational Point is one of the best biking trails.
You can hike, run, or go mountain biking on this 5.5 km long out-and-back trail with an elevation of 285 meters.
In fact, it is one of the most accessible hiking trails suitable even for kids and elders.
And from the top, you can get an outstanding view of the ocean and Santa Barbara's coastline.
The hiking trail falls inside the Los Padres National Forest territory, full of beautiful backdrops of green trees and bushes. A great photo opportunity, indeed!
Enjoy Watersports at Arroyo Burro Beach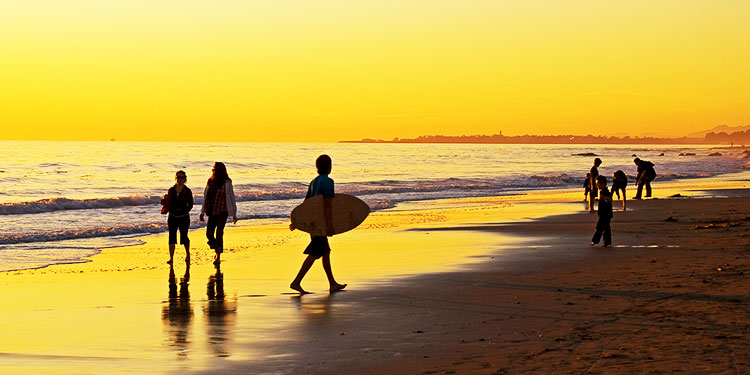 Location: 2981 Cliff Dr, Santa Barbara, CA, 93105
Opening hours: Open 24 hours
Cost: Access to the beach is free
Best time to visit: Spring and summer
Often called Hendry's Beach, Arroyo Burro is one of the best sandy beaches in Santa Barbara to experience the sea breeze with gentle waves.
From fishing to surfing and stand-up paddleboarding, you can enjoy various water activities in the water.
Bodyboarding is one such popular water activity on this family-friendly beach.
You can also enjoy the typical beach vibe on the sandy shore while absorbing the Californian shore.
Or else grab a bite of the yummiest seafood and cocktail in the nearby Boathouse Restaurant with a view of the pristine waters of the ocean.
Tip: Since the beach is pet-friendly, you can even bring your animal friends on a beach vacation there.
Explore the Santa Barbara Harbor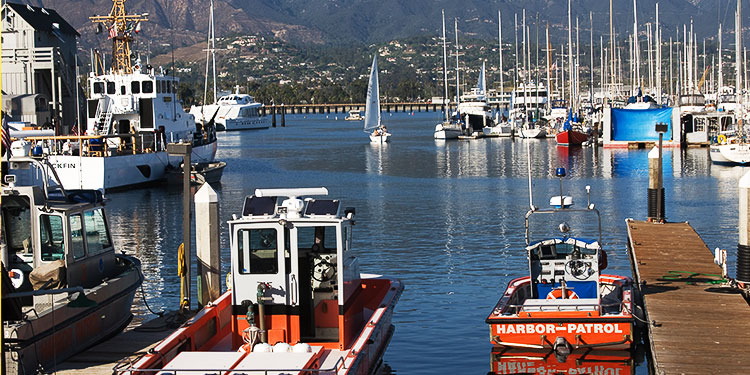 Location: 132-A Harbor Way, Santa Barbara, CA 93109
Opening hours: Open daily, 7:00 am - 6:00 pm
Cost: Access to the harbor is free
Best time to visit: July and August
If you want to explore more of the Pacific Ocean's miles-long coastline along this beachy city of California, then make sure to visit the infamous Santa Barbara Harbour.
This historic harbor is a launching pad for water adventures like scuba diving, deep-sea fishing, sea kayaking, stand-up paddle boating, sailing, and whale-watching.
And to explore more marine life, book the Kayaking or Scuba excursion through the sea caves of the Channel Islands.
Besides, the harbor often hosts seasonal parades, events, and festivals like the Annual Holiday Parade of Lights, the Sea Food Festival, etc.
Merge in to be a part of the fun fest!
Tip: Remember to stop by the nearby Santa Barbara Maritime Museum for more details on the nautical history of California.
Wander Off to Santa Barbara Botanic Garden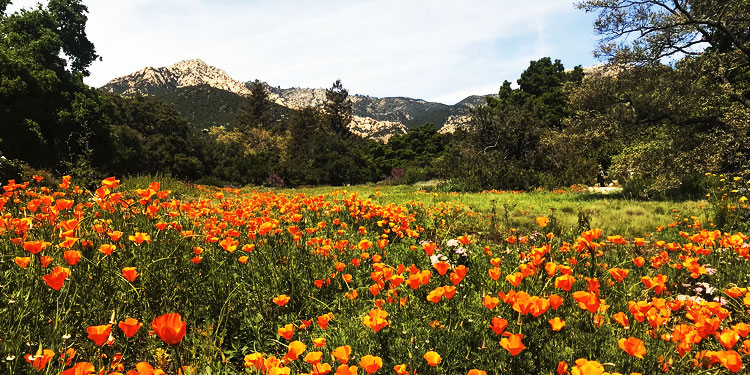 Location: 1212 Mission Canyon Road, Santa Barbara, CA 93105
Opening hours: Open daily, 10:00 am - 5:00 pm
Cost: General admission price ranges from $12- $20 (Additional $3 for museums)
Best time to visit: Springs
For someone who is religiously fond of raw and naive nature, the century-old Santa Barbara Botanic Garden is an absolute paradise.
Since its establishment in 1926, this 82-acre of floral garden has inhabited the native plants of California in their natural habitats.
You can find unique plants of 11 ecosystems in the six biodiversity hotspots inside its premises.
The redwood forest, meadows, dessert, and Manzanitas sections are splendid photo backdrops.
You can also book these unique natural locations for events like intimate weddings, birthday celebrations, or corporate retreats.
Note: Reservations are required for non-members to visit the botanic garden.
See the Animals of Santa Barbara Zoo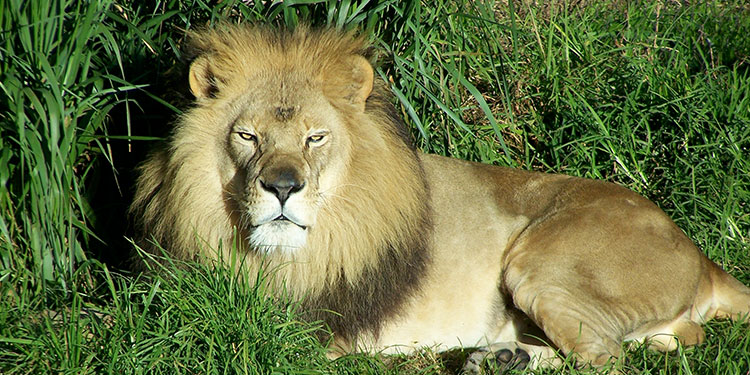 Location: 500 Ninos Drive, Santa Barbara, CA 93103
Opening hours: Open daily, 9:30 am - 5:00 PM
Cost: Admission ticket ranges from $15- $25 (Extra $11 for parking)
Best time to visit: Summer and spring
Once a posh tea and coffee state, the Santa Barbara Zoo now serves as a hub for conserving the rare and unique wild animals of this gem city of California.
You can find over 146 species of animals nesting in the 30 acres of naturalistic habitat inside the park.
It is primarily known for observing penguins, giraffes, anteaters, gorillas, and California Condors, among other birds and animals.
The zoo also organizes student-centric activities like Zoo camps, Safari sleepovers, and field trips, especially for the little ones.
And it also has on-site restaurants like Wave Cafe and Ridlyey-Tree House restaurant and food carts serving you delicious food and drinks.
Tip: Reserve online before visiting, as on-site ticketing isn't available.
Shop and Dine at the Stearns Wharf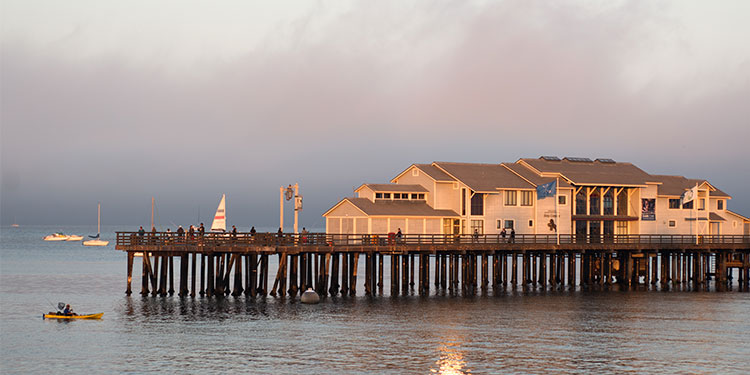 Location: 217 Stearns Wharf, Santa Barbara, CA 93101
Opening hours: Open 24 hours
Cost: Free entry
Best time to visit: Evenings
Did you know that Stearns Wharf is the oldest yet most famous attraction in Santa Barbara?
This century-old steadfast wooden timber pier over the Pacific Ocean endorses many apparels, treasured gifts, and Candy shops.
You can enjoy fine seaside dining at any of the three full-service restaurants at the Wharf, along with homegrown wines to accentuate the experience.
A wine-tasting room at Conway Family Wines is one of the highlights of this pier.
Apart from that, you can enjoy a beach walk, a fun boat ride, or free fishing at the Wharf.
Tip: The Wharf often organizes events like musical concerts and fireworks shows occasionally for extra entertainment.
Adore the Creativity at the Santa Barbara Museum of Art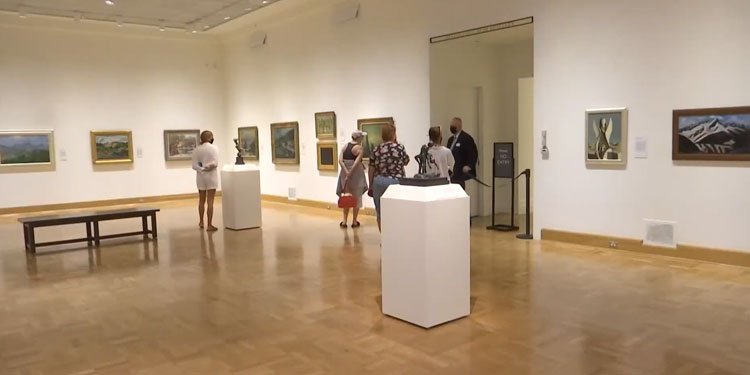 Location: 1130 State Street, Santa Barbara, CA 93101
Opening hours: Tuesday- Sunday, 11:00 am- 5:00 pm & Thursdays, 11:00 am - 8:00 pm
Cost: Admission tickets cost $6 - $10:00
Best time to visit: Early spring and fall
Make a stop at one of the finest art museums in Santa Babra that showcase the ancient contemporary artworks and photography of Asian, American, and European artists.
You can take a self-guided tour to explore the 25000 pieces of the exquisite art collection of renowned global artists of the 19th and 20th centuries.
And if it interests you, be a part of the free sketching classes and writing-on-the-wall sessions in the galleries.
The museum continually organizes art classes, educational programs, lectures, and summer camps for the kids.
You will also find a curated gift shop section inspired by some of the finest artists and their crafts inside the premises.
Tip: Purchase the tickets online before the visit to avoid extra waiting time.
Note: The sketching in the galleries occurs occasionally and at a specified time. Check through the website before admitting to the museum.
Pay a Visit to Santa Barbara County Courthouse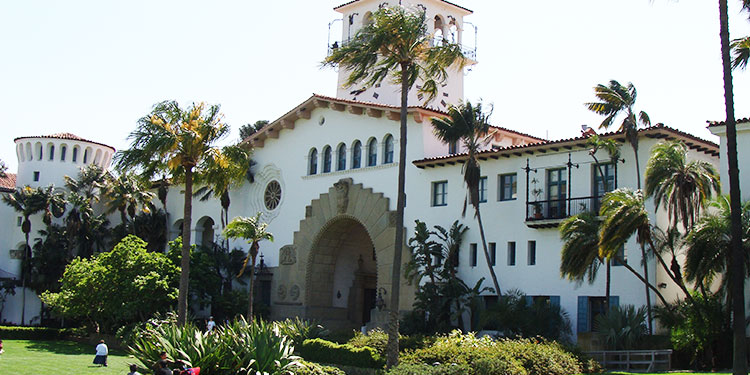 Location: 100 Anacapa Street, Santa Barbara, CA 
Opening hours: Monday- Friday, 10:30 - 2:00 pm
Cost: Free entry
Best time to visit: Early springs
Located in downtown Santa Barbara, the County Courthouse is one of the national historic landmarks of the city.
With Spanish-Colonail style architecture, large hallways lit with natural sunlight, and wrought iron chandeliers, the building has become a familiar tourist attraction.
Take a self-guided tour to explore the handpainted mural rooms with intricately detailed ceilings and gardens that highlight the history of the building.
The courthouse features a four-faced clock tower from which you can get a panoramic view of the downtown. People often exchange their wedding vows at this tower.
You can also reserve the courthouse hallways and its garden for special events like weddings and parties. However, the clock tower isn't available for reservation.
Note: Any group of 25 people or more should take permission from the county to use the clock house tower for weddings or regular visits.
Eateries and Wineries of Santa Barabara
It is obvious for Santa Barbara to have fantastic seafood, thanks to its humongous coastline that's rich in sea urchins, oysters, lobsters, and scallops.
But you can also find a range of interesting international cuisines in downtown restaurants like The Stonehouse, Loquita Santa Barbara, Pascucci Restaurant, and many more.
And how can one forget about the phenomenal wine-tasting rooms of this Wine country?
You are most likely to have options of local wine to choose from in the city's wineries while enjoying their beautiful vineyards.
Some of the top picks include Alma Rosa, Brewer-Clifton, Fees Parker, and Foley Estates.
From Pinots to Chardonnays, you will find every kind of wine to enjoy with your meal.
Dream of California!
The 42 square miles of Santa Barbara indeed has plenty of fun destinations and activities to choose from, and it takes quite a lot of time to explore it all.
But don't stress out a bit!
Many tours and travel companies in the city offer a sightseeing trolley tour of these notable highlights of Santa Barbara.
Enjoy exploring!
Note: Keep in mind that information about travel can change quickly. To ensure your trip is fun and safe, we encourage you to double-check official websites and government/travel advisory sites for the latest information on travel restrictions, entry requirements, and safety measures.