Phoenix might not have the reputation of a conventional honeymoon destination, but that's not true at all!
Adventurous desserts, scenic mountains, historical museums, and a chic downtown of this capital city hold boundless romantic date opportunities.
Whether you hike up Camel Mountain, stroll down in Japanese Friendship Garden, or wander off in the Heard Museum, pleasure is assured.
And golfing at the Arizona Biltmore Resort and horseback rides in the Robinson Ranch will be a good chance to strengthen the bond.
Not romantic enough?
Going on hot air balloon rides with a bottle of champagne over the Sonoran desert would definitely escalate the experience.
Keep reading the list of best things to do in Phoenix for couples to figure out even more romantic date ideas.
Things To Do in Phoenix for Couples
Hike up the Camelback Mountain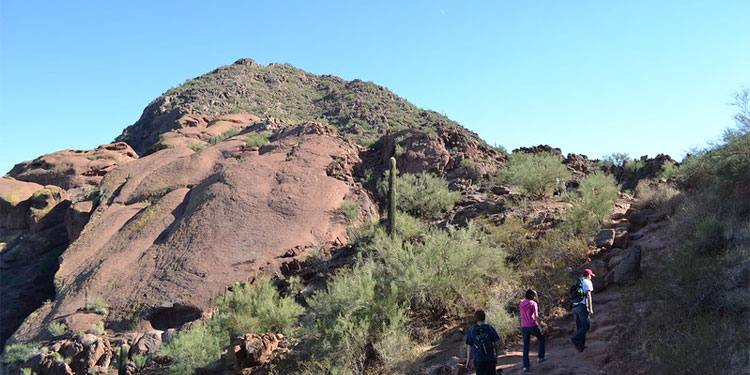 Location: Phoenix, AZ 85008
Opening hours: Open 24 hours
Cost: Free entry
Best time to visit: Spring and Winter
Get lost in the wilderness of 2704 feet tall Camelback Mountain, located just 20 mins away from downtown Phoenix.
Called so for its appearance like a kneeling camel, the peak offers a panoramic view of the city, scenic South Mountain State Park, and the Piestewa Peak.
There are two routes to ascend this majestic mountain. Take the Echo Canyon Trail for the most scenic yet challenging trail with an elevation gain of 500 feet.
You can even catch sight of the native flora and fauna like Creosote Bush, Saguaro Cactus, Harris antelope squirrels, and Cottontail rabbits.
Adore the Archaeology at Pueblo Grande Museum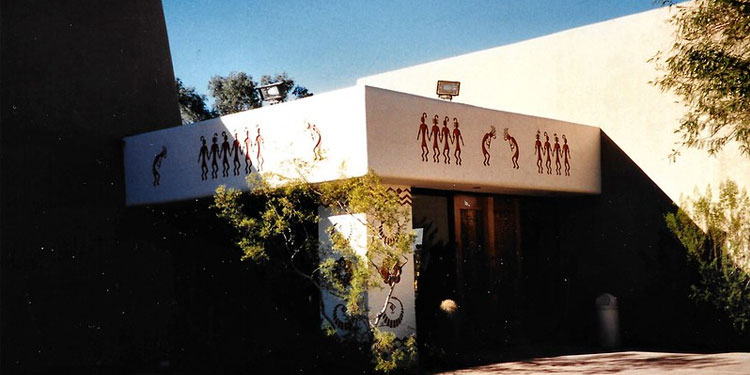 Location: 4619 East Washington Street, Phoenix, Arizona 85034
Opening hours: Open daily, 9:00 am - 4:45 pm (Opens at 1:00 pm on Sunday)
Cost: Tickets cost $3 - $6 (Discounts on group visits)
Best time to visit: Morning hours
Learn the cultural history of native residents of Phoenix at Pueblo Grand Museum, also known as "S'edav Va'aki Museum."
The museum is an archaeological site preserving the lifestyle, exceptional architecture, and engineering culture of ancestral residents of the Sonoran desert and surrounding areas.
The exhibition galleries and theater inside clearly speak of the archaeological revolution of Southwestern homes.
You will also see house replicas, a native plant garden, centuries-old irrigation canals, and a ballcourt representing the 800-year-old Hohokam culture.
Explore the Heard Museum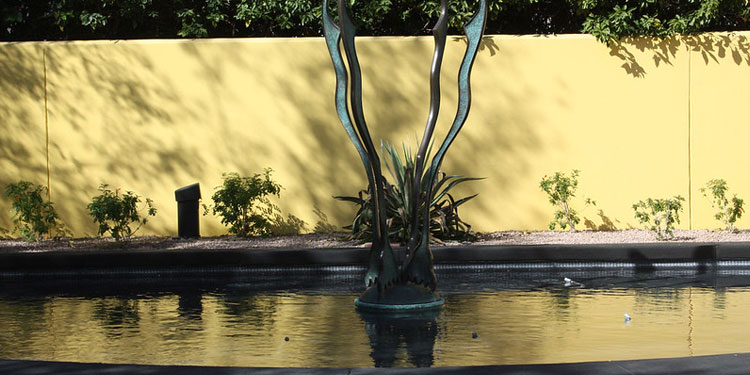 Location: 2301 N Central Avenue, Phoenix, AZ 85004
Opening hours: Tuesday - Sunday, 10:00 am - 4:00 pm (Subject to change)
Cost: $9 - $25 (10% off on advance online purchases)
Best time to visit: Weekends
Spend a laid-out afternoon adoring the art exhibition of Heard Museum while sipping the Gourmet Coffes at the on-site Coffee Cantina.
The outdoor sculpture gardens, a contemporary art gallery, and 12 specific exhibition art galleries of this museum boast the artistry of American Indians and tribal communities.
You can take the private guided tour to explore the 289 acres of art displays more with your partner.
And don't miss out on a trading-post-style shopping opportunity at the on-site gift shops.
Note: Check the website for special events and free Friday offers.
Biking on the Dirt Trail of Papago Park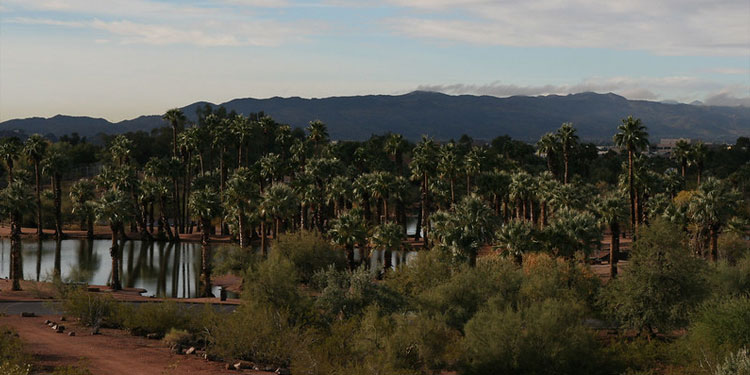 Location: 625 N Galvin Parkway, Phoenix, AZ 85008
Opening hours: Open daily, 5:00 am - 11:00 pm
Cost: Free entry (Bike rentals will be charged)
Best time to visit: Spring evenings
Spurring romance on adventurous biking is what the dirt trail of Papago Park has to offer for couples.
The 2.2 miles long trail is one of the easiest to ride for its smooth footing and lower elevation gain of just 144 ft.
Besides, the trail offers a mesmerizing view of the red rock buttes and Sonoran Dessert.
And as you return, take some time to explore the nearby Phoenix Zoo and Desert Botanical Garden.
Tip: Enjoy archery, golfing, and orienteering courses offered inside the park premises.
Wander off in the Japanese Friendship Garden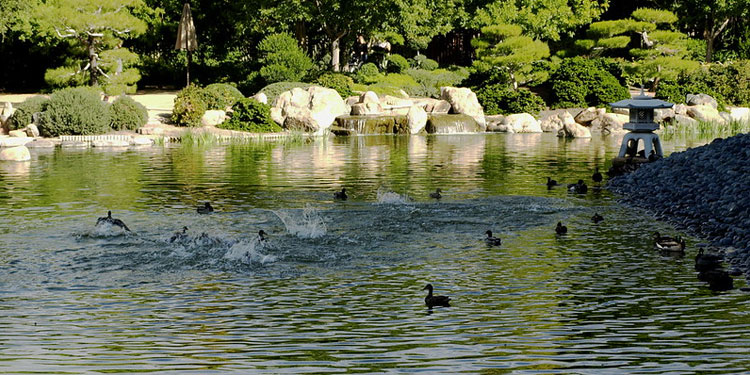 Location: 1125 N Third Avenue, Phoenix, AZ 85003
Opening hours: Wednesday- Sunday, 8:00 am - 12:00 pm (Opens 5:00 pm -7:30 pm on weekends)
Cost: Entry ticket ranges from $7 - $10
Best time to visit: Summer and spring evenings
Hold your hands and go for a peaceful stroll inside the traditional Japanese Garden in downtown Phoenix's heart.
Also known as RoHoEn, the 3.5-acre wide garden is a joint project of the Japanese city Himeji and Phoenix City.
The courtyard garden, a stroll garden, a tea garden, and an on-site teahouse are major highlights of the garden.
You can also be a part of occasional events, exhibits, and workshops that give a glimpse of Japanese culture's unique hospitality and tradition.
Take a Tour of Tovrea Castle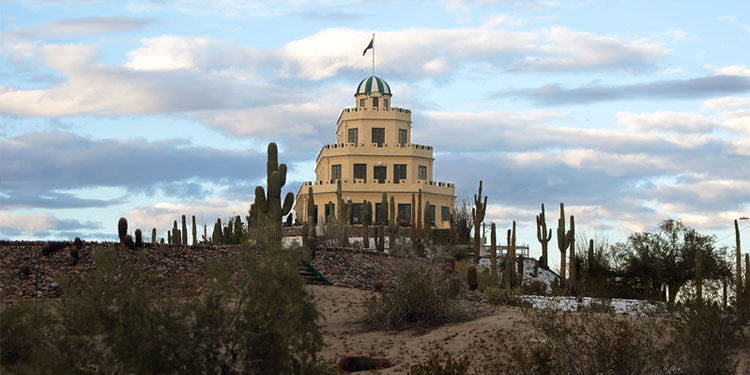 Location: 5025 E Van Buren Strret Phoenix, AZ 85008
Opening hours: Friday - Sunday, 7:30 am - 12:30 pm & Thursday, 9:00 am - 12:00 pm
Cost: Tickets costs $22 per person
Best time to visit: Spring afternoons
Take an evening stroll in luscious cactus gardens and the artistic interior of the fout-story Tovera Castle sitting atop the Carraro Heights in Phoenix.
Built in the late 1920s, the castle is a historic jewel of the Sonoran deserts, covering an area of 500 square feet.
Reserve the Docent-led guided tour to explore the Cactus Gardens, Outbuildings, and main building of the castle.
The scenic backdrop of the castle and Sonorian desserts also gives infinite photo opportunities to the couples.
Tip: Visit the on-site gift shop to take the memoirs of the treasures of the castle
Note: Tickets must be reserved in advance of the tour.
Golfing at Arizona Biltmore Resort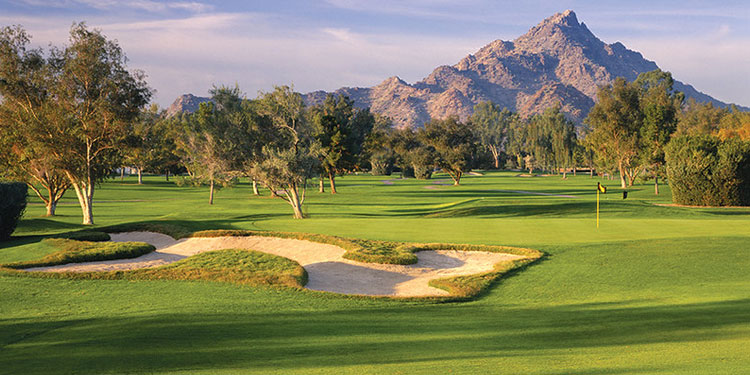 Location: 2400 E Missouri Avenue, Phoenix, AZ 85016
Opening hours: Open daily, Golfing hours- 6:30 am - 6:00 pm
Cost: Golfing costs range from $29.50- $149 (Subject to change)
Best time to visit: Spring afternoons
Give a kick to your romantic adventure with a golf match on the well-groomed courses of the Arizona Biltmore Resort.
You can book a custom golf vacation at the resort and enjoy all its amenities and an exciting golfing session.
The resort features two legendary golf courses, namely the Links course and the Abode course, each with 18 holes and unique attributes.
Elevate your golfing skills with a private golf lesson with the top LPGA teaching professional Tina Tombs.
Tip: Enjoy lunch and evening cocktails in the on-site Adobe restaurant decorated with VIP images of past U.S. presidents.
Sunset Horseback Rides at Robinson Ranch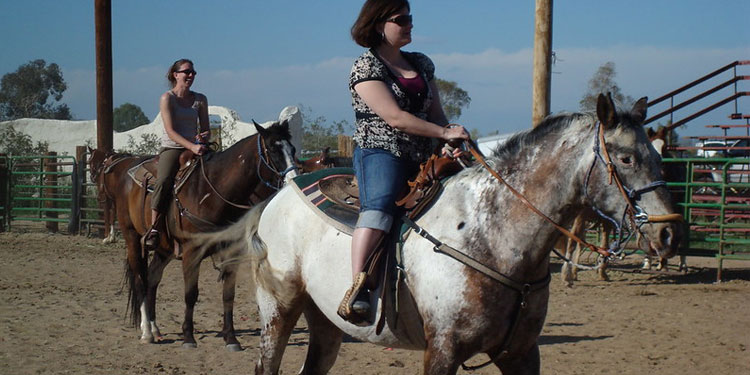 Location: 1231 E Ardmore Road, Phoenix, AZ 85042
Opening hours: Monday- Saturday, 10:00 am - 8:30 pm (Opens at 6:00 am on Thursdays)
Cost: Arena riding starts at $1 per minute (min time 60 mins)
Best time to visit: Summer evenings
A romantic sunset horseback ride in the deserts of Phoenix is what Robinson Ranch has on its platter for couples.
Located in the southmost area of Phoenix, the ranch is surrounded by a stunning view of South Mountain Park.
From beginner to advanced level, the ranch has horseback riding sessions for every kind of equestrian lover.
Take horseriding lessons to learn the proper mounting, riding, gaining, and horse grooming lessons from the experts.
A Short Drive to Dobbins Lookout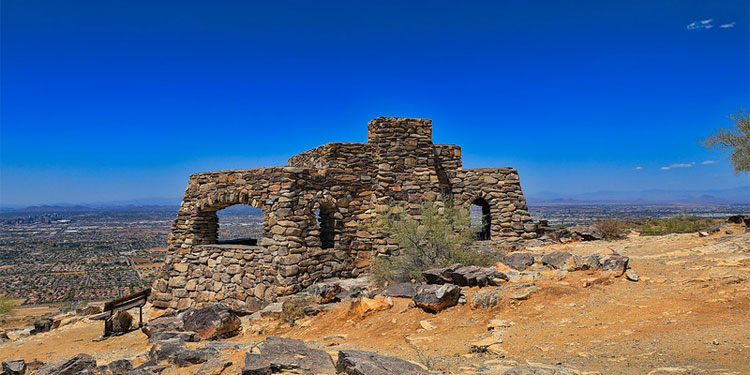 Location: North Summit Road, South Mountain Park, Phoenix, AZ 85042
Opening hours: Open daily, 5:00 am - 7:00 pm 
Cost: Free access
Best time to visit: Spring
Go for a short drive with your beloved to Dobbins Lookout through the scenic route of Hobert Trail in South Mountain Park.
With an elevation of 2330 feet, it is the park's highest point from where you can get a clear and beautiful view of bustling Phoenix City.
It is one of the best spots in the city to get a mesmerizing view of desert sunsets. And a good photo opportunity, indeed!
You can also access this observation through 3.4 miles out and back trail.
Tip: Put your puts on a leash if you bring one.
Watch a Performance at Orpheum Theater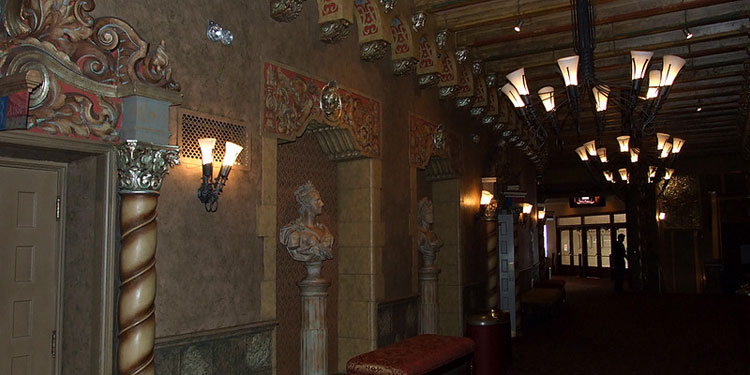 Location: 203 W Adams Street, Phoenix, AZ 85003
Opening hours: Monday - Friday, 10:00 am - 4:00 pm
Cost: Ticket prices varies with performances
Best time to visit: Summer evenings
With Spanish Colonial Revival architecture, the historic Orpheum Theater of Phoenix offers couples a traditional theater date opportunity.
This 1364-seater theater initially used to be a hub to showcase vaudeville acts until it was renovated in the setting of beaux arts style to present live acts.
Not just the theatrical performances but the artistic construct and architectural grandeur of the theater itself are undoubtedly worth a visit.
The theater also organizes fundraiser shows, events, and comedy stands ups in addition to the regular performances.
Tip: Check the official website for the current playing act before visiting.
Hot Air Balloon Flight with Champagne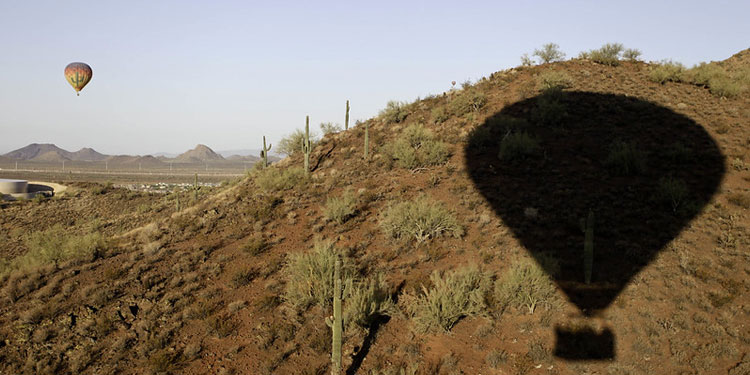 Location: 702 W Deer Valley Road, Phoenix, AZ 85027
Opening hours: Open daily, 5:00 am - 6:00 pm
Cost: Ranges from $169 - $599 per person
Best time to visit: Early mornings
Enjoy a champagne toast mid-air on a hot-air balloon ride with your loved one over Phoenix's red rocks and sandy deserts.
You can observe breathtaking views of Phoenix's Moutain reserves, sandy deserts, and Saguaro cactus, only found in the Sonoran desert.
Book the private hot air balloon ride with Hot Air Expeditions to make it more intimate. Level it up with a snacks basket and a bottle of champagne.
And if you want to make the trip more enjoyable, register for the Hot Air Balloon Weddings available only in Phoenix.
Explore the Downtown Phoenix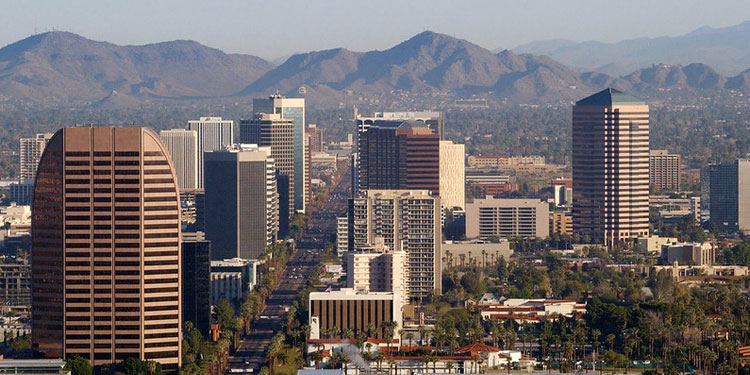 Location: 1 E Washington Street, Suite 230, Phoenix, AZ 85004
Opening hours: Monday - Friday, 8:00 am - 6:00 pm
Cost: Free access
Best time to visit: Evenings
Explore the urban highlights of downtown Phoenix, to sum up your romantic endeavor in the city.
You can get a glimpse of the arts and culture of the city at the convention center, art centers, and various museums situated in this part.
Restaurants, bars, and live music sessions are other pleasing ways to spend some quality time with your partner.
And remember to go on a shopping spree at the CityScape Phoenix complex to escalate the experience.
Dinner Date Options in Phoenix
What can be more romantic than a candlelight dinner with your lover?
Many thematic restaurants are serving local and international cuisines to food enthusiast couples.
The most recommended choices include The Capital Grille, Postino B-Side, and Steak 44.
And for the best dessert, visit Novel Ice Cream and Sweet Republic.
Wrapping Up the Romance
It is pretty evident that the desert town of Arizona has a little bit of everything to make it a romantic town.
Being a desert, the weather is usually sunny and warm, varying from 45 degrees to 107 degrees Fahrenheit.
Hence afternoons are best suited for most of the activities in winter, while mornings are fit for summer.
And for couples, every weather is fit for romantic adventures. So book the resorts and get on a flight as most happening dates await.
Let love flourish!
Note: Keep in mind that information about travel can change quickly. To make sure your trip is fun and safe, we encourage you to double-check official websites and government/travel advisory sites for the latest information on travel restrictions, entry requirements, and safety measures.