Adorned in hues of the bright orange sun, rocky mountains, open landscapes, and clear blue skies, Sedona is heaven for a romantic getaway.
Whether you are up for a weekend of dating or long honeymoons, you can find infinite possibilities for outdoor recreation and adventures.
You can hike up the rocky Devil's Bridge trail, ride a bike on Bell Rock or take a relaxed city excursion tour on the lovely Pink Jeeps.
Or else explore the downtown restaurant and wineries while going on a shopping spree to the infamous Tlaquepaque Arts & Shopping Village.
And if you are a spiritual couple, the four vortexes in the city are the best places to meditate, heal and gather that positive spiritual energy.
Go through the following list of the best things to do in Sedona for couples to explore the best romantic activities in the city.
Explore the City on a Pink Jeep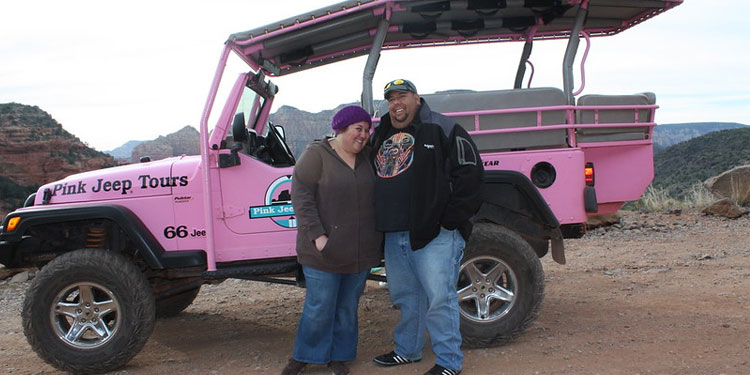 Location: 204 N State Route 89A, Sedona, AZ 86636
Opening hours: Open daily, 7:00 am -8:00 pm
Cost: Normal tour: $49 - $259 Per person & Private tours: $623 - $1890
Best time to visit: Summer and Spring
Explore Sedona's red rocks and desert scenario on the bumpy yet exciting Pink Jeep tours with your partner.
You can take a tour of specific landmarks like Broken Arrow, Ancient Ruin, and Red Rock, or opt for the inclusive Combo tours.
And the knowledgeable guides will narrate these sights' historical, cultural, or natural importance.
For a more personal touch, book this agency's private Jeep tours.
Tip: If you are in the city for your honeymoon, book the private tours for more privacy.
Mountain Biking at Bell Rock Loop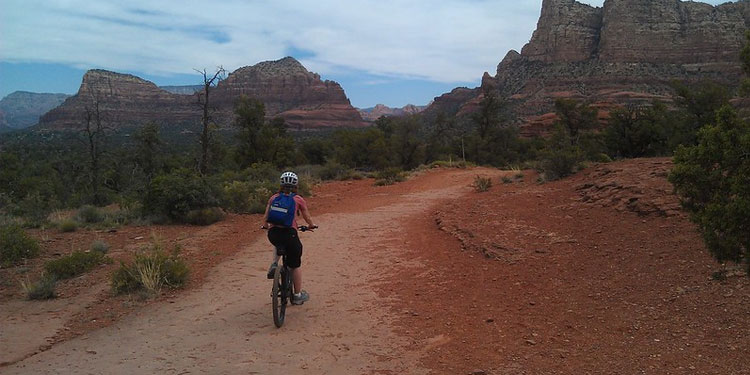 Location: 4999 State Route 179, Sedona, AZ 86351
Opening hours: Open 24 hours
Cost: Red Rock Pass of $5 required
Best time to visit: Spring and Fall
Difficulty level: Moderate
Explore the beauty of Sedona on a rocky bike ride with your partner on the dirt road of Bell Rock Loop.
This moderately difficult bike trail with an elevation gain of 700 feet is an excellent way to experience mountain biking, even for beginners.
You can choose from different trails ranging from a mile long to 1.5 miles depending on your chosen route.
And the trail is decked up with beautiful views of the dome-shaped Bell Rock and Courthouse Butte formations at multiple sites.
Tip: Control your speed and be prepared to stop anytime, as you will most likely encounter pedestrians on this route.
Horseback Ride on Templeton Trail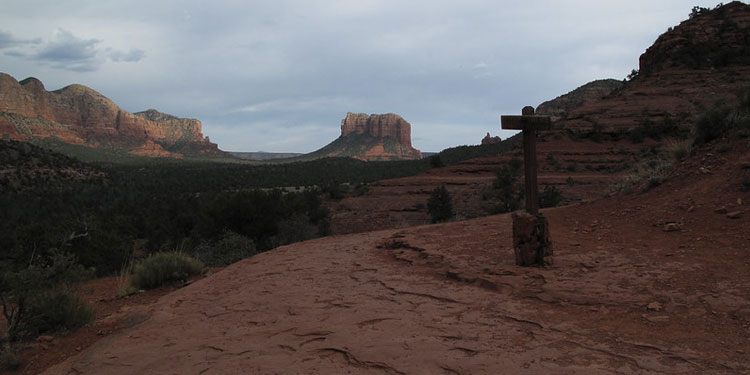 Location: Yavapai County, Sedona, AZ 86531
Opening hours: Open 24 hours 
Cost: Requires Red Rock Pass of $5
Best time to visit: Spring through Fall
Enjoy the scenic beauty of Cathedral Rocks with your partner on a horseback ride on the 3.5 miles long Templeton trail.
You can access the trail from four points: the BellRock Pathway, Cathedral, Baldwin, and Little Horse Trail.
As you continue, the trail divides into two different pathways. The right one will lead you through cliffs to Oak Creek Canyon.
Whereas the left one takes you around Cathedral Rock and across slick rock ledges to the Bell Rock Pathway.
The Bell Rock Pathway is more suited for a hike than horseriding.
Drive Along the Oak Creek Canyon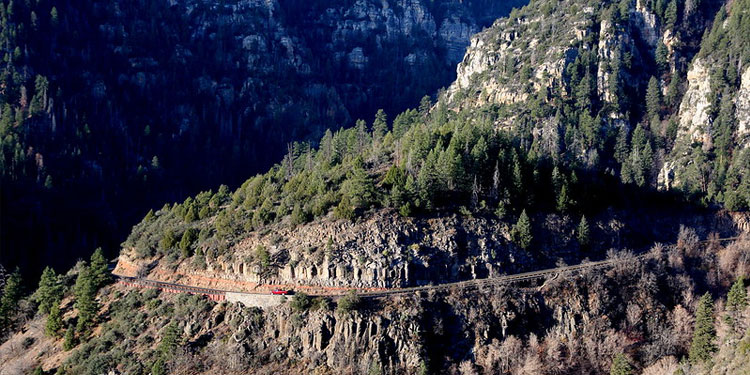 Location: Oak Creek Canyon, AZ 86336
Opening hours: Open 24 hours
Cost: Free
Best time to visit: Springs
Expanding over two main cities of Arizona, the Oak Creek Canyon has one of the most scenic drives in America, leave alone Sedona!
You can go for a romantic long drive with your partner on the 30 miles road along the canyon stretching from Sedona to Flagstaff.
Or else camp alongside the canyon while enjoying fishing and picnicking with a scenic view of red rocks.
Some of the common finds in these waters are Rainbow trout, Gila trout, and Wild brown trout.
Take Blessings at Sedona's Chapel of the Holy Cross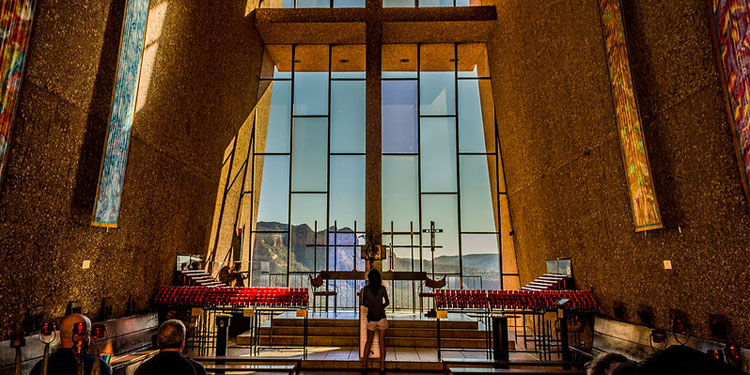 Location: 780 Chapel Road, Sedona, AZ 86336
Opening hours: Open daily, 9:00 am - 5:00 pm
Cost: Free entry
Best time to visit: Early morning
Count your blessings at the Chapel of Holy Cross, one of the soothing vortex sites of Sedona.
Located in Coconino forest premises, this 250 feet high Roman Catholic Chapel was designed by architects Richard Hein and August K. Strotz.
You can also book the chapel for weddings just at the price of $1925.
And don't forget to get an outstanding photoshoot with the scenic backdrop of red rock buttes at this site.
Note: Weddings can be held only after 5:00 pm from Tuesday to Friday.
Picnic Date at Crescent Moon Picnic Site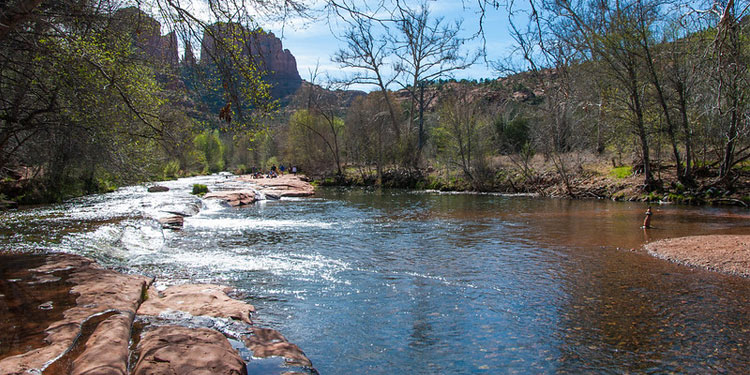 Location: 333 Red Rock Crossing Road, Sedona, AZ 86336       
Opening hours: Open daily, 7:00 am -7:00 pm (Subject to change seasonally)
Cost: $3 per person ($12 per vehicle for up to 5 people)
Best time to visit: Spring through fall
Surprise your lover with a picnic date on the Crescent Moon Picnic Site located south of Sedona, nearby Oak Creek Canyon.
The site is easily accessible from the city center and has amenities like picnic tables, drinking water, and washrooms to facilitate visitors.
You can chill while enjoying a picnic in the park or go for a swim and fishing in the canyon.
With the stunning Cathedral Red Rocks towering over it, the site also holds fantastic opportunities for pre-wedding photoshoots for couples.
Note: You can also reserve the site for weddings with a charge from $100 -$160, depending on number of guests.
An Evening at Sedona Stargazing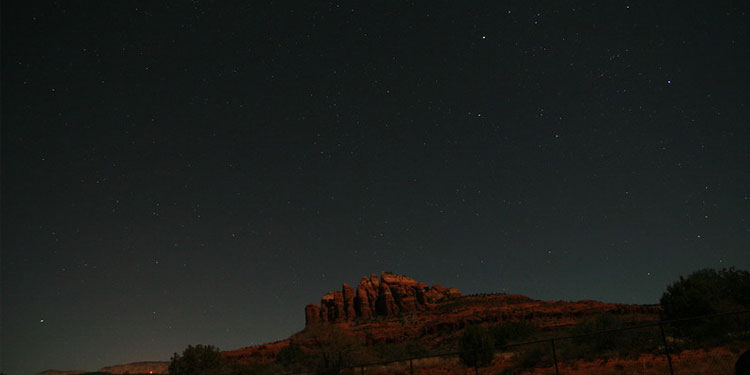 Location: 460 Harmony Drive, Sedona, AZ 86336
Opening hours: Open daily, 10:00 am - 10:00 pm
Cost: $120 per adult
Best time to visit: May to late June
Reignite the romance with your partner on a stargazing tour of Arizona's night sky from Sedona.
In this excursion, professional astronomers will guide you through the astronomical wonders using specialized telescopes and a high-powered laser pointer.
Take a stargazing tour and see a close-up view of the solar system, star clusters, other planets, galaxies, and nebulas.
The NASA & UFO stories and jokes of the astronomers are the cherry on top of the experience.
Tip: Come on clear days to get a clear view of the stars.
Visit the Sedona Crystal Vortex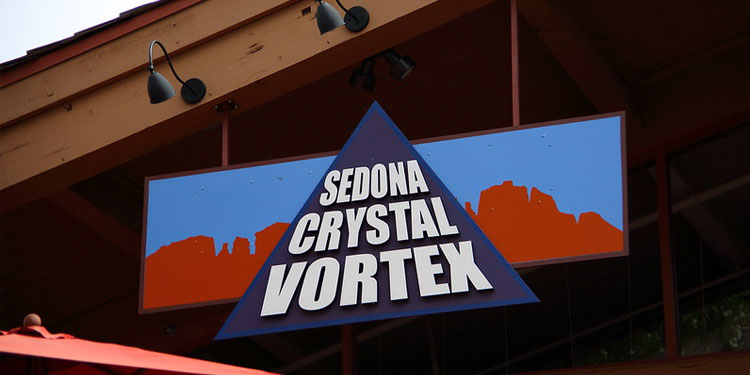 Location: 300 N State Route 89A, Sedona, AZ 86336
Opening hours: Open daily, 9:00 am - 8:30 pm
Cost: Free access
Best time to visit: Early evenings
Wander off in Uptown Sedona with your spouse to explore the award-winning crystal shop in the city, the Sedona Crystal Vortex.
You will find everything from an array of crystals and minerals to massages and auro readings at this single stop.
You can also get a walk-in psychic reading session with a gifted expert at this shop.
And don't forget to buy handcrafted gifts and crystal jewelry for your beloved.
Note: The store is also located at 270 N State Route and 284 Jordan Road; you can visit the one that suits you most.
Shopping at Tlaqyepaqye Arts & Shopping Village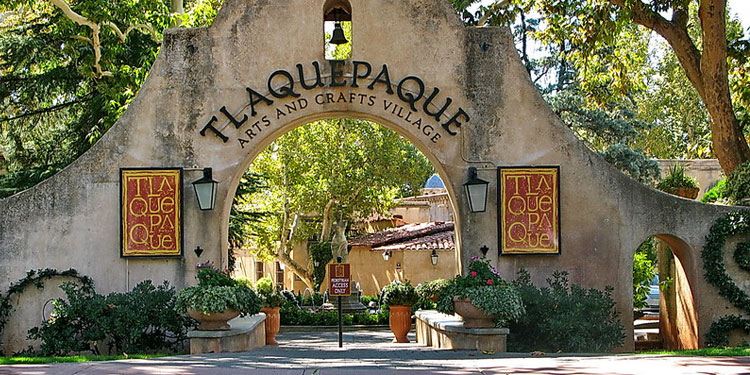 Location: Tlaquepaque 336 State Route 179, Sedona, AZ 86336
Opening hours: Monday- Thursday, 10:00 am- 5:00 pm & Friday -Saturday, 10:00 am -6:00 pm
Cost: Entry is free
Best time to visit: Summer and Spring evenings
It wouldn't be a lie to say that Tlaquepaque Arts & Shopping Village is not just a tourist attraction but a wonderful oasis of stunning sceneries.
The stone-paved paths and decorated arches in these outdoor markets are very romantic to walk on.
You can shop for every from clothes to crafts in 45 different specialty shops in this shopping village.
And the on-site Rene Restaurant and Wine Bar is a good place to spend a fine evening with your beloved.
Long drive in Red Rock Scenic Byway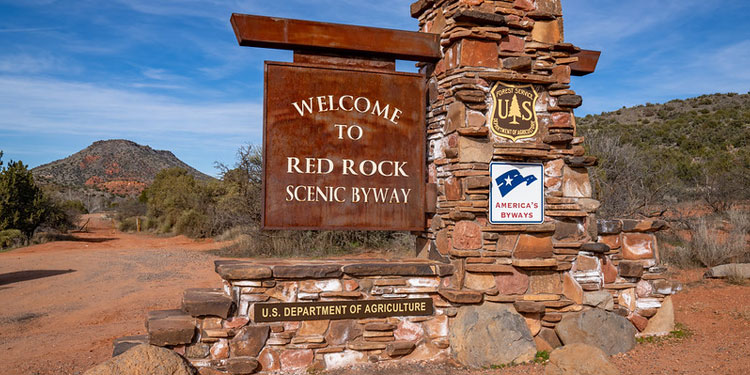 Location: 8375 State Route 197, Sedona, AZ 86336
Opening hours: Open 24 hours
Cost: Free access
Best time to visit: Springs
Nothing can be more romantic than a long drive on a scenic road. That's precisely what you get at the Red Rock Scenic Byway in Sedona.
Stretching from U.S. Interstate 17 in the Southern end to Arizona State Route 89A in the north, it covers a distance of 15 miles.
This rocky road goes through the red-rock formations of Sedona and the pine forests of Coconino National Forest.
You can also explore the iconic Sedona Landmarks like Cathedral Rock, Bell Rock, and Chapel of the Holy Cross en route.
Tip: Be cautious while you drive since the road is curvy in some places.
Water to Wine Kayaking Tour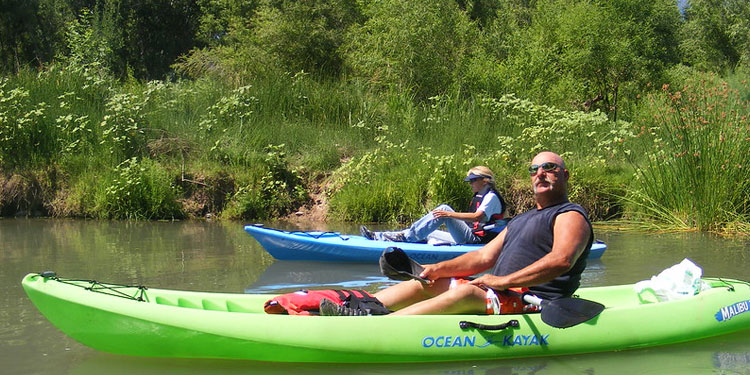 Location: 1034 n main Street, Sedona, AZ 86326
Opening hours: Multiple times a day, February - November (Check website for detail)
Cost: Ranges from $97.25 - $107.25 
Best time to visit: February
Couples can enjoy water to a wine tour of Sedona and the nearby Verde Valley on a Kayak over the Verde River.
With an inflatable duck kayak, many tourist adventure companies in the city provide these tours to wine enthusiasts.
You will get a chance to explore the vineyards and enjoy the award-winning wines of Alcantara Vineyards on the Verde Valley Wine Trail.
Tip: Wear appropriate clothing to protect yourself from the sun and bring your ID for wine tasting.
Take Airtours of Sedona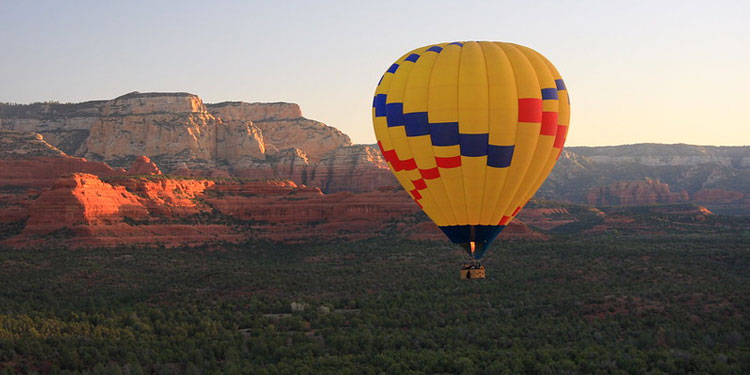 Location: Sedona, AZ 86336
Opening hours: Open daily, 9:00 am - 5:00 pm
Cost: Ranges from 
Best time to visit: Summer and Spring
To accentuate the romantic experience, explore the red rocks of Sedona on a hot air balloon or the heli-tours.
The privately owned Sedona Air Tours company provides an eagle-eye view of the city's historical landmarks with a heli-tour.
Depending on your chosen package, the duration ranges from 15 to 50 minutes.
But if a hot-air balloon ride with a bottle of champagne is more your thing, then book one at the Red Rocks Balloons.
You can glide over the beautiful red rocks with a fascinating wildlife site and other natural wonders of Sedona.
Although the flight time is 1-1.5 hours, the entire experience will last 4 hours.
Wine Dates in Sedona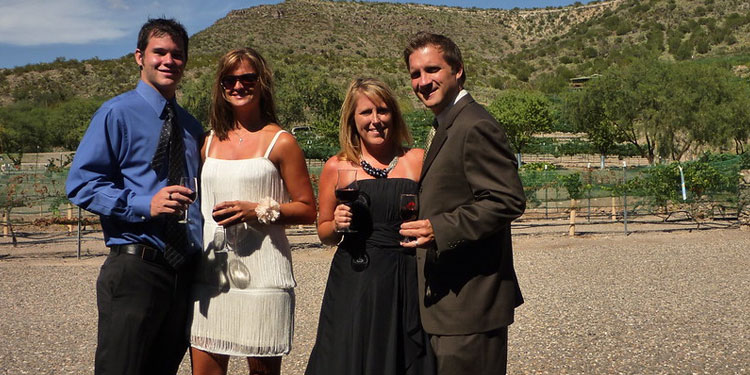 What else can be a better way to spend quality time with your love other than a romantic wine date?
Sedona offers the best wineries for couples who are passionate about wines and the winemaking process.
Whether you take the wine tours or spend a dining and wine evening at some wine bar, you will get to taste what the city offers.
Some top picks for classic wine dates are Winery 1912, The Art of Wine, and Vino Di Sedona.
These wine bars also have amazing food and live music events on the weekends to entertain the guests.
And for a vineyard tour and wine tasting, Oak Creek Vineyard is one of the best options.
Best Dinner Date Options in Sedona
Dinner dates are another good way to spend romantic time with your partner in Sedona.
The Mexican cafe, Matisposa, is best for lunch and dinner with a view of red rocks. You should definitely try the Latin-inspired grilled steak here.
You can also enjoy terrace dining overlooking the Oak Creeks at the Saltrock Southwest Kitchen located in uptown Sedona.
It is best for dinners and margaritas, especially spiky, smoky west-fork margaritas.
However, if you want to take your partner to a fine-dining Italian restaurant, then Cucina Rustica is just there.
It is a beautifully decorated restaurant fit for dinner dates. Reserve an outdoor patio for a private and fun experience.
Note: Check the website for reservation.
Wrapping Up the Romantic Adventure
More than adventure and exploration of natural wonders, there are many other activities to enjoy in the desert town of Arizona.
You can relax with a Couple Spa at L'Auberge de Sedona Resort or cleanse your soul in a spiritual retreat at Amara Resort located in the vortex sites.
Hurry up and book your flight for a honeymoon adventure in Sedona.
Keep the romance flourishing!
Note: Keep in mind that information about travel can change quickly. To make sure your trip is fun and safe, we encourage you to double-check official websites and government/travel advisory sites for the latest information on travel restrictions, entry requirements, and safety measures.