It's true when people say Las Vegas looks the way you would imagine heaven must look at night.
Regarded as a city built on hopes, dreams, and a little bit of crazy, this Sin City is the ultimate destination for couples to relish their time together and create fun memories.
From dining at Michelin-Star Picasso Restaurant to getting lost in the famous downtown with glistering neon lights of Fremont Street, Vegas will time and again steal your heart with its charm.
But the fun doesn't just stop at commercial entertainment!
Stunning landmarks like Seven Magic Mountains and Lake Mead are also here to make you go awe-struck by their natural beauty.
This marriage capital of the world will let you experience some of the most insane parties, laying odds, and happening nightlife.
Hope you're ready for all the excitement that awaits both of you in Vegas – the city that never sleeps!
And for better planning, make sure you go through this specially curated list for couples about the best things to do in Las Vegas.
Things to Do in Las Vegas for Couples
Evolution Expeditions: Soul of Emerald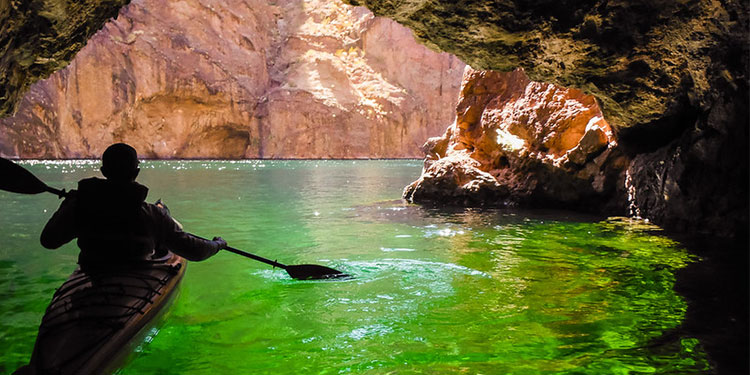 Address: 1055 E Flamingo Rd, Las Vegas, NV 89119
Opening hours: Everyday 7 am - 9 pm
Costs: Starts from $109.99
Who would have thought that amongst the glitter and lights of Vegas lies a stunning Emerald Cove?
Located on the Colorado River, the cave's water and wall are emerald in color, making it a visual spectacle to behold.
So plan to explore this scenic beauty in the best way possible via kayaking.
Evolution Expeditions are the best kayak service provider in town. They have various kayak packages, like Kayak Hoover Dam and Hot Springs Hike.
You also have the option to either rent a kayak and wander around independently or go for a guided tour.
Gondola Ride: Rock the Boat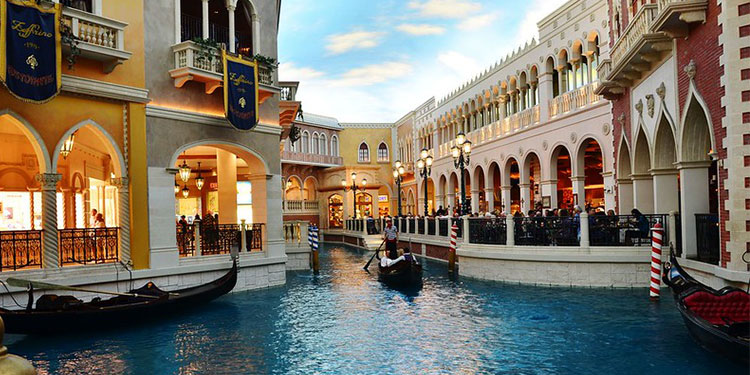 Address: 3355 S Las Vegas Blvd, Las Vegas, NV 89109,
Opening hours: Sun- Thu (10 am - 11 pm), Fri - Sat (10 am - 12 am)
Costs: $34/person (Tue-Wed), $39/person (Thur– Mon)
Right in the heart of Las Vegas, there's a gorgeous Venetian Lagoon with numerous intimate gondolas where you can swiftly sail away with your partner.
Due to its Venice-inspired architecture, including bridges and canals, the entire vibe of this place is highly romantic.
This beautiful elongated boat can fit up to four people, but you also can book the entire space for yourself to attain privacy and a quaint experience.
Note: You have two ride options to choose from – indoor and outdoor gondola rides.
Vegas Balloon Ride: Up, up, and Away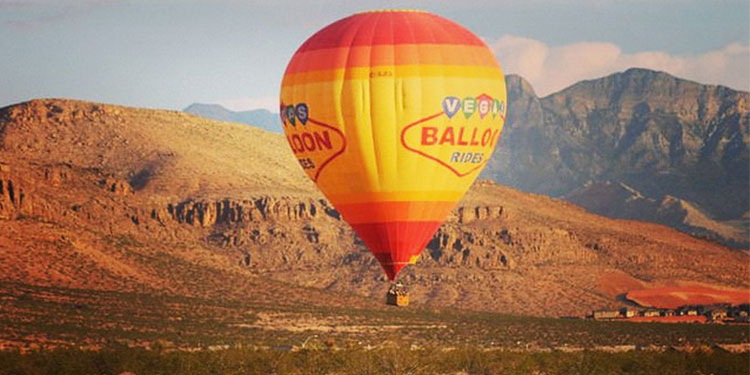 Address: 4390 Polaris Avenue, Las Vegas, NV 89103
Opening hours: Everyday 10 am - 6 pm
Costs: Starts from $299 for a sunrise flight
Vegas Balloon Ride will make you witness a breathtaking sunrise/sunset amongst the clouds!
Brace yourself to be up in the sky for about 45 mins watching a spectacular view of the Mojave Desert and surrounding mountains.
And after the ballooning to celebrate post-ride, the pilot gathers everyone to enjoy delicious snacks and champagne.
Also, if you're planning to pop in that big question, book their private flight, also termed as VIP Private Sunrise Flight- perfect for your special occasion.
Picasso Restaurant: Bon Appétit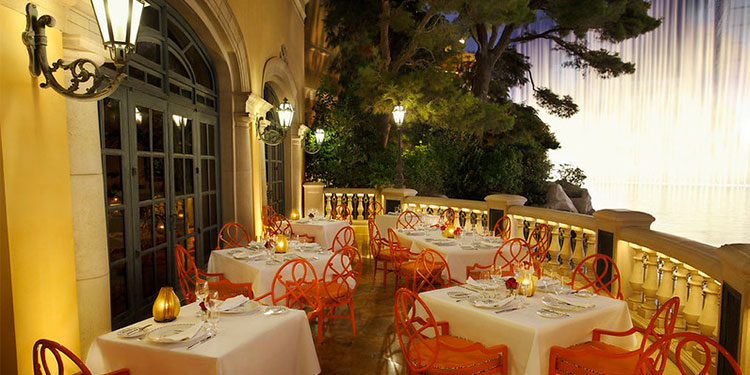 Address: 3600 S Las Vegas Blvd, Las Vegas, NV 89109
Opening hours: Wed to Sun (5:30 pm - 9:30 pm)
Costs: Varies as per Menu
This Michelin Star Restaurant is run by the famous chef Julian Serrano, so look no more if you're searching for an exquisite food experience in the neon capital of the world.
Offering scrumptious Spanish and French-inspired cuisines, there's no doubt about the food's taste and quality.
Make sure to try their special poached lobster and Sauteed Crispy Gnocchi. The restaurant also has vegan options; among the choices, Vegetable Paella is the best one.
The winner of the 'Grand Award' from wine spectator, you will find the finest wine collections at Picasso.
Tip: Book the balcony table to see the best view of Bellagio Falls
Seven Magic Mountains: Hello Mojo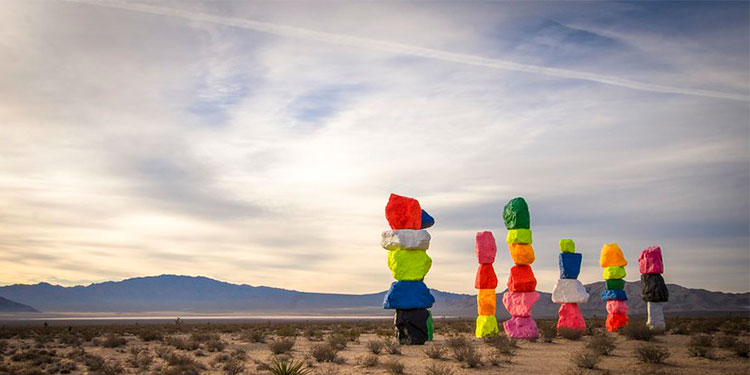 Address: S Las Vegas Blvd, Las Vegas, NV 89054
Opening hours: Opens 24 hours 
Costs: No entry fee
Seven Magic Mountains is a unique art installation of colorful boulders stacked together, creating a 30 feet tall tower-like structure.
This creative human-made landmark is located in the middle of a desert making the seven magic mountains stand out –quite an eccentric scene to look at!
The art is a symbolic representation of the natural world and the colorful Vegas world coming together.
Note: This area is windy and humid, so visiting the seven Magic Mountains during sunset is recommended.
NoMad Library Restaurant: Wrapped Up in Books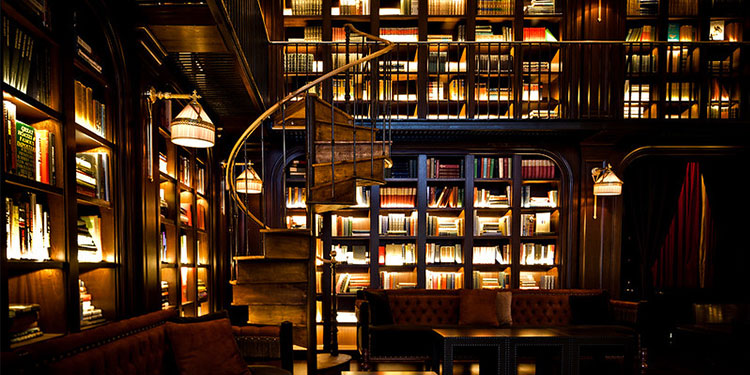 Address: 3772 S Las Vegas Blvd, Las Vegas, NV 89109
Opening hours: Thu to Mon (5 pm-10 pm)
Costs: Varies as per menu
A royal dining experience amidst 20,000 books shelved, an antique French mantle, and three-tiered chandeliers, NoMad Library Restaurant is an iconic eatery of Las Vegas.
Apart from being a unique space, this library restaurant is most famous for having theatrical and luxurious food items.
Like the smoked caviar that is presented with a cloud of actual smoke!
They also have an incredible high-end wine collection, from the 2019 Karia Chardonnay Napa Valley to the 2020 Sainte Claire Chablis.
Prepare to spend a romantic wine and dine at this utopian regal restaurant library.
Madame Tussauds Las Vegas: Statues and Stories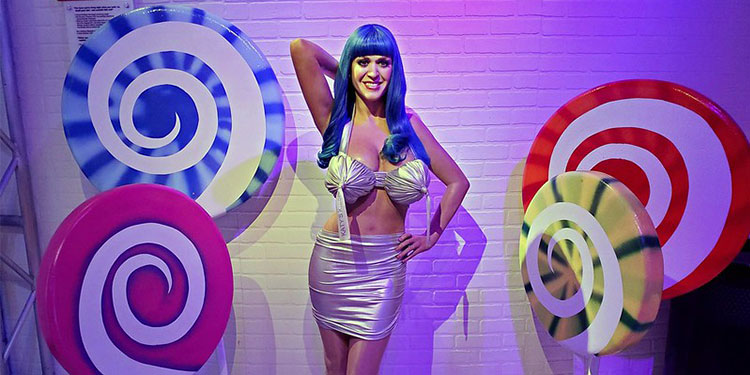 Address: 3377 S Las Vegas Blvd Ste. 2001, Las Vegas, NV 89109
Opening hours: Everyday 10 am - 8 pm
Costs: Starts from $43.99
Madame Tussauds Las Vegas is a fun space with over 100 wax figures of celebrities and famous names from athletes to Marvel superheroes.
Seeing replicas of some of the big names in the world is always fun!
So buckle up to see life-size replicas of stars like Elvis Presley, Jeniffer Aniston, Beyonce, Will Smith, Britney Spears, and so on.
Also, there are fun sections to have a wholesome experience, like seesawing in front of Snoop Dog and living the scene of Miley Cyrus's wrecking ball by actually sitting on a replica of the music video's ball.
You can also create your own waxed hands next to Andy Warhol.
Food Tours of America: Life is a mix of Food & Fun
Address: 2620 S Maryland Pkwy suite 14-958, Las Vegas, NV 89109
Opening hours: Everyday 8 am- 6 pm
Costs: Starts from $115
The best way to understand any place, city, or town is by learning and indulging in its food culture.
With Food Tours of America, you will experience the food scene in the best way possible in this world's entertainment capital.
The food tours will take you on a gourmet adventure, tasting different culinary items from some of the fantastic restaurants in the city.
The entire journey will be accompanied by a professional guide that will teach you everything about Vega's delicacies.
Note: They have a variety of food tours catering to specific types, such as private, corporate, and custom tours.
Elvis Wedding Chapel: And darling, I will be loving you 'til we're 70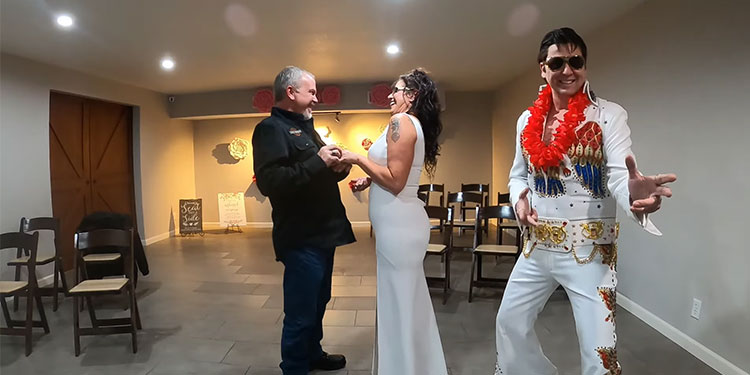 Address: 2207 S Las Vegas Blvd NV 89104
Opening hours: Everyday 8 am - 10 pm
Costs: Starting from $249
What can be more romantic than promising to spend the rest of your life with your beloved?
Whether you want to get married or renew your vows, Las Vegas Elvis Wedding Chapel is the best place in the entire city for every Lovey-Dovey gathering.
The ceremonies will be officiated by an almost identical Elvis Presley character singing the tunes of 'Can't help falling in Love with You.'
And according to your needs and desires, there are various packages to choose from – Love Me Tender, Viva Las Vegas, and Ultimate Elvis.
Minus5 ICEBAR: Winter Wonderland In Las Vegas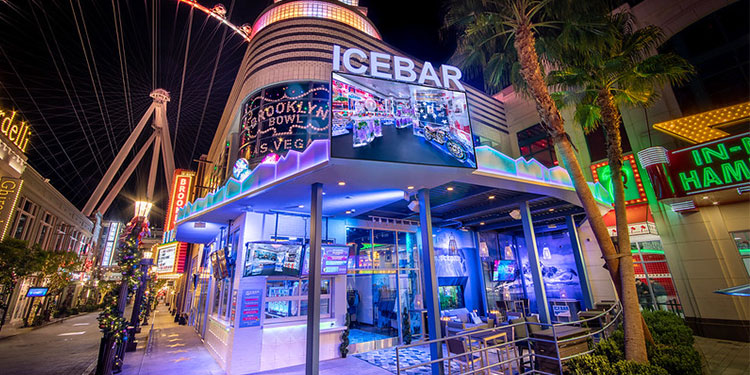 Address: 3377 S Las Vegas Blvd #2140, Las Vegas, NV 89109
Opening hours: Everyday 11 am - 11 pm
Costs: Starts from $24
Minus5 Icebar is 'THE CHILL' bar of Vegas located at the gorgeous Mandalay Bay Resort & Casino.
In this bar, get ready to see almost everything made of ice, including chairs, tables, and even the drink's glass!
At first, you will be given a soft furry jacket, wearing which you must enter into this -5 degrees Celsius winter haven.
And not only the vibe and drinks of this place are cool, but also the services they provide; there are sorbet-tasting games and a scavenger hunt.
Fremont Street: Wild In The Streets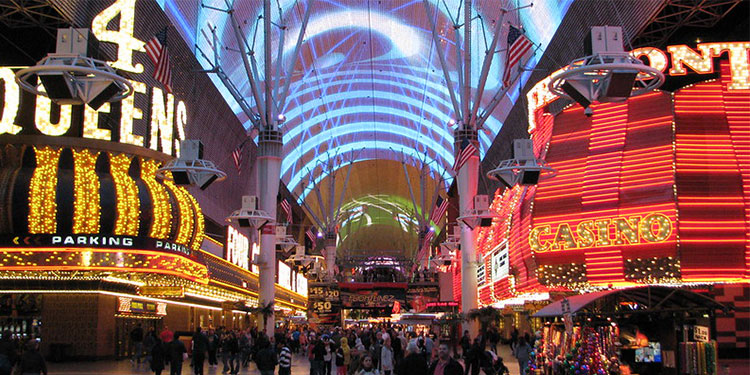 Address: 425 E Fremont St, Las Vegas, NV 89101
Opening hours: 24 hours 
Costs: No entry fee
One should not miss wandering around Fremont Street, which has the world's largest LED video screen, numerous street performances, bustling hotels, and casinos.
This street is also known as Las Vega's nightlife epicenter showcasing dazzling light shows and presentations in a massive LED canopy– Viva Vision.
Among many fun attractions, the SlotZilla Zipline is one of the popular attractions on this avenue because here, you can zipline right in the middle of the street.
There are just so many things happening on Fremont Street!
Lake Mead: Living The Lake Life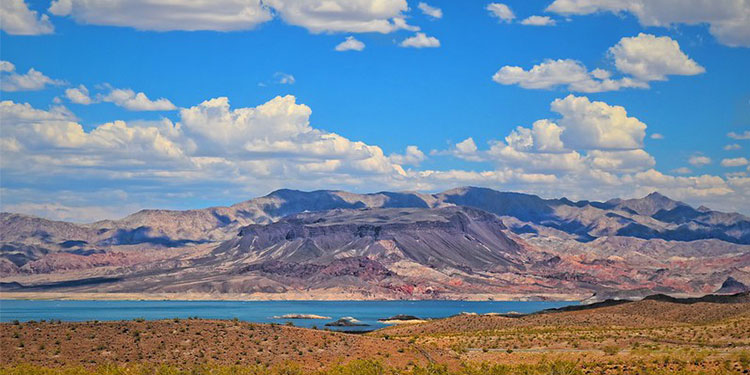 Address: 10 Lakeshore Rd, Boulder City, NV 89005
Opening hours: 601 Nevada Way Boulder City, NV 89005
Costs: $25 for a private vehicle
Lake Mead is the largest man-made reservoir in the United States, perfect for a quick getaway from the busy crowd of the Las Vegas strip.
You can enjoy a majority of the outdoor and water activities like scuba diving, boating, and camping while enjoying the surrounding desert scenery.
For couples, it's best to take up the sunset cruise on the lake, offering you a lovely setting for a romantic time with your partner.
The ravishing colors of the sky while the sun is setting and you're in the tranquil water are set to make your date unforgettable.
You Can't Buy Happiness, But You Can Go To Vegas
The brightest city on earth, Las Vegas, is THE PLACE to celebrate love and life at its fullest.
It's a no-brainer for love birds to gather many memorable experiences, whether it be visiting some of the best bars in the world or crazy nightlife experiences at renowned lounges and nightclubs.
When it comes to pleasure –Vegas is the answer, no matter the question!
So that's why couples are bound to immerse themselves in this city's romance, luxury, entertainment, and unique experiences.
And while you're at it, take advantage of diving into therapeutic activities like a relaxing couple's spa and massages for the best unwinding and detox sessions.
Goodbye reality, hello Vegas!
Note: Keep in mind that information about travel can change quickly. To make sure your trip is fun and safe, we encourage you to double-check official websites and government/travel advisory sites for the latest information on travel restrictions, entry requirements, and safety measures.