Sedona is an extraordinary place whether you are up for an adventure or seeking a relaxing family holiday.
From breathtaking Red rocks to historic sites and healing vortexes, this desert town of Arizona has it all!
Various types of landscapes formed of these red rocks hold boundless outdoor opportunities, including hiking, biking, and off-road jeep tours.
The Pink Jeep tour is undoubtedly a must for any first-time visitors.
If adventure isn't your thing, you can relax and meditate at the vortex sites like the Chapel of Holy Cross and Cathedral Rock.
You can check out nearby wellness resorts like Amara Resort & Spa and Enchantment Resort for long retreats and meditation.
Are you intrigued to find more?
Go through the following list of best things to do in Sedona, Arizona, to explore most of what the city offers.
Things To Do In Sedona, Arizona
Explore the Sedona Heritage Museum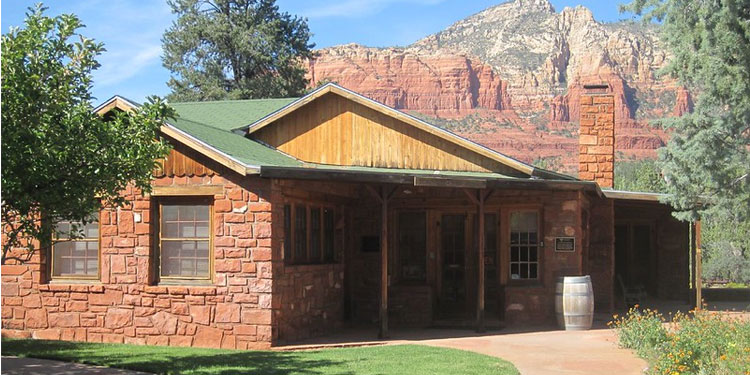 Location: 735 Jordan Road, Sedona, AZ 86336
Opening hours: Open daily, 11:00 am - 3:00 pm
Cost: Self-guided tour at $7; free for children under 13 (audio tour ranges from $3 - $7)
Best time to visit: Mid-day on weekdays
Begin your exploration of the city with a museum that gives insights into the beginning and development of Sedona.
Located in Jordan Historical Park, the Sedona Heritage Museum showcases the region's history from post-Civil War to the present.
You can find a regular exhibit of Early settlers, the Orchard industry, Ranching, and Cowboys, and old movies made in three buildings of the museums.
It also hosts several annual events like Veterans Day, Fall Arts & Craft Fair, Living History, Christmas In the Park, and many more.
Note:The museum is also available to reserve for weddings and other celebratory events.
Learn about Ancient Civilization at Palatki Heritage Site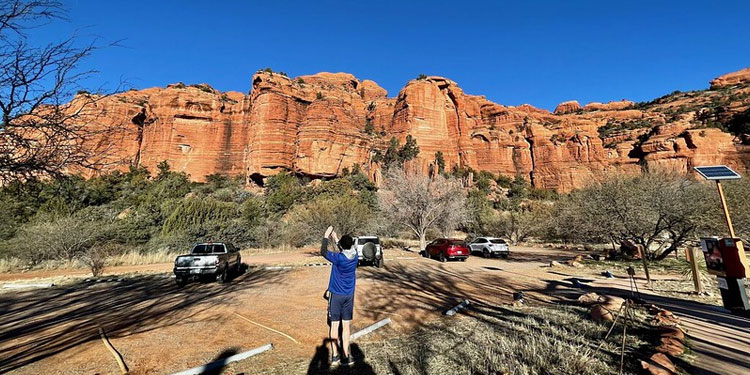 Location: 10290 N Forest Service Road 795, Sedona, AZ 86336
Opening hours: Open daily, 9:30 am - 3:00 pm (Closes at 12:00 pm on Wednesdays)
Cost: Free
Best time to visit: Spring and Fall
Get a glimpse of the Sinagua people of the Ancestral Puebloan civilization at the largest cliff dwellings of the Red Rock Country at Palatki Heritage Site.
Through the Rock imprints, Pictographs, and Petroglyphs on the walls of this site, you can learn about their lifestyle on red rocks between 1150 to 1350 A.D.
This site can be accessed through three hiking trails leading through Coconino National Forest.
You can also take an extended tour to explore nearby attractions such as Water Catchment, Bear Aclove, and Roasting Pit.
Note: Access to this area is free, but you would need a Red Rock Pass of $5 for your vehicle.
Hiking up the Cathedral Rock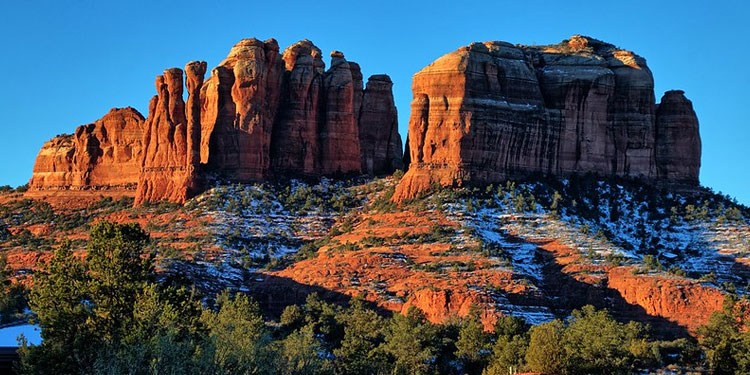 Location: Yavapai County, Sedona, AZ 86531
Opening hours: Open 24 hours
Cost: Free
Best time to visit: Spring through Fall
Difficulty level: Moderate with some difficult points
If an adventurous hike is your passion, visiting one of Sedona's famous vortexes is a must.
Soaring up an elevation of 1514 meters, Cathedral Rock stands out as the most vibrant and scenic hiking destination, with multiple trails of varying difficulty to choose from.
The most sought one is 1.2 miles of out-and-back trail with some difficult spots to climb.
You can also reach the top on your bike or horseback ride. But if you are hiking, make sure to wear proper hiking boots, as the trail is rocky.
Tip: Remember to click a picture with the beautiful backdrop of the Cathedral red rocks.
Stargazing Hike on the Airport Mesa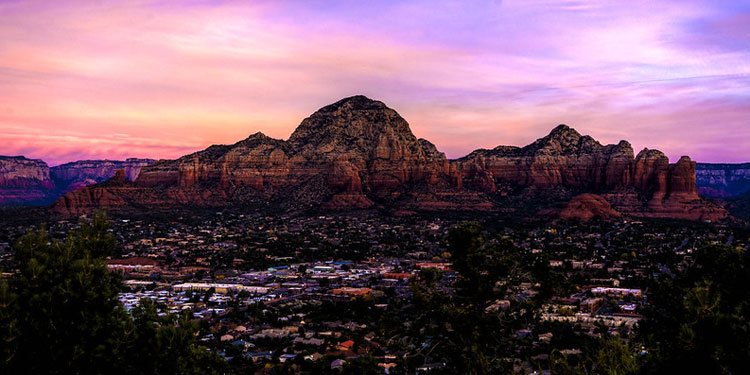 Location: 483 Airport Road, Sedona, AZ 86336
Opening hours: Open 24 hours
Cost: Free
Best time to visit: Evenings
Difficulty level: Moderate
For someone fond of stargazing, the other vortex of Sedona, Airport Mesa, is the ideal destination.
After a hike of 3.3 miles long loop around Tabletop Mountain, you can get a 360-degree view of the entire city from the top of this point.
It has unbeatable views overlooking Cathedral Rock, Courthouse Butte, Coffee pot rock, Chimney Rock, and Bell Rock.
And if you stay after sunset, you can get a glimpse of the Milky Way galaxy flowing like a frosted river of light over your head.
Tip: Check for fire danger before visiting in the summer.
Go for an Arch Hike at Devil's Bridge Trail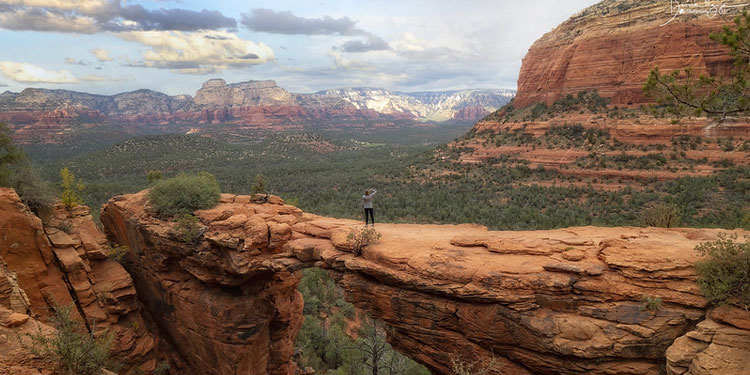 Location: Devils's Bridge Trail, Sedona, AZ 86336
Opening hours: Open 24 hours, 
Cost: Free
Best time to visit: Spring mornings
Difficulty level: Moderately challenging
Contrasting to the name it's been given, this second-largest natural sandstone arch is the most heavenly sight you will find in Sedona.
The infamous Devil's Bridge trail arch is formed by wind and weather erosion.
It is a 1.8 miles roundtrip to climb the 400-foot altitude of this landmark, including a mile-long Dry Creek Dirt road.
And as you climb, you can get the most scenic view of the city's red rocks, Sedona Verde Valley, and the Devil's Bridge itself.
Note: You can reach the top via a four-wheel Suv through Dry Creek Road.
Click a Picture at the Chapel of the Holy Cross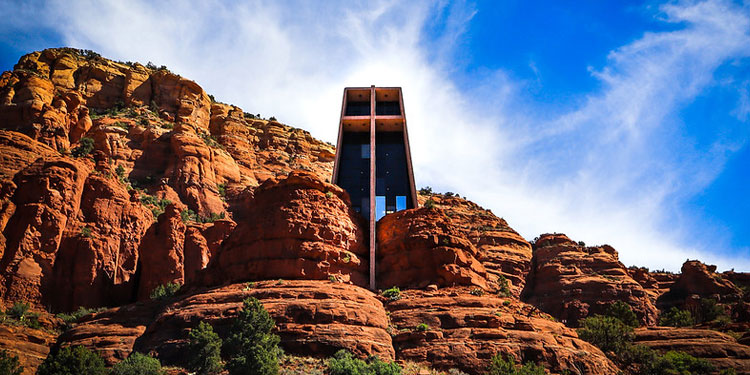 Location: 780 Chapel Road, Sedona, AZ 86336
Opening hours: Open daily, 9:00 am - 5:00 pm
Cost: Free access
Best time to visit: In the morning
The Roman Catholic Chapel built in red rock buttes of Sedona located within Coconino forest is a must-see wonder of the city.
Designed by architects Richard Hein and August K. Strotz, the Chapel is about 250 feet high and built to a twin pinnacled spur, jutting out a thousand-foot rock wall.
Along with the blessings from god, you can get a good photo opportunity with this scenic monument in the backdrop.
There's a Gift shop on-site where you can buy memorials of the Chapel.
Visit the Oak Creek Canyon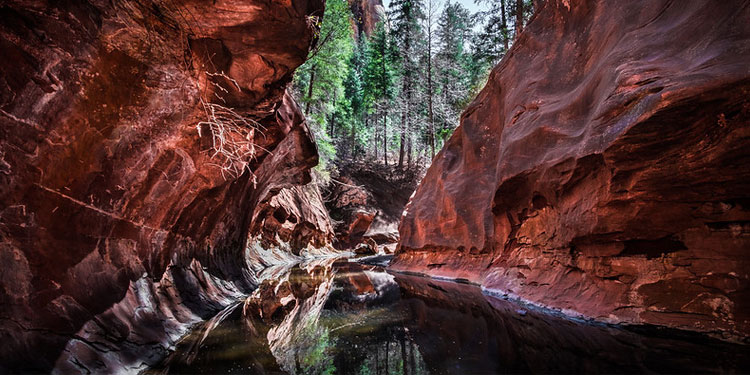 Location: Oak Creek Canyon, AZ 86336
Opening hours: Open 24 hours
Cost: Free
Best time to visit: Springs
Often called the smaller cousin of the Grand Canyon for its scenic beauty, Oak Creek Canyon is known as America's most scenic drive.
It is a 12 miles long river gorge connecting two main cities of Arizona.
With colorful rocks and unique formations, the 30 miles scenic route stretching from Flagstaff to Sedona along this canyon is best suited for long drives.
Once you reach there, you can cool off by swimming at the Red-rock River gorge or fishing for trout.
It is also fit for camping and picnics.
Explore the Red Rock State Park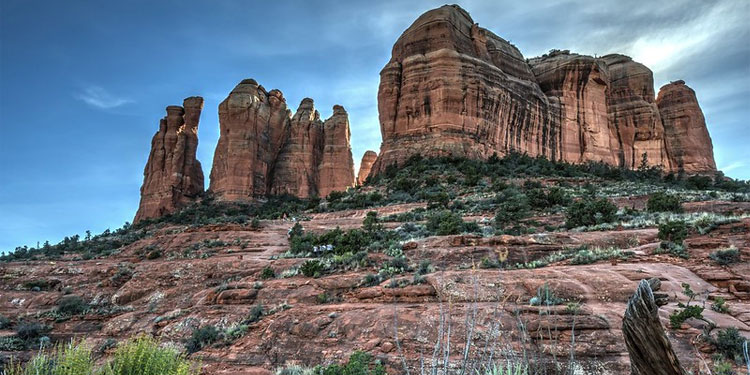 Location: 4050 Red Rock Loop Road, Sedona, AZ 86336
Opening hours: Open daily, 8:00 am -5:00 pm (Visitor center- 9:00 am - 4:30 pm)
Cost: Youth- $4 and Adults- $7
Best time to visit: Summer and Spring
Just five miles away from the city center, you can find one of the infamous landmarks of Arizona, the Red Rock State Park.
This 286-acre-wide natural reserve has a 5-mile-long hiking trail composed of interconnecting loops.
The eagle nest's loop leads to the highest point in the park, with an elevation gain of 300 feet.
You can also explore the on-site visitor center to learn about the area's history and take guided nature walks, bird walks, and moonlit hikes.
Tip: Make sure to stay on designated trails to avoid fines for invading the habitats of natural beings.
Note: Swimming and wading in the creek is strictly prohibited.
Wander Off at Slide Rock State Park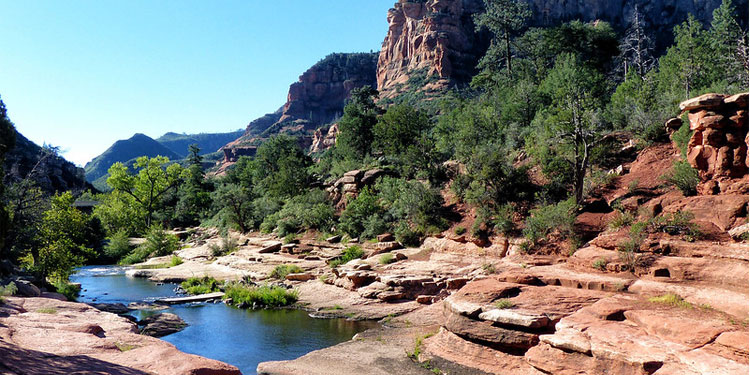 Location: 6871 North Highway 9A, Sedona, AZ 86336   
Opening hours: 8:0 am - 9:00 pm (Might vary seasonally)
Cost: $10 - $40 per vehicle (Subject to change)
Best time to visit: Fall and spring
Grab the chance to get lost in the natural abundance of Arizona in the Slide Rock State Park located in the Oak Creek Canyon.
The park gives access to half-miles of Oak Creek, where you can swim, slide and wade in the water as much as you like.
You may go for trout fishing or wander off in the protected apple orchard inside the park.
It annually organizes the Fall Fest Festival to celebrate fall.
You can enjoy interesting educational demonstrations and a picnic in the gorgeous park scenario in the fest.
Shopping Spree at Tlaqyepaqye Arts & Shopping Village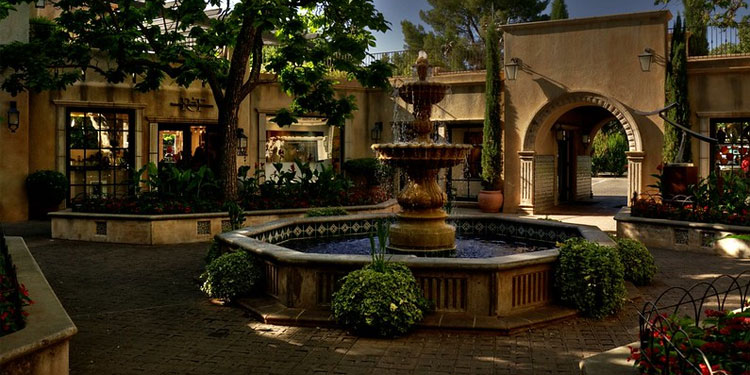 Location: Tlaquepaque 336 State Route 179, Sedona, 86336
Opening hours: Monday- Thursday, 10:00 am- 5:00 pm & Friday -Saturday, 10:00 am -6:00 pm
Cost: Free entry
Best time to visit: Spring evenings
Tlaquepaque Arts & Shopping Village is the historic landmark of Sedona that opened its doors to visitors in 1970.
Its outdoor markets, embellished with cobblestone paths and decorated arches, have attracted shopoholics and art enthusiasts of all ages.  
You can find everything from fine art to contemporary abstract art and accessories to handcrafted rugs at this village's 45 distinctive specialty shops.
You can also enjoy mouthwatering world-class cuisines at nearby restaurants like Rene, EL Rincon Restaurante Mexicano, Secret Garden Cafe, etc.
Take the Pink Jeep Tours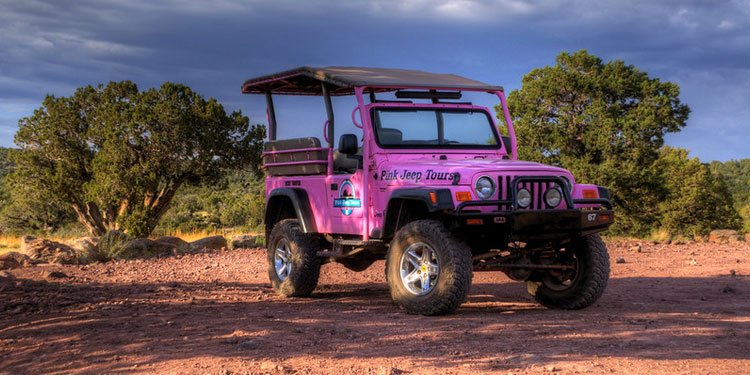 Location: 204 N State Route 89A, Sedona, AZ 86636
Opening hours: Open daily, 7:00 am -8:00 pm
Cost: Tour ranges from $49 - $259 per person (Separate range for private tours)
Best time to visit: Summer and Spring
There is no better way to explore the varied redrock landscapes of Sedona other than the exquisite Pink Jeep tours.
You will have several options of routes to choose from in these tours. Check the website of this sightseeing tour agency to find the one that suits you the most.
Some of the most preferred ones include Sedona 360 East tour, Red Rock range, Coyote Canyons, and Scenic Rim Combo.
The agency also offers private jeep tours if you want to explore the city's landmarks just with your loved ones.
Spa Day at L'Auberge de Sedona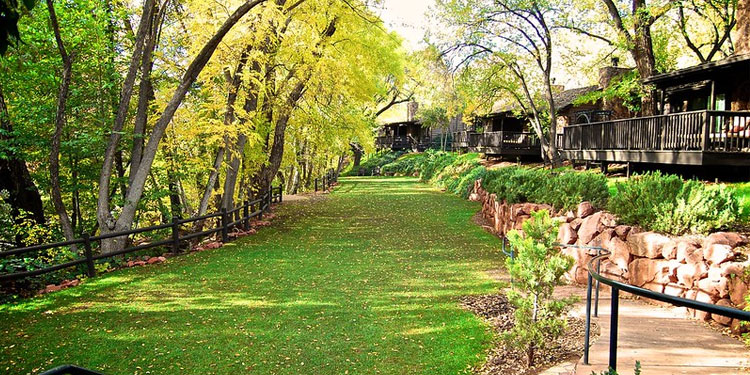 Location: 301 L'Auberge Ln, Sedona, AZ 86336
Opening hours: 9:00 am -8:00 pm
Cost: Packages range from $460 - $670
Best time to visit: Mid-day
What can be more relaxing than a spa session with a scenic lush forest and the soothing sound of rolling water?
The Spa center at L'Auberge de Sedona resort provides a holistic experience to its guests.
You can get everything from relaxing deep tissue massages to signature spa treatments using organic elements in this one place.
The center's experienced and highly attuned staff will tailor the treatments to meet your needs.
You can also make reservations for private spa sessions and therapies.
Tip: Book at least three days in advance for the spa.
Mexican at Elote Cafe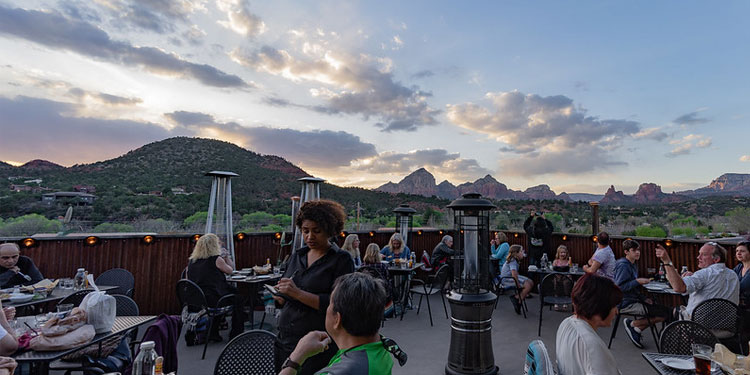 Location: 305 Jordan Road, Sedona, AZ 86336
Opening hours: Tuesday- Saturday, 5:00 pm - 9:00 pm
Best for: Dinner
Experience the fantastic Mexican cuisine at the bustling restaurant in Sedona's heart.
Ranked 6th best in Sedona, the restaurant is quite popular and highly recommended place to dine.
It is especially for its outstanding desserts and free margaritas.
Make sure to reserve in advance, as it will most likely be occupied all the time.
Pizza at Pisa Lisa Restaurant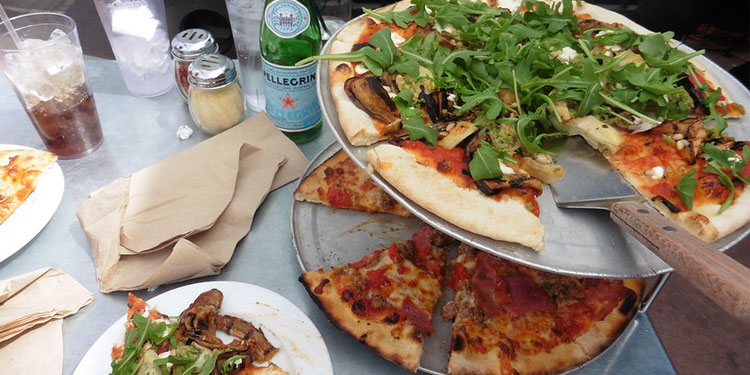 Location: 2245 AZ-89A, Sedona, AZ 86336
Opening hours: Open daily, 11:30 am - 9:00 pm (opens till 10:00 pm on weekends)
Best for: Lunch and Dinner
If you want the best woodfire pizza in Sedona, remember to visit Pisa Lisa.
This modern pizzeria has cozy seating with a bar and patio, which is fit for romantic dinners. You will also find wood-fired pies and gelato for desserts.
And don't stress about reservations, as the cafe has a first come, first serve policy.
Sedona Beer and Wine Company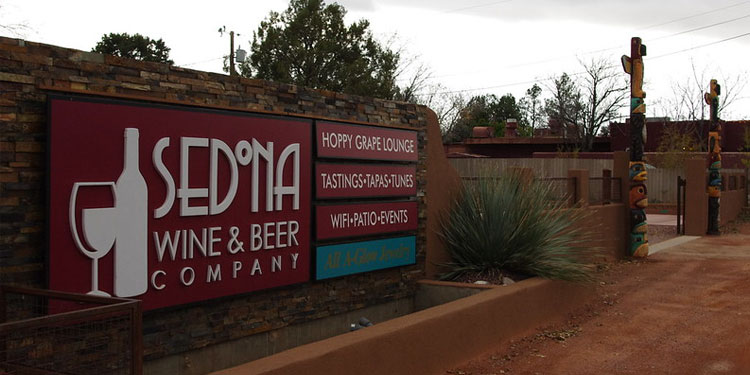 Location: 465 Jordan Road, Sedona, AZ 86336
Opening hours: Thursday - Monday, 12:00 pm - 8:00 pm
Best for: Crafted beers and dinner
Chill out with chilled crafted beers at the taproom of Sedona Beer Company with a view of the red rocks of the city.
The brewery has indoor and outdoor seating options and constantly rotating beer options for everyone to enjoy.
You can also find some mount-watering delicacies at their in-house restaurant. The menu keeps rotating with the beer options.
It is also well known for its wide range of fine wines.
Enjoy Music With Wine at Winery 1912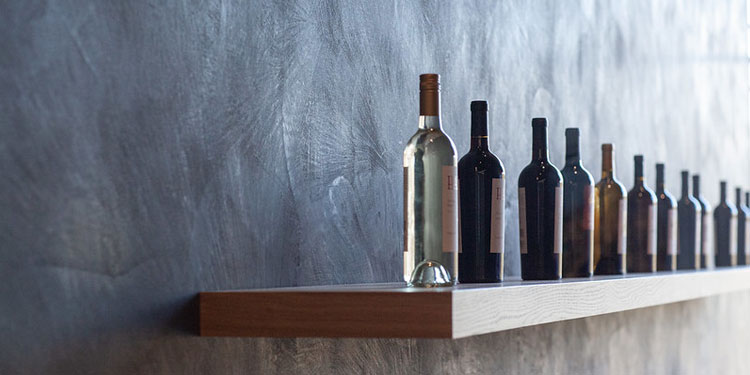 Location: 320 AZ-89A, Sedona AZ 86336
Opening hours: Open daily, 12:00 pm - 7:00 pm
Best for: Wine-tasting
With a stunning view of the mountain ranges of Sedona, you can enjoy a wide variety of Spanish and Iberian wines at Winery 12.
You can also sign up for a tour of their vineyard along wit the wine-tasting event for the best experience.
The winery also hosts live music events in the evenings every weekend with local artists to entertain the guests.
Scenic Tours of the City
Now that you've learned about Sedona's significant highlights plan your trip to explore most of the city.
And if you still need clarification about what to seek, take the guided tours.
Scenic Sedona Tours and similar other companies offer sightseeing tours on trolleys, jeeps, buses, and electric bikes.
Check the website and choose the scenic tour package that interests you the most.
Don't stop exploring!
Note: Keep in mind that information about travel can change quickly. To make sure your trip is fun and safe, we encourage you to double-check official websites and government/travel advisory sites for the latest information on travel restrictions, entry requirements, and safety measures.