Las Vegas, also known as the Brightest City on Earth, is the ultimate destination for spectacular parties, shopping, entertainment, and happening nightlife. 
There's never a shortage of things to do in this 'city that never sleeps,' and with perfect mild weather throughout the year, no matter when Vegas is ready for you.
And as the saying goes, "Going to Vegas and not laying a bet is like going to a restaurant and not eating."
So, don't be surprised to see over 100 astonishing casinos.
Amidst the sparkle and shine, there are serene and scenic spots like the Venetian Lagoon and Fountains of Bellagio.
Because Vegas isn't a City- it is its own magical world!
To explore the world's entertainment capital in the best way possible, go through this list of the best things to do in Vegas.
Things To Do in Las Vegas, Nevada
The Eiffel Tower Experience: Thousand Feet Above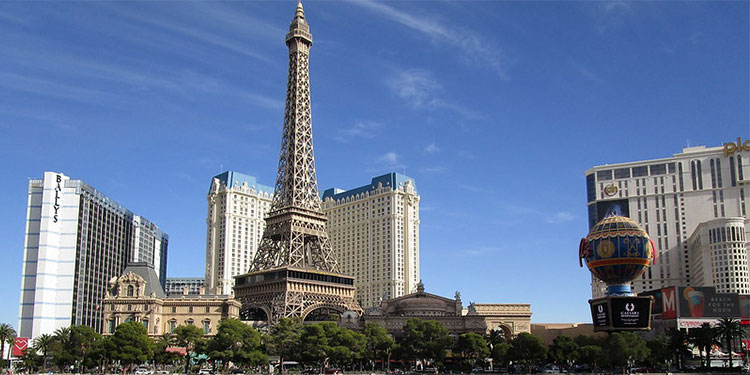 Address: 3655 S Las Vegas Blvd, Las Vegas, NV 89109, United States
Opening hours: Thu to Monday, 5 pm to midnight
Entry fee: $24.50 for adults and $19.50 for kids 4-12 (children under 3 are free)
The City Of Love is found in the middle of Nevada.
Paris Las Vegas is a famous hotel in Nevada where every corner speaks French. From architecture to the light setting of the hotel, your mind will automatically transport you to France.
The most famous element of this hotel is the replica of the famous Eiffel Tower – bringing Paris to you!
A glass elevator will take you to an observation deck almost 460 feet above the ground for an incredible view of the city's skyline.
Also, make sure to visit the Eiffel Tower restaurant inside the tower— it is a fine dining space for delicious classic French cuisine with an impeccable wine menu.
Note: An additional $100 fee is required to reserve the famous table no. 56 (the most romantic table in the city).
Las Vegas Helicopter Tours: Believe You Can Fly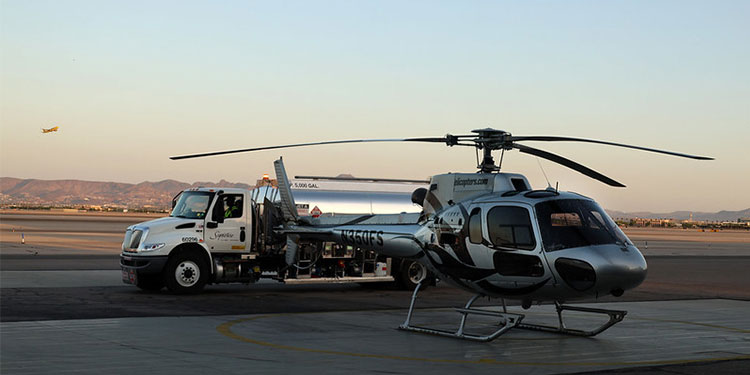 Address: 4511 W Cheyenne Ave #101, North Las Vegas, NV 89032
Opening hours: Everyday 7 am- 10 pm
Entry Fee: Starts from $149 for the night strip tour ( varies according to the duration and type of tour)
The excitement of touring the neon capital of the world from the sky at night cannot be described.
5 Star Helicopter Tours is one of the best chopper touring service providers in Las Vegas.
Having a team of highly trained pilots to their mercedes benz ground transportation prepares for a thrilling experience right from the start. 
You will witness the sparkling Las Vegas strip in all its glory, including Bellagio Fountain Show.
They also offer exciting packages like the Bachelor and Bachelorette group party, dinner, and V.I.P. Wedding Room. 
Mob Museum: Mobs Cant Handle Us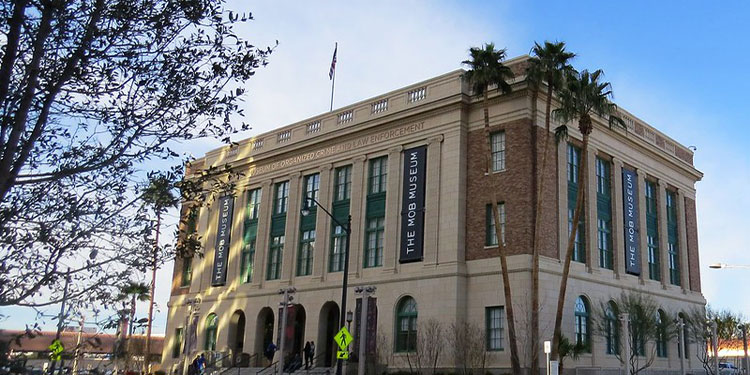 Address: 300 Stewart Ave, Las Vegas, NV 89101
Opening hours: Wed to Mon (9 am - 9 pm), Tue (10 am - 9 pm)
Entry Fee: $29.95 ( Prices vary upon day and time of visit)
Amidst the domination of casinos, parties, and nightlife Mob Museum is an underrated gem of Las Vegas.
Carrying historical importance, the museum building was formerly an American District Courthouse and Post Office.
The gallery showcases exciting artifacts, such as Al Capone's revolver, Bugsy Seagulls' sunglasses, and Meyer Lansky's cigarette case.
Step onto the museum's second floor to see everything about Las Vegas and the history of mobs in America.
Tip: To avoid the crowd, head to the museum in the early hours. 
Strat Skypod: Just A Cloud Away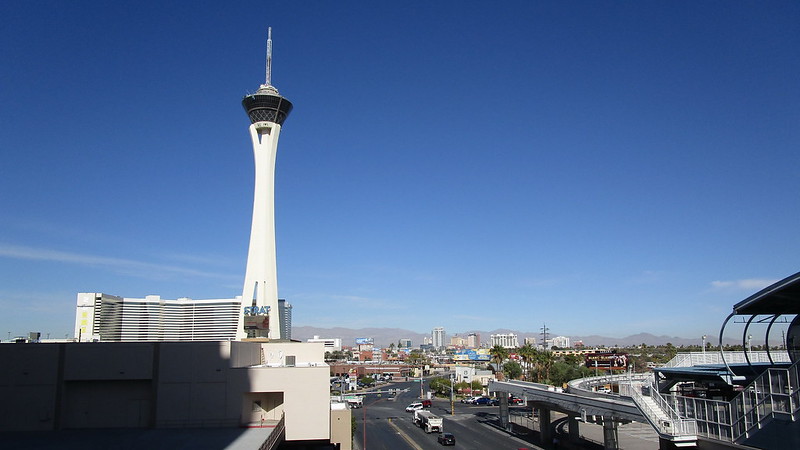 Address: 2000 Las Vegas Blvd S, Las Vegas, NV 89104,
Opening hours: Daily 10 am- 1 am
Entry Fee: $20 (with no rides)
Standing 1,149 feet, Strat Skypod is the tallest observational tower in the United States.
Get ready for a spectacular 360 view of Vegas from the indoor and outdoor observation decks.
An indoor observation deck suits those afraid of heights, as you will view the city behind angled windows.
Now if you want to take it up a notch, try the outdoors viewpoint, and get into the daring rides such as the sky jump and mini roller coaster.
Tip: Try out the refreshing cocktails and frozen drinks at 108 Eats restaurant. 
Bellagio Fountains: Fountain Of Love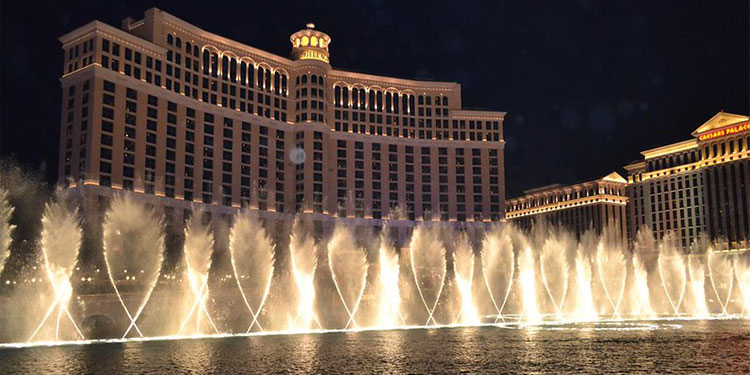 Address: 3600 S Las Vegas Blvd, Las Vegas, NV 89109
Opening hours: Open 24 hours
Entry Fee: No entry fee is required
Experiencing the Bellagio Fountains is a must while you're in Las Vegas.
It is a visual spectacle of over 1,000 water fountains dancing in a choreographed light and music. 
The show typically starts every half an hour from 12 pm – 6 pm and occurs every 15-30 mins from 6 pm till midnight playing different songs on each presentation.
A great way to enjoy your post-dinner time, or if you want to skip the crowd, there are plenty of restaurants nearby the fountain area to dine and enjoy the spurt.
Hershey's Chocolate World: Life Happens, Chocolate Helps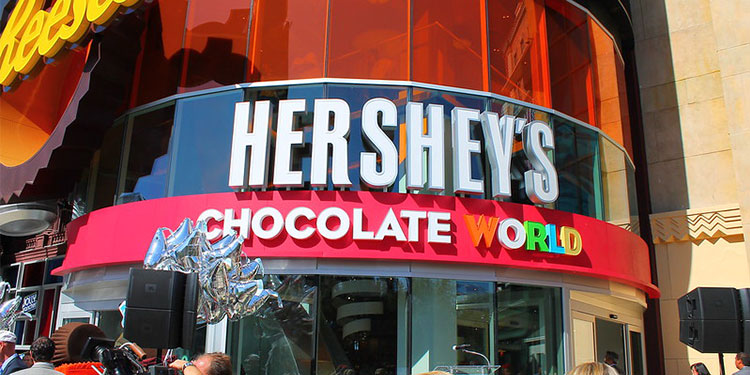 Address: 3790 S Las Vegas Blvd, Las Vegas, NV 89109
Opening hours: Mon toThu (9am-12 am) , Fri to Sun (9am - 1am)
Entry Fee: No entry fee is required
Have you seen a Statue of Liberty made from Hershey's Milk Chocolate?
If you're a chocolate fanatic, Hershey's Chocolate World is a place you must be at!
One of the cool things about this chocolate kingdom is that they have a section called Wall of Chocolate, where you will find every type of Hershey's Kisses flavor, including cookies' creme and lava cake dark chocolate. 
And the best part is you can take a goodie bag and fill it up with chocolates of your choice from the assortment.
Brace yourself to see unique flavors you have probably never seen or heard of, like, blueberry muffins, birthday cake, and strawberry cream.
Criss Angel Mindfreak: Bring Back The Magic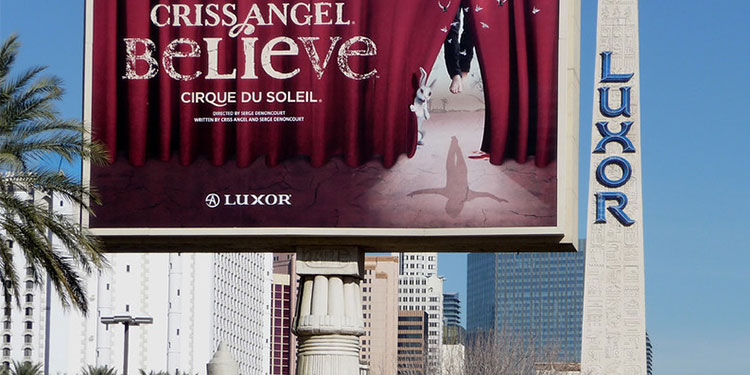 Address: 3667 S Las Vegas Blvd, Las Vegas, NV 89109
Opening hours: Wed to Tue, 7 pm- 10 pm
Entry Fee: Starts from $69 (varies according to the availability of the show)
At Criss Angel mind freak's show, expect thrilling performances fueled by magic tricks and illusions.
One of the best magicians and illusionists, Criss Angel's live performances are a whirlwind of various forms of magic styles such as mind reading, street magic, and innovative illusions.
You will also notice his unique approach to combining magic and rock music to amplify the gig's intensity and energy.
Note: This event is recommended for ages 10+
The LINQ High Roller: Ferris Wheel Dream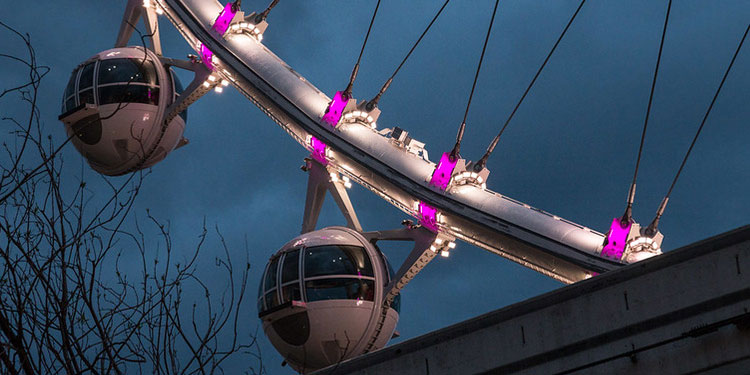 Address: 3545 S Las Vegas Blvd, Las Vegas, NV 89109
Opening hours: Every day, 12 pm- 12 am
Entry Fee: $26 (daytime), $38.25 (nighttime)
The LINQ High, Roller Ferris Wheel, is one of the popular attraction spots in Las Vegas.
Unlike the classic Ferris wheel with open cabins, the High Roller's cabins are enclosed and quite spacious.
It has 28 extensive cabins with air conditioning and large windows through which you will get a stunning panoramic view of the Vegas skyline.
So hop on that Ferris Wheel and enjoy the 30-minute ride with an open bar inside your cabin.
You can also host a one-of-a-kind event or gathering here. Linq High Roller offers private compartments and customizes them for your special occasion.
Gondola Ride at The Venetian: Come Sail Away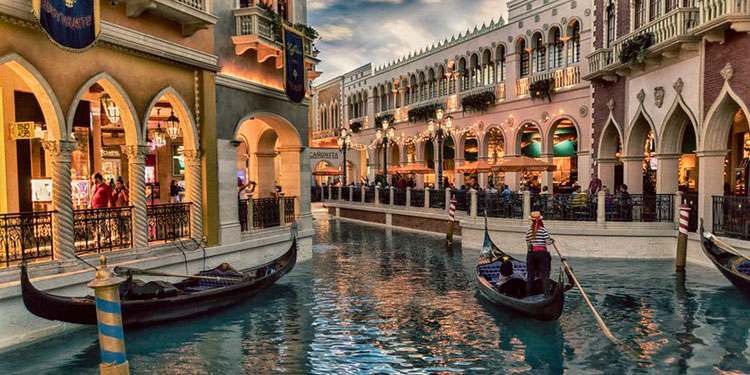 Address: 3355 S Las Vegas Blvd, Las Vegas, NV 89109
Opening hours: Sun - Thu (10 am - 11 pm), Fri - Sat (10 am - 12 am)
Entry Fee: $34/person (Tue-Wed), $39/person (Thur– Mon)
On this gondola ride, you will transport to The Floating City– Venice.
As you're flowing with the water on this light, flat-bottomed boat steered by a gondolier, you will notice beautiful bridges and stunning Venetian architecture surrounding you.
And for the ride, you have indoor and outdoor gondola ride options, each providing a different experience.
The indoor ride is more intimate, making it perfect for those wanting an exclusive experience, and the outdoor ride will give you a serene and romantic feel by taking you around a beautiful lagoon.
Note: Make reservations in advance as there's usually a queue for the gondola rides. 
Marvel Avengers S.T.A.T.I.O.N. : Dear Fantasy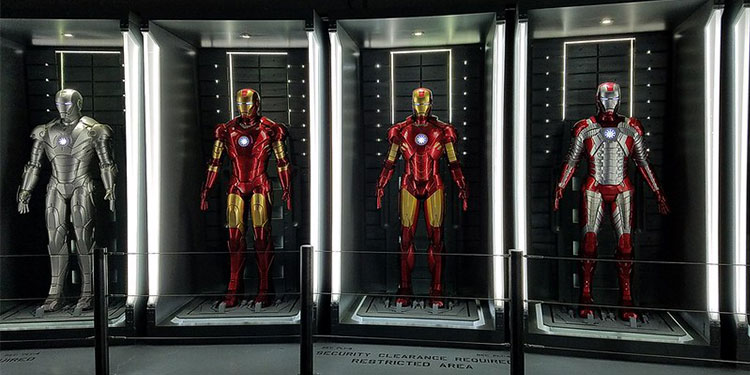 Address: 3300 S Las Vegas Blvd, Las Vegas, NV 89109
Opening hours: Everyday 11 am - 5 pm
Entry Fee: $49.95 (adults)
Marvel Avengers S.T.A.T.I.O.N. is an immersive and interactive hub for every Marvel Cinematic Universe and Avengers fan.
This exhibition features authentic props, costumes, and artifacts from the Marvel movies, such as Iron Man's suit, Thor's Hammer, and Captain America's Shield.
There's also a segment where you can participate in interactive challenges like simulated training exercises which will give you the experience of what it's like to be an Avenger.
Gear up for Marvel-themed trivia, where you join in to solve puzzles and quizzes – this will test your understanding of the Marvel cinematic universe.
Mandalay Bay Resort & Casino: Waking Up In Vegas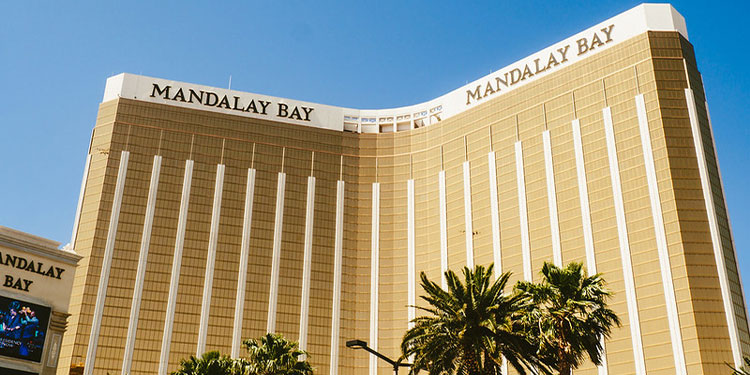 Address: 3950 S Las Vegas Blvd. Las Vegas, NV 89119
Opening Hours: Open 24/7
Entry Fee: Not Applicable
One of the most popular aspects of Vegas is its Casino scene. Home to over 100 casinos, this city surely knows how to enjoy the bets.
The Mandalay Bay Resort & Casino is the best one in the casino business.
With a massive gaming area, over 2000 video poker/slot machines, and table games of high and low limits, you will have a great Vegas casino experience. 
There is also a smoke-free poker room called High Limit Lounge that hosts a variety of different games.
The sportsbook section of this gaming hub has 300 seats and plenty of large-screen TVs where you can enjoy all the actions happening.
The Shops at Crystals: Shop Till You Drop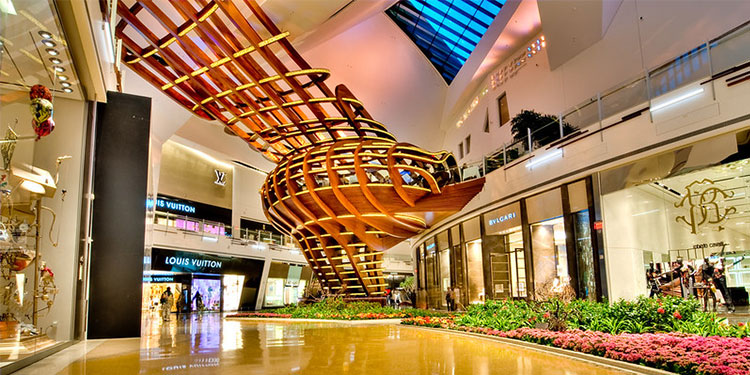 Address: 3720 Las Vegas Blvd S Las Vegas, NV 89109 
Opening hours: Mon - Thu (11:00 am - 9:00 pm), Fri - Sat (10:00 am - 10:00 pm), Sun (11:00 am- 9:00 pm)
Entry Fee: No entry fee is required
If you want to pamper yourself with luxury shopping, look no more than The Shops at Crystals.
Located on the Las Vegas strip, this stunning, architecturally designed mall will win your hearts immediately with its exterior.
The mall showcases beautiful art installations, adding charm to the captivating environment.
The shop at Crystals is a heaven of luxury designer labels and exclusive collections like Louis Vuitton, Gucci, Prada, Versace, Chanel, Dior, and more.
Apart from the high-end luxury retailers, you will also find unique and upscale boutiques featuring eccentric and exclusive designs.
Tip: Valet parking is also offered at the mall.
What Happens in Vegas Stays in Vegas
Once you get a taste of this dazzling city, prepare yourself to feel like you are NEVER LEAVING!
That's why make sure you keep an eye on your transactions so that your credit card doesn't get maxed out.
And remember to take advantage of the free tramps that will make commuting around Las Vegas trouble-free.
So head over to this paradise of celebrations, good food, pool parties, street performances, slot machines, and nothing short of fun.
Ready. Set. Vegas!
Note: Keep in mind that information about travel can change quickly. To make sure your trip is fun and safe, we encourage you to double-check official websites and government/travel advisory sites for the latest information on travel restrictions, entry requirements, and safety measures.