If you are looking for a romantic getaway, Idaho is just the place to share intimate moments with your partner.
From leisurely sunny days by the lakes to delightful downtown dining and wineries, this hidden gem state of the Northwest has all romantic date ideas laid over on its plate.
For couples who are into adventures, there's a bundle of thrilling adventures to choose from.
Whether you jet ski in Sandpoint, take a horseback ride in Sun Valley, or bike through Hiwatha Mountain, the adrenaline rush will undoubtedly revive your relationship with your partner.
And a dinner date in the middle of the scenic Coeur d'Alene lake, doesn't that sound lovely?
Go through the following list of things to do in Idaho for couples before planning your romantic getaway and get the best of what the state offers.
Things To Do in Idaho For Couples
Spend a Romantic Evening in Coeur d'Alene Lake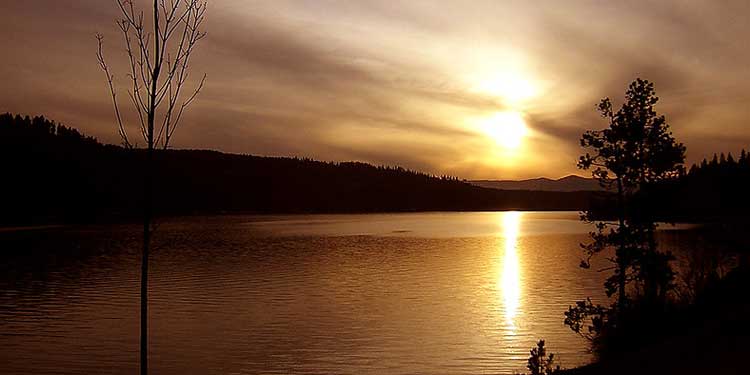 Location: 3815 Schreiber Way, Coeur d'Alene , ID 83815
Opening hours: 24 hours open (Park is open 7 am- 10 pm)
Cost: Free
Best time to visit: During sunsets
The second-largest lake in northern Idaho has a beautiful mountain setting and sparkling waters that gathers up from 3 different rivers of the state.
Take a sailboat ride with your beloved while soaking in the serenity of the beautiful Coeur d'Alene Lake.
And as the boat stops to fuel up on the dock, you can enjoy delicious food in the marinas.
There are parks nearby as well where you can just sit and have a conversation while looking over the waterfowl swimming in the lake.
You will find more than 200 majestic birds, including Ducks, Geese, Swans, and Ospreys, along with migratory bald eagles.
If you are feeling adventurous, this 30 miles lake also has options for different watersports.
Just get a pair of paddle boats or jet skis and chill out in the middle of the lake.
Tip: Book a charter fishing if you would like to fish Chinook Salmons in the lake.
Take a Horseback Ride in Sun Valley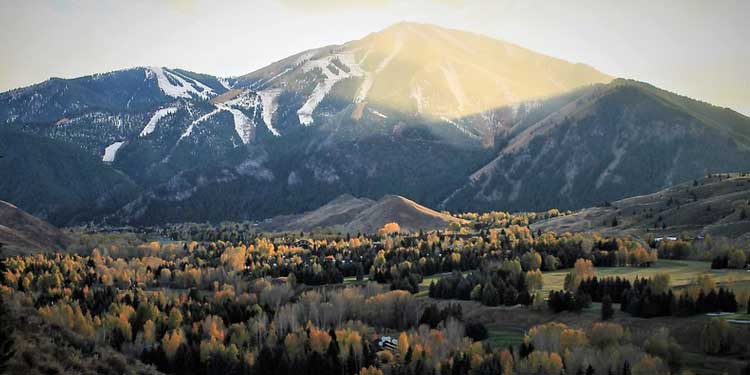 Location: Horsemans Center Road, Sun Valley, ID 83353
Opening hours: Open 9:00 am - 5:00 pm (During  
Cost:$79 - $850 (Extra charge applicable for private rides)
Best time to visit: Summers
It wouldn't be a lie to say the resort city of Idaho, Sun Valley, is one of the most romantic destinations.
The valley is splurged with a pool of romantic activities, ranging from sleigh rides and skiing to fine dining and couple spas.
But, the best way to explore the Western heritage of Sun Valley is on horseback.
A horseback ride will take you through the local pastures to trail rides up to the Bald Mountains through Wood River Valley.
From trail rides to horse-drawn wagon rides, the Sun Valley will give you an experience of all kinds of equestrian activities.
Note: The stable provides a variety of riding lessons for beginners and proficient riders.
Biking Through Hiawatha Mountain Bike Trail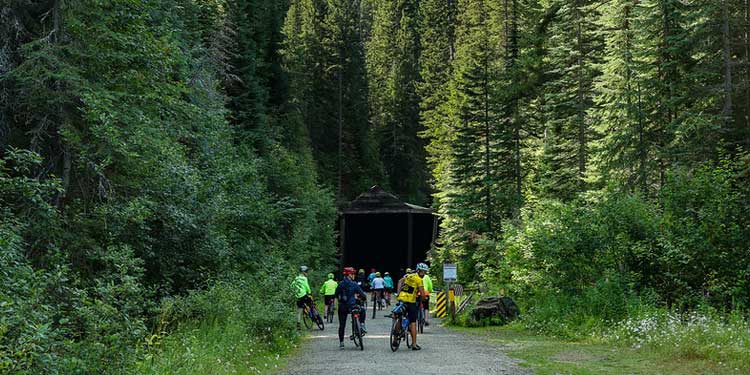 Location: 1-90 I-90, Mullan, ID 83846
Opening hours: Daily 8:30 am - 5:00 (May- September) ys)
Cost: Trail Pass: $16-$18 & Shuttle Pass: $8- $18(Bike rental costs $35- $70 per day)
Best time to visit: Springs
Biking through the 15 miles of the scenic route of the Hiawatha Mountain Bike trail is bound to be a memorable honeymoon adventure with your loved one.
This biking trail takes you through the crest of Bitterroot Mountains and the Lookout Pass Ski area. You will also see seven sky-high trestles on this route.
And as you pass through the ten train tunnels, you will come across the infamous St. Pail Pass. It is one of the longest dark tunnels that burrow 1.66 miles under the state line.
There's a provision for shuttle bus rides if you don't feel like biking downhill. And if tired, stop by the nearby Lookout Pass lodge to rest.
Tip: Remember to take a light and helmet along with you.
Note: Trail passes, shuttle tickets, and bike rentals are available at the Lookout Pass Ski area.
Go on a Romantic Walk on Idaho Falls Riverwalk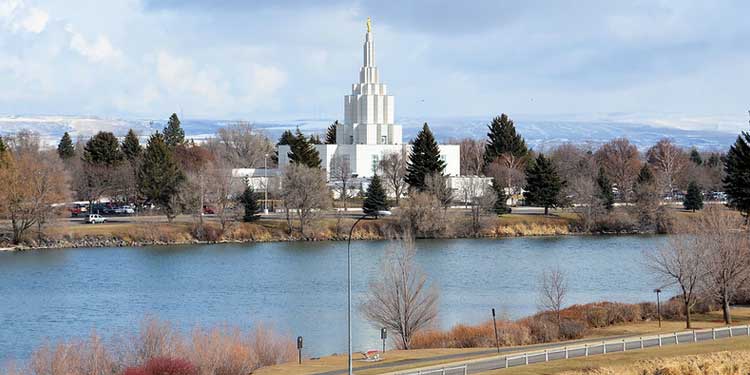 Location: 525 River Parkway, Idaho Falls, ID 83402
Opening hours: 24 hours open
Cost: Free
Best time to visit: During the evenings
What can be more romantic than holding hands while walking beside a river? The Idaho Falls Riverwalk is one such trail for a lovely afternoon stroll with your loved one.
You will pass a large waterfall that spans over the river on this 14-mile-long riverbank.
When exhausted, make a stop to rest on the benches placed throughout the trail. You may also feed the geese and ducks that are sunbathing on the lawn near the trail.
As you continue walking, the route will lead you to the Idaho Falls Temple of the Church, where you can pay your respects to God.
You can shop for souvenirs in the local shops nearby. There are restaurants nearby as well if you want to eat out nearby the river.
Long Drive on Salmon River Scenic Byway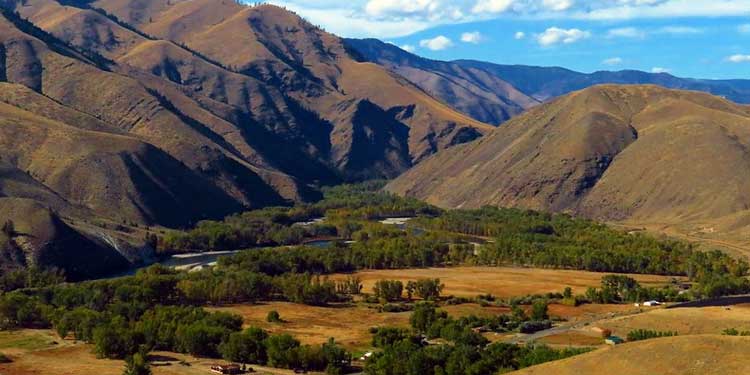 Location: Central Idaho
Opening hours: Open 24 hours
Cost: Free
Best time to visit: April- November
A long drive on the 161.7 miles long scenic byway of Salmon River. How romantic is that?
With wonderful views of the Sawtooth Mountains and stunning Salmon River, this driveway is best for couples looking for a want peace and quiet nature.
Take a break, make stops, and explore Central Idaho's natural and historical highlights.
The Ghosttown of Custer Bayhores and Bonanza are some historical sites you can visit while passing through Yankee State Fork Park.
You can also try flyfishing and Whitewater rafting in Salmon River if such adventure is your thing.
The route also has access to nearby adventures like Lewis and Clark National historic trail, Redfish Lake, Sunbeam Hot Springs, and Salmon-Challis National Forest.
Tip: Begin at Stanley for access to multiple adventurous activities.
Plan a Wine Date at Williamson Orchard & Vineyard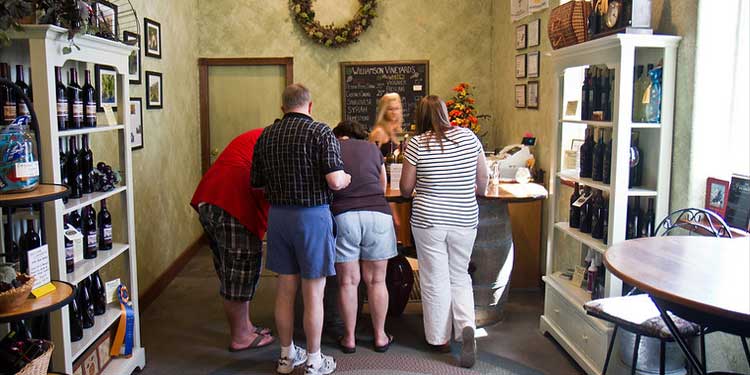 Location: 14807 Sunnyslope Road, Caldwell, ID 83607
Opening hours: Wednesday- Sunday: 12:00- 5:00 pm & Make appointments for Monday and Thursday
Cost: Wine Flight: $8- $10 & Wine by the glass: $8 to $12
Best time to visit: Evenings
Get lost in the 200 acres of vineyards of the family-owned Williamson Orchards while enjoying the finest wines of the brewery.
Or you can just make a reservation in their private tasting room filled with family antiques. The room has a relaxing atmosphere with a view of the Owyhee Mountains.
You can order a custom-made charcuterie board to go along with the wine. There's a wide selection of chocolates, cheeses, meats, and savory snacks.
Want to make it more charming? Book the entire winery and make that long-awaited proposal to propose to your partner.
The vineyard also takes bookings for weddings.
Besides, the owners host events like cherry picking, wine club appreciation day, and seasonal farmers' markets.
Tip: Reservation is strongly recommended in winter, although it isn't mandatory.
Relax at Burgdorf Hot Springs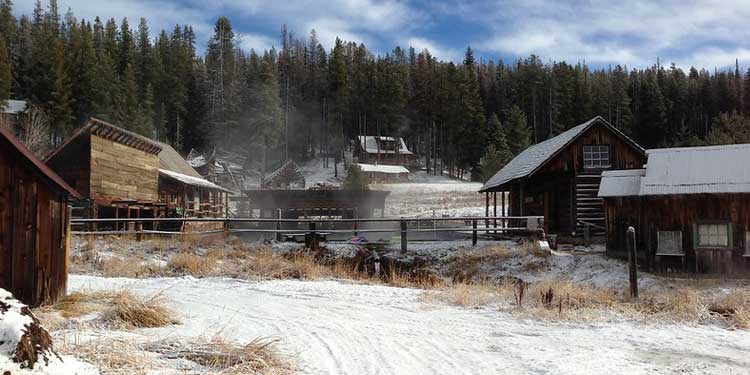 Location: 404 French Creek, McCall, ID 83638
Opening hours: 10:00 am to 6:00 pm (24-hour access for cabin renters)
Cost: Adult $20 & Child/ Senior $15 (Cabin rent starts at $175 per night)
Best time to Visit: Summers
Drive 32 miles north of McCall to relax in one of the world-class outdoor geothermal pools of the Burgdorf Hot Springs resort.
You can spend a relaxing weekend with your partner in the rustic cabins of this historic resort residing in the foothill of the mountain ranges of Payette National Forest.
The resort has daytime activities like hiking, picnicking, and fishing to keep you entertained. And there's firewood on the porch during winter for you to enjoy bonfire dates.
Although located in the wild, access to the resort isn't that difficult. You can drive your car via Warren wagon road in the summers, and snowmobiles are available for winter.
However, the resort remains closed in November and May due to limited access.
Tip: Early reservation is required to access the rustic cabins.
Go Fishing in Bear Lake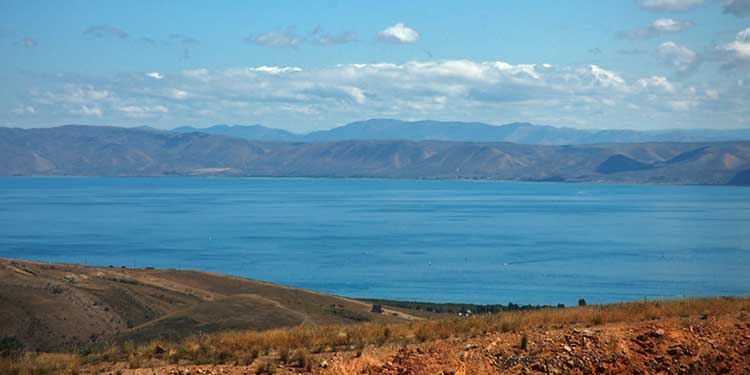 Location: 25 East 300 North St. Charles, ID 83272
Opening hours: 7:00 am to 10:00 pm all week (Open 24 hours for campers)
Cost: Park visit is free (Reservation charges:$10 - $310
Best time to visit: Springs
If your partner loves ice fishing, 20 miles long and 8 miles wide of Idaho half of Bear Lake is perfect for you.
The lake is known as the "Caribbean of Rockies" for its turquoise blue-colored water.
It is home to the rarest kind of fish called Bonneville Cisco. Since the fish is found only in this lake, you are lucky if you can catch one.
Also, there's a park on the shores of this beautiful lake. It is loaded with camping sites offering different services and standard sites.
Camp in the park while you enjoy activities like sailing, scuba diving, water skiing, or swimming in the lake.
The gradual slope of the lake makes it suitable for swimming.
Tip: Visit the nearby Cache National Forest, Minnetonka Cave, and National Oregon trail center as well.
Enjoy Private Dining at The Brickyard in Boise
Location: 601 Main Street, Boise, ID 8302
Opening hours: Monday- Wednesday- 11:00 am to 10:00 pm, Thursdays- 11:00 am to 11:00 pm, Friday: 11:0 am- 1:00 pm & Saturdays: 5:00 pm- 1:00 am
Best time to visit:  Late evenings on the weekend
Best for: Dinner
With a wide range of entrees and a curated menu to choose from, private dining at the Brickyard is the best way to spend some quality with your better half.
This classified steakhouse has the finest treats like American Waygu Beef, Scallop Halibut, Dungeness Crab, and Elk fillet on its menu.
There's a phenomenal collection of wine and a seasonal cocktail menu to compliment your dinner date. And don't forget to order the Brickyard Tiramisu for the yummiest end to the dinner.
To accentuate the romance, the restaurant has a solo pianist performing from six to nine in the evening every Wednesday to Saturday.
And if you want to make it more private, just book their capital room. The room also has provisions for audio and visual equipment if needed.
Note: The restaurant has gluten-free options as well on the menu.
Hike on the Sawtooth National Forest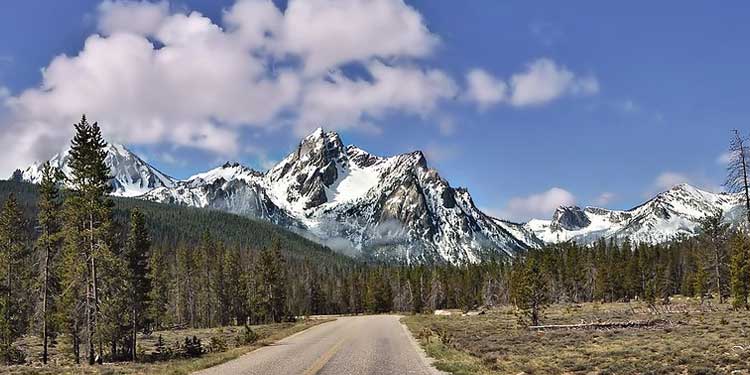 Location: Idaho 75, Stanley, ID 833278
Opening hours: Monday- Friday (8:30 am
Cost: Camping permit ranges from $5 - $10 per person
Best time to visit: Spring
Does getting lost in the wilderness of 756,000 acres of Mountainous scenery sound romantic to you?
It surely does to the adventurous couples who love to get indulged in natural wonders.
That's exactly what you get while hiking through 700 miles of trails of Sawtoon National Forest.
And that's not all!
The recreation area of the forest is packed with scenic alpine lakes, peaks with different elevations, and a bundle of water activities.
Fishing, boating, canoeing, or rafting, you name it, and the lakes are loaded with all sorts of adventurous water activities.
Note: The Fishhook Creek Trail is among the best hiking trails in the Sawtooth National Forest.
Have a Date Night at Redfish Lake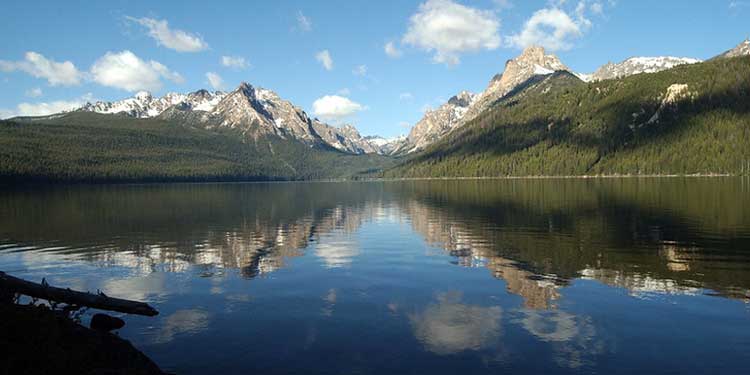 Location: 401 Redfish Lodge Road, Stanley, ID 83278
Opening hours: 8:00 am
Cost: Cruise package: $175 + $15 per person (Romance package: $79.99) 
Best time to visit: Summer evenings
Is a romantic dinner in the middle of the lake your thing? Then Redfish Lake has it all covered for your ideal romantic getaway in Idaho.
You can make reservations for two on the Sunset Appetizer cruise and enjoy a dinner date in the middle of Redfish Lake.
And if you seek more privacy, the lake also has options for Ponton Boat rides.
Book the Romance at Redfish package, and you can experience a pontoon ride on the lake with local dry rose wine and local chocolates of Rocky Mountain.
Or, for more convenience, make an overnight stay with a special couple's package with dinner at Lambert's.
Note: Ensure the confirmation through a phone call after making an online reservation
Relax With Couple Spa Packages at Tranquil Turtle Massage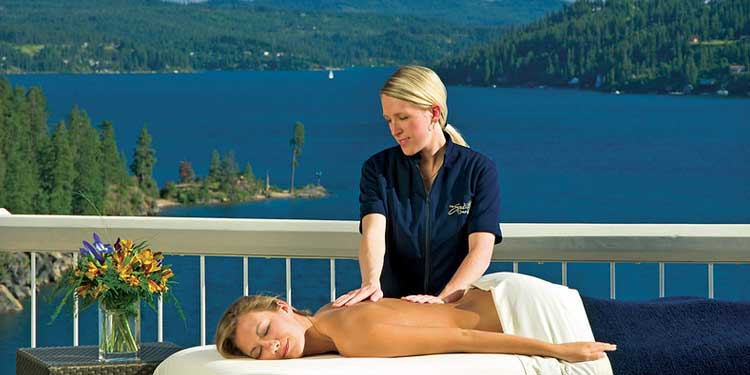 Location: 303 N 3rd St, Coeur d'Alene, ID 83814
Opening hours:  Monday - Tuesday (11:00 am - 6:00 pm) & Saturdays (10:00 am - 4:00 pm)
Cost: Couple massage starts from $320- $520
Best time to visit: Weekdays
Get a relaxing deep tissue massage at Tranquil Turtle Massage while enjoying the view of Coeur d'Alene Lake.
The turtle in the name symbolizes longevity, power, and tenacity in Chinese culture.
Rooted in traditional Chinese medicine, the massage center provides stone and Ashastu mixed spa and massage.
Couples can choose the 100 minutes Honu Ashiastu massage, deep sea facial, and foot scrub.
This spa will loosen up your tired knots and muscles.
After a relaxing spa session, you can enjoy pizza at the nearby Fire Artisan Piza.
Leave Idaho with a Memorable Honeymoon Experience
Although rich in challenging mountains, fierce waterfalls, and calming lakes, Idaho is an unexplored outdoor destination in the United States. This makes it a must-visit for couples.
The beautiful state is rich in couple-oriented locations, ideal for romantic dates and honeymoons.
From the capital city Boise to the rural small town Almo, there's a lot for couples to enjoy and polish the bond wherever you go.
Activate your credit cards and make reservations for the city that suits your interest.
Keep romance flourishing!
Note: Keep in mind that information about travel can change quickly. To make sure your trip is fun and safe, we encourage you to double-check official websites and government/travel advisory sites for the latest information on travel restrictions, entry requirements, and safety measures.