Do you want to take on the canyon jump from America's one of the longest river? Then, pack your gear as Twin Falls, the city of adventurous sports, awaits!
From BASE jumps and paragliding at Perrine Memorial Bridge to soaking in the water activities like kayaking, canoeing, and rafting, the city has plenty of daring adventures.
No wonder the city holds the history of daredevil Evel Knievel, who has the Guinness World Record for the most bone fractures in a lifetime.
However, the adventure isn't the only thing it has to offer.
The city has many places with family-centric activities and cool places to explore.
And if you wish to make the best of your trip, go through the following list of the best things you can do in Twin, Idaho.
Things to do in Twin Falls, Idaho
Enjoy the Scenic View From Shoshone Falls Park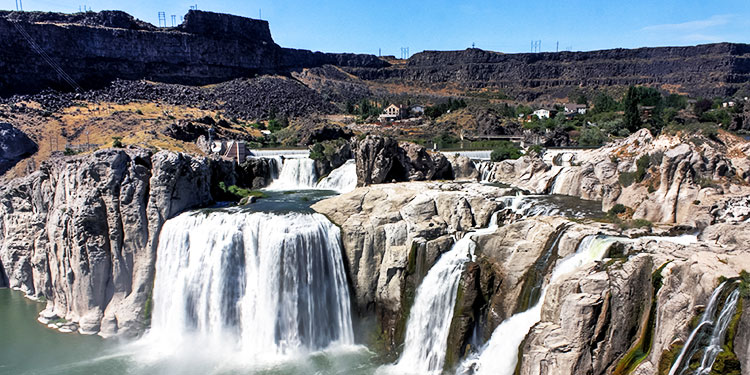 Location: Nielsen Point Place, Suite 200, Twin Falls, Idaho 833301
Opening hours: 7:00 am - 9:00 pm
Cost: Free (Parking charge of $5 may apply)
Best time to Visit: During spring
The 212 feet tall and 900 feet wide Shoshone Falls, the second largest natural waterfall in the world, is an identity of Twin Falls City.
It is often called the 'Niagara of the West" for its enormous size and scenic beauty.
The park is a great picnic spot to spend quality time with friends and family. While you indulge in water activities like a boat ramp and swimming, your kids can enjoy the swimming.
A separate swimming hole is also dedicated to the kids for them to enjoy safely.
Tip: It isn't ideal to visit in winter if you want to do water activity, as the fall will most likely be covered in snow.
Learn about the Succulents in Orton Botanical Garden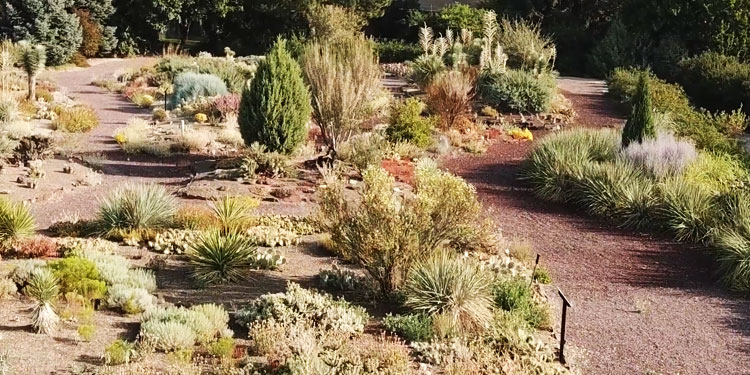 Location: 867 Filer Ave W, Twin Falls, ID, 83301
Opening hours: Friday and Saturday (9:00 am - 6:00 pm)
Cost: Free
Best time to Visit: Summers
The Orton Botanical Garden, also known as Plantasia Cactus Garden, is heaven for succulents, cacti, and native plants of Idaho.
With an area of five acres, the garden is closer to the northern part of the Great Basin desert.
You will find a wide variety of desertified plants and cacti here.
If you want to learn about drought-tolerant plants in the garden, sign up for the Zoom sessions the garden periodically provides.
Tip: If you want to buy succulents, there's an annual plant sale in May.
Experience the Wilderness of Sawtooth National Forest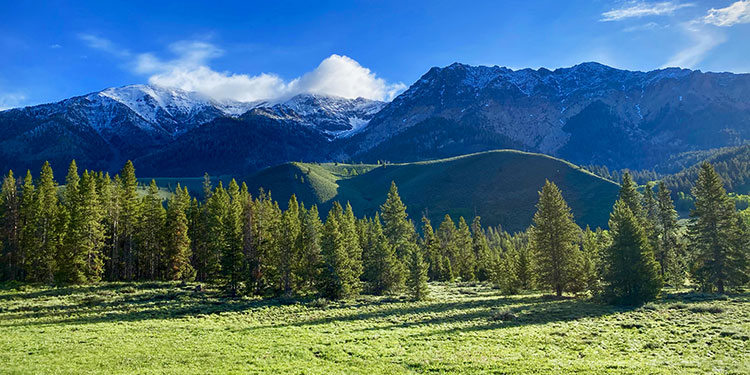 Location: Idaho 75, Stanley, ID 833278
Opening hours: Monday to Friday (8:30 am - 4:30 pm, with a break from 12:00- 1:00 pm)
Cost: Free (Camping Permit may be required)
Best time to visit: Spring
If you want to experience the wilderness of southern Idaho, then Sawtooth National Forest is just the right stop for you.
Initially established in 1905, this park is preferred for hiking, biking, and camping.
The recreational areas of this forest include 765,000 acres of mountainous scenery. It also has hiking trails, peaks, and high-elevation alpine lakes.
Thus, the area is best for backpacking, fishing, boating, canoeing, rafting, and photography.
Tip: The camping sites and grounds for snowdrifts are open seasonally.
Enjoy Fine Dining at Elevation 486 with your Family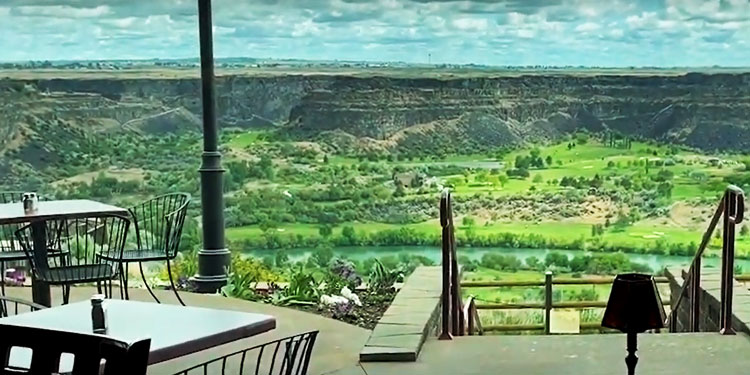 Location: 195 River Vista PI, Twin Falls, ID 83301
Opening hours: Monday - Saturday (11:00 am - 9:00 pm)
Best for: Dinner
Elevation 486 is a vegetarian-friendly diner located alongside the Snake Canyon River. It sits 486 above the Canyon floor, with easy access to its walking path.
The restaurant specializes in Eastern European cuisine and serves an elaborate lunch and dinner menu.
And yeah, the bar is always open for those who want some drinks to go along with their food.
There's an option for indoor and outdoor seating with a view of Perrine Bridge. You can enjoy private dining here in a relaxed atmosphere with your loved ones.
The restaurant also has halls to host events and big gatherings. You can book it for private parties and events through a call.
Tip: Although it's a walk-in diner, make an early reservation if you want specific seating on your desired date.
Go Kayaking in Pillar Falls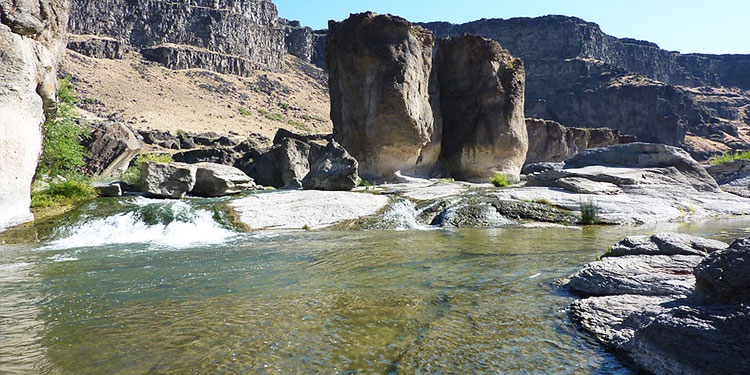 Location: 2015, Nielsen Point Place, Suite 200, Idaho Falls, Idaho 83301
Opening hours: 24 hours (Kayaking might be seasonal)
Cost: Free (Additional charge applies for Kayak)
Best time to visit: Summer
Get a life-worthy kayaking experience at the beautifully dangerous series of waterfalls at Pillar Falls.
The fall plunges from Rhyolite Tower with a stunning rock towering over it. Its powerful undercurrents make kayaking and paddling thrilling for adventurers.
But make sure to check the water levels before you go, and always remember your life jacket.
An alternative route to Waterfall goes through the snake river canyon and to the top of the rock.
It is suitable to climb the rock and camp in the sandy camping area. Kids prefer rock climbing here as it is easy.
However, you would have to take a boat to get to this starting point for the hike.
Note: Swimming is strictly prohibited.
Go Swimming and Enjoy a Barbeque at the Dierkes Lake Park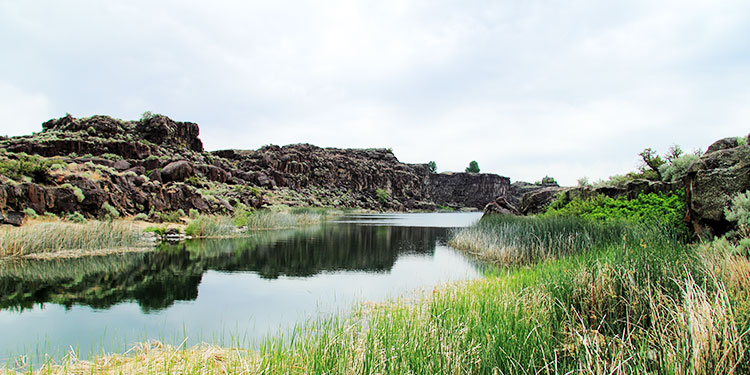 Location: 203 Main Avenue East, Twin Falls, ID 83301
Opening hours: All year (7:00 am - 10:00 pm)
Cost: Access to the park is free (Parking cost is applicable)
Best time to visit: Spring and Summer
If you want to enjoy quality time with your family, then Berbequing at Dierkes lake park is what you need to plan.
Initially, it was a blind canyon when a German Immigrant discovered the lake in 1907. Later in 1969, Twin Falls City bought this lake.
Its water here features sunken rowboats, swimming triangles, metal shark cutouts, and a hidden treasure chest.
The lake is a famous fishing hole rich in fish like blue grills and trout. It is just the right spot if you want to teach your kids how to fish.
You can also find two shelters on the lake for family barbeque and picnics. The north can seat 36 people, while the south has a capacity for 54 adults.
Tip: Make early reservations for the shelters as it's likely to be reserved, especially on holidays.
Visit the Perrine Memorial Bridge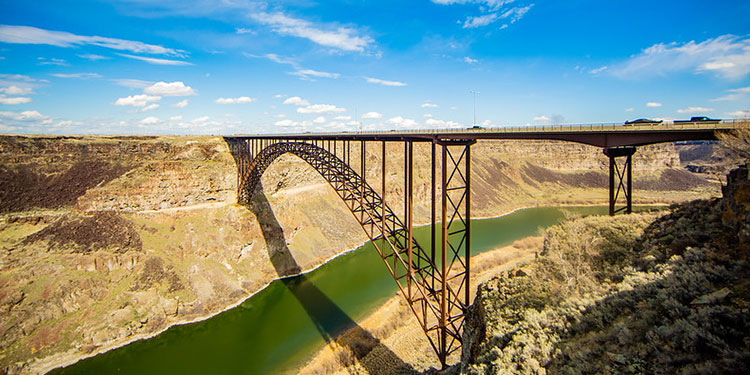 Location: Jerome, ID 83338
Opening hours: Open all the time
Cost: Free
Best time to visit: During sunsets
If you are in the city for adventure, this most famous roadside attraction of Twin Falls is your destination.
The Perrine memorial bridge is the ideal spot for paragliders and BASE jumpers worldwide. It is also a launching point for parachuting to the Canyon floor.
However, adventure isn't the only thing this bridge has to offer.
In fact, it is the 8th tallest bridge in the United States, where you can get a breathtaking sunset view and a view of the snake river.
Tip: There is a visitor center nearby where you can learn more about the history of this bridge.
Centennial Waterfront Park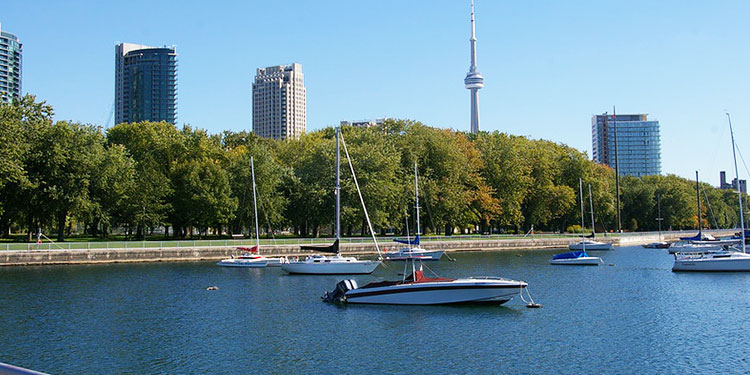 Location: Canyon Springs Rd, Twin Falls, ID 833301
Opening hours:8:00 am - 6:00 pm
Cost: Free
Best time to visit: August
The Centennial Waterfront Park is a public park donated to Twin Falls County by the city's Rotary Club on September 30, 1992.
It is a Primary access point for river and canyon recreation from where you can view Perrine Bridge and Perrine coulee falls.
You can also find water activities like kayaking, Stad-up paddling, boat docks, and ramps here.
While paddling through the park, you will get a glimpse of Native American culture with marked shelter caves.
Besides, they have got hiking trails, playgrounds, and picnic shelters.
Tip: Since it's closer to the city's major attractions, you can stop by while visiting them.
Learn about major city attractions at Twin Falls Visitor Center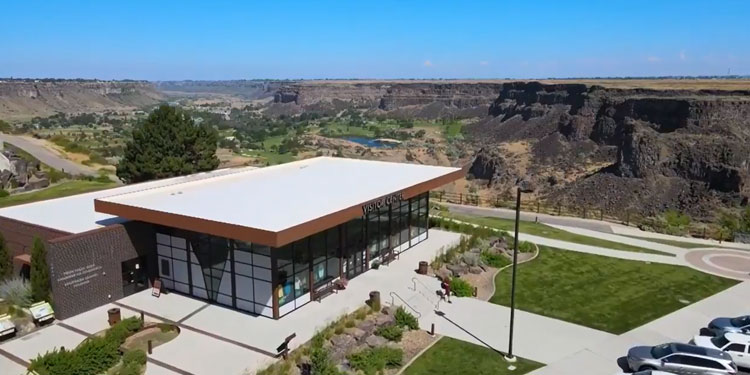 Location: 2015 Nielsen Point PI, Twin Falls, ID 83301
Opening hours: Daily (8:00 am - 6:00 pm)
Cost: Free
Best time to visit: Evenings
If you need clarification about what to look for in this beautiful city, the Twin Falls visitors center is the right place, to begin with.
This center settled on the edge of the snake river, offers the best view of the city's major attractions, such as the snake river canyon, Evel Knievel jump site, and Perrine Bridge.
You can even stop by to charge your Tesla. The center has eight superchargers compatible with Tesla Model S and X.
It is the best place to gather tools and information about your stay in the city.
Besides, the Norman Agriculture Heritage Plaza at the entrance tells about agricultural commodities. It explains the diverse food basket of the country.
Take a Look at the Evel Knievel Snake River Canyon Jump Site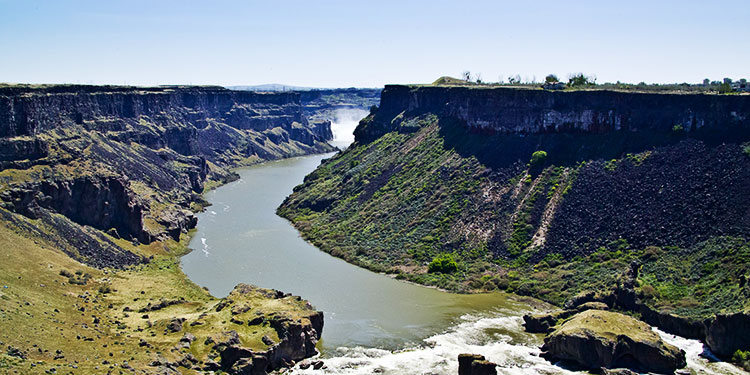 Location: 4000A N 3200 E, Twin Falls, Idaho, 83301
Opening hours: Daily (12:00 am - 11:59 pm)
Cost: Free
Best time to visit: Spring and Summer
If you are an adventure seeker, then you surely mustn't miss a chance to visit the Evel Knievel Sanke River Canyon Jump site.
It is a monument dedicated to the legendary motorcyclist.
The daredevil tried to launch himself across the vast Snake River canyon in Twin Falls, Idaho, on a customized rocket in September 1974.
Since then, the jump site has been treasured as a monument. You can still see an earthen berm through which the legend projected himself.
Although he failed in the attempt, the city has become a hub for canyon jumpers today.
Harrett Center for Arts and Science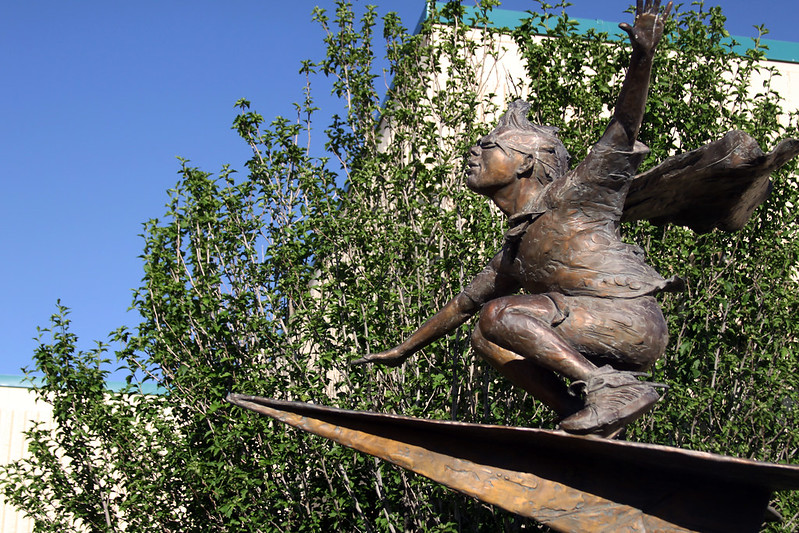 Location: 315 Falls Ave, Twin Falls, ID, 83301
Opening hours: Thursdays & Fridays (9:30 am - 9:00 pm), Wednesdays & Thursdays (9:30 am - 430 pm), and Saturdays (1:00 pm - 9:00 pm)
Cost: Free (Planetarium admission might be charged)
If you are inclined towards anthropological artifacts and the natural history of ancient American continents, then Harrett Center is just the place.
In addition to the regular display of artifacts, the center holds planetarium shows occasionally.
There's Reptile Revue every first and third Thursday at 6:00 pm for someone intrigued about Reptiles.
You get to see a variety of reptiles, amphibious, and other creatures at this show for free.
Also, don't forget to go through the section on dinosaurs; your kids will love it.
Tip: The center mains are closed on federal holidays, so check your calendar before leaving.
Take Back the Adventurous Memories of Twin Falls
Now that you've learned about the marvels of Twin Falls, plan accordingly to make your next holiday adventurous.
Just fuel your camper van and get onboard to explore the natural wonders of Southern Idaho.
And remember to go through our guide on the best things to do in Twin Falls City to find the best recreation opportunities for all age groups.
Enjoy your adventure!

Note: Keep in mind that information about travel can change quickly. To make sure your trip is fun and safe, we encourage you to double-check official websites and government/travel advisory sites for the latest information on travel restrictions, entry requirements, and safety measures.