Houston is a booming metropolis known for its diverse arts scene and museums mainly dedicated to kids.
From exploring space to riding a family-sized miniature train, there are many options to make your family vacation worthwhile.
The best part is you are never too far away to enjoy many kid-friendly places here in Houston.
Downtown area largely boasts some fantastic restaurant options while amusement parks are just set a couple of miles ride from the bustling city.
And for you to get started, we have set a list of the best things to do in Houston with Kids to plan a memorable trip. So let's get started!
Things to Do in Houston with Kids
Children's Museum Houston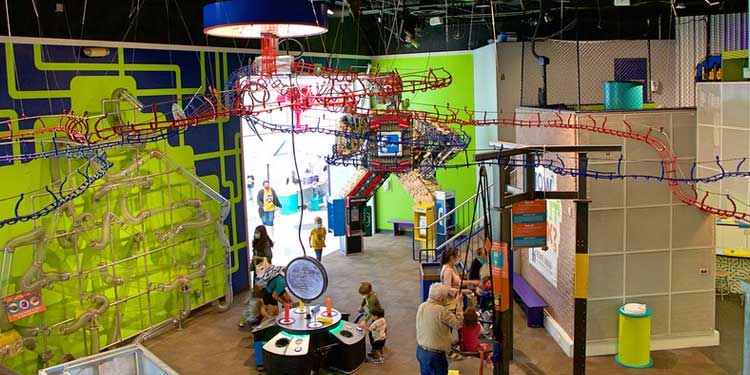 Address: 1500 Binz Street, Houston, Texas 77004, United States
Opening hours: 10:00 am - 6:00 pm (Tuesday - Saturday), 12:00 pm - 6:00 pm on Sundays, closed on Mondays
Costs: Admission rate is  $17 for adults & children (aged 1+), $16 for seniors (aged 65+), and children 1 and under are free
With lots of hands-on interactive exhibits of Science, Technology, and arts, this children's museum brings innovation and entertainment to the next level.
Parents Magazine ranked the museum as the best in the United States and is truly a playground for the little ones to explore.
Let your child's imagination run wild at the Invention Convention, or let them roll, spin, bounce, and launch their way through Newton's Laws of Motion.
It is the best activity to do for smaller kids!
Tip: Bring your kids to its Pi Day celebration on March 14th and let them become a part of the annual Pie Fight.
Houston Zoo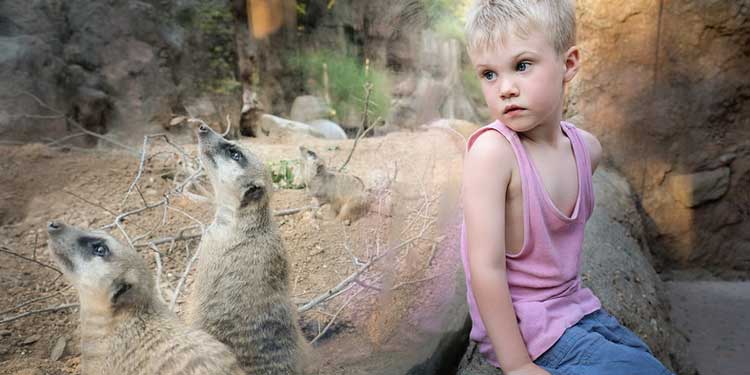 Address: 6200 Hermann Park Drive, Houston, Texas 77030, United States
Opening hours: open daily from 9:00 am - 5:00 pm 
Costs: ticket rate is $22 for adults, children (ages 2-11)- $17
The Houston Zoo is a popular destination for both children and adults as it brings educational experience and enjoyment to the finest.
From the Australian Outback to the Asian section, it provides different exhibitions of animals worldwide.
Kids also get to interact with some of the friendliest animals by hand-feeding them up close and personal for a more engaging experience.
Tip: The Zoo reopens at 6 p.m. for TXU Energy Presents Zoo Lights, a great time for strolling around and taking family photos.
Get Creative at The Museum of Fine Arts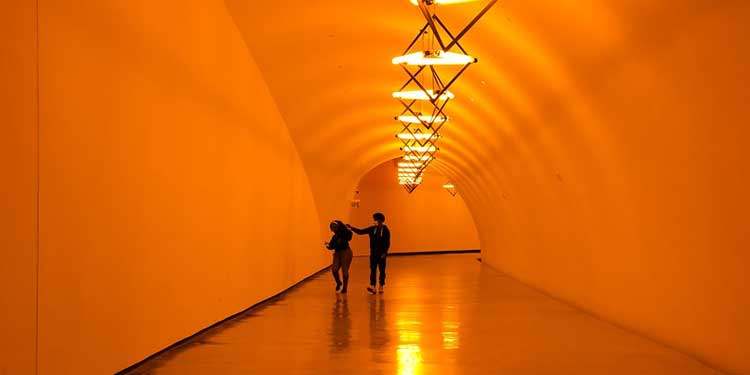 Address: 1001 Bissonnet Street, Houston, Texas 77005, United States
Opening hours: 11:00 am - 6:00 pm (Friday - Saturday), 12:30 pm - 6:00 pm on Sundays, 11:00 am - 5:00 pm on Wednesdays, 11:00 am - 9:00 pm (Thursdays), closed on Mondays and Tuesdays.
Costs: general admission rate range from $19 - $12, depending on age, children 12 and younger are free
If your kids are fond of art, don't miss out on this downtown Texas treasure.
It is the Lone Star States' oldest art museum, boasting over 66,000-item collection displayed through varied exhibits, educational programs, art instruction, and community outreach.
The Museum provides an intriguing and educational piece of history devoted to the arts of Europe, Asia, and all the way to the Americas.
Tip: Remember to take a tour of the underground rainbow tunnel connecting all three buildings.
Explore Space at the Space Center Houston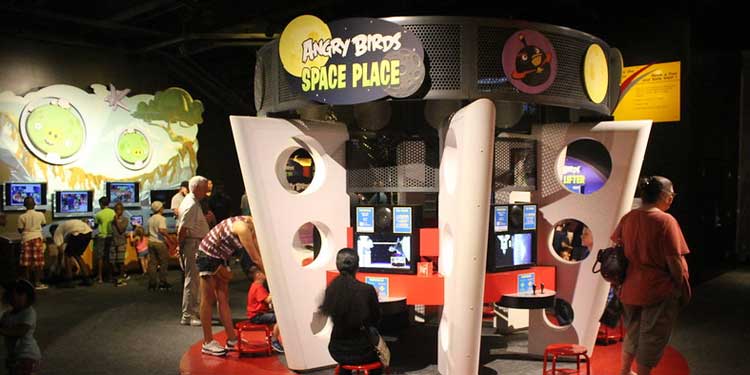 Address: 1601 East NASA Parkway, Houston, Texas 77058, United States
Opening hours: open daily from 10:00 am - 5:00 pm (Monday - Friday), 10:00 am - 6:00 pm (Saturday - Sunday)
Costs: Ticket rate is $29.95 for adults (12+), $24.95 for children (ages 4-11), $27.95 for seniors, and children 3 & below are free
Get ready for thrilling space exploration with your family at the visitor center of NASA's Johnson Space Center here in Houston.
It provides visitors with interactive exhibitions and tours that educate about human space travel.
Bring your kids to the Kids Space Place for hours of fun and later witness a real spaceship and lunar rocks brought back from the moon.
Every time spent here will be worthwhile for everyone!
Tip: It can really get crowded during busy hours, so I recommend going early or purchasing tickets online.
Catch a Baseball Game at the Minute Maid Park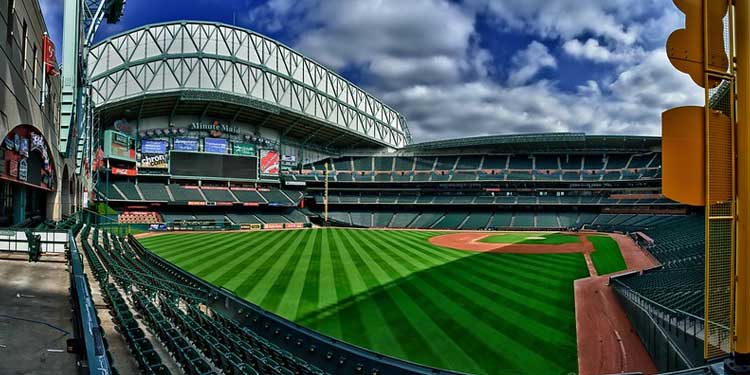 Address: 501 Crawford Street, Houston, Texas 77002, United States
Opening hours: gate opens two hours before the game. Nongame Days tour start from 9:00 am - 5:00 pm (Monday - Friday), 9:00 am - 2:00 pm on Saturdays, and is closed on Sundays
Costs: Prices for stadium tours start at $15 for adults, $12 for seniors, and $10 for children
Minute Maid Park is one of the premier venues for hosting bigger sports events and entertainment in the country.
You can pre-book your tickets to catch a baseball game of Houston Astros or simply take a stadium tour and catch all the actions of players and history.
There's also a Kid's Zone, which offers a variety of indoor playgrounds, train rides, face paintings, and many more.
It's an ideal place for letting your kids burn off energy as you enjoy the game.
Family Outdoor Recreational at the Herman Park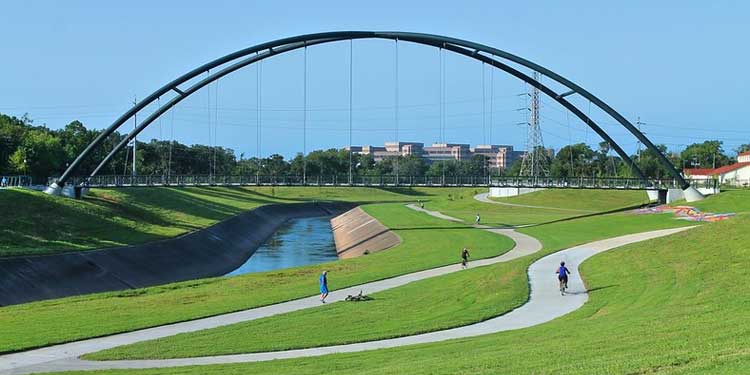 Address: 6001 Fannin Street, Houston, Texas 77030, United States
Opening hours: open daily from 6:00 am - 11:00 pm 
Costs: free entry
Herman Park is a 445-acre green space that provides a variety of outdoor recreational opportunities for the entire family.
From hiking and biking trails to golfing at its magnificent golf course, the park provides every amenity for a perfect day off.
The kids can cool off at the Park's Splashpad and playground while the adults can stroll around the historical sites.
If you have pets, they are welcome inside the park's premises but must be kept on a leash.
Tip: Participate in the annual Hermann Park Conservancy Kite Festival, which is a free event hosted at the end of March.
Celebrate the McDonald's Houston Children's Festival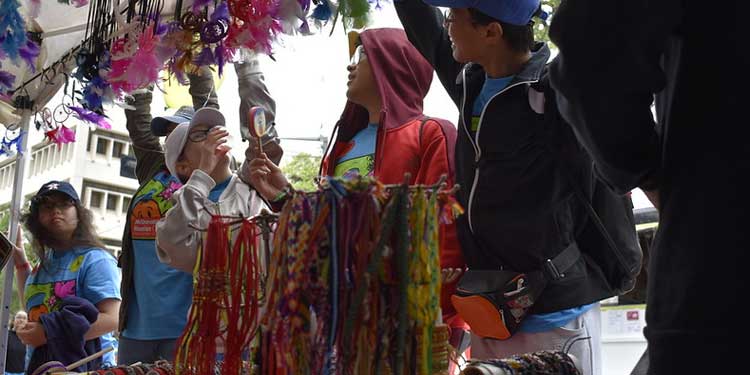 Address: 1865 Aldine Bender Road, Houston, Texas 77032, USA
Event: Every year on April 4 and 5
The McDonald's Houston Children's Festival is America's largest children's festival, specially created to raise awareness and funds for Houston's abused and neglected children.
This festival is a child's dream come true, complete with celebrity visits, a petting zoo, four entertainment stages, and 300-plus exciting activities.
The excitement of festival features fourteen large family adventure zones, six stages of music and entertainment, and over 300 entertaining activities.
So make sure to pay a visit and celebrate at the Annual McDonald's Houston Children's Festival and make lifetime memories.
Unlimited Carnival Rides and Entertainment at the Kemah Boardwalk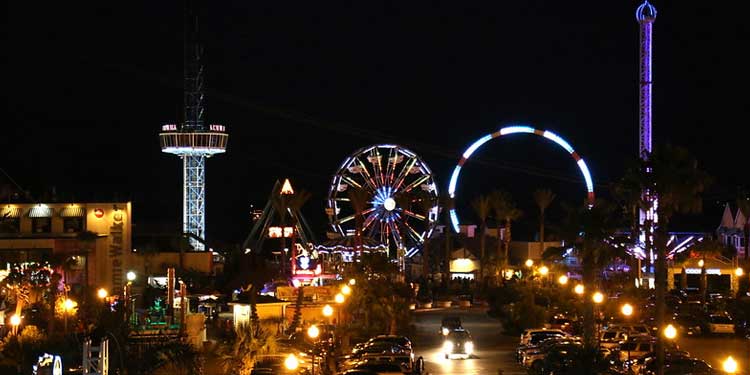 Address: 215 Kipp Avenue, Kemah, Texas 77565, United States
Opening hours: 12:00 pm - 7:00 pm (Monday - Thursday), 12:00 pm - 9:00 pm on Fridays, 12:00 pm - 10:00 pm on Saturdays, and 12:00 pm - 8:00 pm on Sundays
Costs: All-day Ride Pass - $20.99 (age 48 and below), $25.99 (age 48 and above)
The Kemah Boardwalk is a renowned tourist attraction that is mainly suitable for families looking for a weekend getaway.
It is 20 miles southeast of Houston and features many family-friendly activities, especially for the little ones.
Choose from thrilling roller coaster rides, a Ferris wheel, game arcades, and lots of live entertainment and shopping.
If you are craving some typical Texas cuisine, there are tons of dining options for some classic Texas BBQ and Cajun Seafood.
Tip: Weekend visitors can benefit from the bundled passes, which grant access to nearby attractions.
Gerald D. Hines Waterwall Park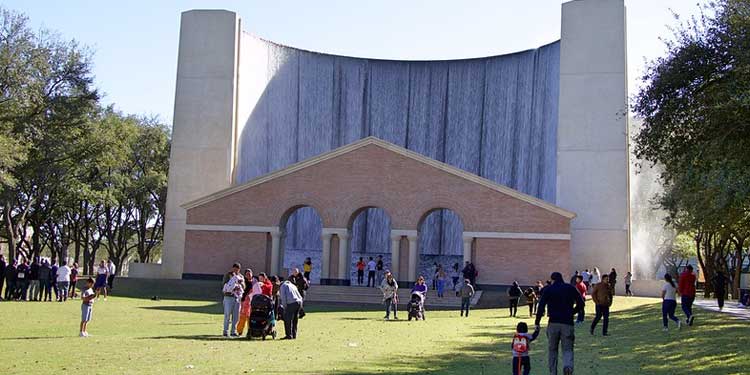 Address: 2800 Post Oak Boulevard, Houston, Texas 77056, United States
Opening hours: open daily from 8:00 am - 10:00 pm
Costs: free entry
Get ready to make an entire photo album of your family, as Gerald D. Hines Waterwall is a popular destination for a whole lot of photo opportunities.
It features a one-of-a-kind artificial waterfall that is made to attract visitors for its beauty and to host many special events like weddings and birthdays.
The park also has 2.77 acres of open space with hundreds of oak trees surrounding the waterfall.
Perfect for a family picnic and strolling around the lush greeneries.
Tip: The nearby Galleria Mall is a popular spot for shopping and taking the kids out for refreshments.
Family Train Ride at the Houston Area Live Streamers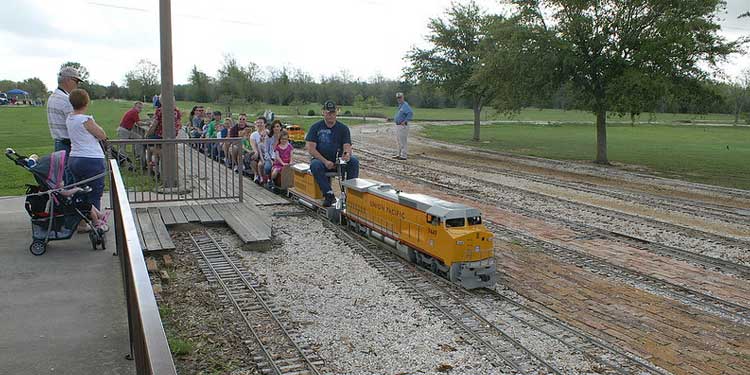 Address: 17802 Roberts Road, Hockley, Texas 77447, United States
Opening hours: 9:00 am - 1:00 pm on Saturdays & 1:00 pm - 4:00 pm on Sundays 
Costs: free rides
Houston Area Live Streamers is a non-profit organization that holds Public Ride Days every third Saturday of the month from March through November.
It provides a free miniature train adventure for the entire family that is roughly a mile long and lasts 12-15 minutes.
If you arrive early, you may be able to ride multiple times without having to wait long.
The area also has several concessions tables that sell merchandise like hats, shirts, snacks, and other variety of products.
So, make sure to grab one because each purchase and donation helps the trains run.
Check out the Best Family-Friendly Restaurants Around Houston
Houston boasts many fine dining options that are suitable for families. So much so that it delivers a variety of culinary cuisines to visitors, including Vietnamese Cajun, BBQ food, Tex-Mex cuisine, and many more. Some of our top recommendations are listed below:
Little Matt's: It is a lively, family-friendly restaurant that offers the best salads, burgers, a candy shop, and a kid's game room.
Mia's Table: With a homely ambiance, this counter-service restaurant serves delicate burgers, BBQs, and countryside, as well as housemade malts and shakes.
Lazy Dog Restaurant and Bar: Global comfort food is served by this laid-back, lodge-chic restaurant which also offers pot roast and pasta, stir-fries, and a special kids' menu.
Good Times Kitchen + Bar: It is a laid-back restaurant and bar that serves flatbreads, sandwiches, hearty main dishes, coffee, and desserts.
Crawfish & Noodles: Vietnamese and Cajun cuisine are featured prominently on the menu of this modern restaurant that also offers happy hours.
Note: Visit the restaurant's official website to check its location and make a reservation.
Create A Family Bucket list in Houston!
When traveling to Houston with kids and family, the best way to visit the main attraction of the city is by getting a CityPASS.
You will save a lot of time and money in the best way possible!
And while you do that, our top tips and top recommendations will surely help you through on your journey to pick from the best of the best.
To make it easier, also check out the best things to do in Houston, the best things to do in Houston for couples, and the best hotels in Houston.
Good luck!
Note: Keep in mind that information about travel can change quickly. To make sure your trip is fun and safe, we encourage you to double-check official websites and government/travel advisory sites for the latest information on travel restrictions, entry requirements, and safety measures.