Houston's vibrant Metropolis welcomes visitors with a diverse selection of fantastic hotel options that provide excellent accommodations and gratifying amenities.
Which also includes the city's booming culinary scene, with popular restaurants serving everything from Texas-style BBQ to seafood and Continental breakfast.
So, whether you are looking for the top-reviewed hotels around the downtown area or simply looking for a local choice, we have got you all covered.
In this article, we will explore the best luxury, boutique, and budget-friendly hotels in Houston. Let's get started!
Factors to Keep in Mind When Selecting a Hotel in Houston
As you search for the perfect hotel for your Houston visit, we recommend considering several factors to ensure a comfortable and enjoyable stay. These aspects include:
Location and Proximity to Attractions: Evaluate the hotel's location in relation to popular sights, shopping areas, and dining establishments. Additionally, consider the availability and ease of access to public transportation or shuttle services to help you explore the city effortlessly.
Type of Accommodations: Determine the kind of lodgings that cater to your requirements, such as room dimensions, bed arrangements, and accessibility options. Consider whether you're drawn to a boutique hotel with a unique personality or a more extensive, well-established hotel with various amenities.
Budget Considerations: Set a budget for your hotel stay and investigate options within that price bracket. Remember that factors such as the season, booking ahead of time, and looking for special offers can affect the total expense of your stay.
Hotel Amenities: Examine the hotel's amenities, including on-site dining options, fitness centers, pools, and spas. If you're traveling for work, search for hotels with meeting spaces, conference facilities, and dependable Wi-Fi access.
Guest Feedback and Ratings: We suggest reading past guest reviews to gain insight into the hotel's service quality, cleanliness, and overall experience. Look for recurring patterns in both positive and negative feedback to help you make an informed decision.
Luxury Hotels
Four Seasons Hotel Houston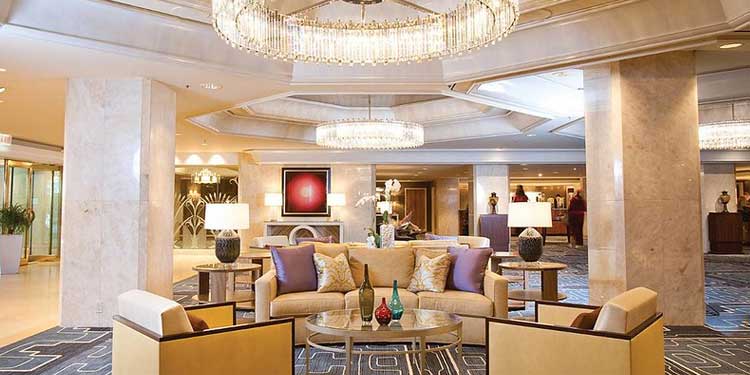 Address: 1300 Lamar Street, Houston, Texas 77010, United States
Phone: +1 713-650-1300
Website: https://www.fourseasons.com/houston/
The city of Houston welcomes you to Four Seasons Hotels, where urban sophistication meets Texas Hospitality right in downtown Houston.
This 5-Star hotel provides visitors with an intimate feeling of luxury with its warm decor and quaint deluxe rooms with cityscape views.
For a more relaxing treat, you can unwind by the resort-style pool or visit The Spa, a small sanctuary offering a choice of pampering and therapeutic treatments.
And while you get in with all the fun stuff, the hotel's top-rated restaurants and bars from around the city await an unforgettable dining experience.
Hotel ZaZa Houston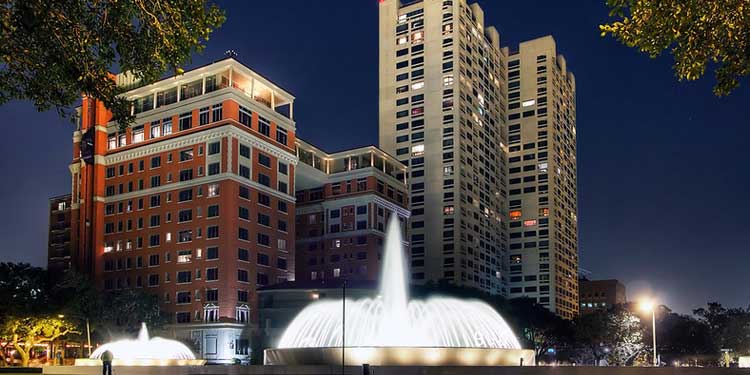 Address:  5701 Main Street, Houston, Texas 77005, United States
Phone: +1 713-526-1991
Website: https://www.hotelzaza.com/houston-museum-district
Hotel ZaZa is a premier boutique hotel in the Museum District known for its magnificent seven suites.
The Hotel performs its regular suites by boosting its premium rooms with innovative decoration schemes of artistic furnishings and luxurious materials.
It will make you want to stay in your room forever with the amenities and extra 24-hour dining service.
But the fun starts at the outdoor pool and a poolside bar where you can have your wide selection of drinks and sunbathe.
Later, you can dine at the hotel's exceptional restaurant and then relax in the spa with massages, body wraps, or facials.
InterContinental Houston, an IHG Hotel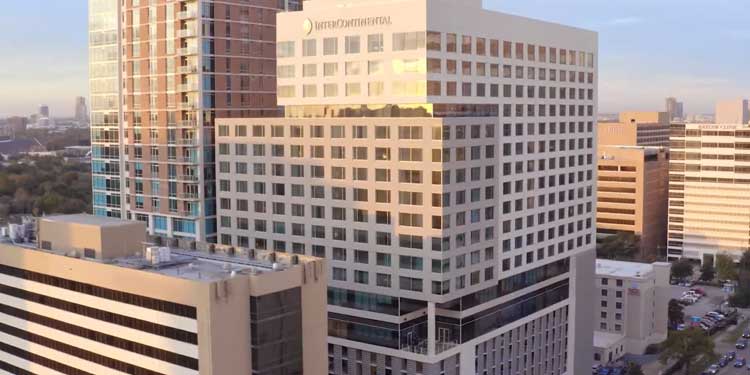 Address: 6750 Main Street, Houston, TX 77030, United States
Phone: +1 713-422-2779
Website:https://www.ihg.com/intercontinental/hotels/us/en/houston/houit/hoteldetail
Within a short reach from the downtown area and most of the top attractions of Houston, discover the InterContinental Houston for warm hospitality and a comfortable stay.
From its spacious rooms and suites to its elevated event spaces, InterContinental Houston offers refined facilities for a sophisticated stay.
For ultimate relaxation, it features an outdoor pool, air conditioning, and a laid-back bar where you can rest and enjoy a broad range of beautiful cocktails.
And with fantastic Texas cuisine, it boasts the ideal dining option and welcoming service, ensuring your stay at this luxury hotel is handled like royalty.
Boutique Hotels
Marriott Marquis Hotel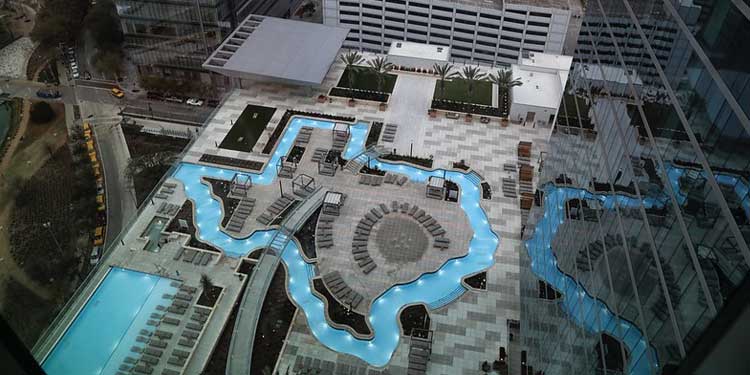 Address:  1777 Walker Street, Houston, Texas 77010, United States
Phone: +1 713-654-1777
Website: https://www.marriott.com/en-us/hotels/houmq-marriott-marquis-houston/overview/
Get ready for an all-inclusive vacation with your family at the Marriott Marquis Hotel in Houston, Texas.
This resort-like hotel welcomes visitors to its large guest rooms and suites, including deluxe amenities and 24-hour room service.
Take a dip in the infinity pool or the world's largest Texas-shaped rooftop lazy river while overlooking the downtown area.
There are also six on-site restaurants, one of which is a tapas bar featuring the best Mexican snacks and other high-quality foods in town.
So, choose one of your favorites and enjoy a special dining service before indulging in the relaxing Spa treatment!
The Lancaster Hotel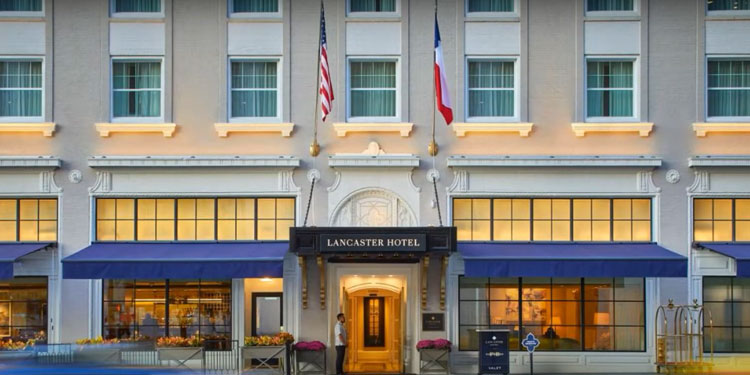 In the heart of downtown Houston, The Lancaster Hotel stands as a historic treasure that seamlessly combines timeless charm with contemporary amenities.
Guests can enjoy luxurious rooms and suites, the delightful on-site restaurant, The Bistro, and easy access to nearby attractions.
Established in 1926, this remarkable hotel provides modern comforts, excellent service, and a complimentary shuttle within a three-mile radius, ensuring a memorable stay amidst the city's bustling atmosphere.
The Westin Galleria Houston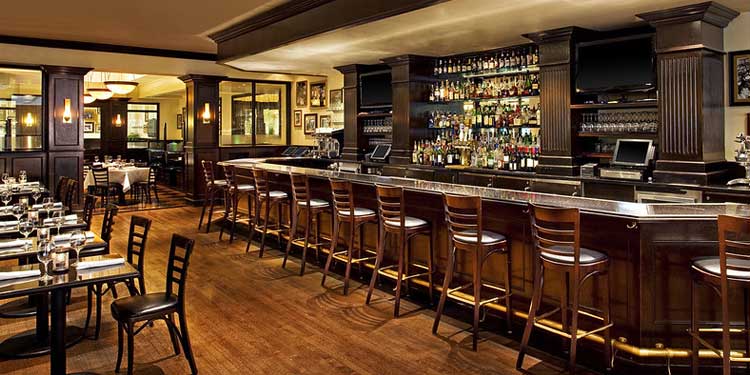 Address: 5060 West Alabama Street, Houston, TX 77056, United States
Phone: +1 713-960-8100
Website: https://www.marriott.com/en-us/hotels/hougw-the-westin-galleria-houston/overview/
The Westin Galleria Houston is a Four-Diamond hotel with direct access to The Galleria shopping center.
You are just minutes away from many of Houston's greatest attractions. Thanks to its lively Uptown location.
Cool yourself in the outdoor pool and exercise with a view at the hotel's onsite 24-hour WestinWorkout Fitness Studio.
Best of all, nothing tops the apartment-style accommodations, which include luxurious facilities such as a private kitchen, a soaking tub, 24-hour room service, and many more.
Budget-Friendly Hotels
The Royal Sonesta Houston Galleria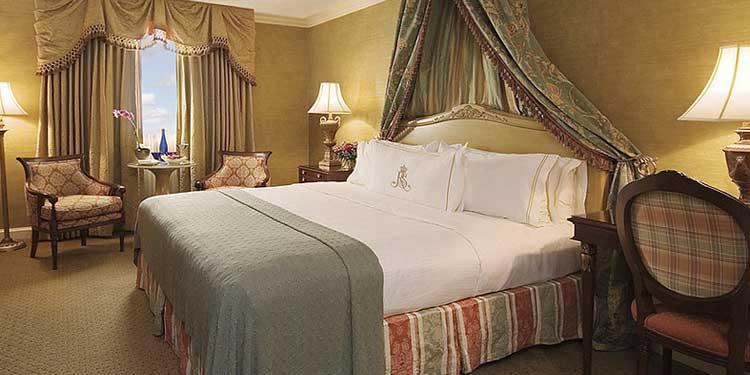 Address: 2222 West Loop South, Houston, Texas 77027, United States
Phone: +1 713-627-7600
Website: https://www.sonesta.com/royal-sonesta/tx/houston/royal-sonesta-houston-galleria
The Royal Sonesta Houston Galleria, located in Houston's vibrant Uptown neighborhood, puts you close to the city's top attractions and vibrant nightlife.
Settle into one of the elegantly decorated guest rooms and suites, enjoy a drink at Axis Lounge, or dine at ARA, which provides the best steaks and seasonal global cuisine.
Beat the Houston heat by diving into its cool outdoor pool or relaxing at the finest hot tub with a glass of wine.
Also, if you're here on a business trip, the hotel provides a business center and 50,000 square feet of meeting/event space.
Hilton Americas-Houston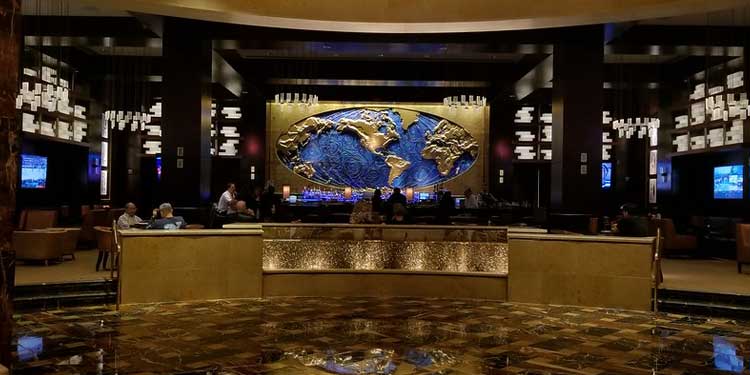 Address: 1600 Lamar Street, Houston, TX 77010, United States
Phone: +1 713-739-8000
Website: https://www.hilton.com/en/hotels/houcvhh-hilton-americas-houston/
You will find Hilton Americas-Houston in close to all the action of downtown and attached to the Georgia Brown Convention Center.
It is the cities leading hotel famous for conventions, corporate meetings, and business travelers.
Intending to provide meeting and conference facilities, the Hotel perfectly combines world-class ambiance with current technology and luxurious accommodations.
Relax in the bar with an excellent choice of cocktails, and look forward to a dining experience that will match the breathtaking panoramic view.
Other amenities include elegant rooms with every availability, indoor pools, and a full-service spa for the ultimate rejuvenation.
Magnolia Hotel Houston, a Tribute Portfolio Hotel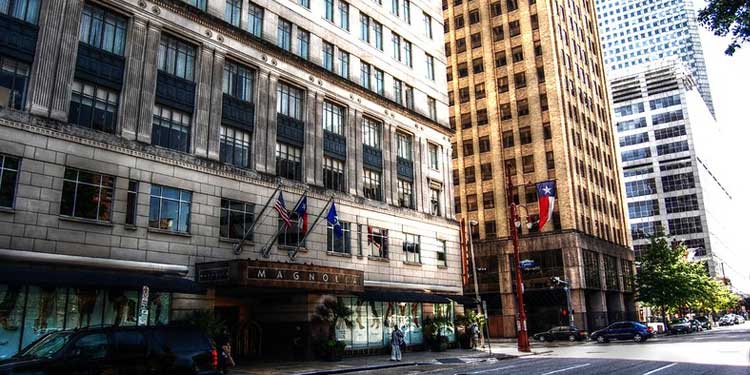 Address: 1100 Texas Avenue, Houston, Texas 77002, United States
Phone: +1 713-221-0011
Website: https://www.magnoliahotels.com/houston/
Are you looking for luxury accommodations that are budget-friendly? Then, you're in luck since Magnolia Hotel Houston has it all.
This downtown Houston Hotel is within a ten-minute walk from Minute Maid Park, which means you're never far from catching a baseball game.
This hotel has a free downtown shuttle service and a rooftop swimming pool with friendly staff available at all times.
A sophisticated restaurant/lounge, a rooftop pool and hot tub with city views, a 24-hour gym, and a billiards room are among the other top attractions to lay back and relax.
Start Planning Your Trip To Houston!
From the moment you step inside Houston, you will feel the warmth and intimacy available in every hotel with great hospitality.
Whether it's your first time or second, you are bound to visit again, and following our top recommendation for the best hotels in Houston, you won't be left home with anything.
In fact, you will have everything that you need!
And while you are here, check out the best things to do in Houston.
Good luck!