While in Ohio, checking out the capital city, Columbus is a must for many reasons!
Columbus is a great city to embark on new journeys as it opens the gate to many unmissable opportunities.
Alongside Cleveland and Cincinnati, the city welcomes many delightful guests all year round.
From the historic Ohio Statehouse to the entertaining State Fair and the natural beauty of Hayden Falls Park, don't miss any!
To make things easier, here are our best picks of things you may like to do in the innovative city.
Things to Do in Columbus, Ohio
Columbus Commons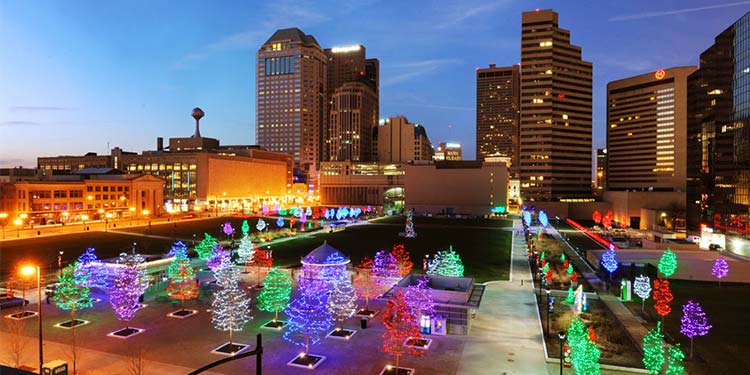 Location: 160 S. High Street Columbus
Opening hours: 7:00 am - 11:00 pm (Every day)
Entry rates: Not required 
Columbus Commons is a 6-acre fascinating green space in the city every visitor must explore!
Situated downtown, the site was once home to Columbus City Center, Ohio's largest and most upscale shopping mall.
Also known as John F. Wolfe Columbus Commons, the park has lovely gardens to wander, entertainment for the kids, and eateries.
The historically celebrated Pavilion, a Carousel with various characters' hand-carved seats, and an electronic playground are some of the attractions.
Plants here have been separated into four-season gardens, which makes it a beautiful sight to see all year long.
Many of the major public events are hosted here in the lively atmosphere—mingle in one if you're around the time to catch one live!
Ohio Statehouse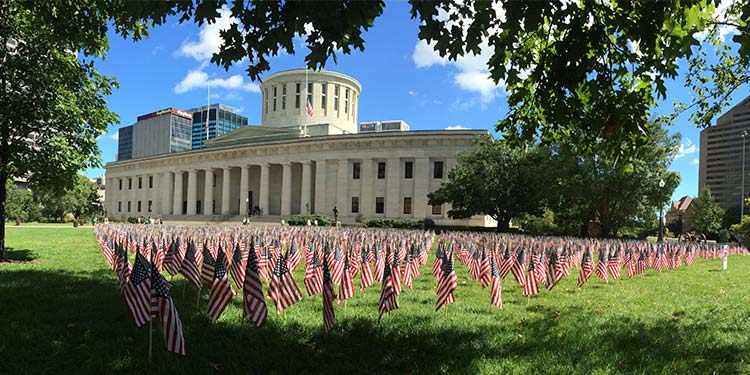 Location: 1 Capitol Sq, Columbus
Opening hours: 8:00 am - 5:00 pm (Mon-Fri), 11:00 am - 5:00 pm (Sat & Sun)
Entry rates: Not required 
The state capitol building and Ohio's seat of government, Ohio Statehouse, is one of the prime landmarks in Columbus.
Visit the popular tourist attraction to see the Greek Revival Building on Capital Square downtown, which functions as an active office and as a museum.
Established between 1839 and 1861, it is one of the oldest working statehouses in the country.
Attracting thousands of visitors every year, you can take a tour of the property or check out the Ohio Statehouse Museum Center.
It preserves the history of the state, including Ohio's presidential history, magnificent architecture, and art revolving over the years.
Visitors of all ages will surely find something fascinating to learn here!
Columbus Zoo and Aquarium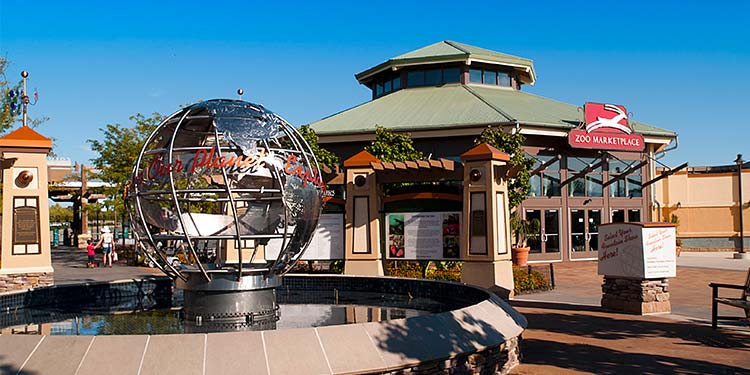 Location: 4850 W Powell Rd, Powell
Opening hours: 9:00 am - 6:00 pm (Every day)
Entry rates: $29.99 (Adults), $25.99 (Children)
Columbus Zoo and Aquarium is one of the best places to visit while you're in Columbus.
Located near Powell, sheltering more than 7000 animals representing 800 species, the zoo was ranked as the biggest and best zoo in the country.
The zoo attracts millions of annual visitors who come here to experience the unique habitat of the wilds.
Animal exhibits here are divided into eight different regions of the world, which makes it special.
'Adventure Cove' and 'Asia Quest' are some of the regional exhibits in the zoo, whereas 'Reptile Habitat' and 'Discovery Reef' are the aquatic exhibits.
Moreover, the zoo's property also has a 22-acre waterpark called Zoombezi Bay for those looking for refreshing fun in the summer!
North Market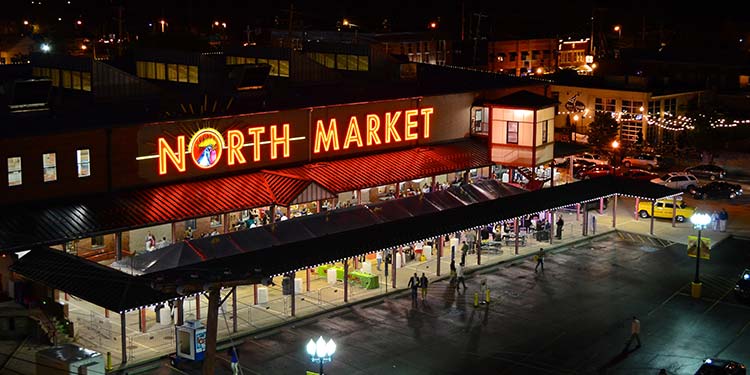 Location: 59 Spruce St, Columbus
Opening hours: 9:00 am - 7:00 pm (Tues-Sat), 10:00 am - 5:00 pm (Sun & Mon) 
Entry rates: Not required 
Don't miss out on visiting North Market, one of the best public markets and food halls in the area.
North Market is a popular market established in 1876 to bring all the local producers and people together to appreciate the artisan food and handcrafts.
With about 35 vendors, the market has a warm atmosphere to mingle in and try out the locally produced items, all under one roof.
This creative space offers a variety of ethnic flavors, and many gift options are also available! 
Palace Theater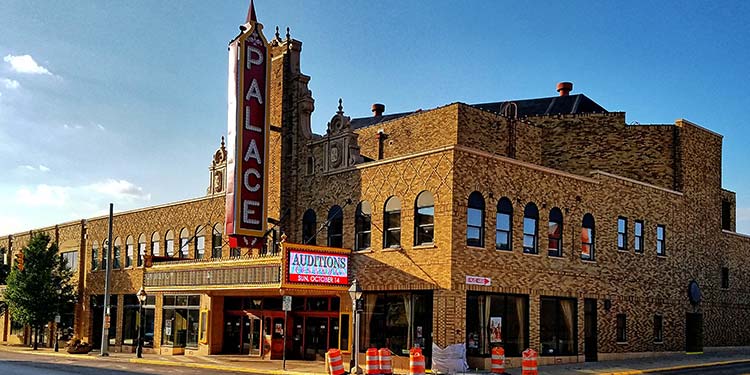 Location: 39 East State Street, Columbus
Contact: 614-469-1045.
Get your tickets to watch a show at the almost century-old historic Palace Theatre.
Built by an American architect Thomas W. Lamb in 1926, the spectacular architecture is reminiscent of the 18th-century neo-classical style and has over 2500 seats.
The intricately decorated theatre is used for multiple purposes functioning as a performing art venue.
Film festivals, Movie screenings, and Sing-along film concerts are some of the programs conducted here.
Being the sister theatre to the Ohio Theatre, it is one of the most high-quality theatres in Columbus.
Center of Science and Industry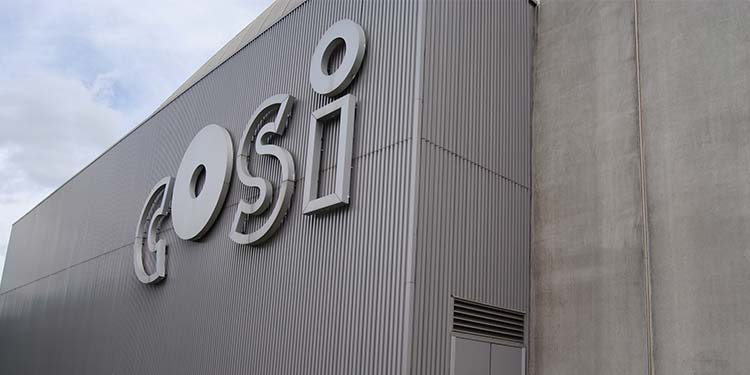 Location: 333 West Broad St., Columbus
Opening hours: 10:00 am - 5:00 pm (Every day)
Entry rates: $20 (Ages 2-12), $25 (Adults)
Center of Science and Industry, also known as COSI for short, is a science museum and research center in the city.
It can be a great place to learn more about everything that revolves around the era of science and technology.
The center displays more than 300 interactive and fascinating exhibits, from dinosaur exhibits to interactive space displays.
Some of their popular attractions are 'National History Dinosaur Gallery,' 'Gadgets,' 'Ocean,' and 'Little Kid Space' for the little ones.  
Children can find their educational and entertaining activities and programs enjoyable.
Ohio Stadium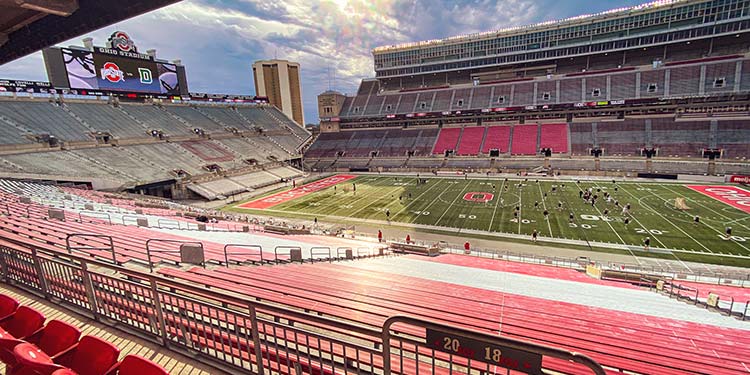 Location: 411 Woody Hayes Dr, Columbus
Contact: +1 614-292-6330
Catch the lively vibe of the Ohio Stadium if you get a chance to watch a show here!
The American football stadium on the campus of Ohio State University is the home venue of the Ohio State Buckeyes football team.
Commonly referred to as 'the Horseshoe' or 'the Shoe', the stadium has a seating capacity for more than 100.000 people.
Other than game shows, many record-breaking artists such as Taylor Swift, Pink Floyd, and The Rolling Stones have performed in this very place.
Franklin Park Conservatory and Botanical Gardens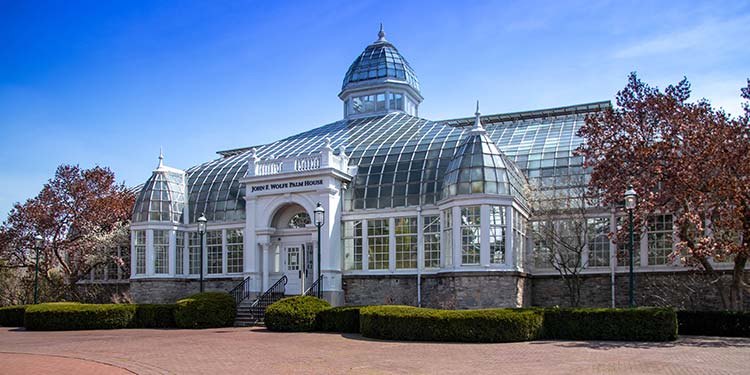 Location: 1777 E. Broad Street, Columbus
Opening hours: 10:00 am - 5:00 pm (Every day)
Entry rates: $23 (Adults), $15.50 (Children)
Visit Franklin Park Conservatory and Botanical Gardens to explore the beauty of nature up close!
Over 400 species of plants are cultivated on-site; witness various exotic plant collections, exhibitions, and artworks here.
The atmosphere is maintained for each section according to global climate zones, including the Himalayan Mountains, Tropical Rainforest, Dessert, and Pacific Island.
Bonsai Courtyard, Palm House, and Showhouse are some of the many exhibits found here.
Other attractions, including Topiary Displays, Chihuly Glass Art, Children's Gardens, Butterfly Habitat, and Splash Ponds, are enjoyable spots on the site.
It is a fantastic place to learn and appreciate nature and enjoy interactive exhibits and fun activities!
Otherworld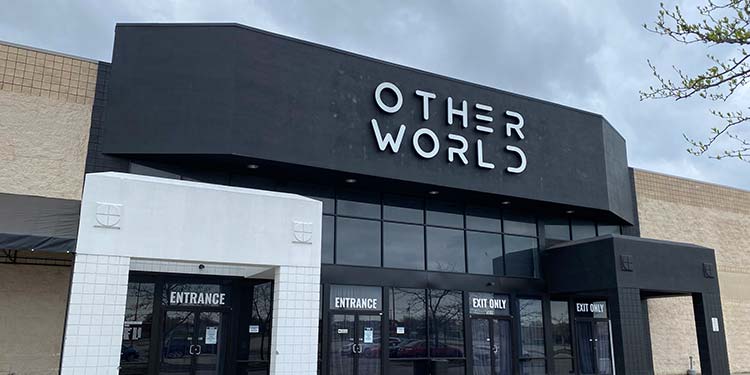 Location: 5819 Chantry Drive, Columbus
Opening hours: 10:00 am - 8:00 pm (Mon, Wed, Sun), 10:00 am - 10:00 pm (Thurs, Fri, Sat)
Entry rates: $30 (Adults), $25 (Children)
Are you ready to experience something unique and out of this world?
Welcome to the Otherworld! This is where all your imaginative surroundings come to life.
This artistic entertainment hub has more than 40 rooms of large-scale interactive art, mixed-reality playgrounds, and an immersive art museum to explore!
Otherworld has no rules to follow.
You are your own leader, and you will take yourself to any of the passages and get surprised by the otherworldly effects in each designated room.
Anyone can get interactive and engage in the art installations inside the fun house and enjoy the sensory experience.
Columbus Museum of Art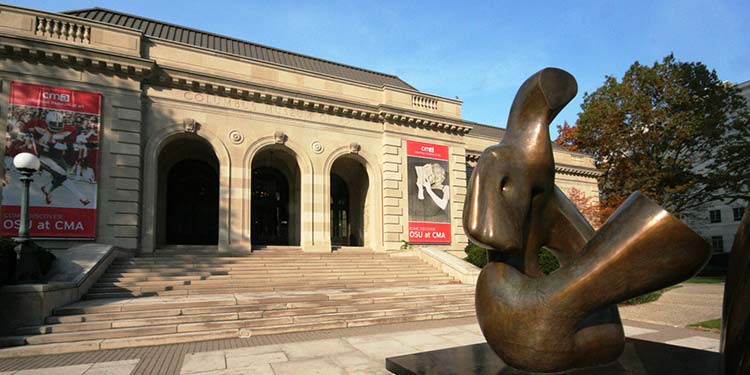 Location: 480 East Broad Street, Columbus
Opening hours: 10:00 am - 5:00 pm (Tues, Wed, Fri-Sun), 10:00 am - 9:00 pm (Thurs), Closed on Mondays
Entry rates: $18 
Columbus Museum of Art is a great place for inspiration, truly a gem in the heart of the city.
It is the first art museum to register its charter with the state, which was built in 1878 as the Columbus Gallery of Fine Arts.
The museum has a wide collection of American and European modern and contemporary art.
It features beautiful artwork of a variety of styles and mediums, such as paintings, sculptures, photography, and contemporary installations from all around the world.
You can find works of some significant artists such as Edward Hopper and Winslow Homer.
The art museum does a great job of showcasing the diversity and importance of the artistic world.
Easton Town Center
Location: 160 Easton Town Ctr, Columbus
Opening hours: 10:00 am - 9:00 pm (Mon-Sat), 12:00 pm - 6:00 pm (Sundays)
Contact: +1 614-337-2200
Looking for the best shopping hub in the city of Columbus?
Worry not! Easton Town Center can be the perfect place to find all your favorite stores.
Opened in 1999, the shopping center is a unique attraction itself as the center is designed as a self-contained town inspired by 20th-century American towns.
The property of Easton Town Center has numerous buildings featuring a variety of stores, restaurants, and entertainment.
Millions of visitors come by to shop in a selection of more than 300 retail stores.
Some of the many popular brands found here are Gucci, Apple store, and Sephora.
The mall also has the Escape Game, LEGOLAND Discovery Center, Comedy Club, and more for everyone's entertainment!
Zoombezi Bay Water Park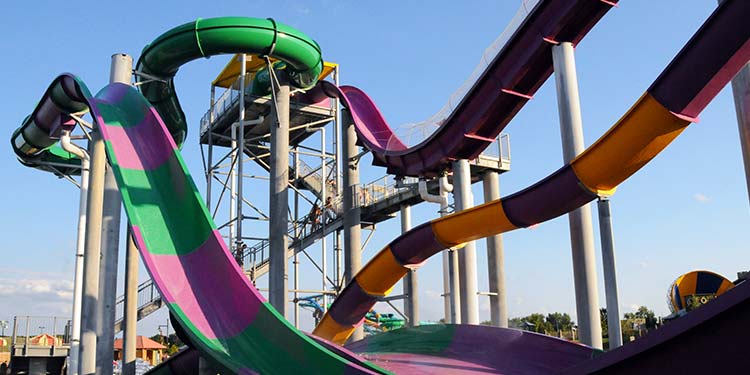 Location: 4850 Powell Rd, Powell
Opening hours: 10:30 am - 7:00 pm (Every day)
Entry rates: Starts at $39.00 (Adults), $36.99 (Children)
Feel the refreshing vibe at Zoombezi Bay Water Park!
Opened in 2008, the 22.7-acre water park is known as one of the most popular water parks in the Midwest.
Adjoined to Columbus Zoo and Aquarium, it can be convenient for visitors wishing to check both attractions on the same day.
Some of the fun rides in the park are Baboon Lagoon, Croctail Island, and Python Plunge.
It is a great place for kids of all ages as they provide separate sections and a variety of rides for little ones and young adults.
Ohio State Fair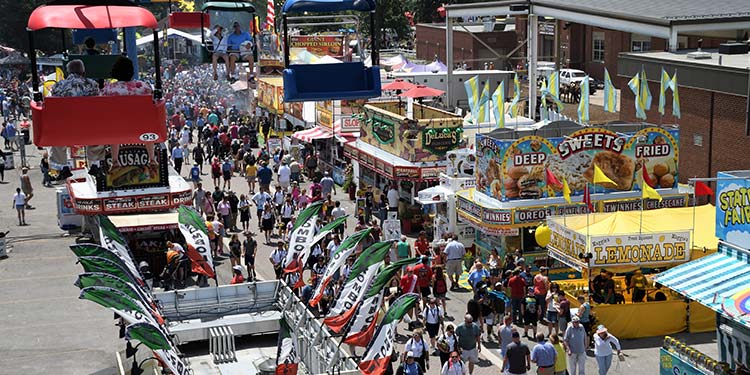 Location: 717 East 17th Avenue, Columbus
Opening hours: 10:00 am - 9:00 pm (Mon-Fri), 9:00 am - 9:00 pm (Sat & Sun)
Entry rates: Starts at $12 (Adults), $10 (Children)
Engage yourself in the most happening annual event in the State of Ohio!
Known as one of the largest state fairs in the country, the Ohio State Fair never disappoints its large number of visitors every year.
Since 1850, the fair has been entertaining families from the end of July till the first week of August.
The lively fair features various fun rides, food stalls, games, and many more.
Don't miss out on experiencing this enjoyable event if you happen to visit the city around the time!
Battelle Darby Creek Metro Park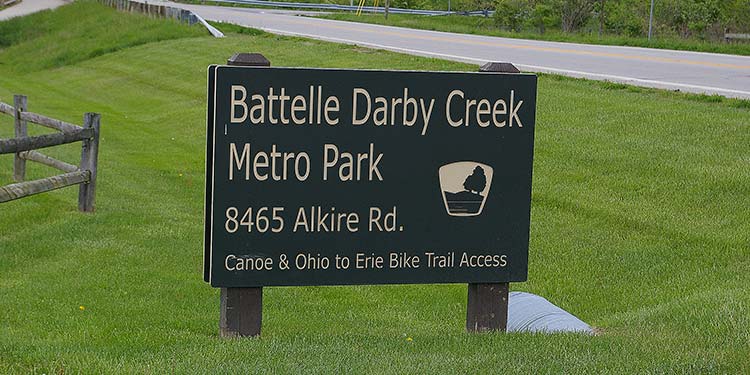 Location: 1775 Darby Creek Dr, Galloway
Opening hours: 6:30 am - 10:00 pm (Every day)
Entry rates: Not required 
Battelle Darby Creek Metro Park is the largest Metro Park, situated in Central Ohio!
Spread over 7,103 acres of land, the park features various attractions, offering something for every age.
The park has enjoyable walking paths taking you to all the tallgrass prairie, wetlands, and forest.
A nature center displays exhibits of the biodiversity of Big Darby Creek, which flows through the park along with Little Darby Creek.
It is home to numerous American Bison; remember to look out for local wildlife while exploring the depths of the park.
Not only children but adults can also enjoy the multiple play areas found in the metro park!
Hayden Falls Park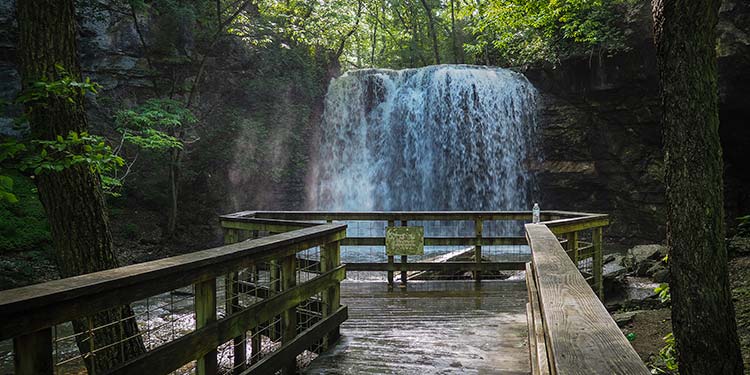 Location: 4326 Hayden Run Rd, Dublin
Opening hours: 6:00 am - 10:00 pm (Every day)
Entry rates: Not required 
Explore the natural beauty of Hayden Falls Park, located on the West side of the Scioto River.
The 2-acre nature preserve features a 35-foot-tall stunning waterfall and is home to some of the endangered plants.
With a half-mile walk from the parking area to the falls, it is perfect for adults with kids wishing to wander around the woods and wildlife area.
The water flow of the falls depends on the season you visit, but either way, you're promised a peaceful atmosphere and beautiful views.
Columbus Calling!
Plan an adventurous yet educational trip to the capital city of Ohio, the Buckeye State.
Columbus can be an enjoyable destination for all ages as it has many unique features and attractions to offer its visitors.
Whether a traveler or local, make sure your time in the city is unforgettable and worthwhile!
Note: Keep in mind that information about travel can change quickly. To make sure your trip is fun and safe, we encourage you to double-check official websites and government/travel advisory sites for the latest information on travel restrictions, entry requirements, and safety measures.