Bandon is a charming little town on the Southern Oregon Coast that offers a little bit of everything for visitors of all ages.
The first thing you will notice about this town is its beaches, where you can come any day to explore miles and miles of shoreline with many recreational activities.
Choose from horseback riding, watching the sunset, going tide pooling, flying a kite, and walking through the ''Circles in the Sand'' creation.
Beaches might be fun, but wait until you visit the quaint little Old Town of Bandon!
It is filled with many historic buildings that have been converted into shops, restaurants, art galleries, and clothing boutiques.
The Port of Bandon – also known as Marina, has seafood restaurants, docks, and public art pieces scattered all around.
Theres more! And for you to get started, we have set a list of the best things to do in Bandon for a memorable trip.
Things to Do in Bandon, Oregon
Circles in the Sand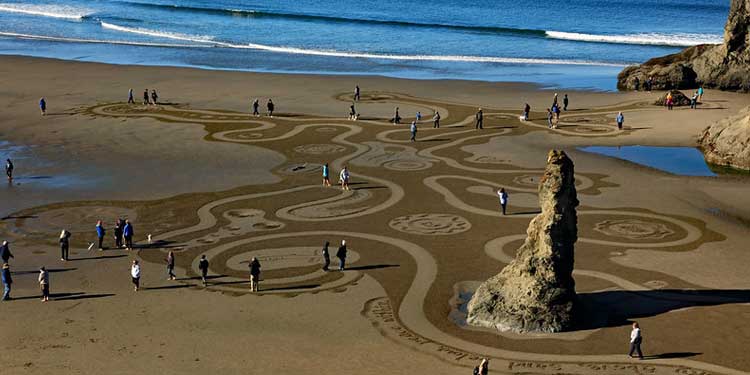 Address: 2392 Beach Loop Drive Southwest, Bandon, Oregon 97411, United States
Hours: N/A
Costs: free
For all art enthusiasts, theres something more relaxing on the beach of the quaint little town of Bandon, Oregon.
Circles in the Sand is a walking art installation that all locals and visitors participate in year-round, with the Summer running from May to September.
Visitors get to help and make a Labrythn with a single path meandering across the whole design with dead ends. There is no fee, and the path is suitable for both children and pets.
The draw location is at the Face Rock Viewpoint, and is truly a wonderful and amazing experience here at Bandon. So dont miss out!
Tip: Get there early to watch them create and explore the caves and tide pools around.
Bandon State Natural Area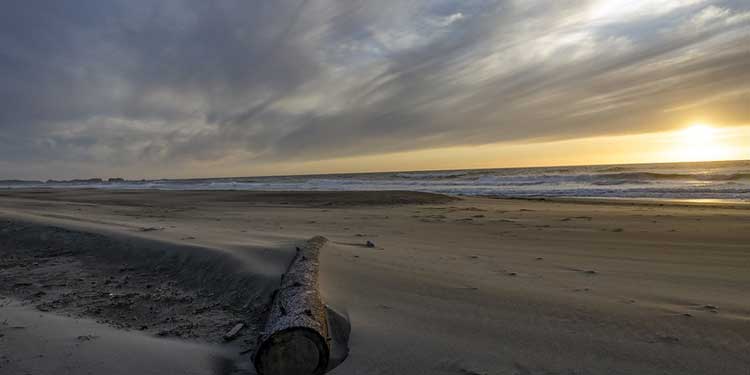 Address:  53969 Beach Loop Road, Bandon, Oregon 97411, United States
Bandon Beach Natural is a State Park in Bandon that is best visited during low tides.
You can spend your day beachcombing, spot wildlife, fly a kite, and run around the miles of shoreline.
It also has access to other main viewpoints like Coquille Point, Devil's Kitchen, and Face Rock State scenic viewpoint.
Theres also many paved paths and several picnic spots toward the observation deck. So you can grab yourself lunch and refreshing drinks as you enjoy the scenic views.
Note: Depending on the tides and other uncertainties, it can be challenging to get to the beach.
Play a Round of Golf at Bandon Dunes Golf Resort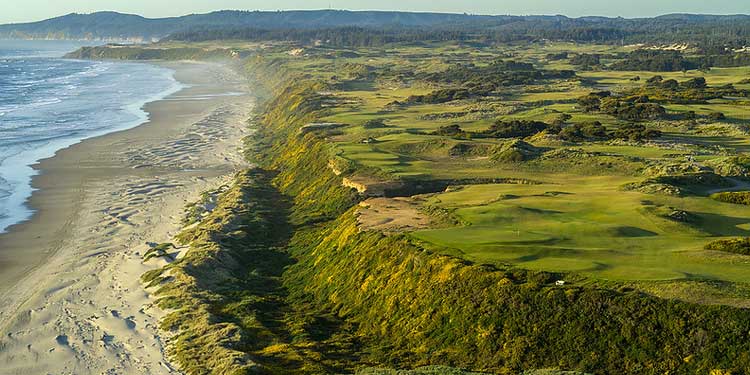 Address: 57744 Round Lake Road, Bandon, Oregon 97411, United States
Hours: Open 24 hours
Bandon Dunes is a magical 36 holes Golf Course that's situated along the shoreline of the Oregon Coast in Bandon.
It embodies the spirit of Scotland's ancient connections with six unique link courses that have been designed to be environmentally friendly.
Whether you are a professional, intermediate, or beginner golfer, they combine all of the necessary ingredients to provide a unique golf experience each time you play.
And if you want to extend your stay after a whipping day of golfing, the resort's accommodations cater to visitors with the best option for lodging and dining.
From bedroom cottages with fireplaces, pubs, and restaurants to a laid-back bunker bar with a shooting pool, theres everything to make a perfect day out with the entire family and larger groups.
Note: check out its website for booking and prices of course rates.
Try FiSH 'N' Chips at Bandon Fish Market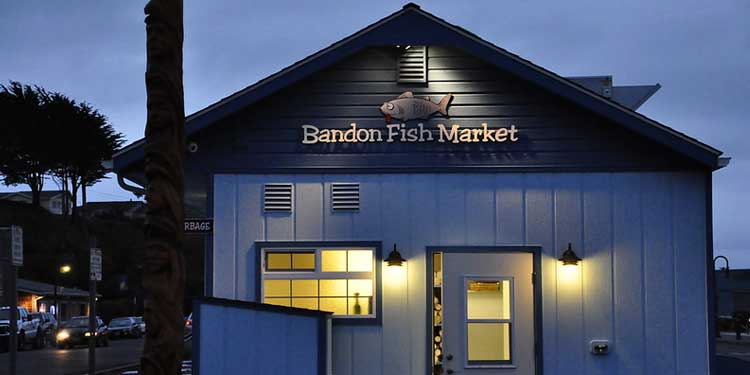 Address: 249 1st Street Southeast, Bandon, Oregon 97411, United States
Hours: open daily from 11:00 am - 6:00 pm
Costs: reasonably priced
Located in the picturesque Old Town, Bandon Fish Market is a nice little seaside eatery with indoor and outdoor dining seating.
It is mostly famous for its fish 'n' chips, chowders, sandwiches, local beers, and a great view of Marina Bay.
And not to forget the main special course of Salmon and oysters. The selections of fish vary with seasons and catch, but there will always be something to satisfy your taste.
It's a great way to spend some time for a quick meal and resting your legs while strolling around the Marina. So do make a stop if you are nearby.
Go Horseback Riding at Beach with Bandon Beach Riding Stables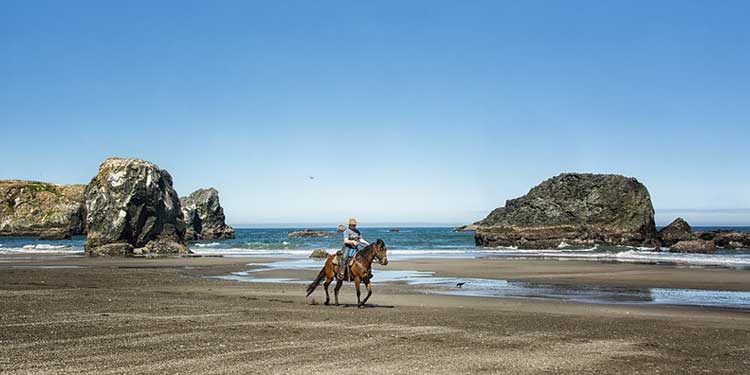 Address: 54629 Beach Loop Road, Bandon, Oregon 97411, United States
Service hours: daily from 10:00 am - sunset
Costs: prices vary on ride times
Do you want to take your horse to the Old Town Beach? Then your gonna have to contact the Bandon Beach Riding Stables.
Riding horses at the beach is one of the best things to do in Bandon, and therefore Beach Riding Stables is here for you to take you on a horse ride like never before.
Everyone receives a guided orientation before the ride. So whether you are a beginner or an amateur, Bandon Beach Riding Stables has got you covered.
The rides are 90 percent of beach and 10 percent trail, with a maximum of 1.5 hours from March through September.
Tip: Evening makes it a great time to witness the sunset and ocean waves.
Visit Coquille River Lighthouse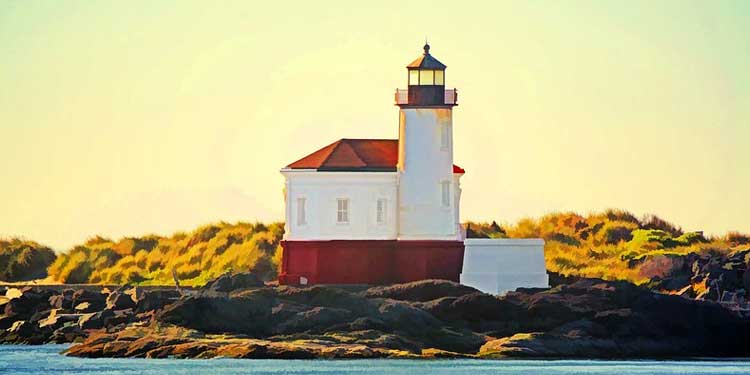 Address: 56487 Bullards Beach Road, Bandon, Oregon 97411, United States
Hours: open 11:00 am - 5:00 pm (Thursday - Monday), closed Tuesday - Wednesday
Costs: free admission/Parking
Coquille River Lighthouse was built in 1896 to guide mariners and ships into the entrance of Coquille River and the Harbor of Bandon.
Today, this historical place has been a hotspot destination among locals for viewing the ocean, wildlife, learning history, and strolling around the miles of shorelines.
The lighthouse is easy to access via Bullards State Park and makes a great spot for biking and hiking just over a mile through grassy fields and paved trails.
Learn Local History at the Bandon Historical Society Museum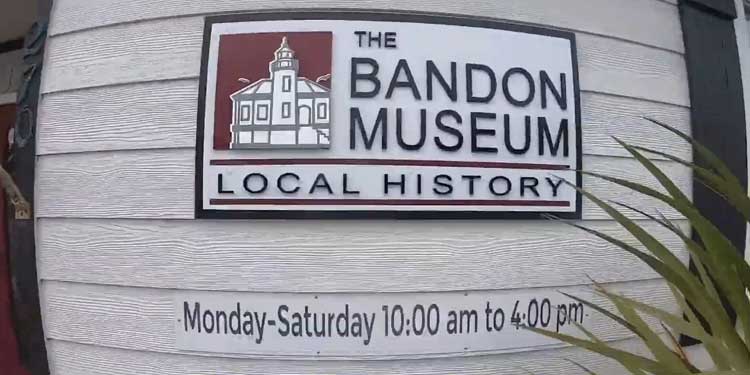 Address: 270 Fillmore Avenue Southeast, Bandon, Oregon 97411, United States
Hours: open 10:00 am - 4:00 pm (Monday - Saturday), closed on Sundays
Costs: admission is $3 per person, children 12 and under are free
If you want to learn everything about the history of Bandon, then the Bandon Historical Society Museum is just the place for you.
It is a non-profit organization formed in 1976 dedicated to preserving and presenting historical documents and artifacts linked to Bandon's past historical incidents.
The exhibits and guided tour provide visitors with the story of a town blessed by water and cursed by fire. Other includes Shipbuilding, shipwrecks, fires, and stunning coastlines.
See Trash Art at Washed Ashore Gallery & Volunteer Workshop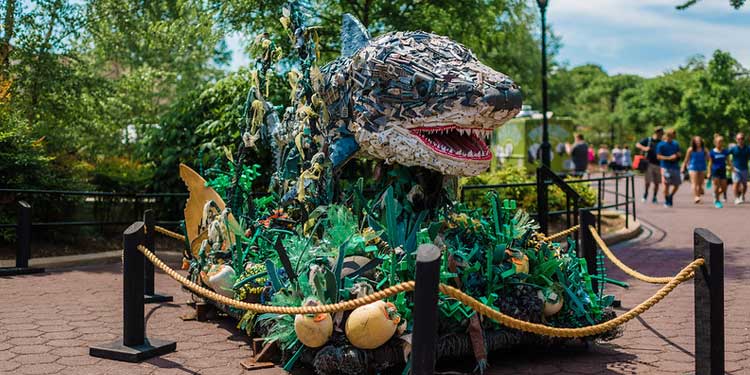 Address: 250 1st Street Southwest, Bandon, Oregon 97411, United States
Hours: open daily from 7:00 am - 4:00 pm
Costs: free admission
Washed Ashore Gallery and Volunteer Workshop is a non-profit Museum and community art project that recycles ocean trash into art installations and sculptures.
It showcases and educates visitors about plastic pollution in oceans and waterways.
If you are interested in volunteering with locals, visit its website to save the sea and make oceans wastes into a creative art.
Stroll Around Port of Bandon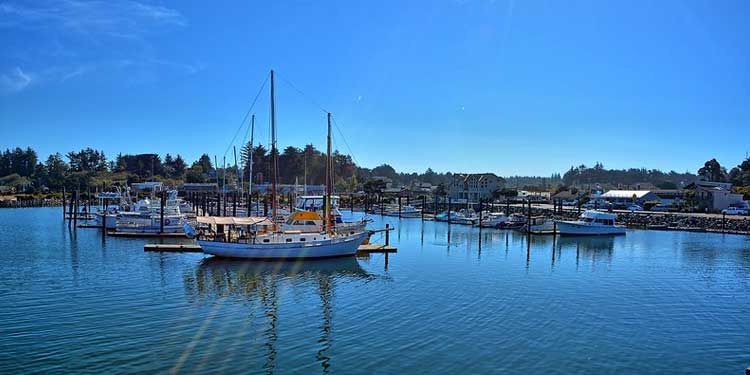 Address: 390 1st Street Southwest, Bandon, OR 97411, United States
Hours: Open 8:00 am - 4:00 pm (Monday - Friday), closed on Saturday & Sunday
The Port of Bandon has a little bit of everything despite being in a small coastal town in Oregon.
You can spend your day sport fishing, going on a boat tour, viewing wildlife, and treating yourself to delicious seafood and refreshing drinks around the seaside restaurants.
And even if that's not enough, you can take a self-guided tour around the boardwalk and learn a little piece of the history of Marina.
There are a handful of shopping stores around the boardwalk where you can take time choosing the best souvenir or gifts to take home with you.
Face Rock State Scenic Viewpoint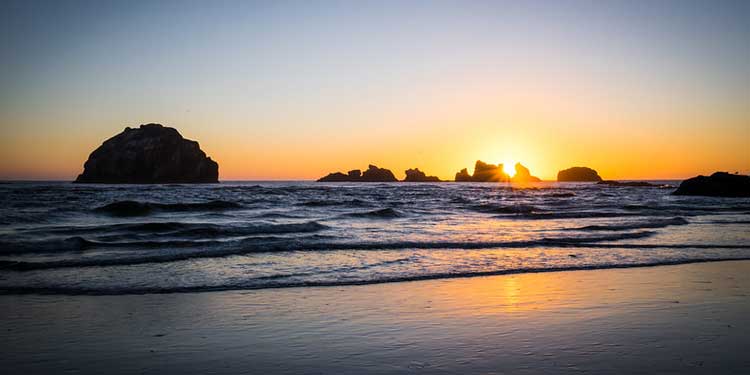 Address: Face Rock State Scenic Viewpoint, Bandon, Oregon 97411, United States
Costs: Free entry/Parking
Whether it's horseback riding on the beach, flying kites, or making labyrinth circles in the Sand, Face Rock State Scenic Viewpoint offers something for everyone.
During low tides, you can go exploring the rock caves and see some great tide pool creatures, while high tides make a great activity to see crashing waves and marine wildlife.
There are beautiful rock formations, such as the Namesake Face Rock and the Wizard's Hat, as well as many seabirds that live on the cliffs.
Take a tour around the viewpoint for amazing views and many photo opportunities to fill in your gallery.
It is also a wonderful beach access site, with a paved trail to the beach that is wheelchair accessible.
Start Planning Your Trip to Bandon
If you are looking for places to stay around Bandon, theres many of them, depending on your budget. 
Look for motels around Downtown for a more affordable choice.
Or check out the Bandon Dunes Golf Resort or the Western Inn at Face Rock for top-notch amenities and accommodations.
Finally, taking public transportation is an easy way to get around. However, if you want to go on an outdoor adventure, you may rent a vehicle, RV, or even a bicycle.
And next time, if you're looking for the greatest hidden gems on the Oregon Coast, don't overlook Bandon.
Good luck!
Note: Keep in mind that information about travel can change quickly. To make sure your trip is fun and safe, we encourage you to double-check official websites and government/travel advisory sites for the latest information on travel restrictions, entry requirements, and safety measures.