Cincinnati is a lovely city to cling around—the more you know the city, the more your experience gets better.
One can learn so much from the city's fascinating history and high-spirited culture.
Although the visitors and locals will have many things to do in Cincinnati, the city also has lots to offer the younger ones.
To impress a kid can be challenging, but not when you're here!
From exciting rides in parks to hunting favorite treats on the market, kids will surely enjoy exploring the city's lively streets.
Here's our list for an entertaining, engaging, and educative tour for the little ones!
Things to Do in Cincinnati with Kids
Highfield Discovery Garden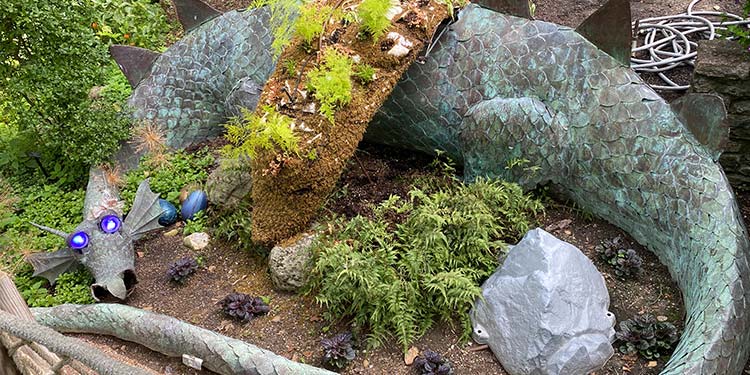 Location: 10245 Winton Road, Cincinnati
Opening hours: 9:30 am - 5:00 pm (Tues-Sat), 12:00 pm - 5:00 pm (Sunday), Closed on Monday
Entry rates: $6, Free for kids under 2 years old 
Highfield Discovery Garden can be the perfect outdoor space to take your kids to on a sunny day.
The garden is designed to provide a creative and unique perspective on the environment with interactive and educational activities.
One of the major attractions in this magical garden is the 25-foot discovery tree.
There are seven gardens to explore, including the famous Frog & Toads Garden, Wizard's Garden, and Butterfly Garden.
It will be a fun task for everyone to explore this 12-acre unique garden that has visually pleasing and detailed surprises in every corner.
Children love music, don't they? The musical part of this garden will leave them bouncing on their feet.
Other engaging activities, such as the bouncy bridge, the teahouse, the train station, and the frog pond, will surely bring many giggles to your ears.
Findlay Market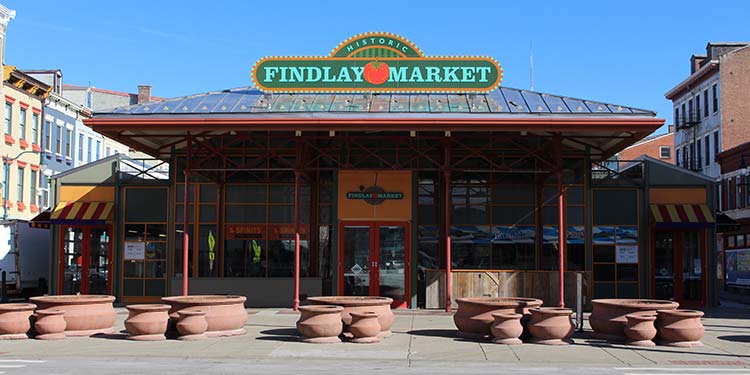 Location: 1801 Race Street, Cincinnati
Opening hours: 9:00 am - 6:00 pm (Tues-Fri), 8:00 am - 6:00 pm (Sat), 10:00 am - 4:00 pm (Sun), Closed on Mondays
Entry rate: Not required 
Cincinnati's Findlay Market is none like any other farmer's market!
The oldest remaining market is a fun spot for all; merchants, locals, tourists—every corner is filled with diverse people.
Located in the north of Downtown, the vibrant market always has a lively vibe all around and even more on the weekends.
This kids-friendly market has everything from a delicious selection of cooked food to fresh and organic fruits and handicraft items.
Children will surely look around the market and find something unusual and amusing item to take home.
And the best part would be the variety of desserts. So be prepared to make a stop by the famous chocolatier's booth!
Krohn Conservatory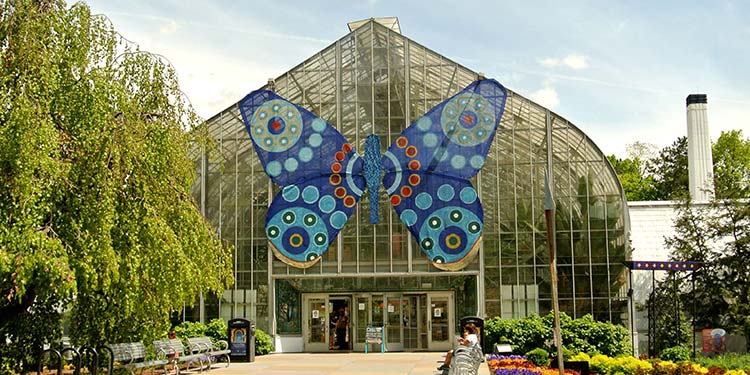 Location: 1501 Eden Park Dr, Cincinnati
Opening hours: 10:00 am - 8:00 pm (Every Day)
Entry rates: $5 (Ages 5-17), $7 (Adults), Free for kids of age 4 and under
Krohn Conservatory is a beautiful and relaxing plant house you can visit in Eden Park.
With over 3500 species of plants, the conservatory maintains the atmosphere to house different types of plants all under one roof.
It's a great place to surround your kids with nature; the more they learn about it, the better they treat the earth.
Bonsai Collection, Floral Display, and Orchid Display are some of the most impressive exhibits in the conservatory.
The friendly staff members are happily available for the numerous inquiries the children like to make during their visit.
Note: If you happen to be here during the springtime, don't miss out on the magical butterfly exhibit they have every year.
Taft Museum of Art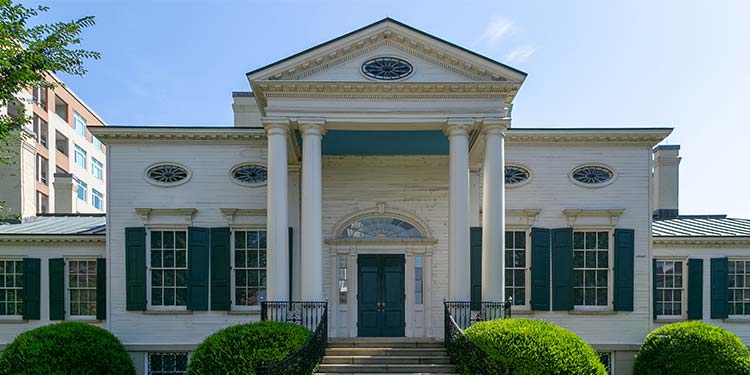 Location: 316 Pike Street, Cincinnati
Opening hours: 10:00 am - 5:00 pm (Wed-Sun), Closed on Mon & Tues
Entry rates: Free for children of age 18 and under, $12 (Adults)
Help your kids spark up the creative side they have within themselves.
The centuries-old historical fine art collection at one of the National Historic Landmarks, the Taft Museum of Art, is one magnificent place to be.
The museum showcases some of the best artworks from renowned artists like Thomas Gainsborough, Frans Hals, Adriaen van Ostade, and many more.
This includes the gallery display of many fascinating historical artifacts, sculptures, furniture, costumes, and more that will surely amuse the kids of the modern era.
It is always a delight to engage the little ones in art when history is involved. So don't miss out!
Coney Island Park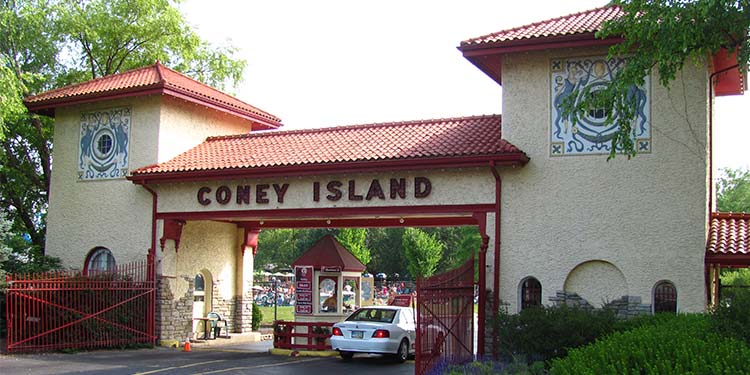 Location: 6201 Kellogg Avenue, Cincinnati
Opening hours: 10:00 am - 8:00 pm (Every Day)
Entry rate: Starts at $25
Take the kids to the best water-themed park in Cincinnati!
Coney Island Park can be your ultimate fun stop to spend an engaging yet relaxing day in the city.
Located on the banks of the Ohio River, this park offers a full family fun package.
With the largest swimming pool in the area, you'll have much space to play on all the rides, slides, and fun water activities.
And after all the fun, plenty of refreshments and yummy foods are easily available on-site.
This kid-friendly waterpark is always filled with a good crowd where you can bump into some friendly people.
So make sure to plan the most refreshing outdoor fun for this summer with your kids at Coney Island Park.
Tips: An abrupt plan to visit the park? Not to worry, you can purchase everything you'll need at the Island Shop.
Cincinnati Reds Hall of Fame & Museum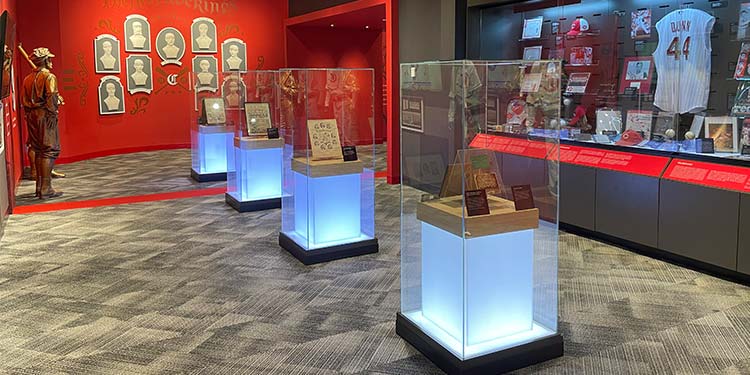 Location: 100 Joe Nuxhall Way, Cincinnati
Opening hours: 10:00 am - 5:00 pm (Every Day)
Entry rate: $12 
Are your little ones into any sports?
If playing baseball is one of their favorite activities, take them to see the glory of the Cincinnati Reds at the Cincinnati Reds Hall of Fame and Museum.
It is an homage to the historic first Major League Baseball team situated next to the Great American Ball Park.
The museum preserves the 1882-founded baseball team's legacy through artifacts and multimedia displayed in the gallery.
For children of every age, the museum offers fun, interactive, and educational programs.
Programs such as Take Me Out to the Ballgame for pre-K to 2nd graders and Build a Baseball Team for 3rd to 12th graders are available.
In case your kid is already a part of the Redleg Nation, they can boost up their Reds Baseball IQ.
Smale Riverfront Park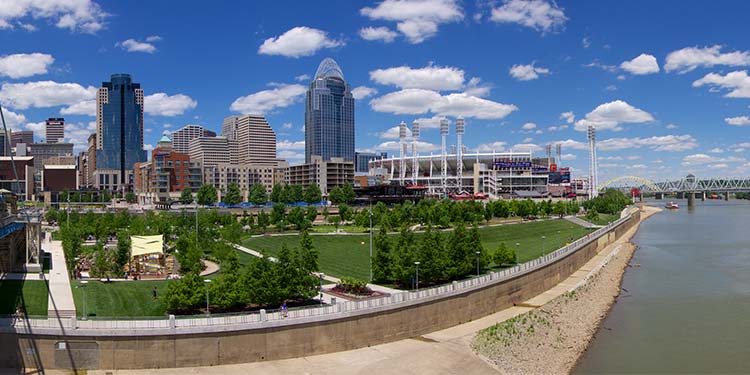 Location: 166 W Mehring Way, Cincinnati,
Opening hours: 6:00 am - 11:00 pm (Every Day)
Entry rate: Not required 
Next to the Ohio River, Smale Riverfront Park is a family-friendly location to chill, play, and enjoy the best views of the city.
Likewise, the park also offers various fun activities to people of all ages.
A playground, a splash pad, and a carousel are some of the many attractions in the park designed for children's entertainment.
The natural setting is even elevated by waterfalls, bike trails, boat docks, fountains, and much more.
Children would surely love to roam around their gardens and admire the beauty of nature.
Tips: Make sure to pack a swimsuit or an extra pair of clothes for the kids to let them enjoy the splash area to the fullest.
Children's Theatre of Cincinnati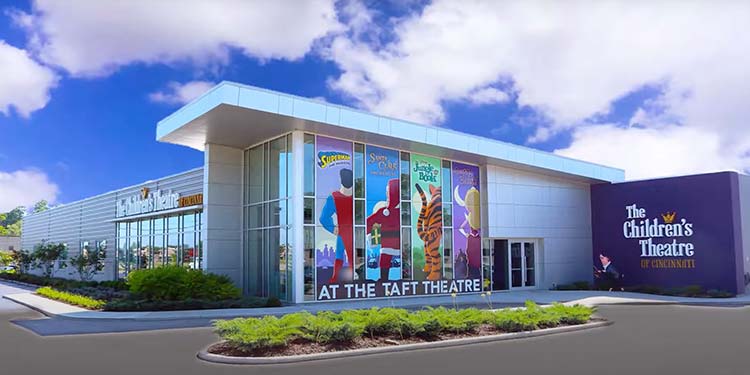 Location: 4015 Red Bank Road, Cincinnati
Contact: +1 513-569-8080
Children's Theatre of Cincinnati promises fantastic performances and a fun experience for everyone in the family.
It is a wonderful place to watch the live shows with your kids and enjoy both the visuals and acoustics to the highest.
The SpongeBob Musical, NARNIA The Musical, and Disney's Finding Nemo JR are some of the popular adaptations performed here.
The seats are very cozy and were specially designed to provide a comfortable experience to children and average-sized adults.
Make unforgettable memories in this entertainment house with the kids.
Cincinnati Zoo & Botanical Garden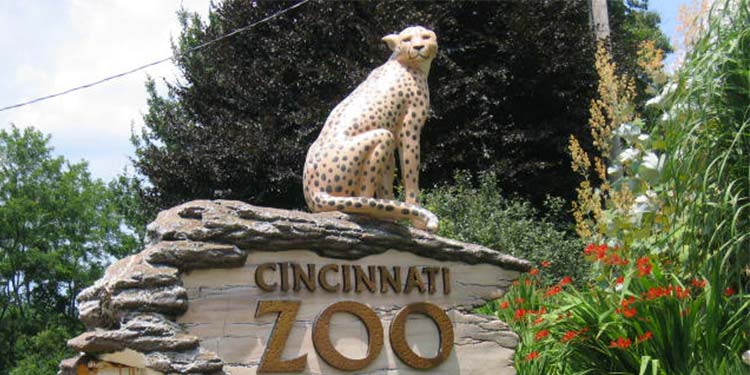 Location: 3400 Vine Street, Cincinnati
Opening hours: 10:00 am - 5:00 pm (Every Day)
Entry rate: $10 - $27
Cincinnati Zoo and Botanical Garden should definitely be on your list if your kid is a huge animal lover.
The zoo shelters over 1800 animals of 500 species in the best natural setting possible.
It has a great collection of plants as well; you can spot as many as 3000 plant species in the botanical garden.
Most kids find visiting the zoo entertaining, as they can enjoy numerous unique exhibits from 'Elephant Reserve' to 'Gorilla World.'
The zoo's layout is well-designed and easy to navigate, and the pathways are well-maintained and convenient to walk on.
Spend a fun day with your little ones learning facts about various natural habitats.
National Underground Railroad Freedom Center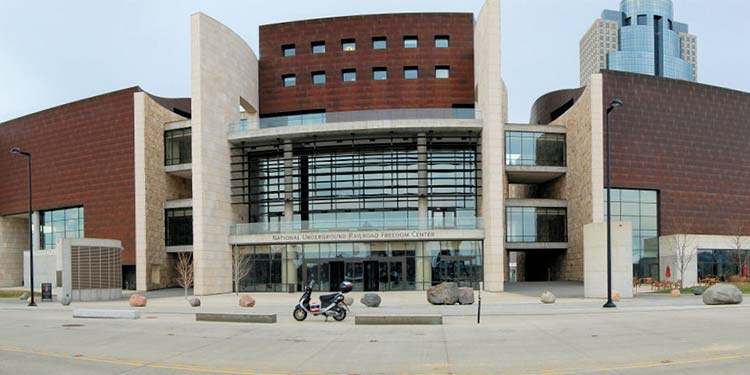 Location: 50 East Freedom Way, Cincinnati
Opening hours: 10:00 am - 5:00 pm (Wed-Sun), Closed on Mon & Tues
Entry rate: $8 (Ages 3-12), $12 (Adults)
Cincinnati was the only city that built a railway, and its underground railroad played a major role in freeing thousands of slaves.
And the National Underground Railroad Freedom Center preserves the history of the underground railroad in Cincinnati as well as the slavery connected to it.
It showcases the struggle of African Americans for freedom in the past through artifacts, murals, and pictures displaying real-life stories.
This center is an essential place to educate further generations of people about a part of history that made America a free country.
Don't miss this opportunity to teach your kids some important history.
Charge up for the Fun in Cincinnati!
As you may have already figured, Cincy has numerous kid-friendly spots on every corner.
Whether you plan a visit with your children or give them a surprise, don't forget to encourage them to get on a new adventure.
Watch your kid go jolly as you accompany them to one of the best places we have mentioned for you.
Get ready to make some unforgettable memories with your little ones already!
Note: Keep in mind that information about travel can change quickly. To ensure your trip is fun and safe, we encourage you to double-check official websites and government/travel advisory sites for the latest information on travel restrictions, entry requirements, and safety measures.