Branson is precisely what you should be looking for if you've been wondering about a kids-friendly holiday destination in Missouri.
With the nickname "Live Entertainment Capital of the World," the city has attractions ranging from amusement parks to educational museums.
Whether it's wave surfing in White Water or Zip-lining at the Shepherd of Hills, everyone in the family is bound to get an adrenaline rush.
And if your children are fond of animals, take a walk at Dolly Parton's Stampede to feed the horses or visit the Promised Land Zoo to pet the reptiles.
It is just the ideal place for the younger ones to have fun and learn a little piece of history.
Want to explore more?
Go through the list of best things below to find even more fun activities for kids to do in Branson, MO.
Things to do in Branson with Kids
Look Out for Butterflies at the Butterfly Palace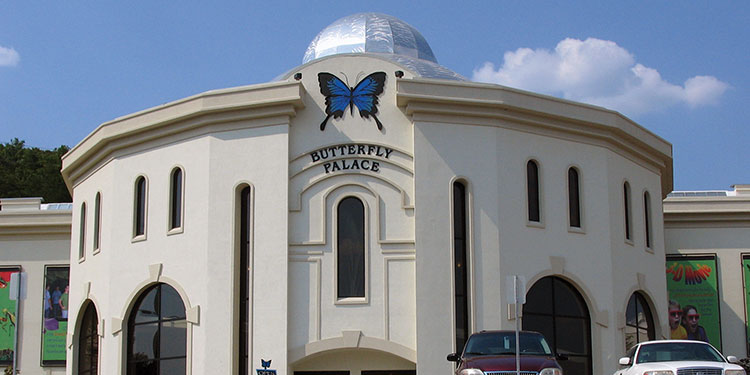 Location: 4106 West Highway 7, Branson, MO 65616
Opening hours: Open daily, 9:00 am -5:00 pm (Closed on holidays)
Cost: Admission tickets range from $17- $26
Best time to visit: Early mornings and evenings
Let your kids be self-explorers with a little hat and magnifying glass at the mesmerizing Butterfly Palace.
From toddlers to young kids, everyone loves it when the colorful butterflies roam around and sit on their bodies.
The little ones can also feed the butterflies with the complimentary nectar and also get face-painting if they like.
And the mirror maze and string maze inside the premises is a good place for kids to climb, play around and interact with other kids.
Besides, there's a reptile exhibit for your kids to learn about different kinds of reptiles and pet them.
Note: Remember to check for discounts on special events or if you are coming with a large group.
Visit the Promised Land Zoo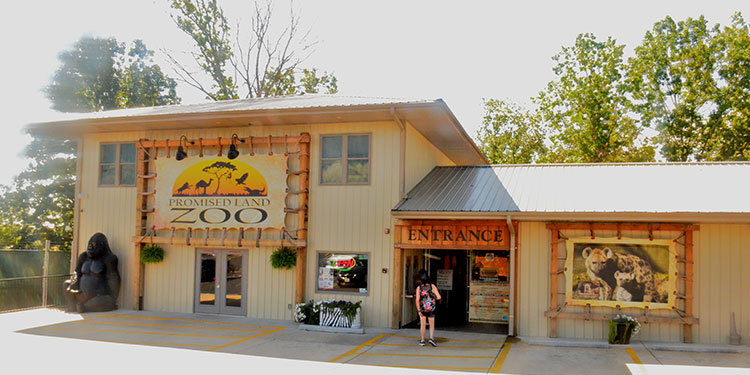 Location: 2751 Shepherd of the Hills Expressway, Branson, MO 65616
Opening hours: Opens daily, 10:00 am - 4:00 pm
Cost:$12.50 - $48.75  
Best time to visit: Summer and Springs
Allow your kids to have a close-up interaction with different animals in one of the most prominent zoos in Branson.
From tropical animals like Zebras, Girafe, Antelope, Deer, and Camel to nocturnal bats, wolves, and owls, you will see all kinds of animals here.
And yeah, don't forget to get the free flight experience at the Parakeet Paradise with a complimentary parakeet stick. Your young ones would love feeding the birds.
Whether you take a self-guided tour on foot hike up the trails or drive through Safari winding around the habitat, the experience will sweep you off your feet.
Make sure to upgrade to the VIP Animal adventure package for an elaborate hands-on interaction.
Get Lost in the Branson's Wild World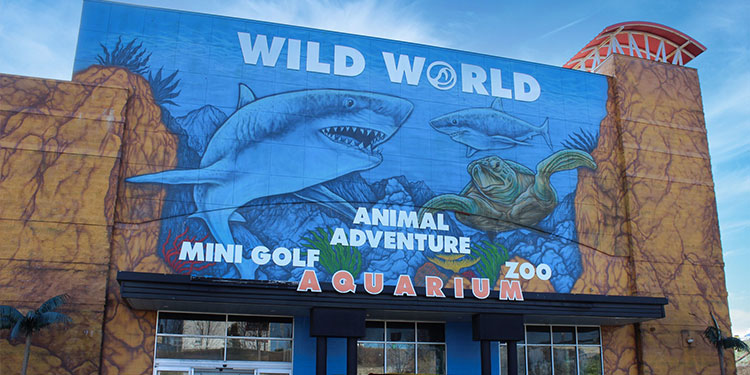 Location: 2020 West 76 Country Boulevard Branson, MO 65616
Opening hours: Open daily, 10:000 am - 6:00 pm (Subject to change seasonally)
Cost: General one-day pass ranges from $14.95 - 23.95
Best time to visit: Fall and Winter
If you visit Branson in winter, don't stress out about missing out on animal interaction.
The indoor Branson's Wild World featuring more than 400 species of animals, including mammals, birds, reptiles, and aquatic species, will cover it up for you.
With an additional $5.00, the exhibit allows a hands-on experience with the animals. You get to feed the sharks and rays swimming in the aquarium and cuddle the friendly animals.
Besides, the in-house mini-golf course is another major highlight of this wild world.
The Wild Abyss mini golf has an underwater theme, awesome artwork, and sea animals on display—a unique golfing experience for your kids.
Tip: visit the on-site gift shop for fascinating animal memoirs.
An Adventure Ride at WonderWorks Branson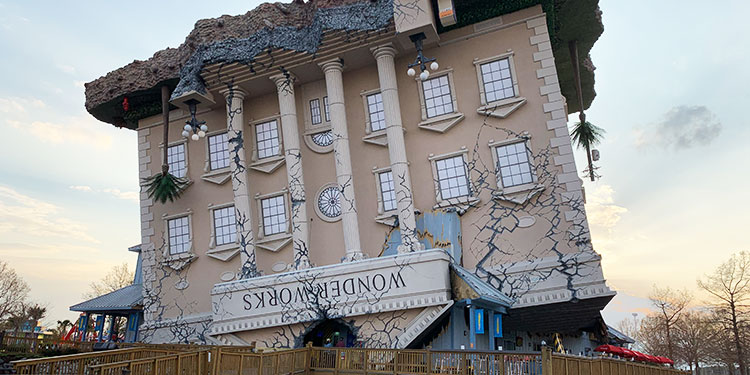 Location: 2835 West 76 Country Boulevard, Branson, MO 65616
Opening hours: Open daily, 10:00 am - 9:00 pm
Cost: All access tickets range from $14.99 - $31.99 (VIP combo also available)
Best time to visit: Weekdays
The upside-down adventure park in the entertainment district of Branson is undoubtedly a unique and intriguing experience for younger pupils of all ages.
Spread over the three floors of this funky building, this park has some interesting science exhibits with interactive experiences to please curious young minds.
You will also find an exceptional display of illusion art of some budding young artists in the Wonder Art Gallery.
Apart from this, a bubble lab with big colorful bubbles in the making and a large piano catches the attention of young ones.
Especially the toddlers who would love jumping on the large piano keys and making weird music out of it.
The amusement park surely is an educational yet entertaining experience for all, not just the kids.
Experience Waterworld in Aquarium at the Boardwalk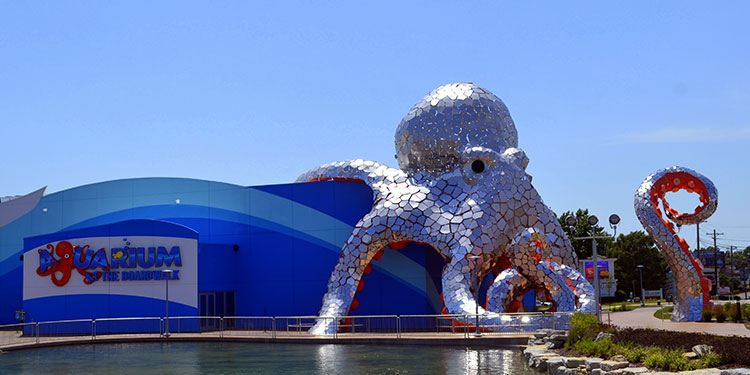 Location: 2700 West 76 Country Boulevard. Unit A Branson, MO 65616
Opening hours: Open daily, 8:00 am - 10:30 pm
Cost: $19.99 to $64.999 (Differs with age group and package)
Best time to visit: Summers
Be prepared to be thrilled by an out-of-the-world undersea experience with more than 250 species at the Aquarium at the Boardwalk in downtown Branson.
From splashing at the surface of the aquarium to a mesmerizing submarine ride, you will get to explore a lot about the sea and sea animals here.
You will get an enormous view of the 16-foot-tall coral reef, along with other fun themes around every corner. A walk-through carnival theme will give you a feel of the boardwalk.
And the little ones definitely love to climb the leaf-like structures in the Kelp forest.
The jellyfish world, mermaid palace, and the 5D submarine ride surely catch the attention of young kids.
Tip: Pre-purchase the tickets online for a desired time and price.
Buy Toys at the World's Largest Toy Museum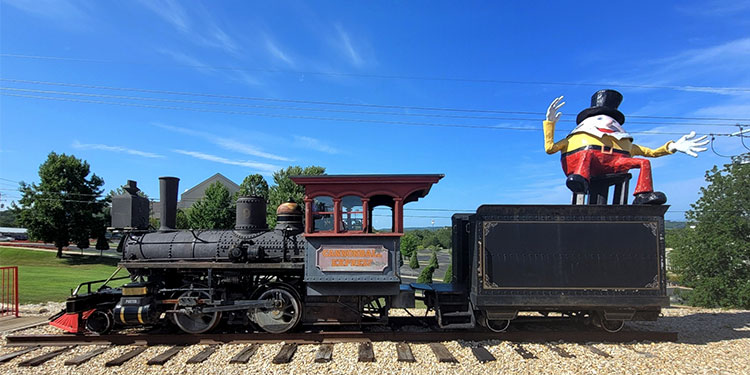 Location: 3609 West 76 Country Boulevard, Branson, MO 65616
Opening hours: Monday- Saturday,10:00 am - 5:00 pm
Cost: $14.28 - $22.62 (Differs with age)
Best time to visit: Weekdays
Everyone knows how valuable toys are for kids, especially for the younger ones.
Allow your kids to splurge in a pool of over a million toys at the world's largest toy museum in Branson.
The eclectic toy collection of the Colonial era will take even you on the nostalgic trip of your childhood.
You will find a wide variety of toy collections ranging from tin toys to Barbies in six different themed museums on the premises of the building.
And if your kids are into superheroes, then a dedicated collection of the superheroes toys and merchandise will please them.
Make sure to buy some of these to make the excursion even more memorable for little ones.
Take a Ride on the Branson Scenic Railway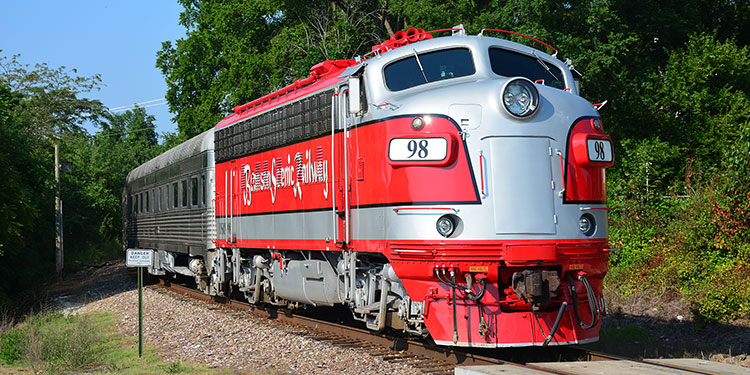 Location: 206 East Main, Branson, MO 65616
Opening hours: Monday- Friday, 9:30 am- 4:00 pm (Open till 5:00 pm on Saturdays)
Cost: Regular excursion charges $18.50 - $29.0 
Best time to visit: Spring afternoons
Explore the highlights of Branson, MO, with your kids on a daytime train excursion on the vintage passenger train of the Branson Scenic Railway.
This 45 mins train excursion takes you to the mainlands of the city through the foothills of the beautiful Ozark mountain.
Your kids will also get to learn the history of the city as the train passes through historical monuments, including the train depot itself.
This historical train depot is located in downtown Branson closer to Lake Taneycomo. You can find many train souvenirs in the gift shop on the premises of the depot.
For a more wholesome family experience, upgrade to the dinner package that serves a three-course meal over a candlelight setup.
Tip: Check the train schedule and make an early reservation for convenience.
Honor the Children Lost in the Ship at Titanic Museum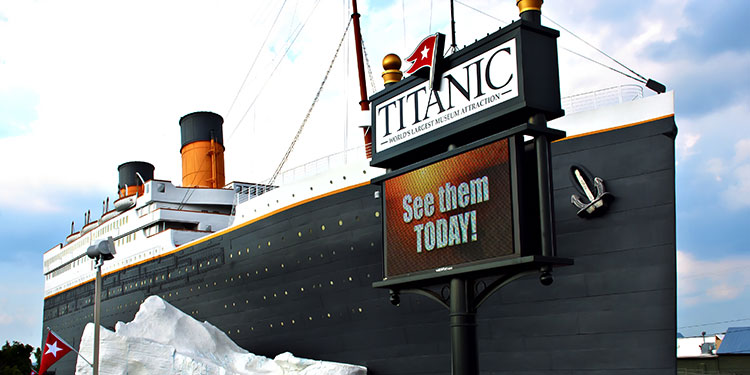 Location: 3235 West 76 Country Boulevard, Branon, MO 65616
Opening hours: Sunday - Friday, 9:00 am - 9:00 pm & Saturdays, 9:00 am - 10:0 pm
Cost: Individual passes: $15- $35 & Family pass with four kids at  $115
Best time to visit: Weekdays to avoid rush
If you want to teach your little ones to be empathetic towards other people, then the Titanic Museum of the Branson Theater District is just the right place.
Along with a display of the finest collection of artifacts from the ruined ship, you will also find an exhibit honoring the children lost in the incident.
The exclusive show displaying the iconic images of little children's shoes gives a glimpse of the sorrowful last days of kids on the final days of the ship.
Apart from this, kids would also love to steer the ship while listening to the stories of the people and the ship with an audio tour.
And yeah, remember to experience the growing iceberg and 28 degrees of water that are also put on display in a corner. The little ones will love it!
Shepherd of the Hills Adventure Park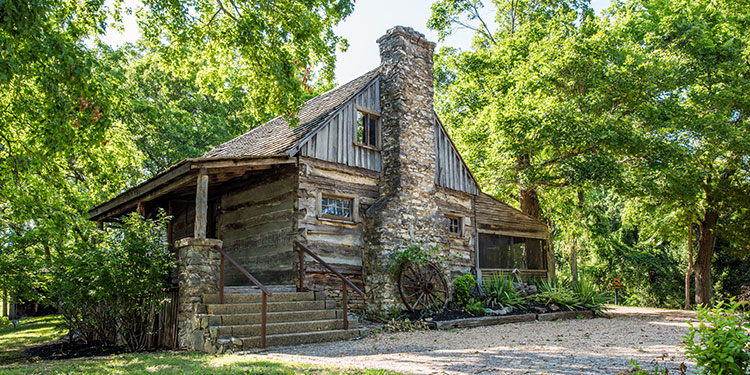 Location: 5586 West 76 Country Boulevard, Branson, MO 65616
Opening hours: Open daily, 9:00 am- 5:00 pm (Opens March- October)
Cost: Unlimited access starts at $39.95 per person
Best time to visit: Afternoons
With a variety of activities, from climbing in the rope course to ziplining at an altitude of 145 feet, Shepherd of the Hills is one of the best aerial adventure parks in America.
You can take your kids on a zipline canopy tour that leads you through the beautiful Ozark mountains.
Or race with them in the wildest ride of the Copperhead Moutain Coaster for that adrenaline rush.
Either way, you all will have so much fun at this adventurous park.
And with an additional $5, your kids can access the historic farm inside the premises.
Climb up the Shepherd of the Hills Inspirational Tower for the gorgeous view of the Ozark mountains and the city.
Explore the Silver Dollar City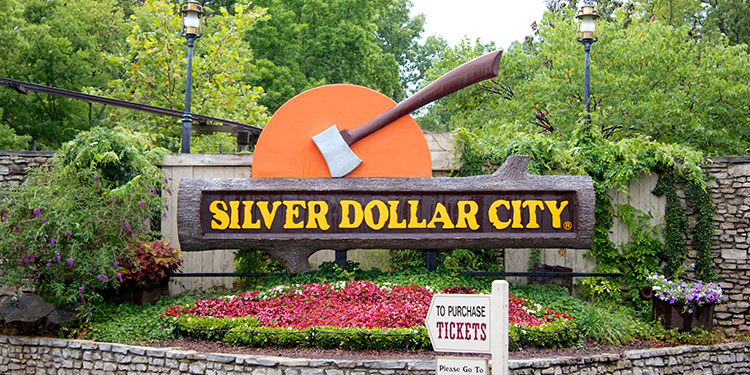 Location: 399 Silver Dollar City Parkway, Branson, MO 65616
Opening hours: Open daily, 9:30 am - 7:00 pm (Open till 8:00 pm on weekends)
Cost: $85 per day ($75 for kids)
Best time to Visit: Mondays and Tuesdays
For someone who is up in Branson for a family vacation with young kids, Silver Dollar City is something you shouldn't miss.
The theme park has attractions to suit the taste of kids in every age group.
While the little ones would love riding on the butterflies, day bugs, and frogs, the elder kids love to ride on the record-breaking roller coaster rides.
There is a play area for toddlers as well, with tiny swings, slides, and open areas to jump on or crawl.
Besides, the kids are really fond of the Frisco Silver Dollar Line Stream train ride.
This 20 mins ride takes you through the countryside surrounding Silver Dollar City with a backdrop of Ozark Mountains.
Get Thrilling Water Rides at Whitewater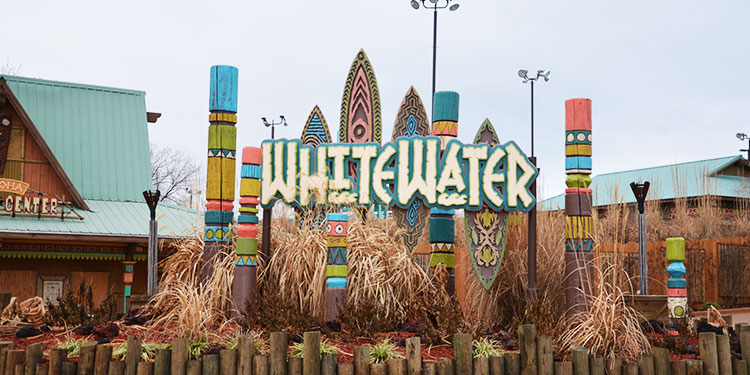 Location: 3505 West 76 Country Boulevard, Branson, MO 65616
Opening hours: Open daily, 10:00 am - 6:00 pm
Cost: One day pass ranges from $32- $48
Best time to visit: Summers
It is nearly impossible to find a kid who doesn't love water. And that's why the Whitewater is quite a popular attraction for kids in Branson.
You will find exciting water slides, wave pools, riverside, and many more inside this waterpark.
As your older kids enjoy the thrilling 70 degrees plunge from 240 feet tall KaPau plummet, the younger ones can enjoy surfing in the Cocunt Cove with a lesser depth of water.
It even has a separate splash area for toddlers to enjoy the water.
There are hotdogs and pizza vendors inside the premises if the kids get hungry after the tiring water rides.
Note: Although there's a shop inside for buying beach attire and towel, it is best to bring your own.
Watch the Horses at Dolly Parton's Stampede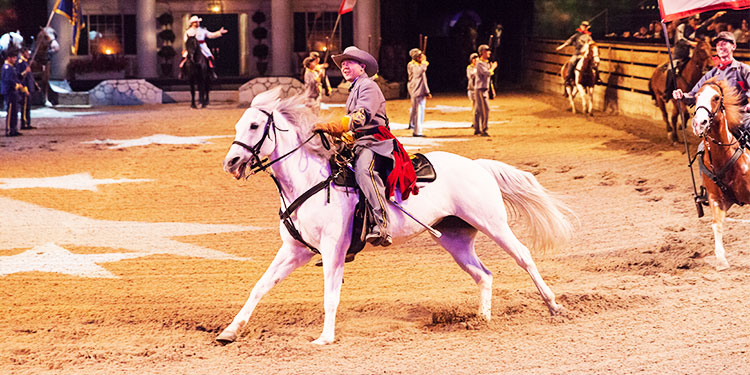 Location: 1525 West Highway 76, Branson, MO 65616
Opening hours: Open daily, 8:00 am - 7:00 pm
Cost: Tickets price start at $69.99
Best time to visit: Late evenings
Among all other activities, horse riding is one of the favorite things to do for kids of almost all ages. Not just riding it, the young ones love to pet and feed these animals.
And that one-to-one interaction with horses is exactly what you will get to experience at Dolly Parton's Stampede.
A Cancine Capaers stunt dog is another major attraction of this show, along with other equestrian feats and friendly horse competitions.
You get the chance to enjoy a four-course feast with an entertaining performance of the magnificent horse riders.
Their creamy vegetable soup is one of the famous delicacies among visitors.
You will also find an on-site gift shop if you want to take a memoir of the experience with you.
Tip: Don't arrive earlier than 30 minutes to avoid the extra waiting time.
Collect the Best Childhood Memories
There's no doubt that Branson is an ideal place to take kids for their seasonal vacation, but the fun isn't just limited to kids.
There are all sorts of attractions fit for everyone in the family, may it be adults or seniors in the family.
Getting around the major attractions isn't difficult either.
You can find cheap car rentals to get around with your entire family. And for individuals, there are free trolley rides as well.
Enjoy your fun trip!
Note: Keep in mind that information about travel can change quickly. To make sure your trip is fun and safe, we encourage you to double-check official websites and government/travel advisory sites for the latest information on travel restrictions, entry requirements, and safety measures.