Big Sur spans a large stretch of the California coastline and forests, encompassing numerous parks and towns.
Its appeal lies in the unique combination of adventure and serene natural beauty found nowhere else.
With its varied landscapes, abundant wildlife, and intriguing points of interest, a trip to Big Sur promises days filled with memorable activities and experiences.
All that's required is a genuine sense of adventure to ensure an unforgettable time in this remarkable destination.
Check our list of the best things to do in Big Sur, California, for a memorable trip.
Things to Do in Big Sur, CA
Big Sur Station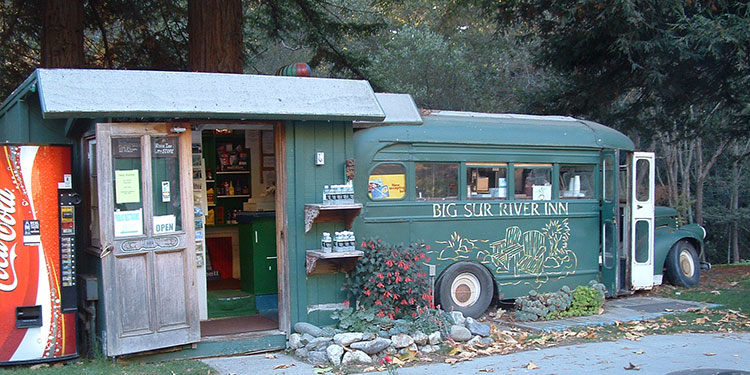 Situated approximately 25 miles south of Carmel, Big Sur Station serves as a visitor information center.
You can make a valuable stop to gather pertinent details about the sights you'll encounter during your exploration.
The knowledgeable staff is readily available to address any inquiries you may have about the area.
Whether you seek to savor a delectable cup of coffee or spot a specific animal, they can assist you in finding what you're looking for.
Additionally, it serves as an excellent resource for obtaining up-to-date information regarding trail conditions.
The store offers an array of items such as maps, guides, and snacks.
However, it's worth noting that prices tend to be higher compared to stores located before delving deeper into Big Sur.
Bixby Creek Bridge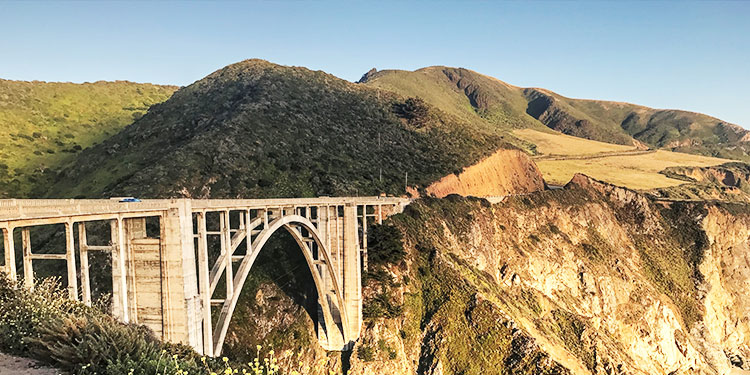 Pull over and take a look at the Bixby Creek Bridge. It's one of the most photographed bridges in North America and is majestic.
The tan arches that seem to hold the bridge in midair are wedged between two rocky cliffs that overlook the ocean.
It's a real sight to behold if you're lucky enough to catch it at sunset.
Point Sur State Historic Park and Light Station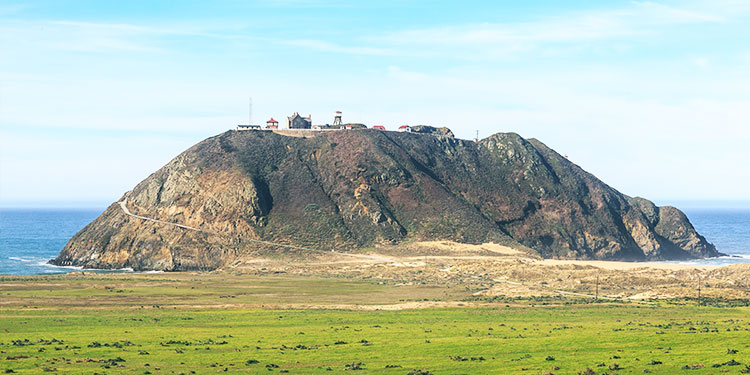 Stop at the Point Sur State Historic Park to get a beautiful view of the sunset.
While you're there, you'll see a lighthouse and naval station still standing guard over the coastline.
Simply pull over on the wide shoulder area to get some gorgeous pictures of the sea and sky.
They offer guided tours for visitors to learn about the history of the museum. Be sure to stop at the right time.
There's a bit of walking and elevation if you choose the tour, so be sure to wear the proper attire. Souvenirs are also available for purchase. 
Cannery Row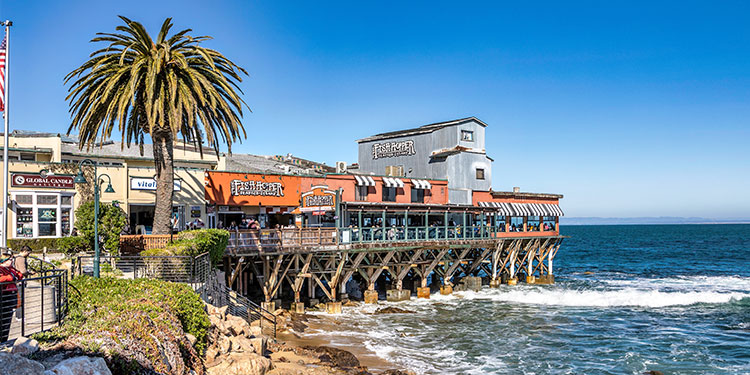 Cannery Row is a perfect spot to start your journey to Big Sur if you're traveling in from the north.
It's located in Monterey and has great hotels, restaurants, galleries, and stores.
Even the famous Monterey Aquarium is nearby. You can load up on necessary items, indulge in a bit of luxury, and enjoy one last day in a large, populated area before setting out deeper into the true Big Sur experience. 
Take your kids on the Treasure Hunt Ride, try out the movie walk to see film backdrops, or dine and shop in before things get a little more scarce on your trip. 
Hearst Castle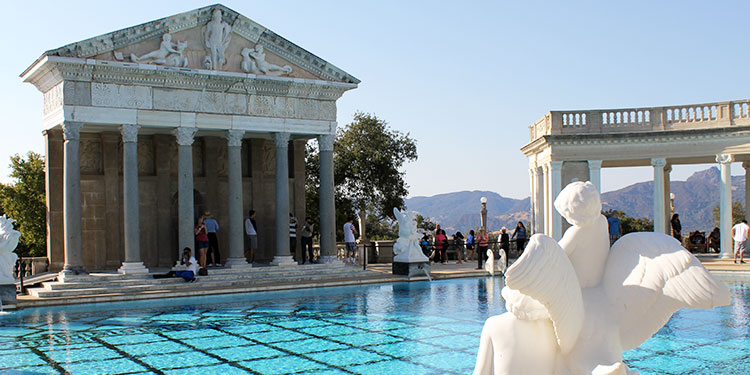 If you're approaching Big Sur from the other direction, try visiting Hearst Castle at the beginning of your trip.
You'll learn so much about the property and area from the guides who will walk you through different areas of the estate.
It's gorgeous, and you'll want to have your camera at hand to capture it all. Multiple tours are available, and you need to reserve yours in advance.
Grab snacks and drinks, visit the gift shop, and be sure to take in the included IMAX movie.
The museum is also worth your time. You'll get a real kick out of this before setting off into the wilderness. 
Big Sur River Gorge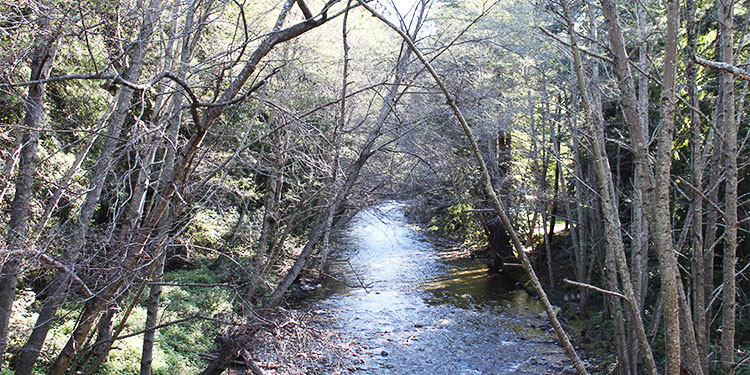 The Big Sur River is 15 miles long, with multiple properties and campgrounds that surround it where you can stop and enjoy the water.
One of the most popular spots is the Big Sur River Gorge in Pfeiffer State Park.
There's a swimming hole there that usually has at least a few people paddling around, as long as you're willing to hop a few rocks on the way to it.
Once you've reached the swimming hole, you can trek even farther to find less populated spots if you dare.
You'll find the trail to the gorge between sites 111 and 112 on the Pfeiffer State Park campground if you're staying there.
Otherwise, head up Gorge Trail from Day Use Lot Three in the park.
Garrapata State Park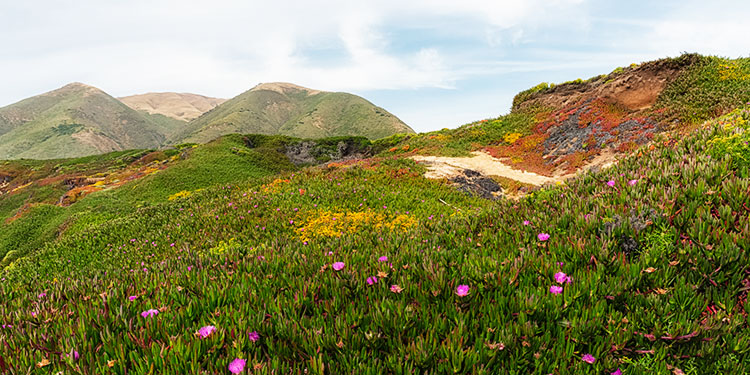 Garrapata State Park is one of the only places in Big Sur where it's easy and allowed to walk on the beach.
It's much less crowded than others and has a gorgeous view of the mountains and coast.
If you manage to go during a super bloom year and season, you'll see spectacular flowers dotting the hillsides with flourishes of vibrant color.
Garrapata State Park isn't far from Monterey, so you don't have to venture deep into Big Sur to visit it. It's very accessible for almost any trip.
The trails feel much more private, and you might even find yourself in complete solitude at times.
You will have to hike to see the views this place is known for, so pack your hiking boots for this one.
Point Lobos Nature Reserve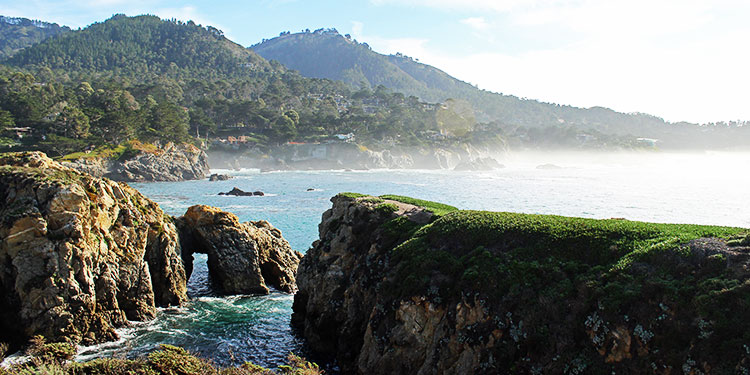 Nature lovers should make it a point to stop at the Point Lobos Nature Reserve.
You'll see flora that you might not find anywhere else, unique rock formations, and lots of animals.
The spot was once not as it is now and was filled with things like whaling and gravel quarries. It took years of recovery to return it to the natural wonder it is today.
You can spend a day jogging, painting, picnicking, hiking, or even joining in the fun with water sports activities like scuba diving and snorkeling.
It's one of the more accessible and populated areas of Big Sur, where you can enjoy the beauty of nature without going too far off the beaten trail.
Tips for Visiting Big Sur
Stretching approximately 90 miles along the California coastline from Carmel to San Simeon, Big Sur captivates drivers and outdoor adventurers who have experienced its winding roads, rugged terrain, and breathtaking beauty along Route 1.
Those deeply appreciating wildlife and the great outdoors will find Big Sur a rewarding destination.
Here are a few tips to enhance your experience while visiting Big Sur:
Consider scheduling your visit between April and October to take advantage of the long, warm days that encourage outdoor exploration. Camping or hiking during these seasons will provide a more enjoyable experience.
Ensure you have access to a car during your trip. One of the remarkable aspects of Big Sur is its vast expanse, offering plenty to see. Renting a car, even for a portion of your journey, is advisable unless you plan on camping throughout your entire stay.
Plan your restaurant stops in advance. Unlike some other areas you may have visited, Big Sur doesn't boast many dining options.
Even if you start your trip from Monterey or another major city, planning for provisions is essential once you venture off the beaten path and delve deeper into Big Sur.
If you choose to travel during the winter season, verify the operating hours of the places you plan to visit. Many establishments tend to have reduced hours or may even close entirely during the off-season.
Fill up on gas before leaving the city. Although there are gas stations along the drive through Big Sur, they may not always be open. It's better to be prepared by ensuring you have enough fuel for your journey.
Be aware that highway service may be intermittent along Highway 1. Plan ahead by downloading maps or using navigation tools that work offline. If you'll be spending a lot of time in the forests or on trails, consider bringing a locator beacon in case of emergencies, especially if you plan hiking in remote areas.
By following these tips, you can make the most of your visit to Big Sur while being prepared for anything that might happen on your adventure.
Start Planning Your Trip to Big Sur
Surely you can see the undeniable charm of Big Sur with its lush landscapes and wild beauty.
Each moment spent on the winding highway or lonely trails of this coastal paradise is something to savor until you can return for another visit.
Accept the invitation to experience true adventure and beauty in the Pacific wilderness and embark on a journey to Big Sur today. 
Note: Keep in mind that information about travel can change quickly. To make sure your trip is fun and safe, we encourage you to double-check official websites and government/travel advisory sites for the latest information on travel restrictions, entry requirements, and safety measures.