Honolulu, which means 'Sheltered Harbor' or 'Calm Port' in Hawaiian, is a scenic haven. 
Surrounded by the majestic Pacific Ocean, a visit to this bustling capital city of Hawaii make an ideal vacation for all! 
Being one of the world's most popular tourist destinations, the city offers a diverse range of fun activities. 
From water adventures at the beach to hiking on the hill, feel closer to nature more than ever!
Many world-famous landmarks are situated here in Honolulu, where visitors can discover many histories of past and present.
Some include the only royal palace in the country – The Historic Iolani Palace and the most famous Waikiki Beach.
Check our list of top things to do in the lovely homeland of Barack Obama, and take home a bag of unforgettable memories!
Things to Do in Honolulu, Hawaiian Islands
Waikiki Beach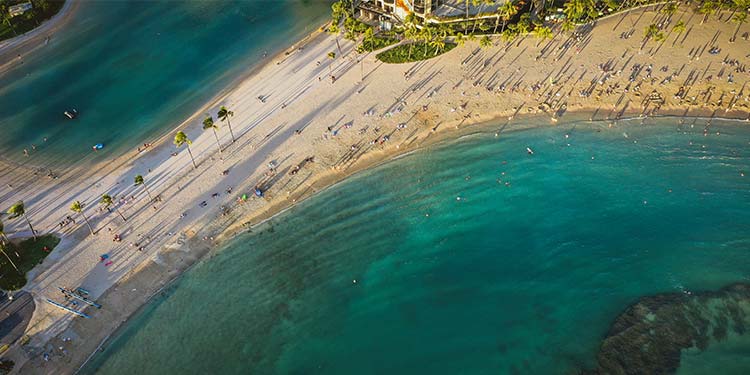 Honolulu is known for having the most top-rated beaches in the world.
Visit Waikiki Beach, the most popular beach among all locals, tourists, and celebrities, located on the island's south shore.
The almost entirely man-made lively beach is a premier location to spend a fun holiday with family.
Known for its magnificent white sand and clear refreshing turquoise-blue water, its beauty indeed lives up to the hype.
You can see many surfers here as it is known for being the birthplace of surfing.
Enjoy a relaxing day lying down in the sun by the beach and taking in the view of Diamond Head.
Diamond Head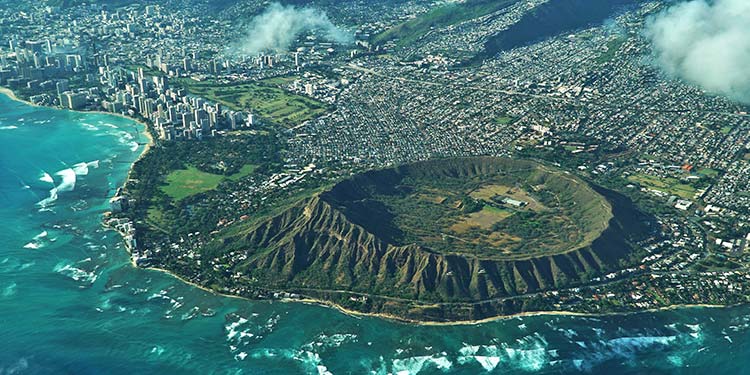 As the Hawaiian Islands are known for their volcano formations, don't miss a chance to witness this volcanic tuff cone, a part of the Honolulu Volcanic Series.
Diamond Head, also known as Lēʻahi, is around 400,000 to 500,000 years old, comparatively younger than the rest in the series.
The National Natural Monument is an excellent hike in Oahu, with a breathtaking view of the city and the ocean from the top.
Pearl Harbor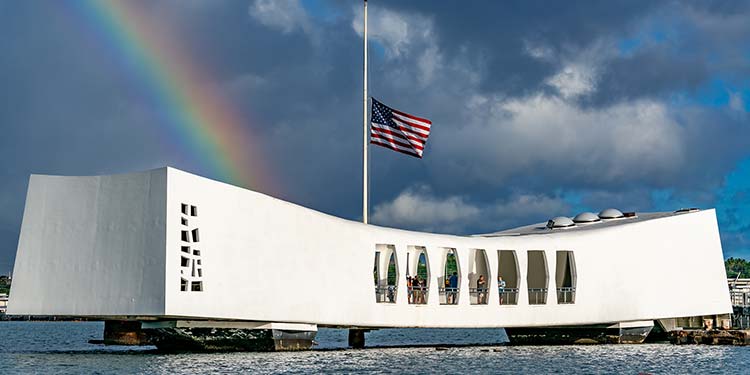 Location: 1 Arizona Memorial Place, Honolulu
Opening hours: 7:00 am - 5:00 pm (Every day)
Entry rates: Not required 
Walk around the historic Pearl Harbor, an American Lagoon harbor, and pay your respects at the USS Arizona Memorial.
The USS Arizona Memorial is a tribute to thousands of sailors and marines killed during the attack on Pearl Harbor in 1941—the gruesome attack that led to the country's involvement in the Second World War.
Visitors are taken to the simplistic yet powerful national memorial on shuttle boats.
It's a great place to learn about the historical attack and understand the sacrifices made by the men for their country.
Ala Moana Center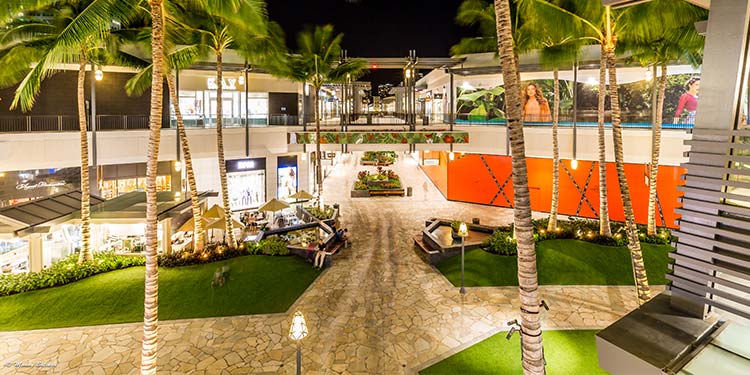 Location: 1450 Ala Moana Boulevard, Honolulu
Opening hours: 10:00 am - 8:00 pm (Every day)
Contact: +1 808-955-9517
Located in the Ala Moana neighborhood of Honolulu, Ala Moana Center is the largest open-air shopping mall in the world.
Opened in 1959, it is renowned for its open shopping facility, a wide variety of retail stores, and its center stage.
The public amphitheater in the center of the shopping complex is where local talents perform to entertain people with both traditional and modern productions.
From iconic and luxury brands to common brands, visitors can shop easily according to preference and affordability.
Additionally, they provide a choice of 100 dining options offering delicious meals!
Manoa Falls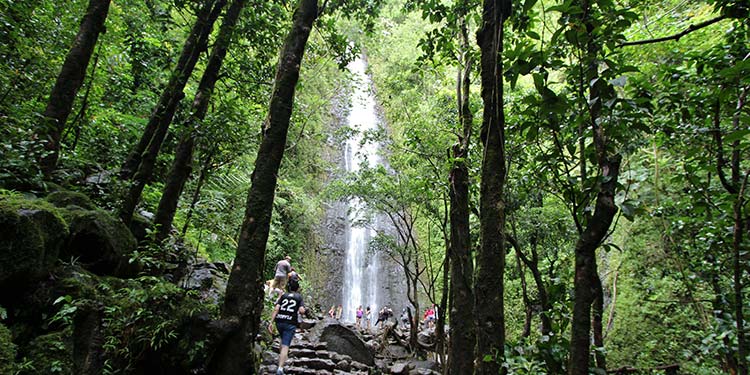 Location: 3860 Manoa Rd, Honolulu
Opening hours: 8:00 am - 4:00 pm (Every day)
Entry rates: Not required 
Witness the magical beauty of Manoa Falls, a 150-foot waterfall in Honolulu.
The famous tourist attraction is led by hiking the 1.5-mile round trip Manoa Falls trail.
A highly recommended spot for all nature lovers and adventurers!
Tip: Wear a pair of water boots as the ground is damp and muddy most of the time.
Iolani Palace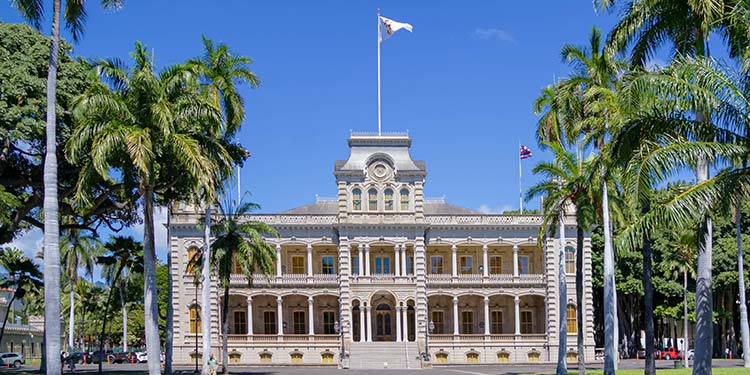 Location: 364 S King St, Honolulu
Opening hours: 9:00 am - 4:00 pm (Tues-Sat), Closed on Sunday & Monday
Contact: 808-522-0832
Visit Iolani Palace, the royal residence of the former rulers of the Kingdom of Hawaii.
This National Historic Landmark is the only Royal Palace in the United States of America.
Located in the capitol district of downtown, the palace housed the royals from Kamehameha Dynasty to Kalākaua Dynasty.
Till the monarchy was overthrown in 1893, the palace served the royals and later was used for the Provisional Government.
After restoration in 1978, the palace was opened as a museum featuring unique American Florentine architectural design.
Visitors can tour the palace displays of royal ornaments, furniture, and attires and showcase the life and legacy of the last ruling king.
Sea Life Park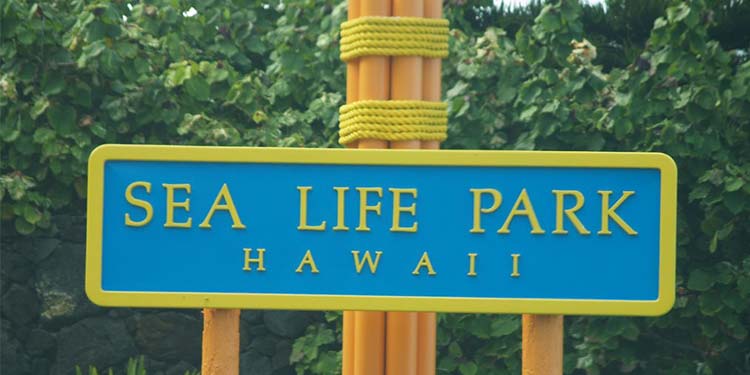 Location: 41-202 Kalanianaʻole Hwy, Waimanalo Beach
Opening hours: 10:00 am - 4:00 pm (Every day)
Entry rates: $44.99
A fun experience with a large variety of marine life awaits you at Sea Life Park!
The marine mammal park and Aquarium in Waimānalo, north of Hanauma Bay on the island of Oahu, is a perfect getaway for families.
Opened in 1964, Sea Life Park has expanded its exhibits and activities over the years that consist including Hawaiian Reef Adventure, Ocean Theatre, Bird Sanctuary, Penguin Habitat, and more!
Visitors can enjoy activities such as engaging in interaction with dolphins, sea lions, and rays.
You can also take a sea safari in the aquarium and feed the sea turtles.
Ho'omaluhia Botanical Gardens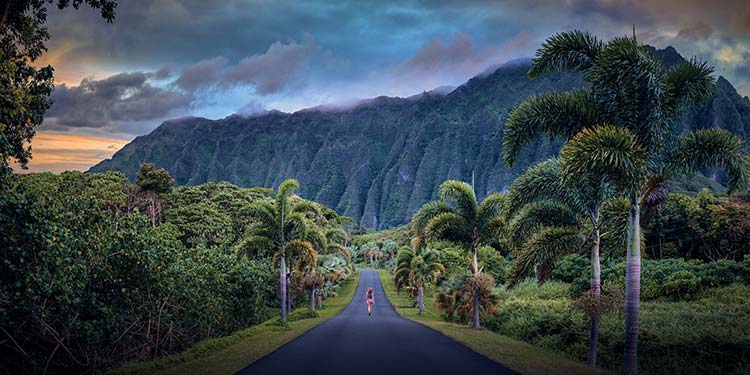 Location: 45-680 Luluku Rd, Kaneohe
Opening hours: 9:00 am - 4:00 pm (Every day)
Entry rates: Not required 
Wander around the 400 acres of Ho'omaluhia Botanical Gardens!
Established in 1982, the botanical garden is a part of the five major Honolulu Botanical Gardens.
The rainforest garden has a collection of plantings from all the tropical regions of the world, categorized into distinct collections.
It has a great collection of various species worldwide, including Africa, India, Malaysia, the Philippines, and more!
The garden is also covered by 32 acres of lake and many walking trails leading to campgrounds, a visitor center, a botanical library, and others.
Shark's Cove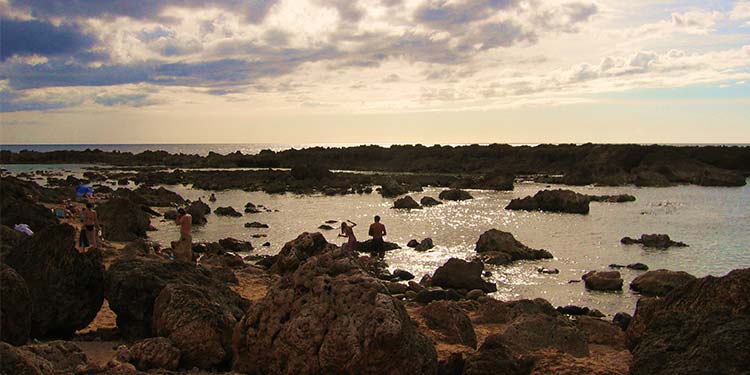 Shark's Cove is a beautiful and peaceful rocky coastal area with the perfect water to snorkel for everyone!
Snorkeling under the clear blue water, you can explore the sea life spotting turtles and plenty of fish, including butterflyfish, parrotfish, and more.
Witness the underwater rock formations and corals and enjoy the calm and pleasant water alongside the beautiful views.
Honolulu Museum of Art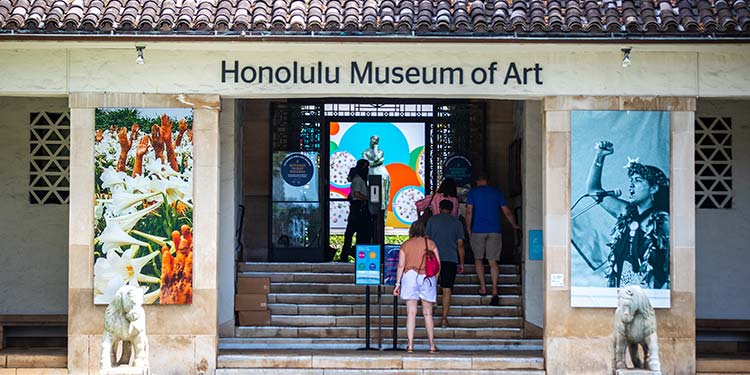 Location: 900 South Beretania Street, Honolulu
Opening hours: 10:00 am - 6:00 pm (Wed, Thurs, Sun), 10:00 am - 9:00 pm (Fri-Sat), Closed on Mon & Tues
Entry rates: $20 (Adults)
Honolulu Museum of Art is the finest small museum showcasing an internationally renowned collection of over 55,000 artworks.
Founded in 1922, it is known for its largest single collection of Asian and Pan-Pacific art and one of its kind in the state.
The gallery impressively has more than 20,000 art pieces in Asian art collection from Japan, Korea, China, India, and more.
Some displays are Chinese and Japanese paintings, Korean ceramics, sculptures, textiles, and decorative items from Asia.
Visitors shall enjoy all the innovative, interactive, and educational exhibitions displayed here.
Makapu'u Point Lighthouse Trail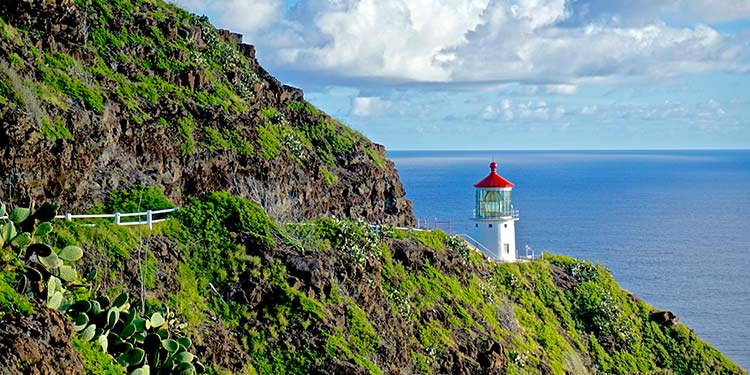 Location: Makapuʻu Point Lighthouse Trail, Waimanalo
Opening hours: 7:00 am - 6:45 pm (Every day)
Contact: +1 808-587-0300
Plan to hike on Makapu'u Point Lighthouse Trail, a natural area with a paved trail and overlook.
The 2.5 miles trail leads to Makapu'u Point Lighthouse, which is known for having the most giant lens in the country.
Visitors can watch the scenic ocean and even spot whales from the viewing peak point of a hill right above the lighthouse.
The stunning ocean views along the coastline make the hike worthwhile!
Polynesian Cultural Center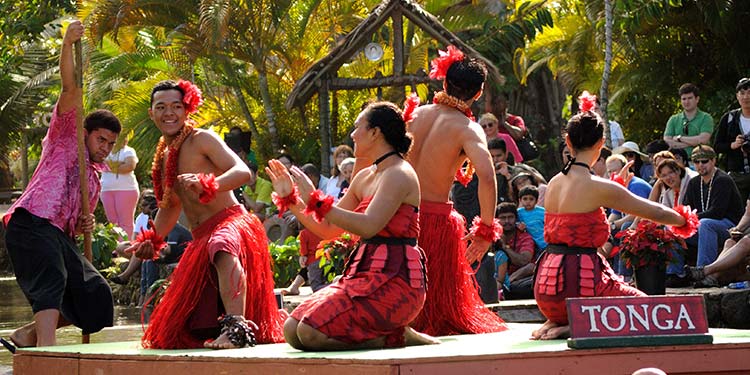 Location: 55-370 Kamehameha Hwy, Laie
Opening hours: 12:30 pm - 9:00 pm (Mon-Sat), Closed on Sundays
Contact: 1-800-367-7060
Polynesian Cultural Center is just the right place for everyone seeking to get a glimpse of the Polynesian culture.
The cultural center welcomes tourists from all around the world and provides warm unforgettable hospitality.
Alongside an outstanding buffet, visitors are entertained by stunning performances.
They offer numerous unique interactive activities, including 'Hā–Breath of Life' featuring songs and dances from Polynesia.
Moreover, 'Huki: A Canoe Celebration' is a parade of canoes where performers showcase signature dances of each Polynesian culture.
Honolulu Zoo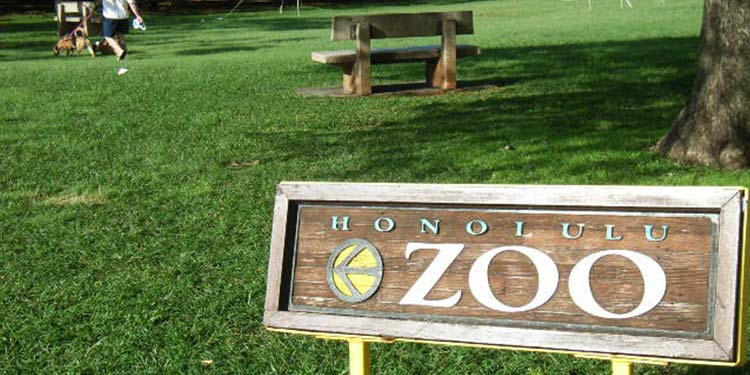 Location: 777 Ward Avenue, Honolulu
Opening hours: 10:00 am - 3:00 pm (Every day)
Entry rates: $19 (Adults), $11 (Children)
Visit the animals of Honolulu at their 42-acre zoo, the only zoo to be established by grants made by a sovereign monarch in the country.
Honolulu Zoo shelters over 1200 animals in uniquely designed habitats built to make each animal feel at home.
Asian Elephants, Nyala Antelope, and Giant Tortoise are some of the most popular exhibits in the zoo.
Visitors can also enjoy a collection of outstanding artworks, including decade-old metal sculptures and more.
Bishop Museum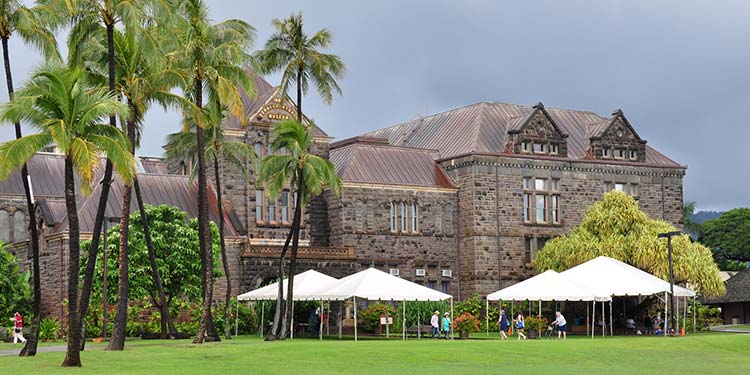 Location: 1525 Bernice Street, Honolulu
Opening hours: 9:00 am - 5:00 pm (Every day)
Entry rates: $28.95 (Adults), $20.95 (Children)
Check out Bishop Museum, a great place to learn about the culture and history of Hawaii.
Founded in 1889, the Museum of History and Science preserves the world's largest collection of Polynesian cultural artifacts and natural specimens.
As the largest museum in Hawaii, it has an extensive collection of archives—manuscripts, artworks, photographs, and a library with all the important information concerned with Hawaii and the Pacific.
They have over 24 million natural history specimens, of which the entomological collection represents over 13.5 million specimens.
It has the third-largest insect collection in the country, alongside many historical artifacts and interactive displays.
Koko Crater Railway Trailhead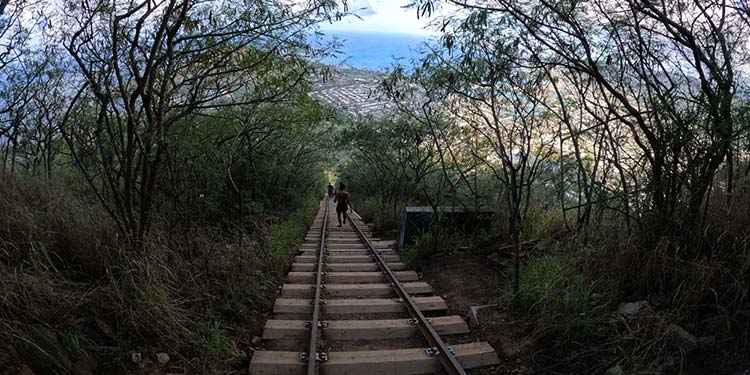 Location: 7604 Koko Head Park Rd #7602, Honolulu
Opening hours: 6:30 am - 11:00 pm (Every day)
Entry rates: Not required 
If you're an adventure and nature lover but mostly a risk taker, a hike at Koko Crater Railway Trailhead is just for you.
The 1.4-mile hike leads up to the Koko Head Crater Summit on an abandoned railroad with over 1000 railway stairs.
Due to its extremely inclined steep trail, it is one of the most difficult hiking trails in Honolulu.
Although it will challenge you, the hike is undoubtedly rewarding as you see the exceptional view from the top.
Chinatown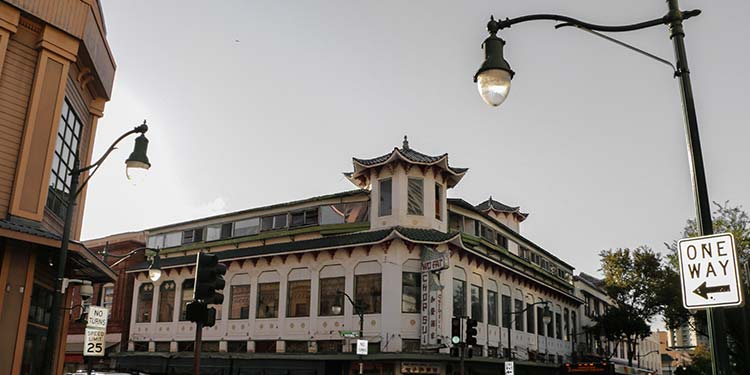 Chinatown is one of the most happening streets in downtown Honolulu that you can't miss!
Being one of the oldest Chinatowns in the country, the Honolulu Chinatown is a progressive bustling area yet true to its traditional Asian roots.
The old Hawaiian buildings are filled with shopping malls, food markets, and Pan Asian-inspired venues worth exploring.
Their outdoor food markets have a wide variety of Asian ethnic cuisines, from traditional to Modern-infused Chinese, Vietnamese, and Malaysian.
Wander around the lovely streets of Chinatown, and find artistic hubs, Buddhist temples, antic stores, and many more at every corner.
The historic district has a charming and eccentric vibe all around—surely worth a visit!
Hanauma Bay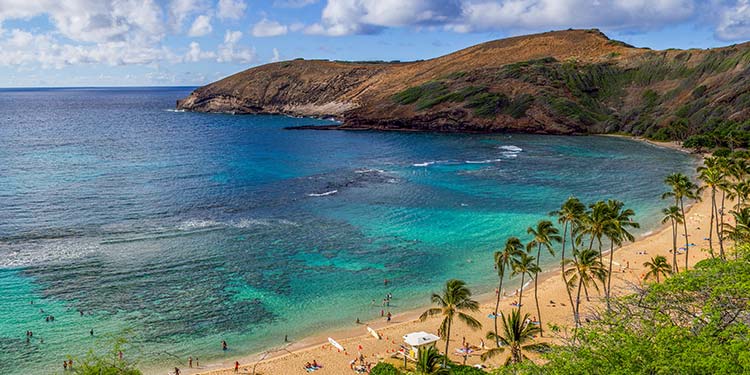 Located along the southeast coast is a beautiful scenic beach known as Hanauma Bay.
Hanauma Bay is a marine embayment, one of the most popular tourist destinations on the Island of Oahu.
Known for its inhabited 400 species of fish and a large bale of green sea turtles, it is always a perfect view to catch here.
The bay also makes a great place for snorkeling as you get to see the corals and fish in clear water.
Waimea Valley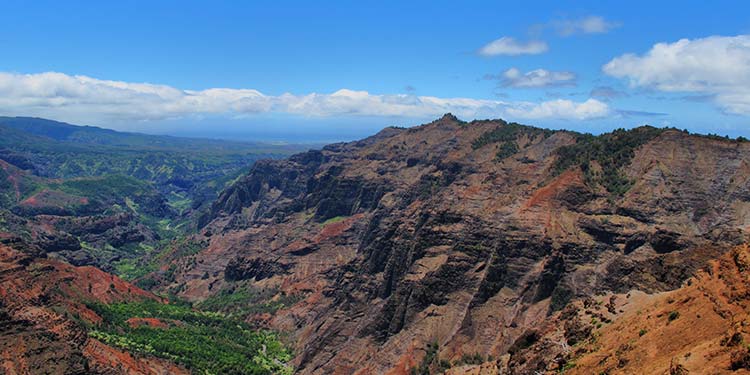 Waimea Valley is a large parkland with an opportunity to explore botanical gardens, waterfall areas, and lots of Native Hawaiian History.
The heart of Hawaii can be found in this tropical forest between the lovely nature and wildlife.
The valley is known to be a sacred historical site as it is deeply rooted in authentic Hawaiian History, Culture, and tradition.
It is a beautiful valley where locals and tourists can experience the living culture of Hawaii.
Visitors of all ages can either prefer to take a hike or use the shuttle service for $10 per person.
Royal Hawaiian Center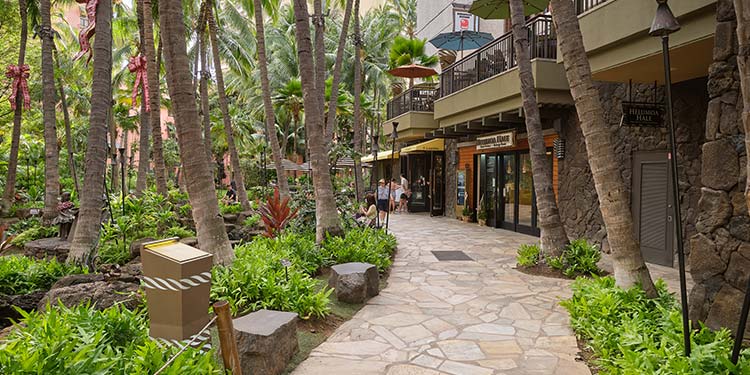 Location: 2201 Kalākaua Ave, Honolulu
Opening hours: 10:00 am - 9:00 pm (Every day)
Contact: +1 808-922-2299
Looking for a premier shopping experience in Honolulu? Royal Hawaiian Center is a one-stop for all your wish lists.
The open-air shopping center has unlimited choices for shopping, dining, and entertainment.
Enjoy their celebration of Hawaiian culture and traditions showcased through dance and music in the tropical vibe.
Atlantis Adventures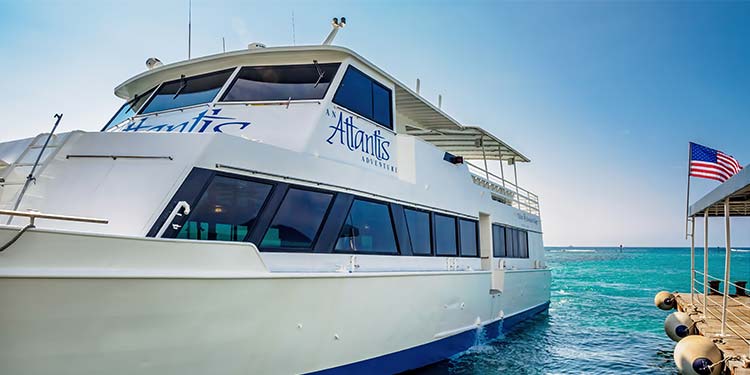 Location: Atlantis Submarines Waikiki - 252 Paoa Pl, Honolulu
Opening hours: 7:30 am - 6:00 pm (Every day)
Contact: 1-800-381-0237
Explore the mysteries of marine in any way you prefer!
Take a whale tour to watch the whales, dolphins, and a variety of aquatic species.
Get on a cruise with your loved ones and witness the most beautiful sunset on the island with drinks and delicious food.
Or, dive 100 feet below the surface on a submarine and experience the ride of a lifetime underwater.
Do them all with the help of Atlantis Adventures! 
Holidays in Honolulu!
Honolulu is the ultimate gateway to the islands of the United States and a place where fun never ends.
Filled with ancient Hawaiian culture and history, one can learn and experience so much on a trip to the capital of Hawaii.
Hop on the cruise, watch the whales, or go underwater–witness the beauty of marine life with your own eyes!
Enjoy its glamorous nightlife, scenic beaches, and lush valleys, and make the most of your time in Honolulu.
Note: Keep in mind that information about travel can change quickly. To make sure your trip is fun and safe, we encourage you to double-check official websites and government/travel advisory sites for the latest information on travel restrictions, entry requirements, and safety measures.