Santa Cruz is a popular tourist destination in California for nature lovers or those who want to visit a city with old-world charm.
Pack your hiking shoes and prepare to see some of the most beautiful coastlines and vistas.
Be sure to stick close to the beach until you see some of the lovely animals that call the Pacific Coast home.
For more renowned attractions, we have listed some of the best things to do in Santa Cruz, California.
Things to Do in Santa Cruz, California
Natural Bridges State Beach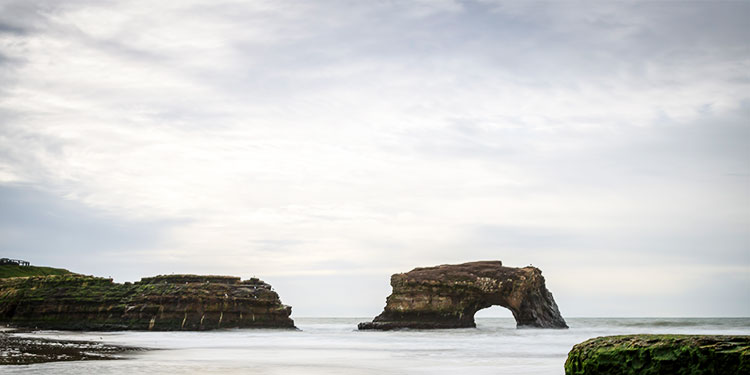 This quiet sanctuary beckons you to watch whales, otters, and seals at play as seabirds fill the air and the soft sounds of the surf soothe your soul.
Wander your way down the beach to the public access tidepools, and you'll see a community of crabs, anemones, and sea stars basking in these quiet pools.
While you can park on the street, parking is also offered for a fee at the visitor center.
It's a more sedate place that appeals to those who want to take beautiful photographs or enjoy watching wildlife.
During certain times of the year, you can even walk out to the iconic bridge formations the park is named for.
UC Santa Cruz Arboretum and Botanic Garden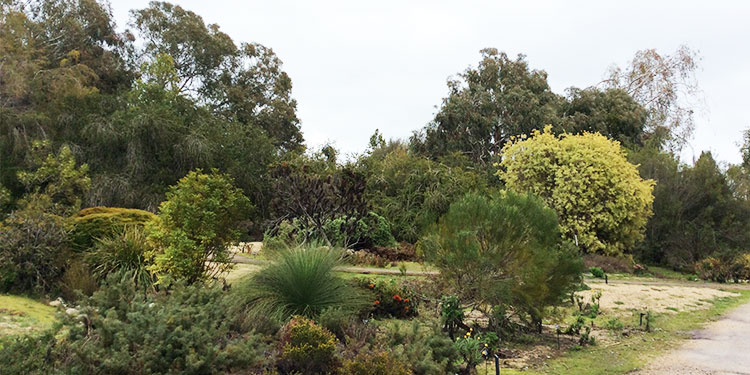 Plant lovers of all ages will enjoy a stroll through the UC Santa Cruz Arboretum and Botanic Garden.
Step inside and wander through paths lined with various plants from Mediterranean climates, including a large collection of succulents.
The Aroma Garden is a fantastic place to interact with these beautiful little plants and learn more about them.
They're open from 9 AM to 5 PM almost every day of the year. Check the website for special events, tours, and a map of the walkways.
Ticket prices vary based on age, but the first Tuesday of every month offers free admission.
West Cliff Drive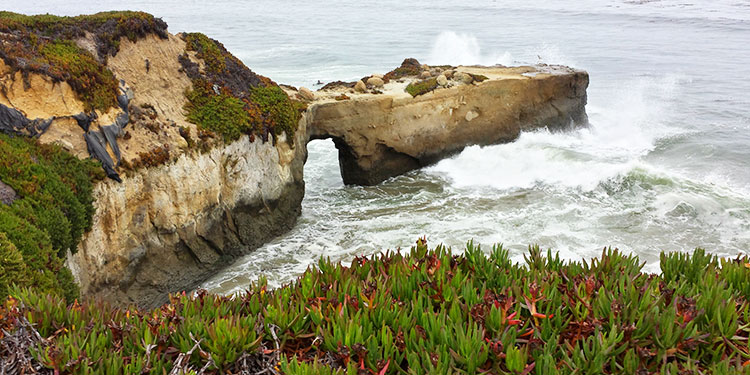 Head to Santa Cruz Municipal Wharf to start the three-mile journey down West Cliff Drive.
This scenic path passes Monterey Bay and will lead you on a beautiful journey through areas with hotels, shaded residential streets, and a grove of cypress trees.
Eventually, you'll reach Lighthouse Point, a grassy area with lots of spots to picnic or play games.
You can also take your vehicle and drive down this stretch of the road.
There are many places to pull over, take photos and gaze at the beautiful views of coastal sites.
The Mystery Spot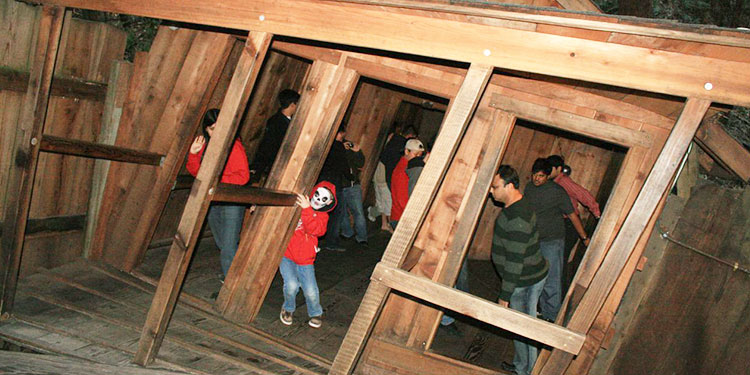 The Mystery Spot is a neat place to visit – especially if you don't know what's there.
Sign up for a tour and leave a little mystery in your life without looking up too much about it.
Just know it's about gravitational anomalies and weird spaces. Plus, who doesn't love an interesting roadside attraction?
There's a gift shop, snack bar, restrooms, and a hiking trail on the premises. Expect your tour to take about 45 minutes before you enjoy everything else it offers.
If you want to visit the mystery spot, book tickets on their website and schedule a tour in advance.
Santa Cruz Beach Boardwalk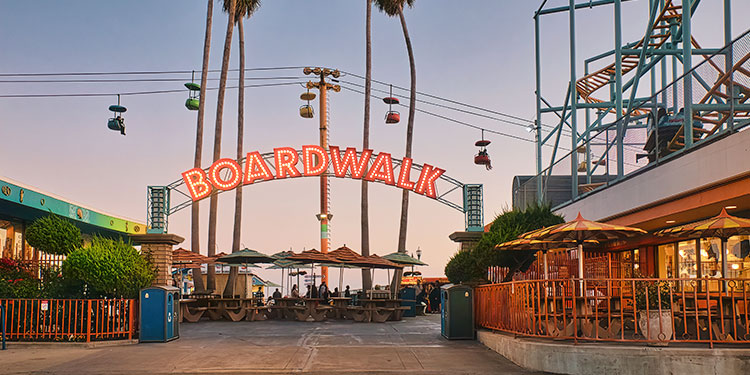 Hold onto the seat of your pants, and join the fun at the Santa Cruz Beach Boardwalk.
This thrilling location offers everything from games like air hockey to thrilling kiddie rides and ice cream stands, all bookended by a beautiful sea view.
They often add new games and rides, so every visit may differ slightly from the last. 
Check out the website before you go to get an idea of what rides you might be interested in.
You'll save money if you buy a wristband for unlimited rides, as long as you're planning to use it enough.
Since the entrance to the boardwalk is free, there's no harm in making a loop to see the offerings and then going back to purchase access once you're done.
Santa Cruz Wharf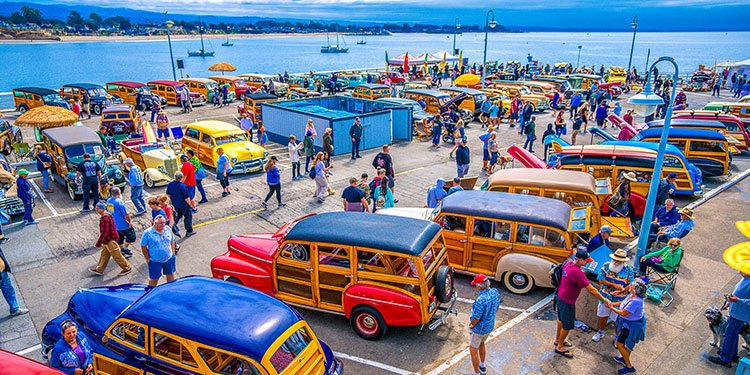 The Santa Cruz Wharf is your gateway to everything the Pacific offers.
Charter a boat for fishing, sign up for a coastline tour, or view marine life in its natural habitat with a viewing tour.
Stroll down the wharf, and watch all the other tourists marveling at the seabirds and sky.
Wander in and out of the shops to see items that might entice you to bring them home – or simply window shop and save your cash for a meal at one of the fantastic restaurants available.
Make your way to the end of the pier for the best attraction of all sea lions.
Viewing areas near the end of the pier lets you get a closer look at these majestic creatures.
Santa Cruz Surfing Museum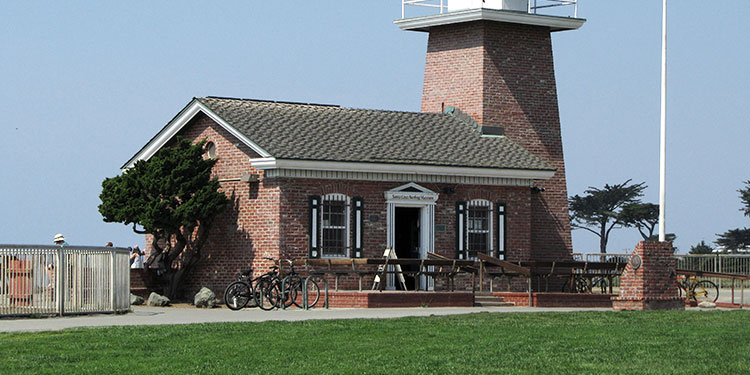 Anyone with an appreciation for surfing will love the Santa Cruz Surfing Museum.
The Museum is housed in an old lighthouse that's pretty lovely in and of itself. Plenty of spaces around are perfect for photographs. 
Exhibits are designed to tell you about the history of surfing in the context of its development as a sport in Santa Cruz.
So expect a very targeted collection that will leave you with a better understanding of the community. 
Bring your board along as the Museum overlooks Steamer Lane, where you'll want to catch a wave after you're done touring.
Hours are subject to change, so check the website before you go. They're generally open from Thursday through Monday in the afternoon.
Yoso Wellness Spa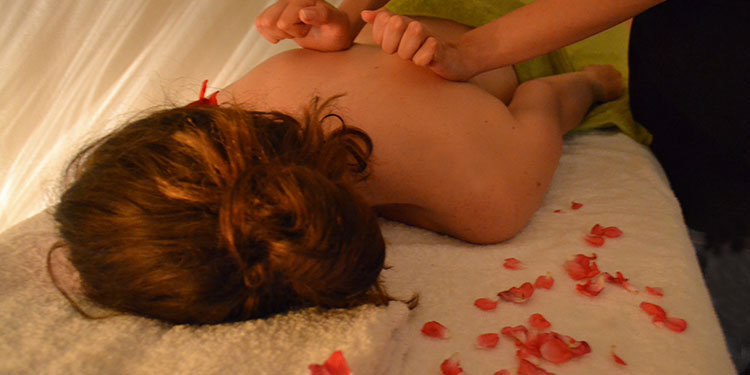 Treat yourself to a luxurious and relaxing treatment at Yoso Wellness Spa.
Whether you're visiting to reduce your stress at the beginning of your trip or getting ready for a glitzy night out, Yoso is a great place to visit.
The serene environment they cultivate is a perfect space to relax during your massage, skincare treatment, or facial.
From nail treatments to lash routines and full makeup application, they offer plenty of other services as well.
To obtain the greatest experience, visit their website and make an appointment to arrange services that fit your needs.
To get the best experience, visit their website and make an appointment to schedule services that fit your needs.
Chardonnay Sailing Charters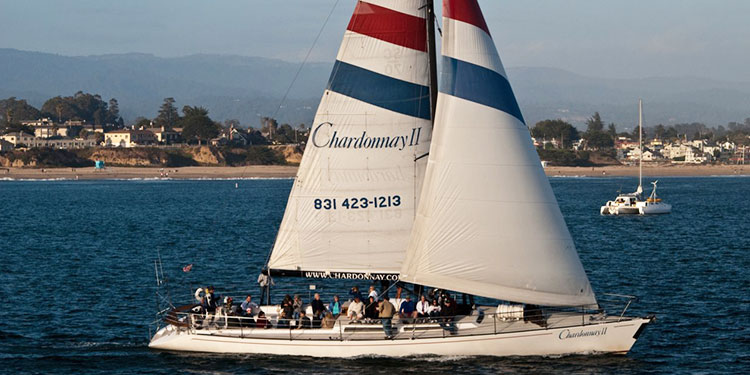 A series of unique tours offered – and the ability to rent private tours – make Chardonnay Sailing Charters your go-to place to see Santa Cruz from the water.
They offer both sunset and afternoon pizza cruises with pies from Upper Crust.
Beer and wine are available for purchase on the boat. These cruises last about two hours.
Check out other cruises, like the champagne brunch cruise or one that lets you get a better view of a regatta.
They only accommodate groups of 15 people or less on public cruises. For larger groups, reach out about chartering your boat.
Note: Visitors cannot wear high heels or shoes with leather-bottomed soles on the ship. 
Seymour Marine Discovery Center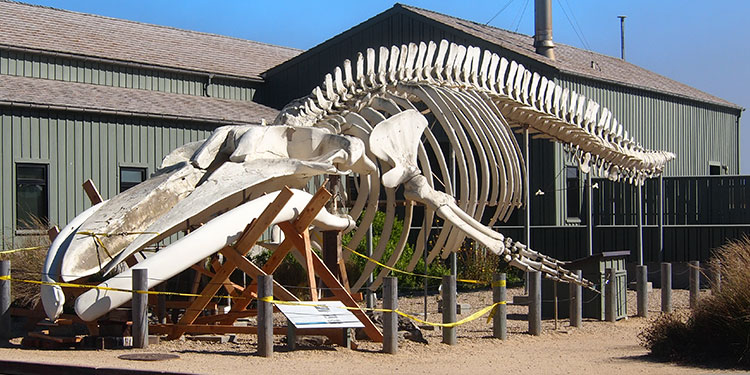 Unique and interactive exhibits make Seymour Marine Discovery Center a great place to stop while roaming around Santa Cruz.
Stop and watch the dolphins, pack lunch to eat on the benches outside, or enjoy the view of the ocean once you leave the museum.
Once you're inside, there are more ways to interact with sea stars and other marine life by getting up close and personal.
Children and adults will love touching the whale skeleton and the statues of sea lions outside the museum as they pass.
It's a tranquil spot with a lot of charm. Be sure to stop and touch the swell shark before you leave. Don't worry! they won't bite you. 
Start Planning Your Trip to Santa Cruz
Don't forget to schedule a few great meals at local restaurants while you're in Santa Cruz.
They have 1000 acres of apple orchards and more than 100 commercial dairies, so a lot of incredible food is produced right there.
With so many great activities on tap, you'll work up an appetite in no time in this dynamic jewel of a city. Start combing menus and making reservations today.
Note: Keep in mind that information about travel can change quickly. To make sure your trip is fun and safe, we encourage you to double-check official websites and government/travel advisory sites for the latest information on travel restrictions, entry requirements, and safety measures.