''Do you want to take your relationship to the next step?'' 'Don't worry' I have the perfect plan to guide you around Austins' most romantic getaways.
Whether you're planning a honeymoon with your spouse or looking for the best places to travel with your partner, Austin has a lot to offer with many budget-friendly and romantic ideas.
Get lost in a long road trip adventure in Texas Hill Country, where lush greenery surrounds the scenic view, and lots of unique places to discover.
From the best live music venues around the world to the best indoor-outdoor activities and spectacular vibrant nightlife, the city has a lot of attractive destinations you can plan with your partner.
Let's uncover the city's hidden gems and create memories to last a lifetime with your significant other in Austin.
Things To Do In Austin For Couples
Sunset At Mount Bonnell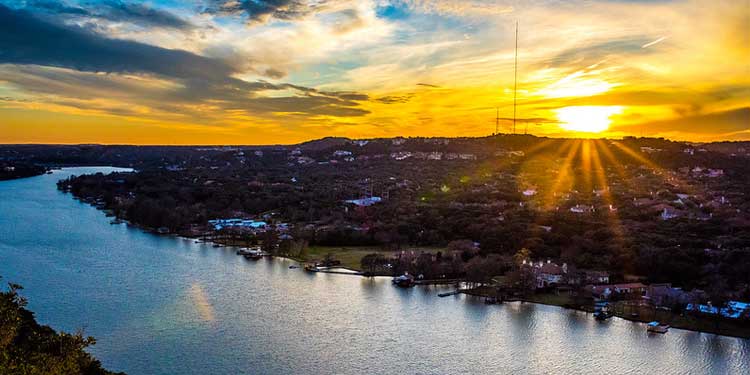 Location: 3800 Mount Bonnell Rd; Austin, Texas 78731
Opening hours: 5 am - 10 pm
As the highest summit of the city, Mt. Bonnell is Austin's most attractive place to spend a perfect evening with your partner.
With a short hike uphill with more than 100 stairs, you will come upon a beautiful view of Lake Austin, the Colorado River, and the Austin Skyline.
A perfect evening to spend time with your partner on top of Mt. Bonnell with the sunset sparkling down your face. Free tip; if you are proposing, go for it.
Adventure at Lake Travis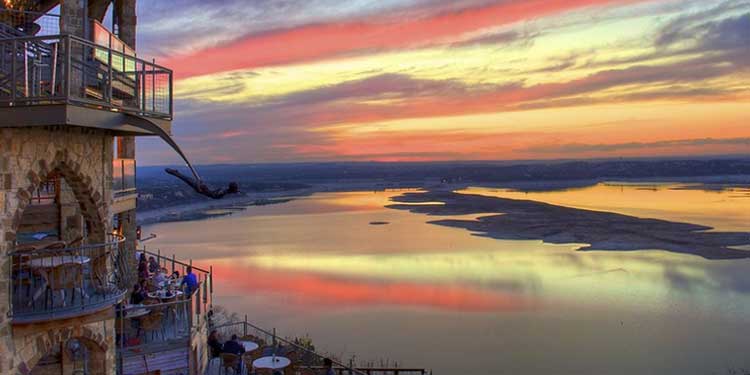 Location: Northwest  Austin, Texas, United States
Opening hours: N/A
Travis Lake is 13 miles northwest of Austin in Travis County, surrounded by rolling hills and green belts. Perfect for couple getaways and outdoor adventure activities.
You can enjoy various water sports and recreational activities. From Flying surfboards, kayaking, paddle boarding, jet skiing, and luxurious yachts to camping and fishing on the best spot alongside the lake. There's a thing for everyone to do something.
You can always be unique if you are more for a daring adventure – make your way up to the zipline and glide down the scenery of Lake Travis with the view of a sunset sitting right above the lake.
There are several restaurants and waterparks along the shoreline. When you're tired of outdoor activities, restaurants offer a romantic meal while you listen to live music with your partner.
Lake Travis is open all year, but I recommend you go during the peak time of summer to early fall, as the average water temperature will stay manageable.
Dinner at Barley Swine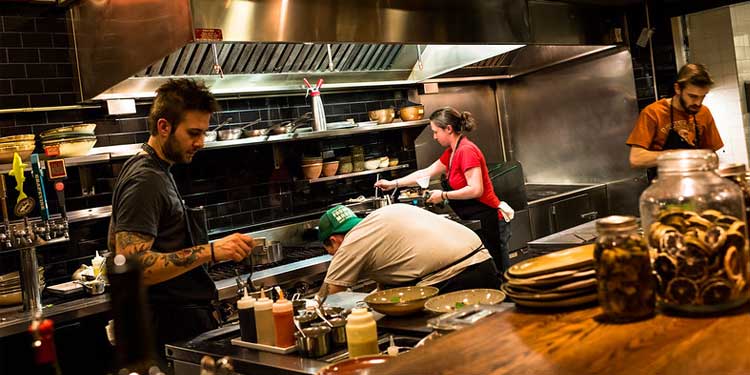 Location: 6555 Burnet Rd #400, Austin, TX 78757, United States
Opening hours: Dine- In service (5 pm - 10 pm Thursday to Sunday) Takeout 9 am - 5 pm
''Consider yourself a foodie?'' Then, make sure you visit Barley Swine for a delicious treat with your partner.
Fun fact: Although the name of the restaurant refers to beer and pig, the quality of the dish and the wine elevate it to something far greater.
The restaurant has edible gardens on the front and back, and the chef uses the herbs and vegetables grown on-site in their drinks and dishes to make them taste the finest. Make sure you observe the procedure.
With excellent service, a variety of food menus, and local wine flavors, it has inventive ingredients that blend to create a memorable culinary experience for a perfect date night.
Try the chef's tasting menu like other newcomers and order your favorite dish and drinks.
Live Music at Continental Club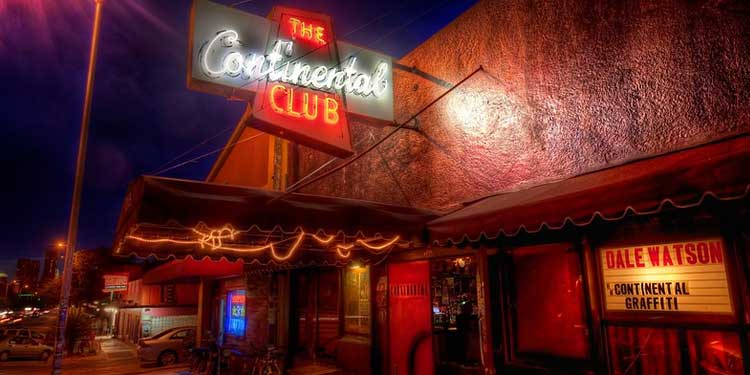 Location: 1315 S Congress Ave, Austin, TX 78704, United States
Opening hours: 2 pm - 12:30 am (Sunday) 6 pm - 2 am (Monday) 4 pm - 2 am (Tuesday to Friday)
''Did you know?'' Rock legends like Robert Plant and Kris Kristofferson have played at Continental Club for two nights, with massive music fans around Austin.
Continental Club has everything you need if you enjoy going to bars and listening to good classical music.
It has been a cornerstone of the South Congress Avenue business district and has remained true to its live music roots even as the city around it has changed.
If you visit here any night, you will run into a different music genres, from blues, and country crooner, to jazz and reggae. So make sure to bring your partner on the dance floor and break a sweat.
Dinner and Movies at the Alamo Drafthouse Cinemas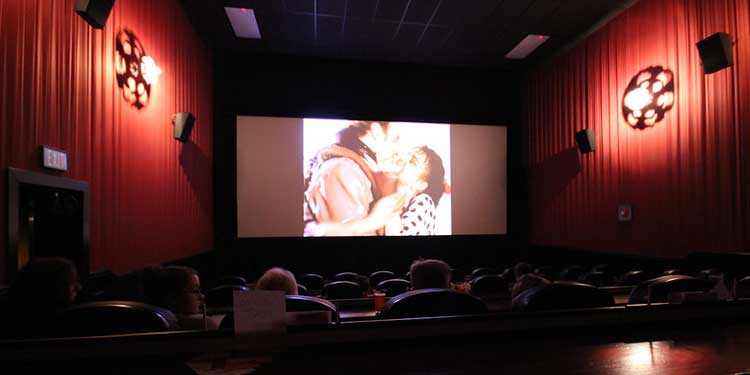 Location: 320 E 6th St, Austin, TX 78701, USA
Opening hours: 11 am - 11 pm
Alamo Drafthouse Cinemas takes dinner and a movie to a whole new level.
If you enjoy watching classic films while having a romantic dinner with your partner, this movie theater has everything you need under one roof at an affordable price.
A combination of a restaurant and a theater, Food can be ordered prior to the start of the show. So make sure you order the best dish and drinks for your dinner.
You'll be happy to know that tickets are $7 per person on Tuesdays, which are cheaper than on other days.
The love of movies has brought Alamo's customers together as if they were their own community. So, become a part of them and have the best time possible.
Lake Austin Spa Resort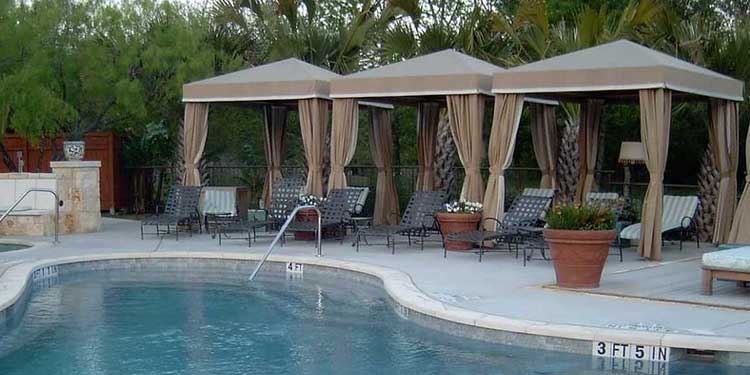 Location: 1705 S Quinlan Park Rd, Austin, TX 78732, United States
Opening hours: 24 hours
The Lake Austin Spa and Resort is a true haven for rest, rejuvenation, and reinvention because it is situated perfectly in the heart of Lake Austin and the peaceful calm of Texas Hill Country.
If you are more into yoga and fitness the resort offers you creative and enjoyable exercises. Some include deep sound meditation, Japanese sword training, paddle board yoga, and more.
You will be excited to know that it has the best relaxation room, which includes hot tubs as well as a spa area for body massages and physiotherapy.
It offers you some of the best premium cuisine and wines Austin has to offer, along with excellent service and accommodations. Ideal for a romantic candlelight dinner with your significant other after a full day of exploration.
Hike and Discover Swimming Holes at Barton Creek Greenbelt
Location: 3755 S Capital of Texas Hwy B, Austin, TX 78704, United States
Opening hours: 5 am - 10 pm
Barton Creek Greenbelt is a great place to hike and explore if you need some time in nature and want to get away from the hustle and bustle of Austin.
This is a lovely green space with excellent trails filled with lots of outdoor adventure like hiking, rock climbing, jogging, biking, and creek swimming. And the best part of this place is that it won't charge you any admission fee, as access to the trail is free for everyone.
You will discover a lot of swimming holes if you go a bit further from your destination with less crowded people – a great way to explore nature and be a thrilling adventurer.
You do want to bring on plenty of water and extra swimsuits with you, cause it may be a hot day for you to become sweaty.
Nightlife at West 6th Street, Austin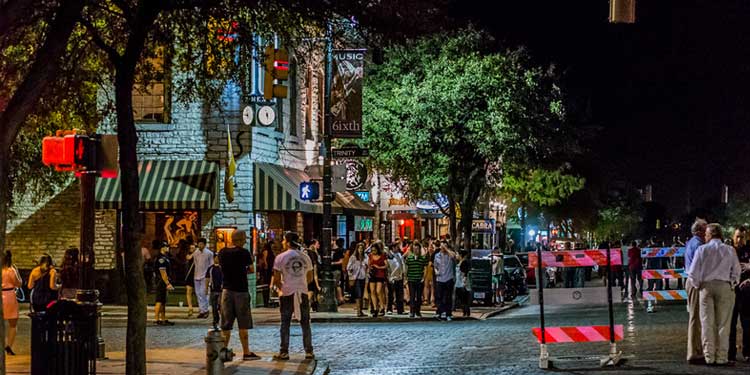 Location: Lavaca Street, 6th St, Austin, TX 78701, United States
Opening hours: N/A
Let's get started as many tourists come here mainly to party. So 6th street is a big deal here for adults' nightlife. For a good reason, Austinites refer to the center of it as the "dirty sixth."
If you are okay with sorting through the clutter, you can discover some live music or a bar you can enjoy. On the other hand, you might be here to embrace the chaos. There are several pubs down dirty sixth, so it doesn't matter.
Most are essentially identical venues around here – some offering drink deals, some having rooftops, and some having live music.
You should check out West 6th Street hotspots like Midnight Cowboy, Barbarella's dance, and Barcelona's Dubstep Night. Every location has a unique feature that guarantees you and your companion an enjoyable and romantic evening.
Drive to the Texas Hill Country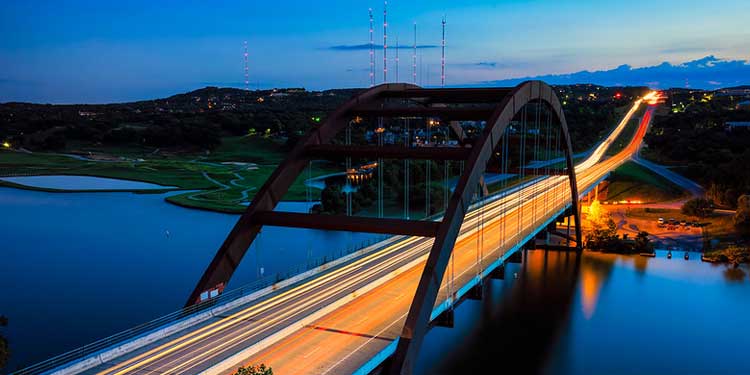 Location: Austin, Southwestern Central Texas
Opening hours: N/A
''Are you excited about a road trip?'' Let me tell you how it is in the Texas Hill Country.
If you are planning a one-day or a week-long trip, the Hill Country has many beautiful places to visit. Mine lasted about three days and was an epic adventure for a road trip.
Whether it's jumping into swimming holes at Hamilton Pool, tasting fine wines and briskets at Salt Lick BBQ, or hiking through beautiful State Parks, it has every unique destination on the way to make you happy and excited.
The best seasons for a Texas Hill Country Rod Trip are spring and early fall because the weather will be ideal for driving around with beautiful scenery and colorful wildflowers blooming all around the area for the scenic drive.
Hike and Bike Trail at Lady Bird Lake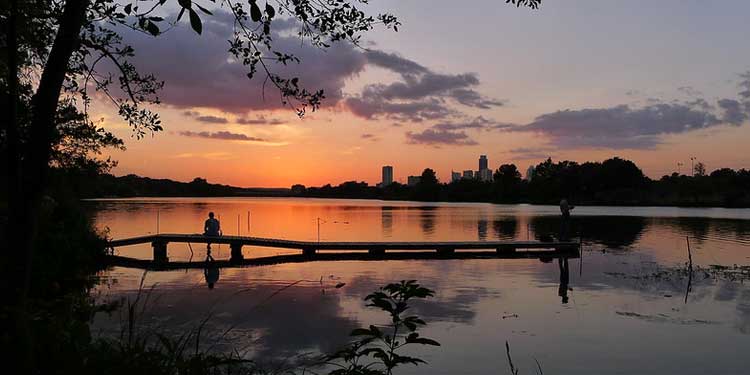 Location: 2 Robert T Martinez Jr St, Austin, TX 78702, United States
Opening hours: 5 am - 12 pm
Lady Bird Lake is a great place to visit if you're looking for a romantic getaway to enjoy your weekend in downtown Austin.
It offers you the best outdoor recreational activities in Austin. From dragon boating and kayaking to rowing boats under the Congress Avenue Bridge to seeing millions of bats – it has everything you need for a perfect evening.
If you are more interested in Hiking and biking, Lady Bird Lake has Ann and Roy Butler Hike-and-Bike Trail, providing you with amazing sceneries and a Lake view.
Make a day of it and surprise your partner with the soothing sunset that occurs every evening above the Lady Bird Lake view.
Note: You should know that you cannot swim and bring motorized watercraft to the Lake. But don't worry - there are other water boats that you can rent at the nearest rental shop

Start Planning a Romantic Getaway in Austin
Traveling as a couple can be the ultimate test for a relationship, so I would definitely say to enjoy the moment as being together and be aware of any obstacles. Simply consider it as a part of the adventure.
Now that you have the best ideas for taking your partner out for a perfect holiday in Austin – make sure to plan ahead of time and surprise the love of your life with a trip to the best city in Texas for couples.
Your trip to Austin will undoubtedly be a memorable experience as you explore all of the beautiful and fun places that await you.
Finally, use your trip here together as an opportunity to fall in love again and remind yourself of what you truly love about your partner.