Arizona's unique landscape and fantastic weather conditions make this state an excellent place for family vacations.
From a diverse range of adventure attractions on the Grand Canyon and Lake Powell to activities from hopping on the trampoline to amusement parks, theres something for kids of every age.
And if your cubs want to experience wildlife encounters, outdoor adventures, or educational involvement, this Copper State is the ideal destination.
Also, the Arizonans are known for their hospitality and atmosphere, so families can expect a welcoming spirit throughout their stay.
Now excited to take the first step into planning your best family getaway?
Here is a well-curated list of the best things to do in this naturally rich and unique state.
Things to Do in Arizona with Kids
Legoland Discovery Center – Never Le'go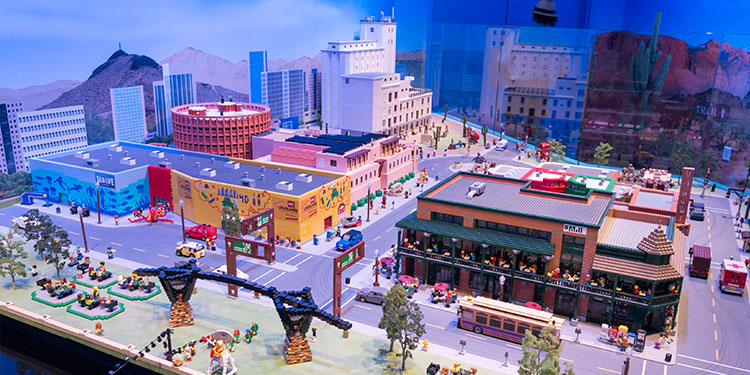 Address: 5000 S Arizona Mills Cir STE 135, Tempe, AZ 85282
Opening hours: Mon to Fri (11 am - 5 pm), Sat to Sun (10 am - 5 pm) 
Ticket price: Starting from $ 24.99
Legoland discovery center is one of the best Lego places in Arizona.
They have a wide range of Lego-building activities and fun-filled adventures like The Kingdom Quest Ride and Dino Explorer.
You will see distinctive collections of items like The Phoenix airport, Civic Space Park, St Mary's Basilica, and The Grand Canyon built from Lego pieces.
The high point of this discovery center is the 'Master Model Builder.'
It is a section where you will see big MOCs (My Own Creation) by a professional Lego Artist.
Built by the Master Model, there are some insane Lego items you and your child will get to see, like Poke Ball, a vintage record player, and Nintendo Switch.
Tip: You can visit the Lego shop without paying the entry fees.
Odysea Mirror Maze – Mirror Magic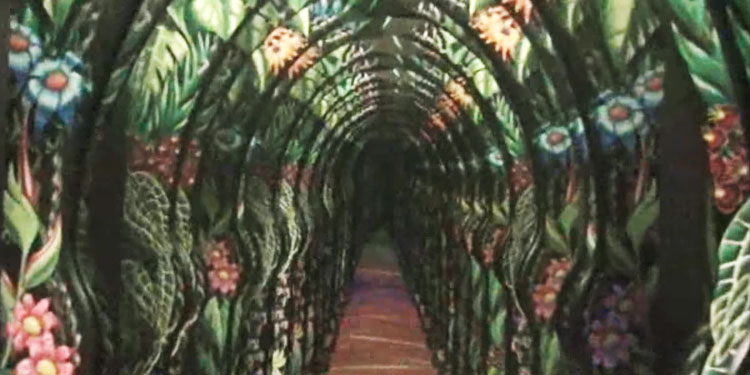 Address: 9500 East Vía de Ventura #200, Scottsdale, AZ 85256
Opening Hours: Sun-Thur (10 am-5 pm), Fri-Sat (10 am-6 pm) 
Ticket Price: Starts from $5.00
Almost every kid loves a mirror maze due to its unique experience of walking the path of mirrors to reach the destination.
Odysea Mirror Maze is no different! So get ready for mental stimulation by the trails of mirrors while trying to find the way.
There are two fun mazes to choose from – Mirror Maze and Laser Maze. Both of these sequences have a fun feel, with dramatic lights and music.
The laser maze is more of a combat mission, whereas the mirror maze is a total lost-in-the-jungle vibe.
Best of all, you have the option to choose the difficulty level of the maze.
Note: Group entries are also allowed in the maze, and they have birthday party packages where 10- 15 people can enjoy the package deal that includes goodie bags, cupcakes, and water bottles.
Goldfield Ghost Town – Gold & Other-Worldly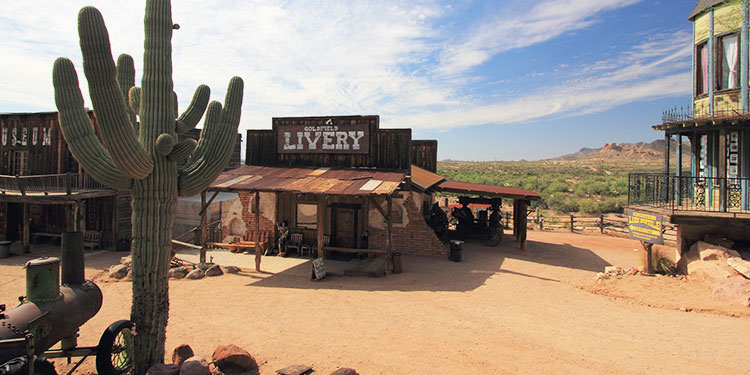 Address: 4650 N Mammoth Mine Rd, Apache Junction, AZ 85119, USA
Opening Hours: Fri to Sunday ( 7:30 pm - 9:15 pm)
Ticket Price:  Adults - $25.00,  Seniors (60+) - $22.00, Kids (12 and under) - $15.00

If you're looking for a kid-friendly spooky adventure in the wild west of Arizona, Goldfield Ghost Town is just the place to be.
Located amongst the Superstition Mountains, this town has a fascinating gold mining history with plenty of insane remains to see and explore.
Take a fun 20-minute train ride around the goldfield, exploring the undergrounds of the gold mine, or take a zipline to see the stunning view of Superstition Mountain.
It's fun for the whole family, especially the little ones!
And don't miss out on the kids-friendly Prospector's Palace, where you can go hunting for precious treasures and participate in gold panning.
Tip: Head over to the Mammoth Steakhouse & Saloon for the juiciest steak and delicious Mammoth Burgers.
The McCormick-Stillman Railroad Park – Never Miss the Choo-Choo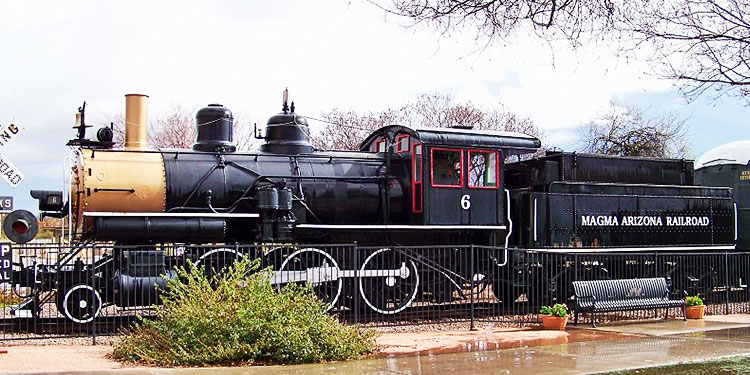 Address: 7301 E Indian Bend Rd, Scottsdale, AZ 85250
Opening Hours: Everyday 8 am- 1 pm
Ticket Price: Starts from $3
McCormick-Stillman Railroad area is the perfect family-friendly park with plenty of picnic spots and playing fields for children.
The ultimate destination for various recreational activities like carousels and train rides, kids are bound to have a great time here.
A massive indoor 10,000 sq foot railroad building model features all sorts of railway prototypes.
Another highlight of this museum is a historical section displaying the last rail car used by four different presidents of the United States.
A perfect way to fulfill your train hunger!
Tip: Get yourself an ice cream from the parlor while wandering around the area.
Lake Powell – Turquoise Heaven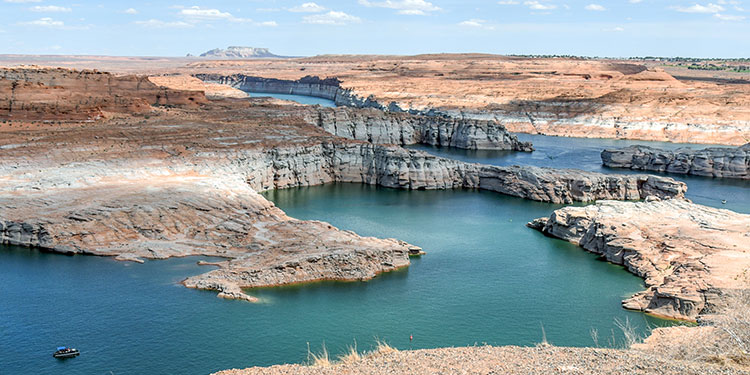 Address: 6 N. Lake Powell Blvd. Page, Arizona 86040
Opening Hours: Everyday Sunrise- Sunset
Ticket Price: $30
Lake Powell is a gorgeous man-made lake with spectacular scenery and natural arches, making it an ideal location for all outdoor activities.
Families can stay on a fully equipped houseboat while floating on the lake with all the comforts of your house, including a bed, dining, and sitting area.
The diverse range of fish species like trout, northern pike, and smallmouth bass makes fishing at Lake Powell a must-do activity.
Since majestic sandstone cliffs and red rocks surround Lake Powell, you and your kids will love camping and stargazing at this pristine lake.
Children's Museum of Phoenix – One of a kind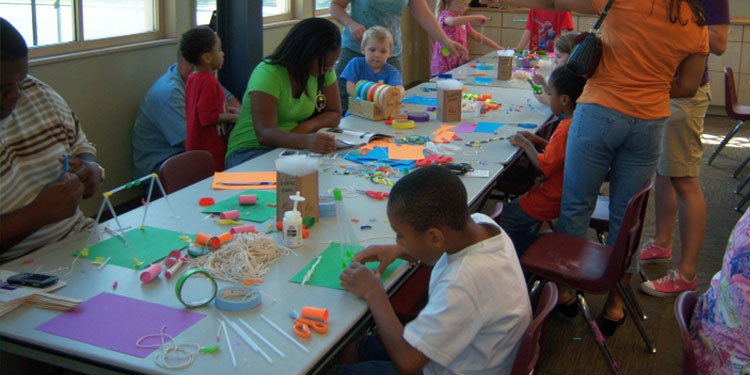 Address: 215 N 7th St, Phoenix, AZ 85034
Opening Hours: Everyday 9 am - 4 pm
Ticket Price:  $17.00 per person for anyone 1 year and older
The perfect combination of entertainment and knowledge Children's Museum of Phoenix is a must-visit museum of the capital.
This place has over 300 play areas and plenty of exciting things for the kids to indulge in.
So much so that, they get an opportunity to be creative and crafty in many areas and further develop project-building skills.
The Bubble Room is one of the most fun and interactive children's favorite exhibits, where they can make infinite foam bubbles in a large foamy tub.
The Grand Canyon Deer Farm – Animal Wonderland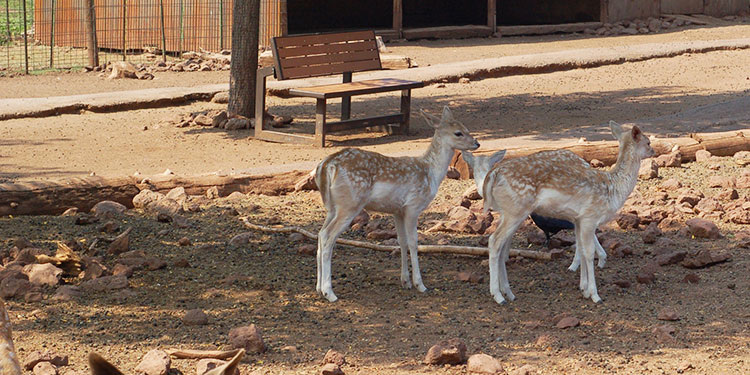 Address: 6769 Deer Farm Rd, Williams, AZ 86046
Opening Hours: Mar- Oct (Daily 9 am - 6 pm), Oct-Mar (Daily 10 am - 5 pm), Christmas Eve  10 am - 3 pm
Ticket Price : Adults: $16.00, Seniors 62+: $15.00, Children 3-13: $9.00, Children 2 and under are FREE
If your kids are animals lover, Grand Canyon Deer Farm is just the place for you.
This 10 acre-farm has a good number of deer that are friendly and harmful-free.
You can take a self-guided tour to pet them and buy food to feed these cuties.
Apart from the lovely deer, you will also see peacocks, llamas, camel, goats, and other friendly animals.
Tip: Wear casual and comfortable clothes to the farm, as the animals may befriend you by caressing your clothes and shoes.
Wild Katz – Children's Adventure Playground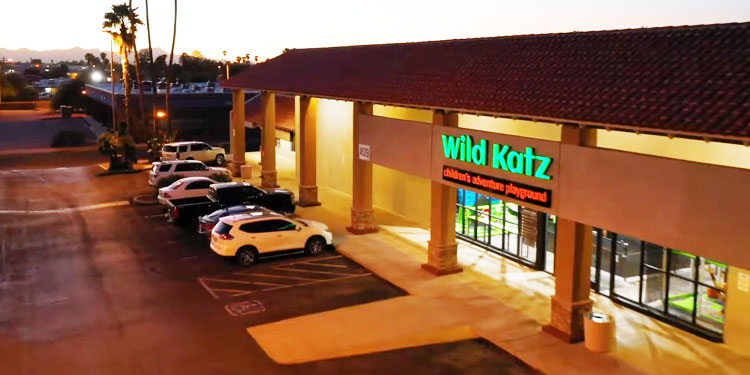 Address: 4629 E Speedway Blvd, Tucson, AZ 85712
Opening Hours: Sun to Thur ( 10 am - 8 pm), Fri to Sat (10 am - 9 pm)
Ticket Price: Starts from $6 ( varies according to age and play duration)
Once you take your little one to Wild Kat Children's Adventure Playground, they are not going to get over by this place anytime soon.
The playground is called Jaguar Jungle' due to its full jungle theme.
Kids can satisfy their jumping and climbing desire on the trampoline, and for those who like to play with blocks, there's a Bear Kat Boulder.
But the fun doesn't stop here! In the Beast Box section, kids can swing onto these yellow blocks resembling giant cheese slices and pass the hurdle chains.
After the crazy adventure, don't forget to fill up your tummies by going to The Fountain' for yummy slushies, snacks, and their refreshing signature sodas.
Flagstaff Extreme Adventure Course – Born To Be Wild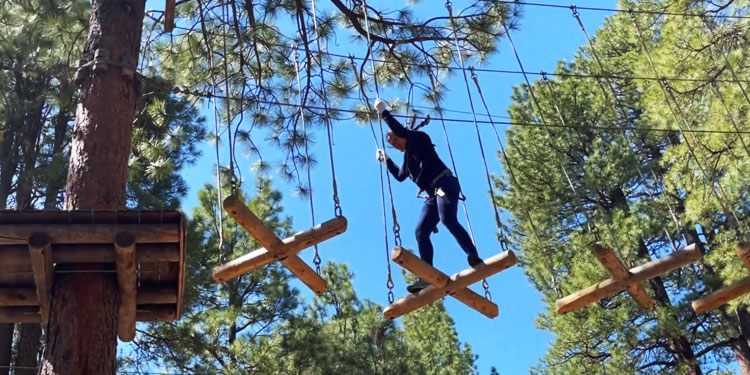 Address: Fort Tuthill County Park, 2446 Ft Tuthill Lp, Flagstaff, AZ 86005
Opening Hours: Daily 9 am- 5 pm
Ticket Price: $30 + taxes and fees  (Ages 7-11)
Flagstaff Extreme Adventure Course is a great option for a real adrenaline rush, as it offers separate Adventure Courses for the entire family.
Before getting into action, kids will be given a brief training session where they will be put into a kids-friendly harness, and the guide will teach them everything about the track.
This course will enable your child to understand and make effective physical movements and learn about the basic safety protocols of swinging.
You can also supervise and help your kid by staying close to the action area.
Note: Entry will be only provided to children who are at least 7 years old.
Valley Youth Theatre – Lights Action and Fun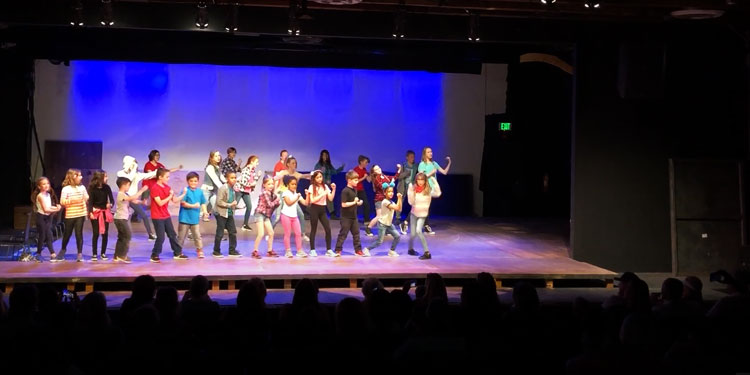 Address: 525 N 1st St, Phoenix, AZ 85004
Opening Hours: 8 am- 5 pm 
Ticket Price: Varies according to the shows
Did you know? Oscar-nominated actress Emma Stone was one of the students and got her first break into acting from this theatre.
So if you sense a spark for theater or acting in your kids, Valley Youth Theatre is the right place to bring your little ones.
They organize a variety of theatre acts and provide acting classes and workshops to young minds focusing on enhancing their performing skills.
Children who are interested in creative arts but like to stay behind the curtains rather than being on the front stage, this theatre also provides an opportunity to get involved in backstage roles.
Summer camp is one of the busiest programs of Valley Youth Theatre.
The little ones get to learn valuable lessons on acting, improvisation, and production from talented artists.
Jake's Unlimited – Entertainment In One Roof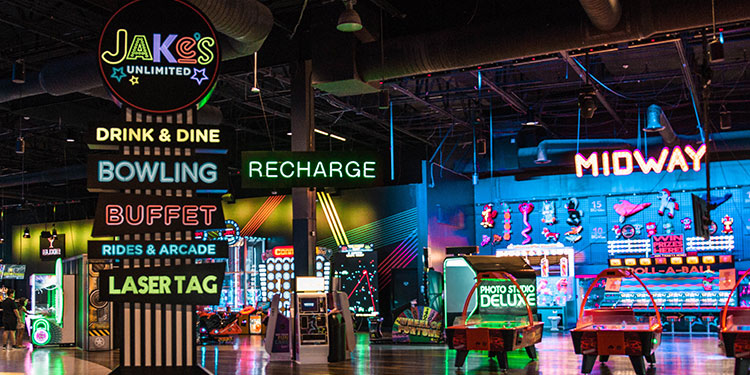 Address: 1830 E Baseline Rd, Mesa, AZ 85204
Opening Hours: Sunday – Saturday (11 am – 10 pm)
Ticket Price: $15 - $65 plus tax
Jakes's Unlimited is a gaming paradise for the entire family to get into an infinite supply of games, food, rides, and arcades.
From Pac- Man Battle Royale to Laser Tag, there's something for kids of every age.
You can shake a leg at the peppy dance game section or play Monopoly with comfortable seating for a classic board game experience.
Add Bumper cars and spinning rides to give you that fun drive-around experience.
And after all the excitement, head to the eatery section for healthy salads from the salad bar and their freshly homemade pizzas.
i.d.e.a Museum – Imagine and Create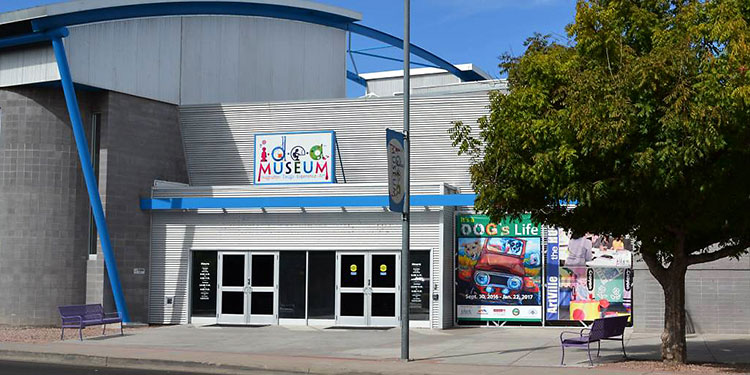 Address: 150 W Pepper Pl, Mesa, AZ 85201
Opening Hours: Tues to Sat (9 am - 4 pm), Sun (12 pm - 4 pm)
Ticket Price: $9/person  (free for members and those under age 1)
i.d.e.a is a place where young minds will learn and closely experience all aspects of STEAM in a fun way.
This museum focuses on developing children's creative sides via participatory activities so that they realize their own strengths and interests.
The workshops organized by the museum not only teach art projects but also focus on collaborative and management skills, making it one of the best programs for youngsters.
Juveniles into storytelling will also benefit from this place as they host diverse storytelling and communication sessions for children.
Urban Air Trampoline and Adventure Park – Jump and Hop Arizona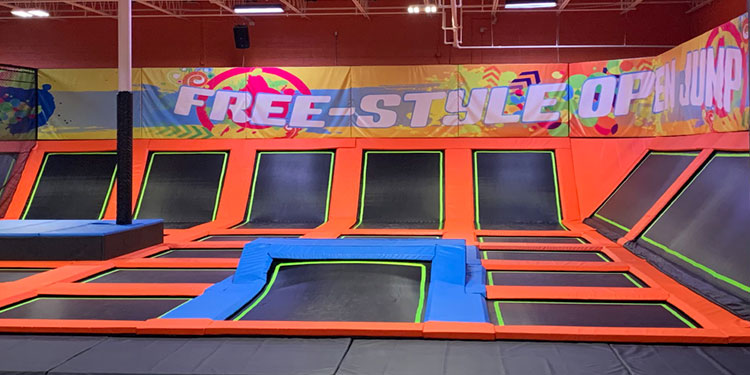 Address: 4816 East Ray Road Phoenix, Arizona 85044
Opening Hours: Mon to Thu ( 10am- 8am), Fri- Sat (10 am- 9 pm), Sun (11 am - 8 pm)
Ticket Price:  $ 14.49 - $27.99
A complete indoor entertainment Urban Air Trampoline and Adventure Park is popular amongst children and families.
They have the best trampoline activities where the kids can bounce as much as they want on foam pits, massive jump areas, and dodgeball courts.
Don't miss out on trying the Ninja Warrior Course for the most exciting element of this park.
Slam dunk tracks and climbing walls are some of the favorite corners for kids at Urban Air Trampoline and Adventure Park.
While for toddlers, this park has sections that cater to a smaller set of trampolines and soft play structures.
Superstition Farm – Dairy Fun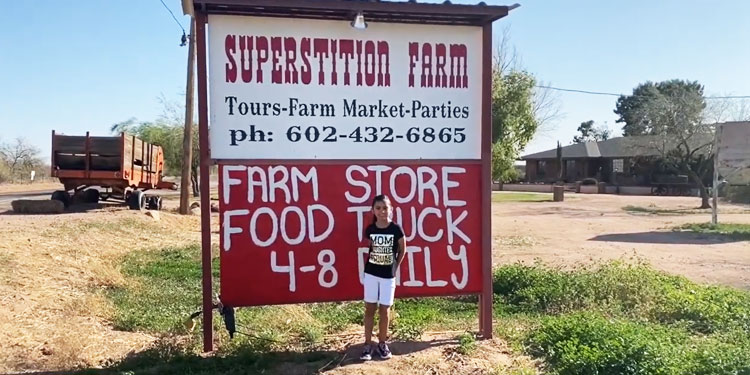 Address: 3440 S Hawes Rd, Mesa, AZ 85212,
Opening Hours: Tue to Sun (9 am - 6 pm)
Ticket Price: $4 ( petting zoo entrance fee)
This unique farm provides a fun and educational experience for kids and families.
Usually, children love to visit farms. So don't miss out on the guided walk, where your little one will be fascinated to see the daily operations of a dairy farm.
Another activity that your child will get excited about is animal encounters, where they get to interact with the farm animals and hand-feed or even pet them.
This farm also showcases the journey of how milk from cows is turned into dairy products.
Note: Check out Superstition Farm's website as they organize seasonal events and activities like holiday-themed celebrations and pumpkin patches.
Butterfly Wonderland – If I Were A Butterfly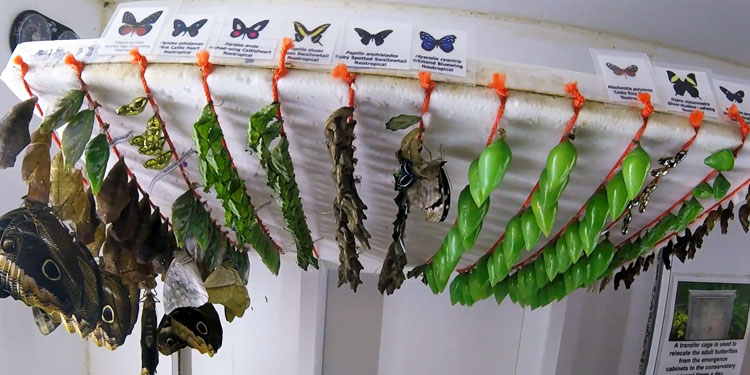 Address: 9500 East Vía de Ventura F100, Scottsdale, AZ 85256
Opening Hours: Everyday 9 am - 5 pm
Ticket Price: Starts from $19.95 ( varies for children and adults)
Butterfly Wonderland is the largest indoor butterfly atrium in the United States.
There are thousands of butterflies worldwide that people come to see and observe up close.
The entire family will have a fascinating time amongst these beautiful creatures in this conservatory.
It also has a garden and butterfly gallery where kids will learn about the life cycle and everything about butterflies.
As You Wish Pottery – Life's a Clay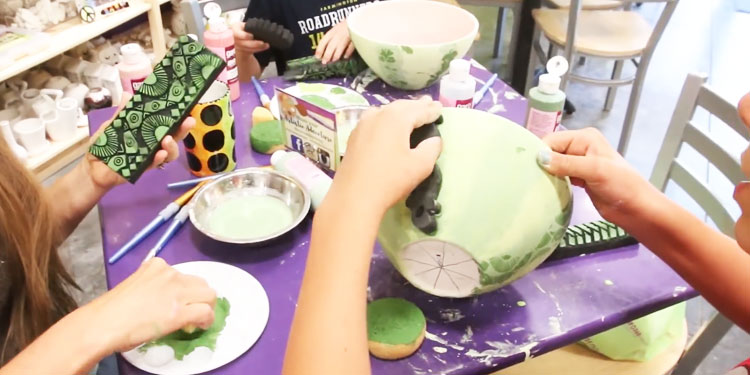 Address: Chandler Crossroads Towne Center 2970 E Germann Rd. #4
Chandler, AZ 85286
Opening Hours: Mon-Thur: 10 am-9 pm, Fri-Sat: 10 am-10 pm, Sunday: 11 am-6 pm
Ticket Price: Starts from $8 ( varies according to the program)
Pottery session is always a fun activity, and to experience this while you're in Arizona, make a visit to As You Wish Pottery.
A popular destination for families and groups to engage in some creative sessions.
It is a pottery painting studio where you can select any piece of ceramic and then paint and customize it according to your wish.
It also offers a wide range of classes on pottery for kids as well as adults.
Desert Botanical Garden – At the Heart of Nature
Address: Desert Botanical Garden 1201 N. Galvin Pkwy Phoenix, AZ 85008
Opening Hours: Everyday 7 am - 8 pm
Ticket Price: $16.95 for general admission
The Desert Botanical Garden is an exciting place for the kids as they can explore their way to various trails and pathways throughout the garden.
There is a separate children's garden where your kid can play around and engage in interactive activities all related to nature and plants.
They also provide scavenger hunts and guided tours, especially for children, where they can explore and learn about the garden and greenery in a fun and engaging way.
Note: Visit the Desetrt during Spring and Fall for a pleasant experience as the weather is quite good during these seasons.
Wildlife World Zoo, Aquarium & Safari Park – Wilderness Overloaded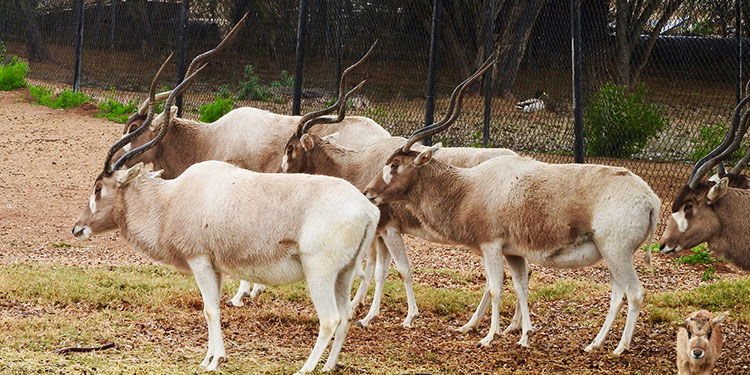 Address: 16501 W Northern Ave, Litchfield Park, AZ 85340
Opening Hours: Everyday 9 am- 6 pm
Ticket Price: Age 3 - 12: $27.00 including tax, Adult (13+): $48.00 including tax, Age 2 & Under Free

From live animal shows to Safari Park, there's so much to see and enjoy at the Wildlife World Zoo, Aquarium & Safari Park.
Children will get to experience some of the best carousels and train rides in the state.
Also, there are educational programs and events hosted by the zoo where kids will get to learn about wildlife conservation and animals.
They can also get to see the animals up close and interact with them.
Pima Air & Space Museum – Dimension's Magic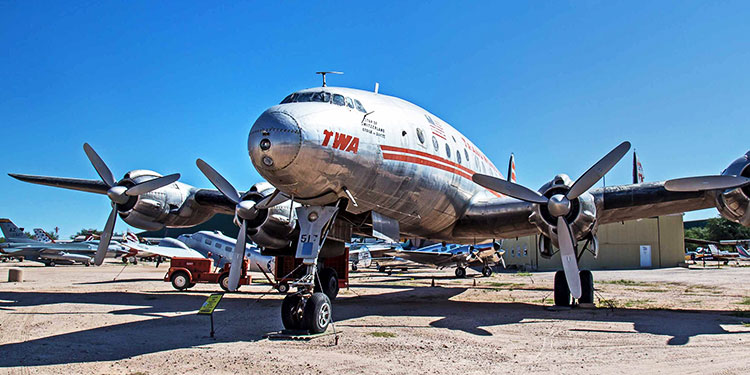 Address: 6000 E Valencia Rd, Tucson, AZ 85756
Opening hours: 9 am - 3 pm
Entry Fee: Free for children ages 0-4
If you are interested in the sun, moon, and stars, or you want to influence your kid about space, then Pima Air & Space Museum is the perfect destination.
People from around the world come here to see the B-29 Superfortress' Sentimental Journey,' a replica of the Wright Brothers' 1903 Flyer.
Get ready to witness the extensive collection of over 400 aircraft on display, including some of the iconic planes and jets of all times.
This museum celebrates planetary science history and heritage to its fullest.
It also provides a bus tour of the nearby Aerospace Maintenance and Regeneration Group, where you will see numerous legendary aircraft.
Visit the Grand Canyon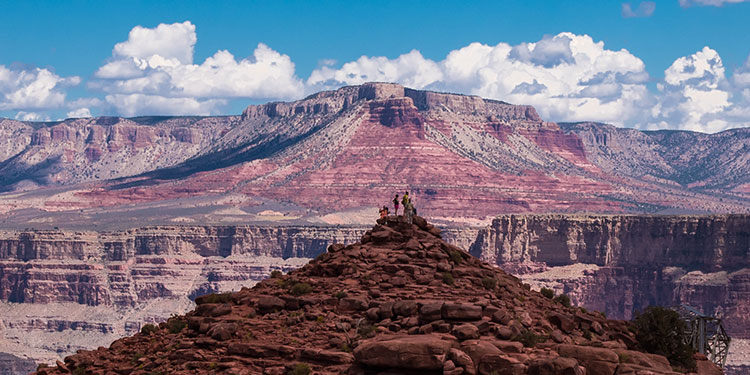 Address: Grand Canyon, Arizona 
Opening hours: open 24 hours
Entry Fees: $20 - $35
The trip to Arizona is incomplete without visiting the Grand Canyon.
Planning a family road trip is the perfect way to enjoy life with the kids while you're in this 'Grand Canyon State.'
During your journey, stop by the South Rim of Grand Canyon National Park for a scenic view of Pipe Creek Vista and Yavapai Point.
And while visiting the park, your child can join the Junior Ranger Program, where they'll get involved in fun sets of activities and scout programs.
Save The Date for Exciting Arizona Days!
You'll want to come back on every possible holiday after all the entertainment
Spending time amongst Arizona's natural beauty and unique landscape is an experience one shouldn't miss.
So while you're here, enjoy the diverse attractions and submerge yourself in the mix of adventure, relaxation, and quality family time.
Enjoy your fun trip!
Note: Keep in mind that information about travel can change quickly. To make sure your trip is fun and safe, we encourage you to double-check official websites and government/travel advisory sites for the latest information on travel restrictions, entry requirements, and safety measures.