Santa Monica is a playground of carnival rides and gorgeous thoroughfares for anyone brave enough to seek its sunny shores.
Many visitors search for adventures at the pier, where you can learn about animal life or scream your way down the metal tracks of the roller coaster.
Others want to spend time in the lovely green spaces and parks of this incredible city. Whatever your pleasure, Santa Monica stands ready to receive you.
Things to Do in Santa Monica, California
Pacific Park at Santa Monica Pier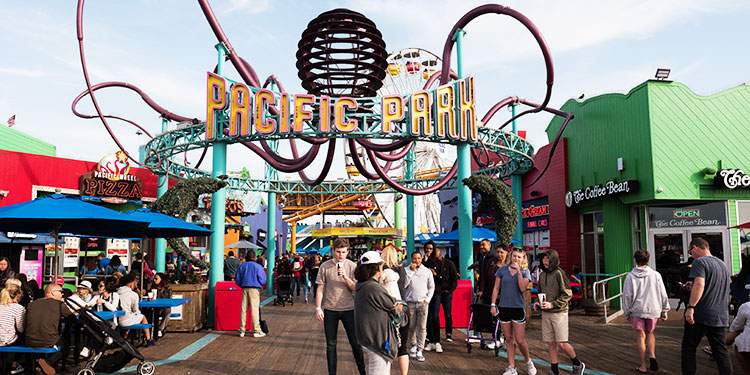 This amusement park built right into Santa Monica pier is a great place to spend part of your vacation.
Kids and adults will be thrilled with the various rides and activities offered here.
From the first solar-powered Ferris wheel in the world to the only west coast oceanfront steel rollercoaster, theres something for everyone.
Each ride or attraction has its own price listed at the front. You can buy an unlimited ride wristband to save money if you intend to go on many rides.
Walk right in without a ticket to get a feel for the place. They welcome anyone to wander through the park.
Play some of the midway games between the rides to win neat prizes. Food is also available throughout the park.
Heal the Bay Aquarium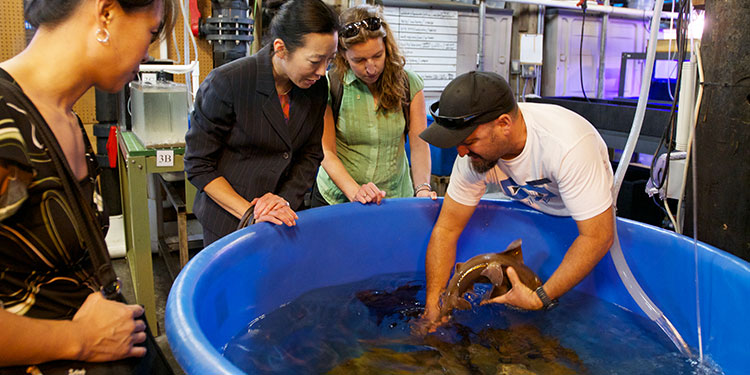 You'll find this fantastic marine education facility below the Santa Monica Pier carousel.
It has more than 100 local species on display to help teach you about the marine life of Santa Monica and the Pacific Ocean.
It's not a large aquarium like some world-renowned ones on the coast, but it's worth popping in if you're at the pier.
Everyone will appreciate the educational displays and hands-on exhibits.
Check the Events Calendar on their website to see if they're hosting something interesting during your visit.
They sometimes have shark feeding, sea star feeding, celebrations, and even galas.
Museum of Flying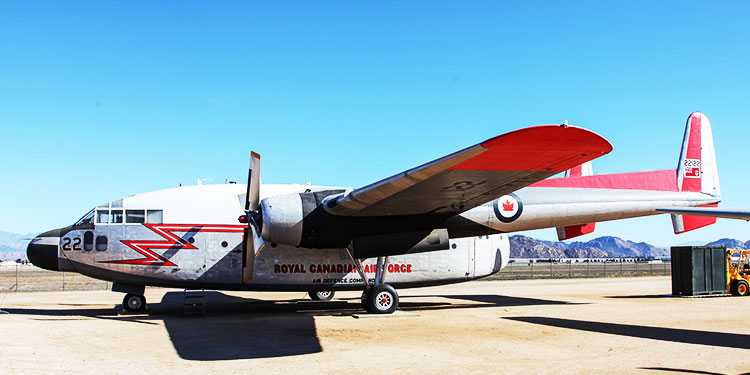 Marvel at vintage aircraft like a World War II Fokker Triplane when you visit the Museum of Flying.
You will be captivated by its full-size planes, large models, and the materials for each that help you learn more about the giant machines.
To enhance the experience, check out the theater that plays interesting and relevant videos.
A flight simulator is also an option if you go on the weekends. It lets you get hands-on with the controls of planes and is realistic enough that you might even feel like you're flying for a moment.
Call in advance to see if the exhibits are open. Most visitors mention the VR and walk-in cockpit being closed at times.
Cayton Children's Museum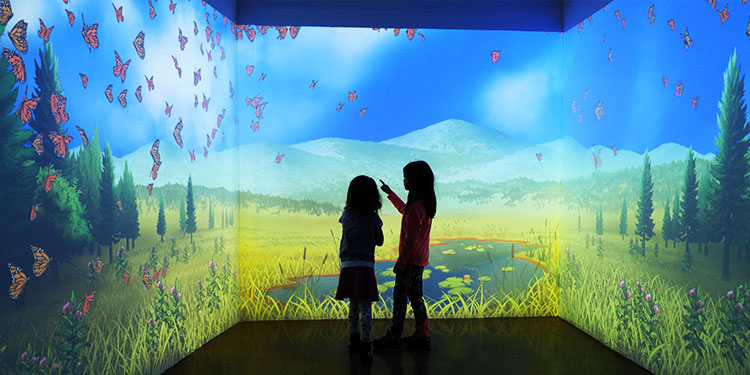 To delight the young ones in your group, add the Cayton Children's Museum to your itinerary.
With 21,000 square feet of exhibits, kids will spend hours interacting with different stations, climbing, playing, and creating.
There's even a real helicopter, and reactive VR exhibits along with a unique space called "Launch Your" designed for visitors up to the age of two.
It helps them learn new skills and strengths as they gain motor functions, language, and recognition.
I'd recommend going early because there's a larger crowd after lunch.
Many areas encourage sensory play, like the water table, so your children may get a little messy while playing. Consider bringing a backup outfit, just in case.
Tongva Park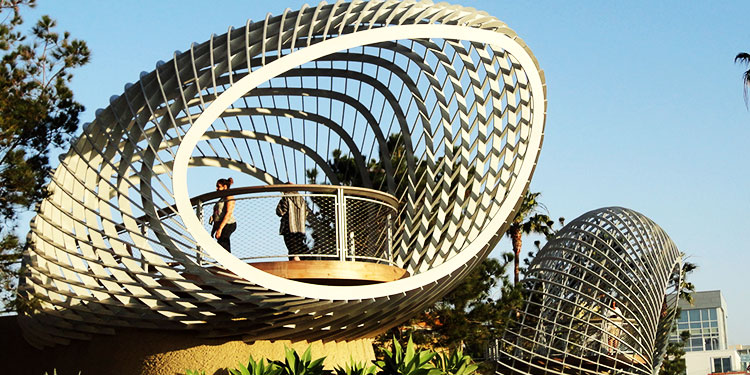 Tongva Park is another attraction near the Santa Monica Pier. This modern park has gorgeous sculptures, sustainable flora, and play structures for children.
Since they include a water feature and climbing space, it helps the park stand out a bit from others in the city without such features.
The view of the ocean from the park is also spectacular. If you get bored, head to the shopping areas nearby to grab a coffee or browse local specialties.
Tongva has accessible bike racks and restrooms, so it's a great point of entry to everything Santa Monica Pier offers if you're planning on using a bike.
Bring swimsuits for the splash pad, wander down the walking path, or enjoy watching people creating works of art in the park.
Marvin Braude Bike Trail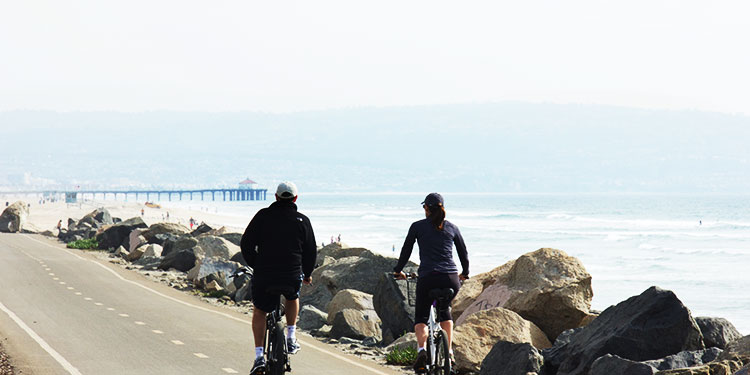 If you love biking, the Marvin Braude Bike Trail will add great fun to your trip to Santa Monica.
It stretches from Pacific Palisades to Torrence on its 22-mile journey through several California towns and attractions.
One of the best spots is right at the Santa Monica Pier. Take the trail north or south to follow more of the Strand and see what makes the beach towns so beautiful.
If you're basing out of Santa Monica, it can even be a shorter two-day adventure to explore the entire thing in each direction.
Download the bike trail map from the Los Angeles County website before you set off on it.
Palisades Park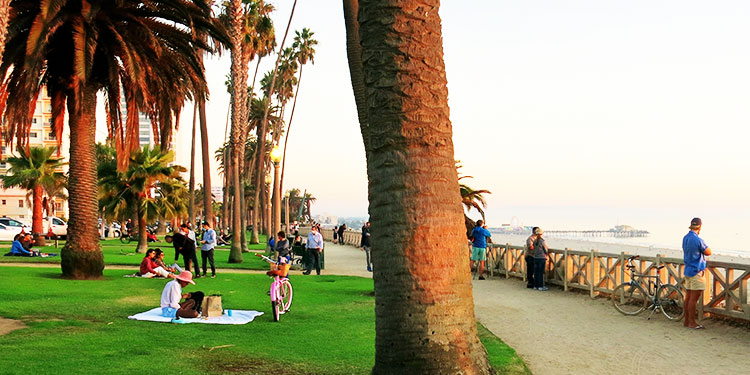 Palisades Park is an iconic place to walk in the shade of a few tall trees along the beach.
It's an iconic place in Santa Monica – especially if you grew up watching Baywatch on TV.
This little gem has separate walking paths for bikers and pedestrians, making it safer than many other area hotspots.
The views from the park are fantastic whether you're looking out at the ocean or down toward the pier.
It's a hotbed of life and activity that attracts all types. So, don't be surprised to see vendors, live music, or people painting as you walk through the park.
Third Street Promenade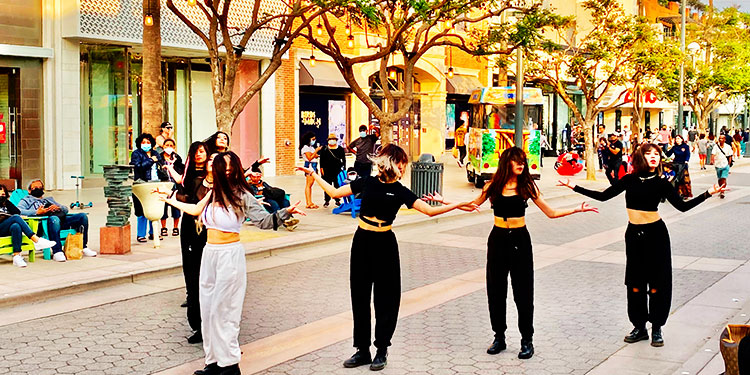 Enjoy the sights and sounds of Santa Monica's active downtown area in this car-free, walkable space packed with restaurants and shops.
Whether you want to see a movie, have a cocktail and lunch, or watch a street performer, you've come to the right place.
As the sun gets closer to the horizon, this area fills up with people seeking meals, items, and services from all the businesses represented here.
If you ever feel like venturing farther, you can also catch the Metro Expo Line here to head toward Downtown Los Angeles.
Use public transportation or ride-sharing apps to reduce your time circling and looking for a spot.
Trapeze School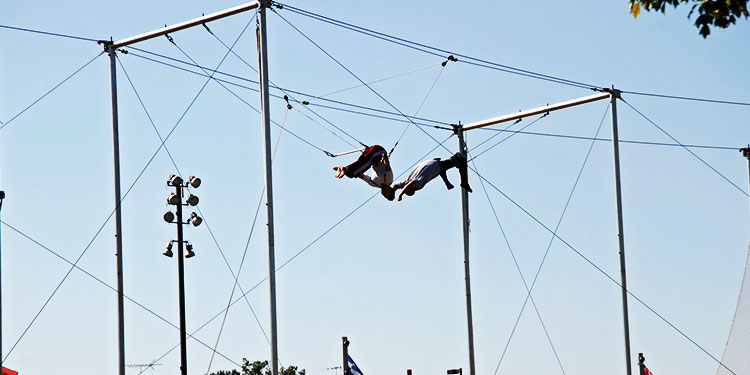 Do something a little offbeat while you're in Santa Monica with Trapeze School.
Whether you want to join a class yourself or sign your kid up for a two-hour experience on the air, Trapeze School has you all covered.
Dont worry! You don't have to know how to use a trapeze to sign up for a class.
Their experienced instructors will help you learn how to handle the equipment before you ever go into the air – and the nets below will catch you once you let go.
The school is only open during class hours, so the best way to make a reservation and keep your spot is online.
Classes can only include ten participants to ensure everyone has attention and time on the equipment.
So book early from the website to add Trapeze School to your list of activities.
Santa Monica Farmer's Market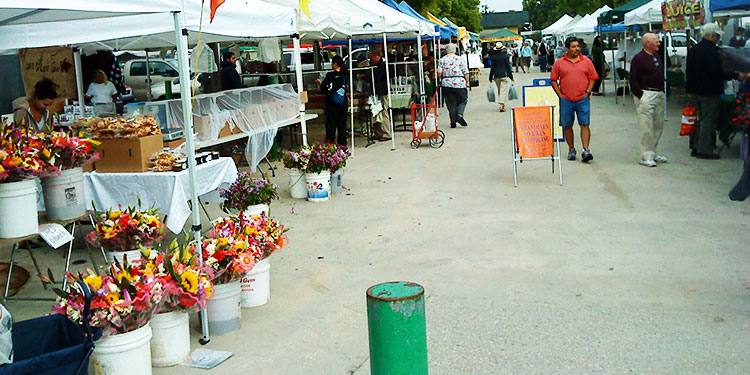 If you want to access the best produce and artisan goods around, head to one of the three farmer's markets in Santa Monica.
You'll find chefs from all over the area out early looking for fresh fruits and vegetables.
The Downtown Farmers Market is open Wednesday and Saturday from 8 AM to 1 PM.
The Pico Boulevard Farmers Market is open Saturday from 8 AM to 1 PM and boasts a strong community vibe.
The Main Street Farmers Market is active on Sunday from 8:30 AM to 1:30 PM and has a great number of crafts.
Usually, the venues also host live music and prepared food, so there's plenty to do even when done shopping.
Start Making Plans!
Though the Santa Monica Pier is a major attraction in the city today, it originally served a very different purpose.
They built it to carry wastewater past the breakers and out to the sea.
It is the first concrete pier on the West Coast that has undergone many transformations to make it the popular destination it is today.
Come and see how it took something like an industrial pier and turned it into a popular vacation destination for yourself.
You might be surprised how many ways Santa Monica transforms you. So hurry up!
Note: Keep in mind that information about travel can change quickly. To make sure your trip is fun and safe, we encourage you to double-check official websites and government/travel advisory sites for the latest information on travel restrictions, entry requirements, and safety measures.