Oceanside is aptly named since most of what draws tourists to this small seaside area happens on the coast.
Walk on the soft sand or venture out to catch your own waves – after a little surfing instruction from a local expert.
Since Oceanside is a smaller community, the best things to do are often events hosted by local venues. Check out what's happening before you plan your trip.
Things to Do in Oceanside, California
Oceanside Shopping and Sights
A lot of the best shopping in Oceanside also happens in scenic locations. You can enjoy a lovely stroll while lightening your wallet a bit if a local treasure catches your eye at these great locations.
Oceanside Municipal Fishing Pier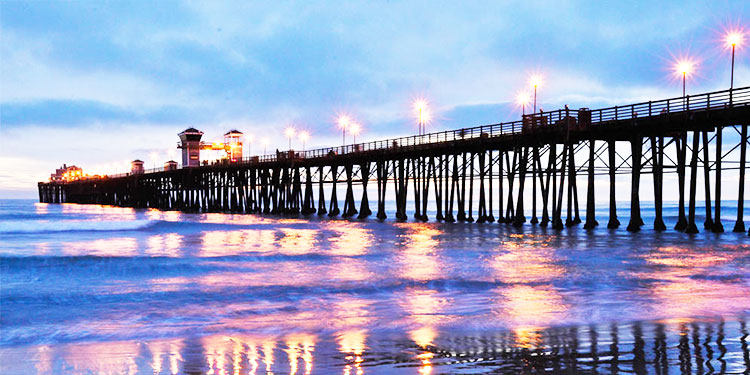 The Oceanside Municipal Pier extends one-third of a mile into the Pacific Ocean.
As you walk along the pier, you'll pass by surfers eagerly waiting for the perfect wave.
From the wooden railing, you might even catch a glimpse of a whale surfacing. Visit the pier at sunset for one of the best views in the city.
You can grab a coffee or purchase souvenirs on the pier. If you're an aspiring fisherman, there's a store where you can buy bait and tackle.
However, the main attraction here is watching the waves, experiencing the sunset, and appreciating the sheer beauty of Oceanside.
Oceanside Sunset Market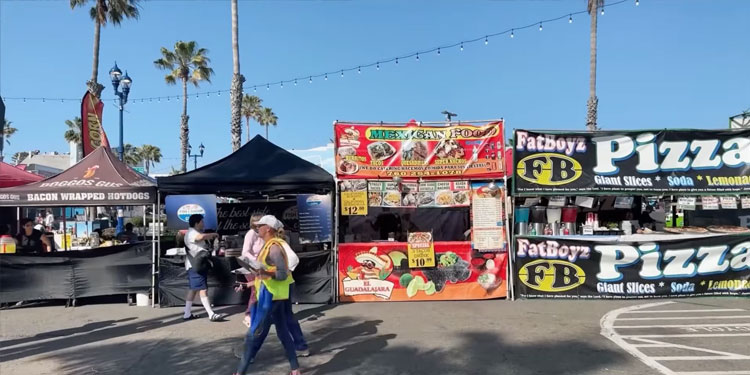 On Thursday evenings, as the sun begins to set, four blocks of Oceanside transform into a lively market with over 200 vendors.
Stroll along the streets lined with artisan delicacies, handmade items, delectable food, refreshing drinks, and unique treasures.
The air fills with enchanting music from various performers, creating a magical ambiance.
Take your time to explore before making a purchase, and let yourself be drawn to what excites you the most.
Each night at the market has a different theme, so check their website for the current theme and featured performers.
Oceanside Harbor Village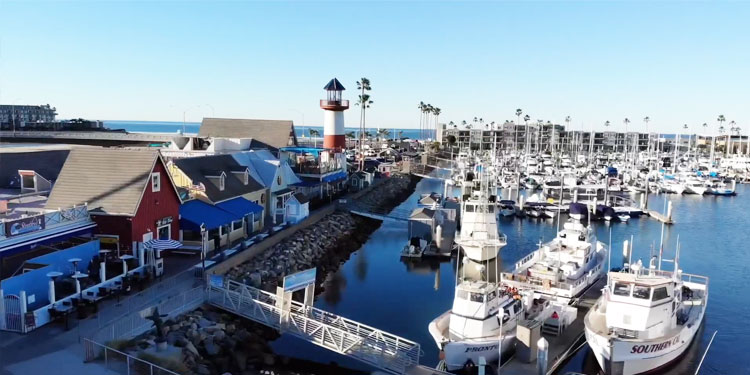 At Oceanside Harbor Village, you can spend an entire day without a dull moment.
Explore the shops and enjoy oceanfront dining on land.
When you're ready for more adventure, the harbor offers tours of the harbor and ocean, boat rentals, fishing excursions, and more.
It's the perfect place to start an exciting day in town.
The nearby beach is easily accessible from this location where you will find live music and shows frequently.
Other amenities include picnic tables, grills, gazebos, restrooms, and volley courts. Just remember to bring your own net and ball.
Check the website to see what events you might want to attend during your stay.
Oceanside Museums
The museums in Oceanside are niche installations that offer a great set of rotating exhibits, and fantastic community events.
California Surf Museum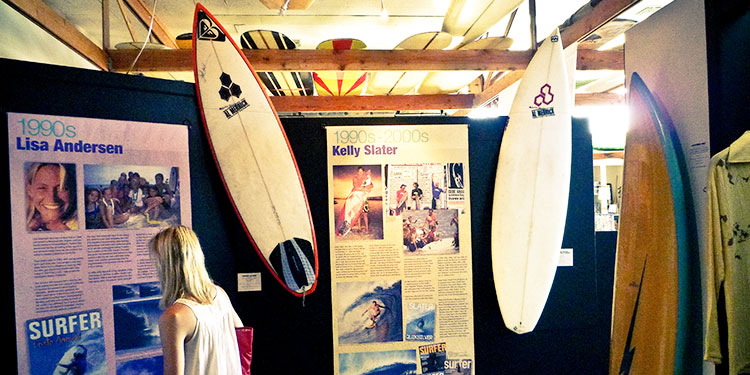 The California Surf Museum showcases an impressive collection of surf memorabilia and hosts a series of rotating exhibits in Oceanside.
The exhibit focuses on surf forecasting and wave science and explores the evolution of the boogie board.
The museum also highlights famous surfers and features surf-related exhibits like photography and painting.
Although it's a small museum, a quick visit with knowledgeable staff can be quite educational.
The museum and its exhibits are open every day from 10 AM to 4 PM, excluding major holidays.
General admission is $7, but seniors, students, and military members receive a discount, and children under 11 can enter for free.
Oceanside Museum of Art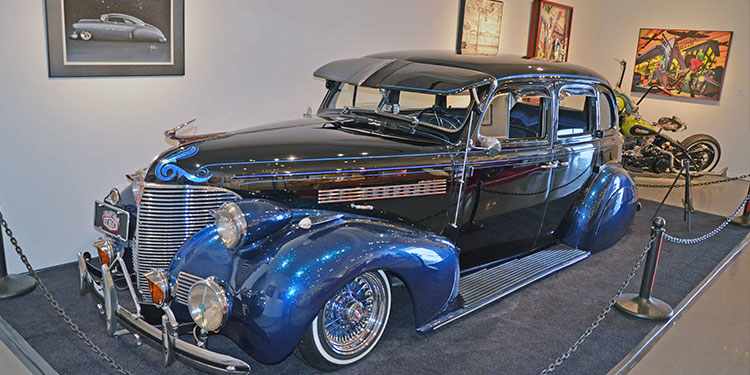 The Oceanside Museum of Art offers a unique experience with its ever-changing shows and collections.
It also serves as a community hub, hosting events such as outdoor painting festivals, classes, and block parties.
While the exhibits alone are worth a visit, the interactive events they organize are the true highlight.
The museum is open from Wednesday to Sunday, 11 AM to 5 PM, with extended hours until 8 PM on Fridays.
Children under 17, active military personnel, and college students with valid IDs can enter for free, while seniors receive a reduced fee.
On the first Friday of each month after 5 PM and the first Sunday of the month, admission to the collection is free.
Mission San Luis Rey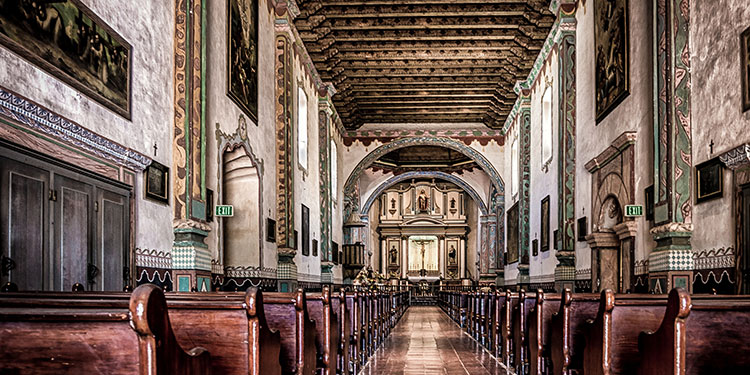 Mission San Luis Rey de Francia, also known as the King of the Missions, is the largest of all the missions in California.
These missions were established by Franciscan missionaries and designed by Mexican artisans to convert Native Americans to Spanish religion and citizenship.
Today, they primarily serve as historical sites with incredible art and restored buildings.
Explore the mission, which features a cruciform pattern and an exterior corridor with 32 Roman arches.
North County Model Railroad Society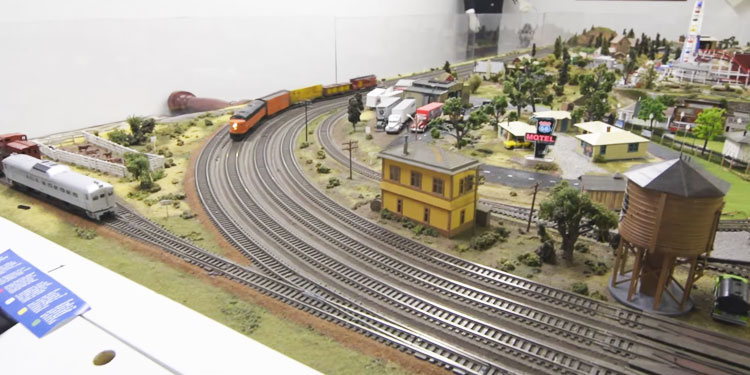 For a unique and memorable experience, visit the North County Model Railroad Society.
Admire the meticulously crafted tracks and buildings that surround them, appreciating the attention to detail in every aspect of the design.
The landscape even includes real landmarks like the Cafe Oceanside and Top Gun House. After taking in the scenery, try your hand at driving the trains on the track.
The society is open to visitors on Saturdays from 10 AM to 3 PM, and there is no entry fee.
You can observe members and hobbyists operating their own trains on the large track.
There are also four tracks with pre-installed trains specifically for children. Don't worry! The tracks don't intersect, so there's no risk of collision.
Oceanside Experiences
Kick back and relax at these local treasures. Whether you're looking to catch a wave or see more of the town, you'll get a whole new appreciation for Oceanside by visiting these locations.
Beach House Winery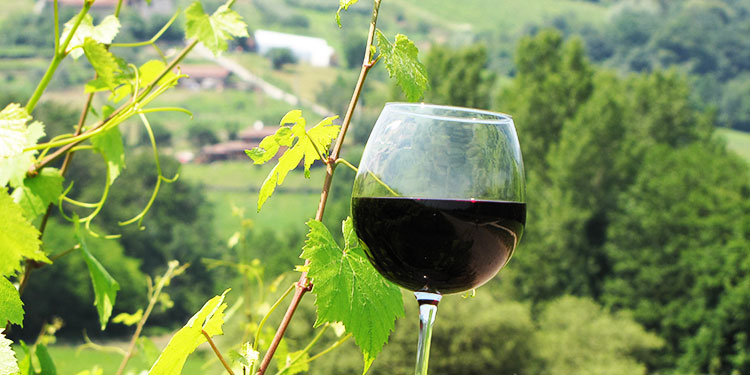 Indulge in local wines crafted at Beach House Winery, located in an oceanside vineyard.
Visit their tasting room and savor the stunning views while enjoying a glass of their unique wines.
The knowledgeable staff is always available to answer questions and provide guidance in selecting the perfect bottle.
Check their event schedule for any hosted events during your visit. They occasionally offer pizza days where you can pair fresh pizza with your wine.
Mural Walk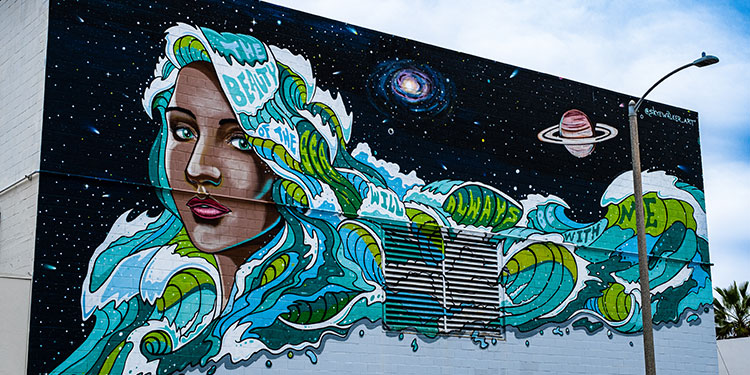 Embark on a self-guided mural walk to gain a deeper understanding of Oceanside.
The Oceanside tourism website provides a list of local murals, allowing you to plan a route that suits your interests.
Some murals are scattered throughout the city, including near the Civic Center and south of Oceanside Boulevard.
Many vibrant murals can be found around Wisconsin Street and the surrounding area, making it an enjoyable and convenient walk for most groups.
Plan your route to include stops at restaurants, cocktail bars, or art galleries, enhancing your personalized mural walk experience.
Surfing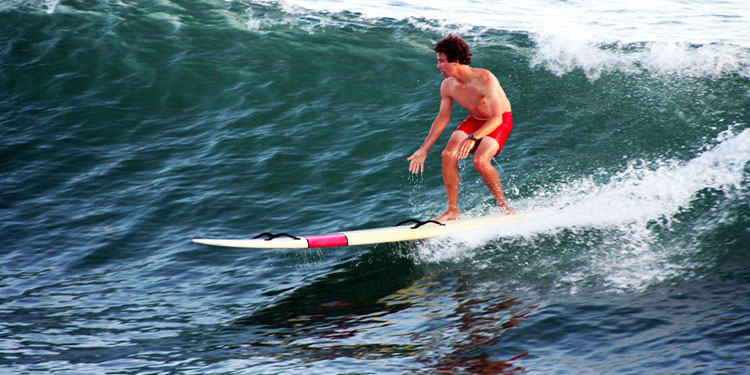 Oceanside offers several fantastic spots for catching waves.
Once you've visited the Museum of Surfing, head to Oceanside Pier or Oceanside Harbor to find your own perfect ride.
The beaches to the north and south of the pier tend to be smaller and can get crowded, especially when the waves are ideal.
At the harbor, you'll find more space and larger waves. Thanks to the jetties on either end of the area!
Various retailers in Oceanside offer surfboard rentals, so look for one near your preferred location.
If you're new to surfing, consider taking lessons to get started. Even if you don't master riding the waves right away, you'll still have a fantastic time in the water.
Remember to check the weather and bring a wetsuit if necessary.
Make Infinite Memories at Oceanside
Come have a perfect day in this fantastic little city just North of San Diego.
With three miles of pristine beaches and a thriving arts scene, you'll be glad you took the time to stop by.
Plus, Oceanside offers a lot of access to surrounding communities, so it's a great launching point for the rest of the Southern Pacific Coast of California.
Safe Travels!
Note: Keep in mind that information about travel can change quickly. To make sure your trip is fun and safe, we encourage you to double-check official websites and government/travel advisory sites for the latest information on travel restrictions, entry requirements, and safety measures.