If you are searching for a perfect beach vacation away from mainstream destinations, Corolla is just the right place for you.
Sprawling beaches, adventurous water activities, waterfront dining, and the top-notch view from the lighthouses are what Corolla has on the menu for water babies.
But let me remind you, the seashore isn't the only attraction in this nautical village.
From ghost tours at the historic Whalehead Club to adventuring around the natural history gem of the Outerbanks Center of Wildlife Education, there's a list of versatile activities for you to enjoy.
Go through the following list of the best things to do in Corolla, North Carolina, to plan your itinerary for an upcoming vacation.
Things to Do in Corolla, North Carolina
Currituck Outer Banks Visitor's Center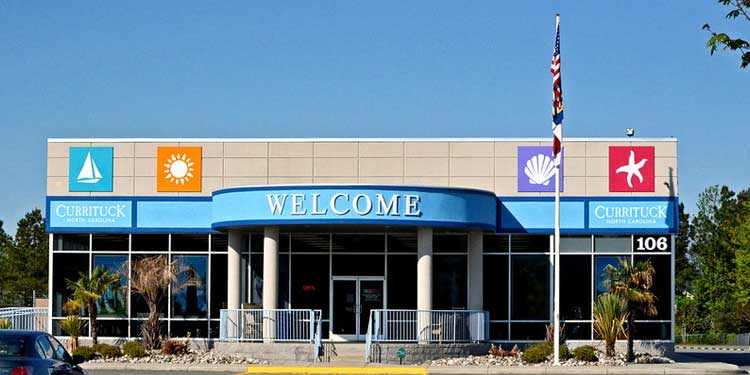 Location: 106 Caratoke Highway, Moyock, NC 27958, United States
Opening hours: Open daily, 9:00 am - 5:00 pm
Cost: Free
Best time to visit: Mornings
If you want to get a glimpse of the entire Corolla in one place, then the Currituck Outer Banks Visitors Center has it all laid out for you.
This tourist information center will guide you through the bests that the Corolla offers, along with some handy tips to go.
There's sufficient information and assistance for visitors in the center. You can also get free Wifi, Coffee, and local publications here.
And if adventure is your thing, don't forget to explore the nearby Corolla Adventure Golf and Bumper Cars, Carolina Club, and Corolla Raceway.
It will undoubtedly be a great start to your adventurous holiday in the Outer Banks.
Enjoy Watersports at Currituck Sound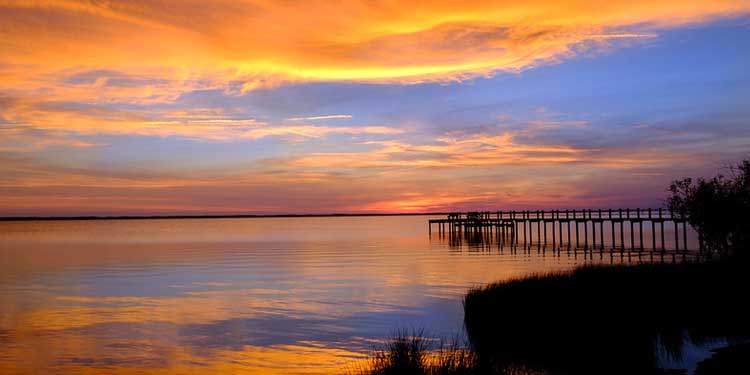 Location: Currituck Sound, Corolla, North Carolina 27927
Opening hours: Open 24 hours
Cost: Differs with the type of sports
Best time to visit: Summer
Corolla has miles of seashore and waterbodies for watersports enthusiasts, and the Currituck Sound is one such mainstream attraction.
This freshwater lagoon stretches out from the northeastern part of North Carolina to southeastern Virginia, enveloping a number of islands and the Currituck mainland.
May it be a relaxed ferry ride, Jet Ski, or adventurous sail through the ocean for fishing, there's something for everyone.
The Largemouth Bass is one of the most sought fish in these waters. So don't miss out on catching one of these!
In fact, it used to be an ideal destination for adventurous hunters because of the ease of navigating open water and small marshy islands rich in wildlife.
As you sail through the lagoon, migrating waterfowl like Canadian geese, ducks, ibises, herons, and egrets will catch your sight.
Watch the Wild Horses on the Northern Beaches of Corolla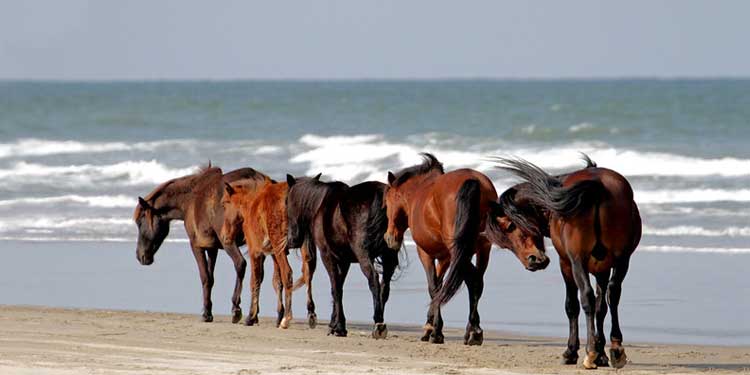 Location: 1312 N Beach Acess Road, Corolla, North Carolina 279297
Opening hours: Open 24 hours
Cost: Free
Best time to visit: Summer Evenings
One thing that Corolla is famous for, other than the mesmerizing beaches, is the region's wild horses.
It wouldn't be a lie to say that Corolla Wild Horses are the oldest and most infamous residents of the Northern Outer Banks.
You can enjoy a self-guided tour to explore the running horses on northern beaches or book a guided tour to professionally navigate the beaches.
To learn more about the legendary mustangs and how they originated, visit the nearby Corolla Wild Horse Museum.
This museum in Historic Corolla Village will enlighten you about these majestic breeds of wild horses and their cultural significance.
Outer Banks Center for Wildlife Education
Location: Currituck Heritage Park, 1160 Village Lane, Corolla, NC 27927
Opening hours: 9:00 am - 5:00 pm, Monday- Friday (might differ seasonally)
Cost: Free
Best time to visit: Falls season
Nested among 29 acres of Oak trees, the Center for Wildlife Education on the outer banks of North Carolina is a perfect hub for family holidays.
From picnics in the garden to films on natural history and heritage, the center has all kinds of indoor and outdoor activities on its platter for visitors.
With the theme "Life By Water's Rhythm, the Center exhibits the coastal wildlife of North Carolina.
You can see different types of waterfowl, sea turtles, wild horses, red wolves, black bears, wild boars, and wild hares.
The center also has daily free programs on fishing, sound ecology, tracking animals, ocean ecology, and many more. Sign up for the ones that intrigue you while you visit.
Visit the Whalehead Club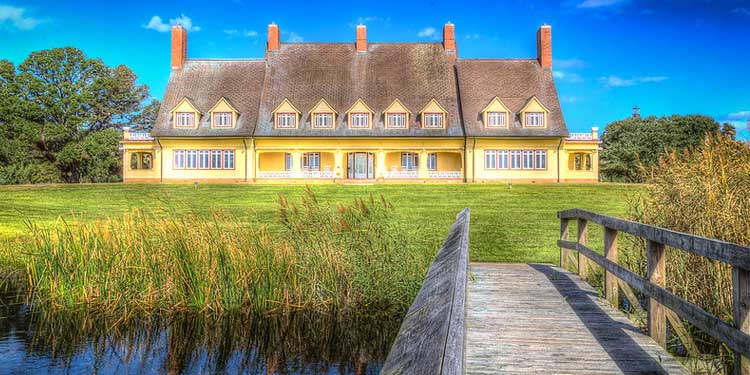 Location: 1100 Club Road, Corolla, North Carolina 27927
Opening hours:  Monday - Friday, 10:00 am - 4:00 pm
Cost:$ 5 - $7 (depends on age group)
Best time to visit: July and August for special tours
Would you like to know how the knights of the early twentieth century entertained themselves? The beautifully restored Art Nouveau-style mansion, Whalehead, has got the answers for you.
This archival heritage which used to be an extravagant hunting retreat for the Knights, now proudly displays the glorious history of the Outer Banks.
With a self-guided tour, you can get a glimpse of elite classical amenities like a Steinway piano, an Otis elevator, a cast-iron safe, a petite wall clock, and much more.
The club also hosts events like Whalehead Christmas Candlelight tours, Legends, Lore, and Ghost tours.
And if you choose, book the mansion for private events like weddings and other celebrations.
Tip: Make early reservations for the events, as the spaces are limited.
Explore the Currituck National Wildlife Refuge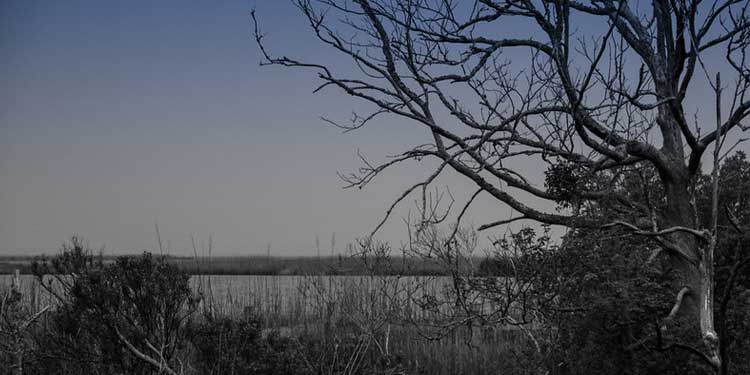 Location: 316 Marsh Causeway, Knots Island, Corolla, North Carolina 27590
Opening hours: Daily from Sunrise to Sunset
Cost: Entrance is Free
Best time to visit: Summers
If wildlife photography, hunting, and fishing interest you more than suntanning on the beach, visit the Currituck National Wildlife Reserve.
The reserve was established in 1984 to restore and enhance the diversity of the beach, marsh habitats, and maritime forest.
From native wildlife to the rarest migratory birds, you will find a lot of diversity in the reserve's maritime forests and shrub thickets.
You can take a self-guided tour of the refuge if you have a 4WD or boat. Otherwise, you have to book a wildlife tour to access the reserve.
And remember to carry plenty of water, snacks, and bug spray if you are in reserve in summer.
No convenience stores or any other kind of commercial business are inside the reserve.
Tip: Get a hunting permit in advance for ease.
Note: Although hunting is allowed, you can only hunt for specific kinds of waterfowl or animals. 
Enjoy the Waterfront Dining at Oceanfront Grille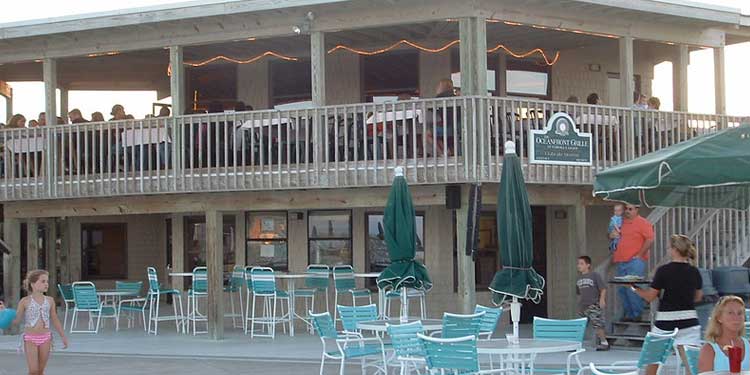 Location:1197 Franklyn Street, Corolla, NC 27927
Opening hours: All week, 5:00 pm - 9:00 pm
Cost: Food items range from $9- $130
Best for: Dinner and Drinks
A well-curated dinner menu with a fantastic ocean view of the Atlantic is what you can enjoy at the Oceanfront Grille restaurant in Corolla.
From Shrimp Wellington in appetizers to wrapped sea scallops in the main course, there are all kinds of seafood on the menu.
There's a separate kids' menu for your little ones as well. For example, the Oreo 'Dirt" Pot is quite a famous dessert among kids.
Want some drinks to go along with your delicious food?
You will find everything from cocktails to house wines on their bar menu. The diner also has options for various beers and the finest wines worldwide.
Tip: Give a ring to make an early reservation for the best seating options.
View From the Currituck Beach Lighthouse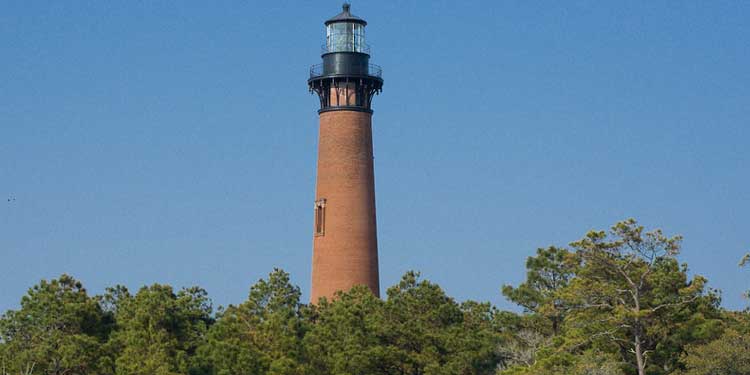 Location: 1101 Corolla Village Road, Corolla, North Carolina 27927
Opening hours: Open Mid-March through December
Cost: $12 for anyone four years or older
Best time to visit: Dawns for the best view
Get a panoramic view of the Corolla village from the majestic, red brick lighthouse that sits atop the list of historical landmarks of Corolla.
The lights from the beacon flash every 20 seconds and enlighten the dark spot on the North Carolina coast between Cape Henry and Bodie Island Lighthouses.
With a climb of 220 steps, you will get to see the original first-order Fresnel lens that has stayed intact to date in this lighthouse.
You will be shocked to know that the lighthouse still helps the sailer navigate to date with the same set of lenses and lights.
Besides, it is located in Historic Corolla Park and is closer to mainstream attractions. You won't have to spare a separate day to visit the lighthouse.
Tip: The lighthouse might be closed during extremely windy weather.
Golfing on the Scenic Currituck Course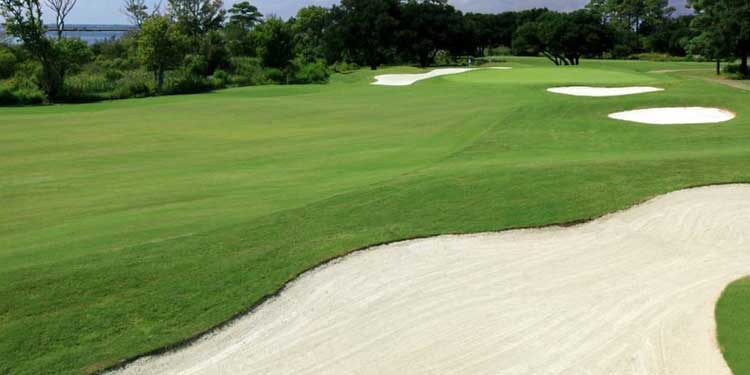 Location: 620 Currituck Clubhouse Dr Corolla, NC 27927
Opening hours: Open daily, 8:00 am - 5:00 pm
Cost: $65 - $95 per person
Best time to visit: Late Springs
Play some golf with your friends and family at the award-winning golf course designed by Rees Jones in the scenic course just 4 miles away from the center of Corolla.
This semi-private golf club has 18 holes over 6885 yards. And the flawless bent green grass, seaside vegetation, and spectacular rolling dunes make it even more pristine.
Since the course is closer to Currituck Sound, you will likely get a view of waterfowl like Osprey, Geeses, Turtle, and soaring eagles occasionally.
You can even plan private events like weddings to business get-togethers in the course with the private events team.
Apart from the scenic view, the golf course offers instructional programs to beginners in golf and the proficient ones.
Note: The golf course has a facility of private bunkers along with family and Junior Clinics in Summer.
Explore the Timbuk II Shopping Village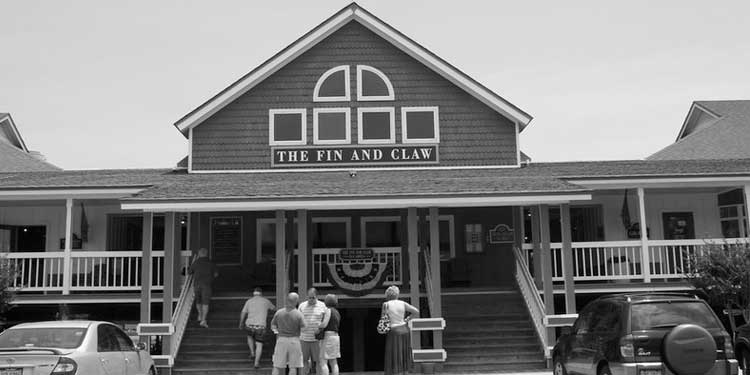 Location: 785 Sunset Boulevard, Corolla, North Carolina 27927
Opening hours: 10:00 am - 10:00 pm (Subject to change seasonally)
Cost: N/A
Best time to visit: Evenings
With more than sixty retail stores, some fine restaurants, and recreational activities to choose from, Timbuk II shopping village is quite popular among visitors.
You will find everything from clothing to art galleries to wine shops in this shopping hub.
A number-coded user-friendly map will guide you through the shops and recreation centers.
If you get hungry, enjoy the sea grill at the nearby restaurant, The Fin and Claw.
And for your dessert cravings, The Fudgery has assorted handmade sweet treats on the menu.
You can also take a relaxing spa at the Outerbanks Massage Therapy while enjoying an ocean view when you get exhausted from all that shopping.
Enjoy the Mustang Music Festival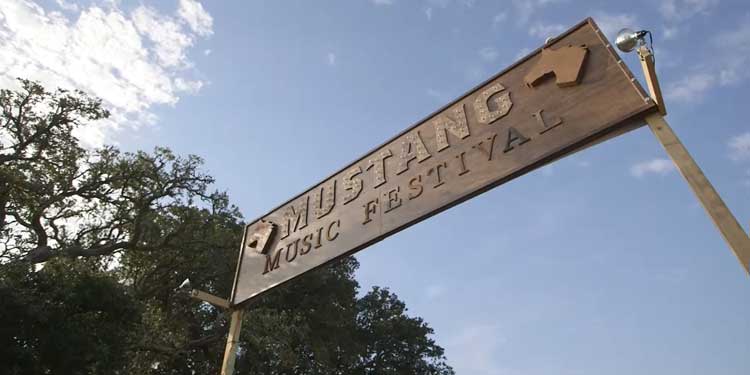 Location: Mike Dianna Grill Room, 777 Sunset Boulevard, Corolla, North Carolina
Opening hours: opens at 3:30 am seasonally (Subject to change every year)
Cost: Ticket rate varys from shows and events, ranging from $30- $50
Best time to visit: Springs and Summers
The wonderful sea city hasn't missed out on a beat for music enthusiasts.
The city holds three musical events every year with the titles Mustang Spring Jam, Mustang Midsummer Meltdown, and Mustang Rock and Roast.
From hardwood grill to seafood, you can enjoy the yummiest menu of Mike Dianna to go along with the reggae music playing in the yard during these festivals.
You can enjoy many other genres of music performed by national, regional, and local musicians at this event.
Get a local experience of Corolla with your friends and family after relaxing a whole day out on the beach.
Tip: Book the tickets in advance from the official website
Visit the Currituck Banks Estuarine Reserve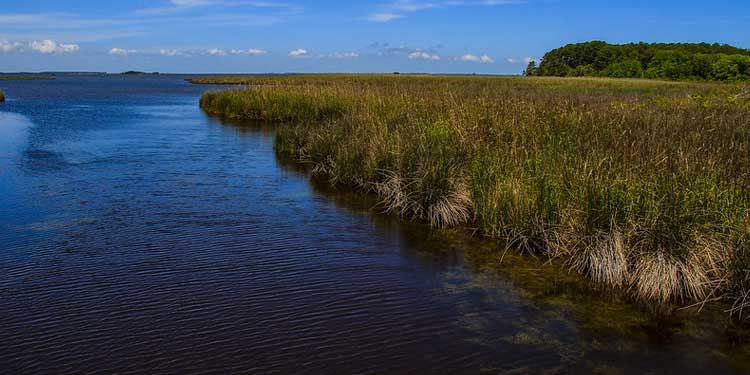 Location: NC Hwy 12, Corolla, NC, 27927
Opening hours: All around the year
Cost: Free
Best time to visit: Springs
If you are looking for an excellent way to get your kids interested in wildlife, the Currituck Estuarine Reserve is the best place to start.
Although established in 1985 to conserve water habitats and estuarine land, the reserve has now become a popular tourist destination in Corolla.
You can take a self-guided tour to explore the 965 acres of ocean beaches, sand dunes, freshwater marshes, shrub thickets, and forests, or opt for a guided tour.
As you stroll through the maritime forests of this reserve, the chirping birds and grazing mustangs will catch your attention.
Tip: Don't forget the binoculars if birdwatching is your thing.
Return Back With the Sea Fever
Although beaches are the focal points of this rural region of North Carolina, sea-based activity isn't the only thing it has to offer to the visitors.
You can also explore the native plants and wildlife while learning about their habitats and behavioral pattern with the help of local guides.
And by the grace of the seas, you will undoubtedly find a variety of seafood in these local restaurants.
The most common catches include Yellow tuna, Wahoo, Flounder, Crabs, and Oysters.
But the local way of making is sure to elevate the taste of these sea delicacies.
Enjoy Your Seacation!
Note: Keep in mind that information about travel can change quickly. To ensure your trip is fun and safe, we encourage you to double-check official websites and government/travel advisory sites for the latest information on travel restrictions, entry requirements, and safety measures.