Surrounded by beautiful Ozark mountains, pristine lakes, and lively downtown, Branson is quite a romantic city.
Whether you plan a dinner date floating in the middle of Table Rock Lake or wander off to the wilderness of the Lake Forest Area, this city is filled with many romantic destinations.
And if your partner is fond of adventure, then zip lining through the Branson mountains and exciting roller coaster rides at the Shepherd of Hills will give you the thrill.
You will also find many diners, live events, theatrical performances, and many other romantic endeavors if you explore Downtown Branson.
Are you intrigued to find more?
Get a look through the article to find out more about the best things to do in Branson, MO, for couples.
Go Hiking and Boating Around the Table Rock Lake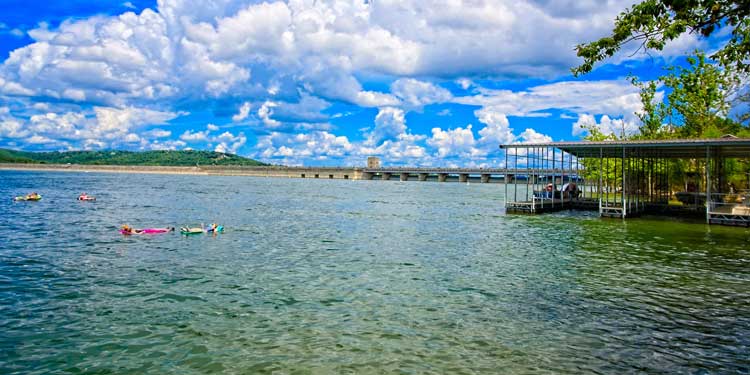 Location: Branson, MO 65616
Opening hours: Open 24 hours
Cost: Free entry to the lake
Best time to visit: Summers and Spring
Start your romantic trip to Branson with a romantic boat ride at Table Rock Lake, which has water flowing from three different rivers.
Not just the lake, the tree-lined shoreline around the lake is suitable for romantic walks.
You can also go on a hike or bike through the shoreline wherever you feel a little adventurous.
You can also book a cozy private cabin to spend a night in the serenity of the lake.
And for more fun, rent out some fishing gear from nearby vendors and fish for crappies and Large Bluegill that are often found in the lake.
Tip: Read the boating and small craft navigation rules before getting into the water.
Enjoy a Theatrical Performance at Americana Theatre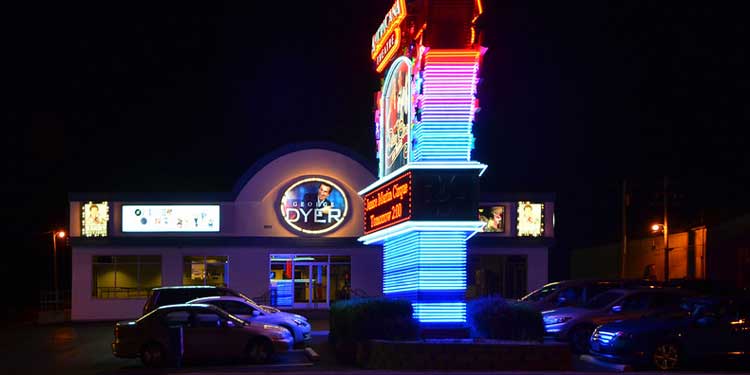 Location: 2905 West 76 Country Boulevard, Branson, MO 65616
Opening hours: Open all week, 9:00 am- 9:00 pm (Opens at 10:00 am on Saturdays)
Cost:Ticket starts at $49.90 per adult
Best time to visit: Weekday Evenings
Enjoy an entertaining show in the third oldest country music theater of Branson, which was originally built in 1973.
Decked up in luxurious seating with vast leg space, an advanced sound system, and an aesthetically appealing ambience, it is one of the most luxurious theaters in the area.
From America's top country hits to classic country music and comedy, the theater showcases a variety of shows to suit everyone's taste.
You will find many fantastic performances and matinee shows running most days that are perfect for evening dates.
Note: Make sure to check the website for free mini-golf sessions and guest cards while making an online reservation.
Stay at Chateau Lake Resort Spa & Convention Center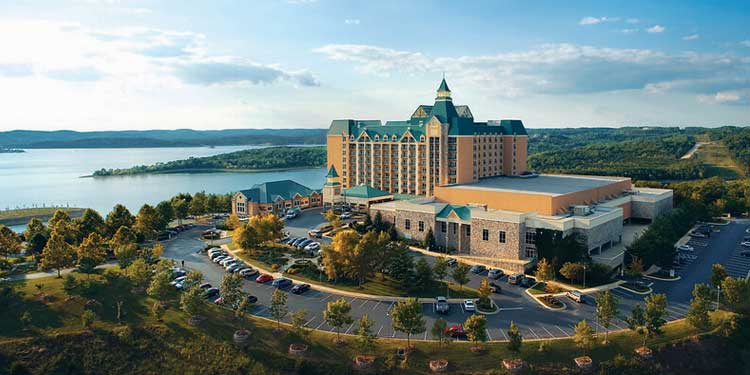 Location: 415 N State Highway 265, Branson, MO 65616
Opening hours: Open 24 hours
Cost: Rooms start from $195 (Differs with package and seasons)
Best time to visit: Summer and Springs
Spend a relaxing spa day with the iconic view and yummiest delicacies at one of the lavish resorts on the outskirts of Branson.
The suites are decorated with classic French furnishing and luxury amenities to give a rich experience to guests.
And the exceptional view of Ozark mountains and Table Rock Lake is the cherry on top of your delicious breakfast in the morning.
Besides, there are ten private treatment rooms in the resort where you can enjoy gleeful couple-spa sessions with a team of professional therapists.
The Eucalyptus steam room and the outdoor Roman bath are unique add-ons to the experience.
Tip: Reserve a table at the Chateau Grille or an exquisite dining experience with your partner.
Sail on the Showboat Branson Dinner Cruise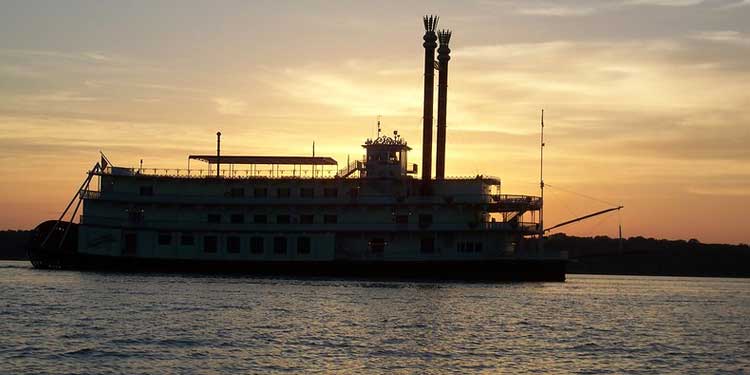 Location: 4800 Historic State Highway 164, Branson, MO 65616
Opening hours: Tuesday- Saturday, 12:00 - 2:00 pm & 4:00 - 6:00 pm (Opens 8:00- 10:00 pm on Saturdays)
Cost: $36 - $93 (Differ with age and seating type)
Best time to visit: Summer evenings
Make a reservation for the most entertaining lake cruise in America with the Showboat Branson Dinner Cruise of Silver Dollar City.
You can enjoy the scenic view of Ozark Mountain over the pristine Table Rock Lake with laid-back Adirondack chairs on the deck.
The cruise offers a lavish three-course meal along with indoor entertainment as it sails over the lake.
You will find an option for Captain's Club menu along with the regular menu.
Some of the popular dishes served include Pan Seared trout filets, Center-cut Pork Chop, and the signature Angus Ribeye.
And remember to satiate your palate with chocolate lover's cake for dessert.
Revive the Romance at Branson Titanic Museum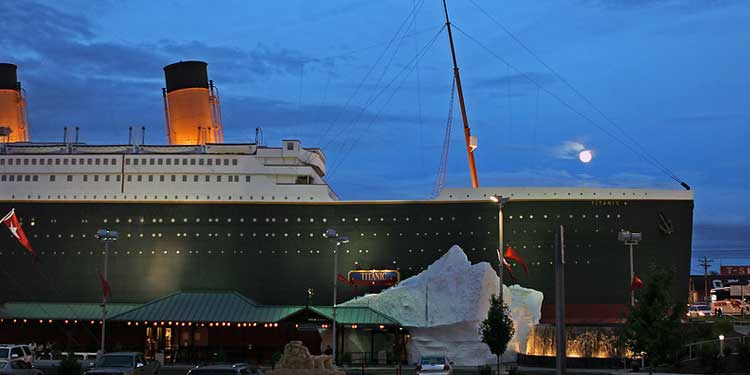 Location: 3235 W 76 Country Boulevard, Branson, MO 65616
Opening hours: Open daily, 9:00 am - 9:00 pm (Opens till 10:00 pm on Saturdays)
Cost: $15- $35 for individual (Family pass at $115)
Best time to visit: Weekdays to avoid rush
Grasp a chance to relive the romantic experience of Jack and Rose on a romantic date at the Branson Titanic Museum.
The museum exhibits the rarest artifacts collected from the wrecked ship when the owner of the museum, "John Joslyn" co-led the second undersea expedition to the site.
Take a self-guided tour of the ship-shaped museum and adore the beauty of its interior and exterior.
One of the major attractions of the museum is the replica of the grand staircase featured in the original ship. You can get a great photo opportunity here.
The deck and growing iceberg in 28 degrees water are other highlights of the museum.
Tip: Take the audio tour to learn more about the story of Titanic and its passengers.
Premiere Shopping at Grand Village Shops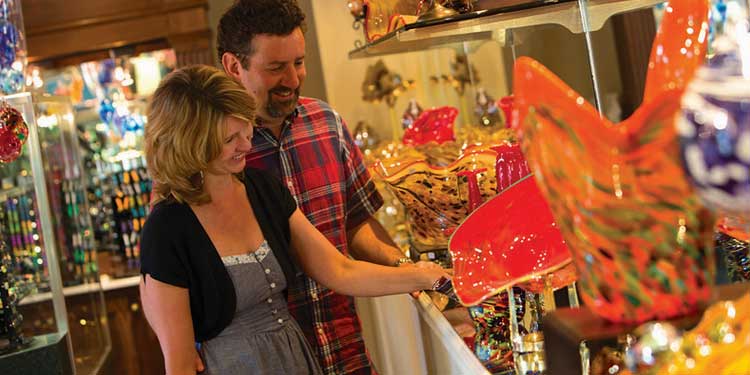 Location: 2880 West 76 Country Boulevard, Branson, MO 65616
Opening hours: Open daily, 10:00 am- 6:00 pm (Closes at 5 on Sundays)
Cost: Entry is free
Best time to visit: Christmas
Take your partner on a shopping spree in the alleys of Grand Village, one of the premier Shopping destinations of Branson.
You can find some trendy designers, stylish local brands, and a vivid collection of fashionable attires at the Boutique shops.
And don't stress on budgets as the retail store offers low cost.
Take a break and enjoy the delicacy of Mel's Hard Luck Diner and the desserts of Sugar Leaf Bakery and Cafe.
Or, explore the Specialty Shop to find high-quality local products like carved wooden treasure, essential oils, and handmade shops.
Tip: Remember to shop for Christmas goodies if you are in the region during the holiday season.
Adventure Rides at the Branson Mountain Adventure Park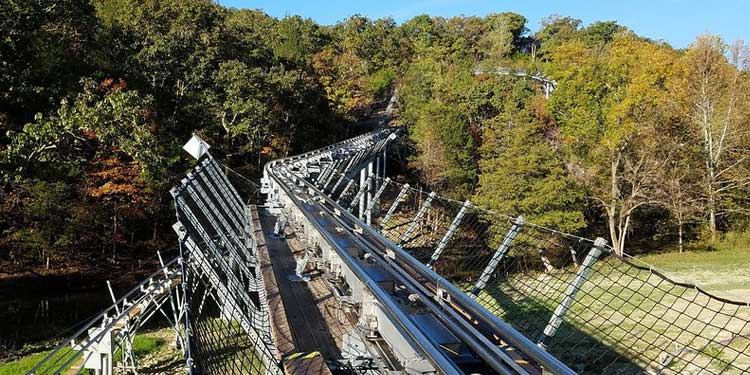 Location: 935 Highway 165, Branson, MO, 65616
Opening hours: Opens daily at 9:30 am seasonally (Subject to change)
Cost: Coaster rides, $12 - $18 per person & Ziplining, $35 (Combo at $48)
Best time to visit: Twilights in the Summers
Soar into the adventure of exploring the gorgeous mountains and forests with one of the coolest zip lines in the country.
To accentuate this adventurous date, take a ride on the longest and fastest coaster ride in Branson.
You will get a panoramic view of the city and Ozark mountains as you descend down the coaster, whereas the zipline adventure takes you over mesmerizing Fall Creek.
There's also a gem mine nearby where you can pick treasures like fossils, gemstones, and much more.
It is really a fun activity to strengthen the bond with your partner.
Tip: Check the weather details before going, as it is most likely to get closed during extreme weather conditions.
Note: You must be 48'' tall and weigh between 75 to 250 pounds to access the zipline.
Candlelight Dinner on a Train at Branson Scenic Railway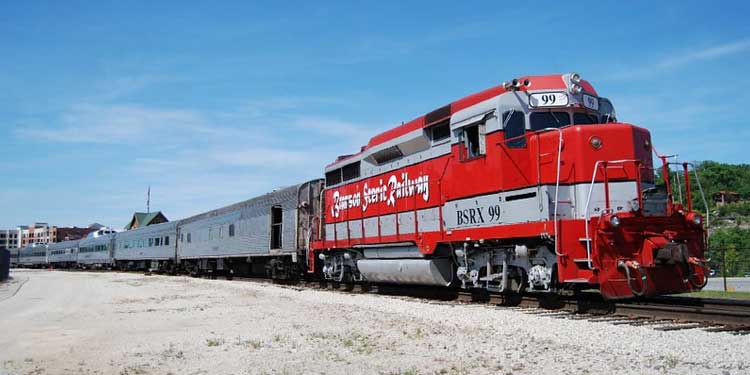 Location: 206 East Main, Branson, MO 65616
Opening hours: Dinner train departs at 5:00 pm on Saturdays (April- October)
Cost: Regular excursion charges $18.50 - $29.0 
Best time to visit: Spring afternoons
What can be more romantic than a candlelight dinner on a vintage train traveling through beautiful nature?
That's exactly what the dinner train on the Branson Scenic Railway offers to travel-enthusiast couples.
As the train passes through the foothills of Ozark mountains, you will be served a three-course traditional-style dinner.
And the candlelight setup will surely boost in sharing of intimate moments together.
There is a daytime excursion train running from March through November if you want a broad daylight experience of this scenic railway.
You will pass through the mainland of the city, surpassing the historical monuments, bridges, and trestles on this 4 mins train excursion.
Tip: Make sure to reserve early for the dinner train as it's likely to be occupied.
Take a Balloon Ride at the Parakeet Pete's Steampunk Balloon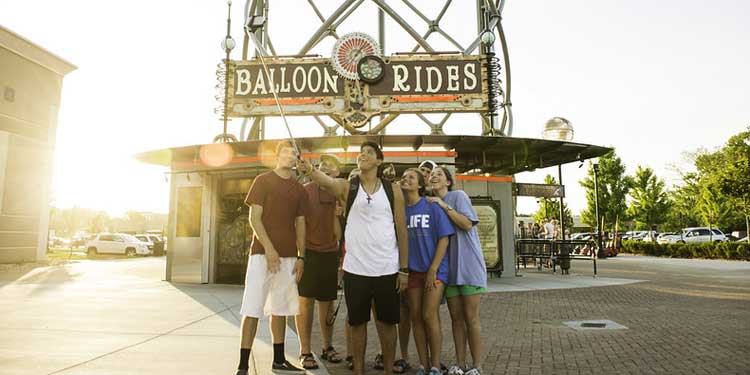 Location: 1113 Branson Landing Boulevard, Branson, MO 65616
Opening hours: Sunday- Wednesday, 10:00 am  9:00 pm & Thursday- Friday, 10:00 am - 10:00 pm
Cost: $11.95 per person
Best time to visit: Summer Evenings
Keep the romance flourishing high with romantic hot-air balloon rides in the pink sky of Branson.
The vintage carnival balloon ride will take you 188 feet above the ground as you ascend up in the air.
The gorgeous city view will take your breath away.
You can get a 360 bird's eye view of Lake Taneycomo, dense forests, and stunning Ozark mountains from the top.
For more privacy, book the ride for just the two of you at a reasonable price from the website.
And to boost up the fun, take a chilled bottle of champagne and pop it up in the sky and enjoy it with our partner and the view.
Enjoy the Breeze at Butterfly Palace and Rainforest Adventure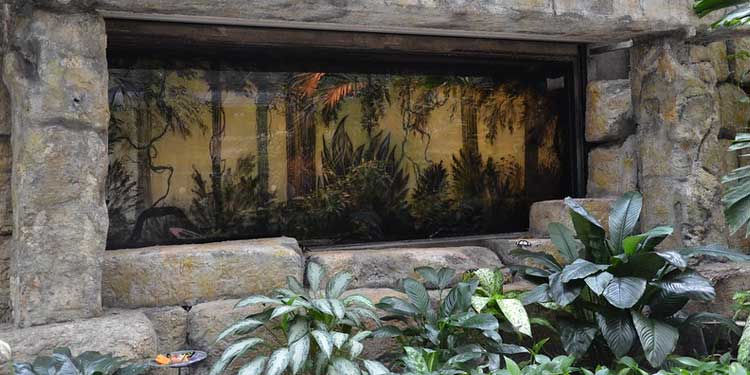 Location: 4106 Highway 76, Branson, MO 65616
Opening hours: Open daily, 8:00 am -5:00 pm (Closed on holidays)
Cost: Admission tickets range from $17- $26
Best time to visit: Early mornings and evenings
If you are a couple who loves a gentle, peaceful, and calming natural excursion, then a visit to the Butterfly Palace and Rainforest adventure is right for you.
Take a self-guided tour of the rainforest to explore more than 1000 species of butterflies.
You can hand-feed them with the complimentary nectar that comes along with the tickets.
And if you want a close-up interaction with the colorful butterflies, make sure to wear bright-colored clothes.
Besides, there is a Critter Center displaying the exotic kinds of reptiles, a Mirror Maze, and a Banyan Tree Maze on the premises if you would like to explore.
Tip: Arrive within 5 minutes of the reserved time slot if you've booked the tickets online.
Enjoy the Food and Drinks of Downtown Branson
Downtown Branson has a number of couple-friendly dinners where you can enjoy everything from local cuisine to lavish dinners.
Some of the top picks include Smith Creek Moonshine in Branson Landing, where you can enjoy handcrafted hamburgers along with classic flavors of handcrafted moonshine drinks.
Florentina's Ristorante Italiano and Ramata Italian are best for Italian cuisine, whereas Mitsu Neko Fusion Cuisine and Sushi Bar are the best if you want Japanese.
And for basic American cuisine, Level 2 Steakhouse, Farmhouse Restaurant, and Cake and Cream Fifties Diner are the best.
Explore the Wineries
If your partner is fond of an eclectic wine collection, then don't forget to visit some of the top wineries of Branson.
You can explore the picturesque vineyard of Lindwedel Winery while enjoying the win flights.
Another fine place to enjoy wine with a fine scenic view is the Ozark Hills Winery on the historic highway.
And for a collective dining and wine experience, make sure to visit the huge dining complex of St. James Winery in Branson. You are likely to find an American Fare and gift shop.
Enjoy the Adventurous Honeymoon
Although there are abundant relaxing vacation activities, Branson is an ideal city for couples who are into adventures.
And if you want to enjoy the best adventure around, the best to visit are in the Summer and Spring.
The weather will be fine, and the forest blooms to give you the best outdoor experience.
Revive the romance!
Note: Keep in mind that information about travel can change quickly. To make sure your trip is fun and safe, we encourage you to double-check official websites and government/travel advisory sites for the latest information on travel restrictions, entry requirements, and safety measure.