Home to nearly 300 beaches along its 270 miles of coastline, Puerto Rico is among the most beautiful Caribbean islands in the United States.
This means plenty of authentic experiences on the Island are worth exploring.
From Scuba diving and Snorkeling to thrilling adventures around the tropical rainforests at the El Yunque National Forest, there are many options to fill your ultimate bucket list.
But the beaches and outdoor recreation aren't its only charm!
Discover the ancient forts of Puerto Rico's capital city San Juan, such as El Morro and San Cristobal, or indulge in the delicacies of Puerto Rican local cuisine around the main streets.
You are filled with lots of choices!
To find out more, we have listed the best things to do in Puerto Rico to make a memorable trip. So let's get started!
Things to Do in Puerto Rico
Admire the Historical Sites of Old San Juan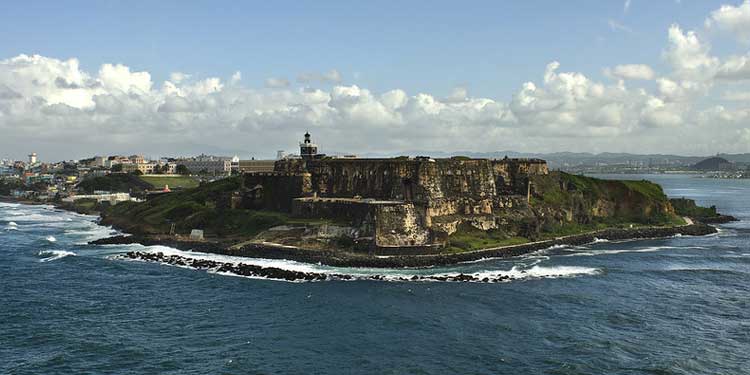 Address: San Juan, Puerto Rico
Best time to visit: December to June
Old San Juan is a historic neighborhood in the heart of the capital city, dating back over 500 years.
With its Colonial architecture, narrow cobblestone streets, and vibrant street art, walking over this place feels like stepping back into the Bygone era.
Today, you can dine, shop, or even book a stay at one of these beautiful historic structures from the 16th – 17th century.
The city is also home to many popular San Juan National Historic Sites, including El Morro, Capilla del Cristo, Castillo San Cristobal, and many more.
It is a great way to learn about Puerto Rico's significant history and rich culture.
Visit the Flamenco Beach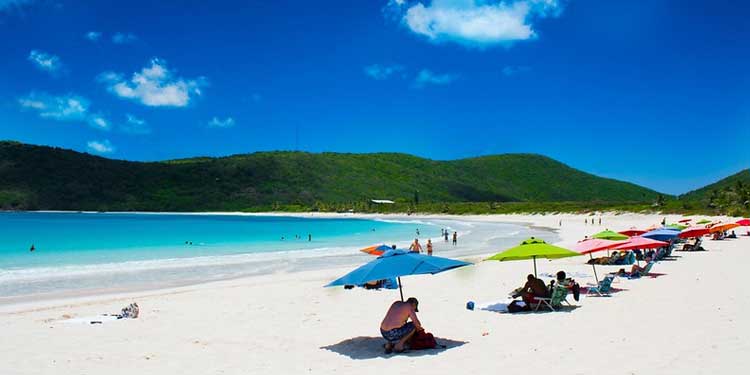 Address: Flamenco Beach, Culebra, Puerto Rico
Costs: Tours & Tickets
Best time to visit: Summer & Spring
Playa Flamenco is a small island about 17 miles off the east coast of Puerto Rico.
Known for its pristine white sand beaches and sparkling crystalline waters, it makes an excellent destination for Snorkeling, swimming, and Scuba diving.
This horseshoe-shaped Beach also provides every amenity from shower facilities, changing rooms, and lifeguards to the best camping areas.
Not to mention many food stalls and Kiosks that serve the best Puerto Rican food.
And as you stroll along the shoreline, spot Flamenco's most iconic attraction—the abandoned World War tanks decked in graffiti.
It is an incredible piece of history that the US military used for target practice. So don't miss out!
Man Vs Wild Adventure at the El Yunque National Forest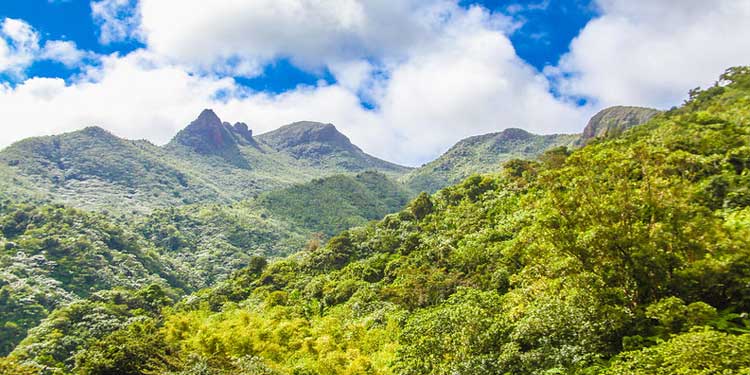 Address: Rio Grande, Porto Rico
Opening hours: open daily from 8:00 am - 5:00 pm
Costs: Tours & Tickets
Phone: +1 787-888-1880
Did you know?
El Yunque National Forest is the only tropical rainforest in the United States National Forest system that's 3500 feet above sea level.
With 13 trails of varying difficulty, visitors can zipline, hike, or ride horseback through the lush forests and waterfalls.
But if you are a hiking adventurer, every walking trail allows hikers to learn and get personal with a large variety of wildlife in the park.
And it also makes a fantastic spot for picnics and swimming at the natural pools around the forest.
Tip: If you reach the top on time, stop by the Yokahu Observation Tower for the best views of the mountains and forest views.
Personalize Your Own Bottle of Rum at Casa BACARDI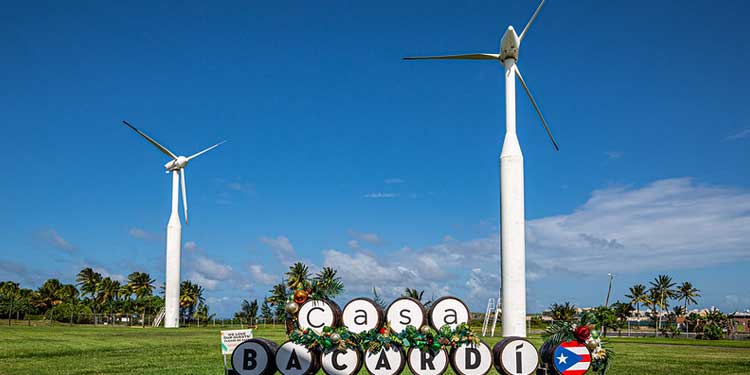 Address: PR-165, Cataño, 00949, Puerto Rico
Opening hours: open daily from 9:30 am - 4:30 pm 
Costs: Tours & Tickets
Phone: +1 787-788-8400
Casa BACARDI is the world's largest premium Rum distillery and is a trendy destination in Puerto Rico for a day visit.
It offers many hands-on experiences for visitors where one can discover BACARDI's history through a guided tour or sign up for a mixology and rum-tasting tour.
But before leaving, engrave your own bottle and fill it with rum straight from the barrel.
It's a fun experience for everyone looking for a day to spend in Catano, near San Juan. So don't miss out!
Go Spelunking Adventure at the Rio Camuy Cave Park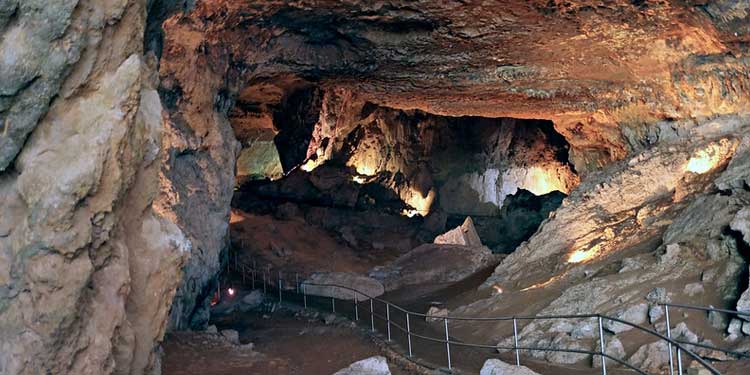 Address: Carretera. 129 K. 18.9, Quebrada, 00669, Puerto Rico
Opening hours: 8:00 am - 5:00 pm (Wednesday - Sunday), closed on Mondays & Tuesdays
Costs: Ticket price range from $18 - $9, depending on age.
The Rio Camuy Cave Park is a must-visit for adventure-seekers and nature enthusiasts.
This 268-acre park boasts one of the largest underground cave systems in the Western Hemisphere, created by the mighty Camuy River.
The trails will take you 200 feet down through a lush ravine to the 10 miles of awe-inspiring limestone caves.
Take a guided tour and learn about many fascinating histories of the caves, with one including the story of the indigenous people.
Tip: wear good sports shoes and get there early to secure a spot on the tour.
Water Sports Adventure and Fishing at La Parguera Nature Reserve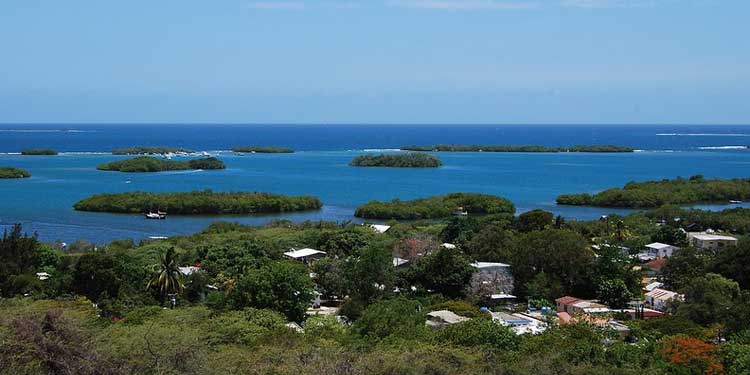 Address: La Parguera Village, Lajas 00667, Puerto Rico
Best time to visit: Summer and New moon
La Parguera is known as the fishing village and is home to many nature reserves and Pristine Cays.
Spend a day grabbing food at the town's main square or enjoy views of the Caribbean Sea and kayak around Cayo Caracoles and Cayo Mata La Gata.
It also makes an excellent destination for hiking, wildlife spotting, snorkeling, and scuba diving in tropical waters rich with marine life.
The main attraction here is the bioluminescent bay, where you can join a boat tour to see the glowing waters and dive in for a swim.
Go Surfing at Rincon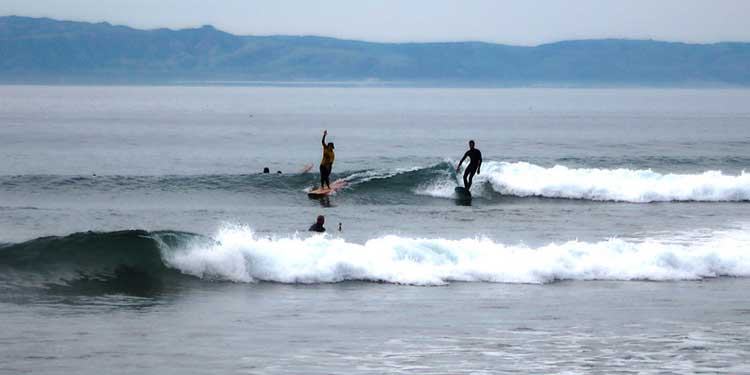 Address: Rincon, Puerto Rico
Costs: Guided tours
Best time to visit: February through May
Rincon is a well-known surfing destination in Puerto Rico, where locals like to refer to it as a Gringo Paradise or even little Malibu.
There are several beaches on the South side of town, which makes it an ideal destination for surfing, swimming, sunbathing, and all kinds of surfing.
The area is also famous for Humpback Whale watching tours from mid-January to March when they are mostly seen on the site.
And if you are looking for that ultimate family getaway, romantic honeymoon, or even a solo escape, head over to Sandy Beach.
It has everything from watersports adventure to cozy vacation rentals and beachside hotels.
See the Colorful Blue Light Water at the Mosquito Bioluminescent Bay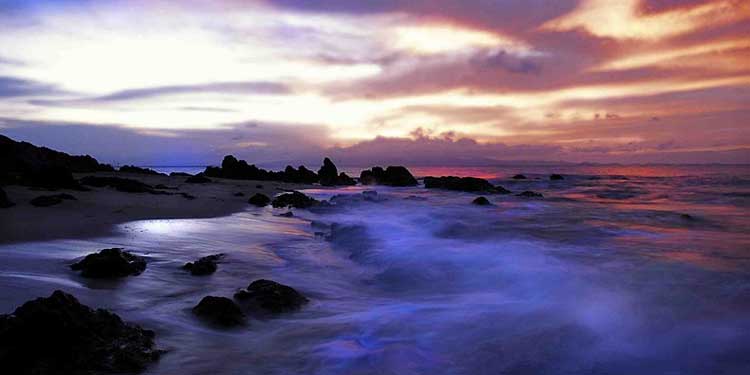 Address: Vieques, Puerto Rico
Best time to visit: Any week of New Moon 
Get ready to experience a light show like no other at Mosquito Bioluminescent Bay in Vieques.
With millions of tiny luminescent dinoflagellates that light up the water at night like a beautiful blue glow, this Island boasts the title of the world's brightest Bioluminescent Bay.
Take a nighttime tour by boat, kayak, or canoe to witness this natural phenomenon up close.
It will look something like a magical place to wonder and wander around. So don't miss out!
An All-Inclusive Vacation Awaits at Isla Verde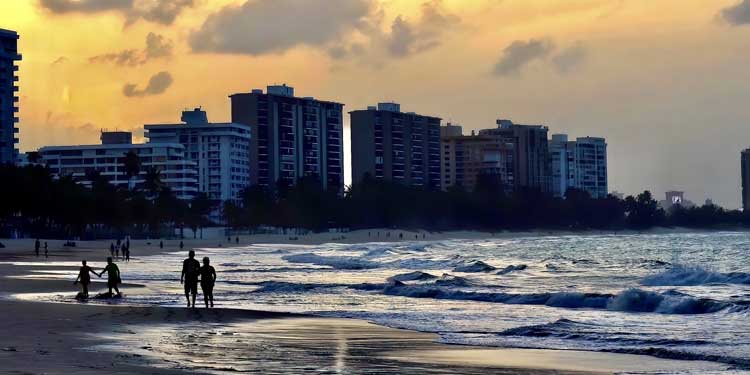 Address: Parque Isla Verde, Puerto Rico
Best time to visit: January to May
Isla Verde is Puerto Rico's epitome of luxury and sophistication.
Known for its nightlife, best all-inclusive resorts, and a decent beach within easy reach from the airport, this place is a must-visit if you are looking for a little bit of indulgence in your vacation.
The neighborhood is home to some of the best restaurants, bars, and clubs in San Juan.
So you will find the perfect place to spend a night out in the town.
Explore the Seven Seas Beach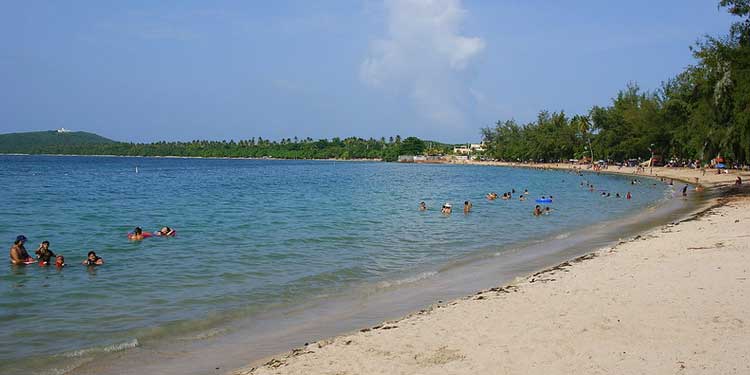 Address: Las Croabas, Fajardo 00738, Puerto Rico
Opening hours: 8:30 am - 5:00 pm
Best time to visit: January through April
Seven Seas is a secluded beach with calm, clear waters and excellent amenities around 30 miles from the Island's capital San Juan.
This family-friendly Beach provides all the necessary facilities – including picnic tables, restrooms, and concessions stand.
No wonder it makes a great destination for snorkeling and swimming.
And if you want to get that beachside camping ticked off your bucket list, there are several spectacular spots for you to set up a tent with a fee of $10 overnight.
Tip: Make sure to bring flip-flops or appropriate water shoes with you.
Make the Best Holiday Vacation in Puerto Rico
Puerto Rico makes the ultimate coastal vacation that can be visited year-round.
However, make sure to check the weather forecast before visiting any of its beaches to avoid being caught in uncertain situations.
So start booking your flight and plan accordingly with our top recommendations of the best things to do in Puerto Rico.
Good luck!
Note: Keep in mind that information about travel can change quickly. To make sure your trip is fun and safe, we encourage you to double-check official websites and government/travel advisory sites for the latest information on travel restrictions, entry requirements, and safety measures.