Wondering what you may explore in Aberdeen, a unique dark but vibrant city with exciting history? We've got you covered!
Located on the northeast coast of Scotland, Aberdeen is known as the 'Granite City' for its history of Igneous rock production.
The surrounding area is truly a paradise for nature lovers; you can easily escape from the city crowd to nature anytime your soul searches for peace.
Whether you prefer to visit some incredible architecture or walk down the river walks and beach–you'll find tranquility in many places.
And with History all over the city, you will love to explore and learn so much on every corner!
Things to Do in Aberdeen, Scotland
Marvel at the Architecture of Marischal College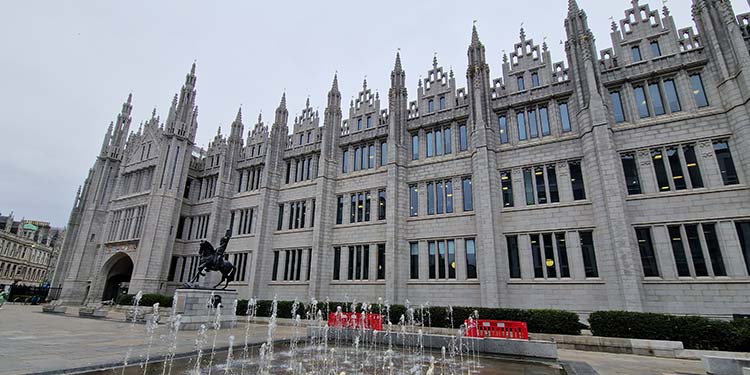 Location: Broad St, Aberdeen AB10 1AB
Opening hours: 9:00 am - 5:00 pm 
Contact:+44 (0)1224 272000
Marischal College is a stunning example of Aberdeen's blend of gothic and austere architecture.
The structure is a famous tourist attraction for being the second-biggest granite building in the world built in 1583.
Once part of the University of Aberdeen, the building now serves as the city's headquarters of the City's Council.
The intricate façade and towering spire make it an essential stop for architecture enthusiasts.
While the building is not open to the public, you can still admire the exterior and visit Marischal Square, home to an array of shops and restaurants.
A walk around the gorgeous building is suggested for visitors who want to admire the structure and learn about its centuries-old history.
Tip: Don't miss the intricate sculptures adorning the building's exterior, which depict important figures from Scottish history.
Explore the History of St. Machar's Cathedral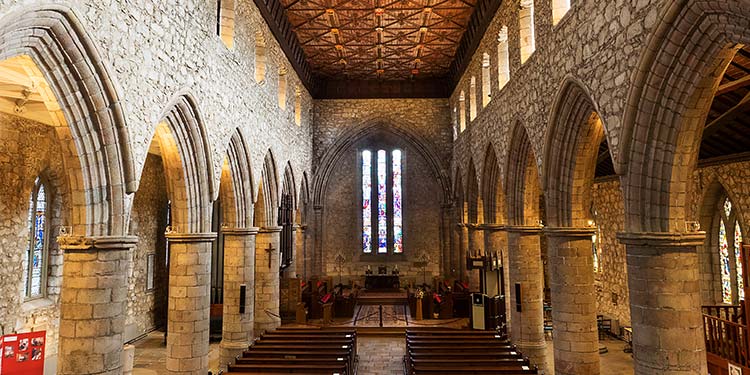 Location: St. Machar's Cathedral, The Chanonry
Opening hours: 10:00 am - 4:00 pm (Mon-Sat)
Entry rate: Not required
St. Machar's Cathedral is a medieval church known for history, cathedral, and its architecture, dating back to the 12th century.
This Roman-style cathedral is famous for its unique heraldic ceiling, adorned with over 100 heraldic shields representing Scottish nobility.
It is one of the must-visit places in Old Aberdeen to take a glimpse of the beauty if not for worshipping.
The church has an interesting cemetery on the property you might want to check out!
Take a guided tour around to uncover the cathedral's fascinating past and admire its breathtaking architecture.
You can also find a gift shop here to get something as a souvenir for friends and family back home.
Tip: Check the cathedral's website for special events, such as concerts or exhibitions.
Unwind at Duthie Park and Winter Gardens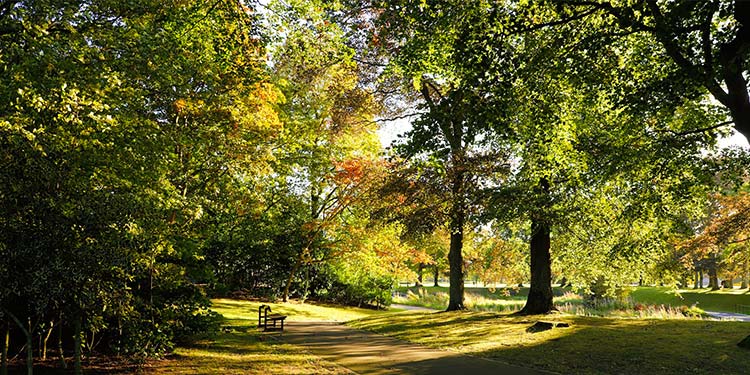 Location: Polmuir Road, Aberdeen AB11 7TH
Opening hours: 24hrs, Every day
Entry rate: Not required
Duthie Park is a sprawling, 44-acre public park that offers a peaceful retreat from the bustling city.
The park features beautiful floral displays, expansive lawns, and the renowned David Welch Winter Gardens.
Winter Garden is the most loved section of the park housing exotic dry plants from around the world.
A perfect destination for families, Duthie Park also offers a boating pond and plenty of picnic spots, and many benches to relax.
It has various big spaces and great play areas for kids and pets to run and play around.
For a quick stop, the park also has a nice café with choices of food and drink in indoor and outdoor seating.
Tip: Visit during spring or summer when the floral displays are in full bloom for a truly unforgettable experience.
Discover Art at the Aberdeen Art Gallery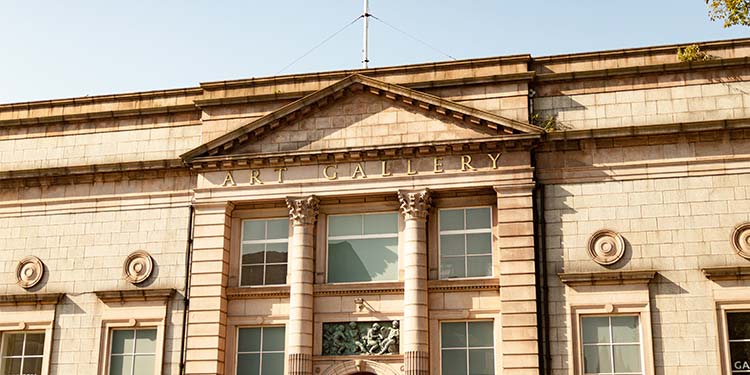 Location: Art Gallery, Schoolhill, Aberdeen
Opening hours: 10:00 am - 5:00 pm (Mon-Sat), 11:00 am - 4:00 pm (Sun)
Entry rate: Not required
Aberdeen Art Gallery is a must-visit for art and enthusiasts which has a mixed collection of traditional and modern arts and artifacts.
The exhibits vary from diverse art styles and mediums including paintings, sculptures, and decorative arts spanning several centuries.
As recently renovated, the gallery now offers a modern and engaging experience that appeals to visitors of all ages.
The gallery displays artworks and unique creations from local and national to international artists.
Some of the most popular and highlighted works are by Scottish artists Sir Henry Raeburn and Joan Eardley.
Tip: Admission is free, but donations are appreciated to support the gallery's ongoing programs.
Tour the Old Aberdeen Neighborhood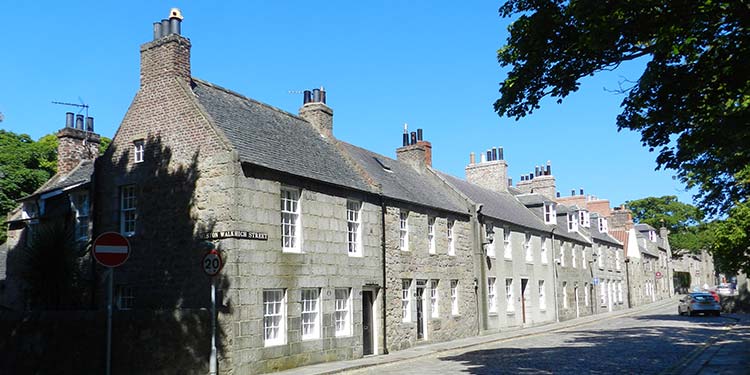 Old Aberdeen is a picturesque, historic neighborhood boasting charming cobbled streets, medieval architecture, and verdant gardens.
Take a leisurely stroll to explore the area's rich history around the corner of every street.
Visit the King's College Chapel and courtyard to get a historic insight into the building's lovely architecture and culture.
The 15th-century St. Mary's Chapel in Old Aberdeen is an old structure and another site steeped in history.
Wander around the medieval Cruickshank Botanic Garden, a vibrant and lovely place where you can find a collection of interesting plants.
Tip: Visit the Old Town House, a beautifully restored 18th-century building that serves as a visitor center and offers guided walking tours.
Enjoy the Beachfront at Aberdeen Beach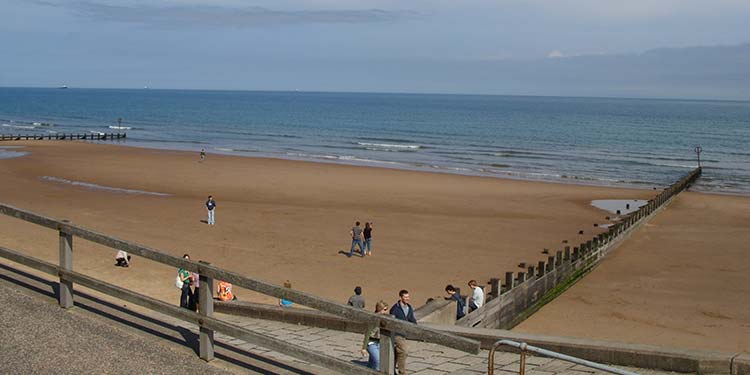 There are a lot of serene places you can find in the city but Aberdeen Beach a seaside destination remains the locals' and tourists' favorite.
You can get onto a range of leisure activities, from relaxing on the golden sands to surfing the North Sea waves.
Most people enjoy playing football and swimming; birdwatching is also an activity you can enjoy.
Visit the bustling Beach Esplanade, which features cafes, ice cream shops, and an amusement park—it has something for everyone!
Don't miss the nearby Footdee (pronounced Fittie), a quaint fishing village with charming cottages and narrow streets.
Tip: The beach can be windy, so be sure to dress appropriately and consider bringing a windbreaker.
Immerse Yourself in Maritime History at the Aberdeen Maritime Museum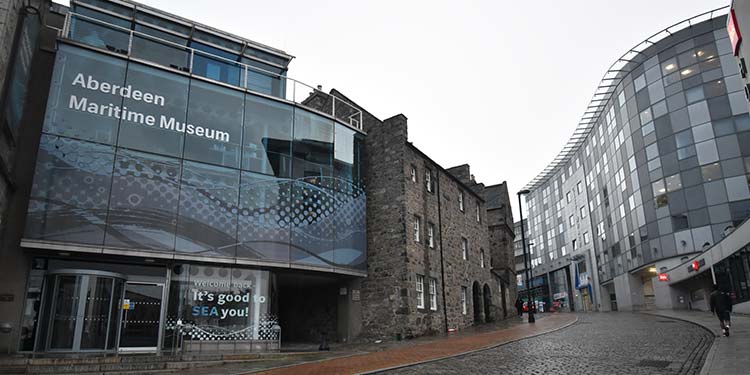 Location: Shiprow, Aberdeen AB11 5BY
Contact: +44 300 020 0293
Aberdeen Maritime Museum is a fascinating tribute to the city's strong connection with the sea.
Located near the harbor, the museum showcases a collection of ship models, paintings, and artifacts that tell the story of Aberdeen's maritime heritage.
Some of the popular highlights include exhibits on the North Sea oil industry, shipbuilding, and fishing.
It is a great museum where you can learn about the history of Aberdeen's maritime, offering a great view of the harbor.
However, due to maintenance and current renovation, the Museum is closed but shall reopen after April 1st.
Tip: Admission is free, and the museum also offers fantastic views of the busy harbor from its top floor.
Stroll Through Seaton Park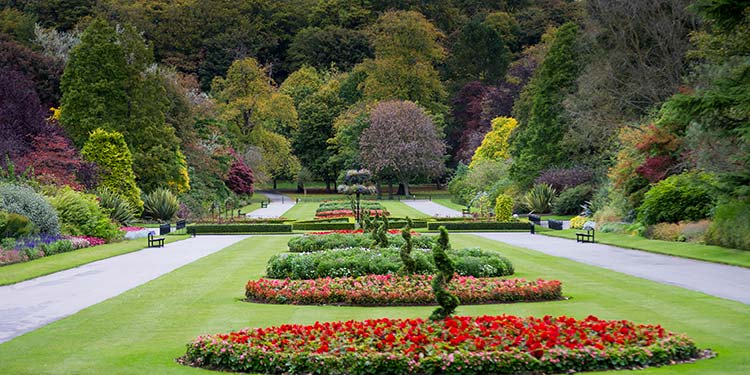 Location: Don St, Old Aberdeen, Aberdeen
Opening hours: 24 hours, Every Day
Seaton Park, located near Old Aberdeen, is a 27-acre oasis of greenery, offering a tranquil escape from the city.
Wander along the park's picturesque walking paths, admire the colorful flower beds, and relax by the idyllic River Don.
The park is very well-maintained, beautiful, and peaceful—the right place to be for an escape from the busy city.
It also features huge play areas and sports facilities, and you can get stunning views of St. Machar's Cathedral.
Tip: Don't miss the beautiful Cathedral Walk, a tree-lined avenue that leads to St. Machar's Cathedral.
Visit the Gordon Highlanders Museum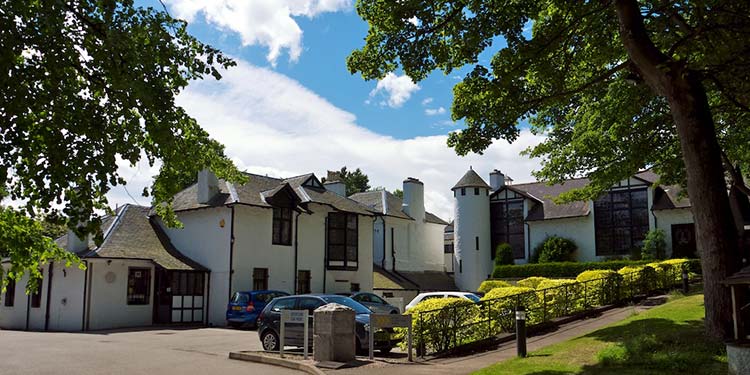 Location: St. Luke's, Viewfield Rd, Aberdeen
Opening hours: 10:00 am - 4:30 pm (Tues-Sat), Closed on Sun & Mon
Entry rate: €10 (Adults), €5 (Children)
The Gordon Highlanders Museum offers a unique insight into the history of one of Scotland's most famous infantry regiments.
Explore the museum's engaging exhibits, which cover the regiment's involvement in major conflicts from the 18th century to its disbandment in 1994.
The interesting exhibits displayed in the military museum are very informative and unique; get a tour of a full-sized World War I trench to get deeper insights.
The museum is housed in a former residence, and the surrounding gardens offer a serene setting for reflection.
Tip: Check the museum's website for special events, such as reenactments or themed talks.
Take a Scenic Walk at Balmedie Beach and Country Park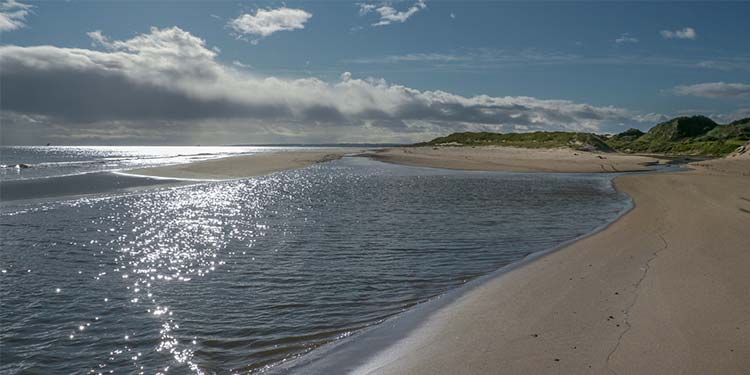 Location: Balmedie, Aberdeen AB23 8XG
Opening hours: 24 hours, Every Day
Entry rate: Not required
Just north of Aberdeen lies Balmedie Beach and Country Park, a stunning stretch of coastline known for its golden sands and dramatic sand dunes.
Take a leisurely walk along the beach or explore the network of trails through the dunes and surrounding woodland.
Enjoy the beautiful landscape and stunning scenery all around the area while relaxing on a sunny day.
Also, the beach and park make a perfect place for kids as they have huge play areas to keep the children engaged.
The park is also home to a variety of wildlife, making it a popular spot for birdwatching.
Tip: Bring a picnic and enjoy a meal with a view of the spectacular coastline.
Discover Local Produce at the Aberdeen Farmers' Market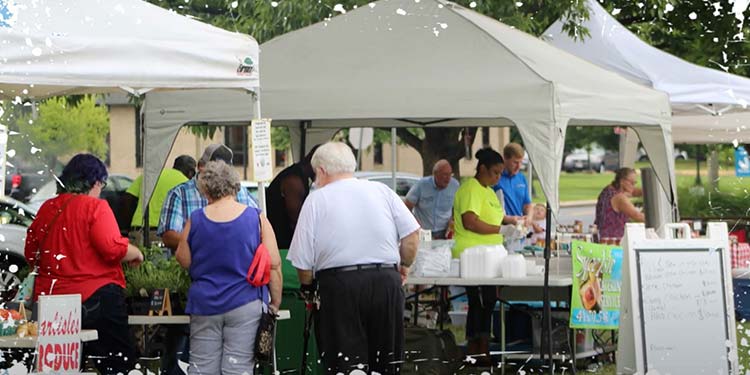 Held on the first and third Saturdays of each month, the Aberdeen Farmers' Market is a fantastic opportunity to sample the region's finest produce.
This is where all the local farmers, producers, and artisans come together at a place to display their farm-grown and handmade products to the residents.
Browse the stalls for varieties of products such as fresh fruits and vegetables, artisanal cheeses, handmade chocolates, and more.
It's a great way to support small local businesses while enjoying delicious, high-quality food!
Tip: Arrive early for the best selection, as popular items can sell out quickly.
Get a Taste of Scottish Whisky at Glen Garioch Distillery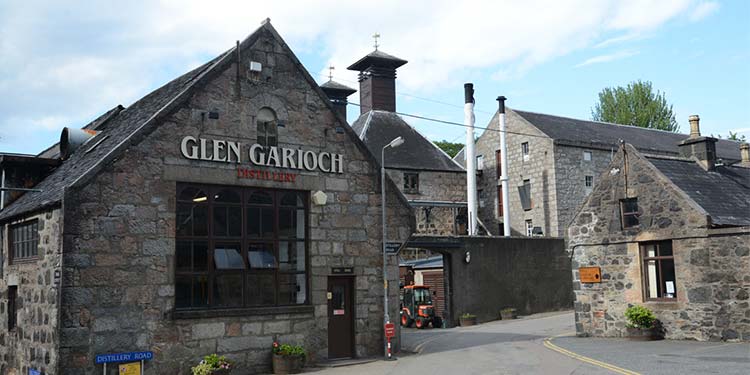 Location: Distillery Rd, Oldmeldrum
Opening hours: 10:00 am - 4:00 pm (Tues-Sun), Closed on Monday
Located just outside Aberdeen, the Glen Garioch Distillery offers visitors the chance to experience traditional Scottish whisky production.
Take a guided tour of the distillery offered by skilled tour guides from whom you can learn about the whisky-making process.
The tours can be an enjoyable experience where you also get to sample a dram of Glen Garioch's distinctive single malt.
Visitors can learn more about the Distillery and so much more at the Visitors Center.
Only Adults are allowed to take the guided tours and you can also take a couple of bottles from a wide selection of Whisky if you want to!
Tip: Consider booking the "Legends of the Garioch" experience, which includes a tour, tasting, and a visit to nearby historical sites.
Experience the 10Wildlife at the RSPB Dolphinwatch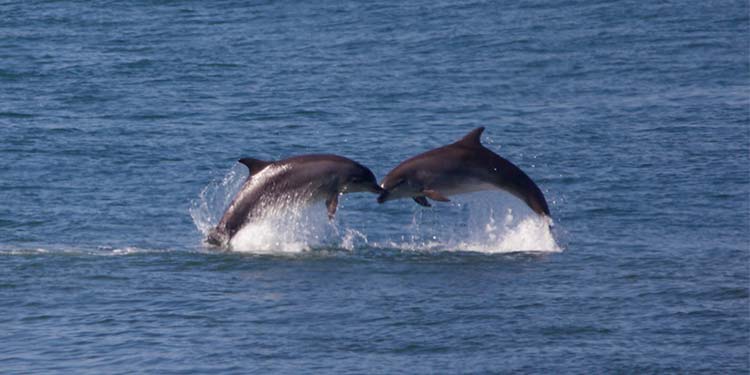 Aberdeen is one of the best places in Europe to spot bottlenose dolphins which you cannot miss out on!
The RSPB Dolphinwatch offers a fantastic opportunity to witness these magnificent creatures up close.
It is located at the Torry Battery, a historic site overlooking the harbor where you can easily watch the dolphins with the help of their professional guides.
The Dolphinwatch team provides telescopes, binoculars, and expert guidance to help you spot the dolphins as they play in the water.
Tip: The Dolphinwatch operates between April and August, which is the best time to see the dolphins. Don't forget to bring a camera for capturing the unforgettable experience.
Step Back in Time at the Aberdeen Science Centre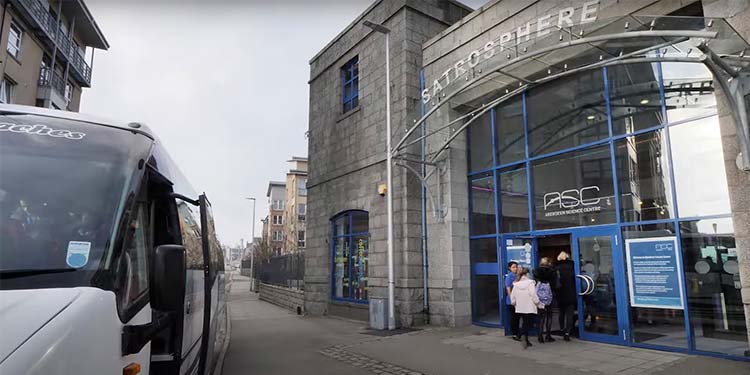 Location: 179 Constitution St, Aberdeen
Opening hours: 10:00 am - 4:30 pm (Every Day)
Entry rate: €11 (Adults), €7 (Ages 3-17)
The Aberdeen Science Centre is a family-friendly attraction that should be on your must-visit list!
It offers interactive exhibits and engaging activities to spark curiosity and ignite a passion for learning.
The center features a range of exhibits covering topics such as space, energy, and the human body.
There is so much to explore and investigate in this center as it provides many opportunities for visitors to think critically and learn from the unique exhibits.
With hands-on experiments, live science shows, and educational workshops, the Aberdeen Science Centre promises an exciting and informative visit for visitors of all ages.1
Tip: Check the center's website for special events and seasonal activities, which can enhance your visit even further.
Embrace Adventure at the Transition Extreme Sports Centre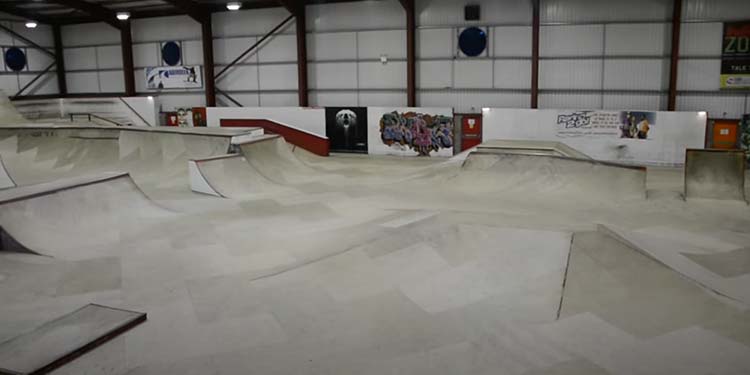 Location: Transition Extreme Sports Ltd. Links Road, Aberdeen
Opening hours: 12:00 pm - 10:00 pm (Wed-Fri), 10:00 am - 6:00 pm (Sat & Sun), Closed on Mon & Tues
Entry rate: €10/2hrs - Climbing Wall, €7.50/1hr - Skateboard, €7.50/1hr - Bouldering
For adrenaline-seekers and adventure enthusiasts, the Transition Extreme Sports Centre is a must-visit.
This state-of-the-art facility offers a range of thrilling activities, including indoor climbing walls, a skate park, and a high ropes course.
They have great climbing routes on the main walls for different skill-level climbers and the bouldering wall is frequently updated.
Skating and biking in the outstanding skatepark area are highly recommended.
You can find rental equipment in the center and there is space for you to store your stuff and baggage safely.
Whether you're an experienced athlete or a complete beginner, the friendly and professional staff will ensure you have an unforgettable experience.
The place has an enthusiastic and encouraging vibe to it that motivates you to do better in whatever activity you choose!
Tip: Be sure to book your session in advance, as popular time slots can fill up quickly. Also, check the center's website for information on group discounts and special offers.
Getting Around Aberdeen
Aberdeen is a walkable city with many attractions within easy reach. However, if you'd like to explore further or prefer public transport, Google reviews suggest the following options:
Buses: First Bus Aberdeen operates an extensive network of bus routes across the city and its suburbs. Users recommend purchasing day tickets or multi-journey passes for the best value.
Taxis: Aberdeen has various taxi companies that provide reliable service. According to Google reviews, hailing a taxi on the street, booking in advance, or using ride-hailing apps like Uber are all convenient options.
Bikes: Aberdeen's bike-sharing scheme, Just Eat Cycles, is well-received by users. With stations located throughout the city, renting a bike for a single trip or purchasing daily or weekly passes for unlimited use is a breeze.
Car rental: Google reviews suggest that renting a car is a practical choice for those planning to explore the surrounding countryside or nearby attractions. Numerous car rental agencies can be found at the airport and across the city.
Where to Eat in Aberdeen
Based on Google reviews, Aberdeen offers a variety of dining options that cater to different budgets and preferences. Some popular choices include:
Moonfish Café: Highly rated by reviewers, this contemporary seafood restaurant serves innovative dishes made from locally-sourced ingredients.
The Silver: The Silver Darling: Praised for its stunning harbor views, this fine dining establishment specializes in Scottish seafood and offers an elegant dining experience.
Musa: This unique eatery has captured the attention of many visitors with its eclectic menu that combines European and Asian influences. It also boasts an impressive selection of craft beers and wines.
Foodstory: A popular café focusing on healthy, plant-based meals, Foodstory has garnered rave reviews for its delicious vegan and vegetarian options.
Carmelite Bar & Grill: Located in the heart of the city, this stylish restaurant offers classic British dishes with a modern twist, attracting locals and visitors alike.
Where to Stay in Aberdeen
Aberdeen has a wide range of accommodation options to suit different preferences and budgets. Here are some suggestions to help you find the perfect place to stay during your visit:
The Chester Hotel: This luxury boutique hotel, situated in a renovated Victorian building, offers stylish rooms, excellent service, and an on-site restaurant that's popular with guests.
Skene House HotelSuites: Ideal for longer stays or those seeking a home-away-from-home experience, Skene House offers spacious, fully-equipped apartments in various locations across the city.
Aberdeen Douglas Hotel: A well-appointed, centrally-located hotel, Aberdeen Douglas provides comfortable rooms and a friendly atmosphere, ensuring a pleasant stay for its guests.
Travelodge Aberdeen Central: For budget-conscious travelers, this Travelodge offers clean, basic rooms at an affordable price, and its convenient city center location makes it a popular choice.
Atholl Hotel: A charming, family-run establishment, Atholl Hotel is set in a Victorian-era building and offers warm hospitality, comfortable rooms, and an on-site restaurant serving traditional Scottish cuisine.
Prepare Yourself for an Unforgettable Visit!
Known as the sunniest city in Scotland, the best time recommended to visit this stunning city is during the summer season.
You will have a great time here and will gain a bigger perspective on things when you get to know the city closer.
From fairytale castles to Art Galleries to a wide range of local restaurants and engaging activities, the city offers you many possibilities to make the most out of your visit!
Enjoyed Aberdeen's highlights? Discover more with our easy-to-navigate 'Things to do in Liverpool' guide for your next adventure!
Note: Keep in mind that information about travel can change quickly. To make sure your trip is fun and safe, we encourage you to double-check official websites and government/travel advisory sites for the latest information on travel restrictions, entry requirements, and safety measures.