Texas hot springs have a long history as a Southern State of sacred places where natural hot springs have been healing weary travelers and locals for decades.
So, whether you prefer hiking, camping, biking, or simply visiting the downtown areas of Texas, the warm hot water of springs can be your ultimate relaxing discovery for rejuvenating in a natural setting.
Many Texas hot springs are located in remote desert areas, but there are a few natural springs in popular places like Big Bend National Park, downtown Austin, and Texas Hill Country.
And for you to get started, we have listed some of the best Hot Springs around Texas. So let's get started!
Best Hot Springs in Texas
Balmorhea State Park and Natural Hot Springs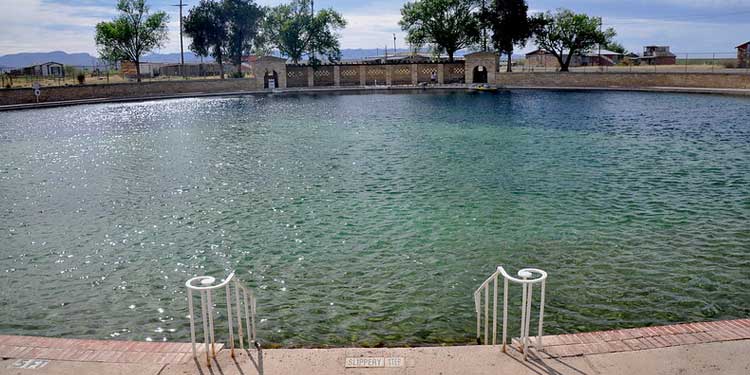 Address: 9207 Texas-17, Toyahvale, TX 79786, United States
Opening hours: 8:00 am - 7:00 pm or sunset (Hours might differ on Good Friday)
Costs: Entrance Fees are $7 for adults, and children 12 years and under are free
This 48-acre state park in the western desert of Balmorhea, Texas, contains the world's largest spring-fed swimming pool fed by the San Soloman Springs.
The water temperature is comfortable year-round, ranging from 72 to 78 degrees Fahrenheit, and visitors can enjoy swimming, scuba diving, and even snorkeling in the crystal-clear blue water.
Another main attraction includes the outside pool area, which has a great picnic area with shade.
You can set up a grill of your own or simply relax after a great day of swimming.
Tip: The Park has some tables around the swimming area but is fairly spread out, so bring some pop-up canopies for shade.
Chinati Hot Springs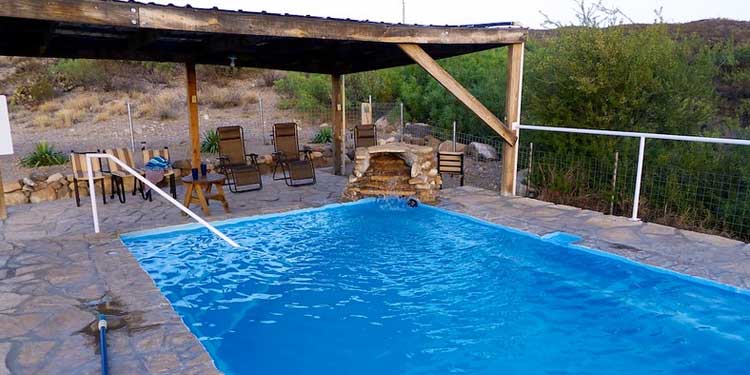 Address: 1 Hot Springs Road, Presidio, Texas 79845, United States
Opening hours: 9:00 am - 6:30 (Hours might differ on Good Friday)
An hour's drive from Marfa will take you on a scenic drive through the hills and valleys of the mountain range and eventually lead to the trail of Chinati Hot Springs.
It is a privately owned hot springs resort in the rugged and remote Chihuahuan Desert.
The Chinati Hot Springs has a few private soaking tubs and a large outdoor tub with a view of the resort.
However, the springs are only open to resort overnight guests, and reservations for campsites and cabins are required in advance.
Throughout the year, the water temperature remains constant at 113 degrees Fahrenheit.
It also has a shared kitchen with modern appliances for visitors to use, but remember that all supplies, including food, drinks, and charcoals, must be brought with you.
But dont worry! The Ruidosa store has an impressive selection of beer and wine and an in-store bar that claims to be Texas' most remote bar.
Note: We recommend visiting its official website to make reservations and accommodations at the resort.
Langford Hot Springs in Big Bend National Park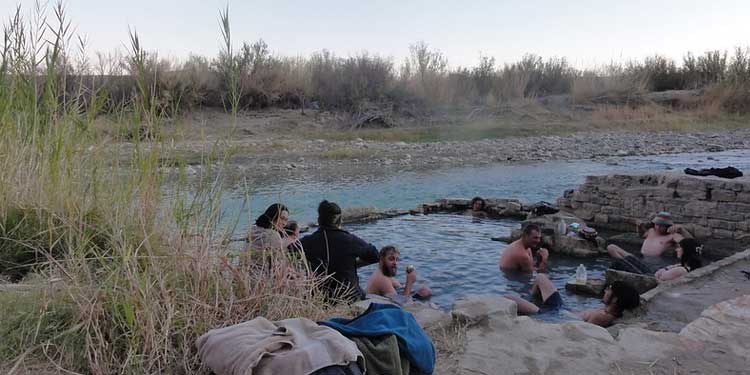 Address: Big Bend National Park, Texas 79834, United States
Discover Langford Hot Springs on the border between the United States and Mexico along the banks of the Rio Grande.
The Hot Spring trail follows the Rio Grande, providing a beautiful desert hike with breathtaking views.
The Langford hot spring is heated geothermally and maintains a temperature of around 105 degrees Fahrenheit year-round, though this may vary depending on the time of year.
The National Park Service also manages three developed front-country campgrounds: Rio Grande Village, Chisos Basin, and Cottonwood Campground, all with the facility of running water, picnic tables, grills, and some shelters. Each site costs $16 per night.
The spring is free to enter if you have already paid the Big Bend National Park entrance fee.
Barton Springs Natural Pool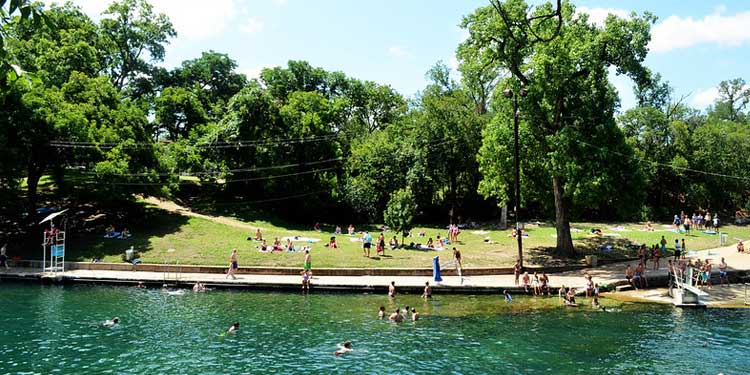 Address: 2201 William Barton Drive, Austin, Texas 78746, United States
Opening hours: 5:00 am - 10:00 pm
Costs: Admission rate range from $4 - $9 depending on age
If you need a break from the heat, head over to Barton Springs Pool in Austin and discover this 3-acre spring-fed pool right next to the ground of Zilker Park.
The pool is a popular year-round swimming destination, with an average temperature of 68-74 degrees Fahrenheit.
Other recreational opportunities include hiking and biking trails around Lady Bird Lake and the 351-acre Zilker Park, famous for picnics and other special events such as the Austin City Music Festival.
Tip: You will not be charged an entry fee if you visit between 5:00 am – 8:00 am, but you must swim at your own risk due to the absence of lifeguards.
Krause Natural Hot Springs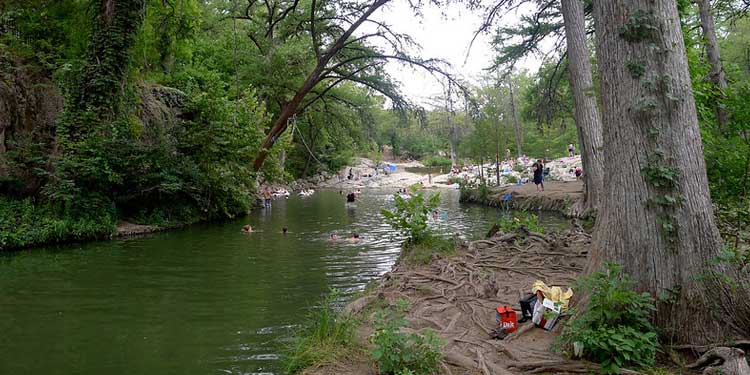 Address: 424 Co Road 404, Spicewood, Texas 78669, United States
Opening hours: gate open daily from 9:00 am - 8:00 pm
Costs: Entry rate range from $8 for adults, $5 for children, and $15 for reserving campsites
Pack your swimsuits and head to Krause Springs in Spicewood, about 30 miles northwest of Austin.
This Texas Hill country gem has 32 natural springs flowing straight out of the ground and is always between 68 to 70 degrees Fahrenheit year-round, making it a refreshing place to cool off in the hot Texas weather.
Towering cypress trees, massive sunbathing rocks, and a trickling waterfall in the perfect rope swing are just a few of the major attractions that make this Spring-fed pool unique.
If you're looking for a little more adventure, primitive campsites are also reasonably priced and can accommodate both tent camping and RV camping around the area.
Other nearby attractions are Pace Bend Park, Muleshoe Bend Recreation Area, and Spicewood Vineyards.
Hancock Natural Hot Springs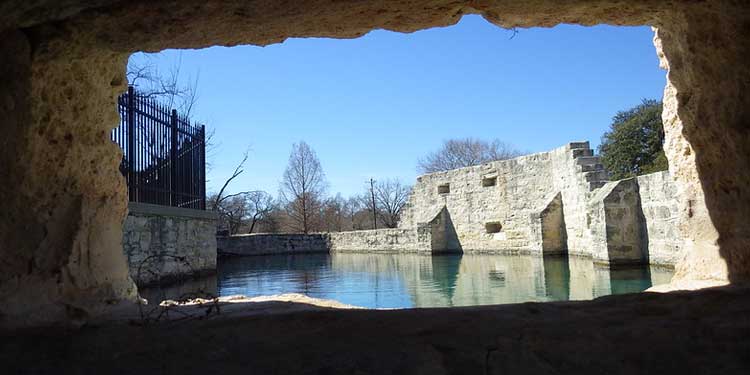 Address: 1600 281 South Lampasas, Texas 76550
Park Hours: 6:00 am - 10:00 pm
No trip to Texas is complete without a dip in the enormously refreshing spring-fed free-flow Hancock Pool in Lampasas.
it is one of the few swimming holes in Texas that receive cool, 70-72 degree Fahrenheit water all year from an artesian spring along with Balmorhea and Barton Springs.
The sulfur springs in Lampasas were the main attraction for visitors to Lampasas in the late 1800s, and Hancock Spring is the only sulfur springs pool that is still open to the public.
The springs are now part of a 109-acre park that also includes the historic limestone Hostess House, Hancock Park Golf Course, picnic area, and playground.
Start Discovering the Best Hot Springs in Texas
Texas has some of the few best Natural Hot Springs that are open all year. Thanks to its geothermically heated groundwater and natural springs that are cool enough to swim and bathe.
Finally, following our itinerary highlighting the best hot springs in Texas, you can explore nature's wonders and find your ideal stress-relieving retreat.