Did you know that Queens once included an island called Hog Island which hosted the elite of New York before 1900?
It was wiped away in an 1893 hurricane that completely drowned the island.
But don't worry!
You can still do plenty of other things to find fun in the borough.
This beautiful borough is known for its great food, beautiful beaches, and incredible art.
So, whether you're a local or a visitor, Read on to find some great places to spend your time while you visit.
Things To Do in Queens
Top Tourist Attractions and Landmarks
Explore the best of Queens by visiting famous places like the Mets stadium, the Queens Zoo, or Flushing Meadows-Corona Park.
Citi Field: Home of the Mets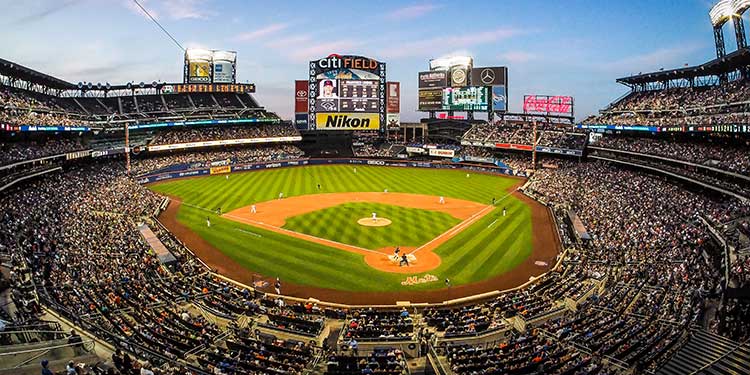 Address: 41 Seaver Way, Queens, NY 11368
Opening hours: Varies depending on the game schedule
Best time to visit: During baseball season (April to October)
Cost: Tickets start around $15 and go up depending on seat location
The Mets play in Queens (their stadium is at the park mentioned below). You should take in a game if you're a sports fan.
The views from the stands are simply breathtaking, and the experience of watching a game in this impressive facility is one that you won't soon forget.
The stadium features many different food and drink options, but be warned – they come at a premium price.
However, you can save 10 percent off most concessions if you use a Citi card to pay.
If you're going on a sunny day, pack some sunscreen or look for seats in the shade. More than one Mets fan has left the stadium red as an apple after a game.
Tip: Purchase tickets online in advance to save time and potentially get discounts.
Queens Zoo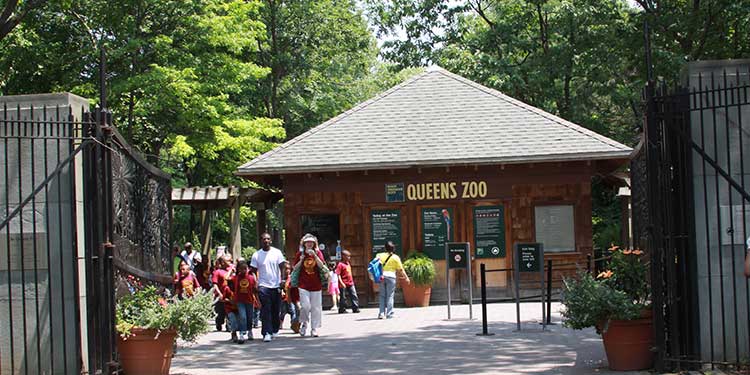 Address: 53-51 111th St, Flushing, NY 11368
Opening hours: Daily 10 AM – 5 PM (until 5:30 PM on weekends and holidays)
Best time to visit: Spring or fall when the weather is mild
Cost: Adults $9.95, Children (3-12) $6.95, Seniors (65+) $7.95
If you're a fan of wild animals, the Queens Zoo is worth a stop.
It's not a huge venue, with only 18 acres, but they pack a lot into the small space.
Where it really shines is interaction with the animals – which is a hit with kids!
Don't forget to bring your quarters for the petting zoo, and check out the play park outside the zoo.
For an additional fee, there's a beautiful carousel and some rides there to top off the fun and make your day even more memorable.
This isn't one that you'll spend the whole day at, necessarily.
However, it's a great diversion from the city and a nice stop on any trip.
Tip: Arrive early to avoid crowds and enjoy cooler temperatures.
Flushing Meadows-Corona Park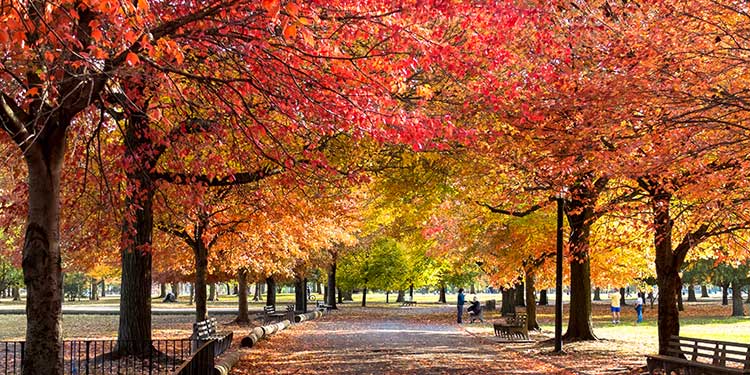 Address: Grand Central Pkwy, Queens, NY 11368
Opening hours: Daily 6 AM – 10 PM
Best time to visit: Year-round, but spring and fall have the most pleasant weather
Cost: Free entry to the park
The Flushing Meadows-Corona Park is a landmark from a bygone era that's been revitalized in recent years.
The remnants of old World's Fairs are still there to marvel at, but the Queens Museum and the Hall of Science are also nearby.
You can make a day of it, have a picnic, barbecue your own food, or buy concessions from many sellers.
Take a day, walk around, and you can even kayak or canoe if the mood strikes you.
Tip: To explore more of the park with ease, consider renting a bike or bringing your own.
Local Events and Festivals
Take part in Queens' rich culture and energetic atmosphere by attending events such as the Queens Night Market and Winter Lantern Festival. Make sure to attend them!
Queens Night Market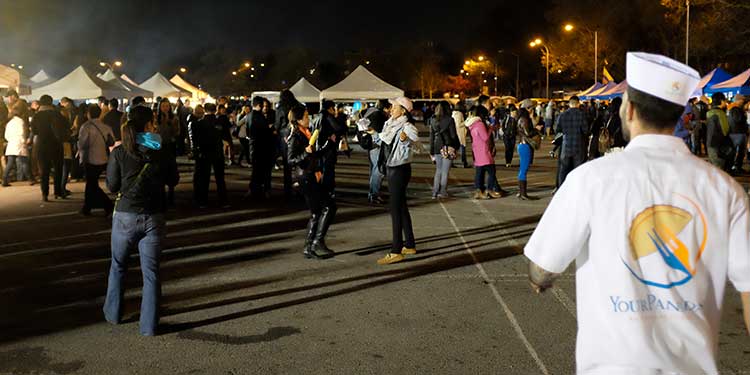 Address: New York Hall of Science, 47-01 111th St, Corona, NY 11368
Opening hours: Saturdays, 6 PM – 12 AM (during warmer seasons)
Best time to visit: Summer evenings
Cost: Free entry, food and drink prices vary
The Queens Night Market is open in the warmer seasons, and you have to stop by if it's in the season while you're in town.
Plan to take public transportation to the market, because there isn't a lot of parking and it's much more convenient.
Also, come hungry because there are a lot of vendors and a lot of treats to try.
Don't forget to bring a water bottle if you don't want to buy it at a premium there.
Tip: Some vendors may not accept cards, so having some cash on hand is a good idea.
Winter Lantern Festival at Queens County Farm Museum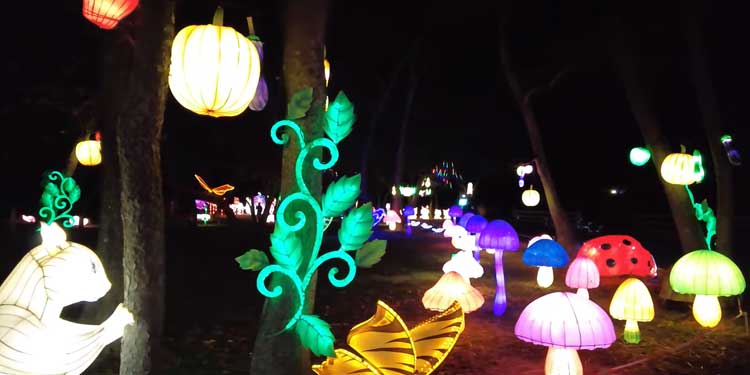 Address: 73-50 Little Neck Pkwy, Floral Park, NY 11004
Opening hours: Check the event website for specific dates and times
Best time to visit: During the festival, typically held in December and January
Cost: Prices vary, check the event website for details
Bright lights and colorful displays take over the Queens County Farm Museum every year.
Grab a cup of hot chocolate and prepare to be dazzled by the presentations.
There's plenty to do when the festival isn't taking place as well, but it's a great time to stop by if your visit happens to align with it.
Tip: Temperatures can drop during the evening, so bundle up and wear layers to stay comfortable.
Hidden Gems and Off-the-Beaten Path Experiences
Discover Queens' Hidden Treasures: Uncover the lesser-known gems of Queens as you explore unique spots like Solid State, a bar with a twist, and the mysterious Machpelah Cemetery.
Immerse yourself in the authentic experiences, intriguing history, and local charm of these off-the-beaten-path destinations that make Queens a truly unforgettable adventure.
Solid State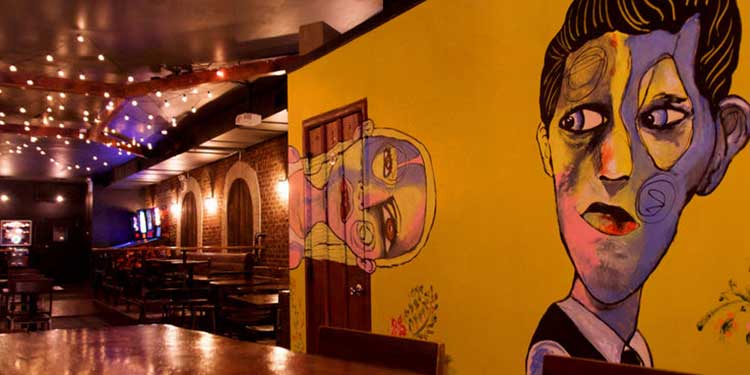 Address: 53-22 Roosevelt Ave, Woodside, NY 11377
Opening hours: Monday-Thursday 5 PM – 2 AM, Friday 5 PM – 4 AM, 
Saturday 1 PM – 4 AM, Sunday 1 PM – 2 AM
Best time to visit: Evenings and weekends
Cost: Free entry, drink prices vary
Solid State is more than just a bar – it's an experience.
They offer a selection of board games, pinball machines, and card games.
If you're a fan of local beers, ask the bartender for a recommendation; they have a lot to offer, and the choice might be a little overwhelming if you aren't sure where to start.
They don't sell food, but you can bring your own.
They also let you order delivery from any of the local restaurants.
It's a great place to spend a relaxing evening tucked away from the busy bustle of the streets outside.
Tip: keep an eye on their social media or website for special events, like game nights or trivia.
Machpelah Cemetary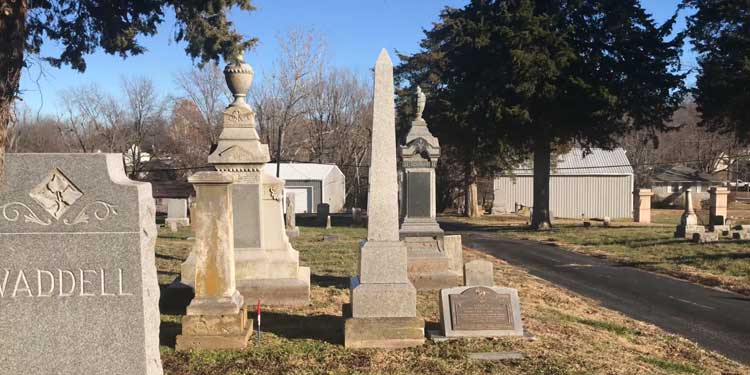 Address: 8230 Cypress Hills St, Glendale, NY 11385
Opening hours: Monday-Friday 9 AM – 4 PM, Sunday 9 AM – 1 PM, Closed on Saturdays
Best time to visit: Daytime, preferably on a weekday
Cost: Free entry
If you're a fan of poignant and spooky experiences, check out Machpelah Cemetary.
The graves, busts, and benches are all in various states of disrepair.
It's almost like stepping into an abandoned place – even though it's still active today.
One of the most famous people buried here is Harry Houdini.
Stop by and ensure he hasn't performed the ultimate escape – from the grave.
Tip: As this is an active cemetery, remember to be respectful and considerate of grieving families and the peaceful atmosphere.
Safety Tips and Potential Risks
Queens is a lot safer than people make it out to be.
As long as you stay in the right places, you should be safe to travel around freely. Of course, you must take the precautions you'd take in any city.
Be wary of scams: If you aren't up-to-date on how people might approach you, check out some warnings online. One popular one is when a person bumps into you, drops something, and immediately demands you pay for it. They're pretending you broke it. Don't engage. Simply walk away and ignore them.
Keep your wallet and valuables in an inner pouch: It's not unusual for pickpockets to target those with visible wealth in any major city.
Be sensible: Don't use a subway car that no one else is in or has a low population if all the other cars are packed. Be aware of the people around you. A little common sense and situational awareness go a long way toward keeping you safe wherever you travel.
Remember that Queens is large with lots of different pockets. Most of it is very safe, and the areas that aren't probably don't host the attractions you want to see.
Travel Itineraries and Suggested Routes
Check Newark, JFK, and Laguardia prices if you're taking a plane in.
Each has their benefit, but you can get to Queens quickly enough by landing at any of these airports.
Once you've gathered your luggage, take the train, tram, taxi, or town car to your destination.
Prices vary depending on where you land and the option you choose.
For example, taking the train from Newark to Queens will take just over an hour and cost anywhere from $20 to $40.
Taking the bus and train from LaGuardia will cost less than $20 and take about 45 minutes.
JFK will have the shortest and cheapest trip from the airport to your rental in most cases because JFK is located in Jamaica, Queens.
Getting Around
I do not recommend bringing a car to Queens unless you're experienced with driving in the city and want to deal with parking.
Taxis and public transportation are so inexpensive compared to parking and the trouble of driving that it's just better to stick with other options.
Install Uber or Lyft to make things easier.
When planning your trip, consider what you want to do and decide where to stay based on those choices.
You might be surprised at how walkable Queens can be in the right places.
Also, you're only 20 or so minutes from Manhattan by subway.
The ferry is also a fast option, depending on what part of Queens you choose.
Where to Stay
Long Island City Check out Long Island City if you're looking for a hotel. They have many options and plenty of things to keep you occupied nearby, especially if you're looking for great food or restaurants. You'll also see great views of the city from Gantry Park.
Airbnb or VRBO If you prefer to rent a home via places like Airbnb or VRBO, make sure you aren't getting too far from the central area of Queens with the locations you want to visit. You also want to read the reviews and understand how to gain access.
Where to Eat
The best food in Queens is served by the places that draw the locals back repeatedly.
Don't get me wrong – some fancy dining experiences nearby are great.
There are Michelin-star restaurants in Long Island City. But these are some must-tries that are beloved by local residents.
Eddie's Sweet Shop offers great ice cream sundaes in a classic soda shop atmosphere that will make you feel like you've been there before. Make sure to have cash because they don't accept credit cards.
Chicken Lovers in Bayside is a great place to grab takeout if you have somewhere to eat. They only serve takeout, but it's well worth the trip. Just be sure to call ahead because the wait gets long even earlier in the day. Try the green sauce!
Sac's Place is the perfect stop on a beautiful day, especially with the outside seating. The pizza is excellent, but so is the handmade gnocchi, and the bartenders have always made me great drinks.
Manor Oktoberfest is my favorite stop for potato pancakes and strudel. It's also a spacious option for when you want to eat with a big group and are looking for a place to accommodate that. If you have room after the brats, the black forest cake is also worth a try.
These are just some of the dining options available in Queens. Give one of them a shot and see whether you love them as much as I do.
Seize the Day in Queens – Create Unforgettable Memories Today!
Queens is an experience unlike any other place on earth, and so many people skip out on everything it offers in favor of the more-visited Manhattan.
Whether you're looking for good eats, a visit to Citi Field, history, or nightlife, it has much to offer.
Start crafting an itinerary today and make your travel dreams a reality! 
Note: Keep in mind that information about travel can change quickly. To make sure your trip is fun and safe, we encourage you to double-check official websites and government/travel advisory sites for the latest information on travel restrictions, entry requirements, and safety measures.