When you're daydreaming about an all-inclusive resort, images of luxurious relaxation begin to fill your head.
Add in a Florida destination: sunshine, waves, fresh-squeezed orange juice, and tropical breezes join the picture.
However, there's much to consider before you book your destination – especially if your heart is set on Florida.
While some all-inclusive resorts exist, many places operate differently than expected.
What Do All-Inclusive Resorts in Florida Include?
Offerings at all-inclusive resorts in Florida vary wildly; most hotels that offer bundled packages in the state aren't all-inclusive.
A true all-inclusive resort will offer one cost for the place you're staying, meals, drinks, and activities.
Modern resorts often offer packages with some coverage or additional options to cover more or purchase services a la carte.
Due to the lack of all-inclusive resorts in Florida, being aware of ones that offer packages and benefits can help you find a place that works in a location you love.
You can always call the concierge at the resorts you're considering and discuss the options available with them.
If you do, ask what other travelers tend to do when they visit and whether any local restaurants or experiences are recommended.
Depending on where you stay, you may want to spend more time off the property than expected.
Atlantic-Side Resorts
Check out these coastal resorts if you're hoping for golden sand and waves begging for surfers.
Remember that not all alternatives will have ocean views. Always check before you book if that's an essential feature for you.
Pritikin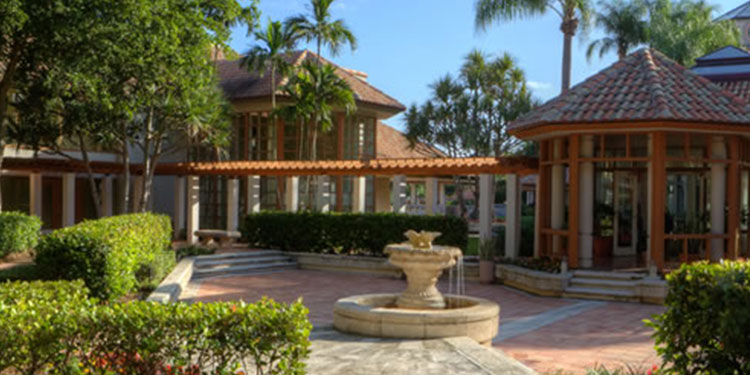 Location: Miami, FL
Opening Hours: Check-in 3 PM, Check-out 12 PM
Cost: $5,000+ per week
The Pritikin Longevity Center + Spa is a wellness-focused retreat that suits adults who want to work with a team of wellness experts to work on their goals.
You'll attend courses to learn more about maintaining and optimizing your physical health, eat curated meals with healthy ingredients, follow an exercise regimen, and generally focus on yourself – as you deserve.
The trade-off for all this focus is a very high price tag. The average stay is two weeks, which can be over $5000 per week.
The cost includes your accommodations, all meals, and many medical appointments – including up to 90 minutes of personal consultation with a doctor.
They assess and test things like your exercise tolerance and blood panels.
You can get dietary analysis, plan a weight-loss goal, and monitor your blood pressure.
You can book additional treatments, but there's plenty to do even without the add-ons. 
Tip: Focus on wellness programs and consultations included in the package.
Check out:  Best Things to Do in Miami for Couples 
                    Things To Do in Miami With Kids
                    Things To Do in Miami
Costa d'Este Beach Resort and Spa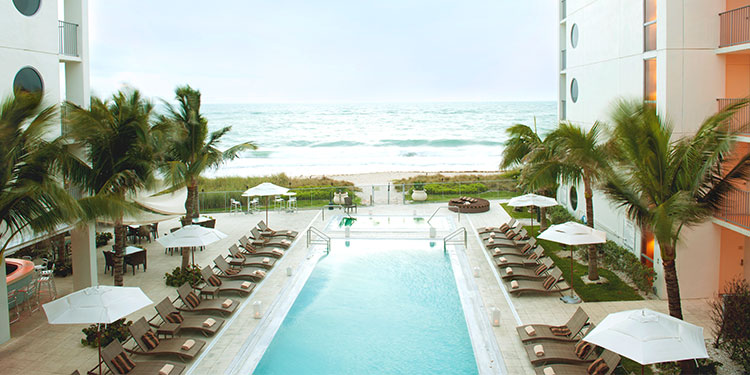 Location: Vero Beach, FL
Opening Hours: Check-in 4 PM, Check-out 11 AM
Cost: Varies by package
Costa d'Este isn't a standard all-inclusive resort with an option that covers everything.
However, it still has a lot of options for someone who wants an experience with many amenities and food included.
Check out the packages to see what kind of offers you can get. Some have a daily breakfast.
Your resort fee will cover many activities you'll want to experience while you're there, including a valet car service, beach cruiser bikes, a poolside concierge, and resort yoga classes.
Guest praise the gorgeous views and pristine beach.
They also recommend renting a cabana while you're there for an authentic luxury experience.
However, some people experienced issues with poorly-situated rooms and difficult staff.
There's so much to do nearby, but you'll probably enjoy your experience more if you request an unobstructed ocean view away from any maintenance equipment. 
Tip: Request an unobstructed ocean view away from maintenance equipment.
The Ritz-Carlton Amelia Island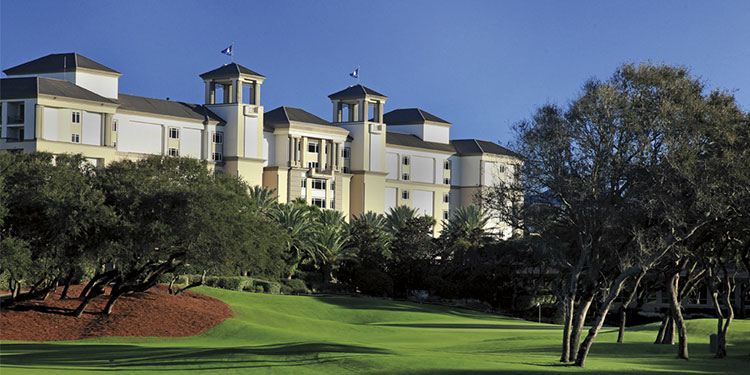 Location: Amelia Island, FL
Opening Hours: Check-in 4 PM, Check-out 11 AM
Cost: Varies by package
The Ritz-Carlton on Amelia Island is a pristine, luxurious retreat with access to the best of everything.
Though they don't offer a specific all-inclusive package, you can upgrade to a Club Level stay and get many excellent services.
For example, you'll get breakfast, snacks, hors d' oeuvres, and desserts in the lounge.
You'll also have personalized concierge services, a selection of alcoholic and non-alcoholic beverages, and other benefits.
It's a great way to upgrade your visit and add a little extra that you don't have to pay for each time you go to grab a drink.
Since Amelia Island is a pretty secluded destination, having the Mimosa Bar or the Bloody Mary Bar to spend a little time at is a bonus. 
Tip: Upgrade to Club Level for additional benefits and services.
Gulf-Side Resorts
These resorts are on the side of the Gulf of Mexico. Expect smaller waves and white sands.
Henderson Park Inn: Destin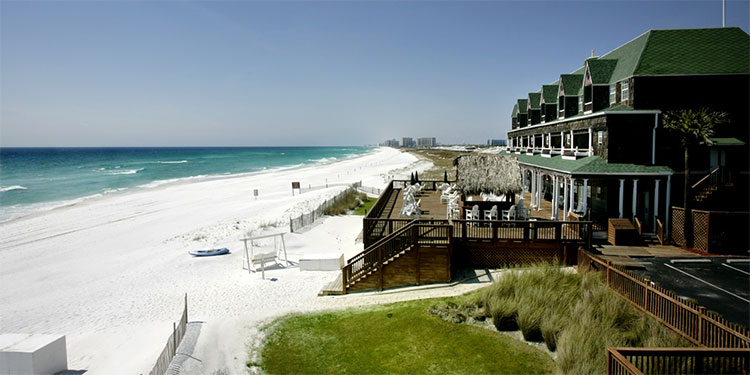 Location: Destin, FL
Opening Hours: Check-in 3 PM, Check-out 11 AM
Cost: Varies by package
Henderson Park Inn in Destin is not strictly all-inclusive but offers packages to help make your retreat feel more all-inclusive.
For example, you can get a breakfast package with an allotment for a daily breakfast each day of your trip.
Offers change over time, so check out the website to see what you can get to upgrade your vacation.
This is an adult-only resort, meaning you can't bring the kids.
The property has a charming, simple vibe with lots of luxury and quiet to spend time with your partner.
People mention the clean, well-appointed rooms and the great food as further draws.
However, they don't have an elevator, so you may want to call if there are possible accessibility issues. 
Tip: Call ahead to confirm accessibility options if needed.
Check out: Things To Do in Destin, Florida
JW Marriott Marco Island Beach Resort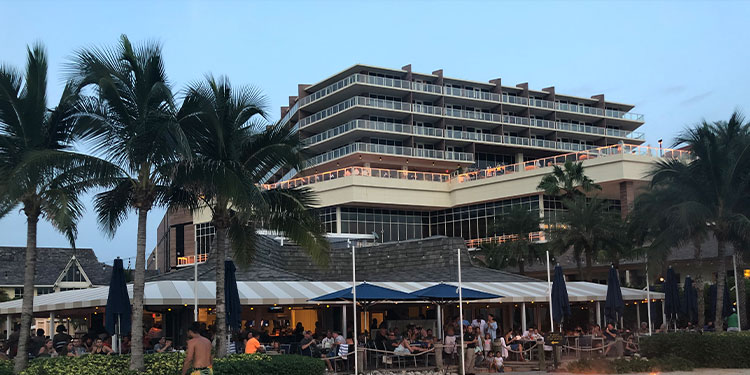 Location: Marco Island, FL
Opening Hours: Check-in 4 PM, Check-out 11 AM
Cost: Varies by package
The JW Marriot Marco Island Beach Resort offers deals with resort credits sometimes.
These give your group a certain amount of money to use daily while you're there.
It can be used for food, spa experiences, or other amenities.
These deals aren't always offered, but when they are, this hotel is an excellent choice for those who like their comforts included.
You'll love the two championship golf courses on the property if you like golf.
There are also 12 restaurants, a luxury spa, and many family activities.
Since it can be overrun with guests on the busiest travel weeks, you might have a better experience if you book when crowds are lower.
Many activities are also more expensive than the resort credits currently offered, so ensure you've checked the pricing and know how much additional money you'll need before booking. 
Tip: Book during less busy times for a more relaxing experience.
Florida Keys Resorts
The Florida Keys are as beautiful as they are welcoming.
Bungalows: Key Largo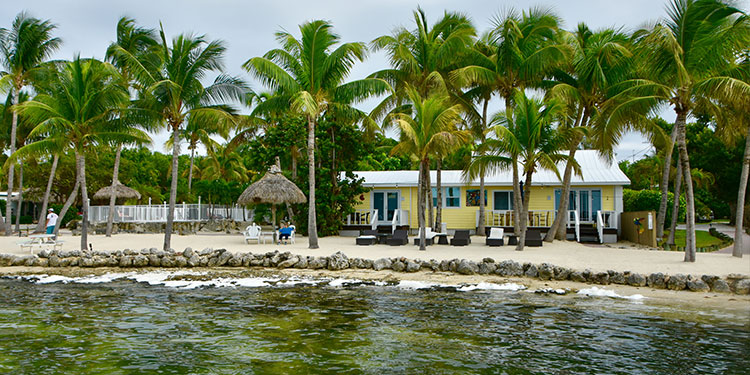 Location: Key Largo, FL
Opening Hours: Check-in 4 PM, Check-out 11 AM
Cost: Varies by package
The keyword here is luxury. You'll stay in a standalone bungalow with private outdoor spaces.
Choose from the waterfront designs or stay in the curated botanical gardens.
Either place includes a private veranda, outdoor soaking tub, and shower.
When you venture out of your residence, you'll find multiple pools, beaches, water equipment, yoga classes, snorkeling, a Fitness Hut with Peloton bikes, cruiser bikes, and specialty entertainment.
There are also five restaurants on the property.
All-inclusive really means all-inclusive at Bungalows: Key Largo.
All meals are included (except the high-end Bogie and Bacall's, which includes a surcharge if you stay under four nights.) You can get meals, waterside refreshments, and alcohol.
Plenty of activities are included as well, including kayaking and paddleboarding.
If you want to take a boating tour or use the spa services, bring extra cash to indulge yourself.
Tip: Bring extra cash for boating tours and spa services.
Little Palm Island Resort and Spa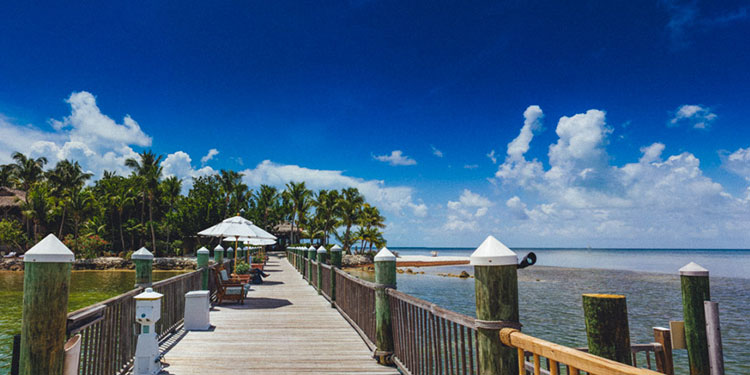 Location: Little Torch Key, FL
Opening Hours: Check-in 4 PM, Check-out 11 AM
Cost: Varies by package
If your heart is set on a high-end all-inclusive experience, you must check out the Little Palm Island Resort and Spa.
It's an adults-only private island resort with tropical flora lining the sides of the crushed seashell paths you can follow around the island.
Reviewers are often delighted with the property's activities, accommodations, and serenity.
To make it all-inclusive, check out the packages they offer. Some packages are linked to specific suites.
For example, one package gives you a $500 daily resort credit when you stay in the Escape Suite.
Another offers daily breakfast, lunch, and dinner for two and a $100 spa credit per person per night.
These are subject to change, so check before you book to see what's available. 
Tip: Choose a package that best aligns with your preferred suite and activities.
Attraction Resorts
These resorts are near theme parks and other attractions. They're a perfect way to treat yourself between roller coaster rides and excited, bustling crowds.
Legoland Hotel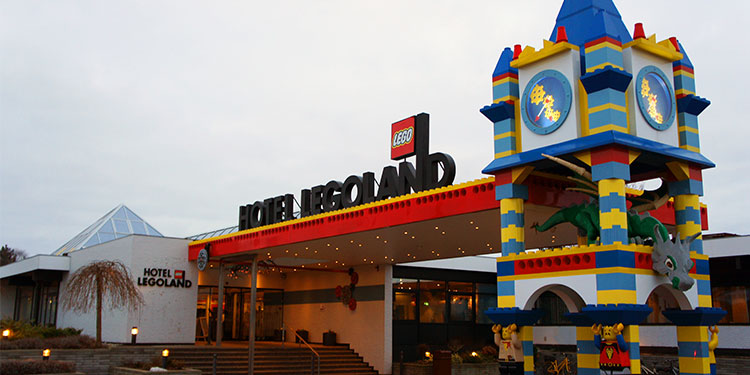 Location: Winter Haven, FL
Opening Hours: Check-in 4 PM, Check-out 11 AM
Cost: Varies by package
Whether you have kids or are just a huge fan of Legos, Legoland Hotel offers a place to kick back, relax, and enjoy your trip with a fantastic all-inclusive offer.
This generous package includes accommodations, meals, and tickets for LEGOLAND, the water park, and the Peppa Pig theme park.
Kids will be delighted with the kids sleeping areas, in-room treasure hunt, LEGO building area, and interactive activities at the hotel.
The food in the package includes breakfast at dinner at LEGOLAND resort restaurants, while you can have lunch at any of the restaurants available at the included parks.
You also get an in-park photo package, free beverage refills, and complimentary parking.
There's even a Master Builder Workshop to help you and your family make incredible souvenirs you'll never forget.
Tip: Take advantage of the Master Builder Workshop for memorable souvenirs.
Design Your Dream All-Inclusive Escape Today: Florida Awaits!
The lack of all-inclusive resorts in Florida is shocking, but that doesn't mean you can't find one that suits your travel plans.
Whether you choose an alternative where all costs are bundled into your stay or create your own experience using packages and resort credits, there are plenty of ways to design the vacation of your dreams.
Don't hesitate because a lot of these resorts fill up fast. Book today!