San Juan is the capital of Puerto Rico which falls as an American incorporated territory. Located at the island's northern coast, San Juan is currently a major tourist destination. It has a population of 342,259 as per the census of April 2020.
People visit San Juan to take in the Puerto Rican culture by visiting old Spanish architecture, calming beaches, and luminescent bays. From Snorkeling with a mermaid suit to visiting diverse museums and diverse restaurants. San Juan is a heaven on earth.
Flight Plan
You can travel to San Juan through two airports:
Luiz Marin International Airport

This airport is on the northeast side of the island. We recommend this airport as San Juan is only minutes away.
Rafaeil Hernandez airport

This airport is on the island's west coast and is 134.2 km from San Juan.
Weather and Transportation
There are no actual seasons in San Juan as this is a tropical destination. The temperature will average around 70 to 80 degrees Fahrenheit.
Free trolly systems in Old San Juan
Please note trolly runs about every 15 minutes
Working hours: Monday to Friday (7 AM to 7 PM), Weekends ( 9 AM to 7 PM)
Car Rentals
Due to a large volume of car rental popping up, the rates for cars are competitive. Make sure to look around different rentals before choosing Rental cars around the $11 to $80 range.
Taxi service
Tourist taxis are available in all major parts of San Juan. Please note that taxis with Taxi Trusticco are the ones to use as rates for taxis are fixed.All taxis are required to display an up-to-date rate in the cab.
Other Alternatives: Uber, Moped rentals
Hotels and Accommodation
San Juan is a tourist destination; hence hotels are necessities for such places. The rate of accommodation ranges from $99 to $400. We recommend booking through travel sites instead of finding hotels yourself. These travel sites rate prices from other competitors to show you cheaper options.
Activities to do in San Juan
Scuba dive & Snorkeling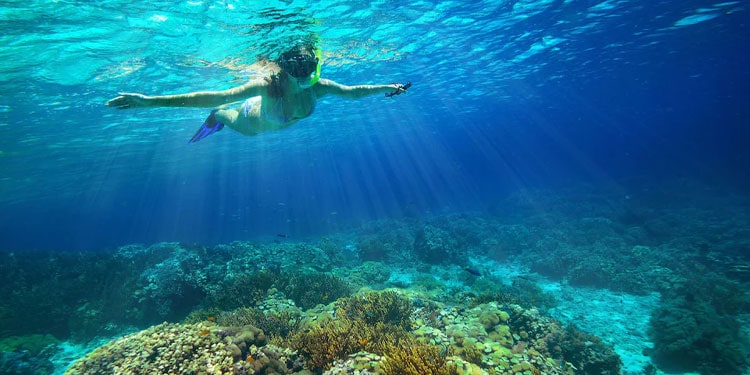 San Juan isn't the most famous scuba snorkeling spot due to swells from the north. It will be an activity worth your time as visibility gets to 80 feet on a good day.
Prices for guided tours range from &59 to $250 depending upon the specifics of the package.
You have various options::
Turtle spotting snorkeling tours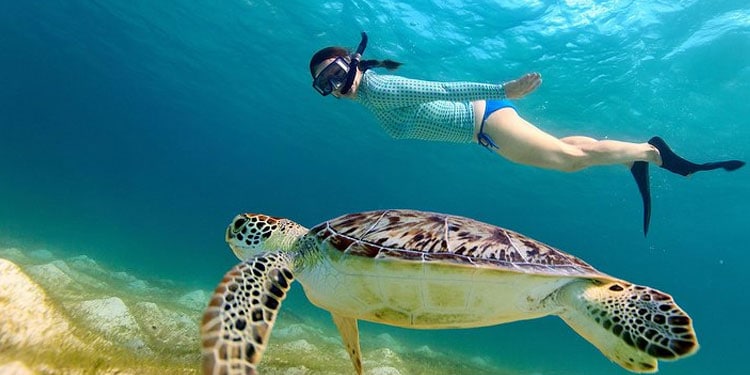 Mermaid snorkeling Tour where you dress up as a mermaid and take go pro video shoots underwater. You also get to download these videos.
Private Snorkeling Group Packages allow private snorkels trips. You get to island-hop on the east coast. An open bar with cocktails usually accompanies this package. The prices range from $1100 to $1400 for groups of 6 people max.
Activities in Laguna Del Condado
Paddleboarding, kayak, and water bike tours cost around $55 to $150. There are also private experience tours at night time for approximately 45 minutes.
The guides will teach you these styles of water fun and take pictures for you and share them with you. Expect to see manatees. It's best to visit during the morning time as that's when they surface to feed.
Visit Rum Distilleries in Casa Bacardi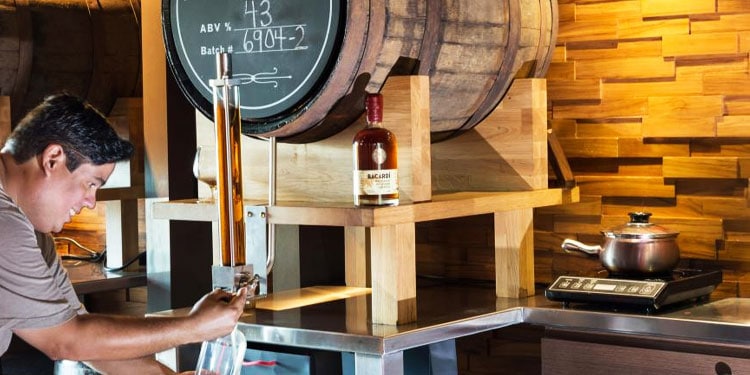 This distillery serves the world-famous Bacardi rums. You can book rum tasting tours, Bacardi bar visits which cost around $20-$25 plus tax.
The Liquor giant also offers a mixology class where professionals teach you how to create mojito, Pina Coladas. These bartenders also introduce you to bar tricks. The tour here ranges from $75 to $100.
PitoRico
PitoRico provides tasting appointments from Thursday to Sunday. These appointments are from lunch to closing time. If you like merchandise, then they have a shop for bar tools, mixers, and glassware.
The rum and Pittorro tasting fees range from $20 to $35. They also have tours explaining the process of distilling their PitoRico blends.
Ron Del Barrilito
Ron Del Barrilito offers heritage tours, tasting tours, and mixology classes. All these tours provide a complimentary Ron Del Barrilito at the start.
Professional bartenders will teach visitors to make elegant drinks from Ron Del Barrilito. The tasting tour features their signature rums
Dos Estrellas
Tres Estrellas
Ron Del Barrilito Cuatro Estrellas.
These tours cost around $25 to $80. Visitors are welcome to stay at Hacienda Santa Ana's grounds and view their gift shops.
Visit Historic Sites of Old San Juan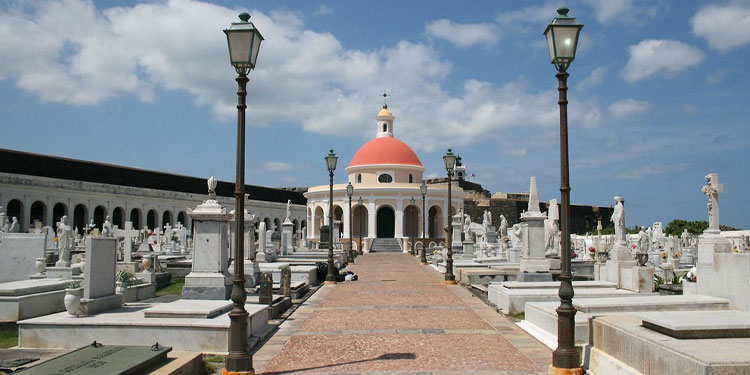 This area is the biggest tourist spot in San Juan. The San Juan national historic site is made up of two huge landmarks. These landmarks are huge forts named Castillo San Felipe del Morro and Castillo San Cristobal.
You can visit city walls, tunnels, explore deep dungeons and sentry boxes. A single ticket will get you access to both forts. The price of the ticket is only $5.
The whole area is walkable but narrow. There are plenty of restaurants and lodging options, but prices can be steep, around $170 to $300. English is also widely spoken.
Visit Condado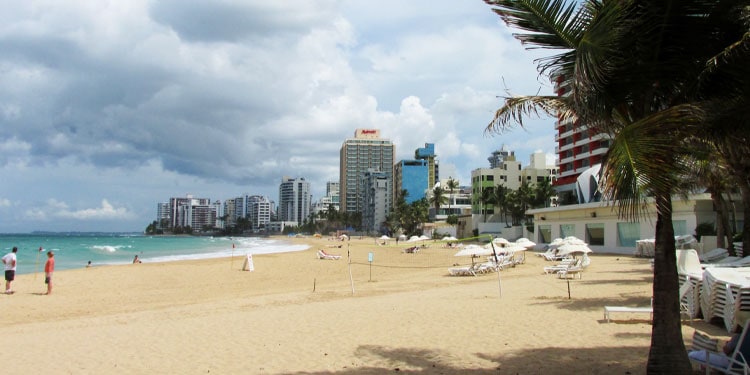 This area has the fanciest Beach in San Juan. There are plenty of beach parties. It is located at the center of San Juan, so visiting Historic San Juan or La Placita de Santurce is like a 10-minute walk.
The hotels here may be pricier as this is beachfront. The prices range from $270 to $500 for star hotels.
Hop on to Hato Rey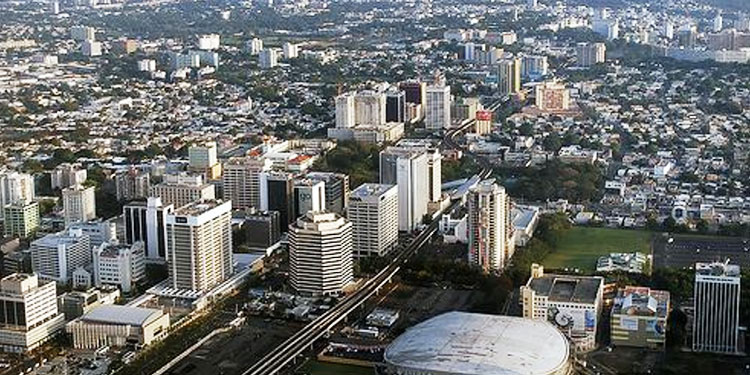 This place is famous for its parks and concerts. It houses the island's largest shopping malls, has the Hiram Bithorn Stadium for baseball games and de Puerto Rico for musical concerts.
This urban place is mainly tailored for business travel. Wandering here just for one planned day will be more than enough to soak all of Hato Rey's splendors.
Observe Murals at Sancture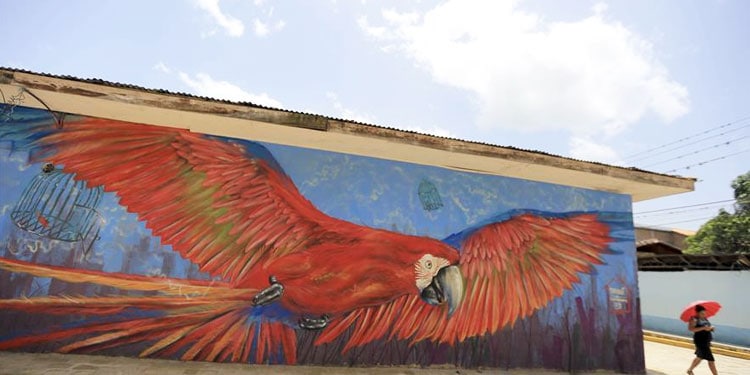 Sancture has less tourist congestion in comparison to other places in San Juan. This area has a lot of galleries, bars, shops, and murals. Local food trucks serving authentic Puerto Rican food can be expected here.
Please note, Sancture is known to be a bit sketchy at night time. There aren't many hotels in the area, so only have a daytime stroll.
Rio Piedras
This palace has a lot of coffee shops and tropical gardens. It is more like a college town than a tourist spot. Be sure to visit the Botanical garden Jardin Botanico.
Visit Museums and Cultural Institutions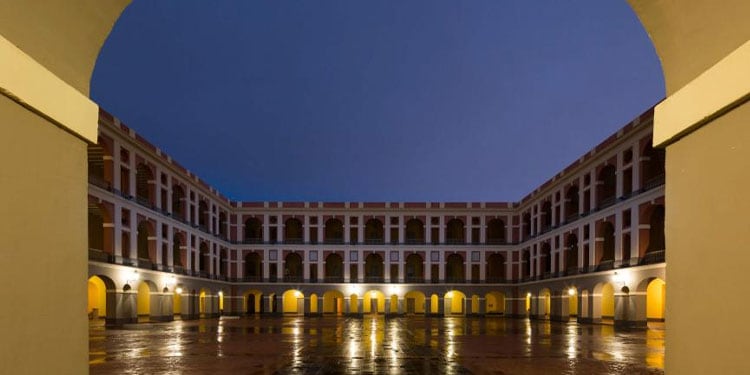 Casa Blanca
This structure is the oldest residence of San Juan, which later was turned into a museum. It consists of 16th -17th-century artifacts.
Museo De Las Americas
This museum showcases four exhibits summarizing American experiences through centuries.
Natives in Americas
The African Legacy
Conquest and Colonization
Popular Arts
The host of popular show Domingos Familaries offer workshops here every Sunday
Sports Museum of Puerto Rico
This museum has a collection of memorabilia covering athletes from Puerto Rico and the Caribbean. The main attractions here are life-size statues of renowned athletes, among which the figure of Roberto Clemente is the most famous.
Take Photos at Santa Maria Magdalena de Pazzis Cemetery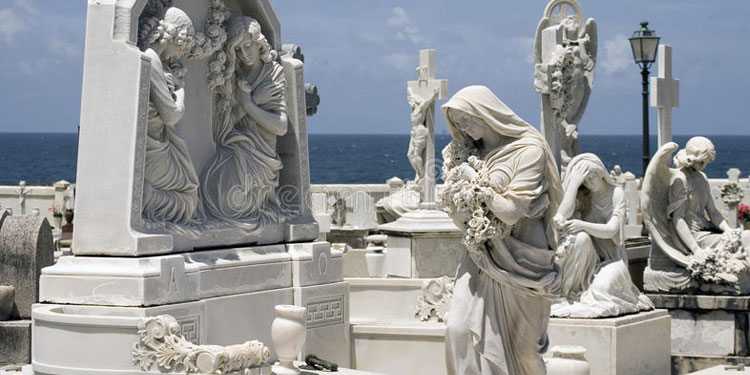 This cemetery is named after a saint. It is filled with colorful flowers, life-sized marble sculptures, and bright burial sites. You can get here by a 15 min walk from the el morro fort. Pictures taken here will be vibrant.
Have fun at the Beach
You can choose from three beaches
Condado Beach
Escambron
Ocean Park Beach
These beaches have many water activities available like stand-up paddleboarding, jet skis, Snorkeling.
Visit historic Miramar
This neighborhood features exquisite old homes, buildings and you can also visit the neo-gothic Nuestra Senora De Lourdes Chapel on the way. There are also pretty trees lined in the streets. Be sure to visit the following art galleries before you leave.
Petrus Gallery
Roberto Paradise
Recinto Cerra
Go on a Shopping Spree
San Juan has the largest shopping mall in the Caribbean called Plaza Las Americas. There are departmental stores, retailers, boutiques, and a movie theatre present at the premises.
Mall of San Juan is a high-end mall consisting of international brands, local designers. Even the departmental stores are upscale here.
Spa Treatment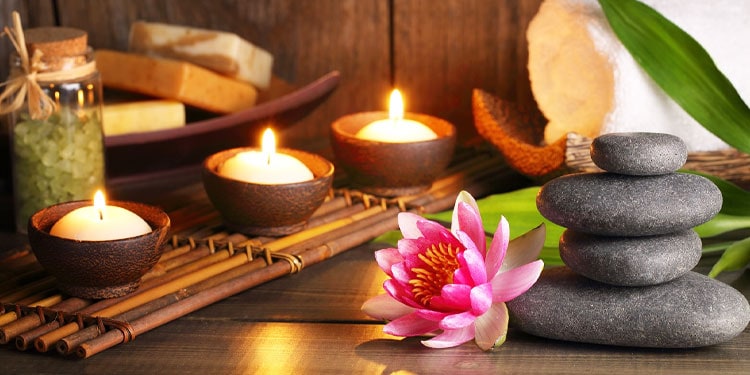 Condado Vanderbilt Spa specializes in the hammam, which is a Turkish-style bath. Cloud Spa provides the only saltwater flotarium on the island.
Walk through Paseo De La Princesa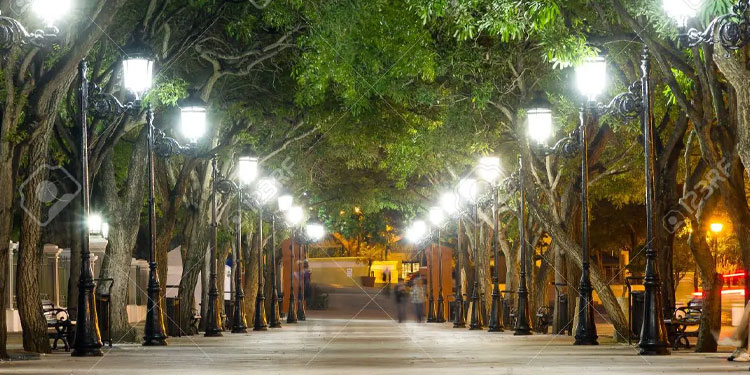 This pedestrian promenade is lined up with lamps and fountains. It extends for a quarter of a mile. You can walk around adoring majestic views of the Old San Juan. There are many street vendors along the way for you to buy souvenirs. There are organized tours if you are into cultural things, but we recommend strolling on your own.
BioLuminescent bay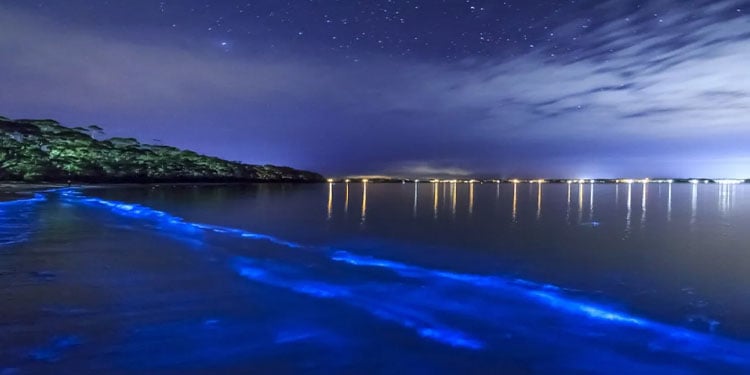 We recommend visiting the Laguna Grande bioluminescent bay if you can rent a vehicle. You will see a bluish glowing effect in the water due to dinoflagellates at night. It takes around 1.9 hours from San Juan.
Visit El Yunque National Park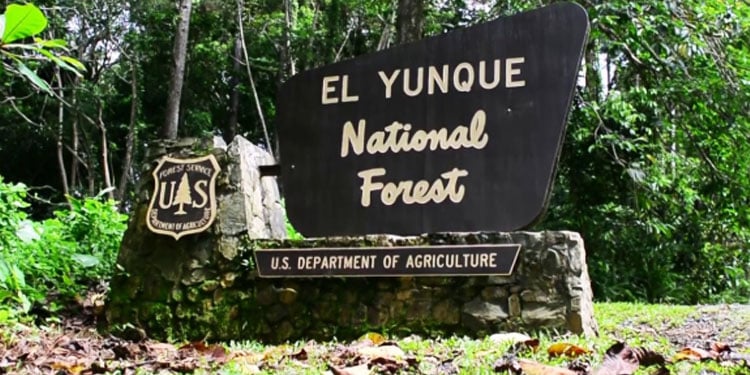 This national park is a tropical rainforest under the protection of the US forest services. It is home to a rare Puerto Rican parrot and Coqui Frogs. There are plenty of tours offered by travel agencies. The activities allowed In the park are
Camping & Cabins
Hiking
Nature Viewing
Outdoor learning
Picnicking
Scenic Driving
Swimming
The national park has designated only specific areas for recreational activities, be sure to check those areas strictly. Please note changing weather can be dangerous as the rise of waters can strike rivers with no warning. The whole park is also a trash-free zone.
Talk to God at the Cathedral of San Juan Bautista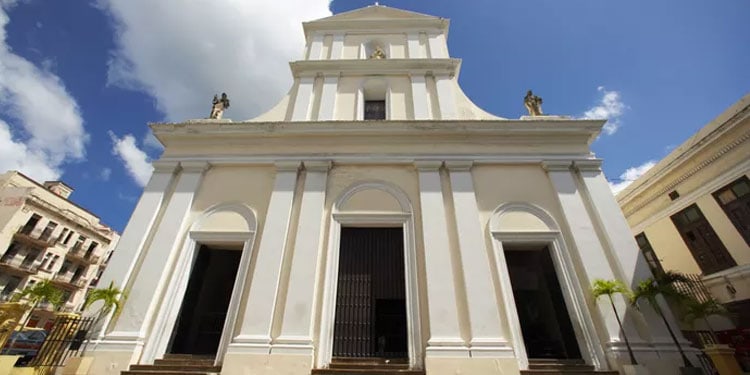 This cathedral is one of the oldest buildings in San Juan. You can attend mass on weekends. The main attraction of this place is
tomb of Ponce de Leon
mummy of St Pio
beautiful stained glasses
If you visit the cathedral over Christmas, you can attend the Misa De Gallo on December 24, which showcases enactments of the nativity. The cathedral is also decorated well during this time.
Catch Some Local Music
There are festivals nearly every week on the island. Plazas are filled with salsa, bomba, and plena music on weekends. Try the spots below to get some authentic Puerto Rican music.
Nuyorican Café

This café is located in Old San Juan. It showcases live contemporary salsa music.
Downtown Bar and Restaurant

This restaurant is located in the San Juans business district. It hosts chic music from national and local Latin bands.
Take a picture with La Rogativa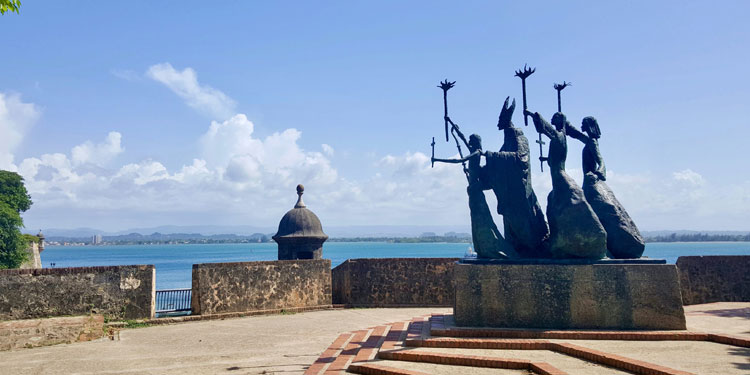 This famous bronze statue commemorates a woman-led procession in the past that stopped an invasion. Nowadays, it is a tourist hub to take pics as there is a sweeping water view around it. Entry to this place is completely free. It's a short 20 mins walk from San Juan.
Visit Capitolio de Puerto Rico and La Fortaleza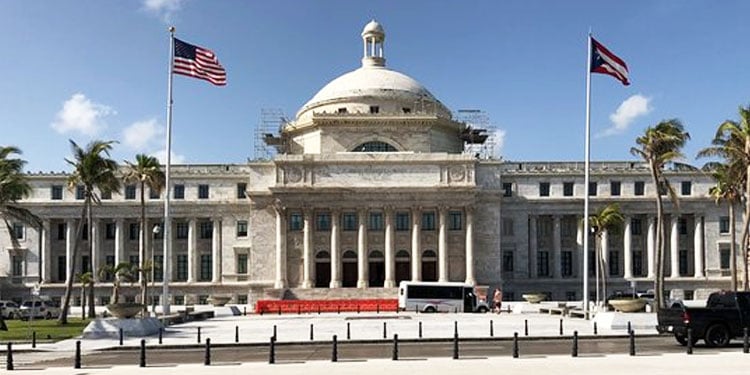 We suggest visiting these buildings through only local tours as they are functioning government buildings. Guided tours for La Fortaleza are offered Monday to Friday between 8:30 AM to 3:30 PM. You can get guided tours in the capitol building Monday through Friday from 8:30 to 5 PM.
These tours allow you to venture into the garden of LA Fortaleza and inside the building only when the government is not in session. Photo IDs are compulsory, and as it is a government building, it has a right to closure without warning.
Must-Visit Foodie destinations in San Juan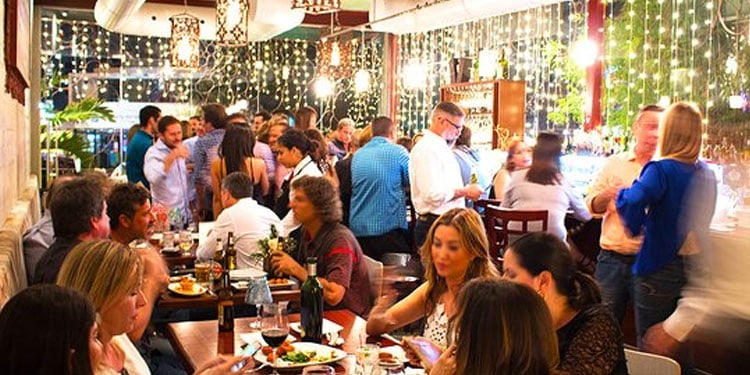 Lote 23
Opening hours: 11:30 AM to 9 PM
This park hosts more than a dozen food trucks offering a variety of food. Its specialties include Burgers, Budare, Pita, Pork, cocktail project caneca, local Puerto Rican mofongos, fried chicken, poke bowl, and pizza.
Jose Enrique
Opening hours: 12 PM to 11 PM (Wednesday to Sunday)
Meals at Jose Enrique range from $5 to $41 currently. Please note the menu frequently changes in this restaurant. The specialties here are traditional Puerto Rican cuisines like picadillo and fried snappers.
Marmalade Restaurant and Wine Bar
This place offers the best cocktails in San Juan. We recommend the six-course tasting with wine pairing menus.
Organic beef tartar, popcorn shrimps, and fluke sashimi are its food specialties.
Frequently Asked Questions:
What country is San Juan located in ?
San Juan is Puerto Rico's capital, an unincorporated territory of the USA. Puerto Rico exercises self-governance but still adheres to the congress plenary power of the USA.
What language do people in San Juan Speak?
The official languages of San Juan are Spanish & English.
Do US citizens need a passport to travel to San Juan?
Since San Juan is an incorporated territory, citizens do not need passports to travel here. The same identification you use to travel domestic airlines will suffice.
What is the legal age for buying alcohol in San Juan?
Even though the USA has an average drinking age of 21, In San Juan, you only have to be 18 years or older to buy any alcoholic beverage.
What currency is used in San Juan, Puerto Rico?
The US Dollars is the official currency here.
Is San Juan Safe?
Crime Rate
Violent crimes in Sanjuan-Carolina-Cagyus metro area are 175.9 per 100000. Property Crime in this area is 500.2 per 100000. When compared to historical data, the rate is dropping fast.
The average violent crime rate is 390.2 per 100000. The property crime is 2008.2, meaning San Juan is very safe in comparison. These stats are as per FBI UCR publications.
Current Covid Scenario:
The infection rate is 0.90 until December 14, 2021. Eighty-three percent of the people have received the first dose, and there are only 3.3 covid cases per 100k people. San Juan is very prepared against covid.