A door hinge is a small piece of hardware that connects the door to the frame. The function of a hinge is to aid in the swing, opening, and closing of the doors. It also helps in the proper placement of the door. Almost anything with a door, such as closets, gates, kitchen cabinets, and even refrigerators, has a hinge to keep the door upright and stay in place.
Door Hinges Details
Hinges usually consist of two leaves and a knuckle in most cases. The knuckle is made up of interlocking pieces that are usually odd in number. A pin goes through the knuckle's center and serves as an axis. And further, screws are used to attach the hinge to the door.
Steel, brass, copper, and other metals are commonly used for making hinges. Residential-grade steel is one of the strongest materials used for making hinges as it is designed to withstand the wear and strain of everyday usage.
Things to Consider
To get the right hinges it is recommended to consider the door's height, width, thickness, position, and most importantly weight.
If you are looking for hinges for exterior doors go for the stainless steel hinges
We have listed different types of hinges along with where they suit the best below.
Types of Door Hinges
To avoid the annoying creaky sounds coming from the door, it is necessary to get the right hinge. There are various types of hinges available you must choose the one that best matches your needs. Based on the type, size, and location of the door i.e. it is for an interior or exterior door.
Barrel Hinge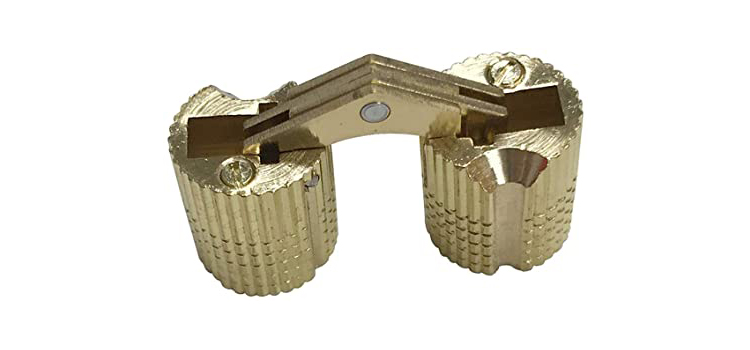 Barrel Hing is made up of brass. They are used for small wooden-related projects such as jewelry boxes, miniature cabinets, or any other small boxes. This type of hinge is not suitable for heavy application. And are best if you want your hinge to remain hidden.
Butt Hinge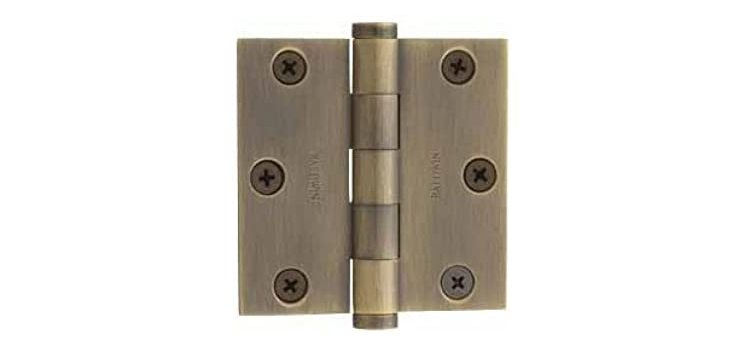 They are the most common types of hinges available in the market. A butt hinge has two rectangular leaves with knuckles in the center and is linked together by a pin. This type of hinge is used for very light doors mostly for the interior.
Ball Bearing Hinge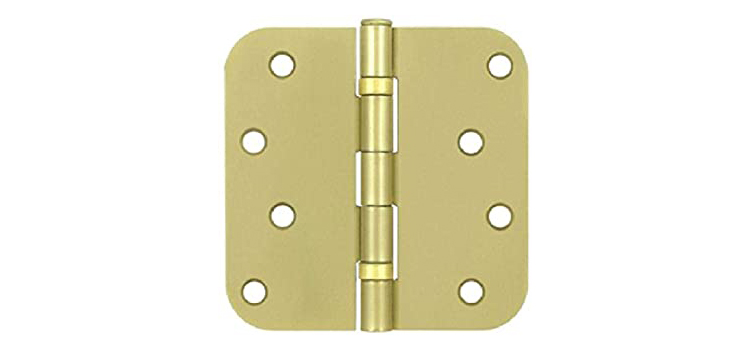 Ball-bearing Hing is the type of Butt Hing. This type of hinge is perfect for heavy doors or doors that are used frequently. They have those hidden bearings between the knuckles to reduce friction and allow those heavy doors to move more smoothly.
Spring-loaded Butt Hinge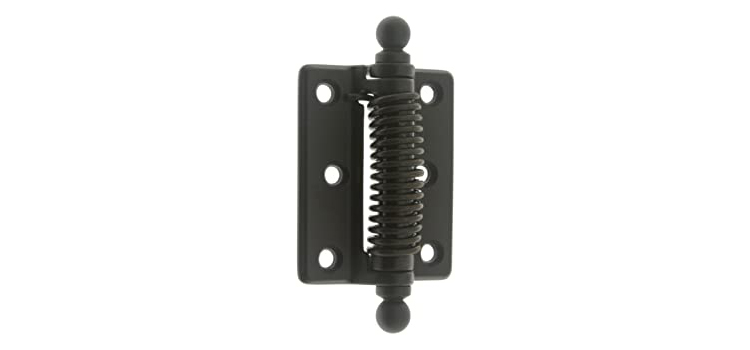 Another type of hinge that differs from the normal butt hinge is the spring-loaded butt hinge. This type of hinge is used for screen doors. The spring is installed in the hinge which allows you to adjust the speed at which your door closes. All you have to do is slightly tighten or loosen the spring.
Rising Butt Hinge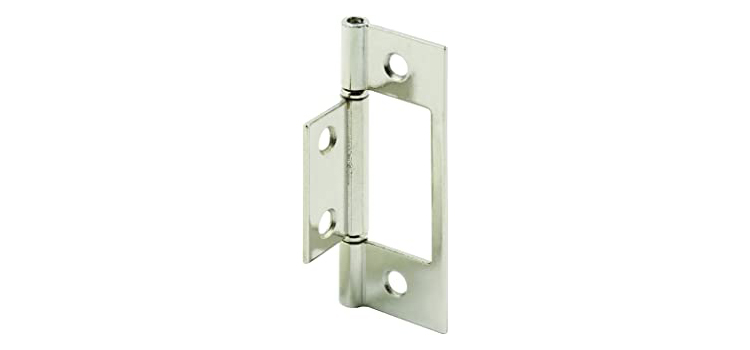 As the name implies rising butt hinge helps the door to increase by a few inches. Which will help to clear a thick pile of carpet or a strip of wood forming the bottom of a doorway. When you close the door it will look like a normal hinge though.
Concealed Hinge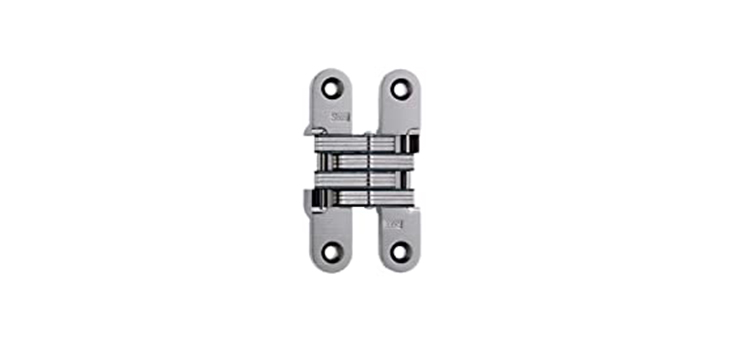 Concealed Hing is also known as the hidden or invisible hinge. These types of the hinge are perfect if you don't want the hinge to be visible. They are perfect for aesthetic doors, and kitchen cabinets where the hinge will detract from their appearance as the hinge are perfectly obscured when you see from the outside.
The Butterfly Door Hinge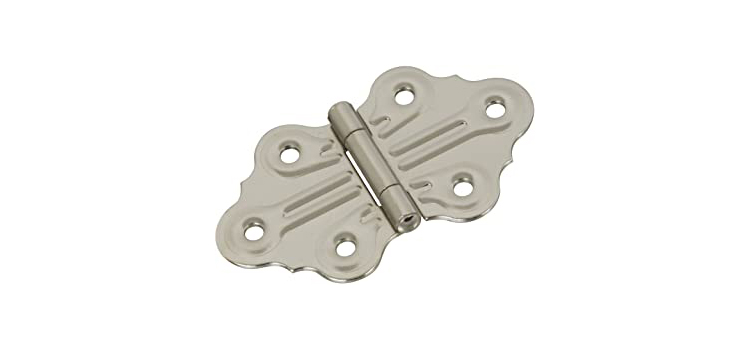 As the name says, its shape is like a butterfly wing and is very popular for interior doors. They are very easy to install and can be used if you are looking for a decorative hinge for your door this can be the best choice as you can customize your own design for the wing part in the butterfly hinge. This type of hinge is not suitable for heavy doors.
Piano Hinge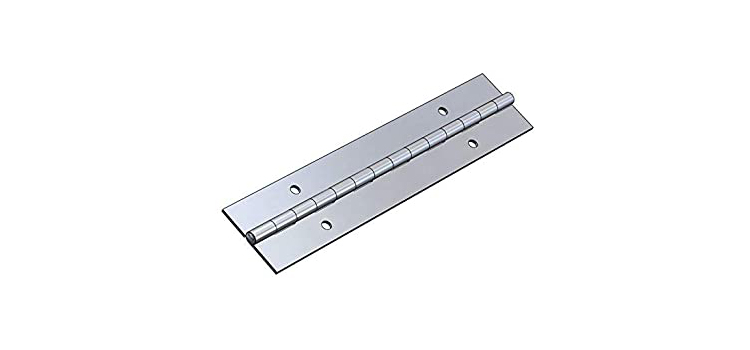 The piano hinge or continuous hinge is around 2 meters long and looks like a piano lid. This type of hinge was first used only in the piano lid and piano desk door. However, they are now used in workbenches, cabinet doors, toy boxes, and fold-down desks.
Overlay Hinge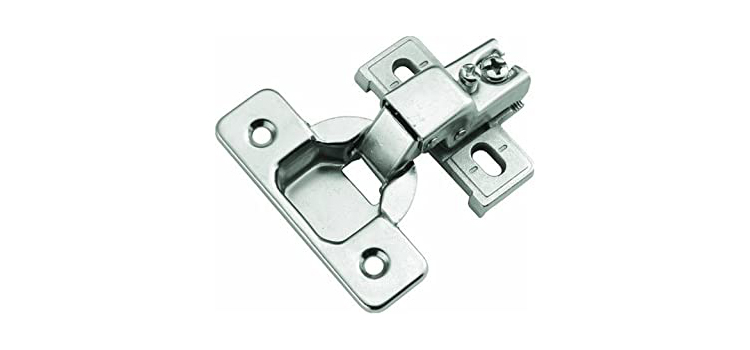 This type of hinge is used for cabinets. These types of hinges are designed in a very clever way as they can fold it back on themself. If you are looking for a hinge that will help in reducing the thickness in the cabinet you should opt for this one as it folds on itself. It won't add any thickness to the cabinet. If the hinges on your cabinet doors are causing them to not sit flush against the cabinet, you should consider switching to overlay hinges.
Cylinder Hinge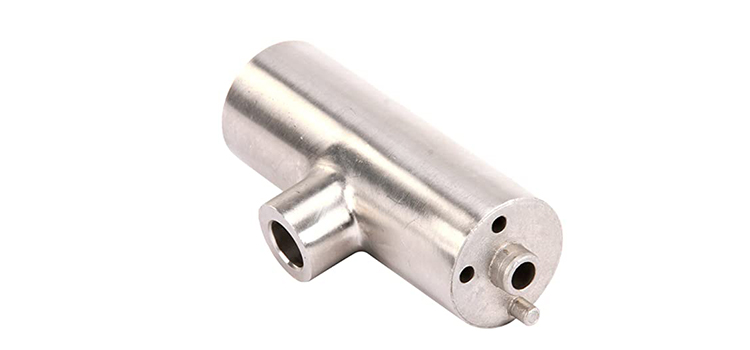 This type of hinge is invisible and also allow a door to open a full 180 degree. So this type of hinge is perfect for bifold and concertina doors. Cylinder door hinges are hidden when the door is closed because they are inserted into holes punched in the wood.
Strap Hinge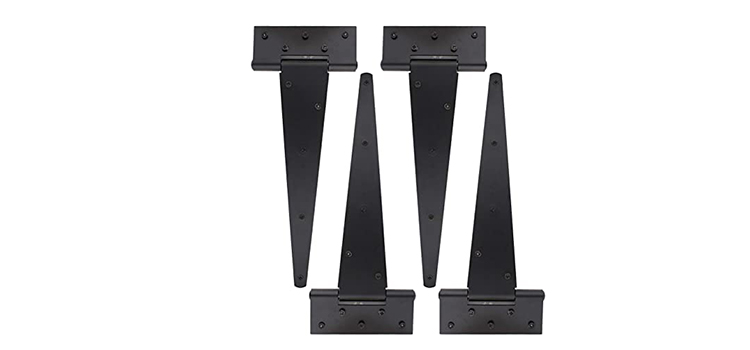 Strap hinges are long and slim. It is made up of two triangular-shaped metal components joined by a revolving axis in the center. This type of hinge is common for gates and is suitable for heavy doors or barn doors. Small strap hinges are used for interior decoration as well.
Offset Hinge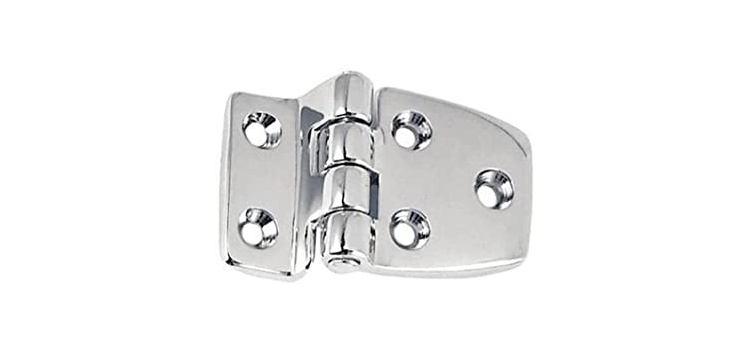 This unique hinge allows you to swing the door out from the frame, allowing you to extend the aperture by two inches. This type of hinge is used for full-size doors commonly seen in restaurants and commercial stores.
Knife / Pivot Hinge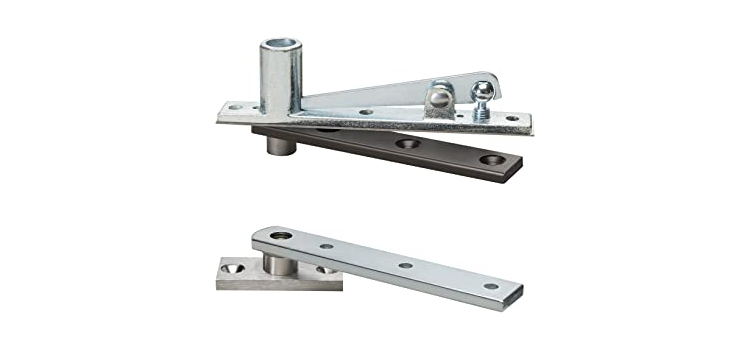 A knife hinge also known as Pivot Hinge looks like a pair of blades. And are used for heavy doors and cabinets. One part of the hinge is attached to the cabinet and the other to the cabinet door. These types of the hinge are very large and heavy.
The Double Action Spring Hinge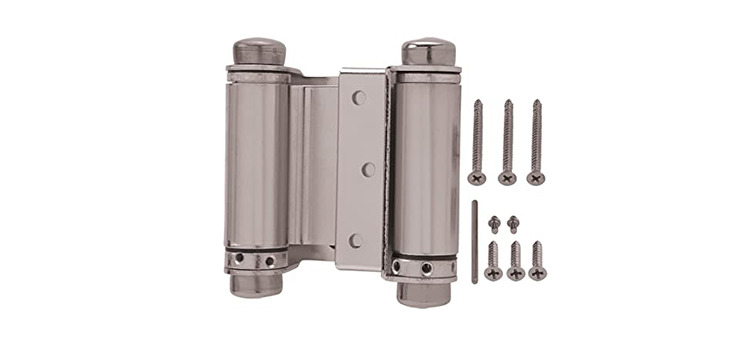 This type of door can be opened in both directions. Because of the spring motion, the door will automatically close after it has been opened. This type of door is common in salons, restaurants, and other shops.
The Take Apart Hinge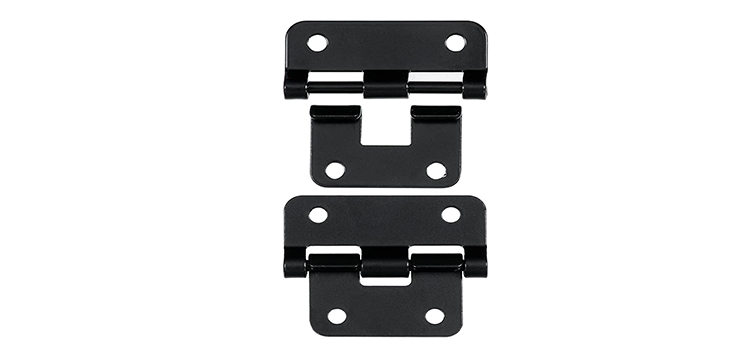 The Take Apart Hinge is designed in a way where the door can be easily attached and reinstalled. This could be beneficial if you have a tight entryway and need to remove heavy things in and out frequently. In this type of hinge, all you have to do is remove the middle pin from the hinge, and the door gets detached from the frame.
The Case Hinge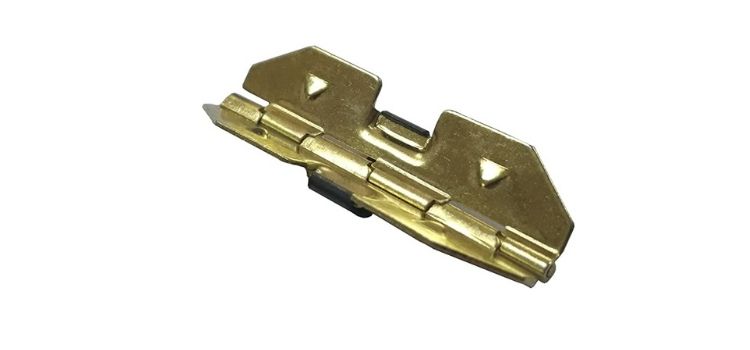 As the name comes from the fact that this type of hinge is used in briefcases and suitcases. They have a weight-bearing capacity as well as a fancy look. Hence they are even perfect for outdoor doors as they can bear the weight and give a good look too.
Hospital Hinge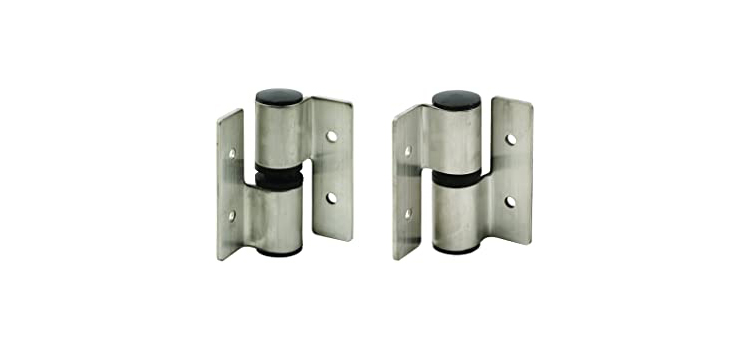 These types of hinges are small and somehow similar to butt hinges. They are commonly used in hospitals, health care facilities, and jails. Hospital hinges are also built with the protection of vulnerable patients in mind, as they possess features that prevent someone from taking sections of the hinge and using them to harm themselves.
The Flush Hinge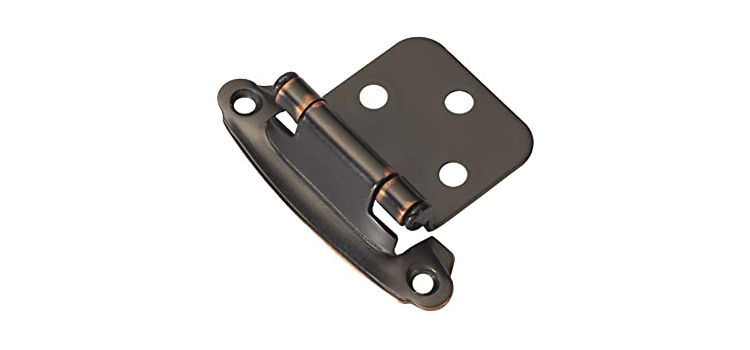 Flush hinges are recommended for small spaces if you are looking to save space. When the door is closed, one of the leaves compresses against the other and it helps to save space. But you need to be careful as this type of hinge is not suitable for heavy doors. They can break easily.
Heavy Duty Hinge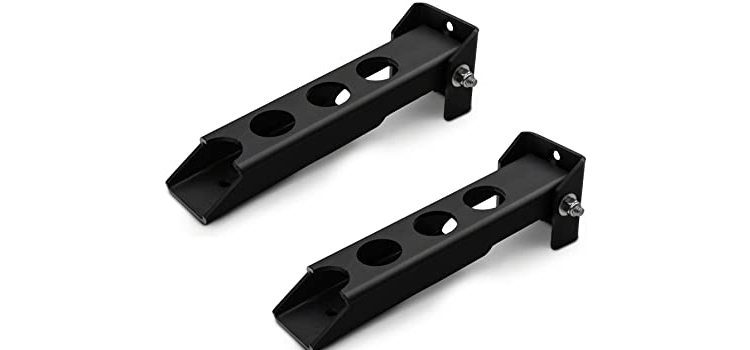 This type of hinge is very thick, bulky, and strong. Which makes it perfect for entry doors, heavy gates, and big furniture. This type of hinge is commonly used in factory and industry doors.
The Olive Knuckle Hinge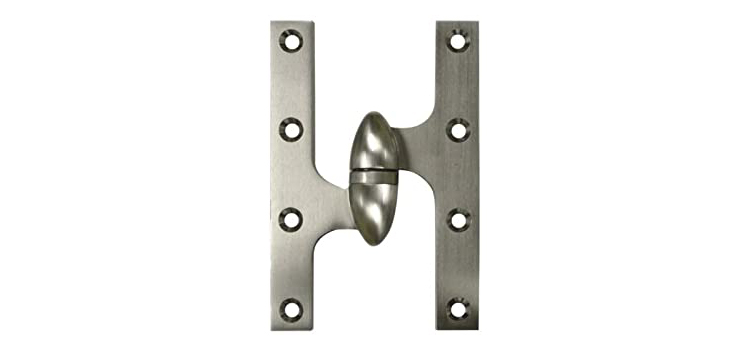 Olive Knuckle Hinge is also known as the H-shape Hinge. This type of hinge looks like an H shape when the door is closed and the only knuckle is visible. They distribute the weight evenly so are suitable for heavy doors. They are very attractive too so they are used for interior doors as well.
Finally,
Hinges come in a variety of materials like steel, brass, bronze, and copper and you can even custom your design for the perfection you want for your door. Depending upon where the door will be installed, how the hinge will be used, and how you want it to look you can opt for the best hinge. And if you want your hinges to remain hidden go for an invisible hinge.