Your best friend just called to say she's coming over for a sleepover at your house. Tell us how excited you are now. Isn't it a little too excited? After all, nothing in this world can't be fixed by a good sleepover and a heart-to-heart with your best friend. Even though it is called a sleepover, we do everything except sleep.
And you don't want to waste your much-anticipated sleepover doing the same thing or wondering what to do to make it memorable. If you're looking for some fun ideas to try late at night, we've got you covered with everything from making a late-night dish to filming a podcast. After all, everyone plans a sleepover to have a fun-filled memorable night away from others.
Things To Do At A Sleepover With Your Best Friend
Give a Make-over to Each Other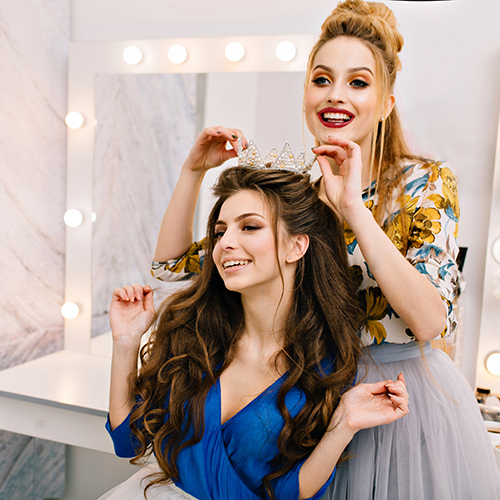 Girls and make-over; name a better duo, and we will wait! So, why don't you start your great sleepover party by setting up a hair-braiding station inside your room, giving it a full salon vibe? Don't just stop there! Bring those shimmering lights and fix them around the mirror. Now you two besties can apply new makeup looks to each other, just like a pro. It does not matter if you are just a beginner with make-up; the whole purpose is to have fun. Play those YouTube tutorials or Instagram reels. You can get ideas literally from anywhere.
Have a glamorous photoshoot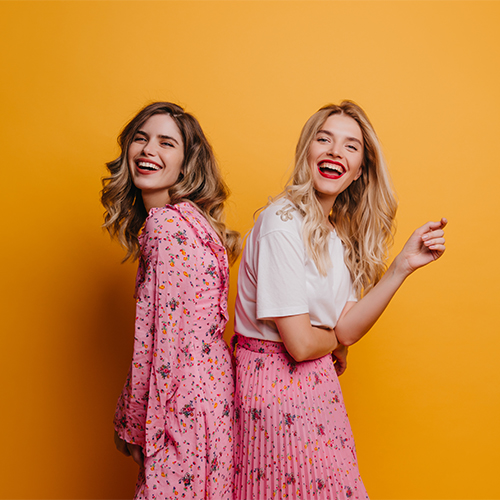 Now that you have got all the glitters and gold on your body, it's the perfect time to have that glamorous photoshoot. So girls, get your hands with anything lying around in your room. Make use of those curtains or satin covers; let the supermodels shy tonight because it is your night to shine!
And if you fail on your own, let the OG "Internet" be your guidance! Why not stretch a bit and post those fun snaps on your social media? Let everyone know how much fun you had while the world is sleeping.
Make Tiktoks Together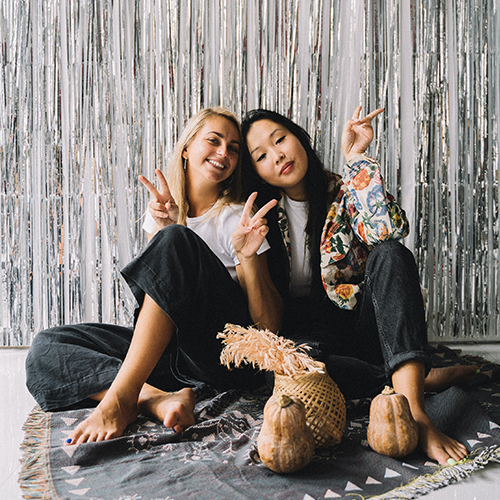 Seriously, who does not love spending their time on TikTok these days? The whole point of TikTok is that it's entertaining, and this app has unlimited choices, ranging from dances and amusing skits to cosplaying and acting.
Sweetums, join the parade and create some funny videos together. Not just you'll have fun, but you guys might go viral when you wake up the next morning after your fun sleepover!
Plan a Movie Marathon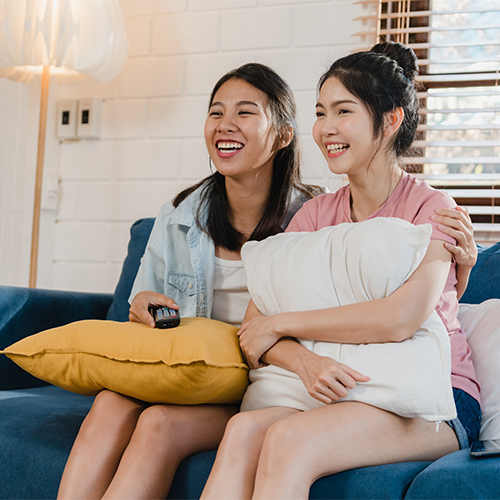 A gold idea that never goes wrong! Get inside a warm blanket with a big tub of popcorn and start a movie marathon. Share the story of some iconic films with your best friend.
You can choose famous rom-coms of the 80s or 90s, or if you love superheroes, you can select Marvel films. If nothing else, you can always watch Harry Potter for the millionth time!
Play a Round of Truth or Dare
It is the perfect time to spill those beans with your best bud or maybe try some funny, daring stuff. You can also have your variations on the rules.
Besides truth or dare, you may also play board games as the choices are unlimited! The benefit of "truth or dare" is that it can be played if there are just two of you during the sleepover.
Try to Recreate Your Favorite Nail Art
Feeling bored with your nails? So, why don't you give some TLC to your poor neglected nails?! Search nail arts on the Internet and recreate them for each other. Moreover, you can use those accessories like studs, glitters, etc., to take your nail art to the next level.
Indoor Camping
How about pulling indoor camping using a tent, some cozy mattresses, and blankets to snuggle in? And oh, light those Christmas bulbs to jazz the vibe and bring in a whole lot of snacks to munch in.
An additional tip: Throw an indoor beach party!. Wearing swimsuits, playing water games, eating a lot of popsicles, and "swimming" is sure a super fun idea if you have a group of best friends.
Bonfire or Outdoor Camping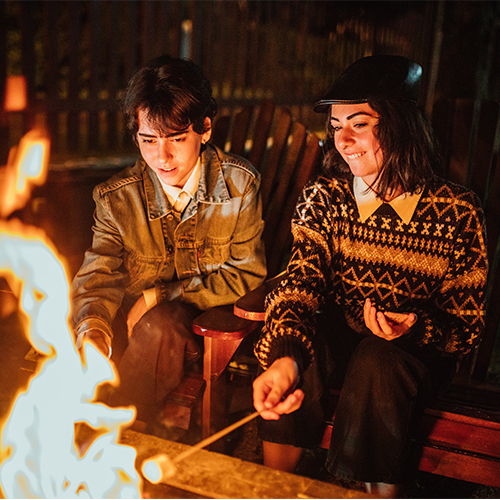 Not so interested in indoor camping? Then, you can create a feeling of original camping by taking your tent outside. It could be inside your house compound or a nearby park. Make sure it is a safe place, and at the same time, you can have all the fun of outdoor camping.
If it is one of those winter nights, you can make a bonfire and have your family members also gather. Listening to old life stories while munching those late-night snacks feels great. Oh, you can also do barbeque.
Take a Stroll Around Your Neighborhood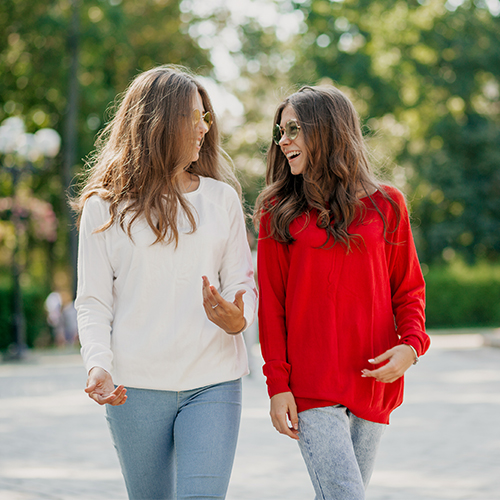 Walk around your neighborhood when everyone has either slept or eaten their dinner. Sounds fun, right? There might be a food truck somewhere in the corner or an ice cream parlor that opens till late night. It is whole another fun to devour ice cream sneaking around at night!
Redecorate Your Friend's Room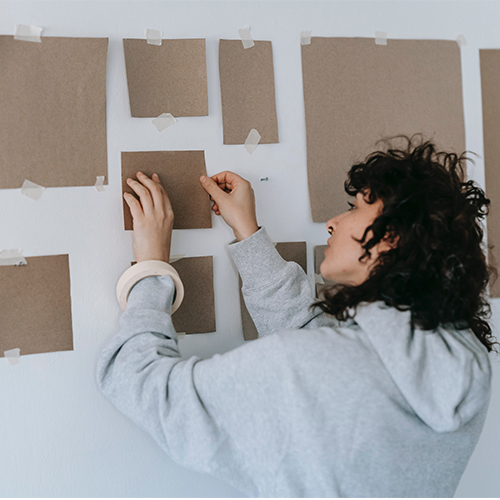 Why have a make-over just for yourself? Another fun (and productive) idea to spend your sleepover is rearranging your best friend's room and giving it a new look. Believe us; you'll feel great when you leave the next day. Well, you might get more invitations for such sleepovers as well!
Film a Funny Podcast
You can film a hilarious podcast during your sleepover. If you are skeptical, you can choose to record an audio podcast. Your friend can act as a host, and you can throw some light on a current event or on any subject you have quite a knowledge of.
Bake a Cake or Bake Anything Together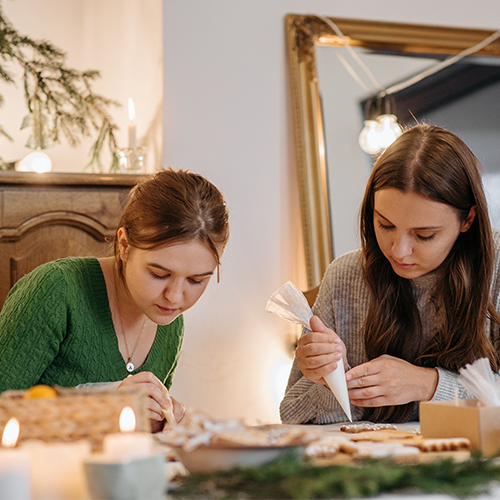 Oooooh- Baking! Everyone loves to bake or, if not, loves to eat. You can bake cupcakes, banana bread, a legit birthday cake, anything just for fun and obviously for eating. Or, if you got ingredients, you can stretch a bit and bake pizzas for your movie marathon!
Prepare a Late-night Snack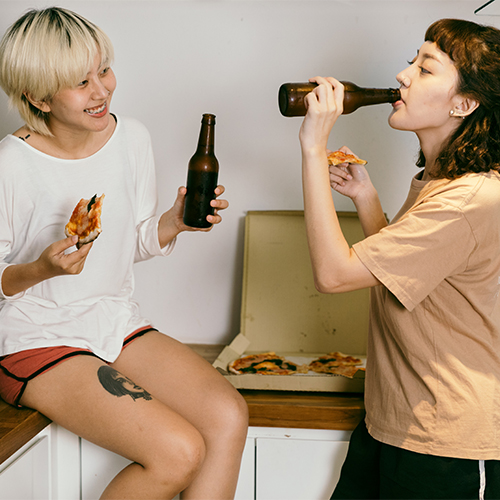 One rule of a sleepover is to prepare or buy as many snacks as possible. You probably might stay awake till morning, so the more, the better!
There, you can take your creativity to the kitchen and prepare some light-snack to munch during your late-night activities. Some of the ideas for the late-night snack include pizza roll-ups, anything Nutella, bacon, mug brownies, tortilla chips, hummus, nachos, and so on.
If you want to stay healthy, you may prepare Greek Yogurt with frozen fruits, PBJ, oatmeal and nuts, and a lot more.
Shoot the Vlogging
Take out the camera and start rolling! Whether you are baking cake in the kitchen, re-doing the room, or painting your nails, one of the ways to make this sleepover more memorable is to film it. Make a video (vlog) of your activities, edit it later, and even post it on social media.
Make Your Jewelry
How about getting crafty? You and your friend can make earrings, pendants, bracelets, and several other jewelries for each other while you are at a sleepover. They are easy to make and will be a sweet present for one another.
Smash That Karaoke Machine
No matter what the event is, karaoke is always fun. So, sing your heart out with your best friend during your sleepover. Additionally, you can dance too!
Do Job Hunting
Sleepovers are also for meaningful life conversations! While you guys are in the mid of it, it might strike that having a job would be great. Such realizations often arrive during sleepovers, lol. You can create your CVs and job hunt on the internet. Maybe also apply to a couple of them.
Sleep Under the Stars and Stargaze
Have you planned your sleepover on one of those special nights when there will be a meteor shower? Then, it is a perfect night for arranging your beds under the sky and sleeping while stargazing.
Even if there is no such big event, you can always enjoy sleeping under the night sky and discussing your feelings with your best person.
Watch the Sunrise Together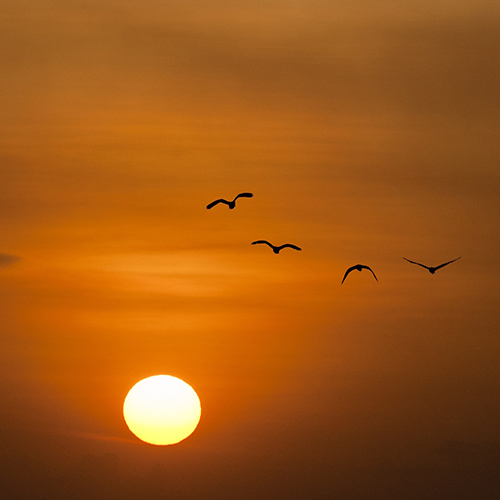 Sunrises do not get enough credit as sunsets. Plan to wake up extra early and go over some nearby hill to watch a sunrise. You guys won't regret it, as mornings are equally magical and fill you with energy for the day.
Organize a Fashion Show
Oh, so you like drama? Channel out your inner Lady Gaga and film yourself walking a "ramp." You can try different types of dresses, get opinions from each other, and have one crazy night together.
Scavenger Hunt
Scavenger hunts are always entertaining. One can have as many variations as they like while planning this game. You can play it the old way, designing a map for the fortune, or several apps these days will give you ideas. Ensure a time limit for the hunter to collect all the items.
Make a Massive Cheeseboard
Another food idea! A cheeseboard does not look aesthetic but gives you unlimited options of snacks to munch in. Do not forget the basics like CHEESE, crackers, nuts, spreads, and fresh fruits. Afterward, you can add as much as the board holds.
You can also prepare a charcuterie board; whole meat treats on a grand board. Or, you can be creative and have both of these boards in a single one. That way, you will have a million delicacies on a single board.
Binge Watch a Tv Show
Yet another fun idea to spend a night together with your best friend! Watch that one trendy show that everyone is watching. You can also randomly watch some good old TV shows like F.R.I.E.N.D.S or Big Bang Theory to re-live them.
Apply Face Mask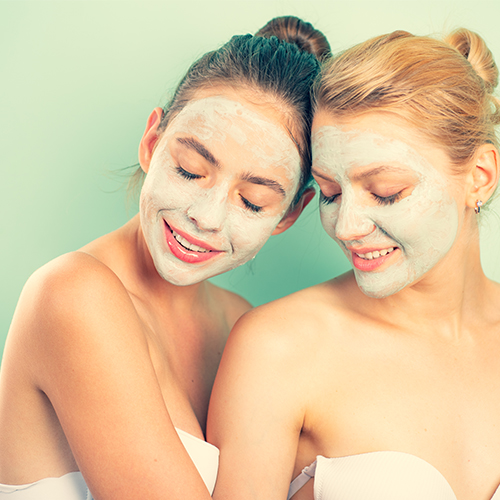 Get glowing, you girls! There must be a tub of face masks you bought but never cared enough to apply. During the sleepover, you can try that. Make it like a spa night and pamper yourself. You will love the compliments you get from other friends the next day.
Give Each Other Manicure and Pedicure
Ladies, your nails have been neglected enough! Well, we already talked about painting nails, but you can give all the love to your nails before doing so. You can easily learn the at-home procedure for manicures and pedicures from the internet.
Have an Honest Late-night Conversation
It is not mandatory that you must do different sorts of activities during your night stay. Sometimes, you just need to have an honest heart-to-heart conversation, and it is always a great idea to open up with your best friend.
Prepare South-Asian Dishes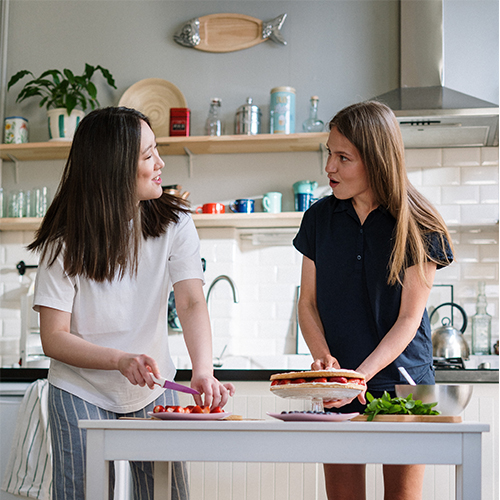 The two most famous South-Asian food dishes must be sushi and ramen. Sushi is a simple dish that tastes exquisite yet requires very few basic ingredients to prepare. Likewise, ramen is comfort food, even simpler to prepare.
If you are hungry but bored of those cheese and nachos, you can prepare these dishes. So, get the chef-mode on and add some flavors to the nightlife!
Build a Fort
Building a pillow fort or having a pillow fight is one of the classic ideas every girl tries while spending time with their friends. Now, you can get a little more creative and add layers of blankets or curtains to make it cozier.
Engage Yourself in DIY
Pick one option and prepare something nice for your best friend from those infinite life-hacks or DIY stuff on the internet. One good idea might be to make a tie-dye tee using one of your old white clothes.
Do Pinterest Challenges
When it comes to a fun-filled night with your friends, there are so many challenges you can take. There are several posts on Pinterest or Youtube from which you can borrow one and complete the task.
Make Some Cocktails
Boozes are integral to any party, and making cocktails are another exciting way to enjoy this night. However, this could be hard to arrange if you are not an adult and live with your parents. If this is impossible, you can try making mocktails or fruit punches. Make sure they look fancy and taste delicious!
Prepare Pancakes for Breakfast
Sleeping over ends with morning, and the best way to start your morning is with some good gooey pancakes served with maple syrup and berries. This way, before leaving for your home, you guys can have one more activity together!
Wrapping Up
Every friend is different, and there are no hard and fast rules for having a fun sleepover. Make sure you keep the essence of the night alive and do the things that excite you both. Finally, as long as you're having fun with your friends, the nature of the activities doesn't matter.