Wood flooring, as opposed to tiles, has an aesthetic and elegant finish that enhances the beauty of the bathroom. Furthermore, they are warm and smooth, giving your threshold a spa-like feel.
But, wood flooring has drawbacks, just like anything else. Wood is easily damaged by moisture because it is porous.
It may warp and rot very quickly as a result. Soaked wood flooring deteriorates faster and collects mold and mildew in a short period. When exposed to mold, you and your family can be affected by its fungus and have serious health hazards.
Therefore, it is important to waterproof the wood surface to make it last longer and prevent your family from getting health issues.
Benefits of Waterproofing Wood for Bathroom
Before moving into the strategies to waterproof the bathroom wood floor. Here are amazing benefits you should know.
Durable: When water cannot seep through the wooden surface, it automatically will last longer than the unsealed wood floor. It is stable as spills and stains will also not affect the bathroom surface.
Easy to maintain: The non-protected wood flooring is susceptible to spills and water. Maintaining it is tougher in comparison to waterproof wooden floors. You will need to wipe or vacuum the protected wood floor. As it is stain-resistant, you don't have to worry about extra elbow grease.
Prevent leaks and mold growth: Among other rooms in your house, the bathroom is the most condensed one. Condensation makes the floor easily subjected to mold growth. Protecting the floor, however, saves it from this issue.
Extra Insulation: Waterproofing the wood floors also provides insulation in the colder months. Unlike the nonprotective wood floors, they do not let cold air seep through the outside temperature.
Saves repair money: With no warping and rotting in the wooden floor after the waterproofing. You don't have to face the issues on the bathroom floor. It will help you save up the repair money.
How To Waterproof Wood for Bathroom
Water and moisture are an issue in all types of wood flooring. Even though some wood types are somehow water-resistant, like bamboo wood flooring, it is not moisture-free. The same is true for engineered hardwood floors.
Prepare the Bathroom Floor for Waterproofing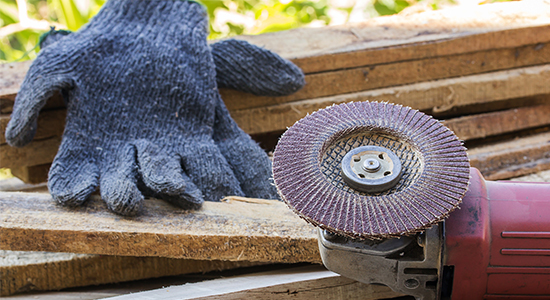 Gear up with a proper mask, safety glasses, shoes, and a long-sleeved shirt. Move on to preparing the surfaces next. Follow the below suggestions before moving into the next step.
Use fine grit (220) sandpaper on rough surfaces to make the surface look even.
Remove the dirt and debris with a dry cloth.
If you perceive mold growth, eliminate it using bleach and water solution.
Use wood putty to fill up holes.
Waterproofing Bathroom Wood Floor With Oil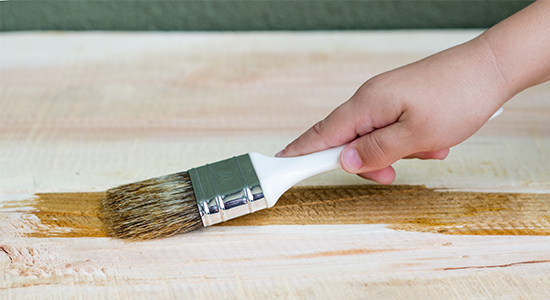 Waterproofing the wood floor with oil is an easy and cheap way. Refinishing the wood floor with this method has a satisfying result. First, select the oil you want to continue waterproofing your bathroom. There are various kinds of oil available in the market. Some of them are tung, linseed, and teak oil.
Tung oil: Tung oil is considered a durable barrier on wood surfaces. It leaves a beautiful wet finish that is satisfying to the eyes. You can apply it on wooden floors and metal, concrete, and brick surfaces. If you purchase a gallon of tung oil, it can cover 400 square feet of wood. But, bear this in mind, it takes 7-14 days to cure.
Linseed oil: Linseed oil is cheaper than tung oil. Also, it comes in multi-colors and finishes that you can easily purchase in hardware stores. The result from coating the surface with linseed oil has a glossy finish. But, it takes longer to cure than the tung oil.
Teak oil: Teak oil, also known as walnut oil, has a beautiful finish on the wooden floor. If you are allergic to walnuts, it is recommended not to use them on your bathroom surface. It can cause a serious allergic reaction.
Always ventilate your room while coating the oil.
Use hard gloves to help you protect yourself from chemicals.
Do not mix the oil with water.
Test the method in a small area first before applying.
Steps:
Choose the oil that is suitable for you in a hardware store.
Create a mixture of one part of (tung, teak, linseed) oil and four parts of mineral spirit/paint thinner in a metal container. Blend them well and be ready to coat them.
Use a clean rag or brush to apply the first coat. Pour a small amount of oil into the rag and start coating with the same rag or a brush. Apply the layer if you think it is thin.
Let the coat sit for 15-30 minutes.
Wipe away extra puddles of oil so that the coating remains even.
Let the coating dry for 24 hours.
After drying, use fine-grit sandpaper for sanding the surface gently. Doing this will allow the surface to be too smooth.
Apply the second coat and brush the oil in the same direction to make it even.
Let it cure for a week.
Applying Sealant To Protect the Bathroom Wood Floor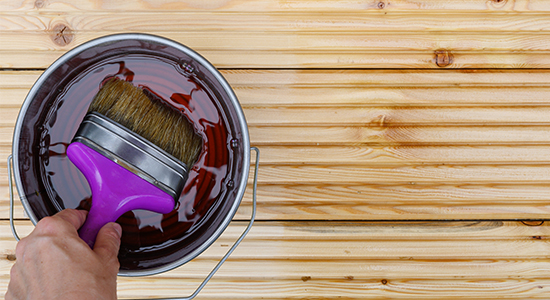 The wood sealant is one of the well-known wood proofing methods as the finish of this sealant is glossy and smooth. Additionally, it dries super fast in comparison to its oil counterpart.
There are mainly three types of sealant you can choose. They are:
Polyurethane: This sealant is made up of a mixture of polyurethane and acrylic with different solvents. It is durable, water-resistant, that provides a sleek finish on wood surfaces. Also, it is easy to apply.
Varnish: The main purpose of varnish is to protect the wood surface from water while showing off the wood's natural beauty. It can be tricky to apply to beginners. It is high intensity of water resistance and has a UV ray protection advantage.
Lacquer: It is a mixture of alcohol and resin. This sealant can provide glossy and sheen shine on wooden surfaces. The only drawback of this sealant is it produces toxic fumes. It would help if you geared up with protective goggles and a mask while applying it.
Steps:
Pour a small amount of sealant into a container and mix it well before use.
Utilize a paintbrush or soft-bristled brush and apply sealant evenly on the surface. Make sure to apply it at room temperature.
Use a paper towel or a clean rag to blot the excess liquid.
Let it dry for 4-10 hours. Mostly, sealant takes less time to dry than oil. So, you can move on to the next step as soon as you notice the dried surface.
Go over the area with sandpaper or 0000 steel wool to clean the sealant.
Coat the second layer of sealant after cleaning the first one. If necessary, you can add the third layer after the second coat is dried.
Finally, let it cure for at least 24 days before using the bathroom.
Polyester Resin and Acetone as a Waterproofing Method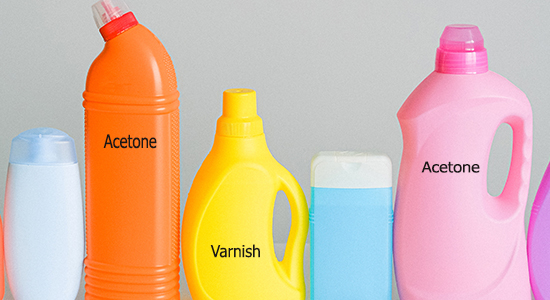 The mixture of polyester resin and pure acetone can also be a great way to waterproof your bathroom floor. Make sure to select only polyester resin, which is popularly used for wood applications. The polyester resin is also divided into two types.
Finishing resin: It can be used without the sealers. It does not take much time to dry up in the case of finishing resin.
Laminating resin: This polyester resin is used over sealers and takes more time to dry than finishing resin. But, it gives a nice and glossy finish to the wooden floors.
Also, while buying the acetone, ensure it is not mixed with other chemicals. You can read the label before buying the product. The acetone helps the resin to become thinner. So, the coating would be easier.
Steps:
Mix resin and a few drops of acetone in a bucket. Do not add too much acetone; it can make the mixture too thin. If the solution is thin, you can add resin to make it consistent.
Proceed to apply the first layer with a soft bristle paint brush or a paint roller.
Use a clean cloth to wipe up the excess sealant.
Wait 20-30 minutes before applying the second coat.
Apply the second and third coats after the first is dried. Doing this will make the waterproofing strong and flawless.
Cure the seal overnight. You can test splashing a small amount of water in the corner to make sure.
Use Wood Stain and Varnish for Wood Waterproofing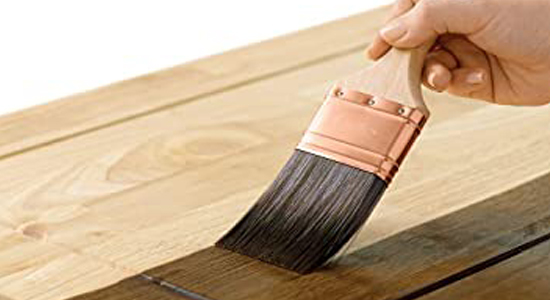 The combination of Stain and varnish is a great method to waterproof the wood, and it also protects the wood from fading.
Choose lighter stains to waterproof the interior space like the bathroom. Light Stain has more oil content, giving the wood floor more detailing and sleekness.
Steps:
Make a mixture of enough varnish needed for your bathroom and add a few drops of Stain in a bucket.
Utilize a paintbrush or a paint roller and dip it in the mixture.
Proceed to apply the first layer evenly on the surface.
Let it cure overnight.
Apply the second and third coats using the same procedure.
Finally, let the whole area cure for at least three days before using it.
Finally,
Waterproofing wood can last for many years if done properly. According to the sealant you applied to the bathroom surface, it is advised that you reapply it after a few years. If you do, your bathroom floor will remain clean. If you're unsure how to apply the sealants, seek professional assistance.