The good news about asparagus is that it has a long list of health advantages and the bad news on the other hand is this seasonal springtime vegetable is spoiled real quick.
So the only option you are left with if you want to enjoy and make the most out of this seasonal vegetable all around the year is to store it. Yes you heard it right it can be stored and you can enjoy your asparagus wrapped with bacon, asparagus soup, or plain oven-roasted asparagus throughout the year.
The method you opt for can fluctuate according to the duration you want to store your asparagus. Not only it can be stored raw but you can also choose to pickle, cook or simply can them as per your preference. But to maintain the taste intact and keep them fresh you have to choose the best method possible and keep an eye on your asparagus often.
A minor blunder in the storing or maintenance process might completely ruin your asparagus, so thoroughly go through the methods and procedures outlined below to get the job done right.
Tips for Better Storing of Asparagus
Avoid the top shelf in the fridge: When storing fresh asparagus in the refrigerator, avoid placing it on the top shelf as some (older) fridges may freeze water. This may freeze the vegetable as well.
After three days, check the water and replace it if it appears cloudy. Examine the spears to ensure they are still in good shape and that the asparagus does not have an unpleasant acrid smell.
Try not to overcrowd the jar. If you have a large bunch of asparagus (or numerous bunches), keep them in separate jars/glasses
These storing suggestions apply to all species of asparagus: White asparagus, purple asparagus, and thin and thick spears are all included.
It also helps to prevent UTIs (Urinary Tract Infections) since it contains a high level of asparagine, an amino acid that aids in the removal of excess fluid, salt, and dangerous germs from the body through frequent urination.
How to Store Your Asparagus Properly?
Storing Asparagus With a Wet Paper Towel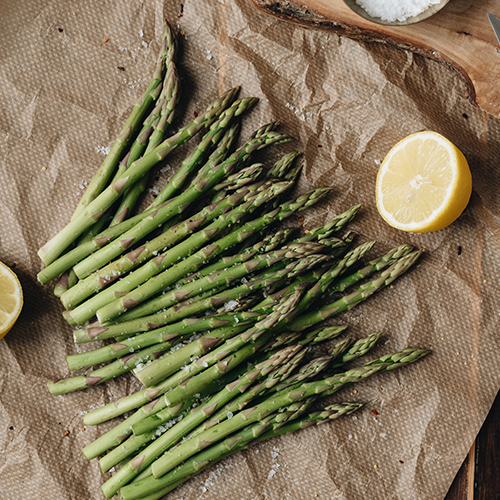 This method is suitable if your asparagus is in small quantities and you want to store it for just 4-5 days or maximum for a week. In this method, you can simply preserve the asparagus by wrapping it in paper towels. You won't have to worry about your asparagus becoming unappealing or soggy not for a week at least with this method.
What Do You Need
Asparagus
A plastic box
Wet paper towel
2 rubber bands
Steps
Trim the rough and woody parts at the bottom (around 1cm) of the plant with a sharp knife.
With the rubber band, tie your asparagus into a bundle
Don't tie it too tightly as they might press against each other and your asparagus is likely to rot quickly.
Wrap a wet paper towel around your asparagus bundle and bind it with a rubber band again.
Place them in a plastic container and seal them.
If the container is not available you can even use a plastic bag but make sure you seal it well.
The refrigerator has a dry environment, shut the box tightly. If your asparagus is exposed, it will wilt.
Put the asparagus in the fridge.
Using Your Jam or Pickle Jar to Store Asparagus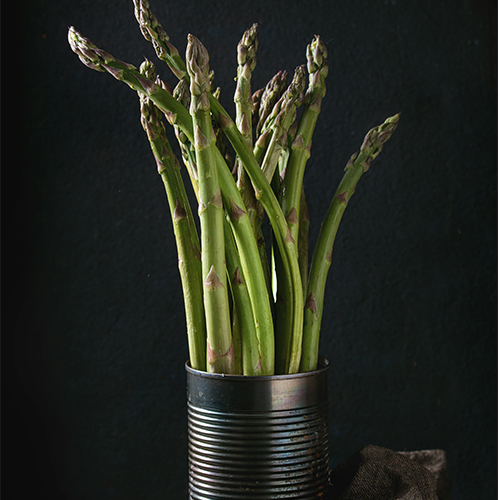 A glass mason jar, flower vase, empty jelly jar, or pickle jar will be perfect to store asparagus for this method. You can even opt for a strong plastic storage bag if you want to preserve room in your refrigerator. This method is suitable if you want to store your asparagus for 10-15 days.
What Do You Need
Asparagus
A plastic or glass jar
Plastic bag
Rubber band
Coldwater
Steps
Fill the jar or container with half water (around 5cm). Make sure the container is clean.
Cut the wilted part of the asparagus
With the rubber band, tie your asparagus into a bundle. Remember not to tie it too tightly.
Put your asparagus bundle in the jar.
Store the asparagus upright in the container. Placed the white woody side on the bottom.
It will help to soak up the water and keep them fresh and firm that way.
Cover the tips of asparagus with a plastic bag. It will prevent it from drying out and wilting in the refrigerator.
Now place it in the refrigerator.
Change the water after every 3-4 days when it gets cloudy.
Freezing Asparagus to Keep Them Last Long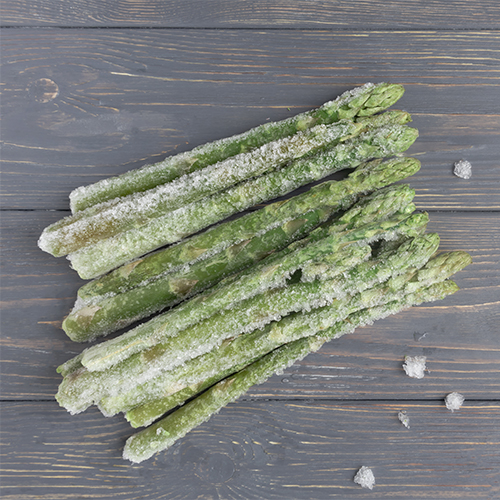 This method is best if you want to store your asparagus for the longest time like one year or so. It's not as simple as throwing asparagus in the freezer and forgetting about it. To keep the flavor and integrity you will have to do some work now and then.
What Do You Need
Asparagus
Plastic box or container
Pots
Large bowl
Kitchen towel
Baking sheet
Zip-lock airtight bag or container
Steps
Prepare the asparagus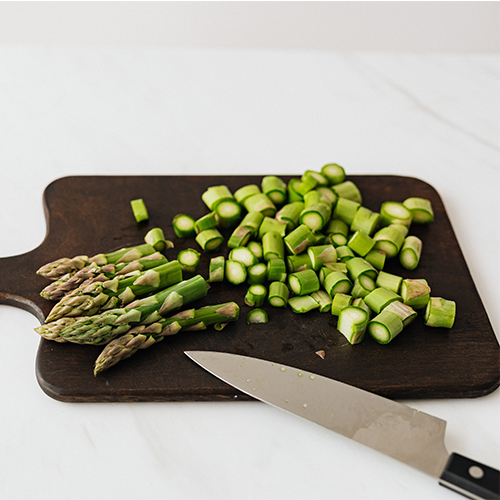 Pick the best and most fresh asparagus spears from the bunch. Asparagus that is thicker than a pen will freeze better than asparagus that is thinner. Also, check they are fresh and haven't gone limp or woody. There should be no mushy, soggy, wilted, faded, or brown spears as they will not taste good after freezing and might even ruin other spears.
Wash the best-selected spears which you want to store with cold water. Make sure there is no dust left in them. Now trim the white woody part in the end with a knife. You can trim about an inch and the same can be used for making soup later. After trimming, use a swivel peeler to remove the tough outer layer. Peel it slightly.
Blanch the prepared the asparagus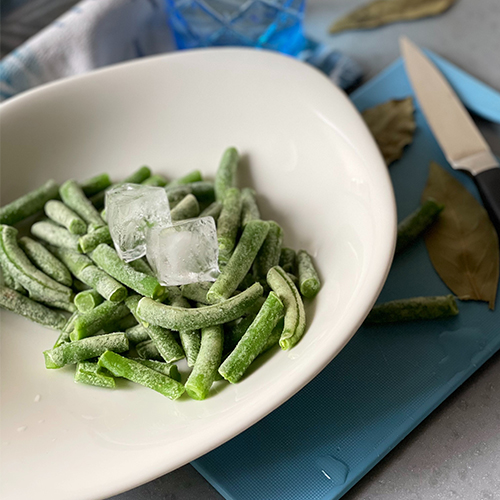 Once you are done preparing the asparagus the next step is to blanch the prepared spears before freezing them. Blanching is the process of quickly scalding vegetables in boiling water or steam. Blanching inhibits enzyme activity, which would otherwise result in flavor, color, and texture loss. They won't lose taste and look fresh for a long time if you blanch them at first.
Chop the asparagus into one-inch pieces. For the asparagus to blanch evenly, it's best to chop it into smaller pieces. It will take longer to blanch if you make it a bigger size.
Boil water and prepare an ice bath. To retain its flavor, asparagus should be blanched before freezing. For this, you will have to boil asparagus for about 30-60 seconds but not more than that as it might lose its taste. Then the boiled asparagus is plunged into ice water to stop it from cooking.
In a large pot boil water and prepare a large bowl of ice water along. Once you are done boiling it, use a slotted spoon to transfer it to the ice water for an ice bath immediately. Put it in the ice bath for around 30-60 seconds. Then put it on the colander to let it dry.
Freeze the asparagus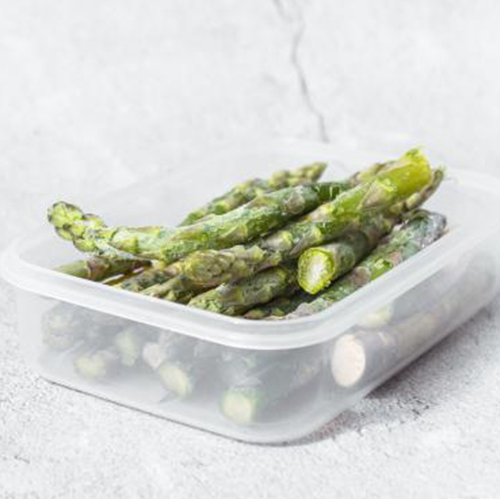 Flash freeze the asparagus is our next step. Arrange the asparagus pieces in a single layer on the plastic-wrapped baking sheet. Place the baking sheet with asparagus in the freezer for an hour until each piece is slightly iced. The pieces of asparagus will not freeze together into a solid mass if they are flash-frozen before longer-term preservation.
After an hour, take it out and transfer it all into zip-lock airtight bags or containers. This step is important. Make sure you pack it as tightly as possible to remove most of the air. Put the airtight bags or containers into the freezer again. Store them like that for long-term usage.
Pickling Asparagus for Prolonged Use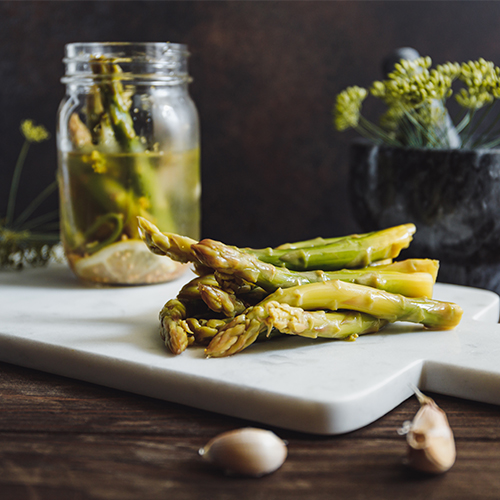 Because asparagus is a seasonal vegetable, many people prefer to preserve it by making pickles as well. To get the taste and serve it along with other dishes throughout the year this can be another best way to store asparagus. You can make your pickle or follow our way so that you can keep it for the longest time.
What Do You Need
1 tablespoon apple cider vinegar
One spoonful of sugar and half a tablespoon of sea salt
four garlic cloves
dill seeds, 1 tablespoon
mustard seeds, 1 tablespoon
Steps
Make sure your asparagus is thoroughly washed and trimmed.
After that, you must blanch it.
Allow the asparagus to dry or pat it with a towel when it has been thoroughly cooked.
After that, place it in the jar and go to the next step.
To produce the pickling brine, bring water to a boil and add all of the components listed above.
Pour the brine into the asparagus jar after it has cooled down.
Make certain that the asparagus is completely immersed in the brine.
Before placing the jar in the refrigerator, carefully close the lid and seal it.
After two to three days, your pickled asparagus will be delicious.
Canning Your Asparagus for Longer Use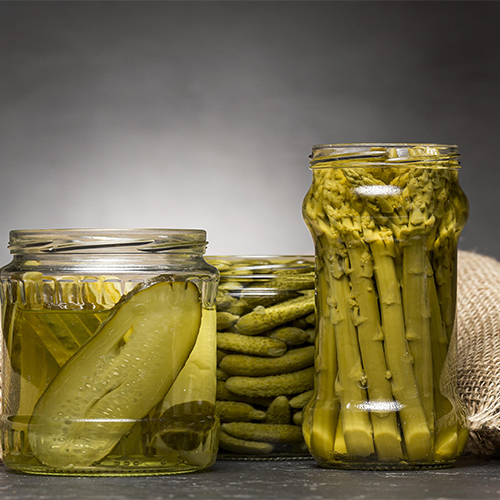 Canning is another great way to store asparagus. This method is somehow similar to the pickling method. You will need a pressure canner for this. If you have it you can go through the steps to start the procedure.
What Do You Need
spears of asparagus
Jars for canning
Using a pressure canner to preserve salt
Steps
In this method of preservation, the pressure canner is crucial.
If you already have it, skip to the next step, which is to make canned asparagus.
Cut your asparagus into perfect canning jar sizes.
Fill the canning jars halfway with asparagus.
Add a teaspoon of canning salt according to your preference.
Boil the water and pour it over the asparagus in the canning jars.
Remember to leave about an inch of room at the top.
Then close the lids securely.
This is the most important stage; you must pressurize the jars for 30–40 minutes.
Carefully remove the jars from the pressure canner once it has cooled.
Store canned asparagus jars in cool, dry places away from direct sunlight.
This is the most important stage, you must pressurize the jars for 30–40 minutes.
Carefully remove the jars from the pressure canner once it has cooled.
Store canned asparagus jars in cool, dry places away from direct sunlight.
NOTE: Above mentioned storing suggestions apply to all species of asparagus which includes white asparagus, purple asparagus, and thin and thick spears.
How to Identify a Spoiled Asparagus
You can tell your asparagus is bad if they start to show some signs mentioned below:
The asparagus starts to change its color.
Mold starts to grow on your asparagus.
Unpleasant smells start coming from your asparagus
Your asparagus stalks begin to be wrinkled.
You notice that your asparagus is limp
The asparagus tips have a slimy texture.
How Long Does Asparagus Last?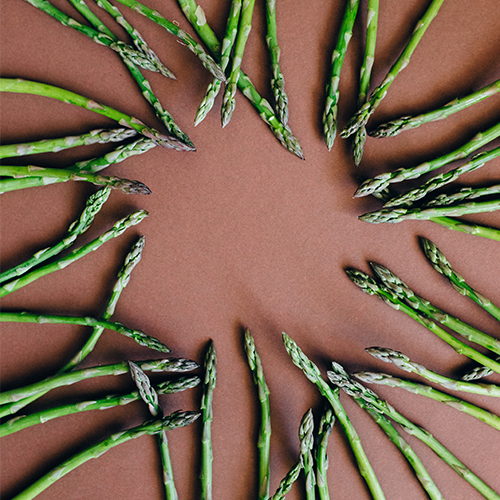 | | | | |
| --- | --- | --- | --- |
| Storage Method | At room temperature | In the refrigerator | In the freezer |
| Raw | 1 day | 3-4 days | 12-18 months |
| Cooked | 1 day | 3-4 days | 10-12 months |
| Freezing | – | – | 12-18 months |
| Pickled | 5-6 months | 1 year | Not necessary |
| Canning | 5-6 months | 1 year | Not necessary |
| Unopened canned asparagus | 3-5 years | Not necessary | Not necessary |