Hardwood floors last decades after the installation as it takes a long time to disintegrate properly. It is a popular flooring choice due to its aesthetic value. The only downside is that the accumulation of dirt, grimes over the years makes these floors lose their finish.
Fortunately, We can refinish an average hardwood floor of 3/4 inch thickness around seven to ten times before replacing them. We can refinish your floors every seven to ten years.
The best method to refinish hardwood floors is by sanding the floor, Applying hardwood sealers to it, and coating it with a finish. There is also an option of changing the color by staining the floor.
How to Refinish Hardwood Floors
Follow the steps below to have your hardwood floors look brand new.
Tools Required
Hammer or Plyer
Dust Mask with Respirator
Hearing Protection
Walk-Behind Sander or Drum Sander ( Rental)
Wood patch with a trowel
Handheld Power Sander (Rental)
Detail Sander (Rental)
Machine sandpaper of appropriate grits
Plastic Drop Sheet
Tape
Safety Goggles
Sanding Pole
Vacuum Cleaner
Stain
Sanding Sealer
Hardwood Finish
Lambswool Applicator/T bar
Paint tray or small jug
Mineral Spirits
Prepare the Hardwood for Sanding
We need to prepare our floors for the refinishing process. Consider the following list and check it off one by one.
Dismantle Any Moldings/trimmings
We need to remove all quarter rounds, trimming installed in the room. We can install it later after the refinishing process is done. The best way to do it is by using a molding bar. Do not worry if you do not have it; a putty knife will do the job.
We discourage using crowbar-type tools. These tools can damage the moldings permanently.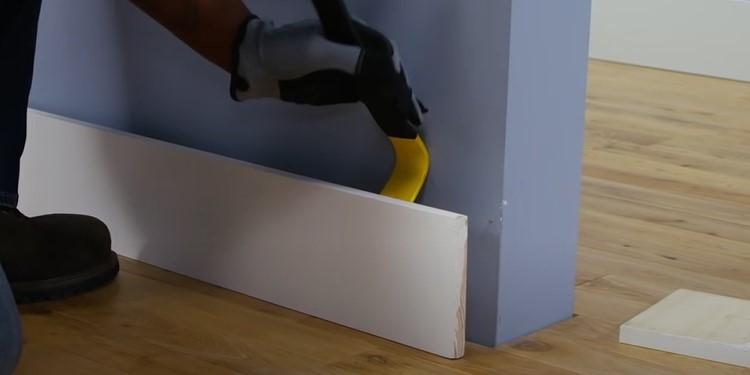 Check the Floor for Protrusions
Check the floor from any protrusions. We should immediately take care of any nails, flakes of wood sticking out, or carpet staples. Use a hammer or a plier to pry protruding nails out and secure any loose floorboards.
Protrusions are known for damaging the sandpaper installed in the machines. Mark the holes created, so we do not forget them later.
Clean the Floor
We can find plenty of hardwood cleaners in the market like Bona wood cleaner, Pledge Wood cleaner, etc. Use a microfibre mop or wrap a cloth around a mop handle and clean the hardwood surface with these cleaners.
Tape Plastic Over Outlets / Room
The final thing to do is cover all outlets with plastic. Sanding will create a lot of dust, so it is best to tape all electrical outlets, floor registers, air, or heat vents.
Anything except external windows needs to be properly taped up with plastic.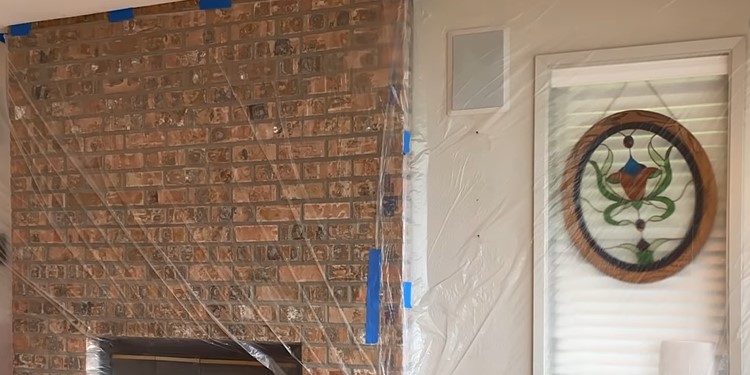 Section Off Floors
We need to section off floors so that we maintain uniformity in sanding. Haphazard sanding will result in uneven floors and finish. Any way of sectioning is fine.
Try 4*4, 8*8, anything that works for us. Just make sure we can distinguish sections when needed. You can even use a pencil and draw scribbles on the floor. The lead marking from the pencil will slowly disappear while sanding, letting you know the area has been sanded.
Start the First Round of Sanding
Understand Grit of Sandpaper
We need to understand which grit paper to use and at what sequence. Grit refers to the coarseness of the material. High numbers signify finer abrasiveness, while lower numbers signify more abrasiveness.
Under normal circumstances, 24-36 grit sandpaper will be the best option for the first round of sanding.
We may need to opt for an even lesser number if the floor has a heavy adhesive or has been completely painted over with a heavy coat of paint.
Suppose the floor hasn't been ever sanded in 15-20 years. It's best to start with a 24 grit. A 34 grit will get the job done if our floors are relatively new.
We should only use sandpapers with a grit number of more than 50 or 60 at second and third-stage sanding. Depending upon the sequence, we will probably end the sanding process using 80 to 100 grits.
If we use 24 or 36 grits for the first round, continue the sequence with 60,80, and 100.
An increase in your sequence should depend upon how smooth the floor becomes after sanding. 100 grits levels are generally done for woods like maple, birch, or stained floors.
What to Do if the Floors Are Extremely Scarred?
The trick here is to angle our sanding at 10-15 degrees. We can only do this in the first sanding stage with abrasive sandpaper of around 24 grits. Once an angled sanding has been done, we must follow parallel passes on the floors to strictly maintain the level.
For, e.g., If we do a 24 grit angled crosscut, follow it with 24 diagonal and straight passes. The sequence after that must be 36,60,80 grits.
Start Sanding
We recommend using walk-behind or drum sanders with coarse-grit sandpaper of 24-36 grits. Try sanding all sections uniformly. Use handheld edges and sanders for edges and corners. The abrasiveness may cause a change in wood color. Do not worry; that is normal. Once done, vacuum up all the dust.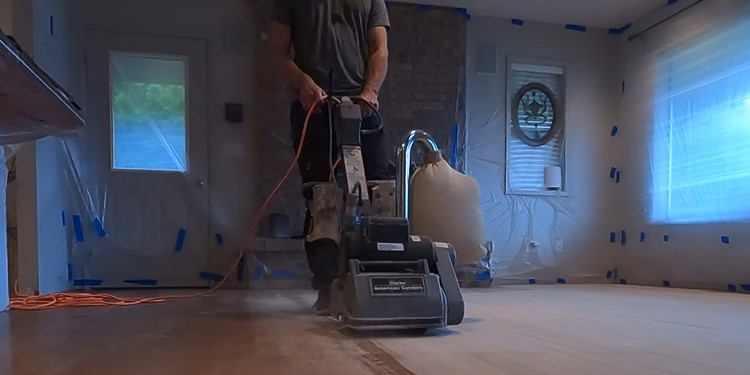 Clear Out Any Imperfections on the Floor
We need to fix the holes and cracks marked in the beginning. It is recommended to use a wood patch, but if we do not have it mix a bit of sawdust and some white glue to make a paste. Use that as a filler for these holes. We recommend using a putty knife for this process. Be sure to clear off any excess to maintain level.
Start the Second Round of Sanding
Change the sandpaper from 24-36 grits to 50-60 grits. Uniformly sand one section at a time. Do the same with handheld power sanders (for edges) or detail sanders (corners) for edges and corners. Doing this in sections is very important as the color of the wood will not change like in the first round. Winging it may leave out areas unsanded. Once done, vacuum up all the dust.
Start the Third Round of Sanding
We are ready for the last round of sanding. Use higher number grit sandpapers like 80 or 100 and sand the floor two rounds with each one. Vacuum the dust after completion. Clean the floor with a damp mop after vacuuming to collect any remaining debris.
Clear Scratches With a Buffer
If the floor still doesn't feel smooth, use 120 grit sandpaper attached to a buffer and start getting rid of any scratches or coarseness. Do not forget to get the edges and corners.
Clean the Room
We need to clean everything from outlets, walls, to window areas. Use a cloth with mineral spirits to clean the floors.
Stain the Floor (Optional)
Is WaterPopping Required?
This technique is used to condition the floors for penetration of the stain. Water popping works by spraying water into the hardwood grains after it has been sanded.
An uneven water spray might create different shades of stains later on. You have to do the spray uniformly.
We recommend using purified water as tap water might contain additives or chemicals. Mix purified water and denatured alcohol in the ratio of 1:1 and spray it on the floor. The best tool to use is a garden sprayer and a T bar. A bucket with water and a sponge will also get the job done if we cannot get it.
Please note that the floor must be completely dry to start the staining process.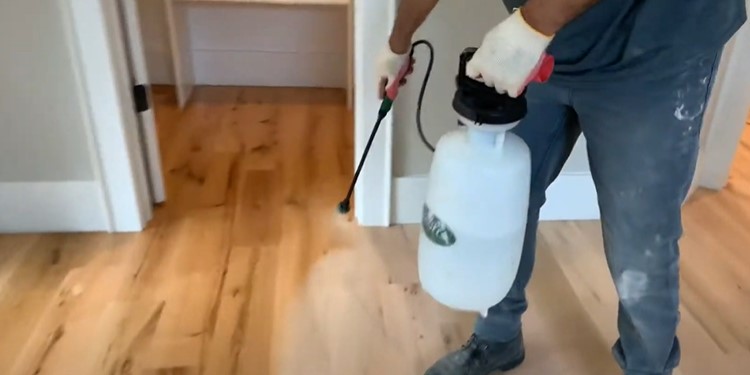 Start Staining the Floor
Stains are a type of dye for your floor. The process of staining is only necessary if we want to change the color of the floor. You have plenty of options in the market like Bona, Miniwax, Duraseal, Fabulon, Varathane, etc.
Use a pre-stain conditioner beforehand and strictly follow manufacturing specifications while using the stain.
Use a staining sponge or a staining applicator, start from the farthest corner and move towards the exit. Consistent speed is key to staining. If you leave it too long, it will create splotches.
Always go with the grain of the wood. Use brushes and rags to do this. Please note those rags are highly flammable. Dispose of them properly.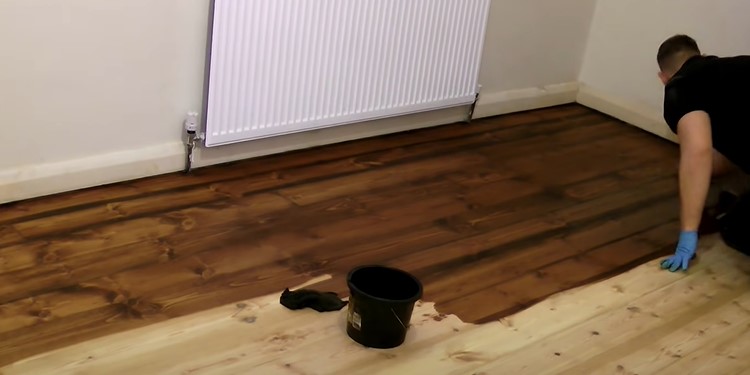 Apply a Sealer to the Floor
We need to apply a sealer and let it dry before applying finish. Sealers make sure all crevices and pores are sealed, and the wood naturally a soak up sealer first, which improves its ability to retain the finishes properly and have a level surface. Just go to your local hardware store and ask for a sander sealer. Be sure to explain our intent as there are some sealers named sanding sealers but are straight sealers.
You can use a roller to apply the sealer. Use brushes for edges and corners. Make sure you are spreading it evenly. Do not let excess into a puddle that will create a splotch on the floor. Always start from the farthest end and move towards the exit.
Once the sealer has dried, lightly sand the floor with around 320 grit sandpaper. Clean the dust-up completely using a vacuum. Use a damp cloth to make it squeaky clean.
Apply Finish to the Hardwood
Choose a Finish
There are plenty of finish options in the market like Wax, Shellac, Acid-Cured Finishes, etc. Most of them have cons that outweigh Pros. Check-in with any hardwood professional; the finish used the most today in the market is Polyurethane. You can have two options with these Polyurethane Finishes.
Water-Based Polyurethane
These finishes have the advantage of a fast-drying time.
A Single coat generally dries around 2-4hours.
On average, most water-based finishes have about 10-15 percent fewer solids compared to Polyurethane.
There are less harmful fumes when compared with oil-based Polyurethane.
It is very easy to use.
They also tend to be a bit pricier compared to the oil-based finishes.
Since water-based Polyurethane is thinner than oil-based, we recommend 3-4 coats.
You may need an additional coat in a couple of years to maintain it.
Oil-Based Polyurethane
These finishes are cheaper in comparison to water-based finishes.
They are very durable.
The application process is also easy.
It takes a lot of time to dry
It creates harmful fumes during the application. Please do not forget to use a respirator for the application.
As years go by, you might also notice a tint of yellowing over the floor.
It takes around 10-12 hours at the minimum for a coat of this finish to dry.
These finishes contain 45 to 50 percent solid materials meaning the protective layer is thicker.
We will require 2 to 3 Coats.
This finish is the best for high-traffic areas and doesn't need a lot of maintenance.
Any of these finishes will do on your floor. We need to choose one based on our expectations of the floor finishes. If you want clear accents on the floors, you are environmentally conscious and can put in a little effort every couple of years to maintain them, then pick the water-based one.
If durability and toughness are what you want and can manage the room to be not in use for a couple of days, pick the oil-based one.
Apply the Finish
Always follow manufacturers' specifications regarding drying time, the number of coats needed, and application procedure.
General Steps
Pour the finish in a small jug or a paint tray.
Pour it on the floor or apply the finish using a brush, t bar, or applicator. Make sure your applicator doesn't have any strands bulging out. These stands can create splotches as finishes get tacky fast after application.
Always start from the farthest end of the wall and move towards the exit as you progress.
Use your brush to get it into the edges and corners first. Try to be uniform with the strokes.
For normal areas, it is recommended to use an applicator. Make consistent swipes and long strokes. The goal is not to leave puddles, bubbles, or splotches.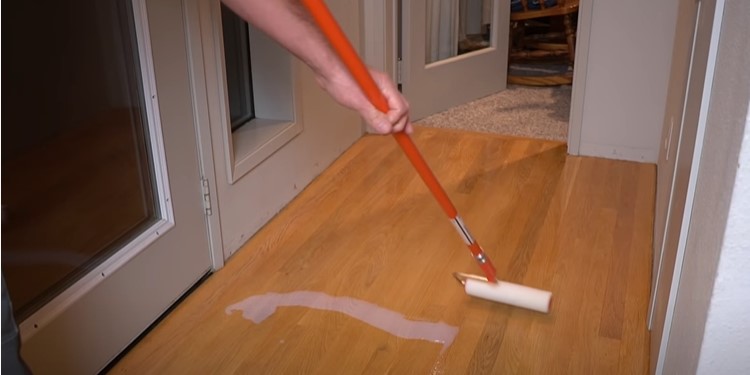 Be aware of how much product you are pouring. You might get a lot of excess towards the end if you pour with a heavy hand.
Let the finish dry completely.
Do a quick sanding pass on the floor to get any nubs left. (some products do not require sanding between coats, read manufacturing instructions)
Start with the rest of the coats.
Reinstall all the trimming in the room.