Unscented candles do not offer as many advantages as scented candles. After a stressful day or while on holiday, lighting a scented candle can help you relax and create a cozy atmosphere in your space.
Scented candles can help you sleep better by providing aromatherapy and making your room smell nice. Plus, it sharpens focus, stimulating the mind and boosting productivity.
Sometimes, store-bought candles might not have the aroma you were looking for, or you might wish to add a lovely scent to unscented candles. If you can't make them smell nice, you could also make your scented candles. Here are some practical methods for enhancing the aroma of the candles.
Reasons Your Candles Aren't Smelling Nice
Not enough fragrance oil: The low concentration of fragrance oil while making the candle can make the smell less strong. Some manufacturers decrease the fragrance oil content in the candle to cut off expenses.
The wrong temperature: Suppose the fragrance oil is blended with heated wax while manufacturing a candle. Oil will steam, which will result in a loss of aroma.
Wax Type: Wax-like paraffin wax can emit a stronger fragrance than other types of wax like soy wax. But, paraffin wax is a by-product of petroleum oil processing; therefore, many crafters choose to avoid it. You can select soy or coconut wax if you want an Eco-friendly wax. So, if you are making or buying a scented candle, select a good quality one.
Old candles: Scented candles can lose their fragrance after a few months of purchase. You must add fragrance to the candle if you want the candle to smell good.
Burning period: If you blow out your candle after a few minutes, it will not throw fragrance as expected. You have to burn your candles from 30 minutes to 4 hours to let them work to their fullest.
Big room, fewer candles: The candle's size and the quantity depend on the smell. When the room is big, and you light small candles, it is hard to smell to travel in the whole room. You need to light more than one candle in that case.
How To Make Candles Smell Good
Several reasons your candles might not smell like you expected. Whether you made the candle on your own or bought it from the stores, it is possible to increase the strength of the smell in your candle. Here are some easy ways to make your candle smell good.
Types of Fragrances You Can Add to Your Candle
You can choose various types of fragrances according to your preference in your candle. The main types are:
Fragrance oil: Fragrance oil is made of synthetic substances that add scent to candles, room sprays, household cleaners, and vaporizers. They are made with chemicals to imitate the essential oil. In comparison to essential oil, they are cheaper to use. Only use 10-15 drops of fragrance oil while making one pound of melted wax.
Essential oil: Essential oil is made from oil extracted from natural plants, flowers, and herbs. The natural extraction property makes it a safe and Eco-friendly fragrance for candles. You can use 10-15 drops of essential oil on 1 pound of wax while making a scented candle.
Natural sources: You can use natural sources of scents like vanilla extract and dried flowers like rose, lavender, and jasmine. Spices and herbs can also do a fine job to scent a candle. It is a natural and chemical-free way to add aroma to candles.
Commercial scents to make candles: You can purchase different kinds of commercial scents to make candles in the store. Its effectiveness differs among brands and prices. The raw materials used by the manufacturer also depend on the quality of the scent.
Adding Fragrance or Essential Oil in Candles Without Scent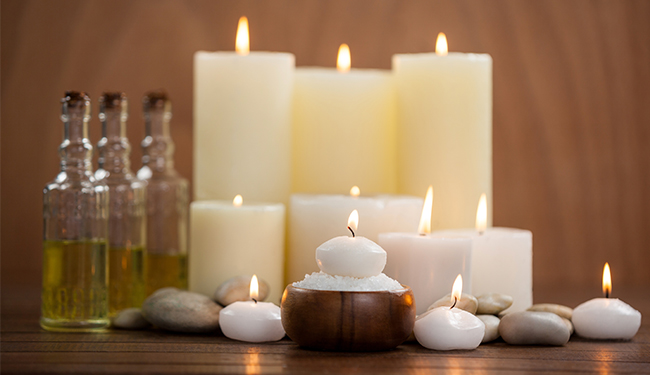 Sometimes even if you buy scented candles, their scent is not strong enough to make the whole room aromatic. However, you can add fragrance to these candles with various fragrance oils. You can also use this method to add fragrance to unscented candles. Somehow, using scented candles can risk attracting fruit flies in the room.
To perfume the candle, you can use either essential or fragrance oils. You can select a scent based on your personal preferences.
Follow the below instructions to add fragrance to candles with no fragrance.
Steps:
First, light the candles and let them burn for 30 minutes.
After 30 minutes, blow out the candle.
Use a dropper to pick up 3-4 drops of essential oil of your preference and add it to the top of the melted wax puddle. You can mix different types of oil of your preference.
Light the candle to enjoy its fragrance.
Repeat the process if the smell is still not strong.
Adding Scented Cubes
Scented cubes are an alternative to normal candles. It comes with a variety of oil scents. It is usually used in a device called a wax burner. You can burn this wax to quickly remove the smoke and weed smell from car. But, scented wax cubes are usually effective supplies to add fragrance to an unscented candle.
Steps:
Light the normal candle for a few minutes.
When an inch of the wax puddle is formed, cut a small piece of the scented wax cube.
Place the piece in the wax puddle.
Then, it let it burn and merge, creating an aromatic fragrance around the room.
You can add another piece of wax cubes if the smell starts to faint.
Making Your Own Scented Candles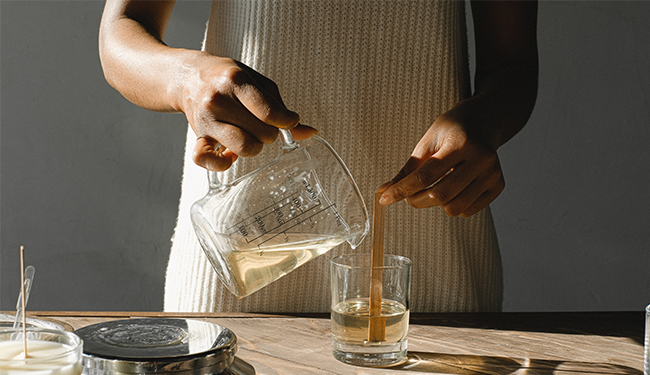 If you want to make your candles, you can easily make them in a day with the right tools and equipment. You can save yourselves from extra expenses. It also helps to overpower the smell like weed, smoke, and urine smell from the room. Add essential oil, fragrance oil, or natural ingredients like flowers or leaves to make the candle smell good.
You will need:
Wax flakes
Wicks
Thermometer
Scissor
Container
Melting pitcher
Color
Chopsticks or Popsicle sticks
Fragrance oil or essential oil
Steps:
Prepare a melting pitcher and measure 20 ounces of wax flake to prepare two candles.
Boil the wax for 10-15 minutes.
Add a few drops of fragrance or essential oil into the pitcher when the temperature reaches 170-180 degrees. You can add color if you want.
Attach wick to the next step. To make it sit, dip the wick into the melted wax and place it on the bottom of the container. Let it sit for 5 minutes until it hardens.
Let it cool for a few minutes.
Measure the melted wax, and if the temperature reads 140 degrees. Make it ready to pour into the container.
Pour the wax into the container, then use a chopstick or Popsicle stick to hold the wick.
Let the wax sit for several hours until it hardens.
Use a scissor to trim the wick.
Cure the candle before burning them. It takes three days to cure the wax. If the wax is soy or coconut, it might take 1-2 weeks to cure it properly.
Using Herbs and Flowers To Add Fragrance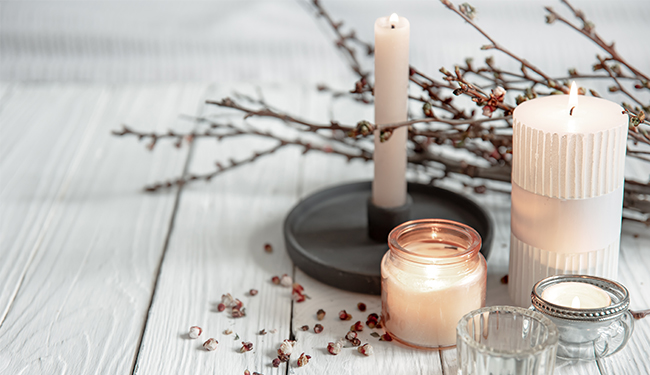 Herbs and flowers like vanilla, lavender, thyme, mint, chamomile, lemon verbena, and rosemary can add a beautiful scent to the candle when pressed or crushed. Appearance-wise, candles with pressed flowers can also be a beautiful addition to your room. Also, it can deter pests like spiders, ants, and roaches.
You can crush the herbs and flowers and add them to the candle. The fragrance of flowers and herbs is released when you crush them. It is safe and Eco-friendly to make candles if used correctly.
However, crushed flowers or herbs alone are not enough to make a strong-smelling candle. Therefore, you must add a few drops of essential oil for a stronger aroma. Follow the below instructions to make candles using natural flowers and herbs.
You will need:
Pressed or crush flowers and herbs
Glass container
Boiling pitcher
chopsticks/Popsicle sticks
Thermometer
Wick
Wax
Essential oil
Steps:
Prepare the pressed or crushed flowers or herbs.
Put wax flakes in a boiling container and let them boil for 10-15 minutes.
You can dip the pressed herbs or flowers in the melted wax and immediately put them in the corners of glass containers.
Place the wick by dipping it in the wax and placing it on the bottom of the glass container.
Pour the melted wax into the container, mix a few drops of essential oil, and stir it well with a chopstick or popsicle stick.
Cut the wick 2 inches after the wax hardens.
Let the candle cure for 2-3 days.
Frequently Asked Questions
Does the Type of Wax Affect the Smell of Candles?
Yes, the type of wax affects the smell of candles. Since paraffin wax absorbs the oil scents easily, it is a commonly used wax. Its high absorption property makes the paraffin wax candle throw scents more than other types of wax. It is made from a by-product of crude oil refinement. Therefore most users avoid its use because it is not Eco-friendly. On the other hand, soy and coconut wax is Eco-friendly as it is produced from by-products of soybeans and coconuts. But, they have less scent-throwing strength than paraffin wax.
Beeswax candles are perfect for making candles for unscented candles. Since it does not mix well with fragrance oil, it is not a better choice for scented candles.
What Happens When I Add Too Much Fragrance Oil to My Candle?
When you add excess oil than recommended, it can lead to uneven burning of the candle. It can separate excess oil from wax; the vapors of oil while burning the candle may lead to fire hazards. Therefore, it is suggested to add the recommended ratio of oil scents according to the type of wax.