Mold growth in the home spreads mold spores into the air. The microscopic spores are airborne and invisible. Even after the mold has been removed from the surface, the mold spores may remain dormant until the right temperature is reached for germination.
The ideal environment for mold to thrive is a moist temperature. Humid basement, pipe and roof leaks, and untreated wet surfaces are the main cause of creating the perfect environment for mold build-up.
Inhaling mold spores can cause health issues like allergic reactions and asthma. It also can damage the foundation of your house. Therefore, it is recommended to address this issue quickly before it starts creating unpleasant symptoms in your health.
Inspecting Mold Spores in Your House
Since mold spores can't be seen with the naked eye, these tiny spores floating in the air are difficult to observe. There are various signs you may look out for to find mold spores.
You notice a musty smell in your kitchen, bathroom, basement, air conditioner, or vents. Consider mold infestation in your home.
The mold stains are green, brown, white, and orange, slimy and puffy to the touch. If you notice these spots in your house, know that mold spores exist in that space.
Wet carpets and rugs in the basement, crawl space, or laundry room have a high chance of mold infestation. Suppose you notice weird spots and stains in them. Inspect it as soon as possible.
Green spots and gunk in the bathroom tiles are other symptoms of mold growth.
Additionally, if you have an allergic reaction, hay fever, sneezing, coughing, or red eyes out of nowhere, the possible cause behind these symptoms is mold spores infestation.
When you detect these above signs in your threshold, it is time to remove and prevent the mold spores from thriving. Here are some effective ways to do so.
How To Get Rid of Mold Spores in the Air
Mold spores can quickly develop in a place with high humidity and perfect temperature. Therefore, it is smart to prevent the sources and adjust the house's temperature to prevent mold from being active.
Start by Addressing Visible Mold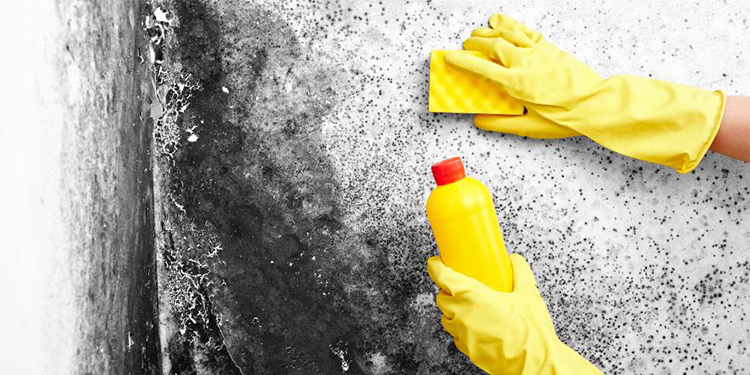 When there is mold growth, there are mold spores. The mold reproduces the tiny spores that travel through the air in different home parts. If you can visually inspect the mold growth, remove it before it causes a serious problem. For simple mold growth, you can easily deal with your household cleaning agent or commercial products.
Steps:
Gear yourselves with protective gloves, a mask, long sleeve cloth, and protective goggles.
Ventilate the room by opening the window and turning on the fans. But, do not let the spores travel to another room. Isolate the mold-infected room.
For nonporous things like tiles and sinks, you can use a diluted bleach solution, hydrogen peroxide, rubbing alcohol, and white vinegar to kill mold. For porous surfaces like wood and drywall, it is smart to take help from professionals.
After cleaning the mold, disinfect the infected area using a disinfectant spray.
Install dehumidifiers and air purifiers to keep the room dry.
After cleaning the mold from the infected area, take a full-body bath and wash the cloth you were wearing while cleaning. There is a good chance that mold spores might linger around the fabric. You can throw the clothes in the washer with hot water and make sure to keep them away from other clothes.
Invest in Air Purifiers With HEPA Filter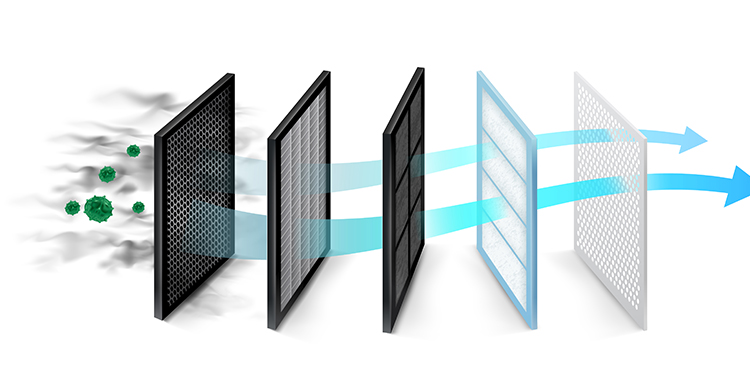 Air purifiers can capture small and invisible dust particles, mold spores, allergens, and smoke from the room. The special air cleaners with High-Efficiency Particulate Air filters are certified to capture mold spores from a space. It is well known for removing the smallest particles, as small as 0.3 microns. Therefore, installing air purifiers in your household is suggested to be safe from the side effects of mold spores. You can also purchase cleaners with a dehumidifier function to manage the room's moisture level. This function will prevent the mold spores from germinating. Turn on the air purifiers 24/7 to ensure clean air in the room.
Proper Ventilation System To Prevent Mold Growth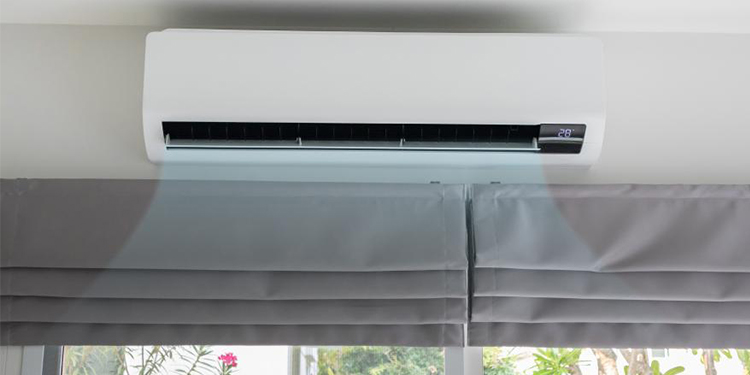 Mold needs oxygen and moisture to thrive. Lack of ventilation in basement and in the whole foundation increases the chances of mold infestation in no time. Proper ventilation helps release the stuffy inside air and brings fresh outdoor air. Not only preventing mold growth, but proper ventilation can also assist in reducing radon gas.
There are passive and mechanical ways to ventilate your household properly. Some of the effective ways are:
Opening doors and windows for natural inflow of air.
Place fans nearby windows to sway the mold spores outside.
Install large windows if it is needed.
Invest in heating, ventilation, and air conditioning systems.
Install dehumidifiers and air purifiers.
Preventing Mold Spores From Being Active
The main goal while getting rid of the mold spores is not to let it find the perfect temperature and source to settle down. As popularly quoted, prevention is better than cure. This proverb matches this situation.
Invest in an Exhaust Fan To Lower the Chance of Mold Growth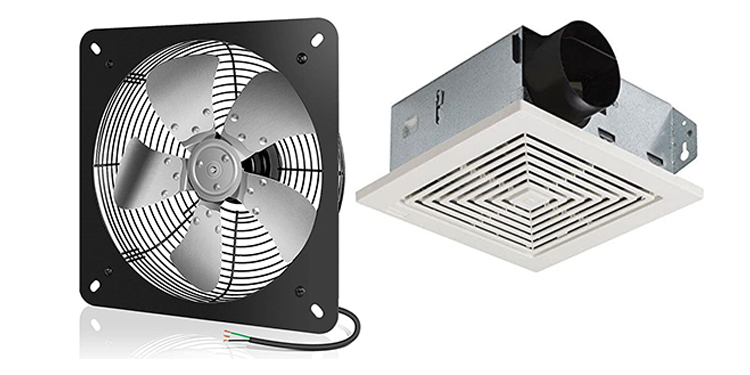 High levels of moisture and condensation are the ideal environment for mold build-up. When the home is dry and without moisture exposure, there are low chances for mold growth. Invest in an exhaust fan in the bathroom, laundry room, kitchen, and basement to keep these spaces free of humidity. A good exhaust fan removes hot and moist air and circulates fresh air. It reduces the risk of mold, foul odor, and foundation damage.
Make sure to invest in a high-quality exhaust fan that functions efficiently. Also, remember to clean it once in three months to keep it last longer.
Keep the Air Ducts Clean To Avoid Mold Growth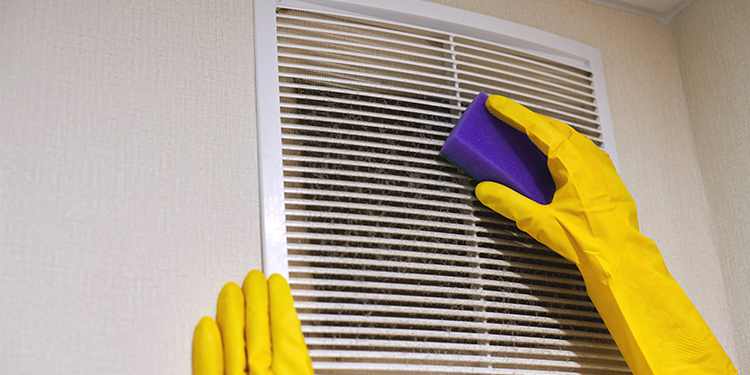 Dirty duct works not only affect the ventilation of the house but also causes mold growth inside the system. Prolonged exposure to moisture damage is the reason behind this issue. Inspecting the ducts and cleaning them is necessary. After cleaning the air ducts, you might notice clean air flow, less power consumption, better breathing, and fewer headaches.
Investigate Hidden Mold and Clear It Out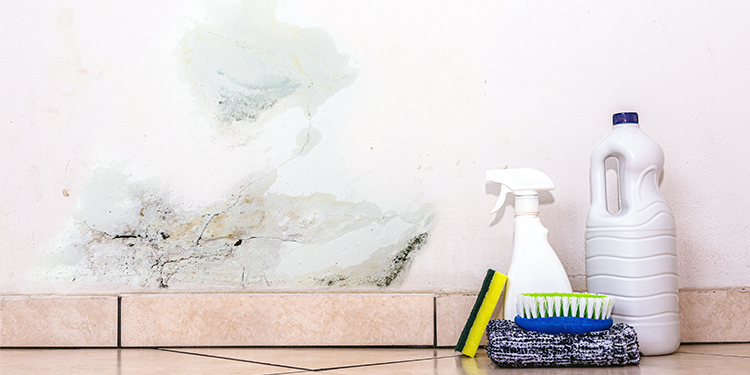 Sometimes mold in the basement, and laundry spaces can be well hidden. The backside of wallpaper, bathroom tiles, under the carpet, ceiling, pipes, and furniture are some places the mold can hide. Inspect the high humidity areas like the bathroom, kitchen, and basement if you notice musty smells and other signs of mold infestation. Consider cleaning it as soon as possible when you see it. Call a professional or experts if the case is worse.
Address Water Leaks and Spills Immediately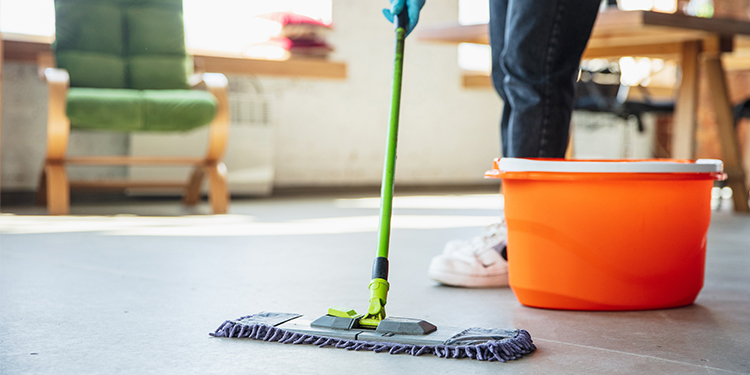 Molds are likely to grow if the water leaks and spills are untreated for 24-28 hours. You can treat the small spills and leaks by dry mopping the floor surfaces. Please do not leave the wet bathroom unattended; use a dry cloth or mop to clean it up. Address the spills in the kitchen as well. Do not leave wet rags and mops unattended; dry them in the sunlight.
Take help from expert plumbers to fix plumbing and roof leaks. They can solve the mold in the ceiling and floor in your house with the right equipment.
Control the Humidity Level of the House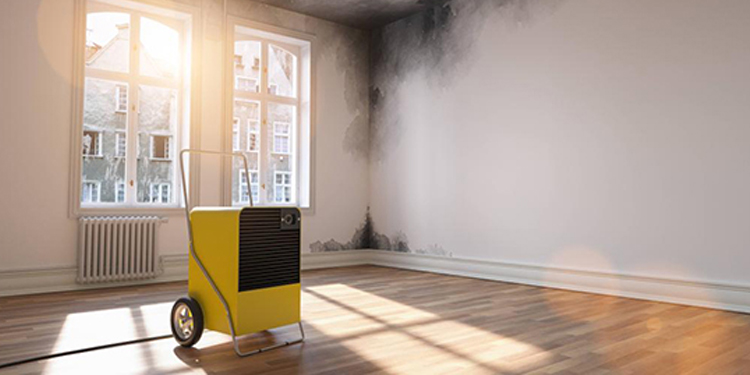 The high humidity areas of your house are likely to get affected by mold. Therefore, it is suggested to control the humidity level of the bathroom, laundry room, and kitchen by installing a dehumidifier. Set the humidity level below 60%. It should be kept ideally between 30% to 50%. Low humidity also prevents critters like ants and spiders from keeping away from the house.
Clean the Furniture and Carpets Regularly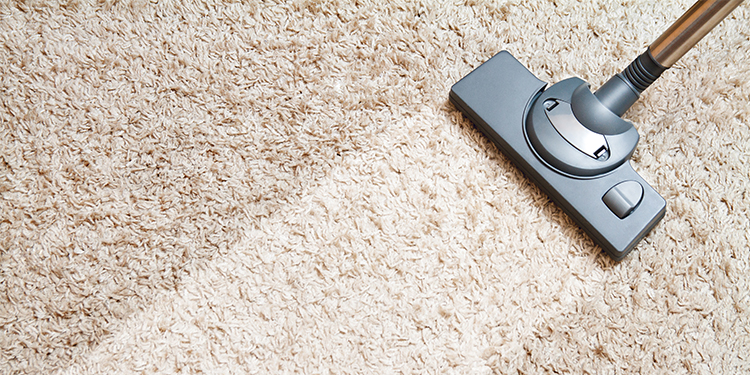 Discourage mold growth inside your house by cleaning the threshold regularly. It includes maintaining the furniture, appliances, and carpets. If you do not have time to clean it regularly, You must do it at least once a week.
Vacuuming and steaming carpets and upholstery will help prevent mold spores from settling. Disinfect the entire house regularly using the commercial disinfectant spray. Also, Wipe the dew and rain off the window sill. Use warm water and dish wash soap to eliminate mold from window crevices.
Eliminate Decomposing Sources To Prevent Mold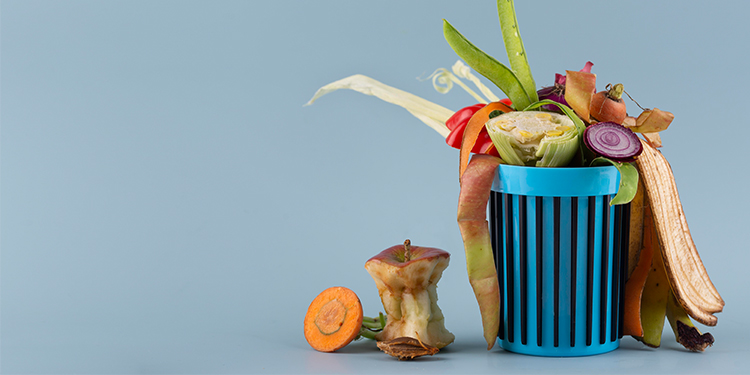 Organic materials like rotten foods, leaves, and wet clothes can be the source of mold growth if left unattended. Therefore, clean and inspect these sources before it becomes a good home for mold.
Throw away rotting food sources from your kitchen, refrigerator, and trash bin.
Wash moldy clothes and bedding if the condition is not worse.
Make sure not to leave decomposing leaves in the gutter. Clean it regularly with clean water.
Keep the food refrigerated lower than 40 degrees Fahrenheit.
Finally,
Keep your home dry at all times to prevent the growth of mold spores. If the carpet, tiles, or other porous materials have been impacted by mold and have developed mold. It makes sense to replace and discard them. Call a licensed expert if you are unclear about cleaning the mold-affected areas or things.