Cabbage is a healthy vegetable loaded with vitamins and minerals that you can serve as a side dish or main dish. Whether chopping it into a square form for soup or shredding it into thin pieces to prepare coleslaw or salad. It is essential to cut it properly to give these dishes a proper texture and volume.
However, the whole cabbage can be a little intimidating to cut for beginners. It is big, round, and can roll around while chopping. Not having proper knowledge about how to chop or slice the cabbage can result in kitchen accidents and ruin the dish you are preparing. Therefore, you need to follow the below step-by-step instructions to save yourself from these hazards.
General Tips Before You Begin
Here are some important tips before cutting your cabbage.
Use a stainless and sharp knife. A Blunt knife can lead to loss of grip and cut your fingers.
Wash the knife before using it.
If your cutting board is not sturdy, place a moist paper towel on it to prevent accidents.
Choose cabbages that are hard to touch rather than soft and spongy.
Do not cut the cabbage you do not need.
Steps To Properly Cut a Cabbage
Learn how to chop or slice a cabbage following the below correct instructions. The process is the same for red, green, or savoy cabbage.
Prepare The Equipment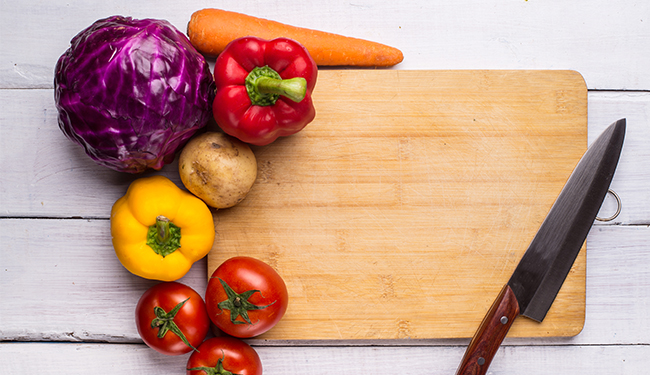 Get a cabbage that you are going to cut, a cutting board, and a sharp knife ready. Avoid stained knives, it is better to use a chef knife to cut them.
Remove The Tough Outer Leaves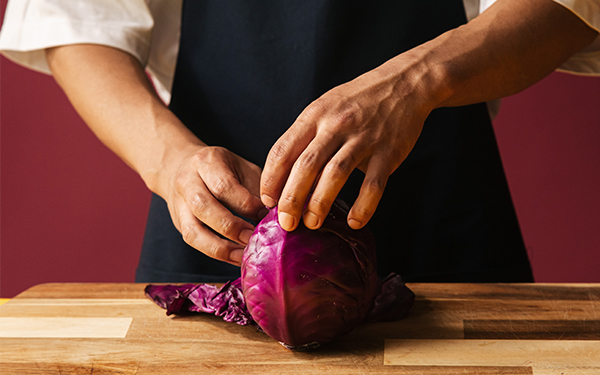 Peel off the outer layers of the cabbage that is damaged, wilted, or hard. You can include leaves that are soft and easy to chop. The outer layer is not of the best quality. So, it is better to separate it. If you hate wasting your food, you can compost it for your garden.
Rinse The Cabbage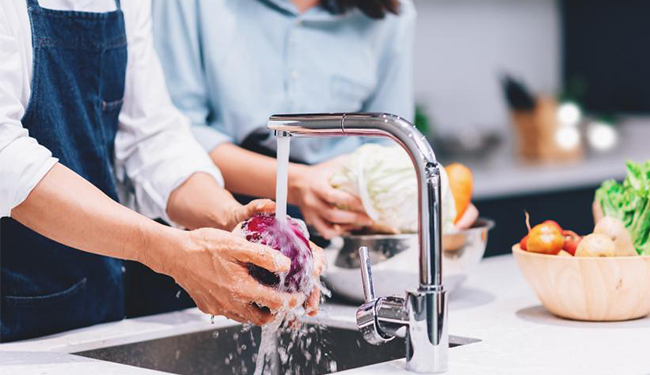 Hold the cabbage and rinse it under tap water. Make sure the dirt and debris are properly rinsed or not. This will make the cabbage germ and pesticides free. Dry the cabbage with a paper towel.
Cut The Cabbage Into Halves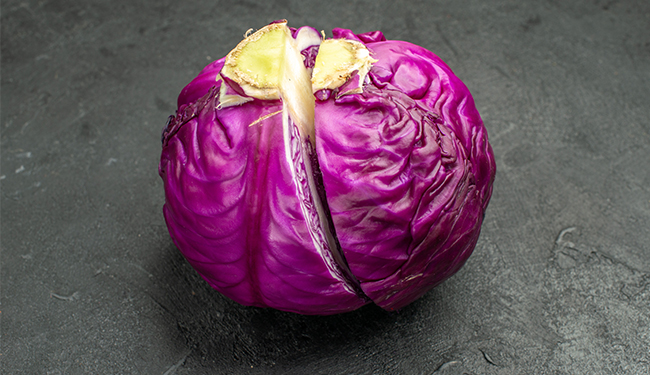 Using a chef knife, cut the cabbage into two halves. Place the knife in the middle of the stem and put your palm pressure on the cabbage and cut a long way through it. This way it will not roll off from the cutting board.
Cut It Again Into Quarters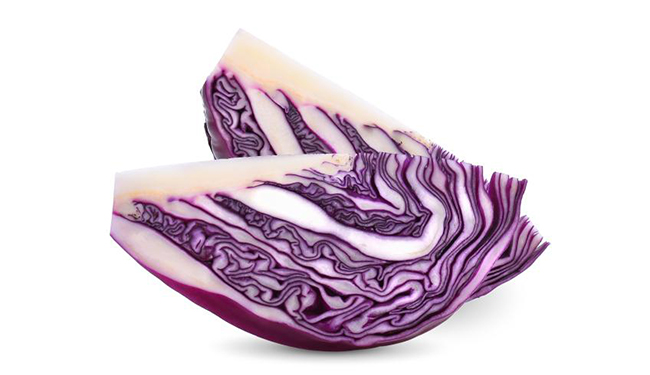 Once again cut each half into another half. Cut it through the stem end so you have four wedges. This will make it easy and safe to slice it.
Remove The Hard Stem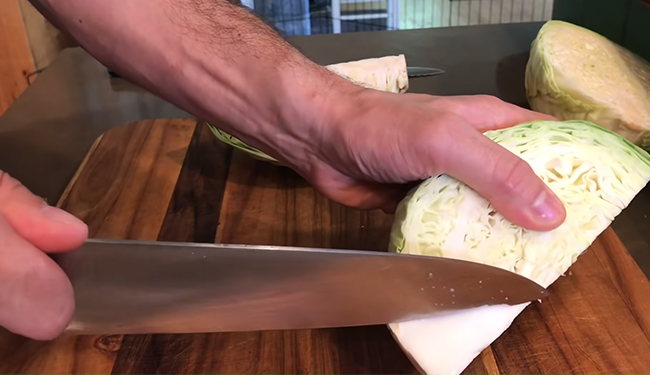 The white core stem included in green, red, or savoy cabbage must be discarded while chopping it. They have a bitter taste that is not pleasant. Therefore, it is mandatory to get rid of the core.
Start cutting off the stem at a downward angle. Do not cut it too deeply.
Note: If you only want wedges and do not want to chop them very thin. You can stop at this step. In case you want smaller wedges than a quarter, you can cut it again into eight pieces.
Start Slicing or Chopping The Cabbage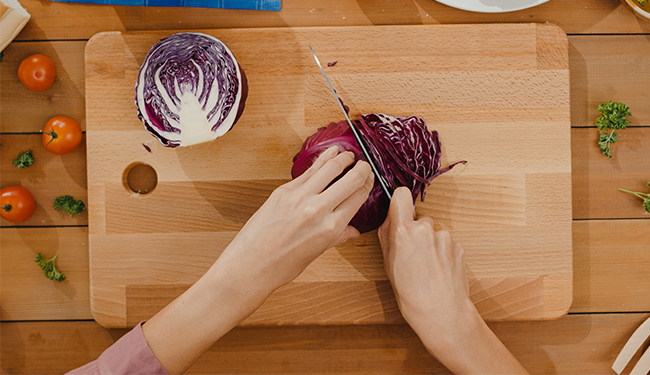 Place one of the wedges on the cutting board. Keep your knuckles closer to the knife than your fingertips. This will prevent your finger from getting injured.
Chopping: In case you want to chop your cabbage into bigger and square pieces to prepare a stew, soup, or fermenting. Start chopping the cabbage into small sections. Turn it into the other start and start cutting it into thick pieces.
Shredding: If you want to make thin slices to prepare dishes like coleslaw, salads, stir-frying, and sauerkraut. Slice it into a horizontal edge making your knuckle a guide.
Wash The Cabbage
Finally, rinse the chopped cabbage using clean water and giddy up to prepare your dish.
Cutting Napa / Chinese Cabbage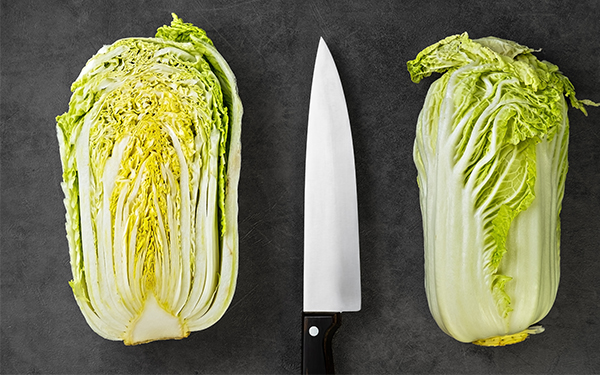 Compared to spherical cabbage-like red, green, or savoy cabbage. The Napa cabbage has an oblong shape with tender leaves. it has a sweet taste that makes it a good choice for cooking and making raw dishes. Unlike spherical cabbage, Chinese cabbages do not have a hard-core stem. So, the stem of the Chinese cabbage is edible.
Steps:
Separate the damaged outside layer of the Napa cabbage.
Place it firmly onto the cutting board and cut it into halves using a chef knife. Make sure to cut it lengthwise through the stem.
Use your knuckles against the knife, and start chopping the cabbage across the leaves and stems. You can chop it thick or thin according to the dish you are preparing.
Lastly, Rinse the shredded cabbage using clean water
How to Shred Cabbage Using a Grater And Mandoline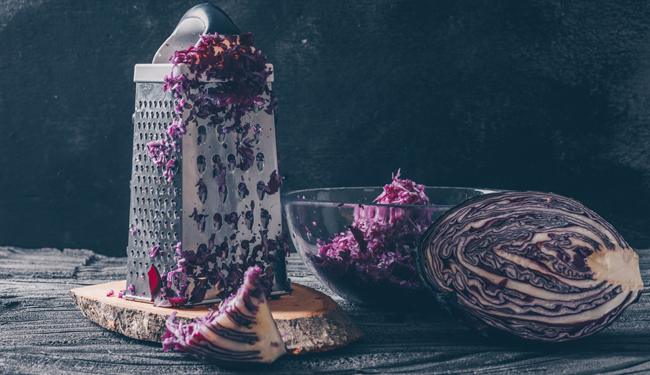 This is an alternative method to getting thin pieces of cabbage to shred. You will need a grater and a bowl to place it under the grater. This way, you can make the cabbage very thinly shredded which you can use to prepare dishes like stew, soup, and even dumplings.
Steps:
For this technique, peel off damaged and wilted leaves from the cabbage.
Cut your cabbage into half and then into quarters using a sharp chef knife.
Place the grater and put a bowl or a plate under it.
Start running the cabbage against the grater. Make sure to keep your finger fingers away while doing it.
Take another wedge after the first one is done shredding. Repeat the process until you get the amount of cabbage you want to prepare for the dish.
In case you do not have a grater available, You can also utilize a mandoline to shred the cabbage. Set the mandoline to your thickness of choice and follow the same step as above.
Storing The Unspent Cabbage
If there is any leftover cabbage after chopping it. You can save it for future use. Therefore, storing it is preferable. Here are some important tips for keeping it in good condition.
Store the whole cabbage in the refrigerator if it has not been used. The green, and red, cabbages can last up to two weeks and savoy cabbage for a week.
If the cabbage is already cut, use a lemon to spread around the inner layer of the cabbage to avoid discoloration and sliminess. The already cut cabbages can last up to a few days if plastic wrapped or in a zip-log bag. it is better to use it immediately for another dish if you do not want to waste it.
If you want to re-purpose the cabbage for a longer period. You can try blanching or pickling it. It can last for a year if you do so.