Vinyl Planks are easy to clean if you use the right tools for them. There aren't any fancy polishes you need to apply to retain its gloss.
Just sweep or vacuum the dust, use a damp cloth to clean, use manufacturer-specified cleaners, and prevent any dust and grimes accumulation. These simple ways will help you maintain your vinyl planks in the long run.
Some important considerations to be remembered are the type of cleaners to use and protectors on our heavy furniture. We have explained everything you need to know below:
Keep It Simple With Tools
Duster mop with very soft bristles
Microfiber Pad
Manufacturer specified vinyl plank cleaners or equivalent PH neutral cleaners
Clean cloths
Bucket of water
Scooper or vacuum cleaners without the beater bars.
General Steps to Cleaning Vinyl Plank Flooring
There are no fancy solutions needed, no specific machines that cost thousands of bucks. Remember, vinyl floorings are made as replacements for traditional flooring.
Why would they make it harder to clean and maintain? Keep it simple. The key is to repeat the cleaning process constantly.
Clean Out All the Dust
The very first thing to do is get a dry dust mop. Go around the room's edges and scoop the edges from the room into the middle.
Try going in an infinity or S pattern. After you have a pile, vacuum it, or throw it in the trash. We recommend you clean the dust on floors every day. Every other day should be your goal if you do not have the time.
Mop the Floor With a Damp Microfiber Pad or Cloth
After the dust has been properly cleaned, use a damp microfiber mop on the floor. We can get a pad that can be attached to your sweeper.
If the manufacturer has specified a specific microfiber mop, we recommend going through with that. You can get one of those Swiffer sweepers or even the cedar O sweeper in the market.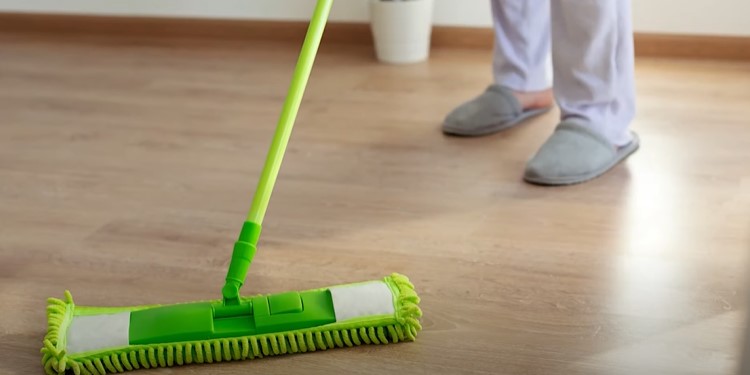 Spray PH Neutral Cleaner
Use PH-neutral cleaners or manufactured specified cleaners with the microfiber mop on the floor. There are plenty of options in the market. Remember to spray cleaners on floors. Some of the brands that have a good reputation among users are:
Encore cleaner
Zep Cleaner
Rejuvenate vinyl cleaner
Bona Hardwood Floor cleaner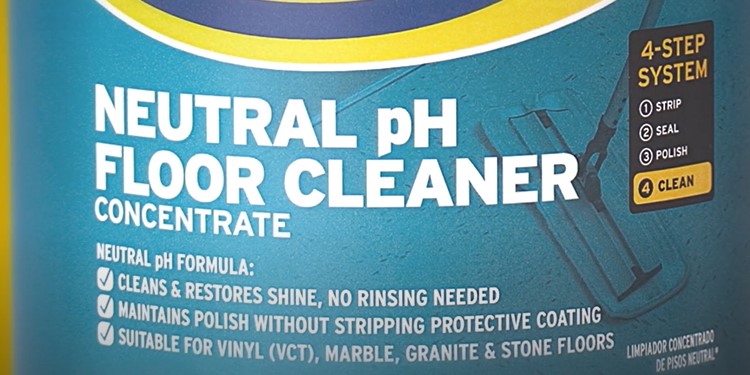 Clean the Floor Again With a Damp Cloth or Microfibre Pad
Remember to never let water drip on the floors. Most vinyl planks are waterproof, but that doesn't mean we abuse this characteristic. Dripping water may seep into the seams.
Always wring the mops and cloths when using on the floors. Do not let grimes accumulate on the floors. If there are stubborn grimes that won't come out.
Use some isopropyl alcohol, wd 40 or apple cider vinegar solutions diluted in water on a clean cloth. Slowly rub that in the grime. That should help the grime to come out.
Remember to dilute one cup of apple cider vinegar with around a gallon of water. Anything less than that is dangerous.
Once this is done, use a damp microfiber pad or a slightly damp cloth to remove the alcohol away. Do not let the alcohol sit on the floor for long.
Please pay special attention to the kitchen and high traffic areas. We should clean grimes or spills immediately. Letting them fester there might create.
If possible, dry the floor off with a dry clean cloth or microfiber cloth after this is done. Let the floor air dry. That should be enough to maintain and clean your vinyl floorings.
How Often Should We Clean the Vinyl Floorings?
You should do a deep clean every alternative day or within three days at your worst care scenario. We should do dust cleaning every day.
Spills or stains are to be cleaned right then and there.
We should clean high traffic areas like kitchen and bathroom frequently in the day.
Vinyl flooring does not ask a lot from you. Do not use any wax, polish, or anything of that sort. Regular cleaning is the way to maintain its quality over a long period.
Should We Use the Concoctions on the Internet?
You will find an array of concoctions on the internet. Every cleaning regiment will add a new solution for cleaning vinyl floorings. The rule of thumb is to abstain from using anything acidic on the floors.
No hot water, steamers, or acidic solutions are needed. A dap of rubbing alcohol, wd 40 or apple cider vinegar solution diluted with water to clean specific grime is fine but remember these solutions on their own are dangerous to the floor.
If the solution is left on the floor for long, there will be damage. Clean it immediately after the grime is gone.
Things to Consider
The greatest way to keep your floors clean is not letting dust build up in the first place. Total prevention might not be possible in practicality, but you can minimize dust getting into the house itself, so use doormats. If possible, have the habit of not wearing shoes inside the house.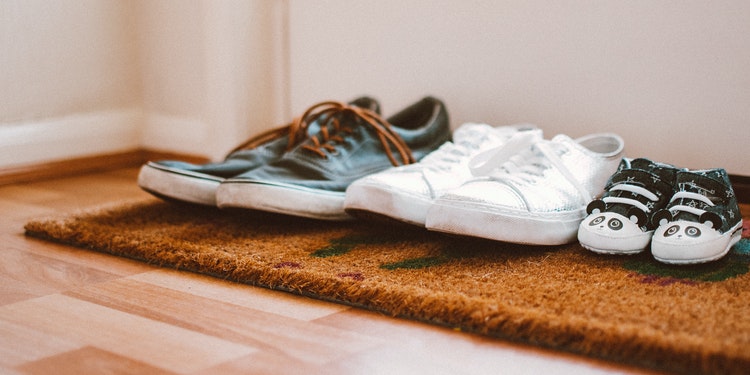 Please use felt protectors installed on heavy furniture like sofas. We recommend using furniture caster cups on heavy seats and tables if possible.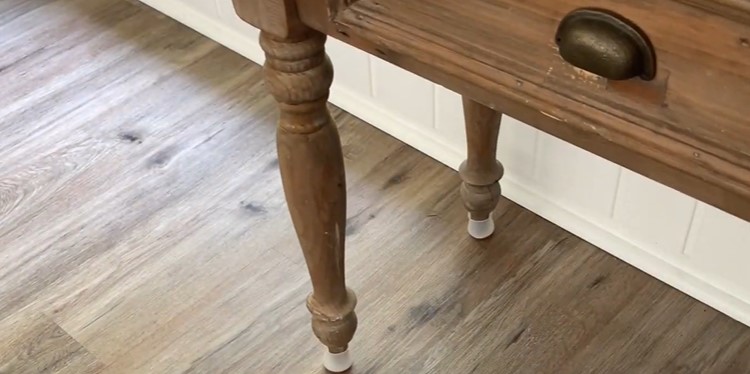 Things Not to Do With Your Vinyl Plank Flooring
Never drag your furniture on the floor. Always lift.
Strictly avoid using vacuum cleaners with beater bars.
There is no need for waxing the floors. Waxing will only create a film layer on the top, which is bad for the floors in the long run.
Never use steam cleaners on the floors.
Do not use abrasive scrubbers with bristles. They will scratch your floor.
Do not use hard surface bleach cleaners with acidic properties.
Frequently Asked Questions
Why can't we use steamer for Vinyl Flooring?
In simple words, Temperature is the reason. Vinyl flooring is installed either by float or glued down method. A high steam temperature might melt the adhesive causing your flooring to loosen or move. The planks themselves aren't made for high temperatures. You will most likely damage the topcoat if you use steamers on the floors.
How much does PH neutral cleaner cost?
These company-specified cleaners cost from $12 to $60 depending upon the brand and the size of the bottle.
How do we remove makeup spilled on vinyl floorings?
An acetone-free nail polish cleaner or a dap of rubbing alcohol should do the trick. Do not let the solution sit on the floor for long. Do not scrub it; use a dap of the solution on a cloth and clean it. Use a damp cloth later to clean the solution off right away. Failure to do so will result in the plank losing its shine or discoloration.
Do rubber-backed mats affect Vinyl?
Rubber has a chemical reaction with the vinyl floorings. Prolonged exposure of rubber to vinyl floorings may cause discoloration or yellow stains.