Leather is a costly and sensitive material. Therefore, it is stored in a closet or at a warm temperature to prevent sun and dust damage. However, extended exposure to leather in a wet and gloomy environment can cause mold and mildew to form on the material.
If mold spots are not removed immediately, they can cause severe damage to leather jackets, upholstery, gloves, automobiles, and shoes. Mold spores can cause allergic reactions, including runny noses, hay fever, red eyes, and rashes. Asthma and other respiratory disorders are additional serious health risks of mold exposure.
Things To Avoid While Cleaning Leather
Never wash leather in a washing machine.
While using a commercial product, test in a small area first.
Read the manufacturer's instructions before cleaning the leather products.
Clean the moldy leather in a well-ventilated space.
Test harsh cleaning agents like alcohol, lemon, and borax in a small patch before starting the process.
Avoid cleaning the mold without protective gear like gloves, a proper mask, and goggles.
If the alcohol contains other additives like dye, do not use it on leather.
Do not use detergent, baby lotions, and alcohol on unfinished leather.
For a car interior made of leather, position your car in a well-ventilated area. Open the car door and window to allow mold spores to blow out.
How To Clean Mold off Leather
With household products, commercial sprays, and a little elbow grease, it is possible to get rid of mold in no time. Make sure to wear special gear like gloves, masks, and goggles before starting to clean it.
Using Mild Dish Soap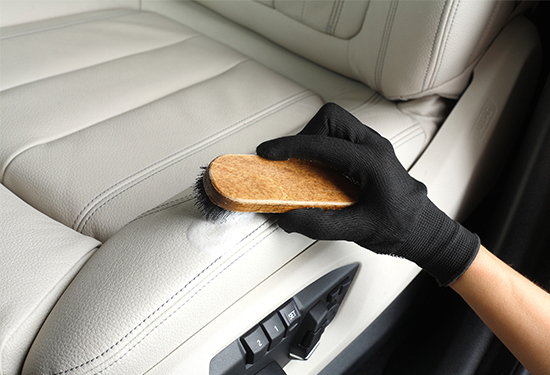 You can use the household mild dish soap and water mixture to eliminate mold and mildew stains. This technique can be used to remove recent mold stains. You can apply dish soap mixture on leather jackets, upholstery, and car seats.
You will need:
Gentle brush
White vinegar
Rubbing alcohol
Spray bottle
Mild dish soap
Steps:
Brush off the leather jacket and carefully remove the mold stain.
Mix a mild hand wash or dish wash soap and water into a bowl.
Dip a cloth into the mixture.
Start gently rubbing the mold stain out of the jacket.
Wipe the jacket with a clean cloth.
Finally, let the jacket air dry.
Applying White Vinegar on Mold-Affected Leather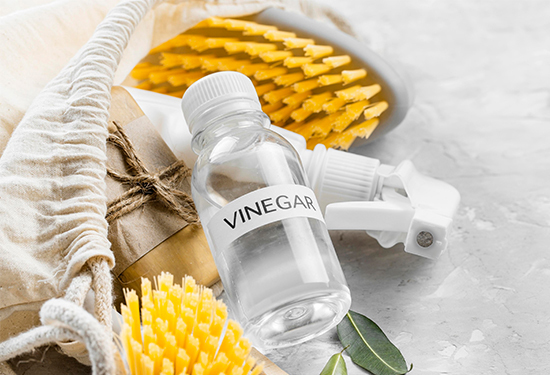 Another great method to eliminate mold and mildew from your jacket is to use white distilled vinegar. Even though vinegar is non-toxic and safe on leather, it is smart to test it first in a small area before applying. Apply diluted vinegar on leather car seats, boots, jackets, and upholstery.
Materials needed:
White distilled vinegar
Water
Spray bottle
A microfiber towel
Steps:
Prepare yourselves with the necessary materials and gear up with a mask and gloves.
Scrub the visible mold stain with a non-abrasive brush.
Mix a cup of vinegar with the same water in a bowl.
Dip a towel in the mixture and start gently rubbing on the leather jacket surface in a circular motion.
Wipe the residue with clean water.
Finally, air-dry the leather.
Utilize Baking Soda Power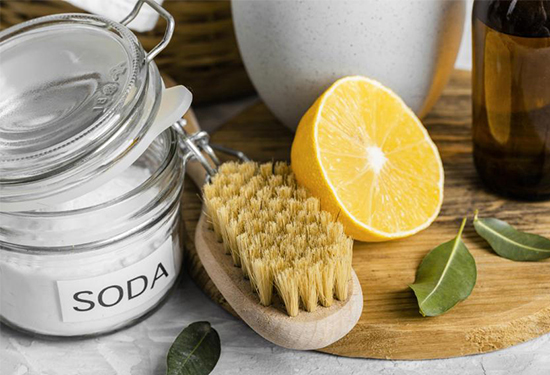 Baking soda is an effective solution to eliminate mold on leather. Not only does it abolish the mold, but it also leaves a good fragrance on the leather after cleaning. You can apply this to clean leather of car seats, leather jackets, and upholstery.
You will need:
Non-abrasive brush
Baking powder
Vinegar (optional)
Spray bottle
Clean rag
Steps:
Use an old toothbrush or non-abrasive brush to gently stroke the mold out of the leather.
Make a paste of baking soda and water. For better results, you can mix baking soda and vinegar and form a paste.
Apply the mixture to the mold-stained area. Do not leave any crevices mold affected areas in the car.
Let the paste sit for a few minutes.
Wipe the area with a clean damp cloth.
Keep repeating the process until the stain vanishes.
Let the car dry in the sunlight.
Using Borax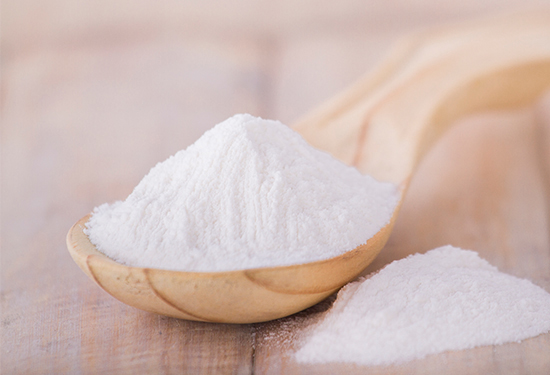 Another effective cleaning solution for removing mold is borax. It has antifungal qualities that can instantly kill mold and mildew. It is a natural substance that not only gets rid of mold and mildew but also aids in removing the leather's musty mold smell. By raising the PH level, borax destroys mold and mildew. Therefore, inhibiting the mold spores from germinating.
Steps:
Sprinkle borax on the mold-affected car seats. Or you can mix ¼ borax and 4 cups of water in a container.
Dip a towel into the solution and start gently scrubbing the car seats.
Keep repeating the process until the stain goes away.
Wipe it with a clean damp rag afterward.
Vacuum the borax residue if you have sprinkled it.
Using Petroleum Jelly on the Leather Mold Build-Up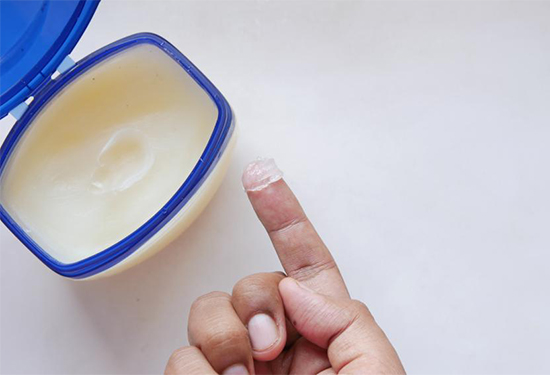 Petroleum jelly has cleaning properties that can eliminate stains from the leather. This method can clean mold from leather-like suede and nubuck. Make sure to test before applying it since there are chances of discoloration while using petroleum jelly. Only apply a thin layer to be safe.
You will need:
Petroleum jelly
Soft cloth or sponge
Rubbing alcohol
Steps:
Gently brush off the mold from the leather with a non-abrasive brush.
Apply a thin layer of petroleum jelly to the mold-affected area. Make sure to test a small layer on an inconspicuous area.
With a soft cloth and gently scrub the mold stain.
Use a clean cloth, dip it into the water, and clean the shoe.
Let it air dry completely.
Finally, you can use a leather conditioner or suede protector for nice polish.
Diluting Rubbing Alcohol With Water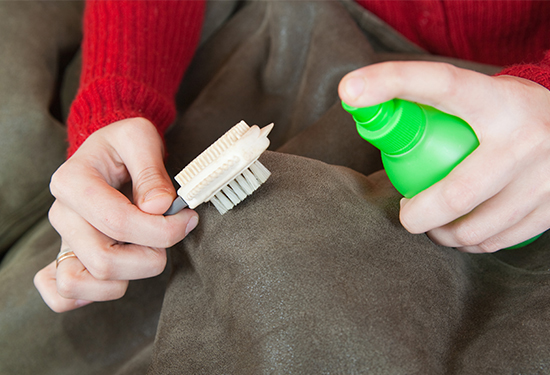 Rubbing alcohol when diluted with water can be a great solution to eliminate stubborn mold from the leather. It also helps preserve the leather books, furniture, and other leather from damage. It kills the fungi and disinfects the leather, and increases its durability.
Materials required:
Warm water
Clean sponge
Rubbing alcohol
Clean rag
Steps:
Place your mold-stained leather outside your house.
Use a soft-bristled brush or soft cloth to clean mold spores out of the shoes.
Mix equal parts of isopropyl alcohol and water in a container.
Dip a clean cloth in the solution and start gently rubbing the leather.
Dip a cotton swab into diluted alcohol for cleaning crevices and rub it.
Use another clean cloth to wipe out the residue.
Repeat the process if needed.
Dry the leather in direct sunlight.
To finish the leather with a clean look, use leather conditioning.
Using Saddle Soap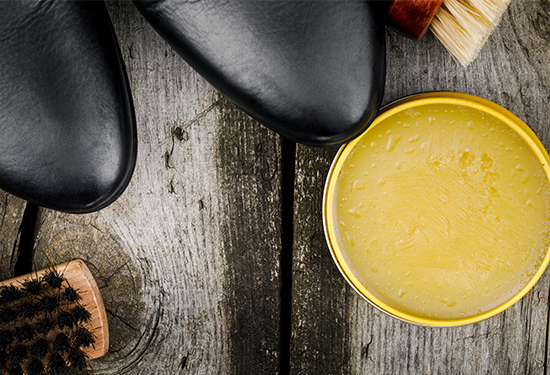 If somehow your leather has been targeted by mold, clean it using a bar of saddle soap. Saddle soap is a mild soap for cleaning, conditioning, and protecting leather. It is best known for cleaning stains, oil, dirt, and wax out of leather. It is an effective leather cleaning solution for every kind of leather, including unfinished leather.
Steps:
Wipe mold stain off the leather with a clean cloth.
Apply a small portion of saddle soap in a sponge or a cloth.
Start lightly lathering the sponge on the leather.
Cover all the crevices using the sponge.
Use another damp cloth to clean the leather.
Air-dry the leather.
Finish the leather with conditioning. It helps the leather to bring back its beauty.
Preventing Mold Growth in Leather for Future
There are so many reasons for mold growth in leather. Lack of proper ventilation in the basement, high humidity, contact with body oil, or untreated for a long duration are some of the major causes of mold growth.
It is necessary to prevent it from building up in your leather to protect you and your family from mold's side effects. Follow the suggestions to prevent mold from returning to your leather and your threshold as a whole.
Always store the leather items in a cool, dry place.
Wipe the body oil from your leather shoes and jacket after every use.
Regularly provide a protective layer to your leather items to save from humidity and water damage.
Keep the leather items away from molded surfaces.
Keep the humidity level from 50% to 75% to avoid old growth in warehouses.
Use a fan or dehumidifier to keep the room dry.
Be sure to ventilate the room by opening the windows and doors.
Fix roof and plumbing leaks as soon as you realize it.