Engineered hardwood floors are expected to withstand the test of time because of their notable advantages over carpets or solid woods. Because of its easy installation process, maintenance, versatility, durability, sustainability, and the price they are everybody's go-to option for floor covering these days.
An engineered floor is simple to maintain. And if taken proper care of, it is likely to remain for years without deteriorating its quality. Likewise, poor maintenance and cleaning might lead to degrade its quality and look dull over time. Even though cleaning your engineered floor is very simple and doesn't take much time, you must exercise extreme caution. As one wrong cleaning product or method can completely ruin your flooring.
Understanding Engineered Wood Floor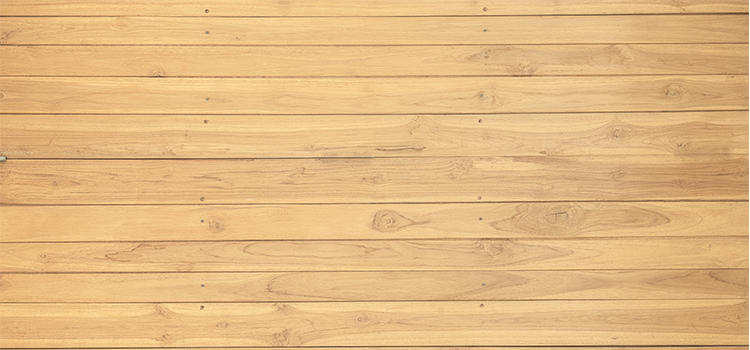 Engineered wood flooring resembles hardwood on the surface, but it's built of a high-quality plywood core with a thin layer of hardwood flooring on top, to achieve its appearance. Engineered flooring is easy to install yourself, and it comes in bonded or interlocking planks to make it even more simple to install.
Engineered Wood Floor
Cost Between $4 to $7 per square foot
Life span Above 30 years
Material Plywood core bonded to a thin hardwood layer
Moisture More water-resistant than hardwood but not waterproof
Core Mostly Plywood and other materials too
Sizes Thickness: 3/8 to 9/16 inches Width: 21/4 to 7 inches, Length: 12 to 60 inches
Cleaning With mop or some manufacture recommended cleanser
Benefits
Less expanding and contracting
Easy to install and maintain
Looks like a hundred percent authentic wood
Easy to clean
Equipment Needed
A soft broom
Soft brush attachment vacuum cleaner
Dustpan
Mop
Manufacturer recommended cleanser
Things to Avoid While Cleaning Engineered Wood Floor
Avoid using harsh chemicals like ammonia and vinegar. These abrasive chemicals may clean some surfaces but they can erode or damage the plywood surface on top of the hardwood.
Never use a steam cleaner on your engineered hardwood floor. A steam cleaner may destroy lower layers of plywood or fibreboard by forcing moisture into the wood.
Never use abrasive cleaning brushes. Steel wool or a wire-bristle cleaning brush should never be used on a hardwood floor since they are harsh and abrasive. They can add scratches and cause severe damage to the wood.
Don't use wax-based cleaners and oil-based soap to clean engineered wood.
Avoid using tile and vinyl cleaners to clean engineered wood.
If your floor has been lacquered or oiled, the cleaning chemicals you can use are even more restricted. Consult your manufacturer for the best product for keeping your floors looking immaculate.
Cleaning Engineered Wood Floor
An engineered wood floor is a hard surface so it is always easy to clean. Another plus point is it absorbs less dust than a carpet. But it is very important to clean them with the proper materials else your floor might get damaged.
Start by Sweeping or Vacuuming Your Floor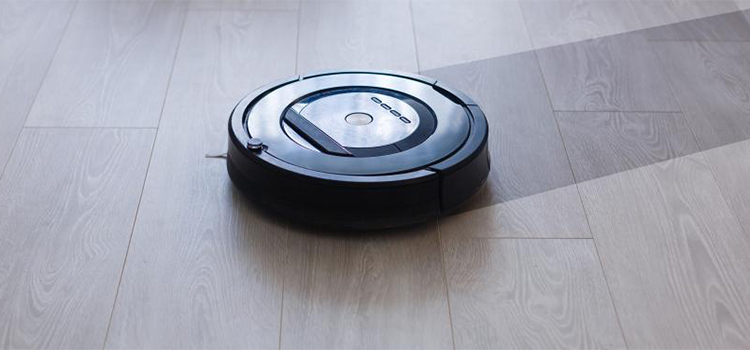 The most common and easiest step in cleaning engineered hardwood floors is to get your hands on your broom. Sweeping or vacuuming away loose dust, grime, pet hair and debris regularly is the simplest way to clean engineered hardwood flooring.
A lightweight vacuum can also be used, but one with a rotating bristle bar should be avoided because it can damage your floors. If your vacuum has a beater bar, set it to a minimum or use a floor-brush attachment instead.
Maintain the appearance of your flooring by following a regular cleaning schedule. Sweep your floors at least three times a week or more to eliminate dust and scratches.
The frequency with which you sweep or vacuum depends on how much traffic your floors receive. You may need to sweep more active areas like hallways or entryways every day or every other day. In areas with fewer people's movement, you may only need to clean once a week. But sweeping your floor before mopping is a must.
Use a Slightly Damp Mop to Clean the Floor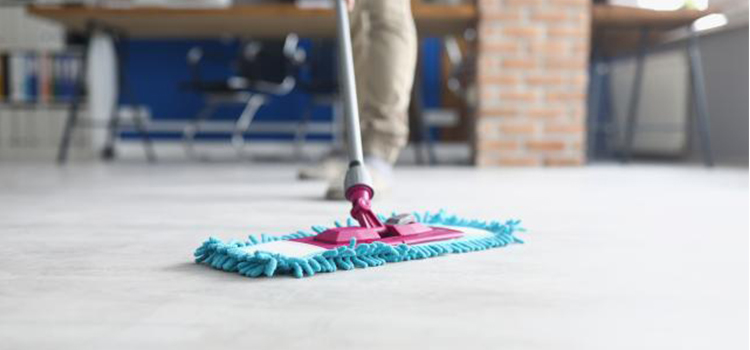 Mop your floors properly once or twice a month. But your mop should be just slightly wet. It shouldn't be soaked. And it is mandatory to clean and sweep your floor before mopping it.
On engineered wood floors, some experts advise using a microfibre mop to be extra delicate. As this will be less abrasive on your hardwood floor's veneer and top layer than a standard mop head. You won't need to use any water while using the fiber mop. It is best to use mops with washable microfibre pads or disposable pads.
But just in case a fiber mop is not available, a standard mop will work fine too as long as it is slightly damp and not soaking wet. Use a flat-bottomed mop because it won't dribble water as much. Place water in a bucket, soak your mop and remove as much water as you can from your mop. Then start cleaning the floor with your damp mop.
Even though engineered hardwood flooring is more water-resistant than solid hardwood, moisture should not be allowed to stay in the wood for too long. Any spills or liquid should be wiped up as quickly as possible. Engineered hardwood flooring can be irreversibly damaged by excessive water or liquid.
The frequency of how often you do the mopping is determined by the amount of activity on your floors. Mopping should be done around once or twice a month. And for high-traffic areas once a week. It's also time to bring out the mop if your engineered hardwood floor starts to look dull.
For Deep Cleaning Occasionally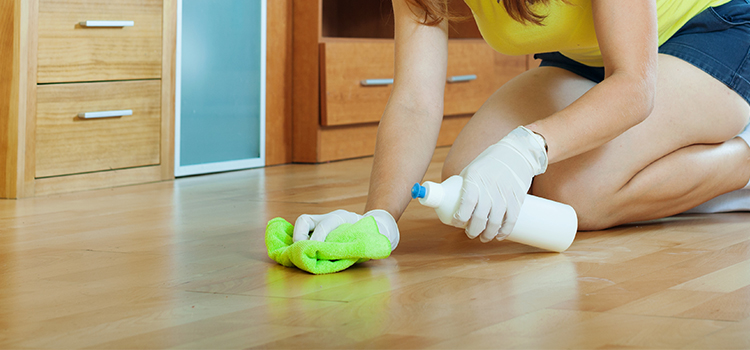 Dirt and grime will inevitably find their way through the joining, even with regular cleaning and mopping. There may be some apparent dirt, grime, or stain which are hard to get rid of even after mopping.
In that case, use a mop, rag, or sponge and pour a few drops of cleaning agent into it. Gentle rub the stained part. It's vital to keep your mop or cloth damp but not wet, unlike ordinary mopping. Also, don't forget to use a dry cloth to remove any excess moisture on the floor after applying the cleaner.
For the right cleaner, when your engineered hardwood floors were installed, the manufacturer most likely gave you instructions. They might have mentioned how to clean them and which cleaning product will suit them best.
When utilizing any form of engineered wood flooring cleaning product, the most essential thing to remember is to test it first in a hidden spot to guarantee that it won't harm the finish. Avoid using cleaners that contain harsh chemicals
Deep cleaning is also the most effective method for restoring the appearance of wood flooring
How to Maintain Your Engineered Wood?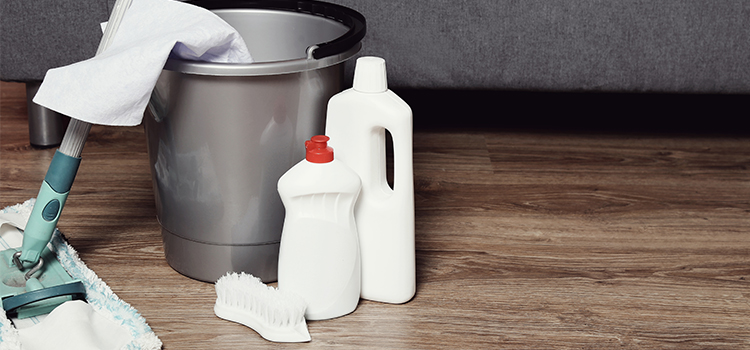 Reduce the quantity of moisture and filth that enters your home by placing rugs or doormats at the entrances.
Long runner rugs can also be used in places like hallways, entryways, and other high-traffic areas. These carpets can also help prevent scratches on your floors.
Mats with latex or rubber backing should be avoided since they can ruin the finish of your floors. Use felt pads.
Place floor covers or soft pads beneath the bottoms of big furniture and home decor.
Do not drag or pull heavy furniture across the floor.
Clean any liquid spills immediately as they can degrade your wood. These spills may also leave a sticky film on the wood, causing it to rot.
Electronics should not be placed directly on engineered wood flooring as they generate a lot of heat. Exposing your wood floors to high temperatures daily will cause damage over time. To avoid this, install a cooling mat under your devices or if possible remove your device from the wood.
Avoid moisture in your household. Maintaining the humidity levels in your home is one way to do this. This especially applies to areas where there is a lot of moisture in the air.
Pull drapes or blinds to shield your engineered floors from direct sunlight during peak sunlight hours to protect them from UV damage.
Wipe your engineered hardwood floors in the same direction as the wood grain. This will help in the removal of stubborn dirt from the flooring's cracks and crevices.
Carefully select your engineered floor maintenance products. Before using a product on your engineered floors, read the full instruction. Don't apply it to your wood until and unless you are sure it will suit the best for your wood.
Try not to walk on your floor with high-pointed heels as it can damage the surface.
Make a habit of keeping your shoes outside. Especially during autumn and winter, when your shoes are soaked in rain or snow. Before entering the house, remove your shoes and place them on a tiled floor.
Taking Care of Scratches on Engineered Wood
We can do everything we can to maintain our floors scratch-free, but mishaps can happen. It might be due to your pet's nails, your high heels, or anything else. There are a few things you can do to make it less noticeable. Use a scratch concealer to eliminate the white lines from the scratches. This will also seal the area and prevent further scratches and also avoid moisture sipping into the wood.
Another best option is using an aluminum oxide finish on your wooden floors to keep their quality intact. This finish is ideal for restoring or protecting engineered wood from various elements. Not only does this finish provide scratch resistance from dirt particles, but it also provides UV protection. The aluminum oxide coating can potentially reverse some of the damage caused by sunshine over time. It restores part of the color and shine of your floors in these circumstances.